This post may contain affiliate links. Please see our full Disclosure Policy for details.
DIY Apothecary Jars what to fill it in? Decorating with jars is beautiful for home decor. You can fill all sorts of great things to decorate with them.
Whether at party or decorating living room. Organizing kitchen or making your bathroom look fabulous.
Buying apothecary jars can be very expensive due to luxurious decor style associated with them. However, with some smart pieces purchase you can imitate the look for much less from Hobby Lobby, thrift store, Target and dollar store.
I am sharing some cheap and inexpensive Apothecary Jar ideas today! Simple use of mason jars, candle holders, candlesticks, lids and even simple glass bowls.
Once you have made these glass jars look ravishing, it's time to fill them and decorate in trays or give as gifts. This is where the other half of this post comes in where I share what to fill in Apothecary Jars for decorative storage!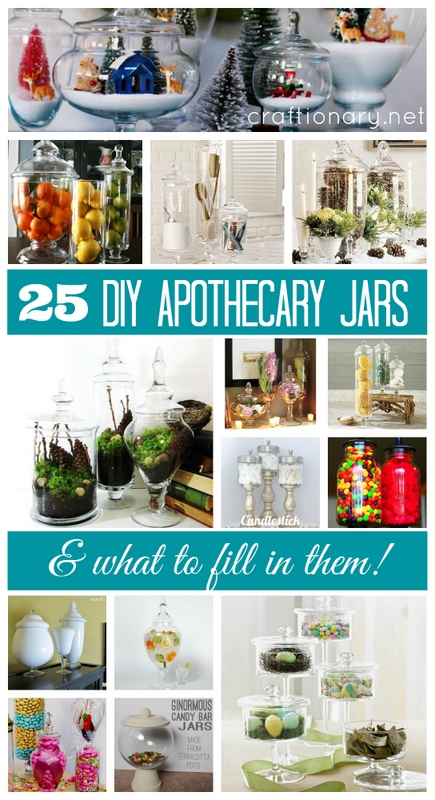 25 DIY Apothecary Jars
How to make apothecary jars for less?
A simple learning from all these tutorials shared below is to collect discounted or reasonably priced second hand items from Facebook marketplace, thrift store, vintage store, dollar store or hobby lobby etc.
Apothecary jars supplies and items
Clear glass apothecary jars (transparent mason jars, crystal containers or canisters)
Strong glue or adhesive (any glue that dries clear, E6000, gorilla glue or epoxy)
Candlestick or candle holder (can be made of glass, wood, metal, plastic)
Airtight lid (optional)
Paint or spray paint (optional)
Apothecary jars tutorial
Paint candle holders and glass apothecary jars (optional)
You can use variety of ideas to glass paint like tinting or spray painting.
Use glue to stick the candle stand to the glass bottle or glass jar.
Let it dry and firm.
Use it to decorate your home spaces.
These are great for organization as well.
They are multipurpose in kitchen and bathroom.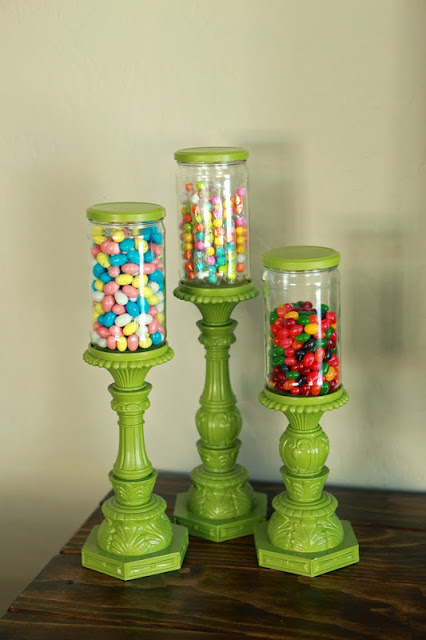 1. DIY candy jars
Make apothecary jars with lids using green spray paint and mason jars with tin lids. Fill them up with jelly beans, sixlets and Easter eggs.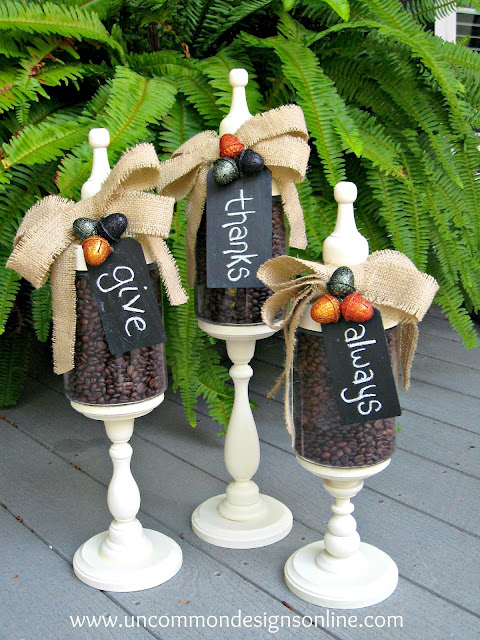 2. Fall thanksgiving jars
Coffee and burlap bows. Distress the paint to turn them into vintage apothecary jars.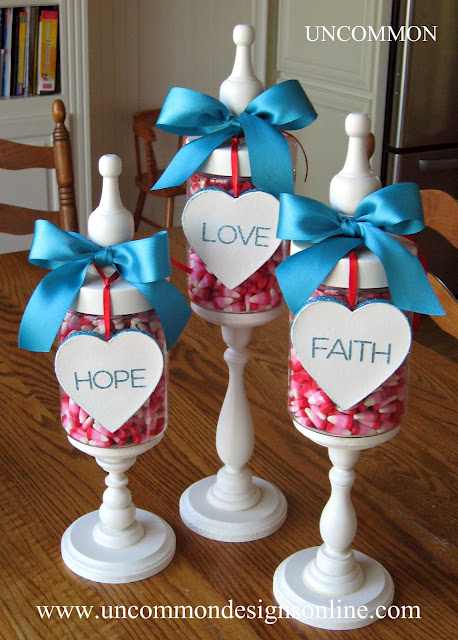 3. Valentines day jars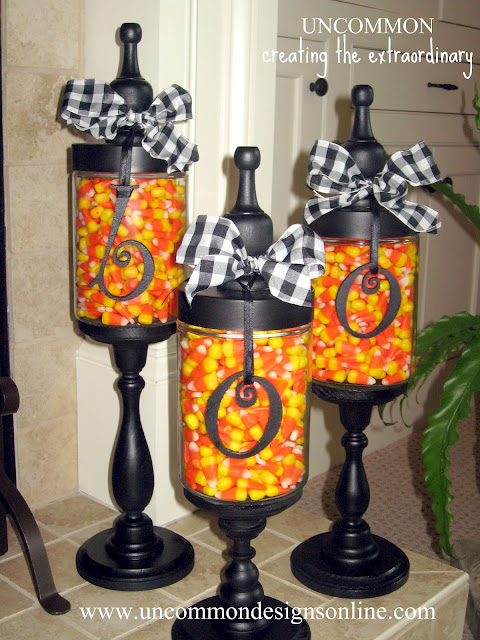 4. DIY Halloween jars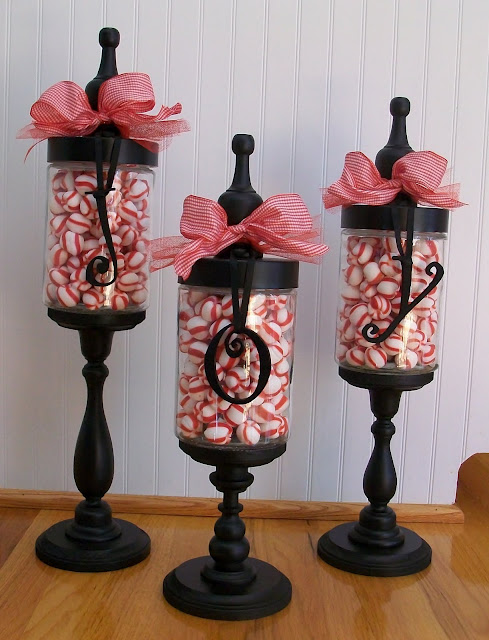 5. Christmas Holiday Jars
Superb Idea to change the simple look for every Holiday or season.
Simply decorate Apothecary Jars on various events to match the Holiday theme. Fall jars with wooden spools and pedestals redecorated.

DIY apothecary jar step by step instructions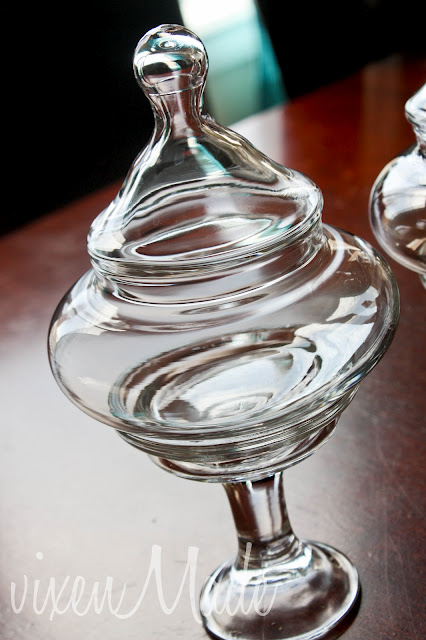 6. Recycle apothecary jar
Turn cheap and inexpensive jars into luxury with this simple idea.
Vixen scored jar with lid and candle holder at a thrift store and made apothecary vase.
7. White painted apothecary jars
Bored of your transparent glass jars. Revamp them by painting them white with Milk Glass Paint.
Painting tutorial: However, instead of painting the jars from outside for an opaque look you can tint it.
Start by pouring runny modpodge or white glue and flow it around the jar.
Remove excess.
Now pour the paint inside and flow it around in every direction to cover the space.
Pour the excess paint out by letting it dry upside down.
Beautiful tinted apothecary jars in milk glass white paint are ready for displaying.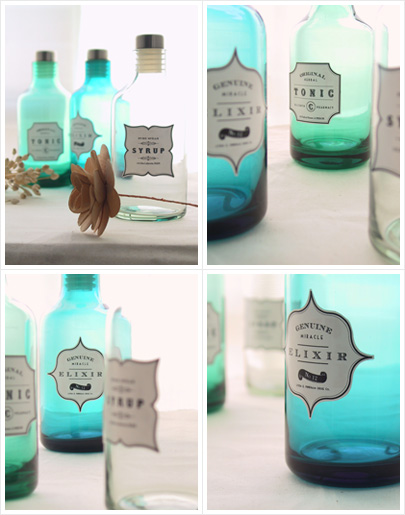 8. Tinted apothecary bottles
I am totally falling for amber apothecary bottles from IKEA lately. Some other trendy colors for apothecary bottles are blue, green, gold, red and clear.
You can tint mason jars and bottles in any color using modpodge and paint. Use the same technique discussed above to make amber apothecary jars that are popular these days. Turn them into antique apothecary jars with aged paper and cork lid.
Holiday Apothecary Jar Display Ideas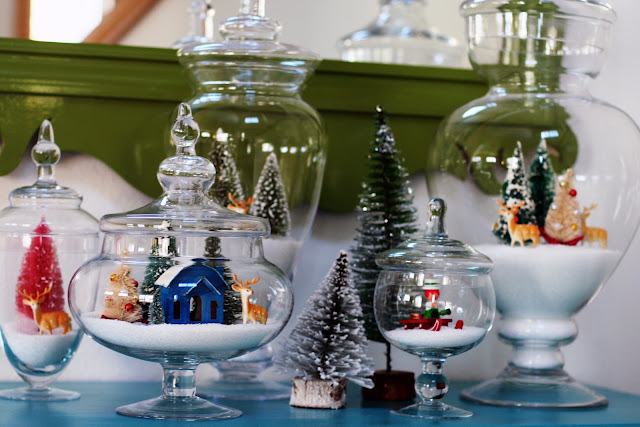 9. Christmas snow village jars
Cute Snow Village Decoration in small apothecary jars using Christmas trees, reindeer, holiday jingles, faux snow and ornaments. Also check out this winter snowglobes lighted village mantel decor.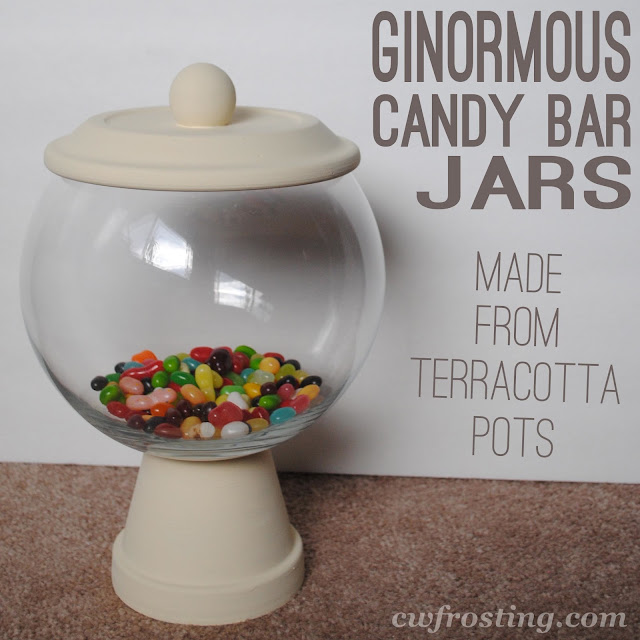 10. Terracotta pot apothecary jar
I love this cute Candy Bar Apothecary Jars using terracotta pot and lid with fish bowl.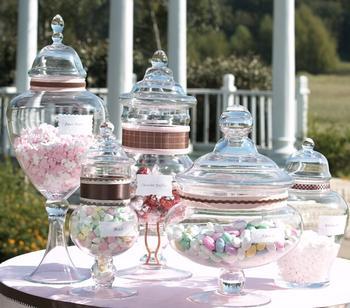 11. Candy buffet jar display
Wrap ribbon around the candy buffet vases and jars. Match your party theme and fill them up with Candy.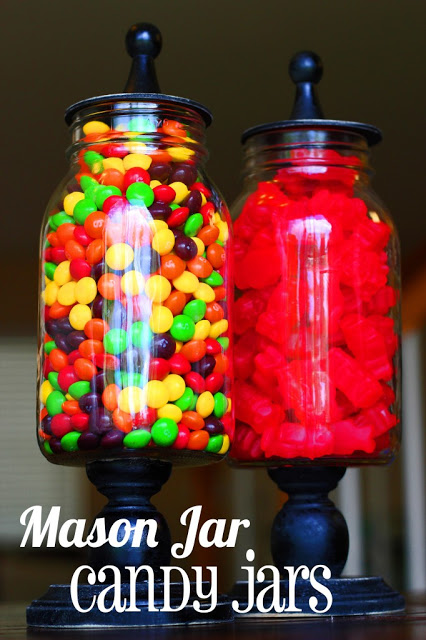 12. Mason jar candy holders
Apothecary candy  jars from Mason Jars and wood pedestals from Hobby Lobby.
These were some DIY Jar tutorials. Now let's get started with Great ways to Fill Jars to decorate.
Decorative apothecary jars and what to fill in apothecary jars?
There are a variety of things you can use to fill and display apothecary jars for decorative purposes. Somethings that you might consider include:
Faux flowers and plants for indoor planters
Guest Bathroom supplies like travel size toiletries and face towels rolled up
Novelty items like Christmas ornaments, rocks, minerals, coin collection, seashells, sea glass and fancy candles
Makeup and cosmetics products like lipsticks, lip balms, eye pencils, eye shadows
Kitchen essential items
Pantry dry ingredients
Craft supplies like beads, paints, embroidery spools
Jewelry and accessories organization
Snacks like cookies and crackers
Commonly used by drug stores and pharmacies for pharmaceuticals
LIVING ROOM AND DINING ROOM APOTHECARY JARS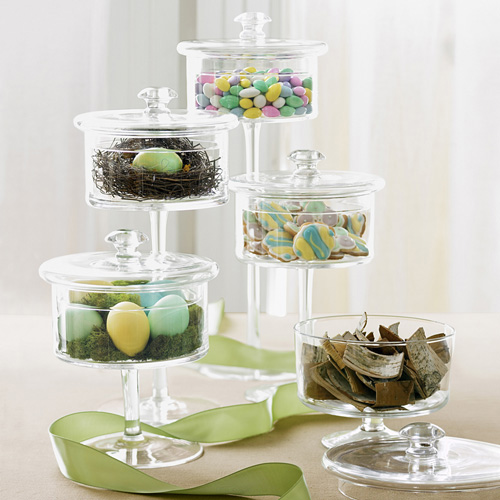 13. Easter jars decor
Easter Eggs, nest, birch and moss in the jars. You can also use kids friendly plastic apothecary jars.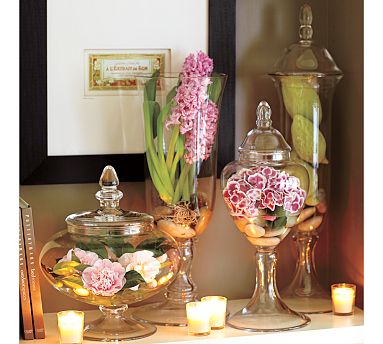 14. Spring floral jar display
Use large apothecary jars for faux plants, dried flowers and floral arrangement for a warm decor in the jars. Add apothecary candle jars with LED candles to complete the look. You will also benefit from 9 ways to make your home cozy.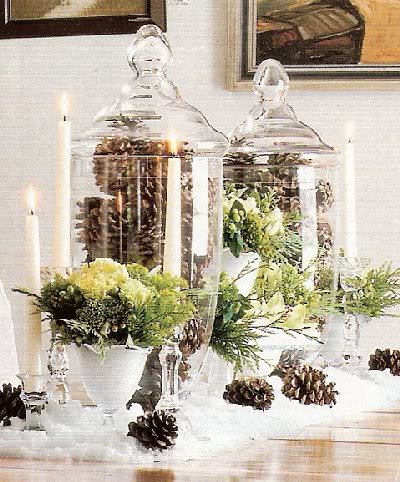 15. Pinecones and greenery tablescape
Fall pine cones and greenery arrangement in bulk apothecary jars.
PARTY APOTHECARY JARS
At parties you can fill them up with variety of items and even add a scooper inside:
pretzels
chips
cookies
popcorns
candies
jellies
dry fruits
chocolates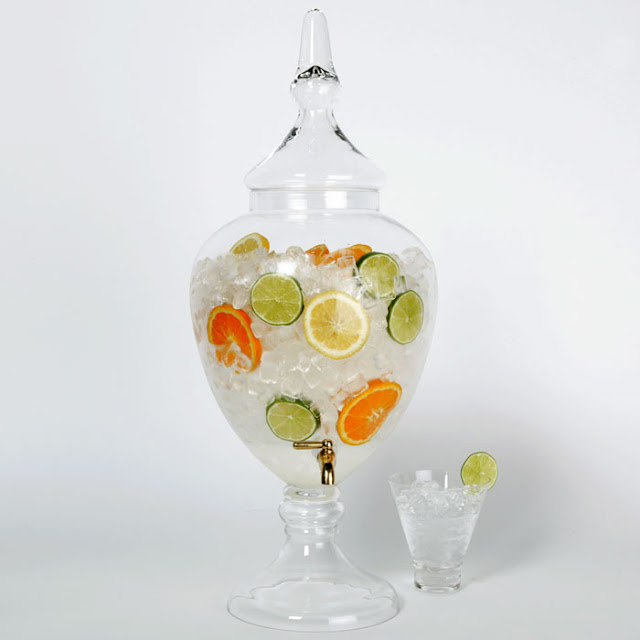 16. DIY drink dispenser apothecary jar
Slice up some citrus and toss it in to the apothecary jar with ice in this DIY drink dispenser. You can also use it for water or your favorite detoxing beverages.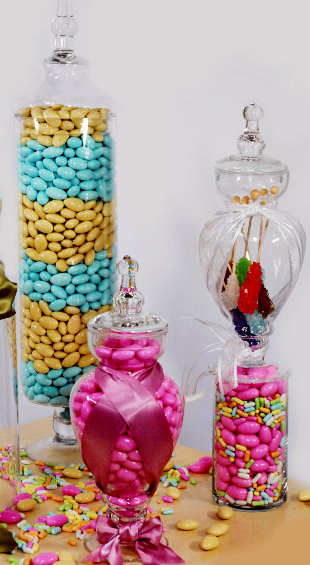 17. Colorful party jar celebration
Colorful party celebration with candies in the Jars.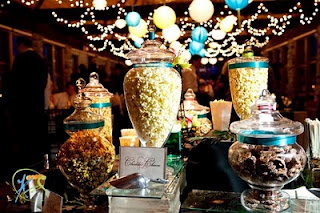 18. Apothecary jar popcorn buffet
Love this beautiful wedding arrangement of Popcorn buffet. You can fill these jars with any snack like chips, crackers and pretzels as well.
BATHROOM APOTHECARY JARS
In guest bathroom these jars can hold:
bath soaps
bath salts
single use wipes
face masks sachets
pouch size creams and lotions
travel size toothpastes
essential oils for freshness
potpourri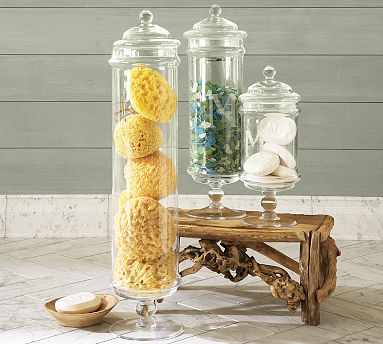 19. Bathroom jar decor
Fill your tall apothecary jars with scented soaps, seashells or colored beads to match your decor.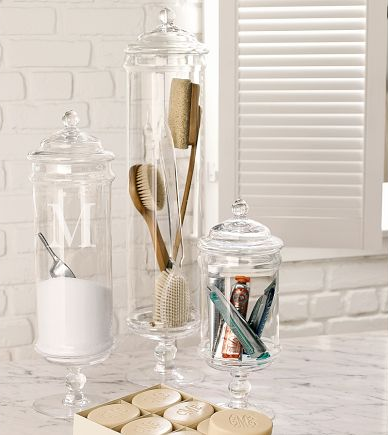 20. Bathroom spa jars
Dual use as containers and as accents. A practical display of bath salts with scoop, scrubbing brushes, creams and lotions.
Guest bathroom tip:
You can also add soaps to these jars and keep the lid open for a scented luxury. How about adding a few drops of essential oil on a foam piece?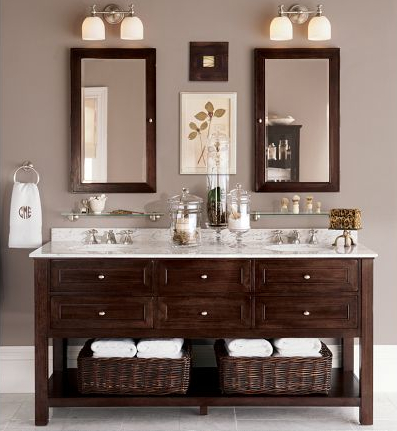 21. Double vanity bathroom jars decor
Love how the jars look in this double vanity scene via pottery barn. You can also display them on bamboo tray over bathtub.
Add spa essentials like sponges, body scrub, body brush and salt in glass jars with air tight glass lids.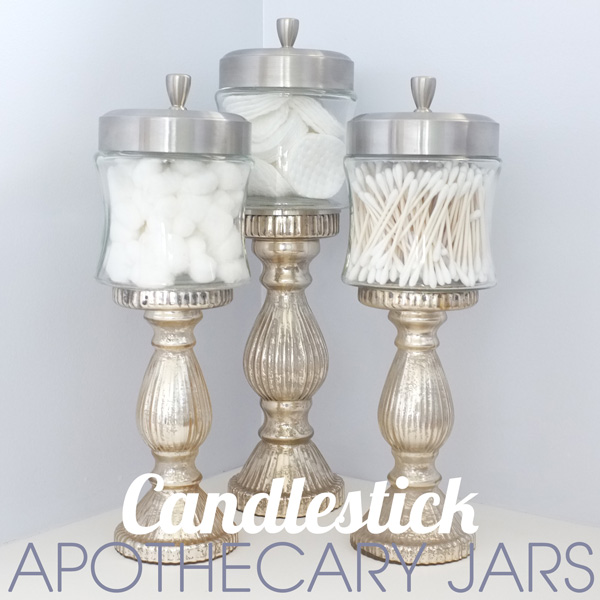 22. Bathroom supplies glass jars
Organize your bathroom supplies with rustic silver jar lid and antique candle holders for sophistication.
Fill the Jars with Cotton Products like Q-tips, cotton balls, swabs and round cotton pads. A well known and popular technique of
mercury glass mirror paint
will be perfect for mirror looking sparkling candlesticks.
KITCHEN APOTHECARY JARS
In the kitchen and pantries these are great for dual purpose decoration and organization. Use them for a variety of food items:
faux or real citrus fruits
dry food kitchen ingredients like candy and cookies
spice jars or spice canisters
fruits (make sure they receive air)
dried ingredients like baking flour, rice, lentils and pasta
baking ingredients like chocolate chips, sprinkles, sugar and baking powder
other pantry essentials like coffee and salt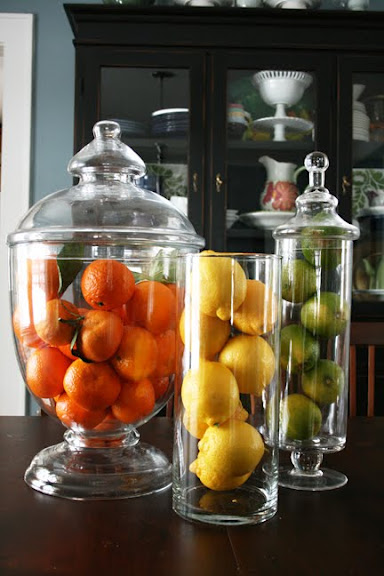 23. Citrus apothecary jar kitchen decor
Fun and Bright Apothecary Jars with Citrus. Fill transparent jars with limes, lemons and oranges.
You can also use faux fruits like apples, pears, and so much more for kitchen decor.
Use colorful fruits like green apples, red apples, yellow lemons, orange oranges, brown pears and so on!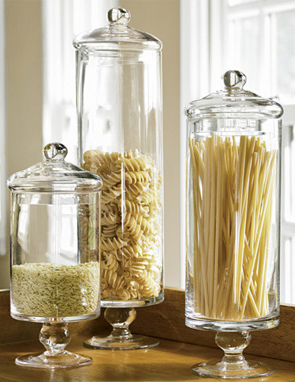 24. Kitchen apothecary jar organization
Great way to organize food in the Italian kitchen style.
Your kitchen storage will look amazing with these jars containing everyday dry food essentials like noodles, macaronis, spaghetti and rice. You can also get creative with these dry pantry ingredients with
pasta crafts you need to try
.
Replace the candy buffet at the reception with savory popcorn flavors. There are a variety of ideas for party food like the ones at Best food bars and station.
LIVING AND GREEN APOTHECARY JARS
Some varieties of plants and greenery are great for living arrangements in glass jars. These include:
succulents
air plants
moss
dried birch, wood, twigs
pinecones
acorns
decorative stones and pebbles
pine tree branches
twinkle lights (if no watering is required)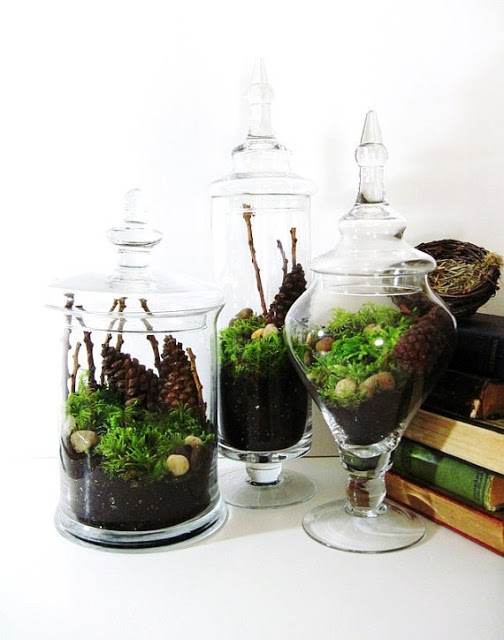 25. Terrarium transparent glass display
Superb Terrarium display in the jars via Etsy. Use live moss, twigs and pinecones.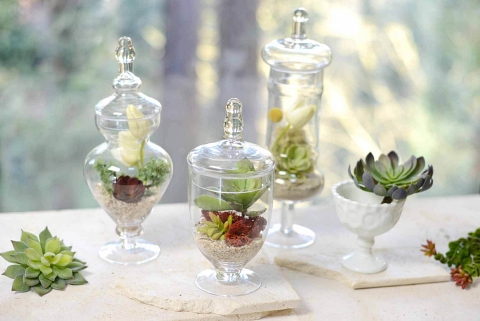 26. Succulent glass jar centerpiece
Succulents in glass jars with decorative pebbles.
You will also like:
25 Storage Solutions for Spices
25 Ways to make candles
Multi-task Message Board
Looking for more great ideas?
Check out tutorials in the category
DECORATE
.