This post may contain affiliate links. Please see our full Disclosure Policy for details.
Bathroom organization is so important and the bathroom storage solutions depending on the space and design of the bathroom varies. Most often the most important thing here is that the daily essentials and items are organized in the most practical and functional way possible. In today's post, I will try to shares some bathroom organization ideas that should suit your needs whether your space is large or small. We will cover storage solutions for bathroom organization in cabinets, shelves, drawers, under the sink, shower area, door and even toilet space. The bathroom organization tips and hacks shared here are less time consuming to implement, and budget friendly as well.
Before I share the ideas, let's cover some basic issues and questions.
How to organize bathroom essentials and items?
There are many ways bathroom organization can be achieved:
Declutter first. Remove any unnecessary items that you don't use anymore.
Keep the counters tidy. Try to avoid keeping items on the counter and try to keep counters clutter free. This also makes it easier to clean the bathroom.
Use cabinet drawers for storage. There are lots of organizers in stores for storing items in cabinet drawers to serve the purpose.
Drawer dividers are great for organizing items in drawers.You can use trays or baskets with lids for this purpose.
Use caddy for keeping similar items together. Caddies and baskets are great for organizing items based on use or to keep separate personal bathroom items of each family member.
Keep laundry bin in the bathroom. This comes handy when washing towels separately.
Use towel bars or hooks for hanging towels.
Clear containers are great for bathroom organization as well as making things easier to locate.
Last and most important label your organizers. Labeling enables easy location as well as easy organization when you replenish daily essentials and items.
Use lazy susan in cabinets and shelves to organize bathroom items.
How to organize small bathroom?
While the above ideas are general and can be utilized in any size space. Here are some bathroom organization ideas for little space:
Use towel hooks instead of racks
Hang baskets to use as shelves
Use clear container or bin for organizing bathroom items
Allocate a space for bathroom cleaning supplies
Use adhesive hooks for utilizing cabinet doors for bathroom tools
Try to maximize on wall spaces by using hanging organizers, shelves and magnetic strips
Focus on unusual storage spaces and try to maximize on it
Use shelves over the toilet wall
Store shower essentials in a caddy
What bathroom essentials should I store under the sink?
The toiletries are most essentially stores under the bathroom sink. Since, this space is convenient and easy to access keeping daily essentials and items like toothpaste, toothbrushes, mouthwash, face wash, face moisturizer, eye cream, body lotion, hand soap, hand cream is best. You can keep your month's supply organized in bins and containers here. If there is more space keep extra supplies like shampoos and conditioners but avoid keeping dry items like towels and electronics in case of any water spill.
How to keep my bathroom organized all the time?
Keeping things in place and following some small routine details can save you time in the long run and keep your bathroom organized and fresh for every visit:
Keep your bathroom dry and try to stop moisture in it's tracks. Use exhaust fan and paper towel to achieve the results.
Coat shower walls and doors with water repellent.
Substitute soap bars with liquid soap to keep it tidy.
Label and designate space for items in cabinets and follow the routine.
Install towel bars or hooks for towels as much as needed.
Use long lasting cleaners and reduce clutter by sticking to fewer cleaning items.
Keep disinfecting cleaning wipes handy.
Add trash bin in your bathroom and keep garbage bag in it. This will help ease the cleaning process.
Keep dryer sheets handy. After brushing your hair check the floors for any hair strands and clean the hair brush. Throw away the hair strands in the bin for a neat bathroom.
Use bleach all-purpose cleaner spray at the bottom of the shower curtain liner to keep it cleaner for longer time and reduce soap scum, water minerals and mildew buildup.
Use bathroom slippers to keep your feet clean and wash them as often as your like.
Keep squeegee in your cleaning supplies to clean mirror often and avoid tough stains and scrubbing.
Bathroom organization ideas for daily essentials and items
Now let's see all these bathroom organization ideas and bathroom storage solutions in more detail with attention to various possibilities:
1. Use wall space above the toilet

Main Bathroom by Love Pomegranate House. A small bathroom space needs to be maximized to keep items organized. Use shelves or cabinets above the toilet for additional storage.
2. Use towel bars or towel hooks for bathroom organization
Maximize on the space by using towel bars behind the bathroom door for hanging towels. You can also use adhesive hooks for hanging extra towels or use a multi-functional towel hook with shelf for more organized space.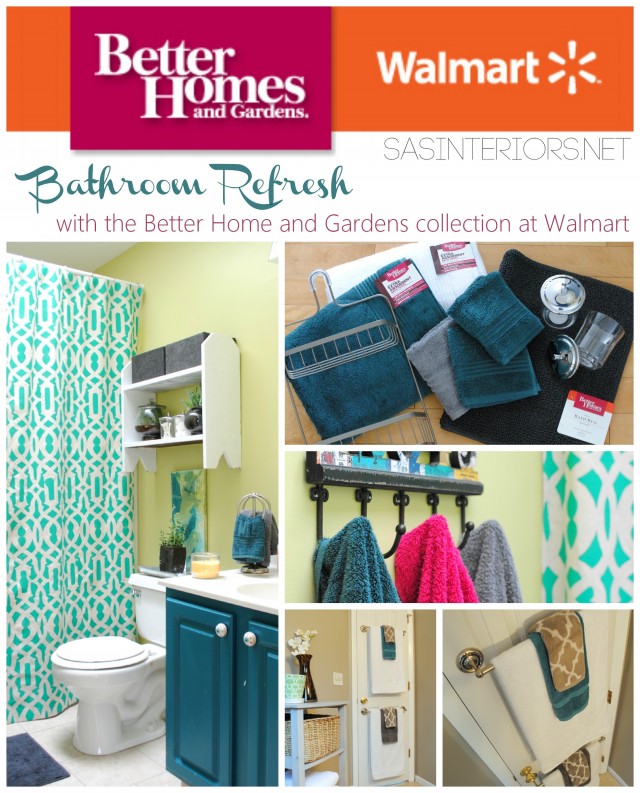 3. Use cabinet door space for bathroom items
Hang baskets, containers or shelves on the inside of cabinet door for holding bathroom items like shampoo, conditioner, lotions and face wash etc. You can also use this space for organizing makeup supplies.
I love everything about the organized bathroom cabinet pictured below. Use the dry space for keeping clean towels, toiletries, installing laundry bins and keeping cleaning supplies. Some effective and easy tips to organize your bathroom by Family Focus Blog.
4. Add DIY shelfing units for bathroom organization
 Turn wooden crates into bathroom shelves by Home Depot Blog. This DIY project can be made larger or small, taller or wider based on your bathroom space and needs. Stack and join wooden crates and add casters or feet to give it statement. You can paint or stain and customize them to your imagination.
5. Hanging baskets for bathroom organization
Maximize on empty wall spaces by installing hanging units, baskets or shelves for additional functionality. Find how you can make custom shelves like the ones below fast and easy shelving.
6. Wall mounted magazine rack bathroom organization
 I have to admit this is a very common habit especially amongst men. But it has been substituted with phones now. However, this Bathroom DIY magazine rack by Four generations One Roof is an interesting project. I can't think of any use for it in my home but is this something you would consider? I am curious to know!
7. Hanging baskets for towel storage in bathroom
Hang baskets over the toilet for a simple storage solution for extra bathroom towels in a small space. DIY bathroom towel storage by Making Lemonade Blog.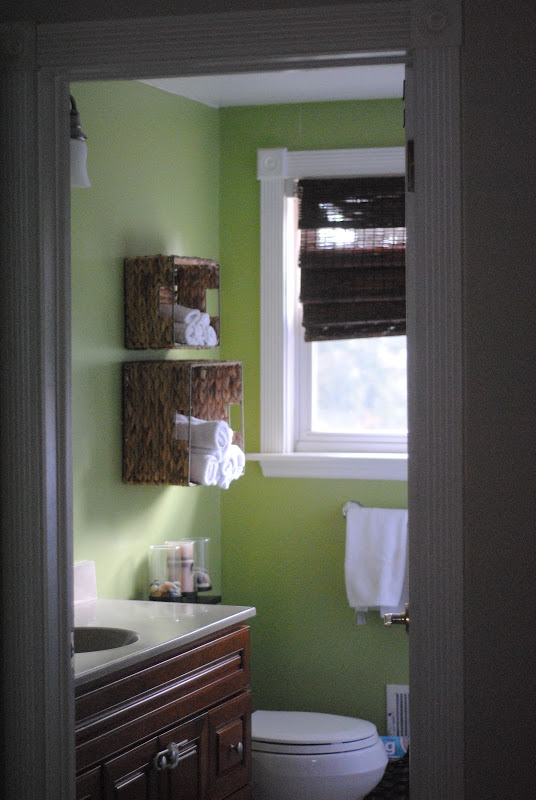 8. Use towel hooks or adhesive hooks bathroom organization
DIY Striped Towel Hooks can be customized to match any bathroom theme. Use towel hooks behind the bathroom door or any empty wall to hang towels. You can also consider adhesive hooks which can be easily removed without any damage to wall in case you change your mind and want to hang towels elsewhere in future.
9. Sink cabinet bathroom organization

Build a sliding shelf under the sink cabinet for convenience. I love the use of dividers for creating compartments for various bathroom items.
10. Use bins and containers under the bathroom sink
If you are not a DIY person, a simple solution is to use bins and containers to organized bathroom essentials and items under the sink cabinet. Photo via studio gray house.
11. Use lazy susan to organize bathroom items
Organizing bathroom sink is a creative process. I love the use of lazy susan to arrange bathroom essentials and hanging wire shelves for utilizing cabinet door space.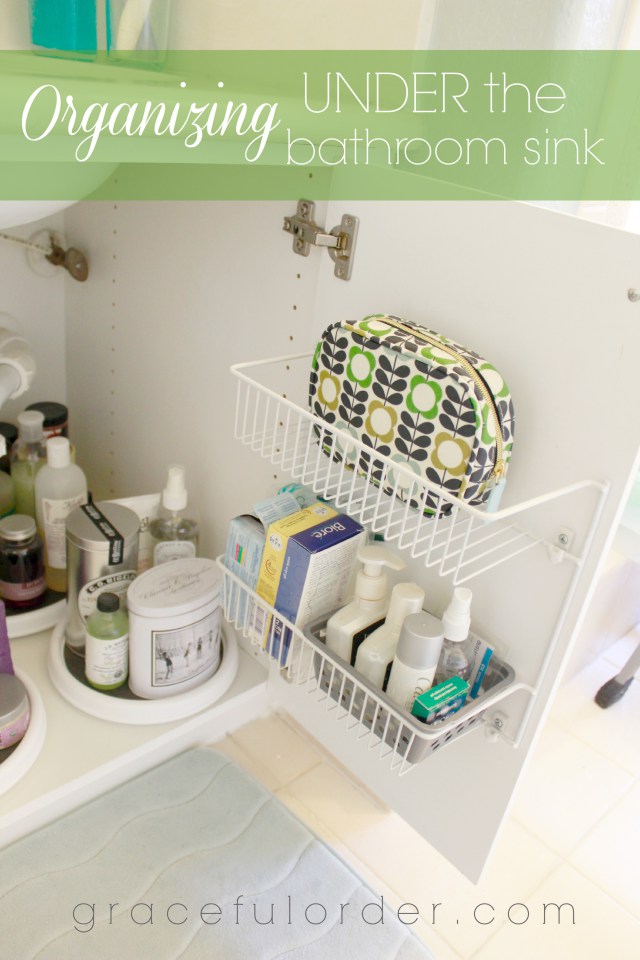 12. Add small shelves on the side of mirror
Keep the sink counter clutter free by installing small shelves on the side wall besides the mirror. I love the folding mirror on the side wall as well. I can imagine the convenience it can bring.
13. Install wall mounted bathroom organizer
If installing shelves is not your thing, trying mounting mason jar organizer on the side wall for holding bathroom items.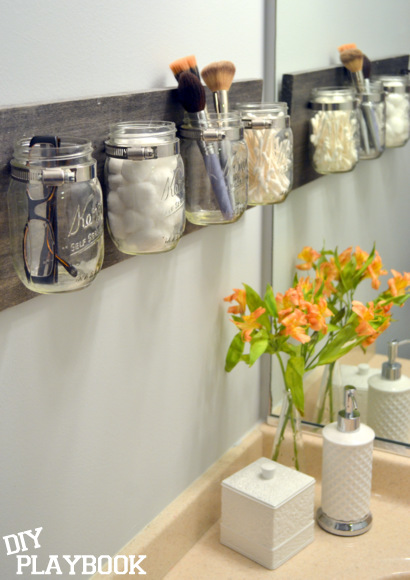 14. Use magnets for small items bathroom organization
Stick magnets inside the cabinet door for keeping small bathroom items like hair clips, tweezer, scissors and such organized. Photo by the merry thought.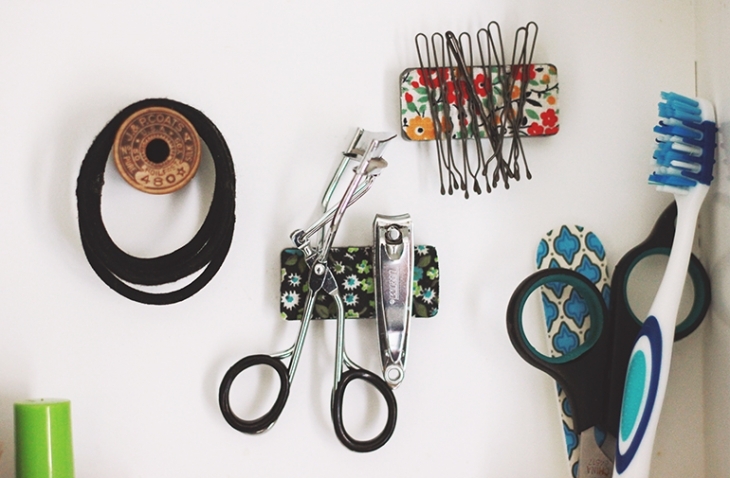 15. Use magnetic strips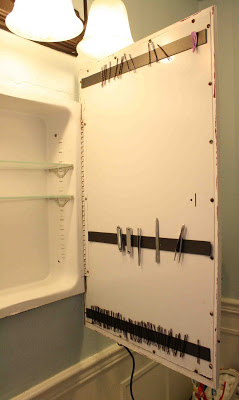 Adding to the idea above to organize more such small items use adhesive magnetic strips on the inside of cabinet doors.
16. Magnetic wall mounted storage station
Turn an ordinary frame into magnetic frame with a steel sheet cut to the size of the frame. You can spray paint it or cover it with fabric if you like. Use adhesive magnet discs on the back of your items and hang all your essentials in one convenient space. More magnetic board ideas to fuel your creativity.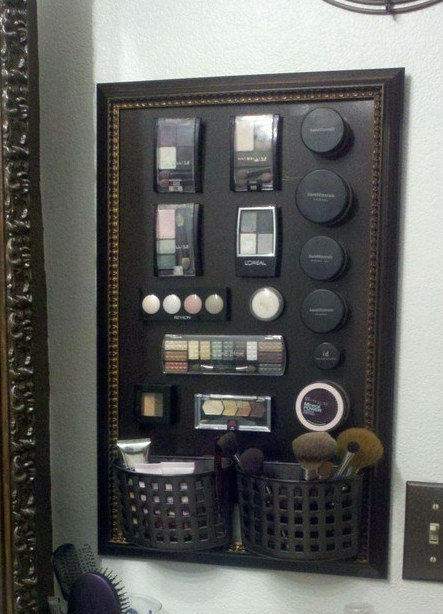 17. DIY shower rod organizer
Use curtain rods and over-the-door organizers to hold your shower essentials. Such an easy and practical solution via bhg.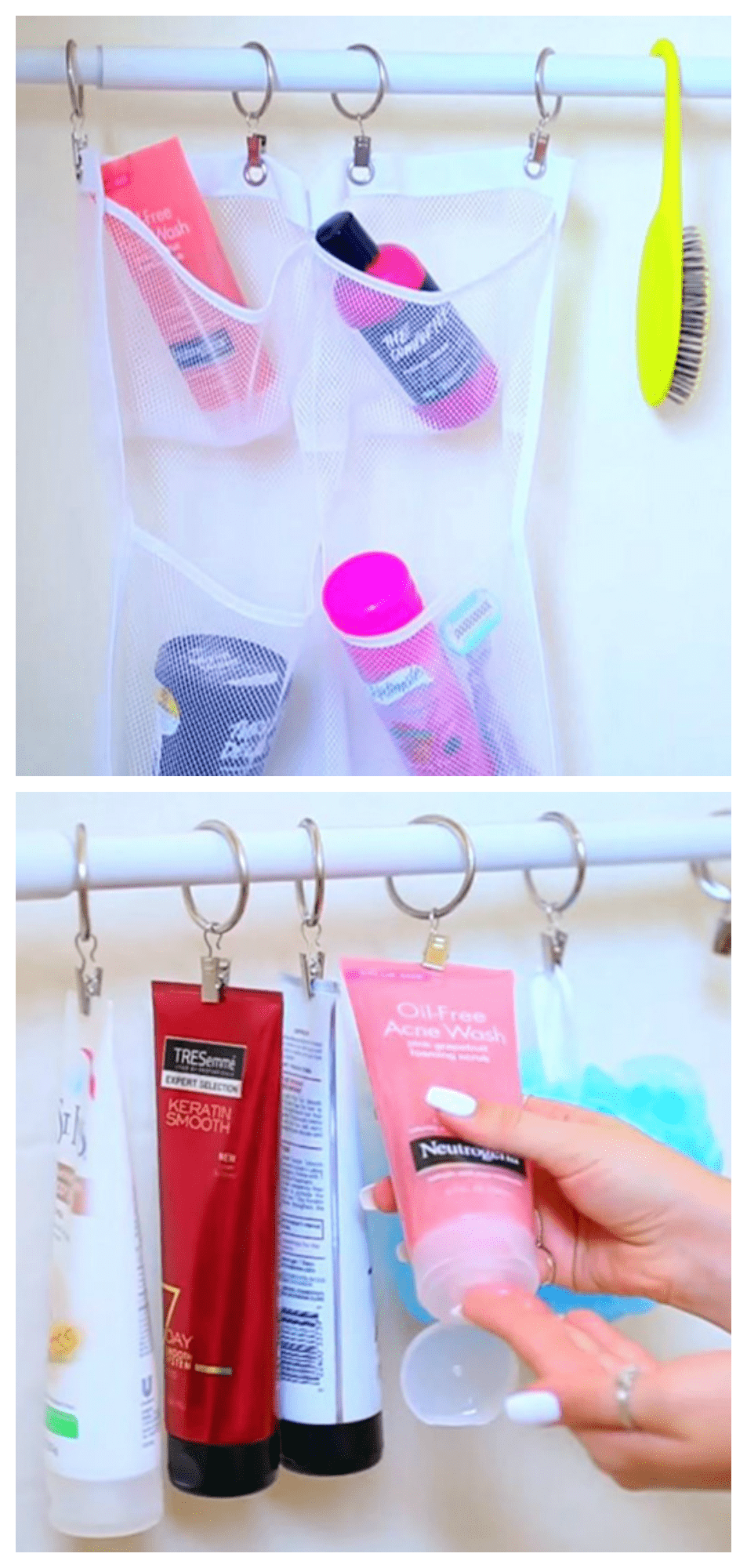 18. Keep mouthwash in a dispenser for ease of use
This simple idea is great for guest bathroom. Use a dispenser for mouthwash and toothbrush cups as mouthwash cups and arrange it on a decorative tray.
19. Use cake stand for organizing collection
If you have a collection of items that you use often like nail polish or perfume, consider displaying them such that the counter is not messy. A cake stand can make it look like a decoration. Idea by peek and ponder.
20. Use jars for bathroom organization
DIY apothecary jars via craftionary. Use candlesticks and mason jars (or empty candle holders) to create bathroom organization jars for cotton balls, makeup removing pads and cotton buds.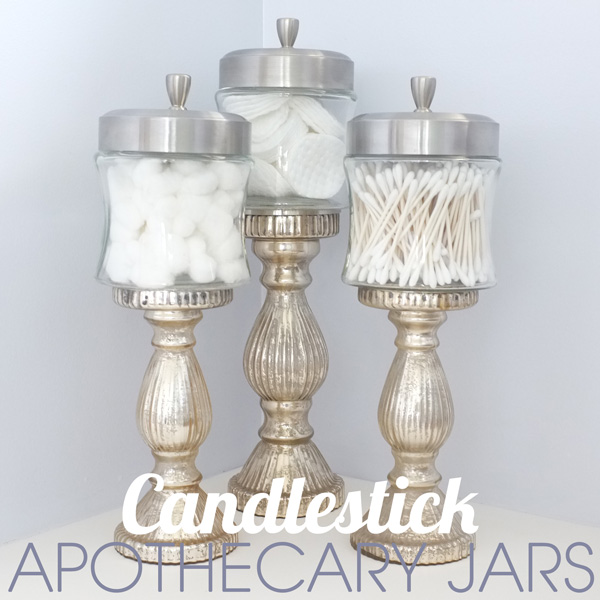 I hope you enjoyed these DIY bathroom organization ideas for daily essentials and items. Update: Some links were broken and therefore removed. If you find any original source leave a comment.
You will also like: