This post may contain affiliate links. Please see our full Disclosure Policy for details.
The Living room Wall Gallery has been almost completed. Today I am sharing a tutorial to make easy and custom DIY wall decor using embroidery hoop. Make a Family Birthdays wall art with embroidery hoop and simple chain stitch or stem stitch that is easy for beginners. Hang the frame in your home.
Family Birthdays Embroidery Hoop
The inspiration for this project comes from the birthdays.  You can use this idea to craft a birthday art in your own style.  There are a tons of different ways birthday art can be made like a printable or painted canvas.
However, I love the way embroidered birthdays look on the embroidery hoop. Cute and sweet!
All you have to do is place the fabric of your choice in the embroidery hoop.  And pick the colors you like for embroidery.
Trace the numbers and start embroidery.
Family Birthdays Embroidery Hoop (Tutorial)
I really liked this birthday dates Printable frame idea.  Which inspired me to create this embroidery hoop.
The idea to embroidery my Family's Birthdays on a hoop.
That was it, a custom special handmade project!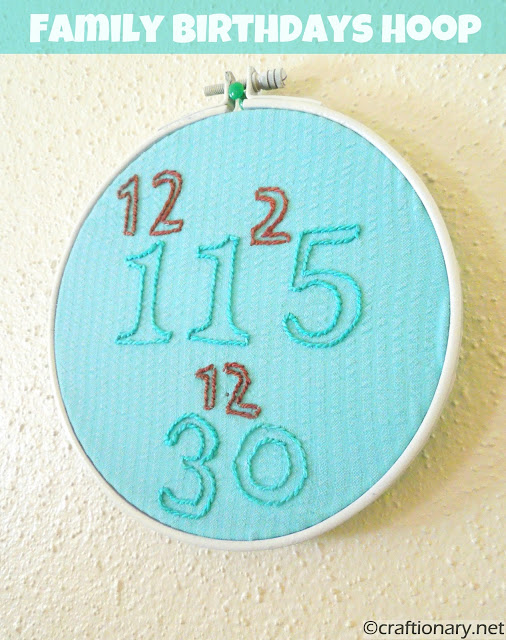 Make It:
I simply made an image on Picmonkey with the birth dates and printed it out.
Then with the help of a carbon paper, I traced it onto my fabric.
Fit it into the embroidery hoop. And started embroidery the Stem Stitch.
Tip: I place a piece of paper towel on the back to support my stitch and get neat results.
What I love about this stitch is, it gives a very neat outline and is very easy to do.
Stem Stitch Tutorial:
Bring the thread out at a and hold it down with your thumb.  Insert the thread at b and bring it out at c, midway between a and b.
Pull the thread through to see the first stitch.  Hold the working thread down with your thumb and insert the needle at d and bring it out at e, midway between d and b.
Continue in this way, making each stitch exactly the same length.
View each image individually for better understanding.
Images One, Two, Three and Four.
I chose to go with turquoise for the date and brown for the month of our birth dates.
Here's what you get.
A custom and handmade this embroidery hoop looks!
I hope you enjoyed Family birthdays embroidery hoop tutorial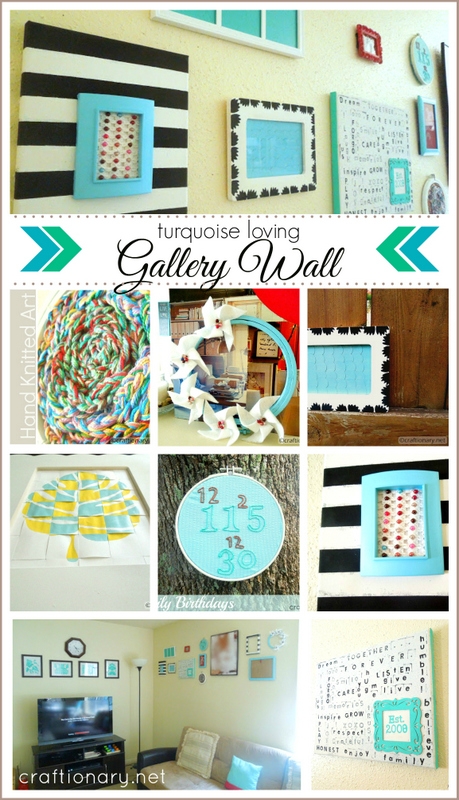 To see all the projects of this series, go to DIY Easy Wall Decor Complete Series.
Which one you think is the best?
Looking for Wall Decorating ideas?
Check out tutorials in the category Wall Art.