This post may contain affiliate links. Please see our full Disclosure Policy for details.
Want to make nylon butterflies this Spring?
There is always an inspiration behind everything. Spring brings hope, colors and happiness.
Gives you a reason:
To smile
To Celebrate
So, one of these days I saw beautiful butterflies in our patio.
Spring is here, that's what they told me!
So, as I was having so much fun making beautiful flowers with nylon.
I thought how about butterflies! They will surely look cute!
Since I don't have a daughter. I decided to gift it to a friend.
It will make a nice handmade gift for a little girl.
Let's take a look at nylon butterflies frame.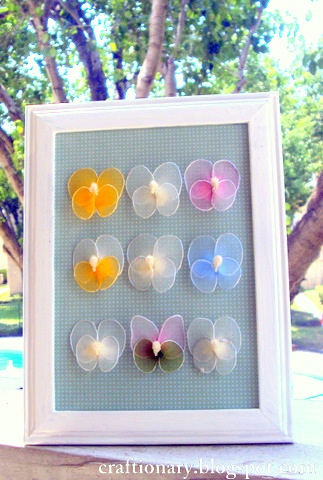 Make Nylon Butterflies
I had this ugly set of frames, which was not of any use until now.
Spray paint the frames white. Or paint it a brush for a distressed textured look.
I used to make a decorative frame with one. And used the other one for making a dry erase list.
Once the frame was taken care of. I started making nylon butterflies.
Nylon butterflies material
You will need:
nylon (stocking net)
#24 gauge wire
rings size (1) and (2) (you can also use anything round with diameters 1 and 2)
nylon thread
plier
beads
scissors
Make Nylon butterflies
Wind the wire around the rings. Twist at the end. And cut the excess with the plier.
You will need 2 wings size (1). And 2 wings size (2) for each butterfly.
Next wrap the wire in the stocking net. Gather at an end and thread it. Cut the excess of net.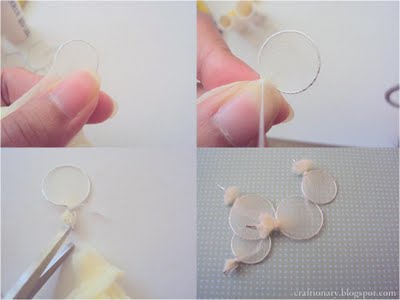 If you are new to nylon crafts. You can find complete details about material over HERE. And a complete basic tutorial over HERE.
To make the butterfly. Thread the two similar pairs together. Then slip the smaller pair of wings inside the bigger ones. And thread them together tightly.

Open the wings. And your butterfly is almost complete.
Now flatten the wires on the back. And cut out the excess.
In the same way make 8 more colorful butterflies.
Now arrange them on the frame.
To make the body of the butterflies, I used stamens.
You can also use beads and pipe cleaners.
Hot glue the stamens on the butterflies.
And then hot glue the butterflies on a piece of paper.
I used a green polka dots paper. I like it as the background of my frame.
And thought it was fun. I gave the picture a vintage effect.
Check it out:
Here's my first try at making butterflies.
This tutorial is a little different from this one. Check it out:
Stocking net butterflies tutorial.
I also like this Christmas tree decoration. I found this one at Butterflies Museum.
Loved the idea of using wire, beads and glitter to decorate.
Stocking flowers or Nylon flowers.
For more beautiful flowers made using Stocking. Check out the link below:
You will also like:
Bendable burlap flowers
Corn husk flower
Easy nylon flower bunch
Looking for more great ideas?
Are you on pinterest?
Updated regularly whenever I find unique ideas.