This post may contain affiliate links. Please see our full Disclosure Policy for details.
Do you like to make cute Christmas decorations? Today I am sharing the easiest idea ever to make mini Christmas trees. Use cupcake liner to make cute Christmas trees. Cupcake liner Christmas trees are just perfect for decorating your Christmas mantels, entryway table and simply any part of your home. You can also thread them together to make a cute DIY Christmas trees garland. Making mini Christmas trees is also a fun activity to do with the kids at home or at school.
Cute Christmas Trees
The trees I made are very small. I made these to make a winter/ Christmas wreath for home.
I can't wait to share the tutorial this week.
Mini Christmas trees tutorial
You will need:
Cupcake liners ( a combination of two different patterns or more)
Paper (for making cones)
Mod podge or glue stick (anything you like to glue paper crafts)
Scissors and tape.
Instructions:
Make paper cones in different sizes. Use tape to secure them in place.
Now make a slit using scissors on cupcake liners. And cut the top circular part (base of the cupcake liner) so you have strips of lined paper.
Start gluing them on the paper cones using mod podge.
I used two different cupcake liners. And glued them alternatively to create a contrasting pattern.
And that's it. When you are done let them dry.
Have fun decorating your winter wonderland.
I made cute little houses using wooden toy blocks of my little boy. And chevron Christmas printables that are free to download for personal use. You may also like the idea to make felt stockings specimen art for Christmas.
Cupcake liner Christmas trees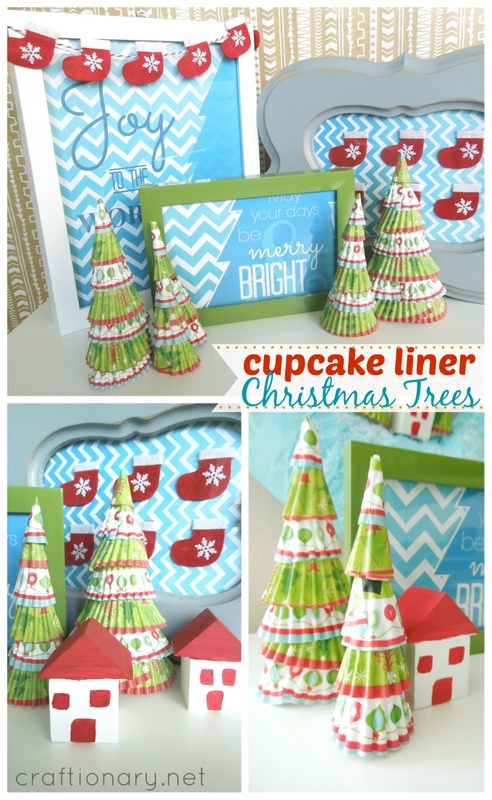 I hope you enjoyed this idea as much as I enjoyed making it. I would love to see yours if you get inspired to try these out.
Have a merry and bright Christmas.
You May Also Like:


Check out our category CHRISTMAS.
Are you on pinterest?
You may also enjoy the Christmas recipes and Christmas Ideas Boards.
Updated regularly whenever I find unique ideas.