This post may contain affiliate links. Please see our full Disclosure Policy for details.
Glass painting projects DIY easy glass paint techniques and ideas to make beautiful designs and patterns using stained glass paints on different base. You can paint so many different things using glass paints.  Since, glass paints are not only used for making decorative wall arts and frames. You can use them to make calendars, vases, lamps, trays and so much more.
Glass painting ( and stain glass) is also great for revamping old and simple items. With new techniques it's become easy to glass paint. Even if your hands are not steady, you can create beautiful things. Glass painting is also a fun way to be creative with your kids.
I am sharing 20 crafty ideas to make glass painted projects with instructions. With designs and patterns that anyone can make.
Easy Glass painting projects using DIY glass paint
In this post you will find the following glass painting projects:
DIY glass painted dry erase board and calendar
Stain glass paint candle holders
Glass painting chandelier
Easy painted pyrex dishes
Painted glass bowls and glassware
Glass painting kitchen accessories
Anthropologie glass painted knobs
Artistic pattern glass painted ceramic plate
Glass painted tray
DIY marbleized glass painted drinking glasses
Easy stained glass coasters
Geometric stained glass cups
DIY stained glass vases
Cute stained glass votives
Kids room glass painted artwork
Stenciled glass paint art project
DIY glass paint lamp
Easy pattern for painting light fixture
DIY glass painting art tutorial
Floral stained glass cake stand
Creative glass painted fish bowl
Stained glass photo display
Fun glass painted bottles
Stained glass painted planters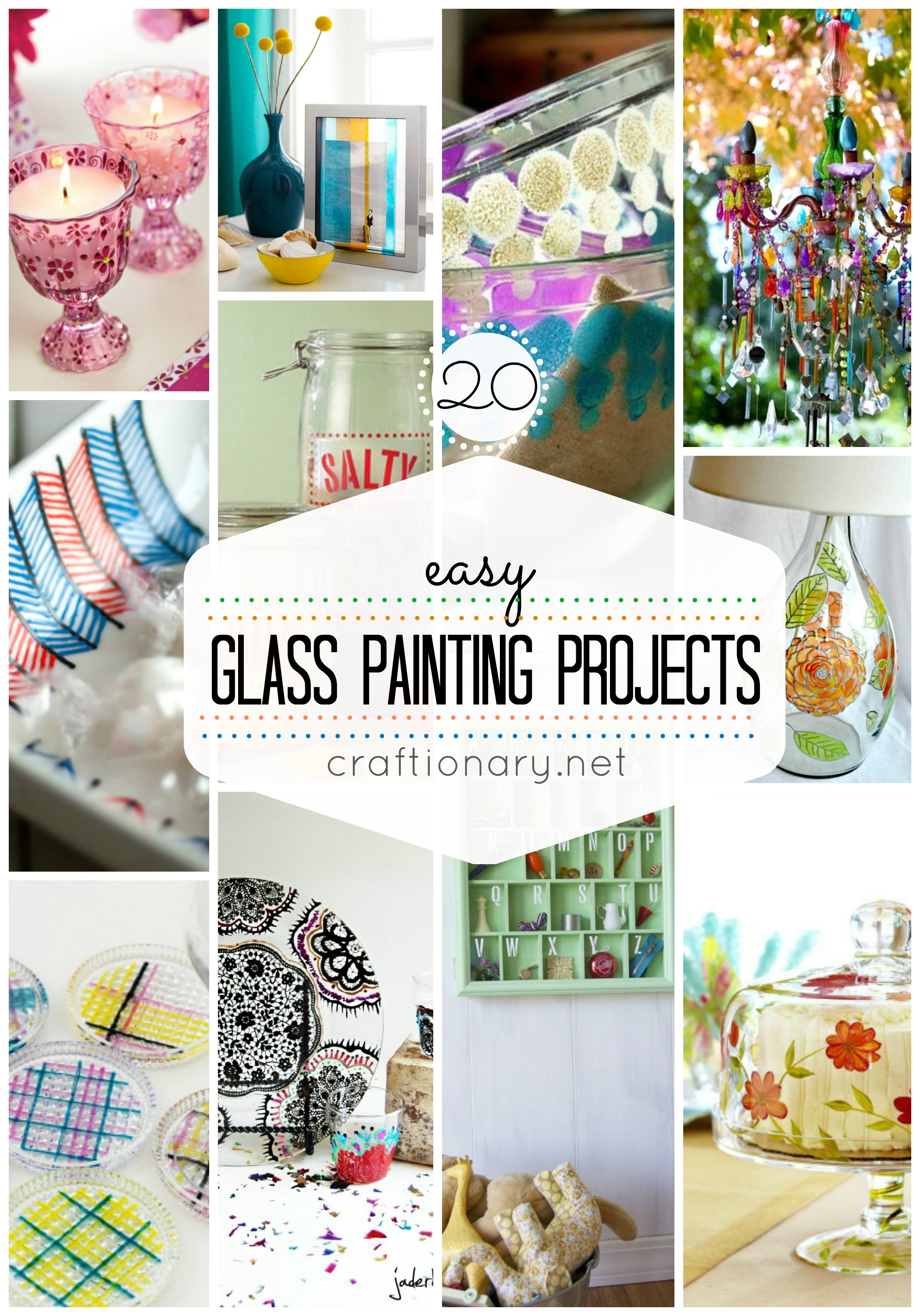 How to glass paint on any surface?
Even though the original stained glass painting technique used lead to draw the design and glass paints to fill the glass art. Today, glass painting uses many different materials and supplies. If you are using acrylic paints use acrylic enamel or solvent-based paints as they are oil-based and bond well compared to water-based acrylics on glass surface.
How to prepare glass surface for best results when painting?
To prepare the surface for best results when painting make sure to wash the item thoroughly in warm water with soap to remove grease film. You can also soak and clean any dust or dirt with soapy water. Let it dry completely before you start.
What material I need for glass painting?
Apart from glass paints depending on your project you may need:
paint brushes
foam brushes
applicator sponges
rubbing alcohol (to fix error and to clean)
white vinegar (to clean finished projects)
cotton bud (to dip and fix any mistake)
flat brush
masking tape or painters tape for outline
glue
glitter
spray painting enamel paints for coverage
glass paint markers
paper towel
painted designs
stencils
food coloring
Once your painting project is complete, let it air dry. Finished projects are dishwasher safe after you bake in the oven at 250°F for 30 minutes.
Best glass painting brands used for stained glass projects
The following companies and brands are readily available at walmart, amazon, michaels and other leading stores to name a few for type of paint:
DecoArt
FolkArt
Glassline
Pebeo
DeCola stained glass paints
Americana
Magicdo
Apple Barrel
Arteza
Castle Art
Plaid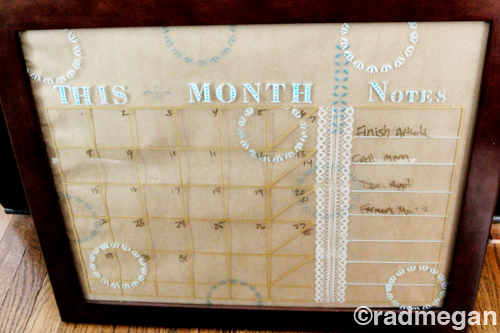 Glass painted calendar
Use stencils and Martha Stewart acrylic paints on a frame to make DIY Glass Painted dry erase board and calendar.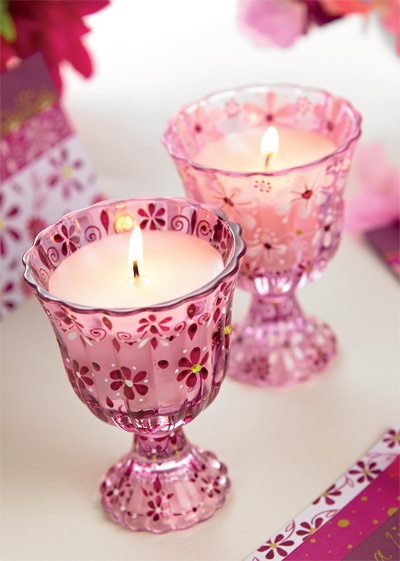 Stain glass paint candle holders
Beautiful candle holders with floral design.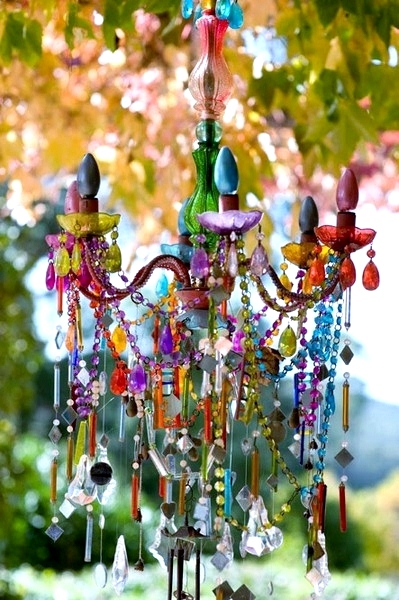 DIY glass paint chandelier
Use glass paints to turn an old chandelier into a beautiful garden and outdoor decoration.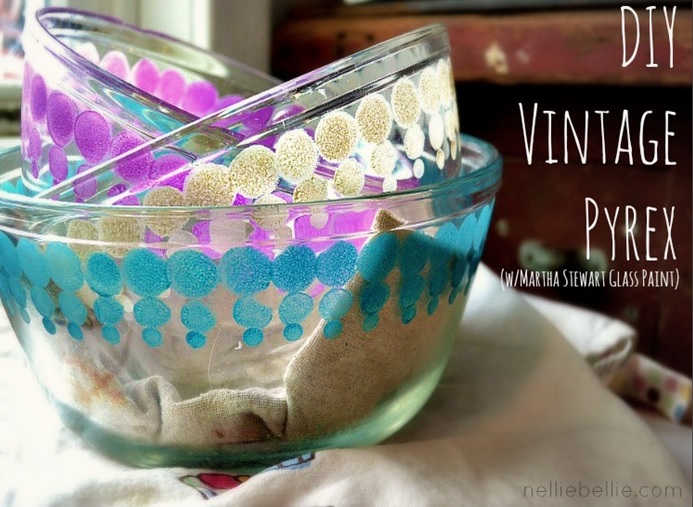 Easy Glass Painted Pyrex Dishes
Use round foam brushes for polka dots to make these glass bowls or glassware.
Glass Painting Kitchen Accessories
Use frost and glass paint to make stenciled label glass jars or mason jars for kitchen.
Stain Glass Painting Projects for home decor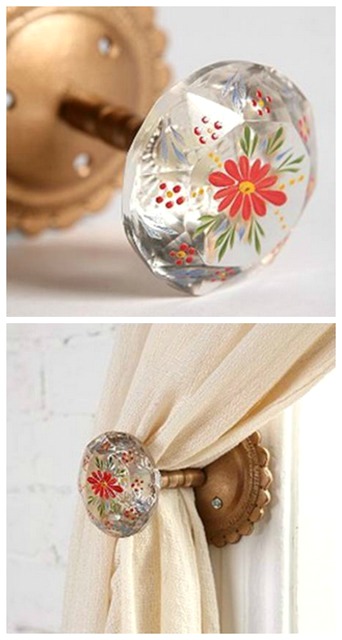 Anthropologie floral glass painted knobs
Turn simple looking glass knobs into something cool with paint. You can use them as furniture knobs, tie backs and more.
DIY glass painting plates
Turn white plates into decorative plates with glass paints.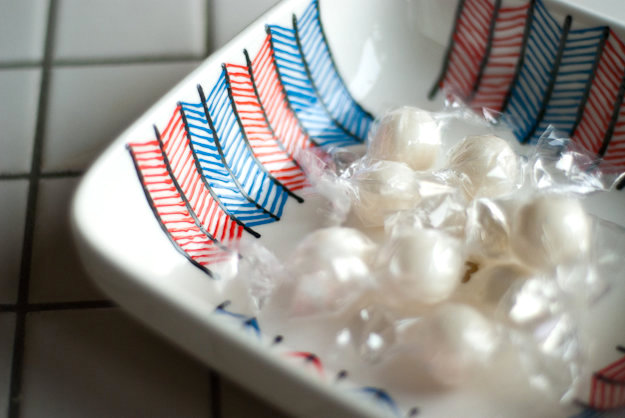 Glass painting trays
Artistic patterns on plates and trays. Glass paint is not just for glass.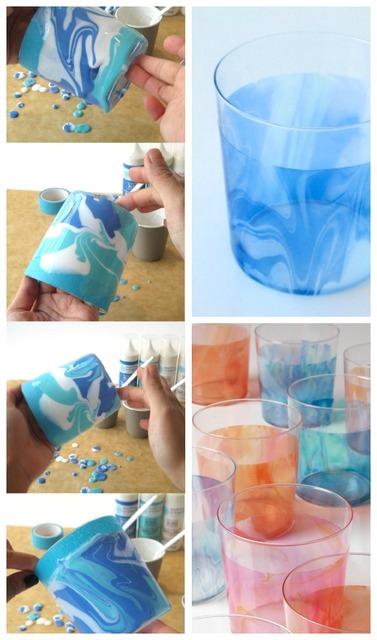 DIY Marbleized Glass Painted Drinking Glasses
Use various shades of a color and drop acrylic paints on drinking glasses. Move the glass around using the base and top (which has been taped using painter's tape). This will create marbleized pattern, let it stand on a disposable glass or something to dry. The trick is to mix etching medium and acrylic paints. Use squeeze bottles or cups with spoons to pour paint on glass.
Holly tested out opaque (gloss enamel acrylic paints) and translucent (crystal gloss enamel) paints and mixed them with different amounts of glazing medium or Americana clear medium to test the paint results on a glass removed from old frame. The results:
opaque High Gloss Enamel paint
with a bit of clear fill medium (1:1 ratio)
clearer fill medium
1:2 ratio of 1-part opaque paint, 2 parts clear fill medium
1:1 ratio of opaque paint and glazing medium
more glazing medium to one-part opaque paint
1:2–1:3 of glazing medium–I didn't measure anything, just eyeballed it. This last one is somewhere in the ballpark of 2 or 3 parts glazing medium to 1 part opaque paint.
A) translucent Crystal Glass Enamel Paint
B) 1:1 translucent paint with clear medium
C) 1:1 translucent paint with glazing medium
D) 1:2 translucent paint with glazing medium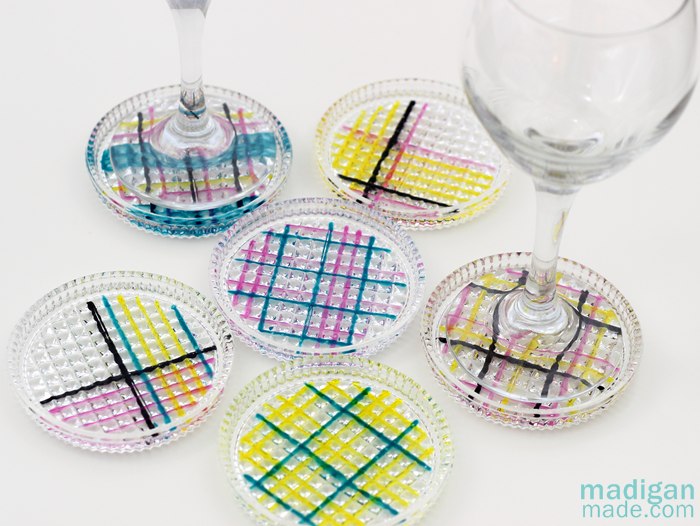 Easy Stained Glass Coasters
Make interesting pattern to revamp simple glass coasters.
Geometric stained glass cups
Just use glass paints with nozzle and use it as pen to make direct pattern on cups and mugs.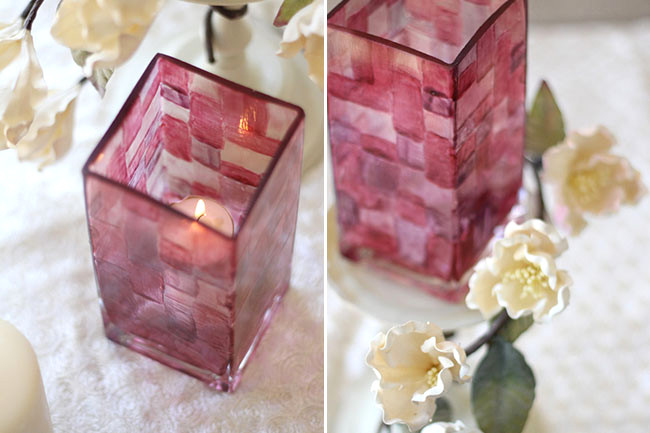 DIY stained glass votives
Painted squares in various sizes and shades to make this beautiful DIY Stained glass vases.
Glass painting projects that add beauty to any room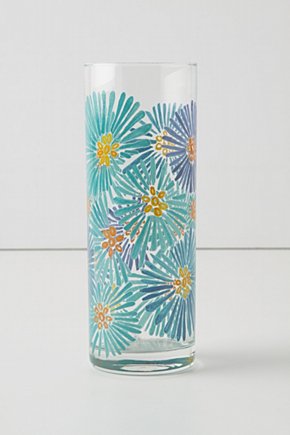 Floral painted glass vase
I love this floral painted glass vase via plaid. You can use this pattern on wine bottles as well.
Make glass painting shadow box
Replace items inside alphabet shadow box for teaching kids alphabets. This will also make cool decor in kids bedroom or play area.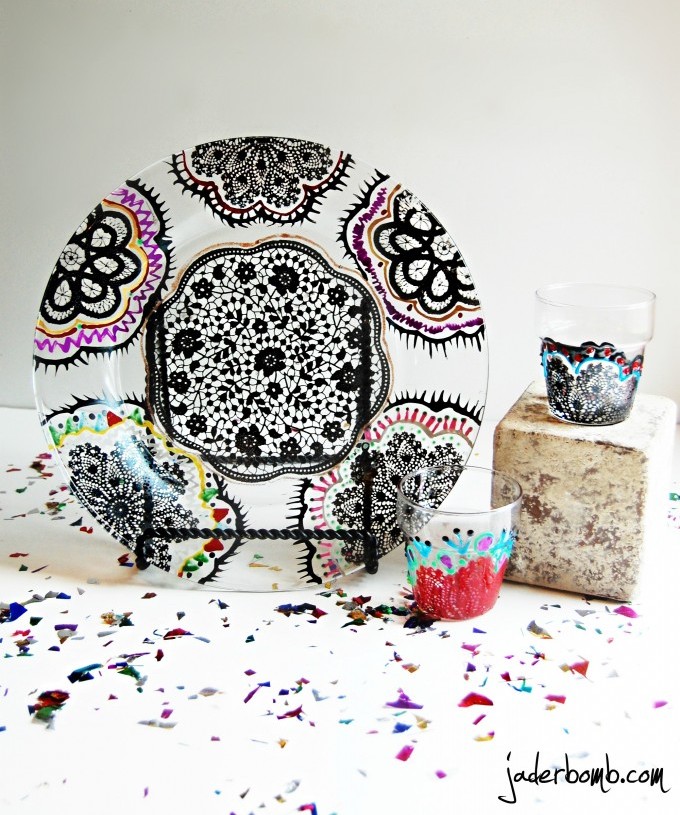 Glass painting decorative plate
Use doilies to stencil using glass paints. I love this Mexican folk art project.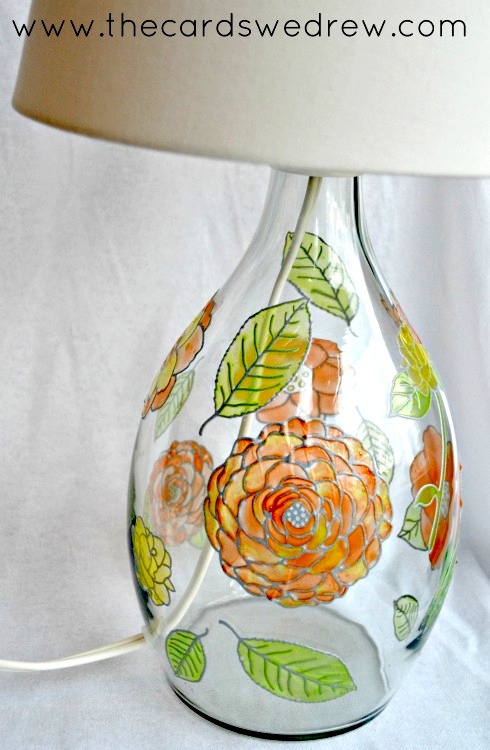 DIY Glass paint lamp
Paintable clings from Martha Stewart are an easy way to revamp any project. Simply paint and stick them on glass.
Glass painting light fixture
Easy Pattern for Painting Light Fixture Panes in diamond pattern.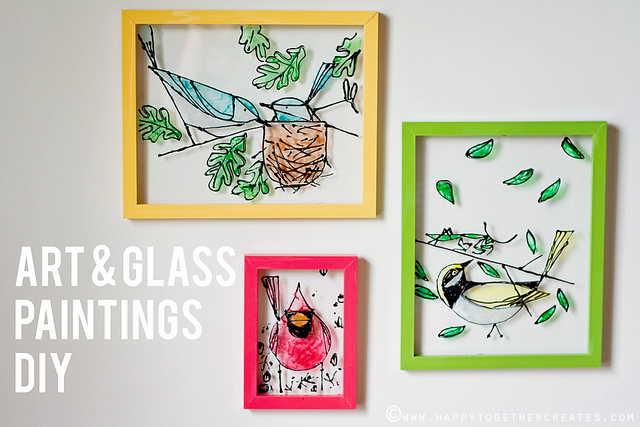 DIY Glass painted art
Such an adorable project creating drawings inspired by spring on transparent frames.
Floral stain glass cake stand
Found at Pier1 Imports, this cake stand is super eye catching.  I am so doing this to my cake stand.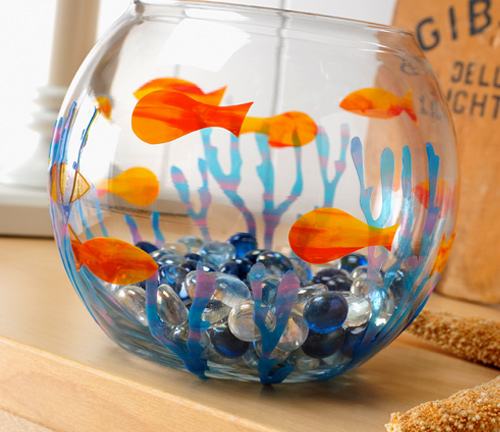 Stained glass fish bowl
Have fun making this Creative glass painted fish bowl with your kids.
Stained glass photo frames
Make a photo display with glass paints. Use painter's tape to make stripes in a transparent float frame. Mask off stripes on the front side of both glass panes and see how they will look when they overlap. Paint the panes, peel of the painter's tape. Now display a photo in it.  This can also make a beautiful gift.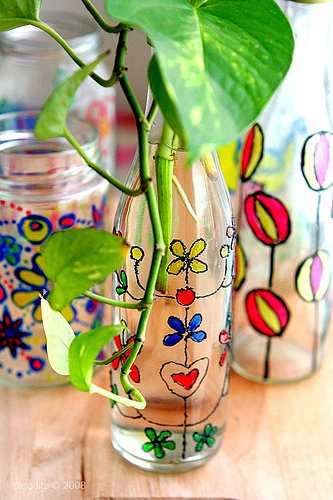 Stained glass painted planters
Turn simple glass bottles into fun planters. Glass painted bottles for growing or propagating money plant. Find an easy propagation station for your cuttings and grow more houseplants for free.
Some links have expired and therefore removed. If you know the original source please leave it in the comment.
You will also like:
25 Garden Projects anyone can make
30 Must Know Craft tips
35 Decorative Flower Vases
Are you on pinterest?
Updated regularly whenever I find unique ideas.