This post may contain affiliate links. Please see our full Disclosure Policy for details.
Bring a touch of tranquility to your outdoor living space with water feature ideas for landscape. The calming sounds and peaceful atmosphere can not only benefit you, but also increase the value of your property. Your home can have the ideal water feature, whether it be a basic bird bath fountain or an elaborate pond or stream.
Find variety of possible options to DIY water feature and find a list of materials to assess your budget. Choose the best idea for your space based on work level. Once, you have chosen the idea gather the supplies we have recommended and get making your own with expert's advise linked for your assistance.
The Different Styles of Water Features
A DIY water feature project can add value and beauty to your outdoor space. With the right materials and tools, many styles of water features can be created with a DIY approach in 2023, including:
Modern Water Feature: Create a sleek and contemporary look with a simple rectangular pool and a clean-lined fountain or water wall using materials such as glass, concrete, or stainless steel.
Natural Water Feature: Bring the beauty of nature to your backyard with a DIY pond or stream made from rocks, stone, and wood. Incorporate plants like water lilies and rushes to complete the natural look.
Rustic Water Feature: Give your outdoor space a charming, rustic feel with a DIY fountain or pond made from natural materials such as stone, wood, and copper. Add a waterfall or stream to complete the look.
Asian Water Feature: Evoke a peaceful, Zen-like atmosphere with a DIY water feature incorporating elements such as bamboo, stone lanterns, and koi fish. Build a koi pond or a tiered fountain with a stone base for a classic Asian look.
Mediterranean Water Feature: Bring a touch of the Mediterranean to your outdoor space with a DIY wall fountain or small pool with a fountain made from terra-cotta pots and mosaic tiles.
DIY water features are a great way to save money while creating an outdoor space that is unique to your taste and style. However, it's important to consider your skill level and resources before starting any DIY project. Hiring a professional may be necessary for certain aspects of the project.
List of Supplies for Water Garden Projects
Gather these key components for DIY Water Feature ideas:
Basin or Container: Select a pre-made basin or build one yourself
Circulating Pump: Essential for flowing water and controlling the flow
Connectors and Hoses: Connect the pump to the feature and circulate the water
Leak-Proof Liner: Ensure the water stays contained within the basin or container.
Natural Bedding: Use rocks, stones, or gravel to give a natural appearance
Live Plants: Add greenery to enhance the natural look of the feature
Illumination: Light up the feature for a beautiful visual display at night
Water Flow Enhancer: Choose from fountains, sprayers, or nozzles to control the water flow and create a desired visual effect
Electrical Supplies: Power the pump, lighting, and other electrical components.
Note: The required items may vary depending on the size, design, and complexity of your water feature project. This list of basic components will help you get started:
You will also like: DIY Water Gardens anyone can make
Essential Tips
Choose a location with proper water and electrical access.
Select a pump with the appropriate flow rate for the size of your water feature.
Use a liner to prevent water from seeping into the ground and causing damage.
Incorporate rocks, plants, and other natural materials to create a harmonious design.
Consider using a filtration system to keep the water clean and clear.
Avoid These Common Mistakes
Water feature near trees or plants that might drop debris into the water.
Electrical equipment near the water without taking proper safety precautions.
Over-pump the water as this can cause it to become stagnant.
Forget to clean and maintain your water feature regularly to prevent the growth of algae and bacteria.
Use of chemicals in the water that could harm plants, wildlife, or pets.
How to keep water clean in a water feature?
Use white vinegar to clean Algae
Some chlorine in summer
Use a good quality water pump
Change water once a month
Replace pump filters as recommended
What can I use for water feature ideas?
Water features refer to various structures or elements designed to incorporate water into a landscaped area. Some common types of water features include:
Fountains: Decorative structures that produce a continuous flow of water.
Ponds: Man-made water basins that can range in size from small, shallow containers to large, multi-tiered pools.
Waterfalls: Features that mimic the flow of cascading water, often incorporated into a pond or fountain.
Streams: A flowing water feature created by a pump and channel system.
Bubble fountains: Fountains create a stream of bubbles that rise to the surface.
Spray features: Structures that produce a mist or spray of water, such as a spray fountain or misting fountain.
Spa and hot tubs: Small, personal water features designed for relaxation and hydrotherapy.
Cascading pools: Tiered pools that mimic the flow of a natural waterfall.
Rain chains: Decorative chains or cups that direct rainwater from a roof to a basin or pond.
Rill: A narrow channel or trench that carries water from a higher to a lower point.
Grotto: A cave-like structure that incorporates a waterfall or fountain into its design.
Interactive water features: Water features incorporate elements such as jets, sprays, and nozzles for interactive play.
LED-lit fountains: Fountains that incorporate LED lights for a unique visual display, especially at night.
Water walls: Vertical structures that incorporate a continuous flow of water, creating a calming sound and visual display.
Koi ponds: Ponds designed specifically for keeping and viewing koi fish, often incorporating a viewing platform or window.
Solar-powered fountains: Fountains that use solar energy to power their pumps and operate during daylight hours.
DIY Water Feature Ideas
Find water feature ideas with materials and tools linked for ease of purpose as you build them. Please note some links are common in these projects and therefore not repeated. The intention is to help you assess the best options to make your water feature on the right budget. Once you read how the water feature is made you will realize the same method is valid for all and hence the products can be substituted to fit different budgets.
Easy maintenance water features
1. Simple Low Maintenance Water Feature by Bunnings.
Solar pump kit from Etsy $36
Solar fountain Kit from Amazon $125
Basin
1L water based bitumen paint from Amazon
Landscape natural stones
Waterproof caulk and seal from Amazon
Lightweight concrete cylinder planter from Amazon $53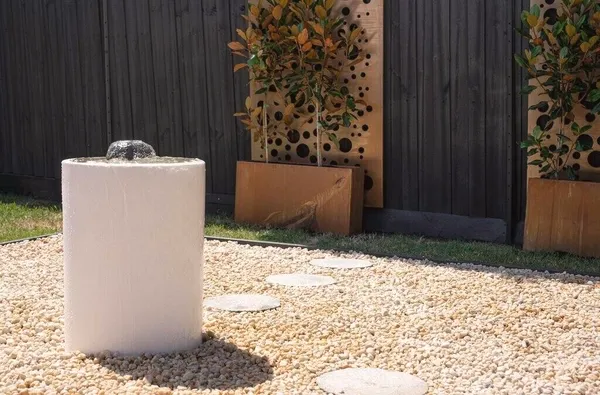 2. Large Ceramic Pot Splashy Water Garden by Lowes.
19

-in Glazed Ceramic Pot from Amazon $15
Solar fountain Kit from Amazon $125

4 Rubber Hole Plugs

Marine Grade Clear Silicone Adhesive Sealant from Amazon $13

Two 5-Gallon Plastic Buckets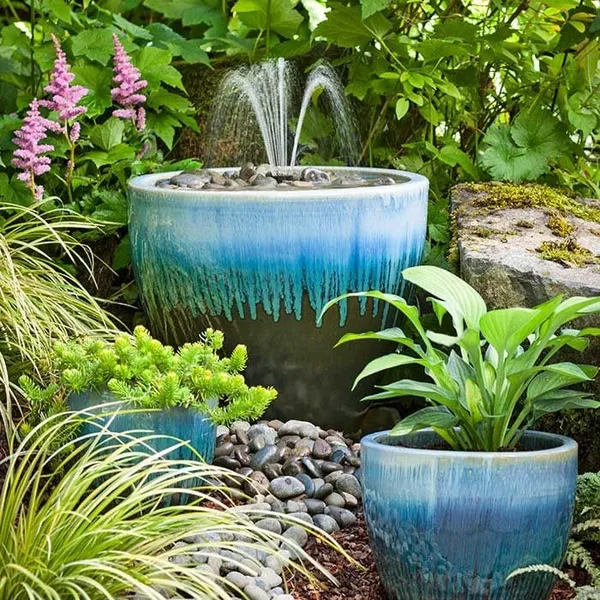 3. Two tier Patio Water Fountain by Lowes.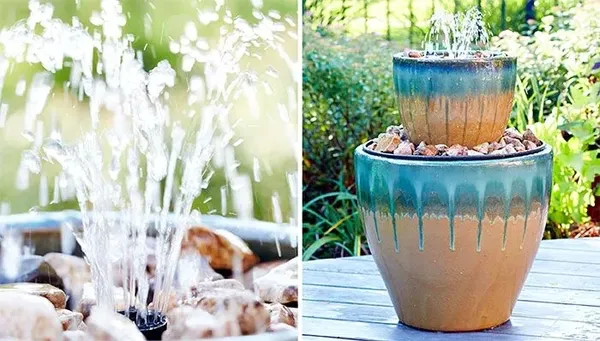 4. Design a DIY Staircase Water Fountain by An Extraordinary Day.
Large Water-Tight Container/Pot
Smart Pond Container Fountain Kit
Power Drill and flat boring Drill Bit
E6000 Adhesive
Black flower pots in 2 sizes
Ceramic Fish
Water and a nearby grounded Power Source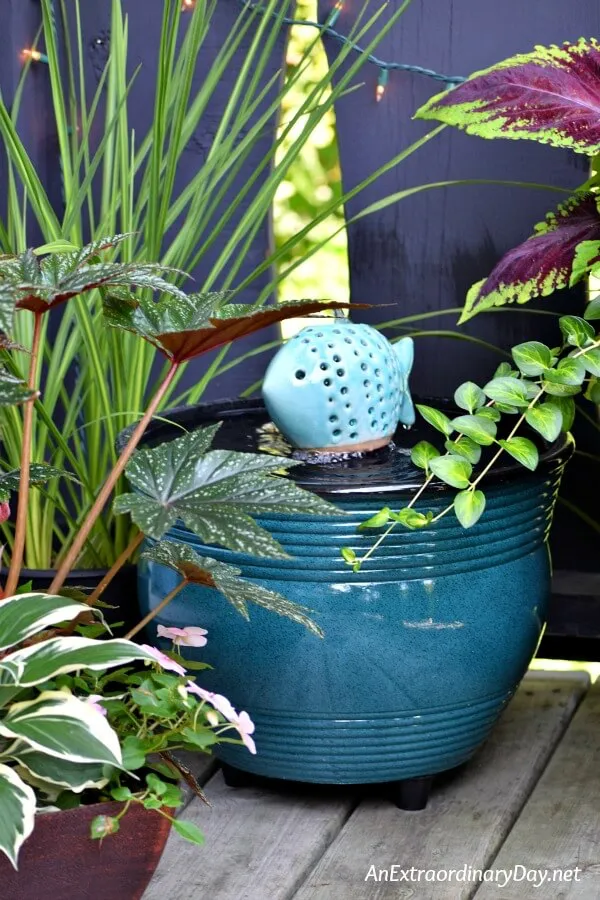 5. Urn or Pot Spillway Bowl Water Feature by Heart the Devine.
Large clay pot
Small clay pot
Plastic pot for height or nursery pot
Craft paints
Potting soil
Plants
Glue or tape
Foam sealant
Solar fountain inserts from Amazon $17
6. Invisible Stacking Stones Water Rain Fountain by instructables.
Pump
Copper Pipe
Waterproof Basin
Stones
Small Rocks
Compression Female Adapter
Ball Valve
Screen
Composite Decking
Drainage Gravel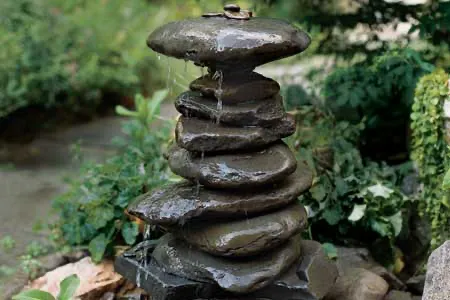 7. Solar Powered Staircase Birdbath Fountain by interior frugalista.
Set of 2 flower pots from Amazon
Flower pot saucer from Amazon
Plastic pail
River Rocks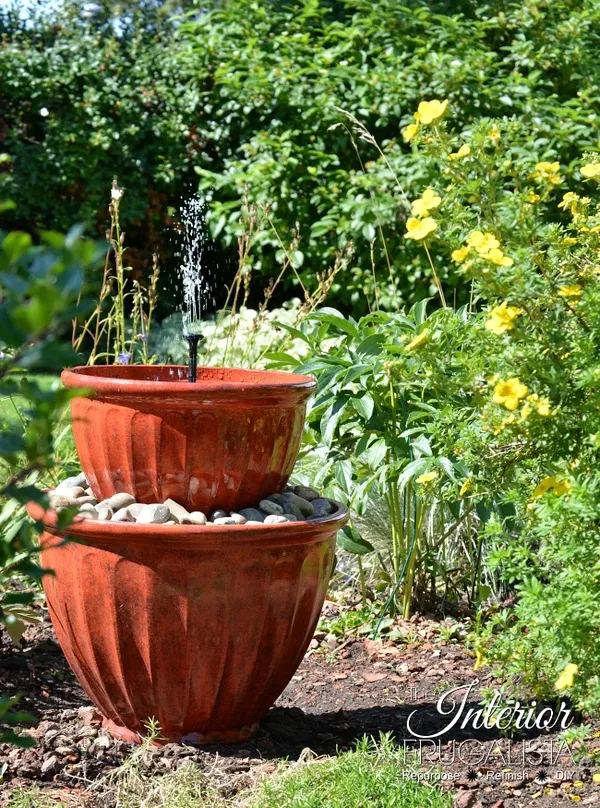 Small garden water feature ideas
8. Natural Small Backyard Pond Box by Family Handyman.
15 feet of 1×8 Cedar boards
Handsaw or circular saw
Drill
Wood screws
Scrap wood
Water sealant
Waterproof Liner from Amazon $40
Water plants
Potting soil
Pea gravel or landscape rocks
Gazing ball or other ornaments from Amazon $40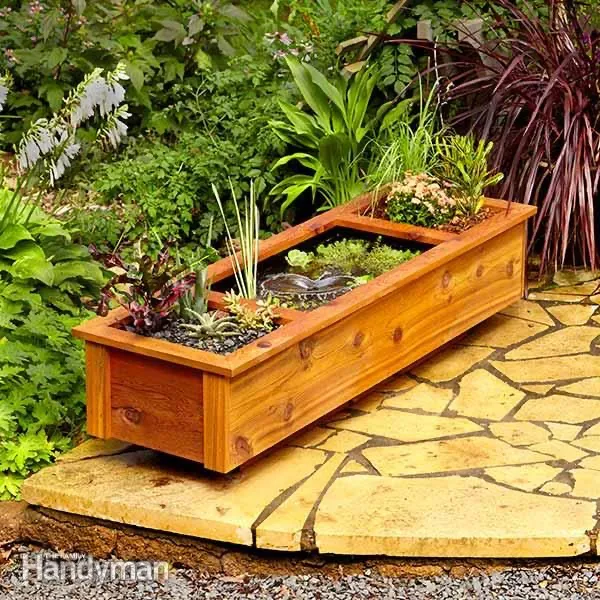 9. Include Garden Pot Water feature next to fire pit by bhg.
24″ Container
Pump and fountain from Amazon $12
Premixed quick-dry cement
Liquid water sealant
Bricks
Outlet with ground fault circuit interrupter
10. Small Rustic Metal Tub Wall Water Feature by rustic refined.
Low Water Shut Off Fountain Pump from Amazon $12
Water Trough/Stock tank
Corrugated metal sheet
12 gallon kitchen garbage can
40 pound bags of Potting Soil
Garden Watering Can from thrift store
Scrap Lumber
Scrap Metal Frame
Common Plumbing parts (pipe elbows, flange, washers and wing nuts)
Antique Metal Coffee Filter from an old commercial coffee pot
6 to 8 Bricks (optional)
You will also like: 50 Fast growing plants for privacy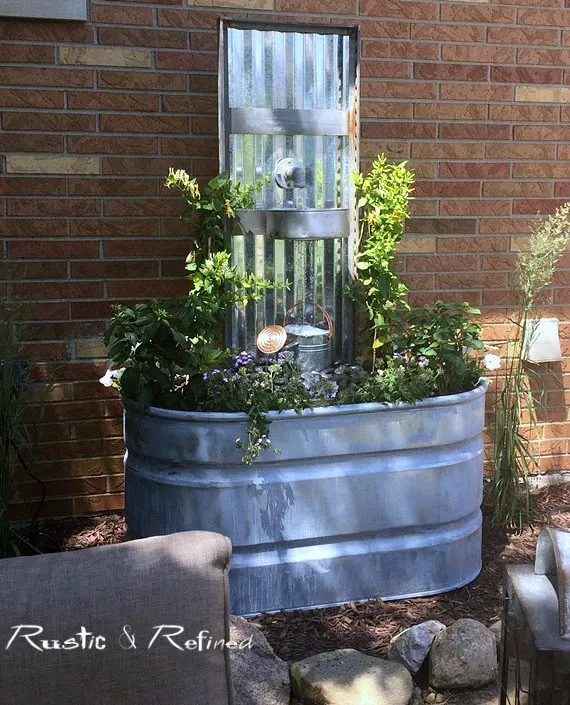 11. Traditional Walkway Rock Water feature by Garden Therapy.
Level
Large Aqua Basin Sand Bag
Hand truck
3 Basalt fountains
Pump 2000 GPH

AquaScape Kink Free Pipe

Electrical Outlet
AquaScape LED Garden and Pond 3 Light Kit from Amazon $140
Various large landscape rocks
Bulk River Stones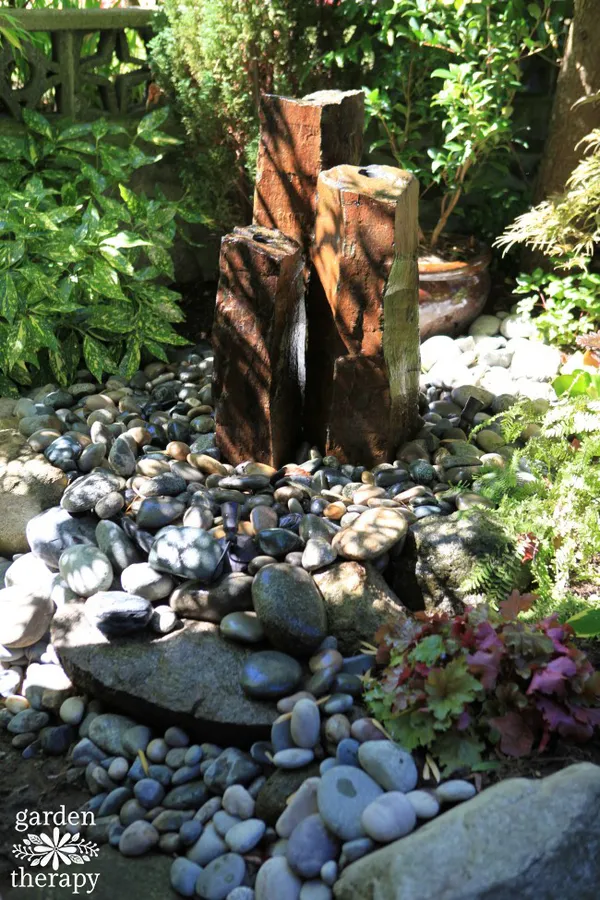 Unusual landscaping water garden ideas
12. Japanese Pondless Waterfalls Curtain by the owner builder network.
Pressure treated lumber
copper pipe from Amazon $18
1 ¼" copper elbows from Amazon $13
Blow torch and copper solder or copper epoxy
Plastic tubing and two 1 ½" elbows buy from Amazon $9
Toro Blue Stripe Drip Tubing
Waterfall pump from Amazon $221
1 ½" PVC Ball Valve from Amazon $15
Drill
Router
Miter Saw
Oscillating multi tool or wood chisel
Level
Exterior wood stain from Amazon $200
Fast Set Concrete
Post hole digger or shovel
Plastic storage container from Home Depot
40 mil pvc pond liner 5' x 8' from Amazon $40
Landscape Timber lag screws
200 lbs Black Mexican Beach Pebbles
13. Cascading Waterfall Stream Yard Feature by Family Handyman.
Ball valve and clamps
Decorative boulders
Pond liner from Amazon $40
Field boulders
Gravel
Hose kit and connections
Large waterfall pump from Amazon $12
PVC primer and cement
Sewage basin and lid
Two hole saw bits
Weed barrier landscaping fabric from Amazon $120
Waterfall foam sealant from Amazon $35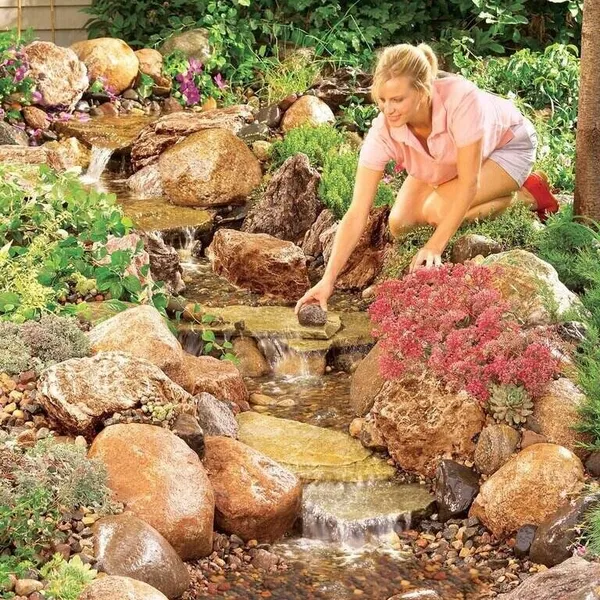 14. Swimming pool waterfall by HGTV.
Self-contained waterfall kit from Amazon $1000
White gravel
Assorted plants
EMT (electrical metallic tubing) plastic conduit
Four EMT (electrical metallic tubing) elbows
Two wet location boxes
50′ electrical snake
Shovels
Cordless drill with screwdriver attachment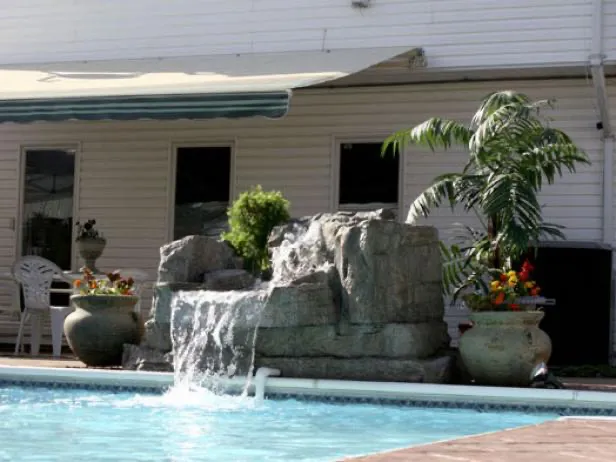 15. Build a Traditional Koi Pond with Outdoor Kitchen by The Spruce.
Backyard Centerpiece Water Features for focal point
17. Tabletop Indoor Upcycled water fountain using LED and water bottles by Rustc Kraft.
7 Plastic bottles of various size.
3 to 4 spoonful of white cement
2 rolls of bandage and cloth pieces
Waterproof RGB Remote Controlled LED strip from Amazon $40
Submersible pump from Amazon $10
Hot Glue Gun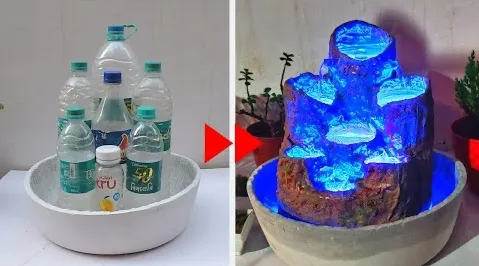 18. Oudoor Brick Water Blade Feature by HGTV.
37-gallon heavy duty trash can with lid from Amazon $140
Tumbled stone bricks
Pump with 1-1/4-inch hose
Pvc pipe
Plastic flower box
Pond liner from Amazon $40
Aluminum flashing
Silicone sealant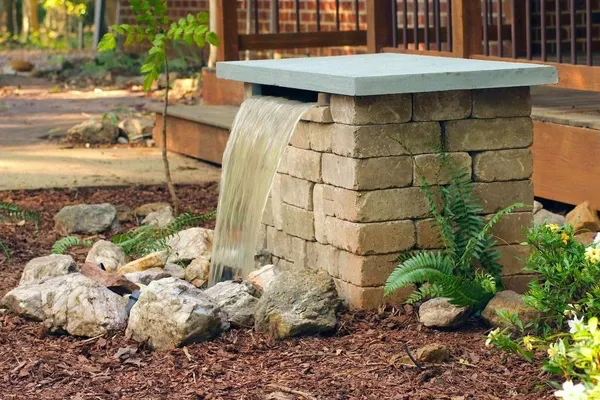 19. Centerpiece Vertical Terra Cotta Water Feature by instructables and more bird bath ideas.
Terra Cotta Pot and Bowls
Solar Fountains from Amazon $17
20. Courtyard Decorative Water Feature in focus by Family Handyman.
Bucket
Circular saw
Cordless drill
Dust mask
Hearing protection
Pliers
Putty knife
Safety glasses
Sawhorses
Straightedge
Tape measure
Utility knife
21. Vortex Water fountain that spins by Adapt.
Acrylic cylinder (Recommended: 8″ diameter) from Amazon $16
Water pump (Recommended: 400 GPH / 1500 L/h submersible pump) from Amazon $10
Pipe or hose (Recommended: 1/2″ clear hose) from Amazon $27
Watertight base (Recommended: 16″ resin planter)
Plant saucer (Recommended: 16″ plant saucer)
Sandpaper
Power drill, with drill bits
Sealant gun, with silicone sealant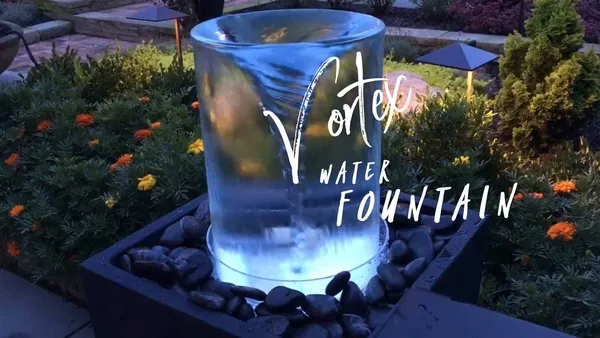 Frontyard Water Feature Ideas
22. DIY Simple Pond with lights and statue by Lolo Bay.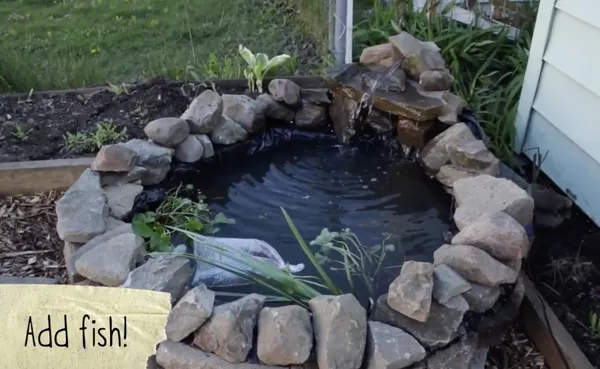 23. Grow a Pondless Water Garden by pretty purple door.
Submersible Fountain Pump from Amazon $10
Plastic Tubing
Water basin
Grate to cover water basin or Hardware cloth
Outdoor Extension Cord
Pond Nozzle Kit
Rocks
Shovel, dirt, hose, etc.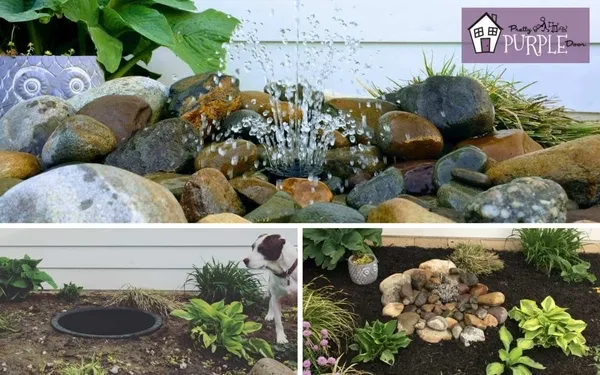 24. Frontyard Rustic Mixed Materials Water Feature by Shannon Quimby.
Rustic Steel Wheelbarrow set of 2 from Amazon $63
Heavy-duty work gloves
Wire feed welder
26 feet of metal pipe
2 feet of flat bar
Welding mask
Three tool heads to decorate tops of support pipe sections (we used a rake, shovel and pitchfork)
Pond pump
Black electrical tape
Pond plants
Extension cord (optional)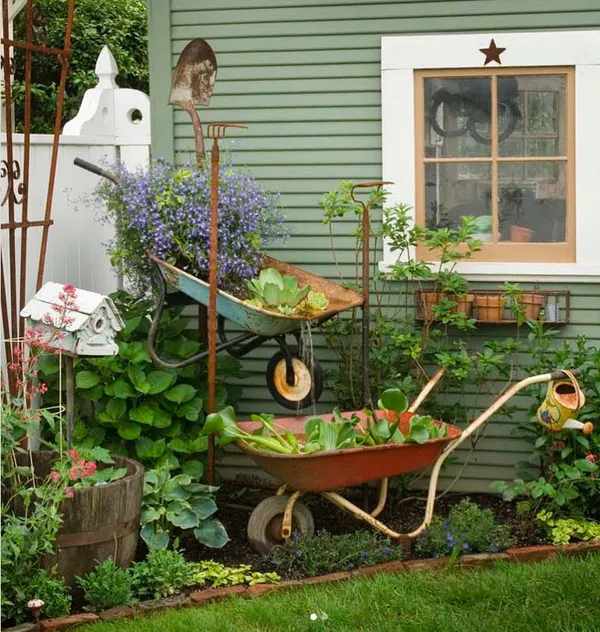 Balcony water garden ideas
25. Wall Mounted Relaxing Rain Chain Feature by gardeners oasis.
Flexible copper tubing from Amazon $38
Copper sheet metal from Amazon $60
Copper hobby wire
Broom handle or other long round object
Bench vise
Reciprocating saw
Metal cutting reciprocating saw blade
Pliers
Jig saw
Thin Metal Jig Saw Blade
Cordless drill
Drill bit for drilling metal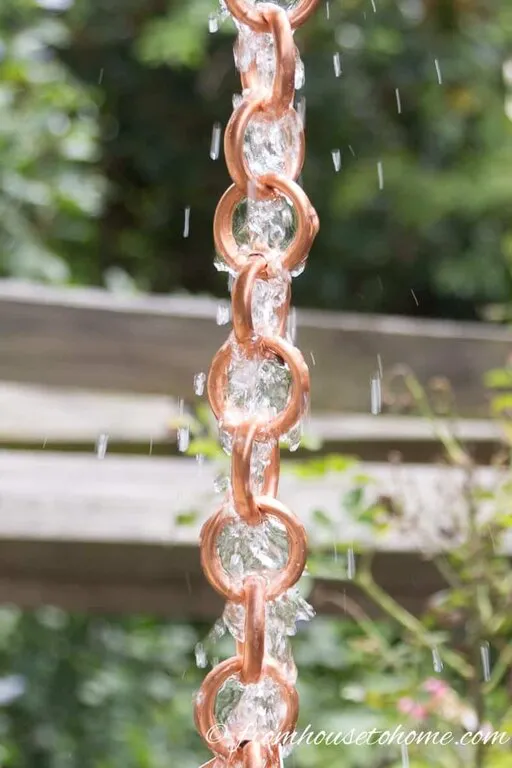 26. Illusion of Floating Tap Water Feature by Creativity Hero.
Galvanized Rustic Metal Bucket from Etsy $50
Water faucet from Etsy $100
Rigid acrylic
Water pump from Amazon $20
White pebbles
Cordless drill
Drill bit set
Glue gun
5 min epoxy from Amazon $7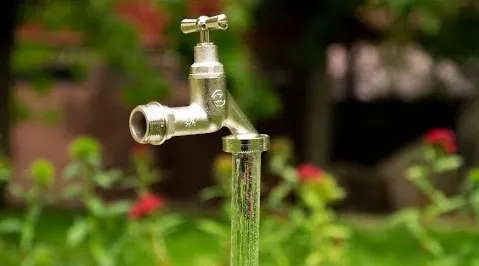 27. Artistic DIY Bamboo Stick Water Feature by Rustic Kraft.
Bamboo Stakes from Amazon $9
PVC pipe
Pinch valve
Plastic water line
Pond pump from Amazon $12
Drill/driver
Hacksaw
Utility knife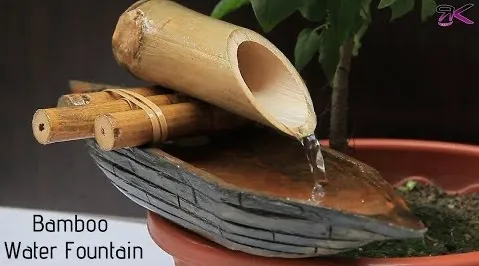 28. Flowy Zen Water Garden by nurseries online.
Bamboo Stacks from Amazon $9-20
Drill
Small nails or silicon
Plastic tubing
Plunger Valve
Garden hose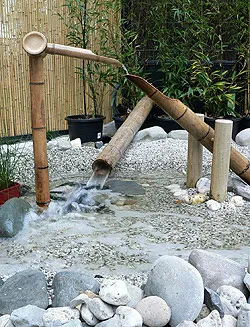 With the help of this guide, you can build your own water feature. The variety of options available encourages unrestricted imagination. We wish you luck with your project and look forward to seeing the unique water feature ideas you design.
Author: Marriam Arshad