This post may contain affiliate links. Please see our full Disclosure Policy for details.
Make a cute DIY christmas tree and snowman rock art decoration for your wall, add to your wreath, or display as centerpiece with painted rocks and acrylic paints on canvas.
This Christmas tree art is the cutest and very simple to paint. You can enjoy making this with your friends, family and kids. All can enjoy and laugh at the fun scene this Christmas art creates. You will also be tempted to print for free Christmas traditional sayings printables to display, or make Christmas snow globes village on the mantel.
DIY Christmas Tree and Snowman Rock Art
Let's quickly get to the step-by-step instructions to make this Christmas tree and snowman rock art.
Material
You will need:
Rocks – of varying sizes. Consider lying them down on your canvas to idealize the right size to use for each part of the scene.
Paint brushes
Sharpie fine point markers
Instructions
Choose a canvas and arrange rocks to see how your scene looks. Use large rocks for the body of the snowman, and small ones for the head. Tiny pebble size stones work best for the ground covered in snow.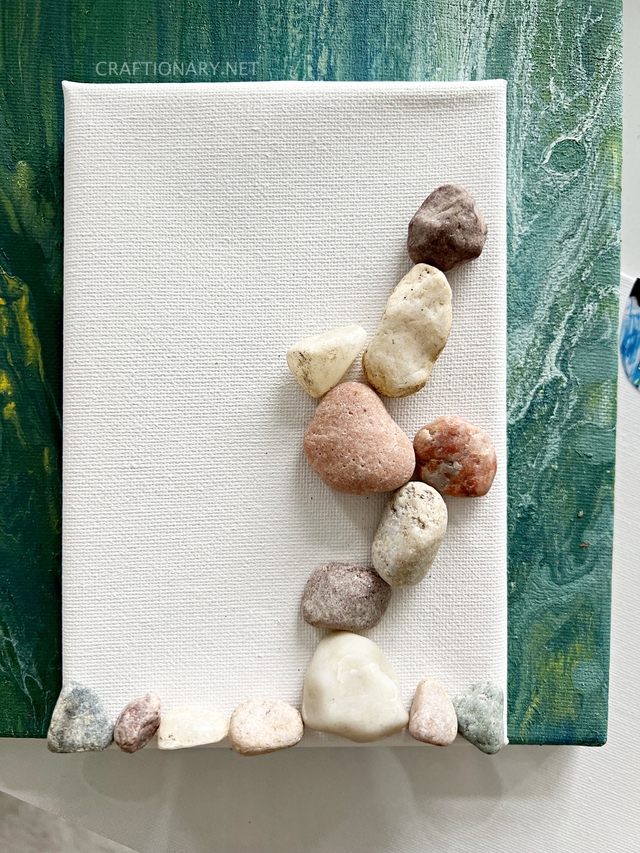 Make sure your rocks are clean. Give them a nice soap and water wash and let them air dry before painting to remove any mud or dirt.
Once you are satisfied with the arrangement of your rocks, take a picture to remember it. Now remove the stones and get ready to paint the canvas and Christmas tree art. This video explains each step clearly for you to follow and paint the acrylic paints Christmas tree art.
How to paint a Christmas tree with acrylic paints?
Start by painting the background grey for contrast. You can choose any color for the background even a snowfall landscape. Find more ideas for acrylic landscape paintings.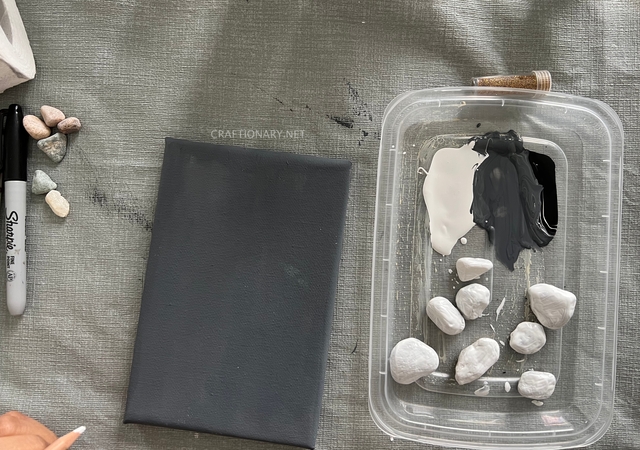 Use a charcoal chalk pencil to roughly draw your Christmas tree trunk and branches, and a star on top. If you are not satisfied with your drawing just simply wet a paintbrush and wipe off the chalk marks and start again when dry.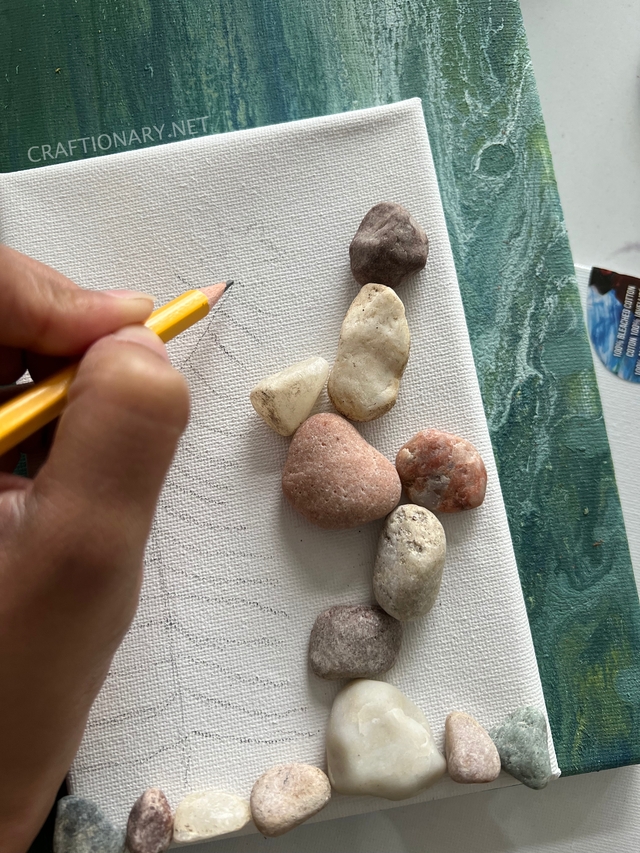 You will need acrylic paints in the colors black, white, burnt sienna (brown), forest green, grass green, and sap green (light green).
Use a size 1 paintbrush to draw the outlines of the tree and star in black acrylic paint.
Paint the star with gold paint or you can use yellow acrylic paint.
The easiest method to paint a Christmas tree is by using a fan paintbrush. Use it in the outward direction to show pines of the Christmas tree flowing away from the tree in both directions. Use little paint by dabbing the excess off. Layer the tree with three shades of green and white to show snow on the tree. See the video tutorial for more details.
Use brown to make the trunk of the tree and roughly touch on the tree to show the trunk showing through the tree and some branches.
How to paint snowman rock art?
While you wait for the canvas to dry, use that time to paint all the snowman rocks body and head with white acrylic paint. Don't worry about getting your hands dirty, that's part of the fun. You can wash the paint off when you are done.
Let the paint dry while you paint the Christmas tree following the above directions.
Now use different colors like blue, red, green, and brown to add hat and scarf details to the rocks. You can also use markers for this purpose. You can use any colors for snowman accessories.
Use hot glue gun to arrange the rocks in place. Press firmly and work fast so that the glue doesn't dry before it sticks to the canvas. You can fix the arrangement by simply peeling the dried glue off and sticking the rocks in place again. You will notice the paint comes off but don't worry as the rock will cover it up anyhow.
Now use a sharpie permanent marker to add snowman details like hands, eyes, buttons on the jacket, and orange for nose. Make fun patterns on the hats and scarf if you like.
Use beads or stamens to make hat pom poms.
Paint the ground rocks and touch on the canvas below the Christmas tree with white paint to show snow on the base.
Add glitter to your shining star using mod podge or sprinkle glitter while the paint is wet to stick it in place.
And you are done.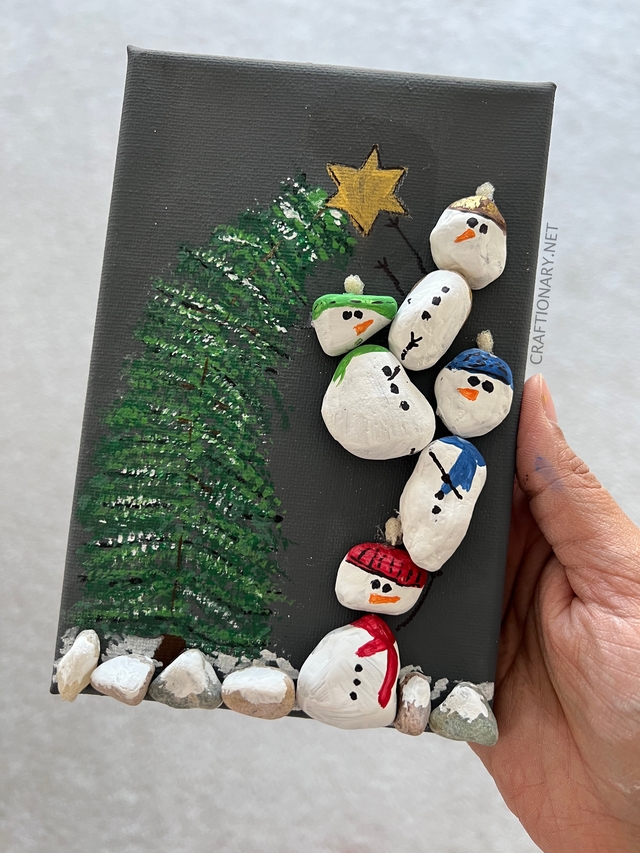 Enjoy your cute DIY Christmas tree and snowman rock art.
You will also like:
90 Pebble Art Ideas for Home and Gifts
Christmas Tree Printable Decoration