This post may contain affiliate links. Please see our full Disclosure Policy for details.
Give your pumpkins a makeover with these easy no carve pumpkin decorating ideas.
Pumpkin decoration is an art that engages all age family members in selection of pumpkin and decorating a pumpkin without the mess of carving. Ranging from giant pumpkins for porch to small painted pumpkins for the tables, no-carve pumpkin decorations can charm your festivities by using DIY Halloween decor ideas. These are kid friendly, long-lasting than carved pumpkins, and the perfect ornament to welcome trick-or-treaters to your Halloween front porch.
Whether using real pumpkins or faux ones, no-carve decorative pumpkin ideas are best Halloween craft for kids and adults for home decor. There are tons of unique ideas for front door that use simple craft supplies like paint, paper, hot glue, and mod podge that are easily available at dollar store, making these Halloween decorating ideas affordable! Find budget-friendly and less time-consuming ideas to decorate large faux pumpkins, real mini pumpkins or even the small plastic pumpkins.
Use your favorite character, seasonal floral display, or even a different color like teal pumpkin or white pumpkin. If you're not carving a traditional jack-o-lantern or spooky skull you can skip the orange. It is also a good idea to display a sign for food allergies, so they know they'll find safe goodies at your place.
No Carve Pumpkin Decorating Ideas
Gold painted glass pumpkin jar from craftionary.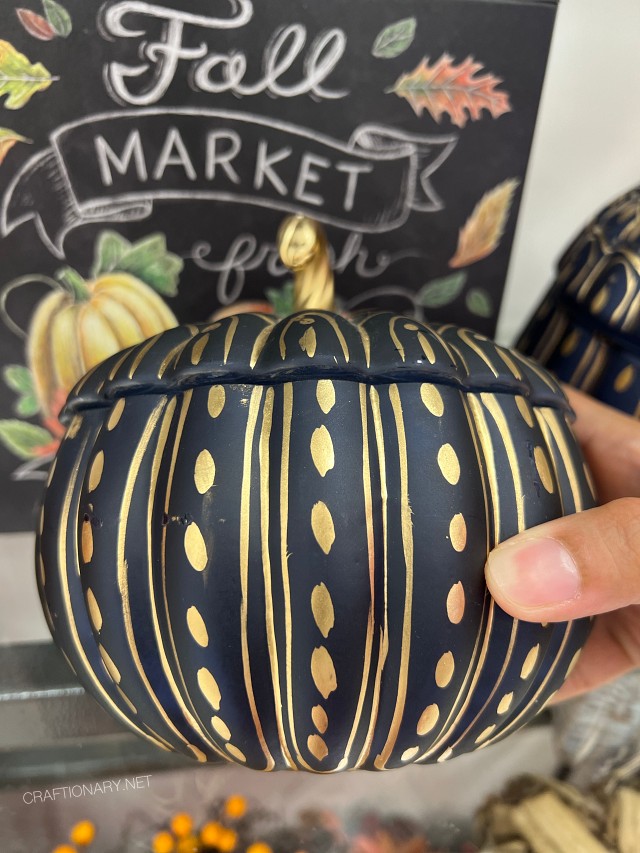 Styrofoam pumpkins from craftionary.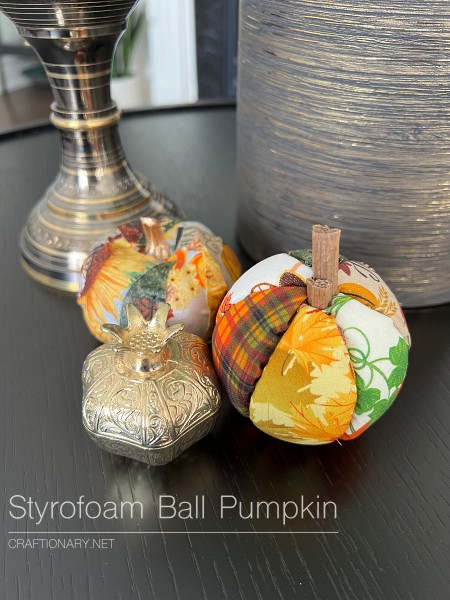 Painted Pumpkin Decorating Ideas
Terracotta Pumpkin by WM Design House.
Borax Crystal Pumpkins:
Enjoy your fall decor with a science experiment using unglazed ceramic pumpkins and borax powder by The Fit Cookie.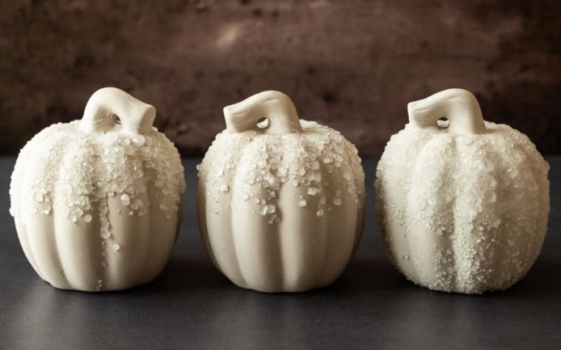 Ombre Spiderweb Halloween decor by Plaid Online.
Dollar tree No-carve pumpkin makeover:
Create a little less scary atmosphere using paint, faux pumpkins, moulds, modeling clay, antique wax, and tons of creativity by Faux Your Eyes Only.
Acrylic paint pumpkins:
kellyybellyy62 transforms cheap faux pumpkins into artistic pieces.
The Starry Night pumpkin:
I admit replicating Van Gogh's Starry Night on a Pumpkin can be a little tricky, but the results would be remarkable! Achieve this look by look.btwn.the.lines.
No-Carve Scarecrow pumpkin decor:
Paint and decorate a styrofoam pumpkin using paints and accessories by Creepyholidaystuff.
Audobon Pumpkin Painting:
These artistic masterpieces by sevenstreetmarket surely deserve recognition! The attention to detail on each bird is phenomenal!
Moon Phase pumpkin painting by Homemade Banana.
Gingham pumpkin decor by Club Crafted.
Trailer Pumpkin decor by Club Crafted.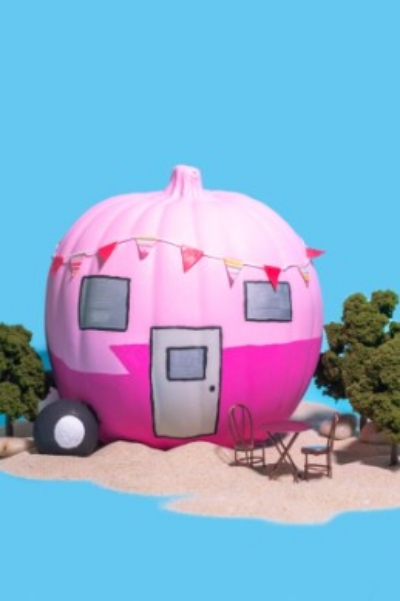 Princess Dresses pumpkin decor by Mommy of a Princess.
Rainbow Pumpkin Walkway:
Use minimum supplies – acrylic paints, brushes, masking tape for stems, and lots of different-sized pumpkins by the house that lars built.
Rainbow hearts on pumpkins:
Use paint, SVG file, and pumpkin by Happiness is Homemade.
Pink Marbled pumpkin decor:
Delineate your dwelling has perfect solution to convert cheap funnels into custom-marbled fall decor.
Watercolor effect pumpkins:
Imitate watercolor effects on painted pumpkins using Sharpie markers by The Craft Patch.
Gold Botanical patterns pumpkins by Lovely Indeed.
Finger-painted pumpkins by Handmade Charlotte.
Easy Pumpkin Decor Ideas
Decoupage Fall Leaves on a Pumpkin:
Use artificial pumpkins, paints, colored papers, and Mod Podge for beautiful results by Porch Day Dreamer.
Barbie pumpkins by Melanie Ferguson.
Pumpkin Candlestand floral arrangement by diy decor babe.
Get these Knitted Pumpkins by knitted pumpkins.
Jack O Lantern Mantel Decorating Idea:
Give your mantle a barn look by painting a cow on pumpkins with Good Housekeeping inspiration. Download the template from here.
Calligraphy on pumpkins by The Happy Ever Crafter.
Pineapple pumpkin painting:
This adorable idea by All for the Memories features the use of spray paint, glitters, and felt sheets to turn a pumpkin into a pineapple!
Floral Moon Pumpkin Display by The Merry Thought.
Antelope Painted Pumpkin decor for Thanksgiving table by katiehermanart.
Galaxy painted pumpkin decor by Color Made Happy.
Poisoned apple pumpkin decor:
Want to reuse your old cutting board? Here is an excellent idea by Shopgigicustoms to achieve a poisoned apple look.
Dried flowers pumpkin by The House that Lars Built. Learn how to dry flowers using various ways.
Melted crayons pumpkin by The Best Ideas for Kids using crayons and hairdryer.
No-Carve Jack Skellington pumpkin by Funny Money Mom.
Glow in the dark pumpkin by Tulip Color using glow paints.
Floral napkin pumpkins:
Paint a pumpkin and paste your favorite floral cutouts using mod podge by Plaid Crafts.
Sequin Halloween Pumpkin decor by Sugar and Cloth.
Pun-kins from pumpkins by Studio DIY using tattoo paper.
Creepy cat-eye pumpkin by Paper and Stitch.
Indigo Marble pumpkin Decorating using Nail Polish by Good Housekeeping.
Princess Pumpkin Carriage by Pretty inspired decor.
Cinderella Pumpkin decor by The Farm Girl Gabs. Bibbidi Bobbidi Boo!
Trendy No Carve Pumpkin Decorating Ideas
Dough pumpkins:
Looking for a mess-free pumpkin decor idea? Doughstraction has a creative solution to prepare a sourdough pumpkin decor item that will only last for a day! The decoration will be consumed at the feast!
Mickey and Minne mouse pumpkin decor by 1 Minute Recipe and Craft Videos.
No-carve witch pumpkin by CraftKlatch.
Harry Potter pumpkin painting by Fun Money Mom.
Herringbone Mini pumpkins:
This super simple no-carve pumpkin technique requires white acrylic paint and golden/copper metallic finish markers to finish this look by Lovely Indeed.
Acrylic pour pumpkin idea by Mix Media Girl.
5 minutes pumpkin painting by Macy.blackwell.
Copper Leaves Pumpkin:
My 100 Years Old Home has worked her magic in crafting an absolute beauty by combining copper and shades of fall season using gold leaf and metal leaf adhesive.
M&Ms pumpkins decor by Crafty Mornings.
Tape Resist pumpkins by I Heart and Crafts using masking tape and paint.
Hot air balloon pumpkin by Camille Cuento Flemate.
Frankenstein pumpkins by Crafty Mommy.
Different smiles pumpkins by The Jay and Kevin Show.
Fashionista pumpkin: White paint with red lips, this pumpkin by Sarahlevey.
No-Carve leaves pumpkin decor by Hearth and Divine.
Gumball Machine Pumpkin by Make It Your Own.
Geometric pumpkin painting:
Paint small and large pumpkins like Kailochic using bright colors and geometric shapes to create a captivating display this fall!
Seasonal Style Pumpkin display:
Use colorful dried flowers to create a country-inspired seasonal meadow display by JPS Life and Loves.
Leopard pumpkins:
Use a mix of spray paint, acrylic paint, and paint pens to remodel regular pumpkins into statement Leopard pumpkins.
Simple Pumpkin Decorating Ideas
Monogram White Pumpkin by Makers Gonna Learn.
Metal pumpkin topiary Halloween decor by DIY Karem using metal wire, small faux pumpkins, and faux flowers.
Fabric leaves pumpkin decoration by Plaid Crafts.
Cat Mini pumpkins:
Use mini pumpkins, black and pink felt, bottoms, and straws for crafting these endearing cats by Frugal Fun for Boys.
Maps pumpkin decor:
Try decoupaging your pumpkins with antique maps by Mod Podge Rocks.
Mummy Mickey Pumpkin:
This idea requires muslin fabric, toothpicks, and googly eyes with one big and two small-sized pumpkins by As the Bunny Hoops.
Boho pumpkins decor by Made by Hand using Macrame pumpkin hangers.
Doily pumpkins by Down Redbud Drive.
No-carve spider pumpkin by Oliver's Pumpkins.
Tattoos pumpkin decoration by Northamptonshire using temporary tattoo.
$2 Ribbon Wrapped Mini Foam Pumpkin by Tammy Peckham.
Fabric-covered pumpkin decor by Trendy Tree.
Baby Shark Pumpkin using reusable Baby Shark picks.
Buttons covered candy corn Pumpkin by Country Living.
Zentangle pumpkin decor by Crazy Inspired Life.
DIY Confetti Pumpkin by Mod Podge Rocks.
Velvet Glam Pumpkin:
Use velvet, faux feathers, and bling wrap embellishment to achieve this look by Totally Dazzled.
Glitter pumpkins by Made With Happy.
T-Rex egg-hatching pumpkin:
Tifanie Leckemby curated this idea for her son using toy dinosaur for a school contest.
No Carve Pumpkin Ideas to do with Family
Winnie the Pooh pumpkin by Mickey Blog.
Henna Mandala Pumpkin by Halifaxhenna.
Trools pumpkins:
Jamiesondiaries uses spray paint, felt paper, and tissue fabric to craft these happy trolls' pumpkin decorations.
Haunted Fairy House Pumpkin:
DIY Fall Marquee Pumpkins:
Use uniform-sized pumpkins, fairy lights, and letter printouts by Hallmark.
Pumpkin decoration with pieces of Nature by Little Pine Learners.
Textured Fall Pumpkins:
The Crazy Craft Lady effortlessly shows how to achieve a high-end no-carve pumpkin decor at home using acrylic paint, wall spackle, twigs, and faux greenery on faux pumpkins.
Easy Washi Tape Pumpkins by Ruthie – Refashionably Late using washi tape.
Chinese porcelain art pumpkin decorating technique by The Navage Patch using floral scrapbook paper and mod podge.
Easy No-Carve Googly Eyes Pumpkin by It All Started with Paint.
Gold beaded pumpkin decor by Ashleigh Lauren Shorts using glass beads.
Puppy pumpkin transformation by Hound Hugger DIY.
Woodland pumpkins by Abbi Kirsten Gillespie.
DIY Dollar Store Daisy pumpkin by Prudent Penny Pinche.
Washi Tape mini Pumpkins decor by bellewoodcottage using washi tape.
Black Beaded Pumpkin by DIYs using black crystal beads.
Black and Gold Confetti Pumpkin by Homedit.
Chunky Knit Yarn Covered Pumpkins by Noting Grace.
Welcome message pumpkin display by Our Harbour Journey using vinyl stickers.
Lashes and Stache's pumpkins by Parents.
Colors of Fall display by BHG using a faux pumpkin with artificial or dried flowers.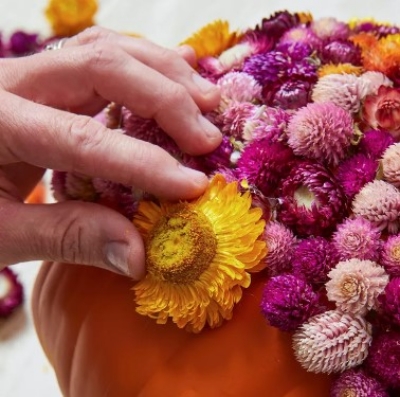 Author: Nageen Sohail