This post may contain affiliate links. Please see our full Disclosure Policy for details.
Isn't it great to learn about good tips! I am sharing 30 Craft tips. These tips are helpful for DIY projects and handmade crafts.
I bet there will be a few you didn't know before.
I am already following a few of these tips. Some I learnt through my project disasters. Some by reading!
so let's get started:
30 Craft Tips
You will love to know.
Paint samples
Paint popsicle sticks the color of every wall in your house.
Carry with you on the go to match furniture, curtains, decorations, etc.
You can also write the brand, and name of the color on the back.
Paint popsicle scheme via pinterest.
Protect your fingers when hanging something.
Hold the nail in the comb lines.
Comb as nail holder
Painting tips
Prevent paint drips. These tips are good for painting anything.
Don't water down the paint too much.
Do only thin coats of paint.
Don't spray paint one spot more than once.
Spray or brush in a pattern.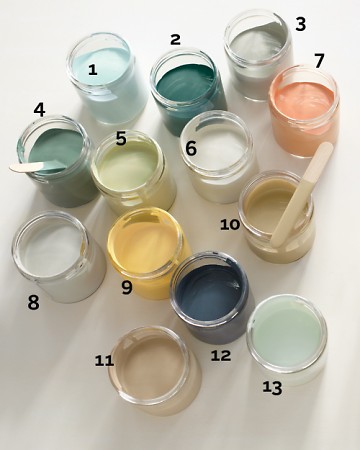 Hint of bold color that will enliven your space.
18 go-with-everything, paint-anything, put-anywhere hues. These color palettes will work in any room.
Bold color palettes
Spray painting tip
Use cardboard boxes to spray paint. Great idea to paint thumbprint free projects.
Cut an opening at the top. Use wire to hang and rotate your objects.
Freshen up old tape by microwaving for 10 seconds. Heat softens the adhesive for easy release.
Mess free painting
Door painting tips
How to correctly paint a door! Great image to help you paint.
Painting door via pinterest.
1. Paint brushes: Soak your paint brushes in fabric softener or hair conditioner for 10 mins. Paint wipes off easily.
2. Newspapers: Use newspapers to create huge patterns.
3. Magnets: Use a magnet for easy picking of sewing pins.
4. Scissors: Cut through sandpaper a few times to sharpen your scissors.
Glue Craft tips
Keep the glue sticks in the freezer. It prevents long string bands when gluing.
Microwave glue for 10 seconds. It will help use the last bit of glue from the bottle.
Blow dry your finished projects to remove hot glue strings. Heat from the hair dryer removes strings.
Wipe the tip of the glue tube with lotion using a tissue. It prevents it from sticking.
Store bottles of glue upside down in a jar. You are ready to use without waiting.
Reposition hot glued items by warming them with embossing gun. The heat will loosen it up.
Helpful Craft Tips
1. Pipe cleaners: Cut pipe cleaners with wire cutter. Scissors are damaged, if used for cutting any type of wire.
2. Sea shells: Clean your sea shells for craft projects. Use 1/2 on 1/2 solution of bleach and water.
3. Polymer clay: Soften your hard polymer clay by pouring a few drops of water, clay softener  (or baby oil).
~ Tips suggested by readers. ~
4. Table cover: Use plastic party tale covers for craft projects. These dollar store covers are better than newspapers. And can be reused.
1. Chop sticks: Use lacquered chopsticks to smooth out air bubbles and wrinkles after decoupaging. Find them in Asian markets or gift shops.
2. Lazy susan: Spray paint small items on all sides on lazy susan. Cover it with newspaper and rotate as you spray paint.
3. Metallic paint: Brush in one direction to cover when using metallic paint.
4. Paper: It is much easier to cut paper, if you rotate the piece you are cutting. And not the scissors.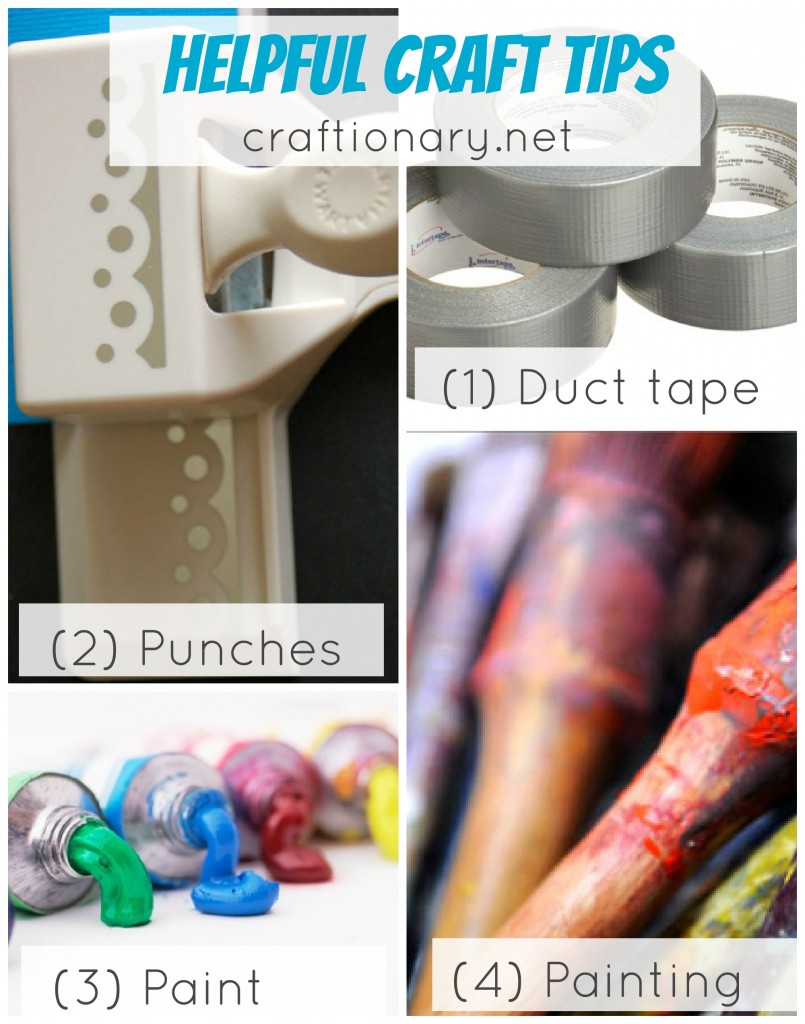 Duct tape: Wipe scissors with baby wipe for easy cutting of duct tape.
2. Paper Punches: Punch through aluminium foil for sharpening decorative punches. Punch through wax paper for lubricate punches.
3. Paint: Add a drop of liquid soap in acrylic paint. It will prevent it from separating and beading on the surface.
4. Painting: Stick small items on double sided tape when painting. Helps keep your fingers clean.
 sources: Craftplace and Michaels.
I hope you found these craft tips useful!
You will also like:
20 Kitchen cleaning tips
Handmade burlap flowers
Stenciled magnetic photo display
Looking for more great ideas?
Check out tutorials in the category
TIPS
.
Are you on pinterest?
These are updated regularly whenever I find unique ideas.