This post may contain affiliate links. Please see our full Disclosure Policy for details.
I have a simple project that you can whip up in seconds. Have you ever wondered what to do with dried flowers? Or have thought about using them as flower arrangements instead of faux flowers or artificial flowers? Honestly, they look precious. Imagine using them with Nordic designs, Wabi Sabi or Japandi art and dark backgrounds.
It is so much fun to buy beautiful seasonal flowers to decorate and arrange flowers in DIY pot at home. But they dry so quickly and we end up throwing them!
But what if they are special and memorable like the wedding flowers or what to do with dried roses or rose petals from your wedding? All these beautiful flowers if not pressed flowers are air dried make beautiful dried flowers arrangement.
Here's a picture showing how stunning they look against a classic black background! Decorate it with clay art, statues or gold mirror and you have a luxurious looking corner decorated with tasteful items. Consider adding height with DIY topiaries in the room.
What to do with dried flowers?
It was just a coincidence that my eyes caught the beauty in dried flowers that I had arranged in a flower vase over my kitchen island. These were leftover dried carnations that naturally dried. I had bought fresh carnations from Walmart for my bas relief botanical art.
I quickly realized that the dried bulbs and hydrangeas all look so magnificent. So, I cut dried hydrangeas, tulips, hyacinths and left them flat on my crafts table surface. The preserved hydrangea ball looks stunning. You can even turn them into topiaries using this method.
Create a dried floral arrangement that looks like a dried bouquet with all these beautiful dried florals. And that's all there is to this beautiful project.
There are a variety of other ways to preserve flowers at home. I want to share those with you today as well.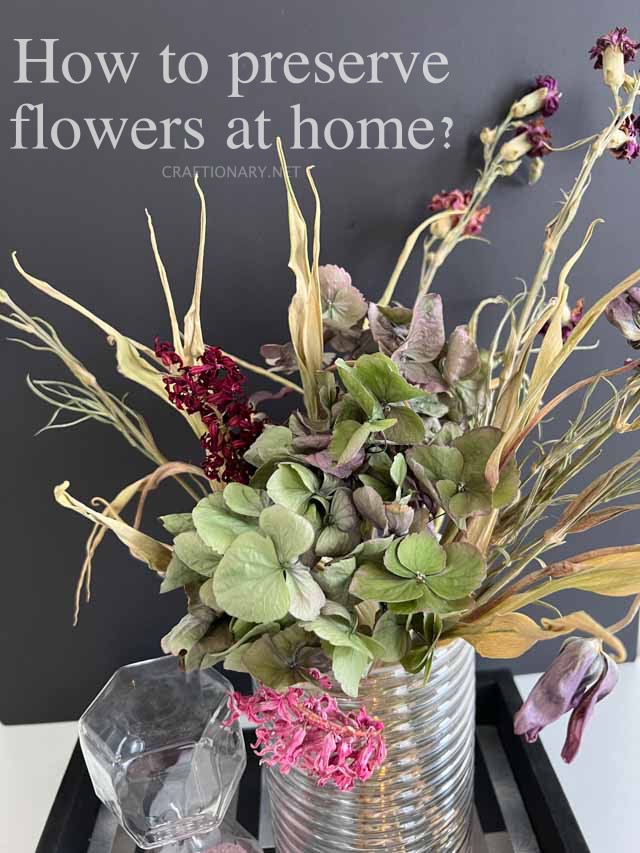 How to dry fresh flowers at home?
There are two major ways to dry flowers for decorating at home:
PRESSED FLOWERS
AIR DRY FLOWERS
You will also like: NINE WAYS TO DRY FLOWERS AT HOME
How to dry flowers using press method?
There are many tutorials to press flowers but in its simplest form displaying the plants, flowers, rose petals and plant leaves on a piece of paper and putting some weight on top does the trick.
For best results use thick paper, paper towel or any other paper depending on the amount of flowers you want to dry. Just keep in mind it can absorb small amounts of water from flowers.
You can stack the flowers by putting a layer of paper such that you sandwich the flowers between two papers. Continue to stack and top with weight. There are many things you can use as weight like bricks, heavy wood boards and even books.
What to do with pressed flowers?
Pressed flowers are flat and can be used to make projects like resin art. However, pressed roses that have sentimental value can be framed in a glass frame. Local pressed bouquet shop will provide this service in your area too. Consider using dried flower petals in flat surface art projects as well. Mod podge them to almost any surface for your DIY crafts like terra cotta planters or painted rocks.
How to quickly dry flowers in seconds?
In order to speed up the drying process you can microwave and dry flowers in seconds. Here's how:
Use paper towel and place flowers on it.
Fold regular piece of paper in half.
Cut and place flowers of your choice on one half of paper.
Place other half of paper towel on top of flowers.
Place in microwave for 35-60 seconds, depending on the thickness of flower.
Gently remove flowers from the paper.
An old drying method:
If you want discolored flowers for vintage distressed look try using a warm iron for drying flowers by press and dehydration method. However, microwaving the flowers is the best method.
Press dried flowers are best for preserving flowers and displaying them in glass frames. There are various other methods to use them as well. This is a great way to preserve Spring for long.
How to dry flowers naturally?
One of the best ways to dry flowers is the natural way using air dry method. As you arrange your flower arrangement or bouquet in a flower vase enjoy the blooms and let it dry with time.
When you see they have wilted and are no longer requiring water, take them out of the vase and display them on a table to dehydrate completely.
I used this method to dry carnations I bought from walmart. However dried tulips, hyacinths and dried hydrangeas are cut from the pots when they were done blooming.
Video tutorial flower arrangement in vase
Here's a quick video showing how I arranged these preserved flowers in the vase.
What flowers are best for drying?
There are no particular best flowers to dry. You can dry any flowers you choose using these simple ways. The choice is whether natural dried flowers or pressed dehydrated flowers.
What to do with real dried flowers?
The simplest dried flowers decor is a flower vase decoration. Just like you would display them when they were blooming. Similarly, you can use glue gun to stick them in a shadow box to create an art piece. String them together to create a stunning garland. Stick them on a DIY wreath.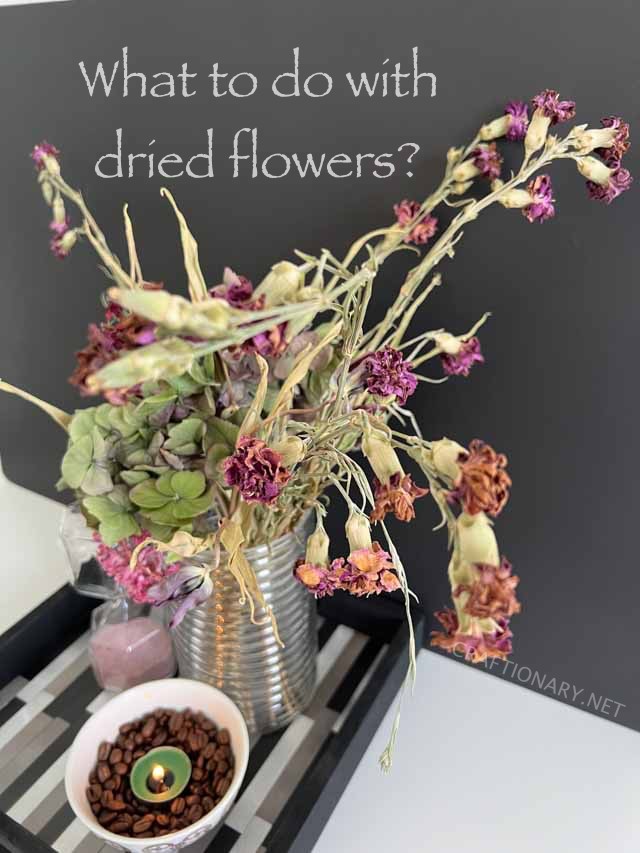 Honestly I find them looking exceptional in a vase! What do you think?
In this picture you will find bas relief botanical art and backsplash DIY tray that you can make to complete this beautiful DIY preserved flowers decor. I also shared faux double topiary trees that you can make on budget to bring greenery in your home.
Till next time!