This post may contain affiliate links. Please see our full Disclosure Policy for details.
Hi friends, I want to share a quick and easy project for pumpkin lovers. Look at this gold painted glass pumpkin jar as you scroll down. In Autumn, I am finding glass pumpkin jars everywhere. Anchor hocking glass pumpkin candy jar is out of stock in my neighborhood at Walmart. This makes me think they are trending and people are loving it. Are you?
They are super fun to craft with some paint if you like painting pumpkins. If you love to paint then this simple idea is just the perfect inspiration for you.
Search for pumpkin jars on amazon and you will find tons of options for a variety of prices. Check out your local grocery stores, dollar store and even thrift store. You can score a grand tureen pumpkin jar or a ceramic pumpkin jar. Clear glass pumpkin jar is not only cute but useful. You can use it as candy jars or storing small things to keep your space neat. At the same time, they add Fall decor touches to your cozy home.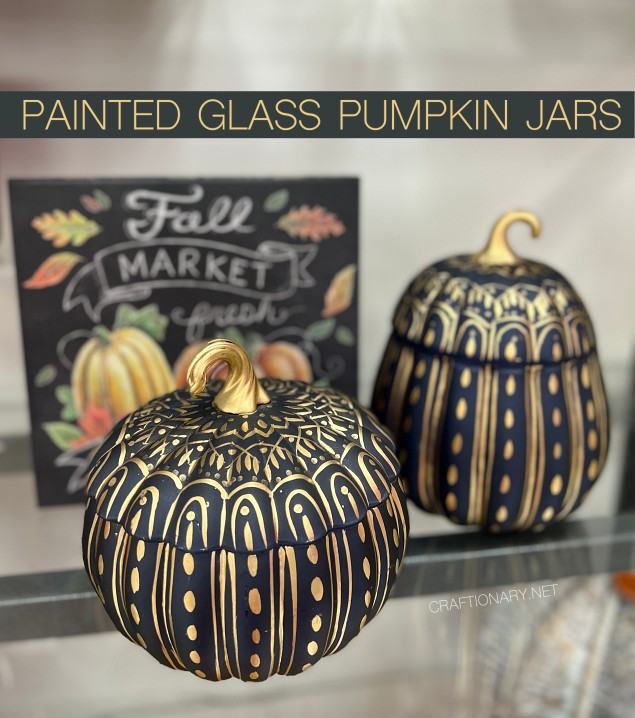 Spray paint with matte or glossy black over transparent pumpkin jar. Let it dry and cover with a second coat if you like. You can also use foam brush or paint brush to paint your pumpkin for a stroke touch. A few coats will keep it a opaque look.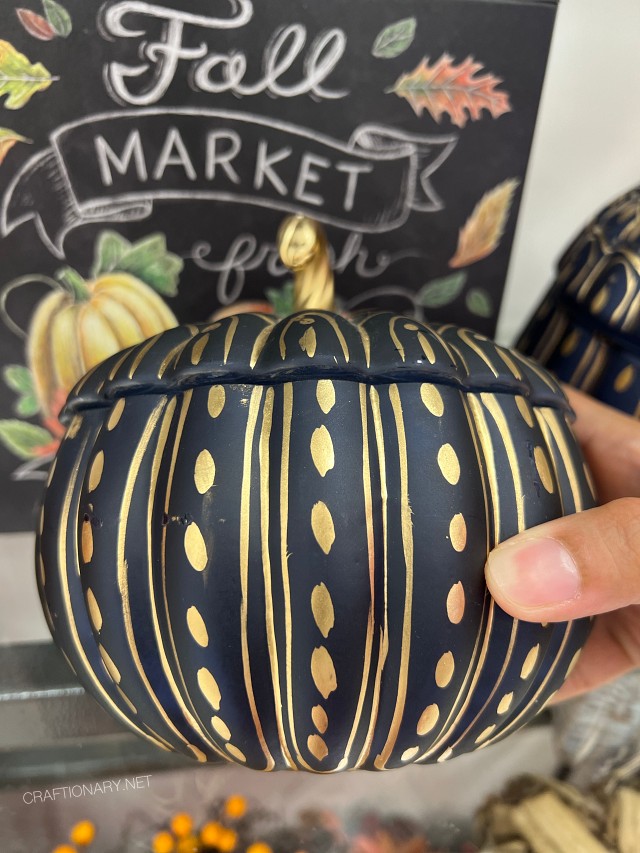 Use any colors you like from orange, yellow, brown or black. You can go whimsical or boho, it is totally up to you. There are 90 painted pumpkin ideas for your inspiration.
Now use gold acrylic paint or oil paint for a more bold look. Make strokes of paint using your paint brush in leaf shape. Use gold sharpie to make lines. In fact, a combination of fine tip and thick tip sharpies will give you these results in a jiffy. Brush the pumpkin stem with gold leaf paint.
This black and gold painted glass pumpkin jar was first seen at HomeSense. Given it's beauty I thought I would share the idea with you so you can make one if you can't find one out there. There's a short video I made for you to see how it looks real-time.
For those who adore making fabric pumpkins using polyester and fabric. Making pumpkins is as simple as making a round pillow and using string and rope to give it the pumpkin curves. Here's an easy fabric pumpkin tutorial I found on YouTube.
I would like to share the simple pumpkin stem ideas to DIY pumpkins that I found at HomeSense as well. Like this patterned fabric pumpkin uses wooden candle stick as pumpkin stem.
Use glue stick to roll and stick burlap string on a piece of wood stick or plastic tube from Dollar store to make pumpkin stem.
Another interesting idea is to roll your 2 inch wide fabric piece or burlap fabric and use glue to hold it in place. You can also add a cute tag along with it for extra spice to DIY pumpkin stem.
I hope you liked this idea.
You will also like:
90 Cool Pumpkin Carving Ideas to try this Fall
90 Best pumpkin painting designs and ideas
Bring outdoor DIY fall decor home with cattail plant
Halloween outdoor pumpkin decor idea