This post may contain affiliate links. Please see our full Disclosure Policy for details.
Want to make an easy fabric pumpkin craft for Fall decoration on your coffee table or dining table? I have just the right Styrofoam pumpkins crafts for you. This project makes no sew fabric pumpkin using Styrofoam ball in less than 15 minutes without any precise fabric cutting. It's a perfect substitute for modpodge fabric pieces on a pumpkin and takes less effort and time.
Use this craft to make carvable foam pumpkin crafts and even Styrofoam pumpkins large sizes. All you need is fabric and a knife to complete these. You can buy Styrofoam pumpkins at dollar tree, dollarama and wholesale stores in bulk.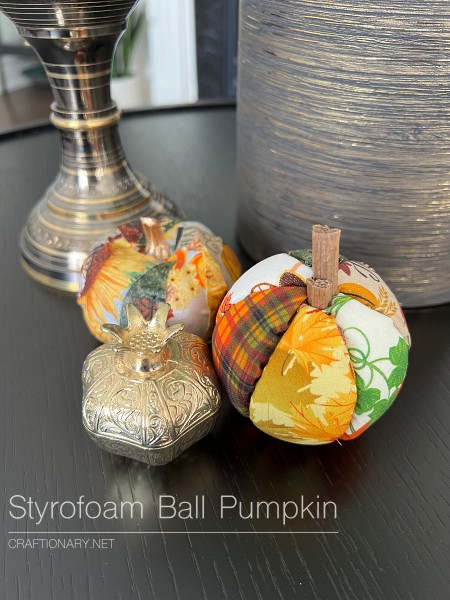 Let's make fabric Styrofoam pumpkins crafts
Material you need to make DIY pumpkins
knife
6 pieces of fabric (source at the end of the post)
scissors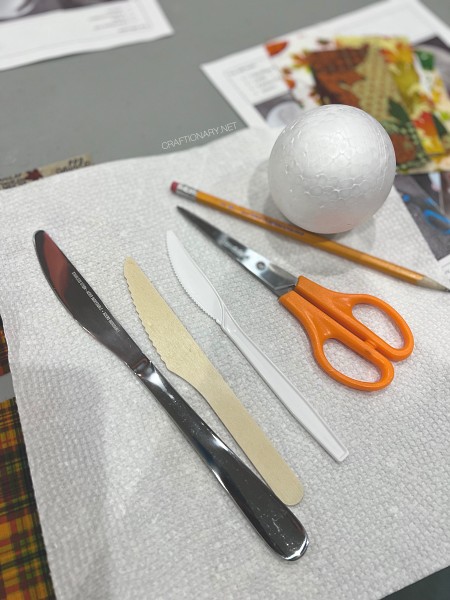 Instructions to make no sew fabric pumpkins
These Styrofoam pumpkins ideas are cute and teach you how to carve pumpkins.
Cut off a small slice from the top and bottom of the faux ball with the help of your knife. This is intended to make the pumpkin stand or to give it a less round pumpkin look.
Trace lines at the center of the ball using a pencil to divide it into halves. Then continue to make 6 equal parts. Use a butter knife for Styrofoam pumpkins carving. Carve the lines to make space for fabric. You can also use bamboo knife or plastic knife with kids for safety purposes. Find 90 Cool Pumpkin Carving Ideas to try this Fall.
You can substitute these with carvable fake pumpkins or white foam pumpkins for carving from Amazon, Dollar Tree and Michaels.
Now trim the fabric slightly in the corners where the ball is narrow. Make sure that the fabric is at least 1 1/2 inch bigger on all sides that the wedge on your ball. Use your knife to push the fabric into the cut lines. You can need to apply some pressure to push the fabric into the creases. The best part is you cannot go wrong even if you apply force to tuck the fabric into the carved lines so don't worry.
You may want to fold and push the fabric into the crack near the top and bottom of the fabric pumpkin. It may seem that the fabric is in excess in these narrow spaces and you can fold or cut to neatly tuck it in. You can also carve a hole at the top or bottom to push the fabric in.
This shouldn't take much time. Once you have pushed a fabric piece into the Styrofoam ball, move on to the next color. Repeat the process for all the six sides. This is so much better than precisely cutting and decoupaging fabric scraps onto the pumpkin.
It is tougher to push in the fabric on the side that already has fabric but it is possible. A little pressure will get it firmly pressed in place. If the fabric bunches or goes too far to on side, you can simply pull it out of the grooves and start again.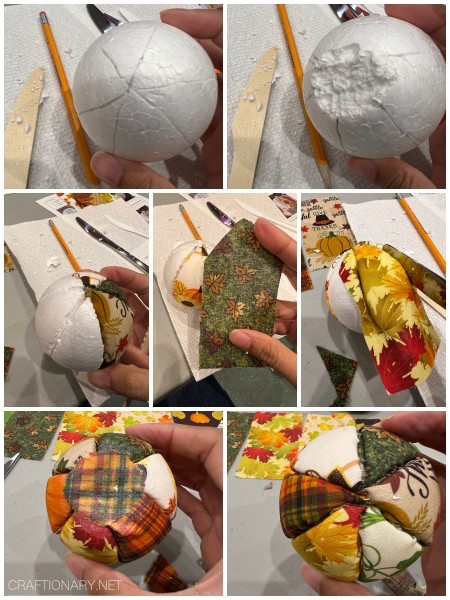 Enjoy the process and remember pumpkins are not perfect in real life. Don't worry if it's not as neat as you expected. Now cutout a round piece of fabric and decoupage or tuck in at the bottom and top where you carved in the beginning to hide the space.
I didn't carve the top but only the bottom to make it stand. Add finishing touches like a twig or cinnamon stick as the stem on top and your pumpkin is ready!
Decoupage fabric pumpkin crafts
Another fun way if you like glue is to buy faux pumpkins. Mine are from Dollar store. Use modpodge to stick patches of fabric randomly on the pumpkin like I did or cut precisely and decoupage.
You will need a paint brush, clear modpodge or white glue and fabric pieces to make this pumpkin. Cut pieces of fabric either precisely to the creases of pumpkin or random sizes. Now use your brush to apply a generous layer of glue and place your fabric on top. Use more glue to smooth and set it in place and coat it with glue to decoupage. Continue this process till the entire pumpkin is covered with fabric and let it dry.
You can also make large pumpkin crafts using these pumpkin crafts. For more fun ideas check out:
90 Best pumpkin painting designs and ideas
Halloween outdoor pumpkin decor idea with free templates
90 Cool Pumpkin Carving Ideas to try this Fall
Bring outdoor DIY fall decor home with cattail plant
The fabric collection used in this project is from Amazon. It in inspired by Fall leaves, Autumn colors, Thanksgiving, Pumpkins, and Sunflowers. Don't forget to print Thankful Tree Free Printable for Thanksgiving.