This post may contain affiliate links. Please see our full Disclosure Policy for details.
Jessica is sharing her genius idea to make
DIY Urn for less
You will be amazed by how she thought of making a small investment and using her creativity to make these grand looking urns that are great for indoor and outdoor decoration, you are sure to love her Fall mantle as well. So let's get moving!
Hi, Craftionary readers! I'm Jessica and I blog at
Mom 4 Real
. I am so excited to be here today!
I am going to tell you how I made myself two urns for under $6!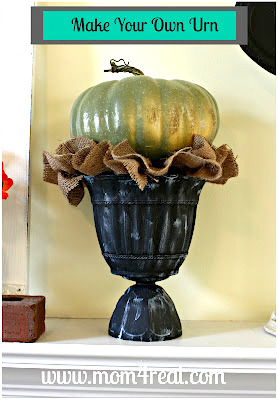 Why urns? Well, I went looking for two urns to decorate my Fall mantel and could not find what I needed. The urns I found were huge and very expensive. So, I set up to make my own since my mantel isn't very deep and I needed something small and offcourse inexpensive.
I knew if I could use a cheap plastic flower pots for the top, I just needed to find a base. I saw these lime green ice cream bowls for only $1 each at Walmart. I flipped them upside down to see if they would work and literally ran to the garden center to find some pots for the top. The pots I found were $2 each!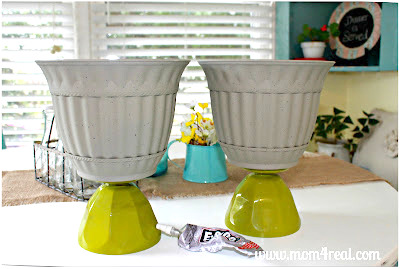 I glued them together using E-6000 adhesive and let them dry overnight.
Finally I applied chalkboard spray paint on them and then I lightly brushed on some aqua acrylic paint to give them an aged look.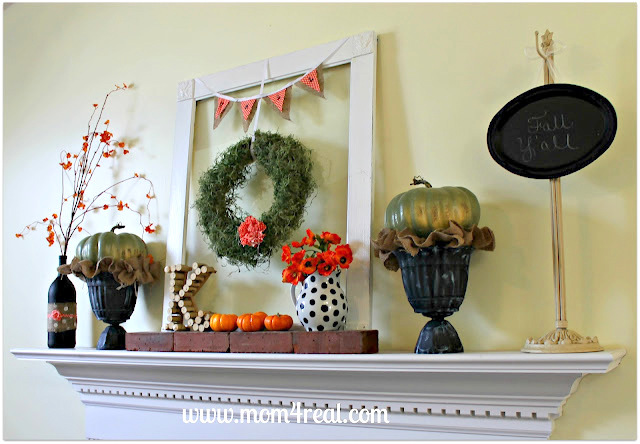 And they were just what I was looking for! I can't wait to put some evergreens in them for Christmas! I would love to see your take on DIY Urn for less.
Thanks so much for having me! I hope you will come by and see me at Mom 4 Real!
Thanks so much for sharing these beautiful and inexpensive Urns. Jessica you are a genius!

Check out her blog for great ideas like: