This post may contain affiliate links. Please see our full Disclosure Policy for details.
Two places are incredibly easy to decorate for a welcome home feel as they create a focal point. The mantel inside the house and your front door decor ideas outside the house. If the wow factor is missing in your entrance, you must think about decorating with these front door ideas. There are easy and affordable decorative ways to jazz up your front door while maintaining privacy and aesthetics. A hanging flower basket, a mosaic house number, a traditional door knocker, fancy mailbox, and an ornate wreath are all different ways to enhance your home's curb appeal. Most people like wreaths on the front door, but you can also go beyond the wreath; to decorate your door exterior with some fresh and unique ideas.
Front Door Decor Ideas
In this article, I'm sharing 75 different DIY front door wreaths for home decor in all seasons. Dress up your front door for every season and holiday. If you don't want to create one, you can buy front door decorations for your home. It is always a good idea to clean your front door space by removing dust and dirt from your decorations. Spray clean your windows from inside and outside for impressive picture-perfect entrance look.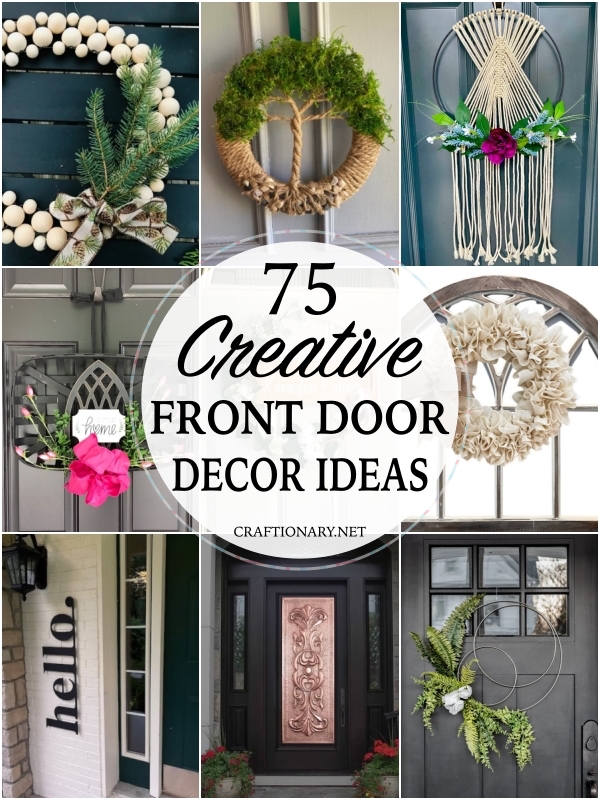 How to hang decor on the front door?
To decorate your door with these hanging wreaths and other things, make sure these items don't damage your doors or exterior. There are different ways to hang the decorations without damaging your front door.
What to hang on front door for decor?
There are a few things you can hang on front door for decoration like wreaths being the most popular choice, decorative panels, stained glass or privacy films, welcome wooden door tag hangers, wooden board sign for front door, metal hello sign, house number plaque, door decal and a fresh coat of paint.
Decorative Door Cladding Copper Panel from natuross.
Hello wooden door tags from crafted signs by elise.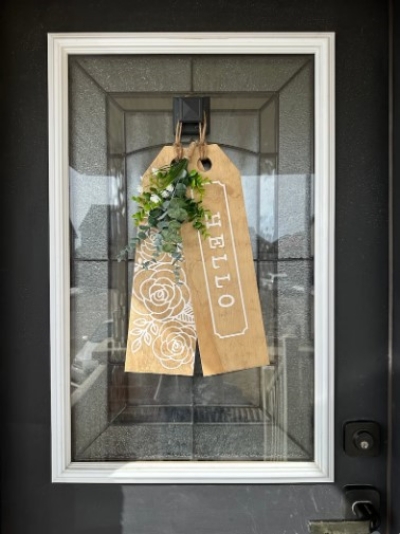 Front door sticker decal from collecolle.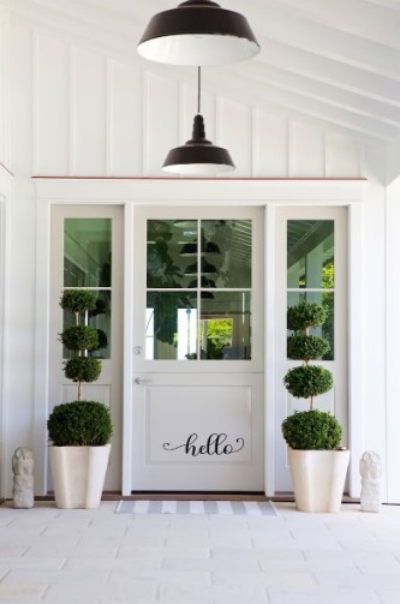 Welcome sign for front door decor from unlimited chic designs.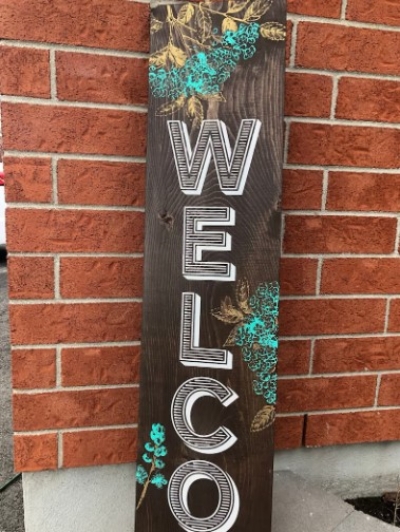 Modern Contemporary Property Number Door Sign Plaque from K Smart Sign.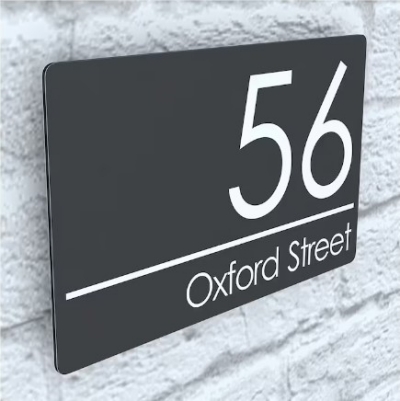 Metal front door sign from Artepera Wall Art Decor.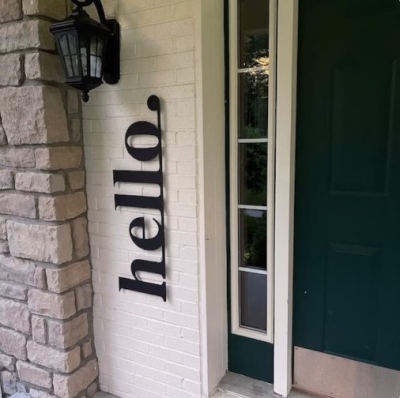 Welcome home rustic greeting sign for front door from rusted orange co.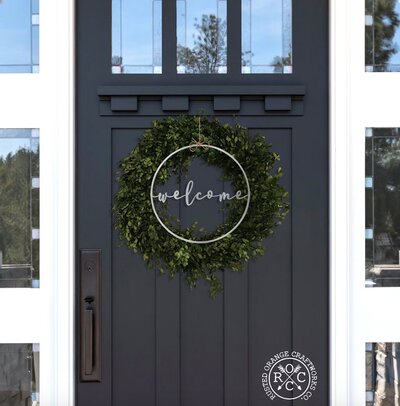 How to decorate front porch with a second door?
– Use peel and stick privacy films. They come in a variety of patterns, colors and styles.
– Faux stained glass panels
– Hang a pair of wreaths
– Add a beautiful garland
Spring Front Door Decor Ideas

All time classic for year round burlap Farmhouse rustic front door wreath from journey decor.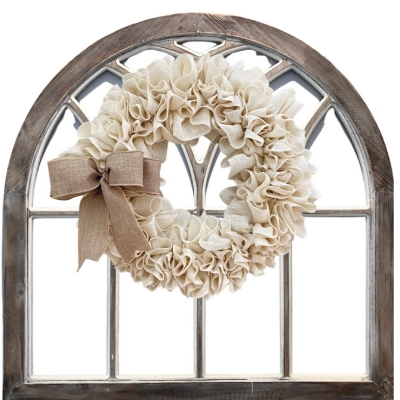 Repurposed an old watering can wreath by house of hawthornes add a glimpse of spring to your front door. This DIY wreath adds fun and brings colors to your decor.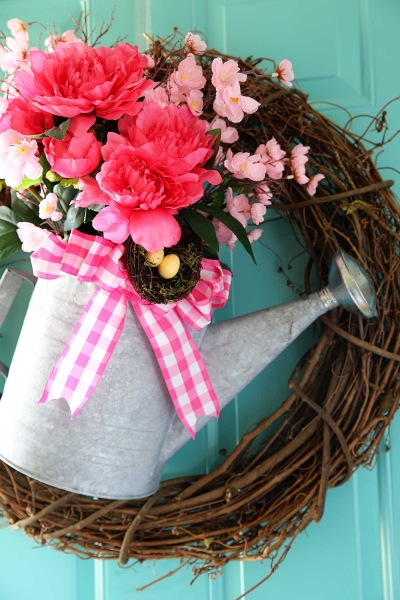 Beautiful Ramadan Door Wreath with artificial flowers, greenery, metal hoop, fairy lights, and paper-crafted alphabets on a wooden plank from oak and orchids.
Add a Pop of Color to Front Door: Are you getting bored with your front door look? Sometimes a simple change of color can make your entryway look brand new. You can also try fun patterns for unique touches like this idea by soozi danson.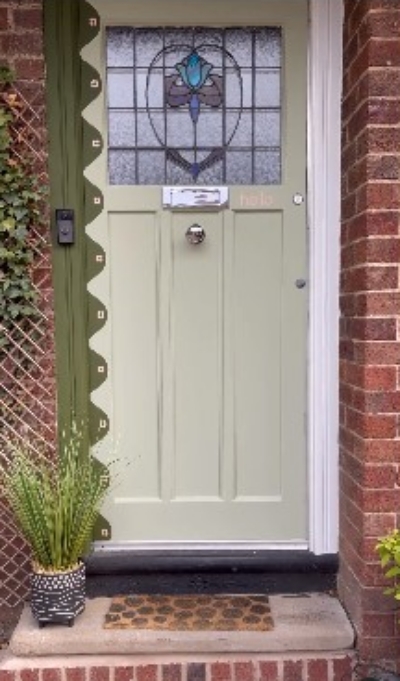 Modern and elegant DIY Spring Hoop Wreath by cherished bliss.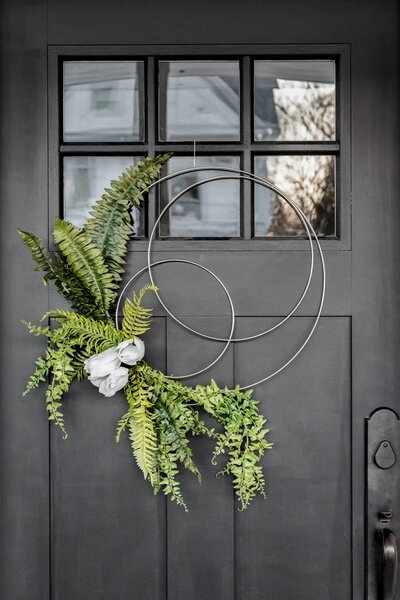 Simple, elegant, and easy to make Magnolia Clothespin Wreath by dollar crafter is perfect for farmhouse decoration.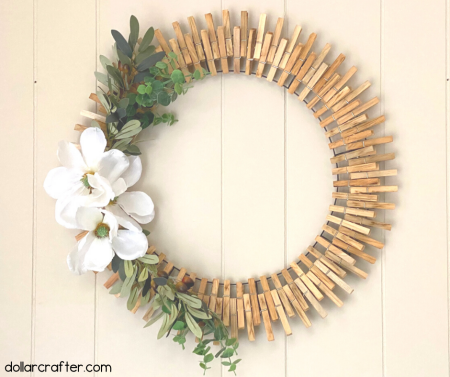 Easter front door decor
Cutest Bunny Door Hanger by rusticdesignsKY. Take a bunny woodcut, then paste it into round wood, and add boho and ribbon bow along with wooden alphabets.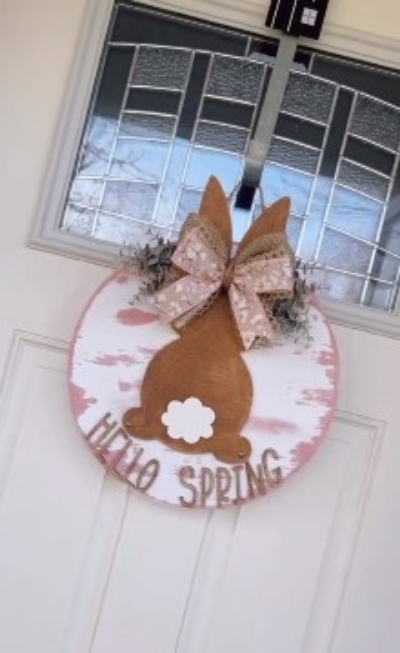 Front Door Basket Wreath with a bucket-type basket, faux blooming branches or flowers and a ribbon. Change the flowers seasonally if you like from a door me boutique.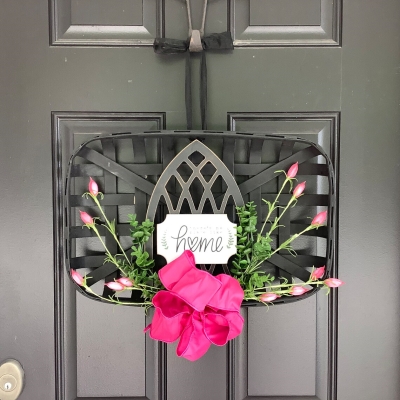 Unique Large Weaved Wicker Hanging Wreath from unique kraft designs.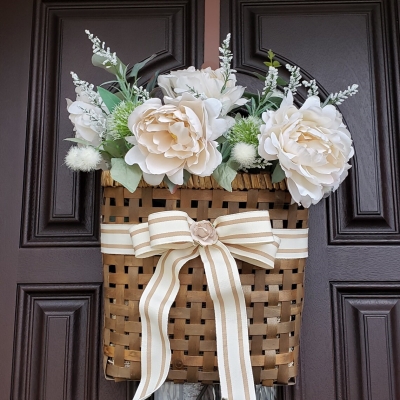 Beautiful tea leaf Greenery Door Hanger that can look adorable in all seasons from farmhouse florals.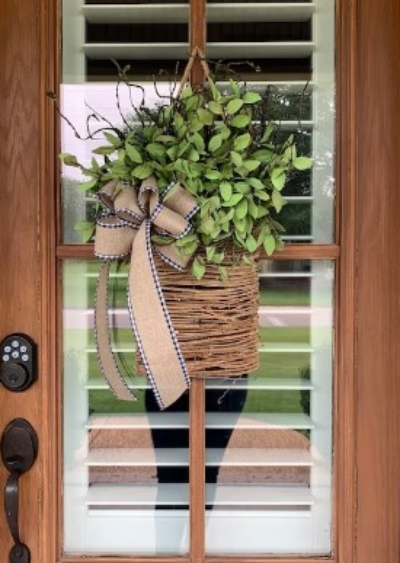 Easy Accent Easter Bunny Wreath will be an adorable addition to your front door by pretty handy girl.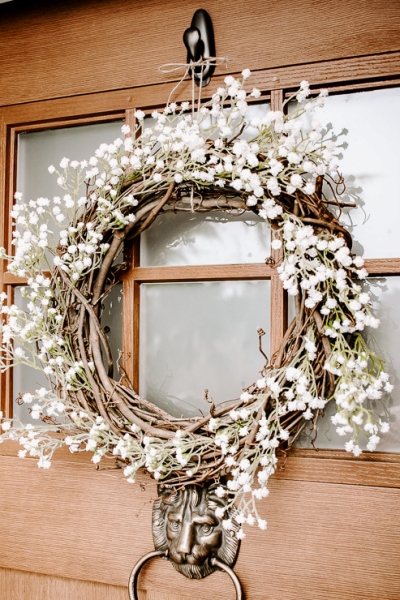 Yellow mushroom and butterfly Fairy Garden Whimsical Wreath by toc toc decor is one of my favorites.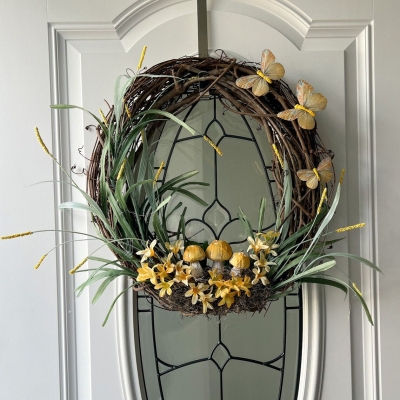 Elegant Macrame wreath from missing piece decor.
A simple and rustic Easter Egg Wreath from Bloom In Lovely Co.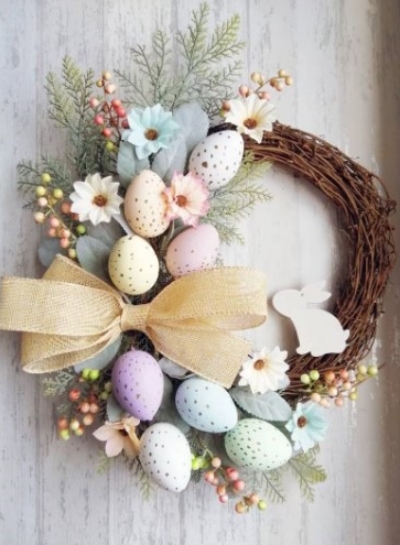 Twig Carrot Wreath looks like an Easter snack for the bunny. This grass, twig and moss woven wreath doubles as candle centerpiece from Darby Creek Trading.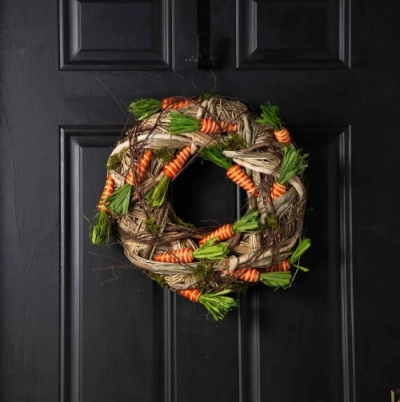 Rare find Spring Wreath Front door decoration with a beautiful sign board shaped like Easter egg, faux flowers and grapevine wreath from Green Truck Crafts.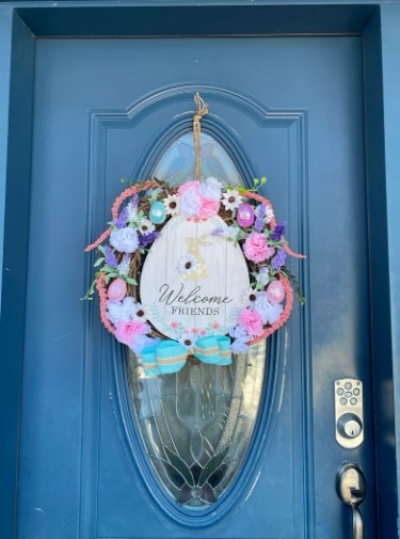 DIY White Tulips Wreath: Shape your door hanging into a carrot and add white tulips for elegance or go colorful with tulips, peonies and other seasonal flowers by bhg.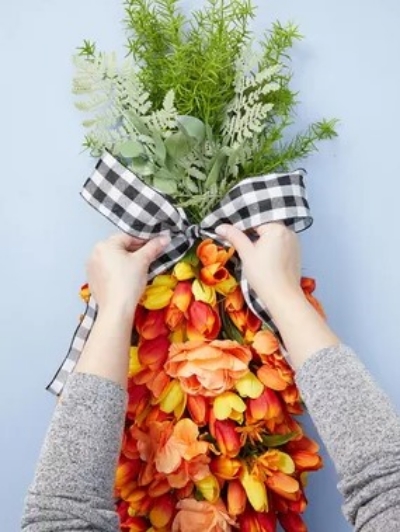 Elegant Easter wire form bunny hanger from Party touches UK.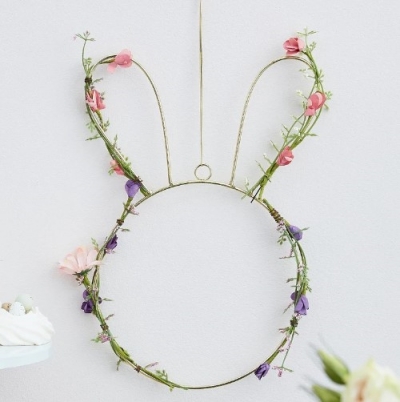 Lavender wreath for all year round from julie decor boutique.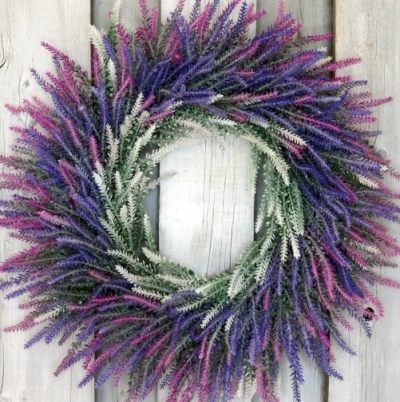 Tree of life wreath from hammers and handles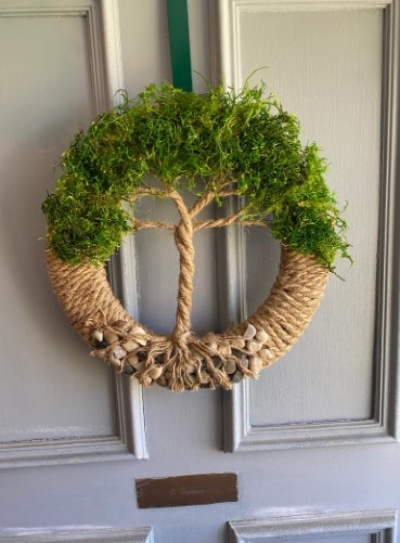 Summer Front Door Decor Ideas

Dragonfly stained glass garden wreath from boutique wreaths 77.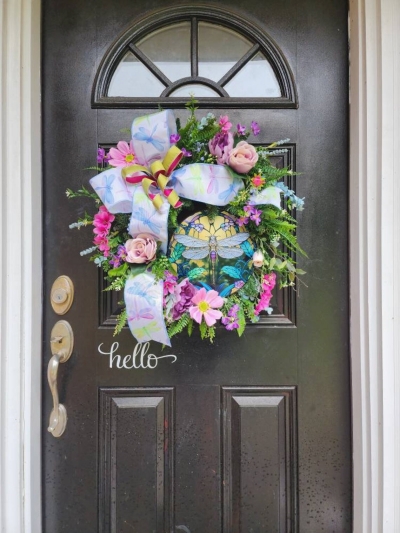 The Sunny Day Himmeli wreath by persia lou is perfect for summer front door decor with cocktail straws.
Grapevine Butterfly door hanger from crafty gal wreaths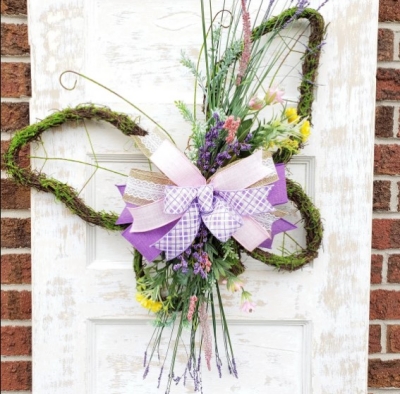 Mothers day front door decor
Mothers day wicker wreath: A luxury front door ornament that will make gorgeous gift for Mom from handmade dolls by Yana.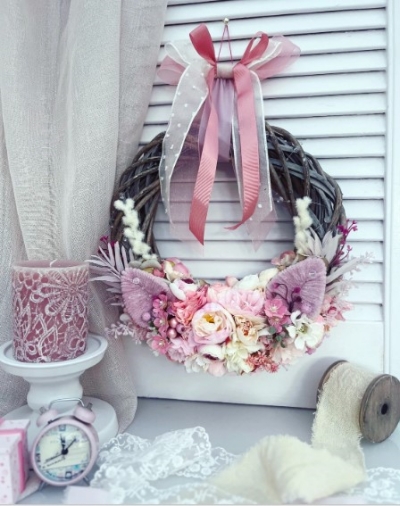 Macrame bell door hanging for mom from Luna lambs.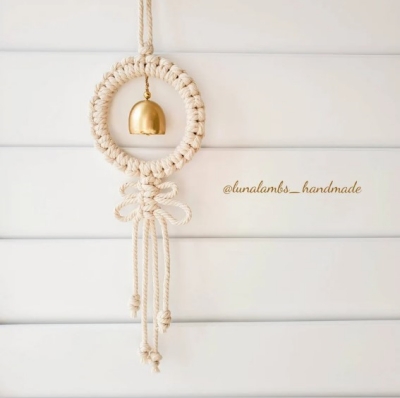 Another classic Mother's day gift idea a wood bead wreath from near north interiors.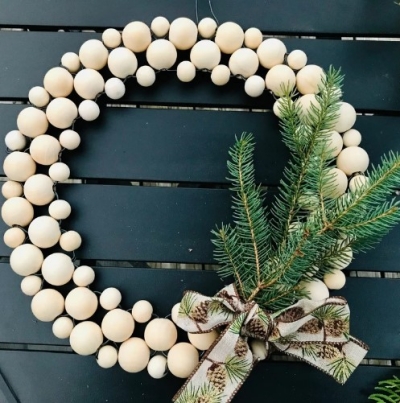 Modern farmhouse bohemian Hoop wreath with florals from Mrs petal peddler.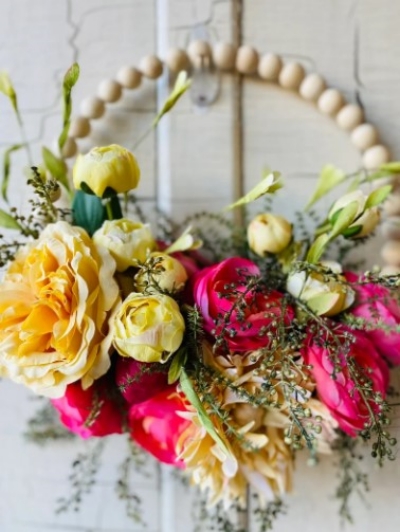 Neutral modern farmhouse wreath from wild ridge design.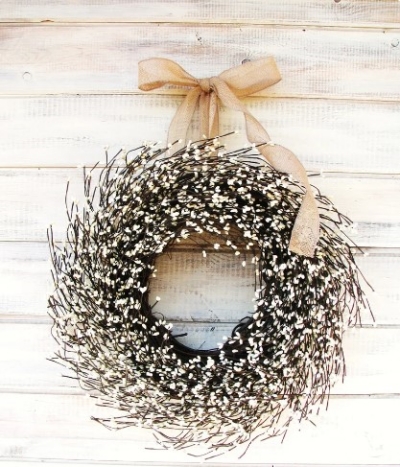 Boho pom pom wreath from plush fiber craft co.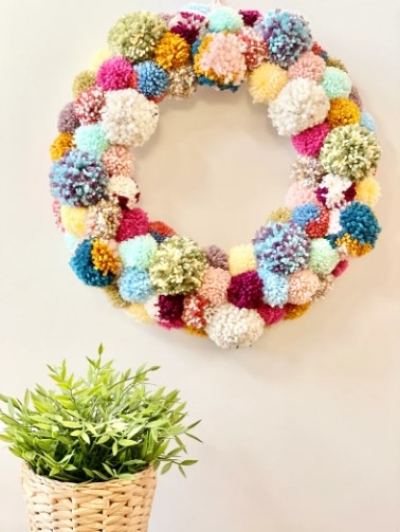 Dried pampas grass Boho wreath will make perfect housewarming gift from Fairmile Home Decor.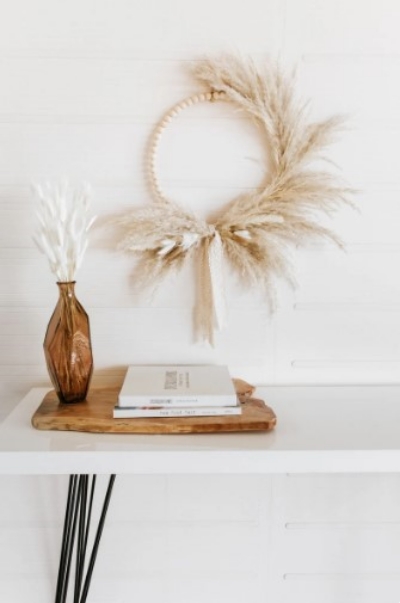 Easy and fun front door home sweet home DIY Buffalo Plaid Door Hanger on black and white shiplap from Double Doodle Designs.
Under the sea gold and seafoam glitter sequin coastal beach wreath from Darby Creek Trading.
Welcome beach burlap deco mesh wreath with seashells and starfish from Beautiful Mesh.
Driftwood sunburst rustic home decor for beach home from Peace love driftwood.
Simple Bumble Bee Door Hanger gives a rustic look to your front door by southern charm wreaths.
Fall Front Door Decor Ideas

Neutral grasses wreath with blue and white accents with pampas grass and eucalyptus from Nove Wreath.
Decor for your front door with a garland for a full and lush look paired with Thanksgiving wreath by hometalk. Keep your garland narrow alongside the door and over the top of the door.
A personalized DIY Fall Front Door Sign from frame by beacon adhesive with monogram, family name or signature phrase is unique and eye-catching.
Pair of rustic wooden wreath with wood slices for natural front door with second door from barnwood burlap and bow.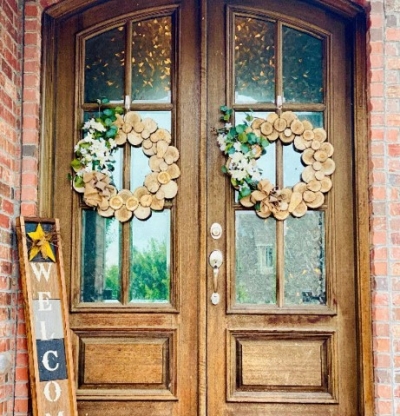 Fall Front Porch Decor with Blue dried look dahlia wreath from Darby Creek Trading.
Pumpkins Fall Wreath: Cream pumpkin and gourd eucalyptus lamb's ear fall harvest wreath from Etsy.
DIY buffalo check pumpkin Fall wreath using pumpkin wreath form.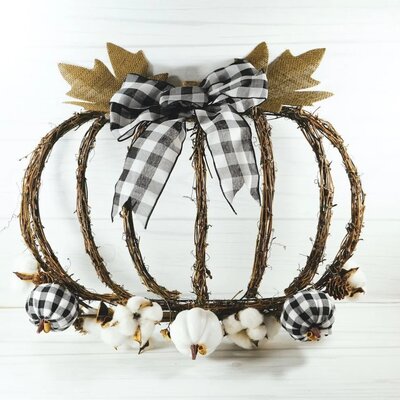 Halloween front door decor
Halloween witch hat wreath from our whimsical home evokes the memory of the movie The Wizard of Oz with popcorn.
DIY Halloween front door hanger: Make it realistic with use of newspaper or old clothes for stuffing socks, T-shirts, and old clothes by redefined mom. Choose two dark colors like; black and orange, black and yellow, or white and orange tulle as contrast with striped socks.
Scary Door Decor with this DIY Eek! foil art banner sign by hgtv for Halloween.
Gothic raven and spider Creepy Halloween wreath from wreath wizard designs.
Jack Skellington Halloween Door: Nightmare before the Christmas wreath from deck your door out. If you don't have a white door, you can create it with construction paper to make a background. To make the skellington, use vinyl or construction paper.
Man eating wreath from the flying nanny co.
Vintage roses door wreath from Antadio design.
Fall Bed Spring Wreath from castaway and cabernet.
Winter Front Door Decor Ideas

Naturally preserved boxwood wreath from Etsy.
Olive willow wreath from encircled wreath.
Hello Winter Months with glittery wreath of pine cones, faux greenery, styrofoam balls, and snow-looking ornaments to decorate your door this winter that lasts you through Holidays – January and till the grass gets greener by celebrate and decorate.
A cute, cozy, and kid-friendly DIY Christmas Snowman by sutton place.
DIY Old Baubles Wreath by white note of elegance.
Lighted snow berry wreath from lucedellamore.
Christmas front door decor
Unique Christmas bauble door hanger with animal print from creation bespoke.
Gold ornaments glitter foliage Christmas wreath from pacific and petals
Christmas Bells on the front door by life on summer hill gives a fun statement to your front door. Get the bells from winking frog.
Beautiful Christmas Garland matched with wreath around your door and covered porch. Illustrious Gold & Platinum Hanging Pomegranate with Champagne Glitter Pearls, Blossom and Pine Christmas Wreath from Darby Creek Trading.
Just wrap up your door with ribbon, attach the bow, and make it beautiful with this DIY Christmas Door Bow from  It's budget-friendly, innovative and you can reuse tulle fabric from Gilly Jean Crafts.
Heart natural wicker wreath from lalle handmade.
Christmas Tree Wreath with Lights by mad in crafts using tabletop tree, glitter spray paint, foam balls, burlap ribbon and battery powered lights.
Cozy Fireplace Door Decor and more creative door decorations by craftionary.

Mardi Gras wreath with fleur de lis, Mardi gras mask from deck your door out.
Author: Amber Saad