This post may contain affiliate links. Please see our full Disclosure Policy for details.
Make Clay Pot. This bold and modern cottage home and farmhouse style clay pot is inspired by Crate and Barrel. When Fall sets in the vibes for cozy and warm are automatically generated. So, I got in the mood to create a bold statement with this stunning piece of art using clay and paint. This project is also great for pottery barn decor style lovers.
Should I use Polymer clay or Air Dry clay?
Making decorative clay pots at home using terracotta pots, glass vases or bowls for indoor use there are a variety of clay choices to craft. You can apply clay for pot like air dry clay, modeling clay, hardening clay or polymer clay. Polymer clay is considered to be more durable than air dry clay.
Benefits of using air dry modeling clay
There are a variety of benefits when you use air dry modeling clay such as:
It is ready to use and easy to apply
You don't have to worry about making a paste with powder and water
There is no issue of overheating or damaging the clay pot as their is no heat, fire or baking in oven
It simply dries when left unattended
However, it is not best for outdoor or porch projects like terra cotta pot crafts
Make Clay Pot Bold and Modern Inspired by Crate and Barrel
The air dry clay pot looks gorgeous and the best part is that it is very easy to make. I love the clay vases, distressed looking clay jars and stunning clay pots at Crate and Barrel. It occurred to me to make a statement vase like the ones they have and I got into trying this one. I am so excited with the result that I am motivated to make more  This process can easily be followed on any decor item made of glass or even plastic. So, without any further delay let's get started with the details.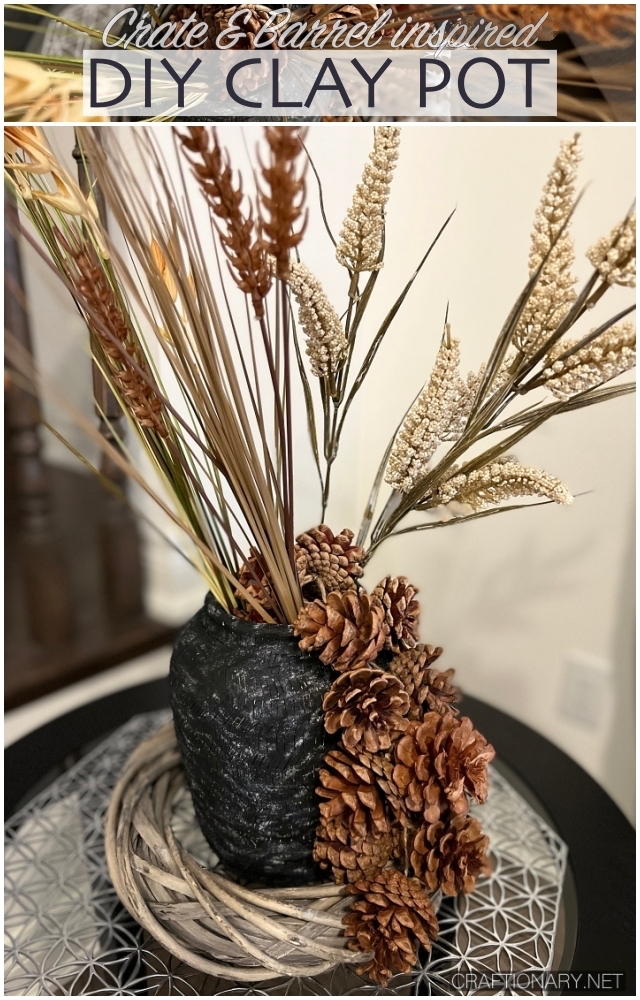 Video tutorial to make bold and modern clay pot
How to make air dry clay pot video tutorial on YouTube.
Before and after of glass jar to clay vase
Here's a before look of dollar store glass jar in comparison with the clay vase after tutorial.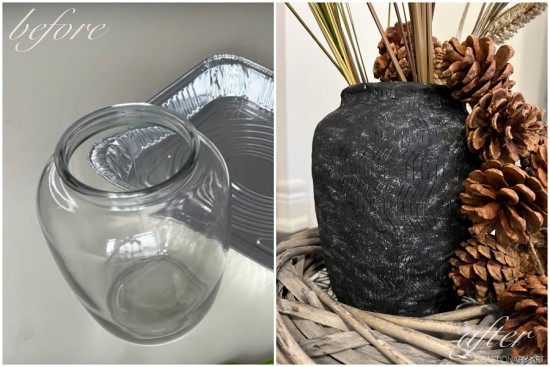 Pottery material needed to make clay pot
You will need the following supplies:
Air drying clay (I bought Crayola air drying clay from Walmart)
Glass jar (the larger the better, I wish I had bought a larger one from thrift store but this one is $4 from dollar store)
Blade or stone tools for carving design
Acrylic paints (I used black and white as I wanted to go with Classic look)
Paint brush
Foam brush
Your beautiful hands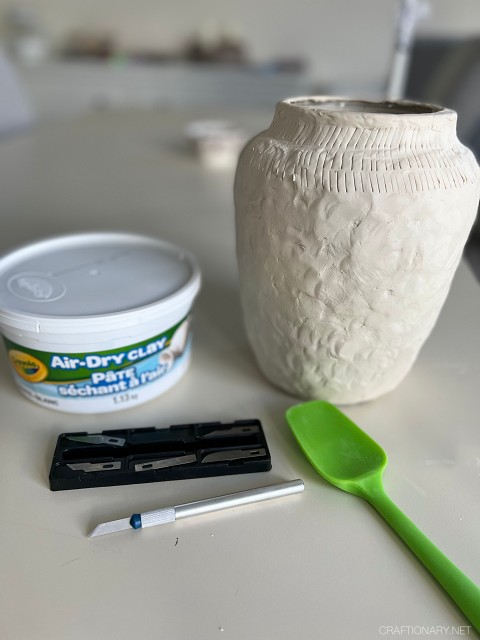 Step By Step Instructions on how to make clay pot
I have put together a written details tutorial here as well as linked a full detail video of the entire process on my YouTube channel at the bottom of this post. You can choose to follow either based on your preference.
1. Cover glass jar with clay
I bought a glass jar from dollarama and started applying smooth clay paste on it with my bare fingers and thumb. In order to achieve good results, I took a small piece of clay like a ball of clay and place it on the surface. Then I smoothly slide it on the glass surface to create an even coat on the entire surface.
Once, I covered the entire piece with a good layer of air drying clay I used a silicon spatula to remove the finger marks. This gives the jar an even look. I didn't apply clay at the bottom of the vase.
2. Carve your design using blade
Without any further wait, I used my blade (or you can use pottery tools and carving knives) to make the desired design. The design here is vertical lines slightly tilted towards right, followed by straight vertical lines and then vertical lines slightly tiled towards the left. I continued this pattern till the bottom of the clay pot.
3. Let it dry
After this step, let the clay dry. As per manufacturer's instructions on crayola air dry clay packaging, it takes 2-3 days to dry depending on the size and thickness of the sculpture. Since, this glass vase is only coated with a layer of clay, it was dry and ready to paint the next day.
Note that the dried clay has cracks which adds to the look of the vase. However, if you intend to have a smoother look polymer clay should be a better option for you.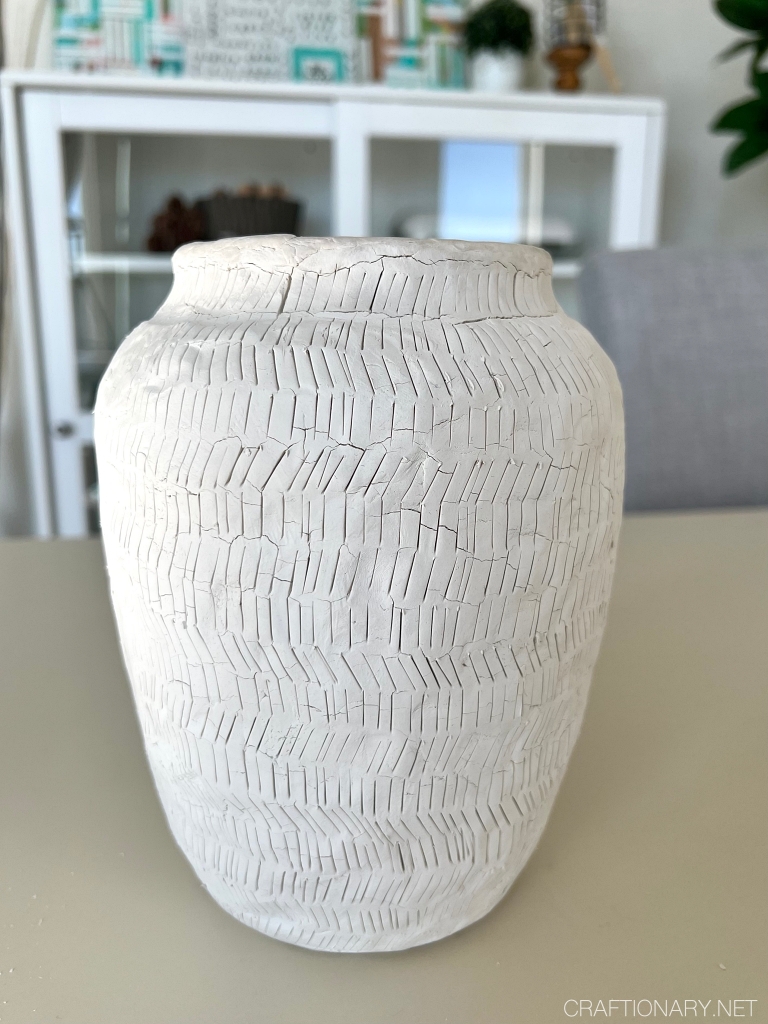 4. Paint the clay pot
I love to paint, so this was my most favorite part of the process. I used acrylic paint in black and brushed an even coat on the entire vase. Make sure to paint the base of the vase as well for the complete look. It dries very quickly as it gets absorbed into the clay. Making the working experience a breeze.
5. Dab distressed paint using foam brush
For the paint distressing, ensure you take very little amount of white paint on the foam brush. Remove the excess by dabbing it on the paint palette before you apply it on the clay vase. Here you can decide whether you want it to look more white or black.
I wanted it to have less white spots and more classic black look so I dabbed a coat of black paint over the white using the foam brush to get the desired result.
Tips for best results making first clay pot using air dry clay
Strengthen the clay bond on the glass surface to make your work durable by pressing on the inside and sliding the clay to remove any air bubbles
You may want to use a rolling pin to roll the clay and then press it on the vase as well
This clay may not suit from scratch clay pot crafts where coil, kiln and perfection is required. As it cracks and may not hold the intended items inside
Make sure to store the remaining slab air dry clay in an air tight container. I removed it from it's plastic container sealed it in an airtight plastic bag. Pressed to remove air bubbles and placed it back in it's container.
Beautiful ideas to make clay crafts for home decor
There are a variety of projects you can make with modeling clay. A few of the ideas that are popular:
clay pot lighthouse
mason jar pots
pumpkin clay pots
terra cotta pots
wind chimes
fairy gardens
indoor architecture items
fun projects involving sculpting
so much more
Here's the final look after the above steps. Isn't it gorgeous?
I then used a few farmhouse inspired cottage decor items and Fall florals along with pinecones to decorate the side table.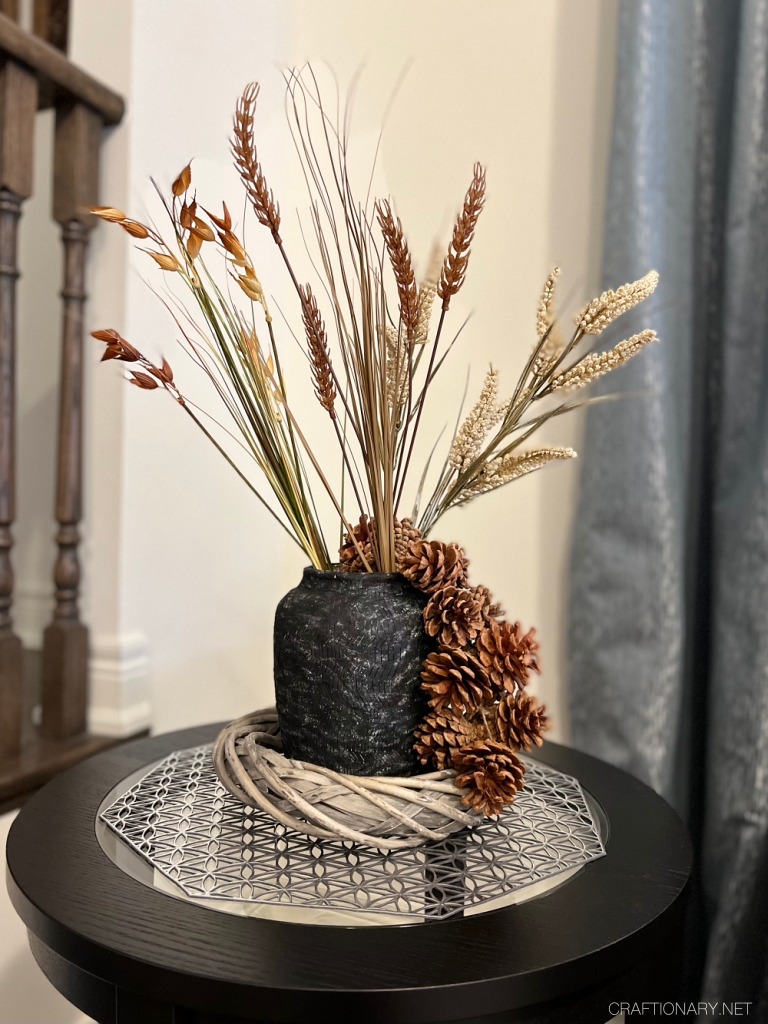 Here's a closer look of the vase with all it's elements. What do you think? Please share this project if you like the idea. You can find the social media share buttons at the top and bottom of this article.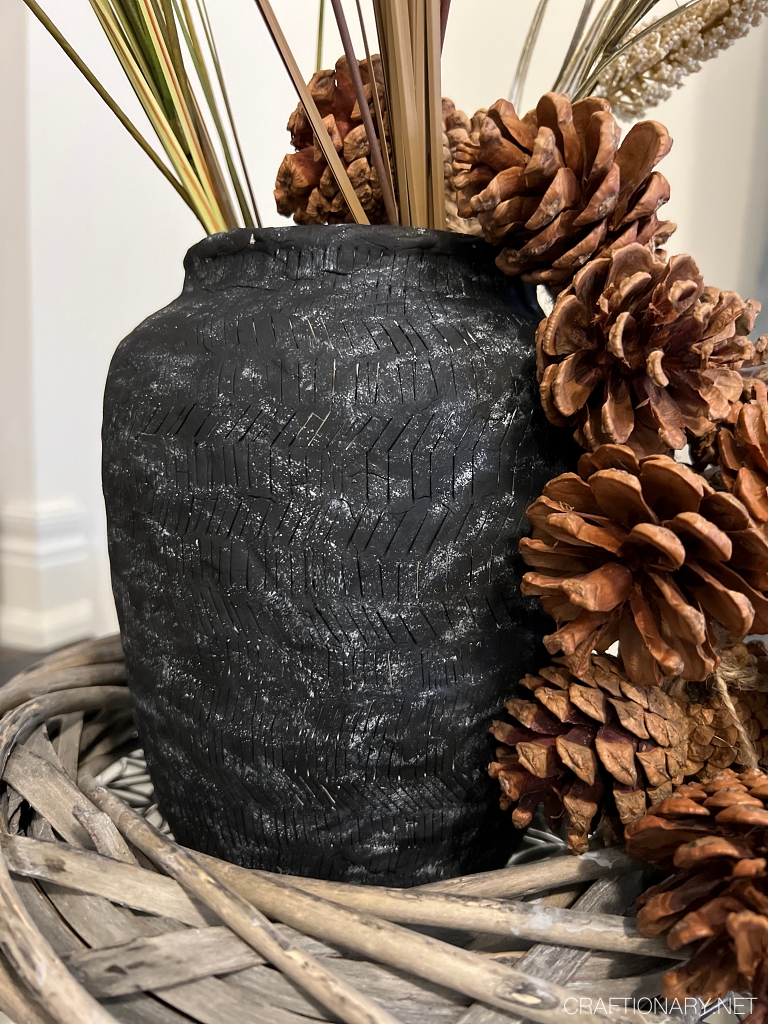 I love the way it looks. My only wish is to have used a larger glass vase if I knew the result before hand.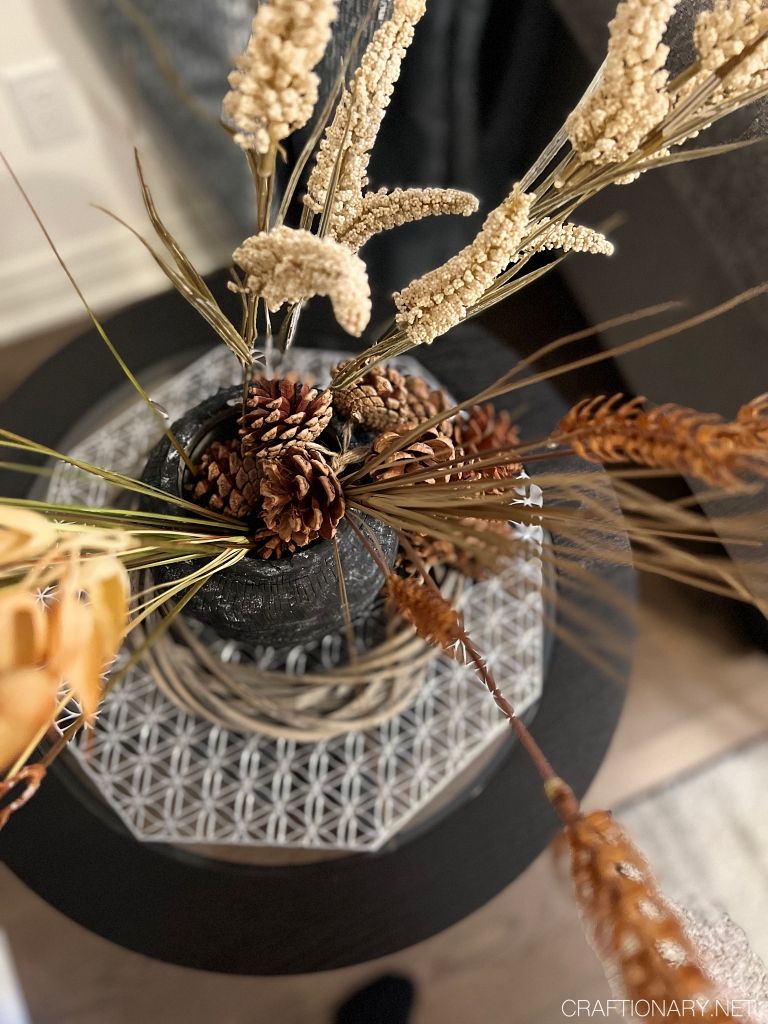 Please be courteous and link back to this post if you choose to share. One image can be featured only with source linked. Thank you!

You will also like: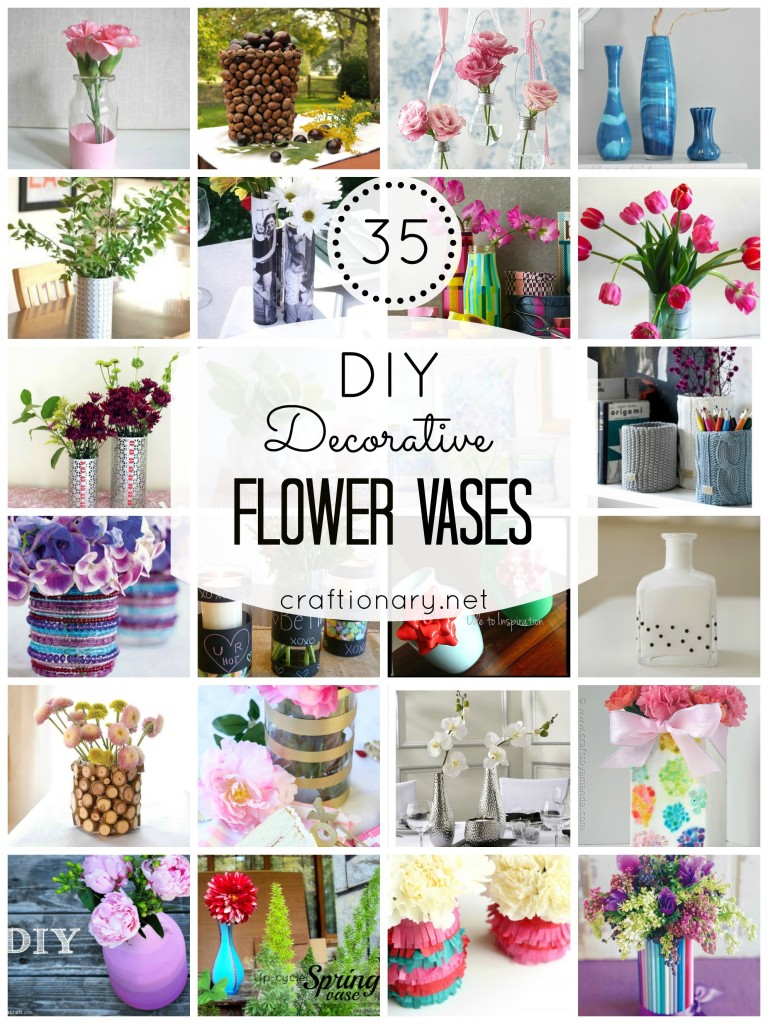 DIY flower vases