This post may contain affiliate links. Please see our full Disclosure Policy for details.
What are the Bowl Fillers? They are decorative objects placed in a bowl for aesthetic purposes. Bowl fillers add volume, colors, and depth to your bowl to enhance its appearance. Bowl fillers can be fresh flowers or artificial arrangements. They come in different shapes, sizes, materials, and colors. Some people also support the floral design and arrangements in bowls using famous techniques like Japanese art called Ikebana. It also adds colors to complement the flowers.
There are innovative, decorative, simple, affordable, DIY friendly ways to spice and jazz up, your boring bowl with fillers. Bowl filler ideas vary from fresh flowers to dried herbs and petals to small stones, marbles, decorative ornaments, succulents, plants, pine cones, potpourri, seashells, and beads. Mix all these objects to make an interesting pattern or keep it simple by using one type of filler.
In this article, I'm sharing 60 different ideas to decorate your bowl for all the seasons. Not interested in making vase filler ideas then we have you covered with bowl fillers you can buy as well.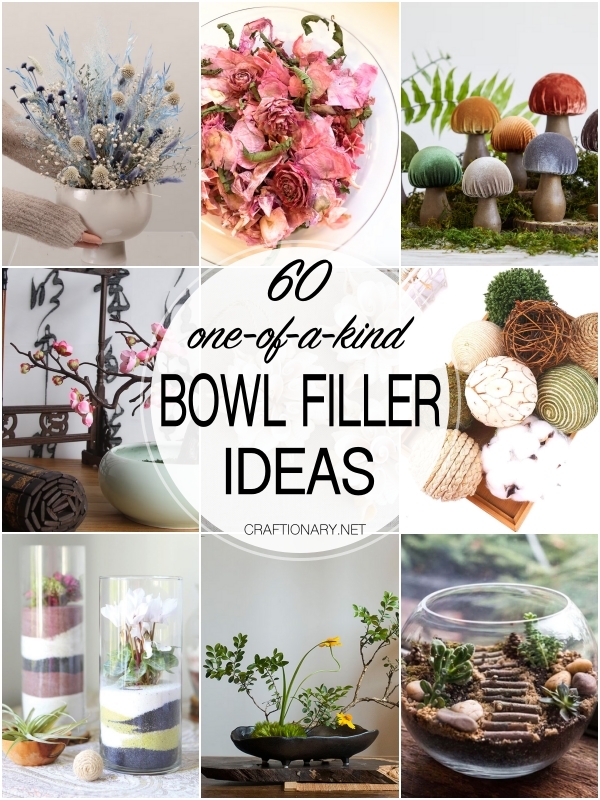 DECORATIVE BOWL FILLER IDEAS
Coastal Seashells and Sea glass

This coastal bowl filler set is lovely with all-white seashells, starfish, and some pretty aqua-blue sea glass to create the perfect beachy-look bowl decor.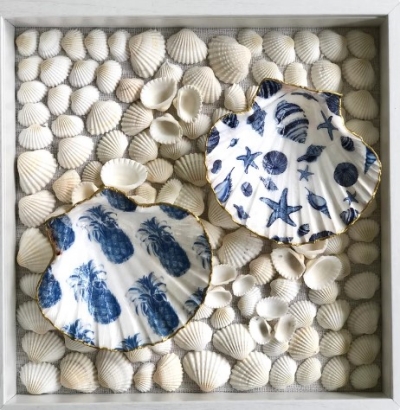 Seagrass Cords
This pendant has a seagrass cord; used as a bowl filler. The arrangements of shells like a flower make it more beautiful and eye-catching.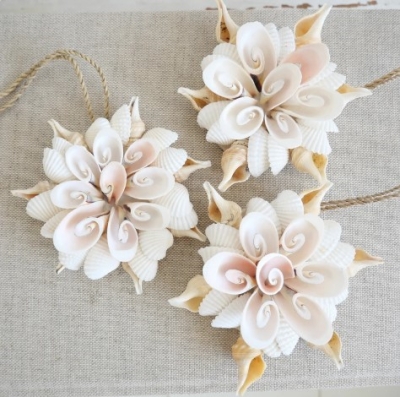 Colorful Sand
Colorful sand is a versatile bowl filler. It comes in wide range of colors and in fine and coarse grain sizes. Try multiple layering of colored sands in a bowl and add artificial succulent to create a decorative bowl.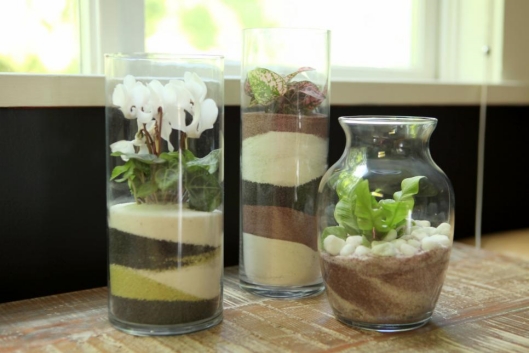 Candles and Flowers
This dough bowl arrangement by decorate with Diana is perfect for fall decor or centerpieces. The combo of the dough bowl, faux flowers, greenery, and candle sticks makes a perfect, centerpiece for your fall decor. This fall floral dough bowl is stunning and easy to make.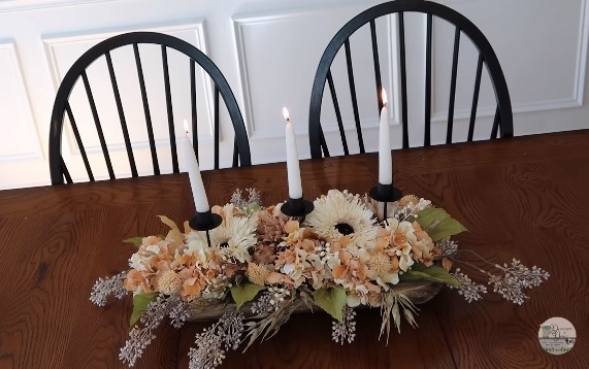 Rattan fillers
Decorative ball orb rattan balls from amazon.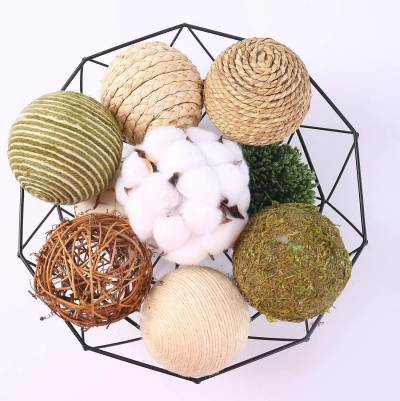 Tea Candles and Flowers
Do you want to add warmth and coziness to your home? Then put candles into your bowl. Because the idea of decorating your home with candles never gets old. It's an easy way to add color and light to your home. This DIY tea candle bowl by Vicky is gorgeous, stunning, and easy to make. It is best to welcome March, spring, and Easter. Watching and making this bowl is so relaxing and refreshing.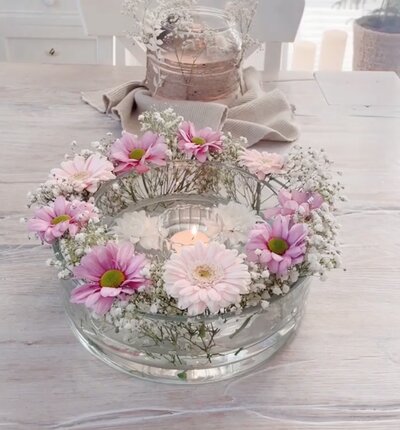 Simple and easy bowl fillers

Dough Bowl
You can decorate your living room with this candle dough bowl or preserved moss dough bowl decor.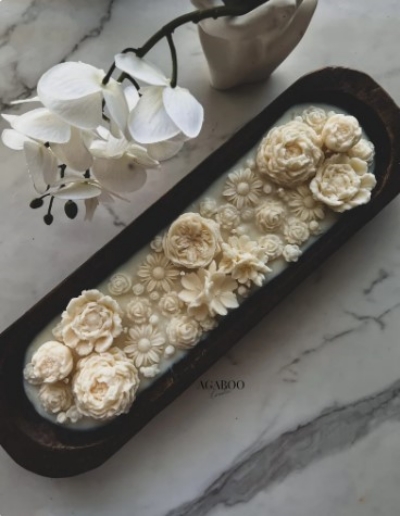 Decorative Balls Centerpiece
An assortment of grapevine balls, mini gourds, and natural sola flower bowl fillers from Etsy is perfect centerpiece for your table wooden bowl.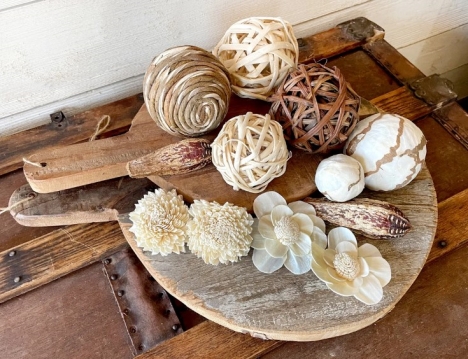 Candles
This elegant candle escape set from Amazon is a versatile centerpiece, and perfect for all seasons, occasions, and vintage decor lovers. It's a great way to add warmth to your place.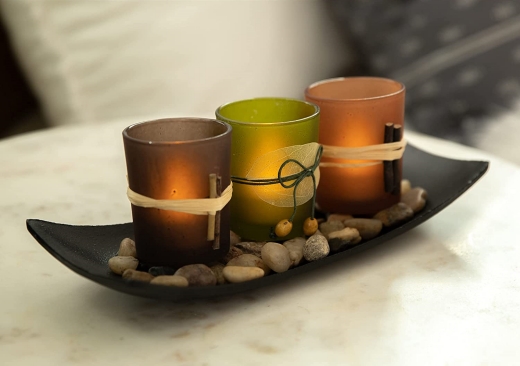 Decorative rocks and stones
Painted rocks to look like plants, kindness messages or geometric designs make unique bowl fillers.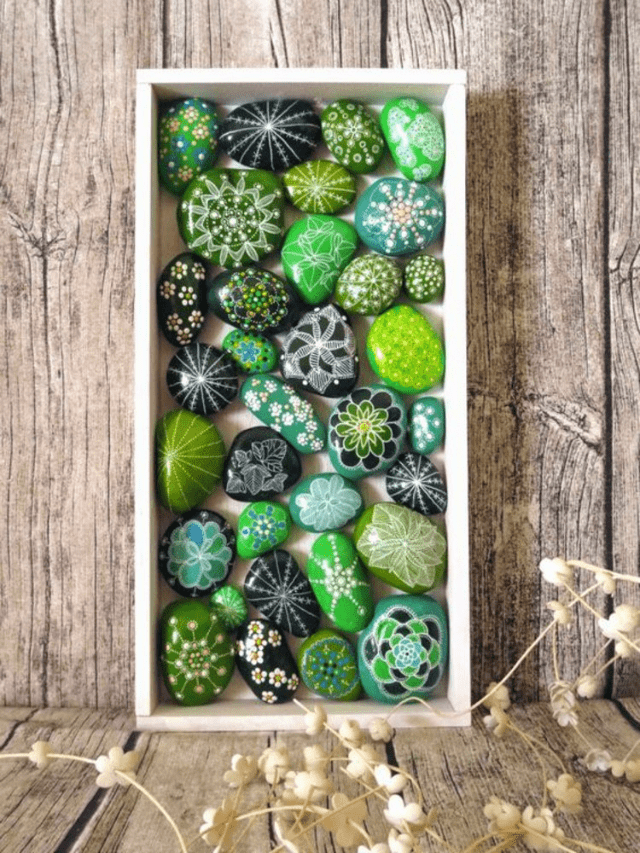 Gems and beads
Use glass gems is a variety of ways to decorate bowls.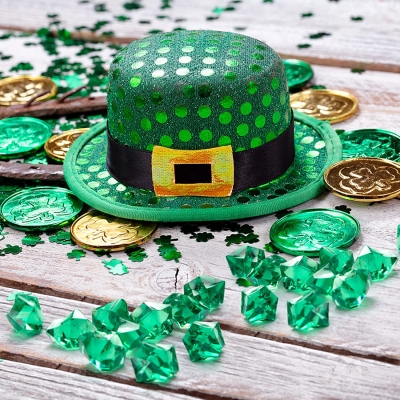 Farmhouse Bowl Filler Ideas
Stuffed Fabric Fillers
For the farmhouse decor, you can use clothing items to up-cycle bowl filler by prodigal pieces. You can reuse any old clothes like pants, shirts, and skirts, which you want to refashion.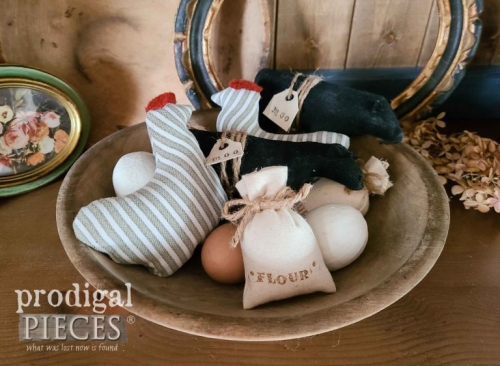 Cotton Balls
These cotton balls provide natural and sophisticated look to your bowl.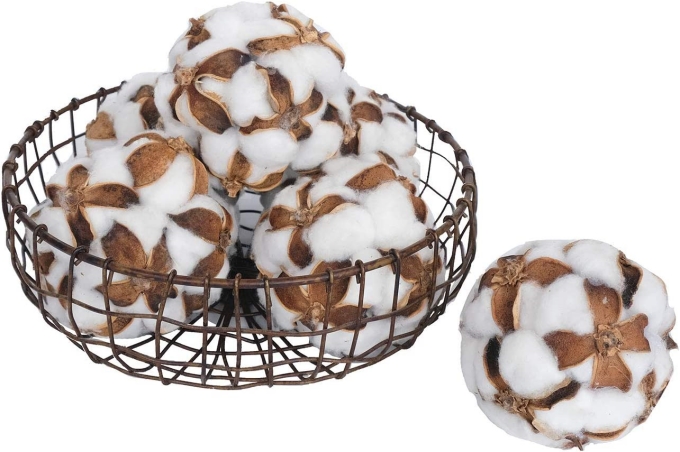 Crochet Balls
Farmhouse decorative crochet balls set to fill a wooden bowl.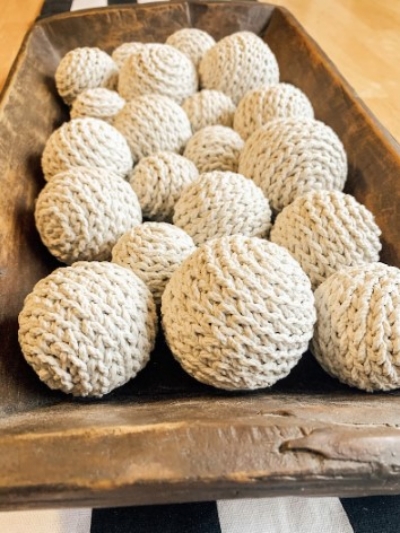 Moss Bowl
This moss bowl is simple and easy to make. You can buy moss from Amazon.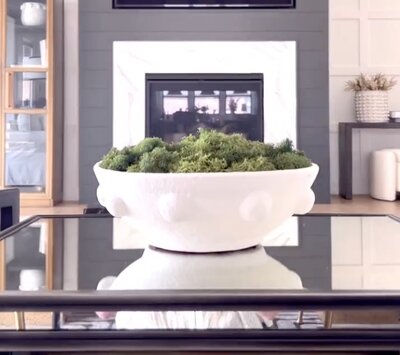 Boho Style Bowl Fillers
Macrame Boho fillers
This 10-piece 'Café au lait' bowl decoration from Etsy can be placed in a bowl to make the perfect coffee table centerpiece.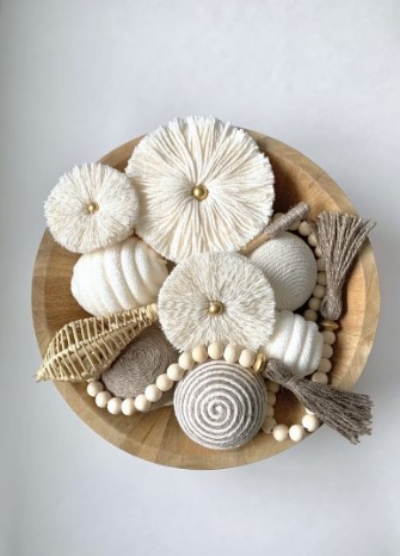 Wooden Beads
Style your bowl with these beautiful wooden beads garland.
SPRING AND SUMMER BOWL FILLER IDEAS
Bowl fillers are typically small decorative items; that can be placed in a bowl to add a touch of seasonal decor to your home. Here are some popular options for spring and summer bowl fillers:
There are different things that anyone can use as a decoration of bowl filler for springs, like artificial flowers, faux fruits, moss, twigs, Easter eggs, candles, painted rocks or stones, greenery in bright and pastel colors, plastic eggs filled with toys or candies, candles, seasonal accessories like butterfly wings or bunny ears, miniature birdhouse, placards with spring-themed sayings or quotes and many more.
For Summer you can use:
Vegetables and fruits such as lemons, limes, and watermelon
Small toys like beach floating animals or balls
Flowers like sunflowers, hydrangeas, and daisies.
Sand or stones.
Seashells, starfish, and other beachy items
Potpourri or dried flowers.
Colored glass beads or stones.
Fresh Flowers
Decor your bowl with the colors of fresh seasonal flowers like sunflowers, hydrangeas, daisies, or tulips. Fresh flowers add colors to your decor and create a beautiful aura. You can make this bowl full of flowers with the guidance of  pender peony.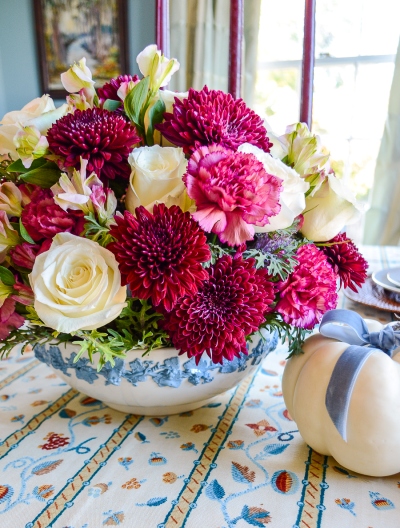 Bowl flower arrangement with tape
Use tape, fruit net, or floral foam to arrange fresh flowers with ease in DIY flower vases.

Ikebana
Handmade boat-shaped Ikebana Japanese flower arrangement from Etsy.
Insert rose stem in a ceramic bowl with wet floral foam to imitate this classy oriental style look from Etsy.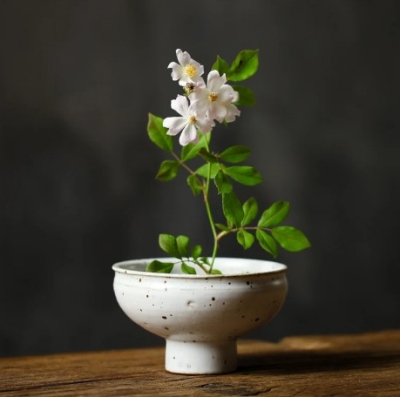 Use flower frog to make beautiful bowl arrangements.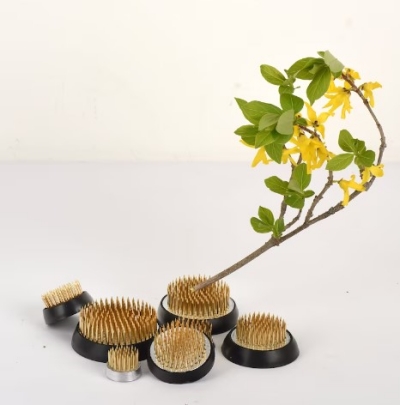 Floral Fillers
Floral bowl fillers are decorative elements; are used to fill spaces in a flower bowl. These fillers are natural or artificial; are used to create a beautiful, textured base for your flowers. These include moss, sand, shells, decorative stones, pebbles, beads, and foliage. They enhance the colors and texture of your flower arrangement and provide a base for the flowers to stand in. Flower bowl fillers are perfect to create; a stunning centerpiece for your home or special occasion.
You can arrange the flowers in a bowl in different ways:
With the usage of a variety of succulents and small plants, you can create a miniature garden. Plant them in the soil and add small rocks or miniature animal figurines.
Take a single color or shade and select flowers in varying sizes, shapes, and textures that match the color. Arrange them in the bowl to add visual interest.
Place the bouquet, like roses, lilies, or peonies in the bowl with the stems cut to fit the depth of the bowl.
Turn your bowl into a beachy, tropical paradise; by using exotic flowers like hibiscus and orchids. Add some greenery to complete the tropical look.
Place the selection of flowers in a bowl with water. Add candles around the edge of the bowl to add a warm and romantic touch.
Artificial Flowers in Dough Bowl
Buy this spring dough bowl centerpiece from Etsy for your living room or dining.
Petals and tealights
Traditional lotus filled with tealights and rose petals for a fresh decor from Etsy.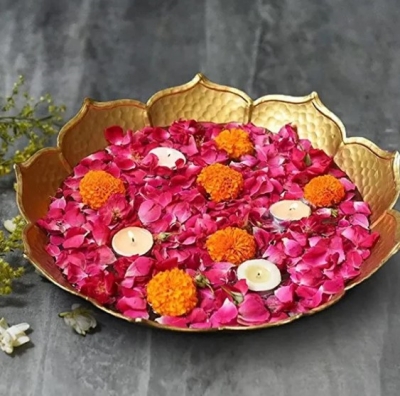 Bonsai in Bowl
This beautiful small bonsai tree is from Etsy.
Fruit Wheel Bowl Filler
Make this Fruit Wheel Bowl filler by hgtv. To make it take two bowls of the same design but different sizes, fill the small one with flowers and water, and space between bowls with lemon slices or any fruit.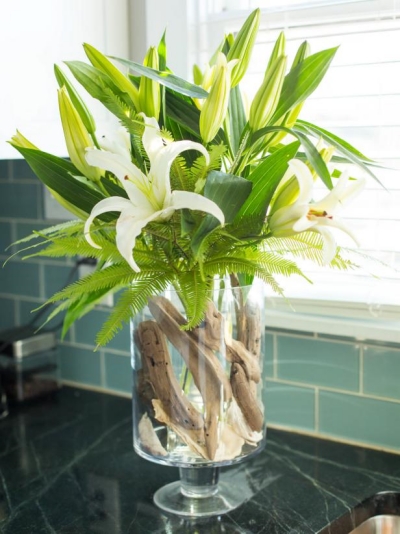 Hydrangeas in a Large Bowl
Say welcome to the spring with this faux hydrangeas bowl filler. These faux hydrangeas from Etsy bring the color of spring to your home.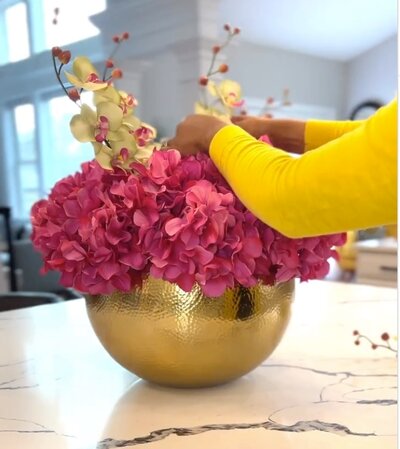 Orchid in a Bowl
This accented elegant silk arrangement is created with white hydrangeas and cymbidium orchids from etsy in a golden bowl.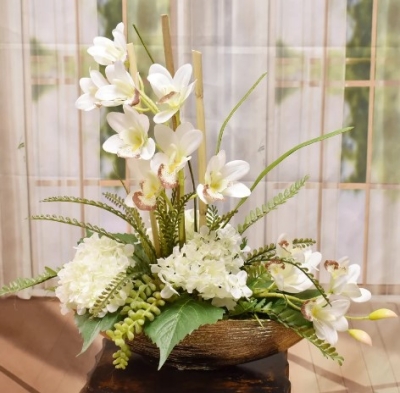 Botanicals
Naturally dried navy blue botanical bowl filler idea from Etsy.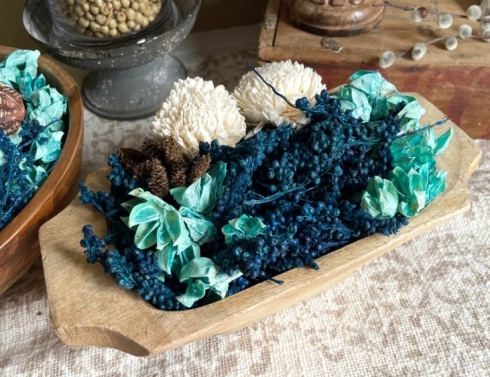 Plants bowl fillers
Baby Grass
Fill an urn with grass seeds or faux baby grass for a classical display with vintage accessories and books from Etsy.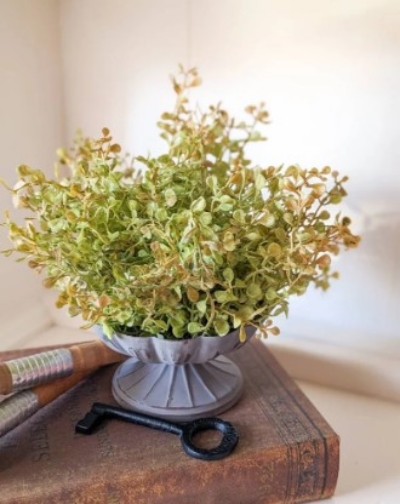 Branches
Add branches into a bowl like bougainvillea for an abstract touch from Etsy.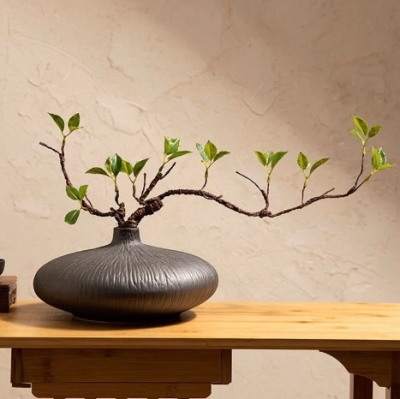 Fern and pampas grass
Add buds, bulbs, pampas grass and other varieties of houseplants in moss balls kokedama in a bowl from Etsy.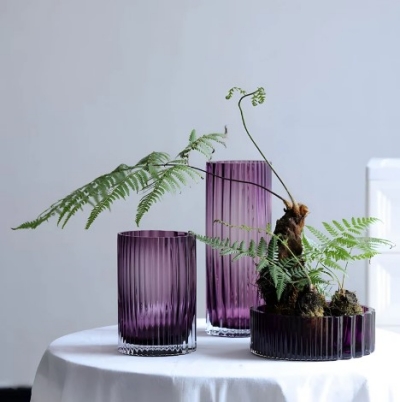 Faux Lemon Home Decor
This beautiful faux lemon home decor set is perfect to say welcome; to the summer with faux greenery, lamb ear, and eucalyptus. This bowl filler is so cute and refreshing to see.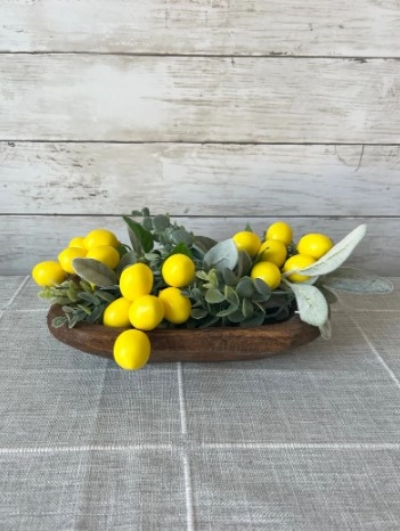 Succulents
The best thing about succulents is that they are low-maintenance. Decorate your home with this faux succulent bowl arrangement or try replacing them with real succulents. Unlike other living plants, succulents are very easy going.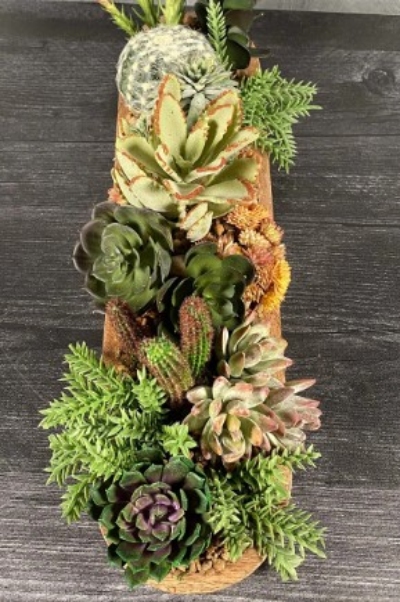 Air Plants
Bring life into your home with air plant display ideas. You can display it into bowl in different ways because they can survive without sand.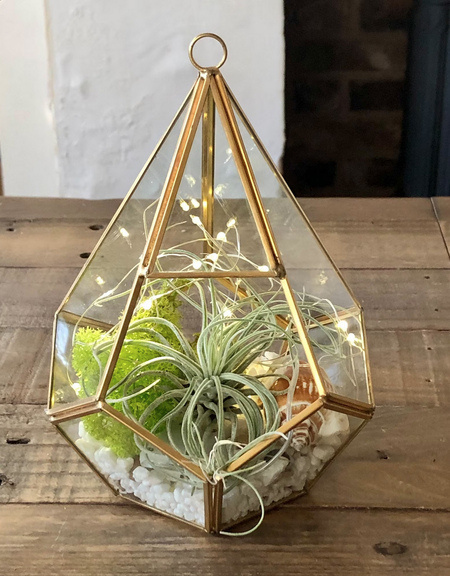 Terrarium glass bowl display

Create stunning displays in a glass bowl like this adorable stairway made of twigs with succulents, cacti and pebbles for a beautiful bowl arrangement.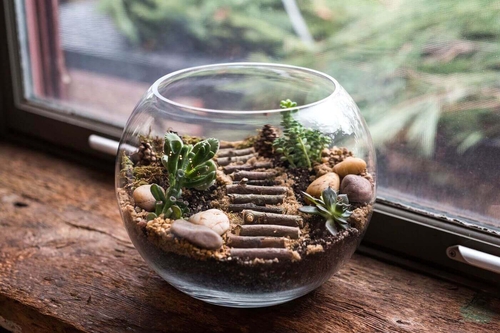 Source unknown
Easter Bowl Fillers
Bunny bags
These cute handmade bunnies are perfect bowl fillers for your spring or Easter decor.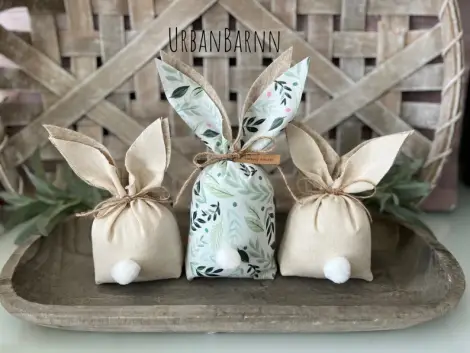 DIY Decoupage Easter Eggs
You can upgrade, your plastic eggs this Easter or spring as bowl fillers. These DIY Easter eggs techniques are mind blowing.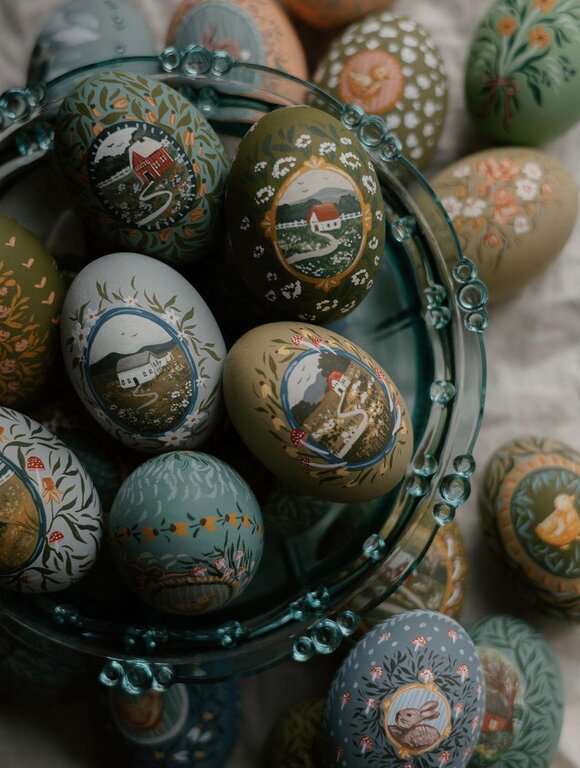 FALL BOWL FILLER IDEAS
Decorate your bowl for Fall with beautiful fillers like mini pumpkins and gourds, pinecones, fall leaves, cinnamon sticks, acorns, artificial berries, a potpourri of pumpkin spice, apple cinnamon, and vanilla beans, twigs, miniature scarecrow or fall themed figurines. Here are some ideas with these beautiful bowl fillers:
Dried Acorns, Pinecones and more
Give your bowl a country or rustic style look with these beautiful natural color acorns. White and brown color pinecones from park walks have a beautiful contrast as decorative bowl fillers too.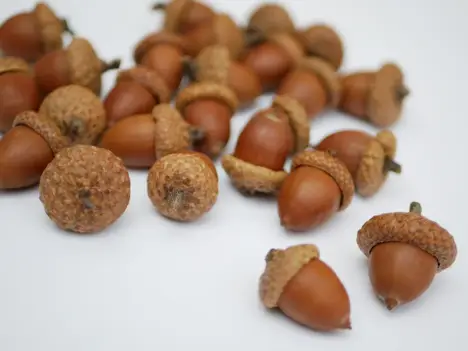 More acorn filler ideas.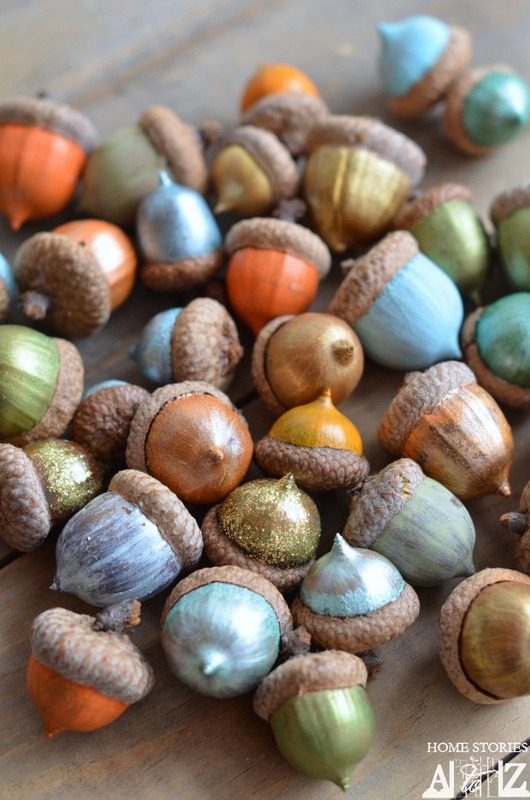 Mushrooms
These velvet mushrooms will look adorable as bowl arrangement with moss, wood slices, and plants.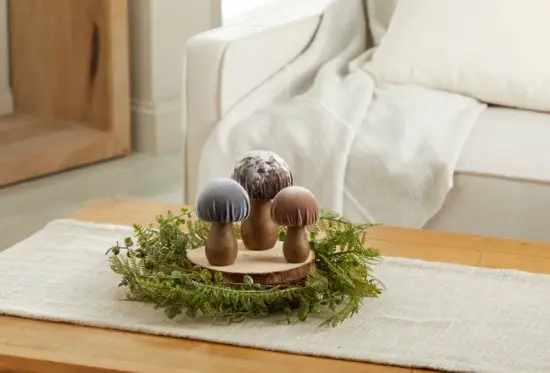 Potpourri

This fall dried potpourri is perfect for jar filler.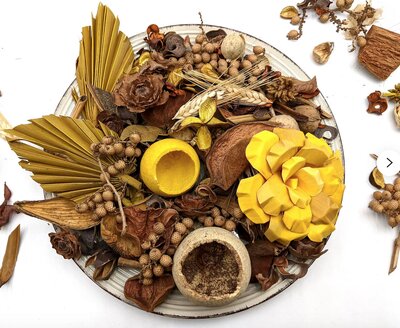 Decor your bowl with this beautiful rose potpourri. It has soft and romantic scent.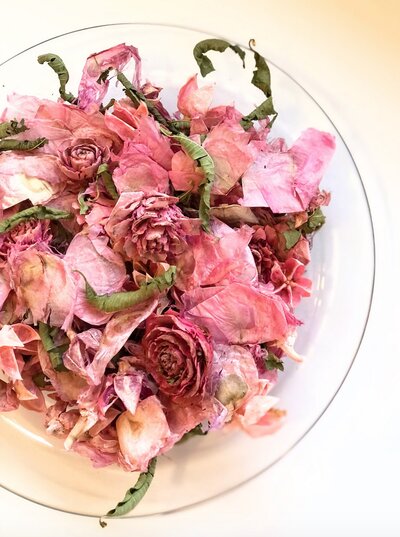 Pumpkins
These soft hand-knitted decorative pumpkins by Etsy are best for fall and autumn decor.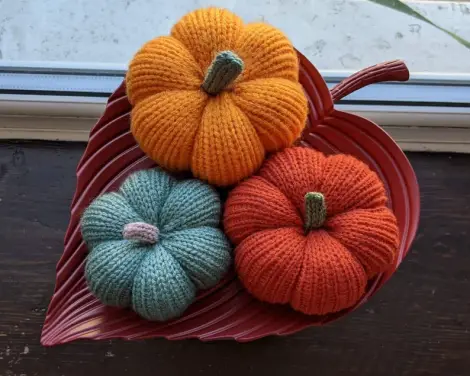 Candy Corn Balls
These time-taking DIY candy corn fillers by junque 2 jewels are adorable and inexpensive. These candy corn orbs are best for your fall decor.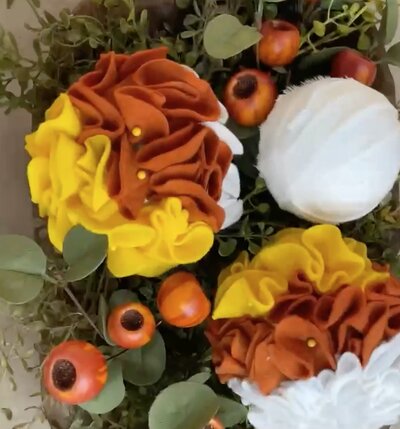 Garlands and Lights
Decor your glass bowl with beautiful garland and LED lights from Etsy.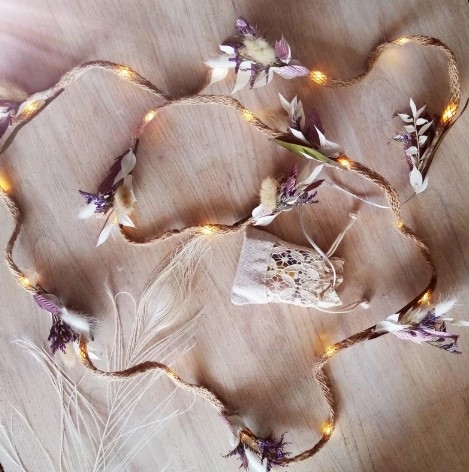 Coffee Beans
These coffee bean bowl fillers are also air neutralizers by craftionary. Take a bowl; fill it with coffee beans and add tea light inside. Once you light the tea light, the oil of the coffee beans warms up and gives you an amazing roasted coffee beans scent.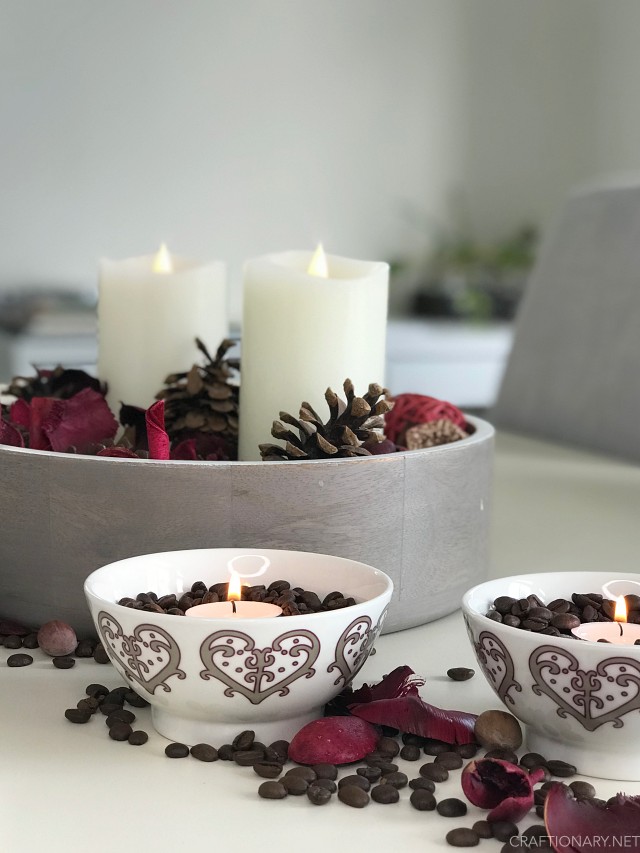 WINTER BOWL FILLER IDEAS
Fill a bowl for winter-themed decoration with items like pinecones, miniature snowmen, fake snow, ornaments, berries, cinnamon sticks, dried fruits, nuts, and holiday-themed items.
Stacked Fishbowl
This stacked fish bowl by a smart school house is easy to make and perfect for the summer and coastal decor. For this, you need seashells, starfish, fairy lights, and sand. This stacked fish bowl is a perfect; centerpiece for any decor.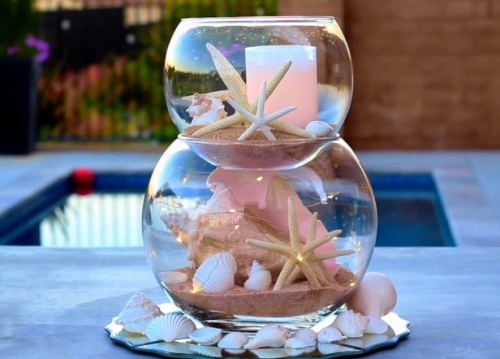 Primitive Stars
These primitive stars are great bowl fillers.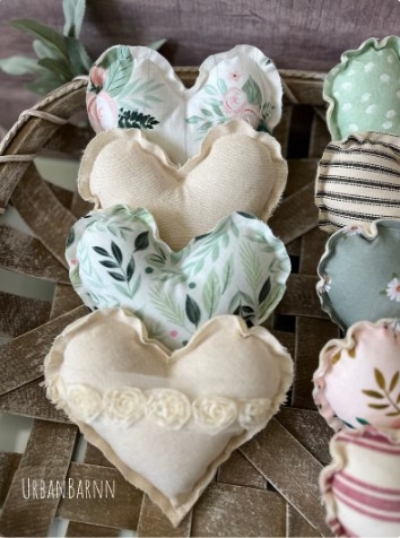 Christmas Freshness

Make this Christmas potpourri by one crazy mom for friends and family. For this, you need oranges, cinnamon sticks, dried star aniseed, pinecones, almonds in shells, and essential oil.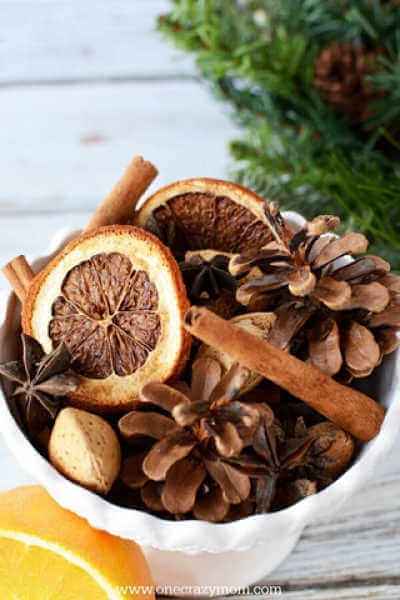 Spices and Scented Cakes
Primitive pantry spice heart cakes smell so yummy, but they are not for eating. Make them by infusing dried rosehips, and thistle blossoms with essential oil or perfume in a mold of your choice. Display with other dried florals and spices like star anise, fennel, cinnamon sticks, and cardamon for fresh and decorative bowl decor.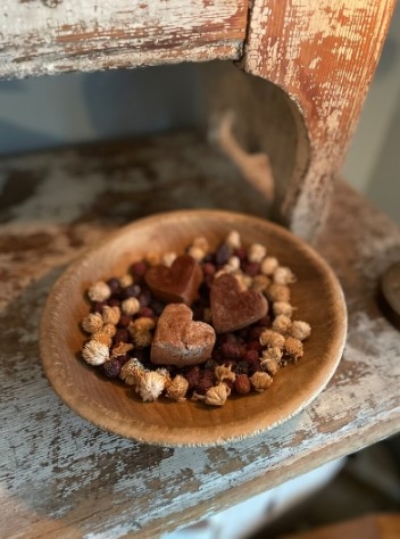 Wildflowers
Use dried rose ships, thistle blossoms and wildflowers to arrange in an elegant bowl from etsy in soft pastels and blues.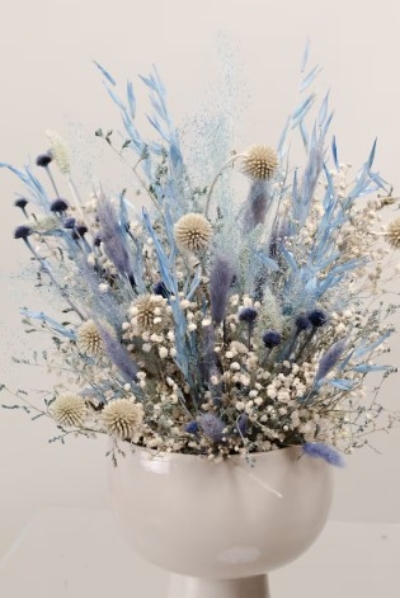 Fishbowl Snow Globe
You can make a snow globe with the help of fish bowl to create something festive for this holiday or Christmas.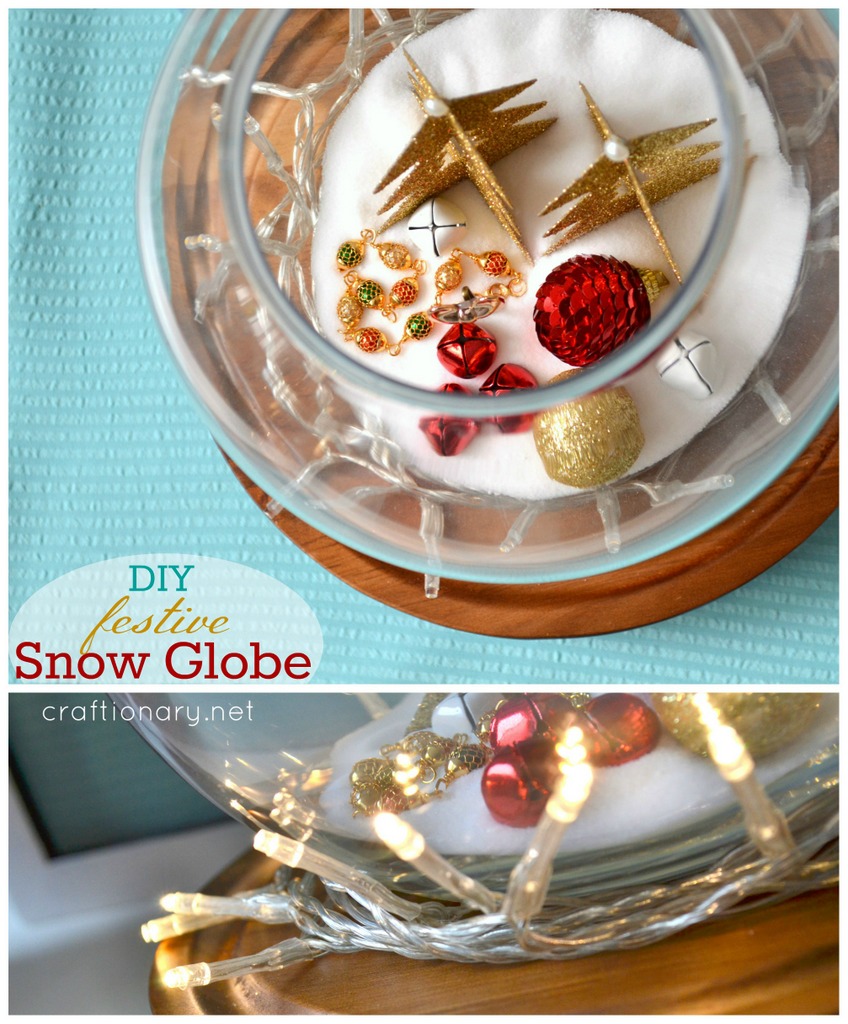 String Lights
Add string lights to any arrangement and it becomes festive. Just like this tealight village with Moroccan lights.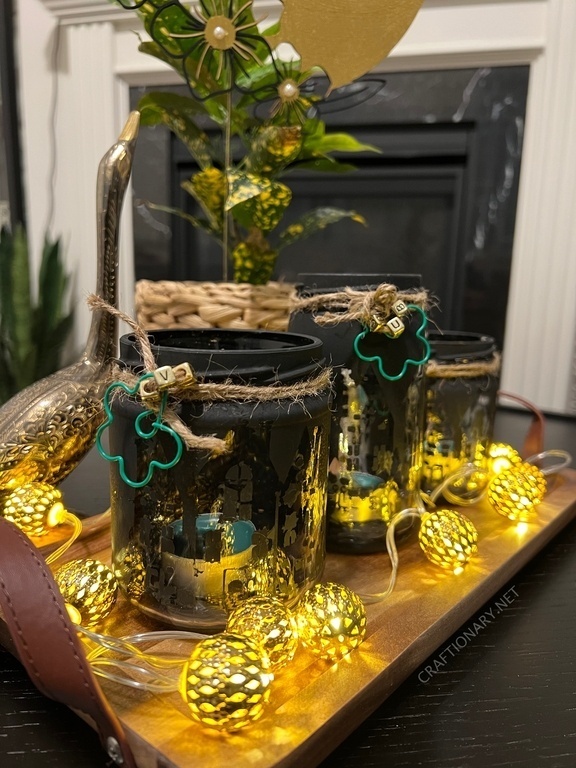 Author: Amber Saad