This post may contain affiliate links. Please see our full Disclosure Policy for details.
Make potpourri candle centerpiece with coffee tealight votives for setting mood for warmth and cozy. This project is ideal for cozy dinner tablescape. When early mornings and evenings start to feel cold and leaves change color, there is something that creates new vibes.
The summer-like vibes of outdoorsy, beach and cold drinks is replaced with fireplace, lighting candles and drinking warm drinks like hot chocolate and coffee. It also brings Fall vibes to collect pinecones, acorns, pumpkins and the ever-classic chrysanthemums. All this and more just to feel homey and settled.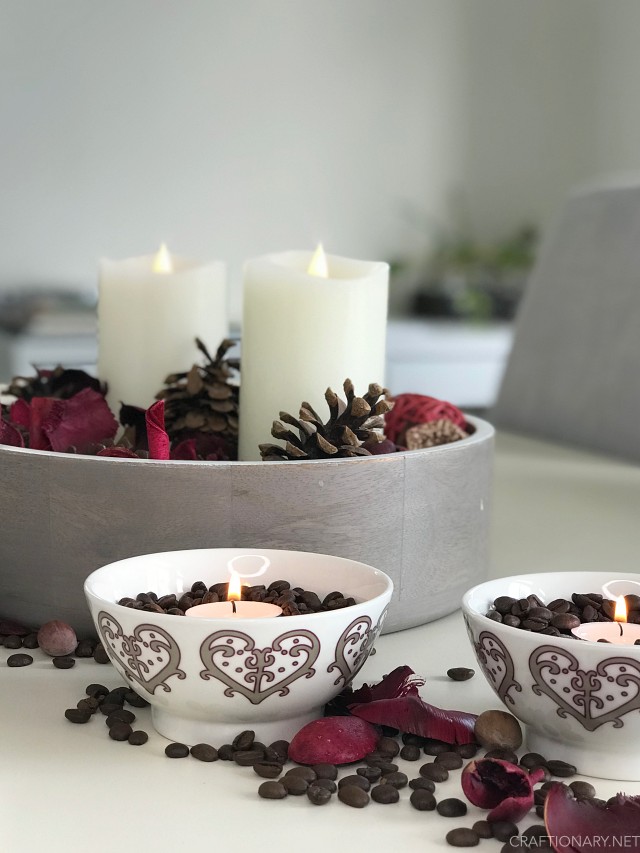 Potpourri candle centerpiece Traditional and Boho vibes
What is your favorite Fall scent? I can never settle on one, I love to experience different things. While I took out my potpourri bag, and collection of pinecones from last year I knew what I want to do instantly. This project is so easy to whipped together and it can add warmth and cozy traditional feel in any location you decide to place it. It can also work perfect with trendy boho home decor.
What is potpourri?
Before we get started with this project, potpourri is a mixture of dried flowers, herbs and spices. It is usually used for scent. The scent of potpourri can last for about 2 months to a year.
Material needed for potpourri candle centerpiece
You will need:
wood bowl (Home Sense)
potpourri (Target)
pinecorns (park collectibles last Fall)
acorns (dollarama)
Wax flickering pillar candles (KooPower)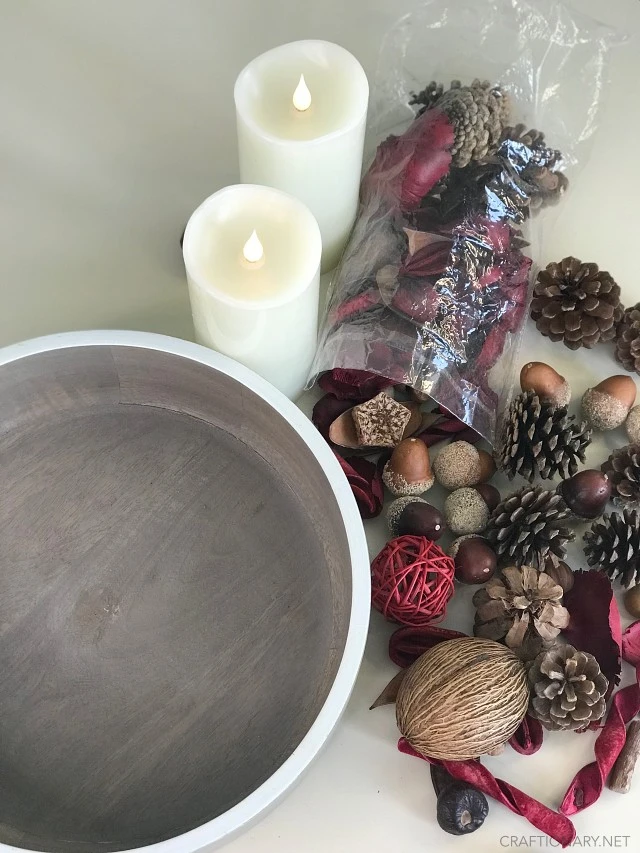 How to clean pinecones and acorns?
There are tiny organisms that might be living inside the pinecones and acorns. Therefore, it is important that you clean them properly before using them for home decoration or other craft projects. I would also like to share kids Fall crafts and acorn crafts that you can make. Here's how to clean them:
Soak pinecones and acorns in water and soap mixture.
Wash them properly and allow them to dry
Now spread them on a baking tray and bake them for 60 minutes at 250 degrees
Let them cool off
Rest assure they are safe to use and clean to decorate
Video demonstrating Fall tablescape tutorial
Check out this video taking you through the entire project in just a few minutes:
Make potpourri candle centerpiece
To make this easy arrangement:
Start by arranging the candles in your choice of container. I arranged the candles a little tilted from each other in the wood bowl.
Now add the larger pieces of your decoration first. I arranged pinecones and then added potpourri items.
Complete the look by adding pinecorns and acorns.
That's about it. Now turn the candles on and enjoy the Fall vibes.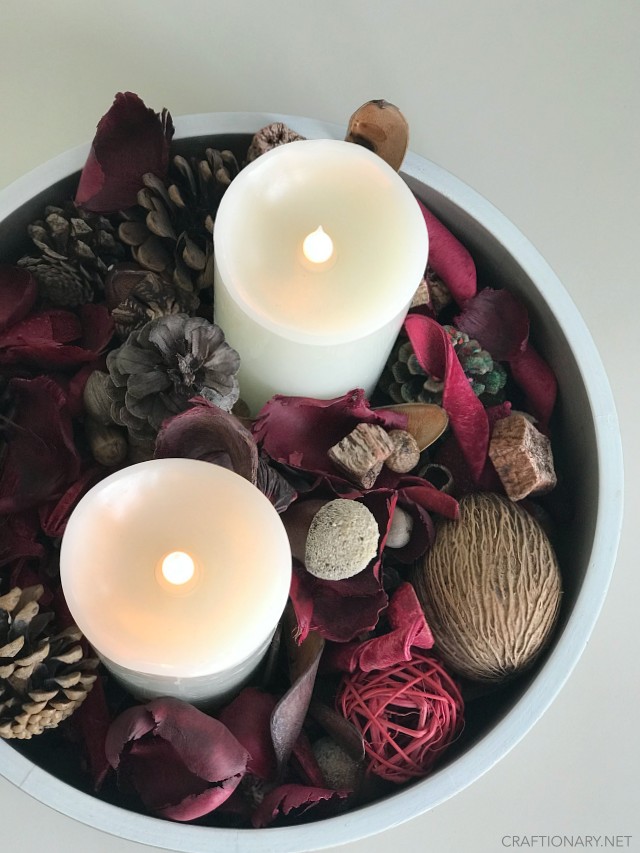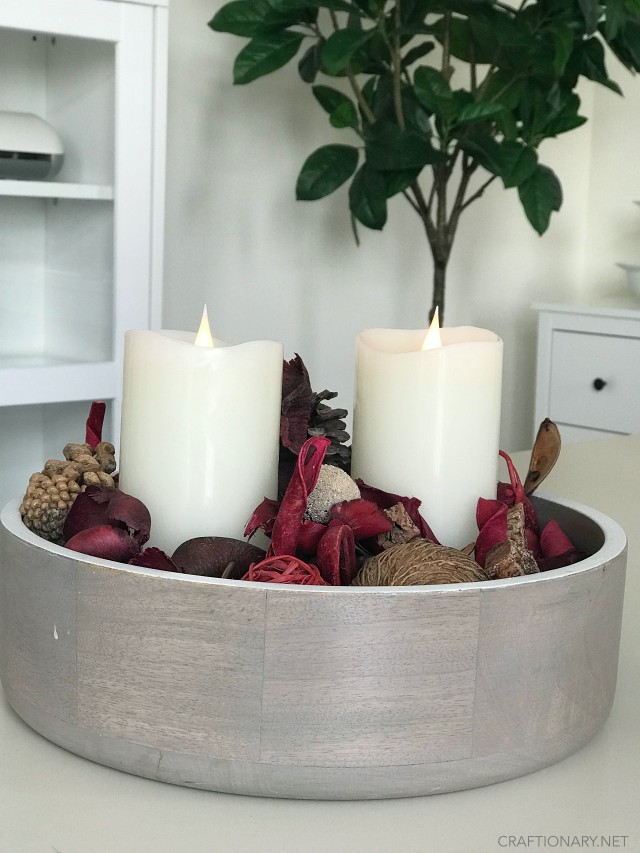 To complete the project and create a tablescape that brings the real flame and tealight vibes into play as well. I decided to incorporate my favorite flavor that is coffee beans.
Make coffee tealight votives for cozy dinner tablescape
You will need:
ceramic bowls of your choice (amazon)
tealights
coffee beans (I used Tim Hortons coffee beans)
Spill the beans in the bowls and adjust tealight into it and that's about it. Light up the candles and enjoy soft almost unrecognizable scent of coffee beans with peace of tealights.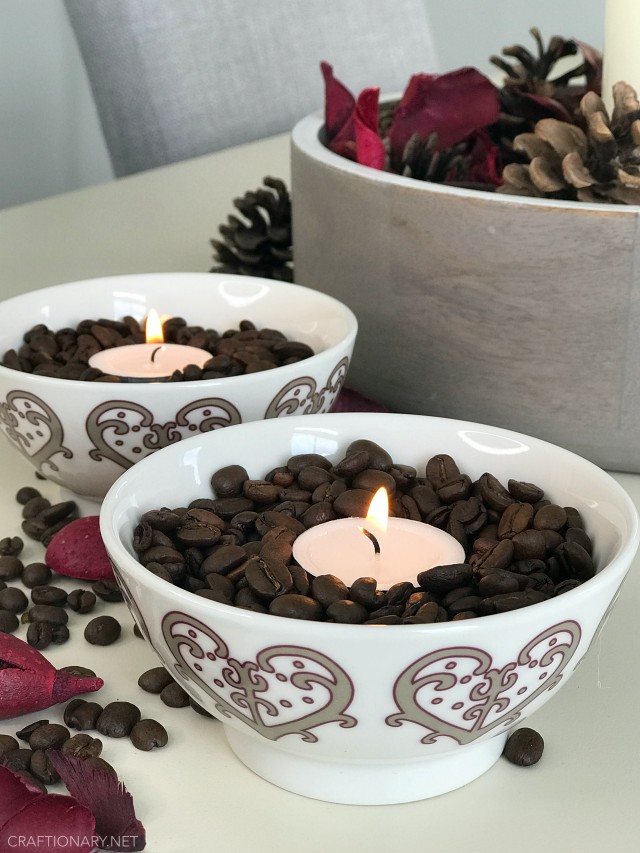 Potpourri candle centerpiece and coffee tealight votives
Now when you put all these beautiful arrangements together what do you get? You get a beautiful table setting that will make you want to stay there forever. Let's check it out: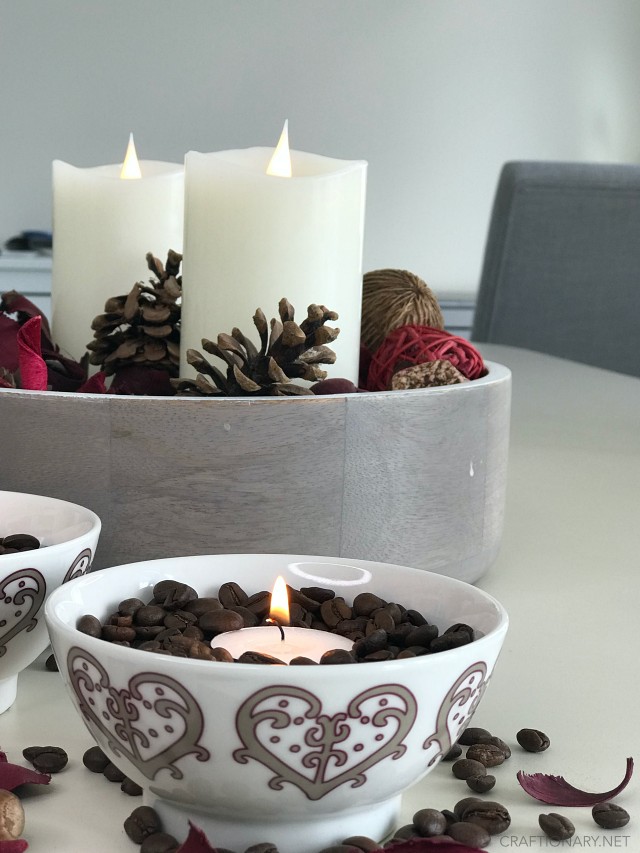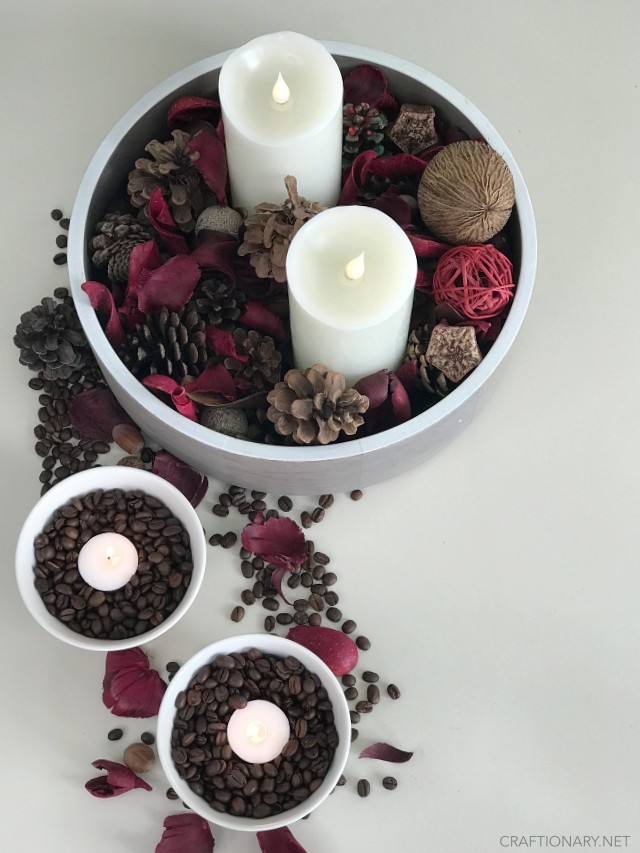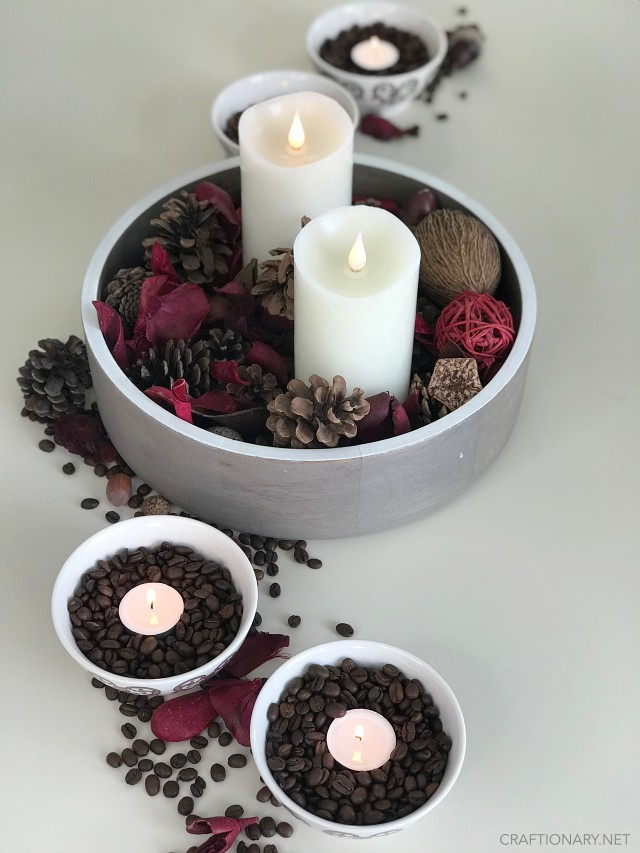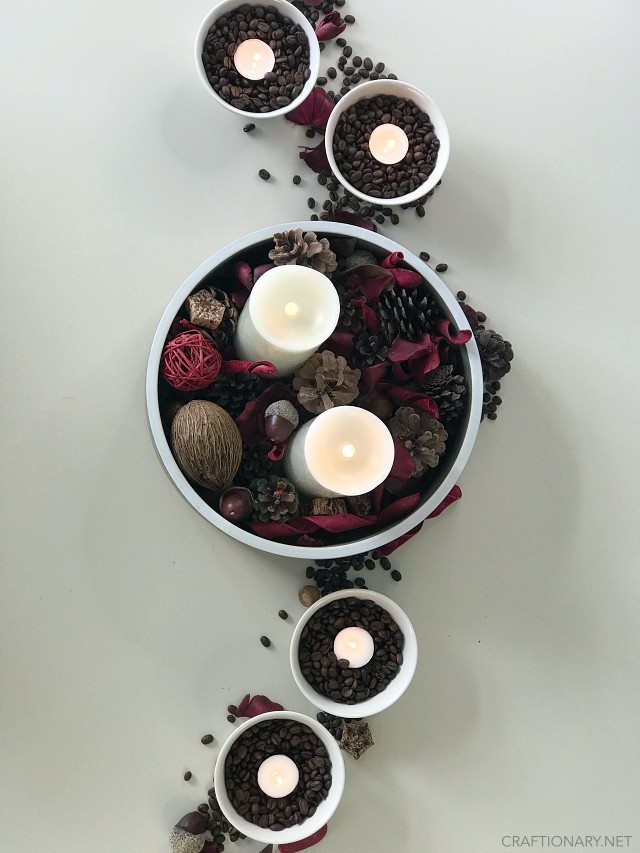 SHARING IS CARING:
I hope you like this idea. If you did, I would love to hear from you. It just motivates and guides because creativity is a learning curve that never ends. Please share it on your social media to help others find content you like. I'll appreciate this kind gesture. You can find sharing buttons at the top and the bottom of the post. I would also like to take this opportunity to invite you to follow me on Instagram, where I just recently started sharing real time work on my projects. Not too much, my social media is slow like me too. lol
You may also like: