This post may contain affiliate links. Please see our full Disclosure Policy for details.
Coffee table decorations are decorative items you can place on a coffee table to enhance its appearance and make it more visually appealing. They can be simple or elaborate, depending on personal style and the overall decor of the room. Coffee table arrangements can include items such as books, plants, candles, trays, sculptures, and figurines.
These decorations serve a dual purpose of adding visual interest to the table and reflecting the personality and style of the homeowner. By using coffee table decor ideas, you can transform a bland and unremarkable coffee table into a focal point of the room, making it more inviting and welcoming to guests.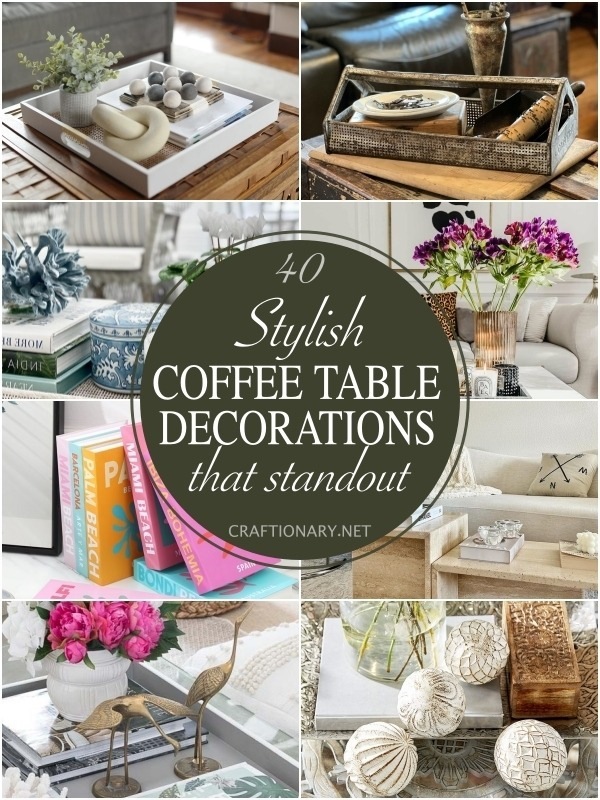 Elevate Your Space with Coffee Table Decorations
Visual Interest: Coffee table decorations add visual interest to a living space and can transform a plain coffee table into a decorative focal point.
Personal Style: Coffee table decorations reflect the personality and style of the homeowner, providing a unique touch to the living space.
Warm and Inviting: Decorative items like candles and plants create a warm and inviting atmosphere, making people feel comfortable and welcome.
Organization: Use trays or decorative bowls as a base for coffee table decorations, keeping smaller items like coasters and remotes organized and in one place.
Conversation Starter: Unique and interesting decorative items like sculptures and figurines can be great conversation starters, encouraging guests to engage in conversation.
Cost-Effective: Coffee table decorations can be a cost-effective way to update the look of a living space without having to make major furniture or decor changes.
Flexibility: Ease of change and rearrangement of coffee table decorations allows homeowners to update their living space as their style and preferences evolve over time.
Overall, coffee table decoration ideas are an easy and effective way to add style, personality, and visual interest to a living space, while creating a warm and inviting atmosphere.
How to put decorations on a coffee table?
Dressing up your coffee table and adding visual interest to your living space is a creative and fun way to express your personal style. Making your coffee table the focal point of your living room can be accomplished in a variety of ways, ranging from incorporating unique textures to adding personalized touches. Consider the following tips and tricks when decorating your coffee table:
Start with a Base: A tray or decorative bowl can serve as a base for your coffee table decorations. It can help to anchor the items and keep them organized.
Mix and Match: Combine different textures, materials, and shapes to create a moody display. For example, you could mix a wooden model with a glass vase and a stack of books.
Add Greenery: Plants and flowers are a great way to add life and color to your coffee table. They can be placed in a decorative pot or vase and arranged in a group or individually.
Use Decorative Objects: Decorative objects like candles, figurines, and sculptures can add visual interest and personality to your coffee table. Choose items that reflect your personal style and complement the overall decor of your home.
Consider Scale: When choosing coffee table decorations, consider the size and scale of the table. Smaller items may get lost on a large table, while larger items may overwhelm a small table.
Create a Focal Point: Choose one or two items to be the focal point of your coffee table display. This could be a statement vase or a unique sculpture.
Add Books: Layering a few books on your coffee table can add height and interest to your display. Choose books with interesting covers or titles to make them a conversation starter.
Use height variation: Create a playful interaction by stacking items at different heights to create interest.
Incorporate your personality: Use color scheme that speaks to you with personal accent piece choices to create interest.
Odd Numbers: Arrange in combination of odd numbers like three and fives.
When it comes to coffee table decorating, keep in mind that there are no hard and fast rules. Have fun experimenting with different arrangements until you find one you like!
How can I use color and texture in coffee table decorations?
Mixing contrasting colors or using a variety of textures and patterns can create interesting coffee table decorations that catch the eye.
What are some natural elements that can be used in table decor?
Plants, flowers, and branches can add a touch of nature to your coffee table display, and can be mixed with other decor items to create a cohesive look.
How can I create a coffee table display that reflects my personal style?
Choose objects that reflect your interests and personal style, such as vintage or contemporary items, and group them by theme, color, or material. Remember to balance the display with negative space and practicality for everyday use.
You will also like: 65 Creative Vase filler ideas for home decor
Nice things to put on a coffee table for decoration ideas
Depending on your personal style and the look you want to achieve, there are numerous ways to decorate your coffee table. Here are some suggestions:
Book Display – A stack of large coffee table books can be used to add height and visual interest to your table. Choose books with appealing covers or that are related to your interests.
Mini Garden Oasis – A small potted plant in a decorative pot, such as a succulent or miniature fern, can add a touch of nature to your coffee table. Natural elements, such as rocks or small figurines, can also be used to add interest.
Curated Trinket Collection – A decorative bowl or tray can be used to display a collection of small decorative items such as shells, crystals, or antique keys.
Artistic Floral Arrangement – A vase of fresh or artificial flowers can add color and beauty to your coffee table. You can choose a bold, statement-making arrangement or a simpler, more minimalist style.
Bohemian Candle Lantern – A decorative lantern with a candle inside can create a cozy and inviting atmosphere. Choose a lantern with a bohemian or vintage feel for added style.
Natural Wood Storage Box – A decorative wooden box can be used to store small items such as remotes, coasters, or magazines. It can also be used to add height and texture to your coffee table.
Bronze Sculpture Accent – A small bronze model or figurine can be a unique and eye-catching addition to your coffee table. Choose a piece that reflects your personal taste and style.
Sophisticated Bookends – Bookends can be both practical and decorative. Choose a stylish set that complements the look of your coffee table.
Contemporary Timepiece -A decorative clock can add a modern and sophisticated touch to your living room. Choose a clock that complements your decor.
Personalized Gallery Wall -For a more personal touch, arrange a collection of family photos or art prints on your coffee table. Choose frames that complement your living room's style.
Rustic Candle Holder Set – A set of rustic or natural candle holders can add warmth and coziness to your coffee table. For added style, choose candles in complementary colors.
Crystal Bowl Filler -A decorative glass bowl filled with colorful crystals or stones can elevate your coffee table. Choose stones in complementary colors to your decor.
Gourmet Charcuterie Board – A decorative cutting board or tray can be used to make a beautiful and tasty charcuterie board. For a sophisticated and tasty display, combine cheese, meats, and other tasty treats.
Decorative Bowl of Potpourri – A decorative bowl of potpourri can add a lovely fragrance to a coffee table while also providing a decorative element. Choose a bowl that complements your decor and fill it with scented potpourri in colors that match. Add decorative elements such as dried flowers or leaves to enhance the visual appeal.
Vintage Map Display – A vintage map can add an interesting and unique element to your coffee table. It can be framed in a frame that complements the decor and can be an expression of your interests or a meaningful location. You can also add a magnifying glass or decorative compass to enhance the display.
DIY Coffee Table Decor Ideas
Books
When you think about decorating your coffee table, the first thing that comes to mind is books. You can use designer books designed specifically for coffee tables or the best books in your collection to show off your taste to others. Add styling items for visual balance.
Get decorative storage books from Etsy.
Photo Album
A photo album is another simple way to fill the coffee table. You can either place your family or your best photo collection. Set the mood with a cup of coffee, this is a great conversation starter, and you can spend quality time with your company.
Modern geometric patterns photo album cover from Etsy.
Decorative Orbs
Decorative orbs are an elegant and versatile addition to any coffee table. They are available in a variety of materials, colors, and sizes, making it simple to find the perfect match for your home decor.
Buy from Amazon
Holiday Theme Decoration Ideas
The holiday effect can be added to your table by incorporating seasonal trends and patterns in your data analysis. This can help you identify any significant changes or fluctuations in your data during specific holiday periods. Like this one, it has an Easter holiday theme.
You will also like: 63 Glorious Christmas Centerpiece Ideas for less
Add Seasonal Flowers to your rectangular coffee table decor
Seasonal flowers not only add a splash of color and freshness to your coffee table, but they also create a welcoming environment for guests. Consider buying flowers that complement your living room's decor and color scheme.
Edition noire. Similar Faux silk flower stems from Amazon.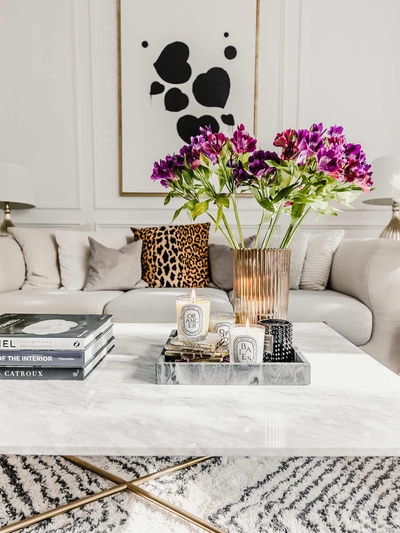 Showcase your succulent collection
Display your succulent collection on your coffee table by arranging them in a decorative tray or terrarium. This will add some greenery to your living space while also creating a visually appealing focal point.
Table setup with sand and cacti by plant the future. Get half moon glass bowls from amazon.
Lamp as coffee table decoration
Table lamps are ideal for coffee tables because they provide ambient lighting while also adding a decorative touch to your living space. Furthermore, they are adaptable and can be moved to different areas of the room as needed.
Brass table lamp by Tanini home. Get similar cordless dimmable table lamp from Amazon.
Candles
Candles add atmosphere and depth to a flat surface. Use of candles in various sizes and shapes can help break up the overwhelming size of a large coffee table. If you have children or pets, choose a flameless display.
Pottery Barn. Find a list of new and trendy decorative candles to buy.
Tic tac toe boards
Tic-tac-toe boards on a coffee table are a unique way to incorporate a fun and interactive element into home decor. It allows guests to engage in friendly competition and adds a playful touch to any living space.
Clay marble balls board game on a small square coffee table from Etsy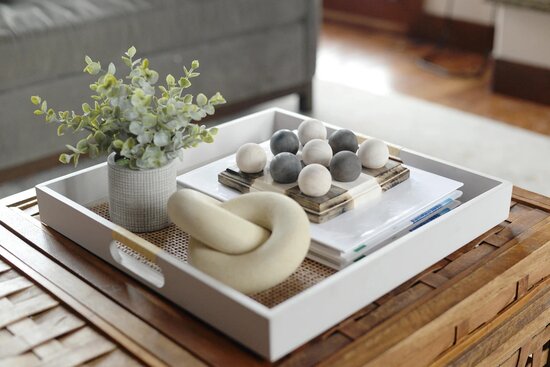 Autumn Theme coffee table decorations
You can give your coffee table an autumnal feel by including dried leaves, pine cones, and miniature pumpkins. You can also use placemats or table runners in warm colors to create a cozy atmosphere. Like this faux pumpkin placed on a gold coffee table.
Outdoor Coffee Table Decor
Outdoor coffee table decor ideas can add a touch of class and personality to your outdoor living space. From vibrant flowers to candles and lanterns, there are numerous ways to create a warm and inviting atmosphere.
Coastal coffee table decor ideas
If you want to incorporate a beachy feel, Coastal Touch is the perfect addition to your coffee table. It has a large selection of decorative items with a coastal theme, such as driftwood candlesticks, seashell coasters, and nautical-themed items.
Add Greenery to your Decorations
Greenery can bring a natural and fresh touch to your coffee table decorations. Consider adding a small potted plant or a vase of fresh flowers to the space to bring it to life.
Potpourri, dried flowers or faux fruits in a Bowl
These decorations can add a touch of sophistication and elegance to any living room. They also have a pleasant aroma and can be easily changed out depending on the season or for special occasions.
Vintage Coffee Table Decor
Vintage coffee table decor Ideas can add a touch of elegance and sophistication to any living room. From vintage coasters to antique vases, there are countless options to match any style or theme.
Decorating your coffee table with a dried leaf
A dried leaf on your coffee table not only adds a touch of nature to your budget-friendly home decor, but it also fosters a warm and welcoming atmosphere that can help you recover from a stressful day. You can also simply change out the leaf for different times of the year or seasons to keep your coffee table looking stylish and new.
A basket with beads
The beaded basket would look lovely on any coffee table plus it is best for round coffee table decor ideas. It adds a splash of color and texture to the room's overall design. The white beaded basket is both decorative and functional, as it can be used to store small items such as magazines or remote controls. Any living space's distinct design adds personality to it.
Moss Bowl on Glass Coffee Table decor ideas
A moss bowl can make your glass coffee table appear more serene and natural. Furthermore, it provides a unique centerpiece that is both low-maintenance and environmentally friendly.
Add Pampas Grass
Pampas grass is a low-maintenance plant that can add a touch of rustic elegance to any space. Its feathery plumes can be added to any coffee table decor to create a warm and welcoming atmosphere.
Faux grass is a glass jar with water on a black coffee table by Becca interiors
A wood chain link for Farmhouse coffee table decor
Any living space can benefit from the natural beauty that this unique piece of decor can bring. The wood chain link can be used as a decorative accent on a bookshelf or as the focal point.
White washed neutral decorative accent from Etsy.
Add a Sculpture or Two
A sculpture can be used to decorate your coffee table. A cast can be used to make your coffee table decor more interesting and eye-catching. Select a piece that contrasts with your sofas or the room, or one that complements the space's design and color scheme.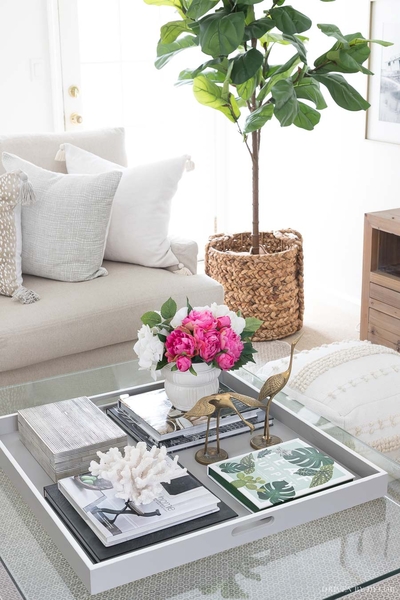 Add a Clock to your table
Scented Sticks
Decorate your coffee table with essential oils and scented sticks. These items not only add a decorative touch to your living space, but they also emit a pleasant aroma that can contribute to a calming and relaxing atmosphere. Furthermore, essential oils have been shown to have therapeutic benefits such as stress reduction and improved sleep.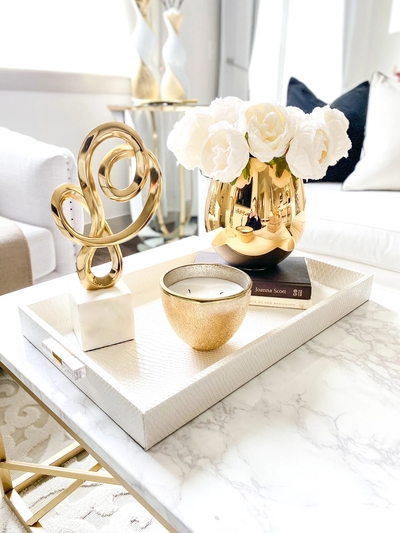 Add a Classic Glass Cloche
A glass cloche terrarium looks great on a coffee table as it will not only add a touch of greenery to your living space, but it will also be a talking point for visitors. You can customize the terrarium to reflect your personal style by adding different plants and ornaments.
Coffee table decor ideas with tray
Trays are versatile pieces of furniture used to organize and display various items on your coffee table, such as books, candles, and ornaments. They also make it simple to clear the table when you need more space.
You will also like: Decorative DIY trays for home
What to put on a decorative tray on coffee table?
You can put almost about anything on your decorative tray. Trays are also great for organizing everyday items neatly so they look styled and arranged. Some choices include greenery, flowers, vases, boxes, candles, souvenir and seasonal items.
Glam coffee table decor with textured white leather tray and gold accents from Etsy.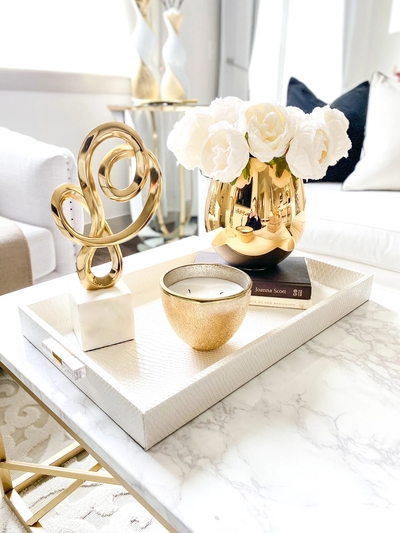 A gardener touch
To add a gardener's touch to your coffee table, place small watering cans on it. This simple addition can give your home a light, airy feel while also serving as a reminder to care for your plants properly. It is an excellent way to incorporate greenery into your interior design without taking up too much space.
You can buy similar watering cans from Etsy.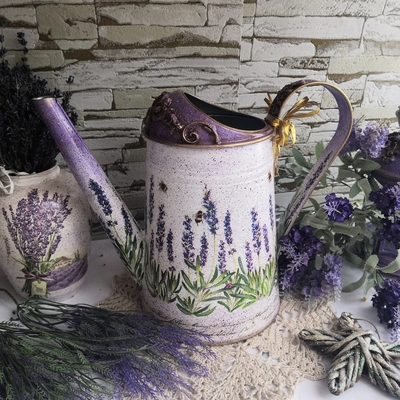 Faux Fruits
Use artificial fruits and other styling essentials to form a grid on square coffee table decor is the simple and edible way to add color and texture to your living room. They not only look nice, but they also provide you and your guests with a nutritious snack option.
Coffee Table with Storage Baskets
In addition to being a functional piece of furniture, this coffee table with baskets adds a rustic touch to any living room. While you can use the wooden tabletop to hold drinks and snacks during movie nights, the baskets provides additional storage space for blankets, magazines, and other small items.
Boho Lanterns
These lanterns are the perfect addition to any bohemian-themed coffee table. They are a unique decorative item that also adds a cozy and warm atmosphere to your living space.
Rare find distressed large lantern from Etsy.
Rustic Coffee Table Decor with a Craftsman Toolbox
Use the craftsman toolbox as a decorative and functional coffee table accent. Its rustic appearance adds character to any living space and serves as storage for remote controls, books, and magazines.
Bird Cage Decor
For your coffee table decor, you can adorn a vintage birch cage with flowers, candles, or plants. Because of the vintage birdcage, your coffee table will look more interesting and have a nostalgic feel. You can also experiment with different types of plants, flowers, and candles to create a unique look that fits your style.
Candle Holder Bird Cage Centerpiece from Amazon.
Faux Marble box decor
This faux marble box is a chic and functional addition to any coffee table. Use it as a storage container or simply as a decorative piece.
Get the tutorial by Blesser house.
Decorating a shabby-chic coffee table with large ornaments
To go with the shabby-chic theme, use vintage or distressed ornaments. Incorporating organic elements such as flowers or greenery into the coffee table decor can also add a charming touch.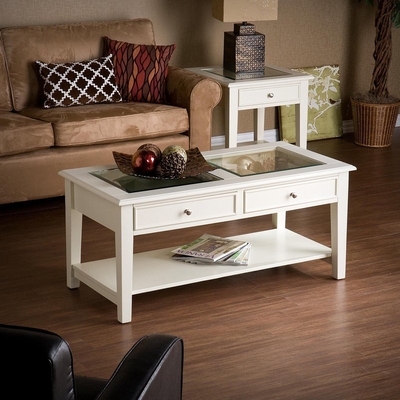 Mantel decoration ideas for coffee table
A small ceramic vase and bottle set can add a sophisticated touch to mantel decorations for coffee tables. Complement any type of home decor with ceramic vases, bottle sets, elegant design, and smooth texture. Use this versatile decoration in a variety of rooms in your home due to its small size.
Wooden box and jars centerpiece from Etsy.
Remember, the key is to keep your coffee table decoration ideas balanced and avoid overcrowding the space. Therefore, choose items that complement each other in terms of color, texture, and style, and experiment with different arrangements until you find the perfect look for your space.
Author: Marriam Arshad