This post may contain affiliate links. Please see our full Disclosure Policy for details.
 Celebrating Spring! There is nothing more wonderful than Colorful Spring party food and printable ideas that will help you throw a special party at home. A party calls for celebration and I love to treat my family with special days without any special event.
I came up with this fun theme for our friends party. I wanted to decorate for the party, and was pretty scared about my little one running around also. So, I came up with some simple ideas, which can be arranged at the last minute.
Here's a collective glimpse at the Spring Party Food and printables.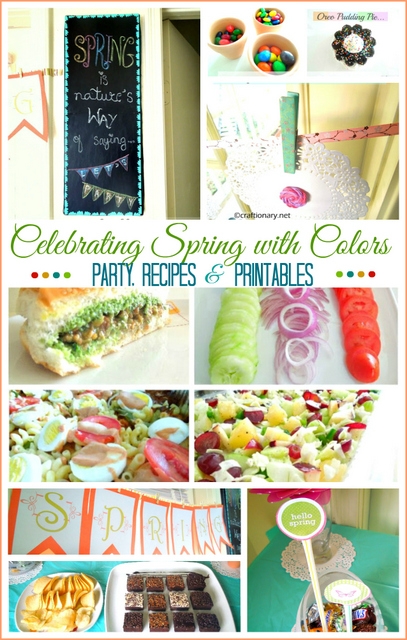 Colorful Spring Party Food and Printable Ideas
Let's have a look at all the little projects that complete this Spring theme party before digging into party food ideas. Starting with:
DIY Chalkboard
I made a chalkboard using dollar store material with foam boards and chalkboard paint. This helped me make a custom sized chalkboard for my narrow wall. DIY Chalkboard from Foam Boards has all the instructions to make this project. With the help of colorful chalks, I wrote this saying on the board which reads:
Spring is nature's way of saying let's party
Spring Printable Banner
The SPRING banner was quick. Print the letters and cut out orange craft paper sheet 1/2 inch wider on all sides then my printable. Glued the letters on it. Use the clothespins, hang them on the ribbon to make the banner. You can print letters online in a variety of fonts or make you own using Canva or any other online tool. Chose the contrasting color for background.

Rosettes and doily garland
Make yarn rosettes and glued them onto doilies. Let them dry and then hang them on the ribbon with clothespins. You can find decorative clothespin like these at dollar tree.
Here's another look at the above projects.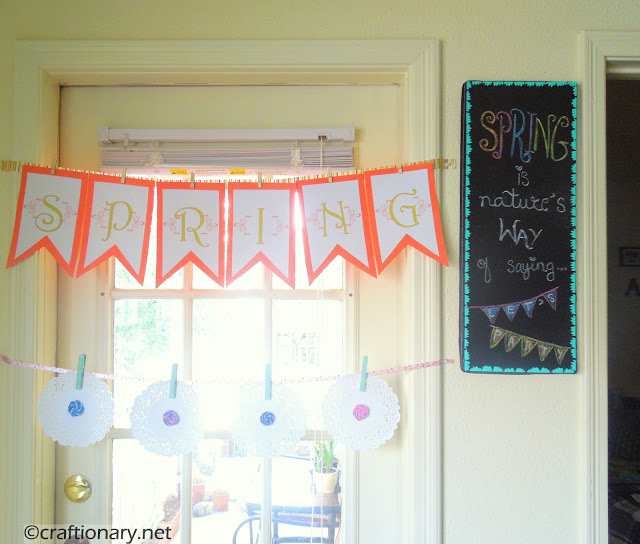 Spring Party Circles
Printed and glue the "Hello Spring" circles to the straws. I found these printables online. Leave them over night to dry. Use clothespins to keep everything in place while the glue dries.
This cute banner is also a printable, roll pretty ribbon on the straws and use double sided tape to stick the banner and ends of the ribbon so it doesn't unfold. Place them in two vases filled with gemstones or decorative rocks.
Place the circles in candy pots and the chocolate jar. I also placed a pink handmade flower in a vase.
Spring Party Food Recipes
Finally I incorporated colors in party food too. These party food ideas are great for any occasion. It was so refreshing to see all the colors. The colors in this spring party food are all healthy food options like veggies and fruits.
I received a few emails to share my recipes, so here goes.
SPRING SPICY BURGER RECIPE:
Ingredients:
2 lb Minced Meat (beef or chicken)
1 Pack Shan Chapli Kabab Masala (found at Indian Grocery Stores)
2 Tomatoes
1/2 tsp Ginger Garlic paste
Salt
Pepper
1 tbsp Tomato Ketchup
Recipe:
Marinate the minced meat in the above ingredients. Cook it in a pot with 2 tbsp of oil. You can use the masala depending on how spicy you eat! We like it very spicy. Use green chatni as a spread on the burgers. Add tomatoes, lettuce and cheese slice to your liking following by gravy. Make sure to toast the burger before filling.
GREEN CHATNI RECIPE:
Ingredients:
2 coriander bunches
1/2 cup water
1/2 cup yogurt
salt to taste
1 tsp pepper
2 tsp coriander powder
2 tsp cumin powder
1 tsp imli sauce (make at home or buy readymade)
1 avocado to thicken the paste
Recipe:
Wash bunches of coriander, and blend them in a blender. Use 1/2 cup of water with 2 bunches to make blending easier. Now add 1/2 cup yogurt, salt, pepper, coriander powder, cumin powder, avocado, and 1 tsp imli sauce to the taste. All ingredients found at Indian Grocery Store.
SPICY BAKED CHICKEN RECIPE:
Ingredients:
2 lb Chicken pieces
1 Shan Chicken Tikka Masala (Found at Indian Grocery Store)
2 tsp Ginger Garlic paste
1 tsp Vinegar
Salt
Recipe: Marinate the chicken and refrigerate it over night. Put the chicken in the oven at 300-350 degree Fahrenheit for 1 hour. Keep checking until the chicken is completely cooked. Now top it with macaronis, boiled eggs, boiled potatoes, tomatoes and green peppers. Serve it with Mayo and Ketchup dip.
MAYO AND KETCHUP DIP:
Mix equal parts of Mayo and Ketchup. Add cumin powder and coriander powder to taste.
SUPER HEALTHY SALAD:
Ingredients:
green peppers
pineapples
apples
grapes
green cabbage
corns
cucumbers
boiled potatoes
salt
pepper
lemon juice
orange juice (optional)
Recipe:
Cut small chunks of green peppers, pineapples, apples, grapes, green cabbage, corns, cucumbers. Also add to it small chunks of boiled potatoes. Now mix them together with some pineapple juice, salt, pepper and lemon juice. You can also add orange juice if you like.
Spring Party Dessert Recipe
You must make the Oreo Pudding Pie, it tastes heavenly. It is easy to make! Take it from me, I don't like difficult cooking.
So, what do you think! Did I do well? It was my first ever party I did on my own.
Celebrating Spring Printable ideas
Find lots of ideas to chose from and Free Spring Printablesfor your party ideas.
I hope you enjoyed party food ideas and party decoration ideas that are quick to whip and can be done easily.
You will also like:
11 Great Party games of all times
Superhero Birthday Party with free printables
Game On | Video Game Birthday Party with printables
Looking for more great ideas?
Check out tutorials in the category
DIY PARTY
.