This post may contain affiliate links. Please see our full Disclosure Policy for details.
DIY chalkboard tutorial.  Who doesn't love a Chalkboard at Home these days? I think, we all have chalkboard in our spaces in one way or another.
For kids to play on.  For us to get organized.  Or just because we love it. I wanted to make a chalkboard for my living space for a while now.  And I came up with one made from foam boards! Why?
DIY Chalkboard tutorial using foam boards
I actually came up with this idea because it's light weighted. I am a strong believer that "Precaution is better than Cure".
So, if a wooden chalkboard happens to fall on my toddler anyway, it can hurt him. But a foam board is safe to have around a house with kids. Now this board is so easy to move around. If sometimes my son wants to keep it in his lap, and draw. I can just simply take it of the wall. It is great for traveling as well. I do not have to care about it hurting my son.
And I also enjoy writing beautiful quotes on it.  So, it can also be used as a decorative board. I love how it does not look very cheap.  You can not tell it's foam boards.  Seriously! And it's pretty neat on the sides too.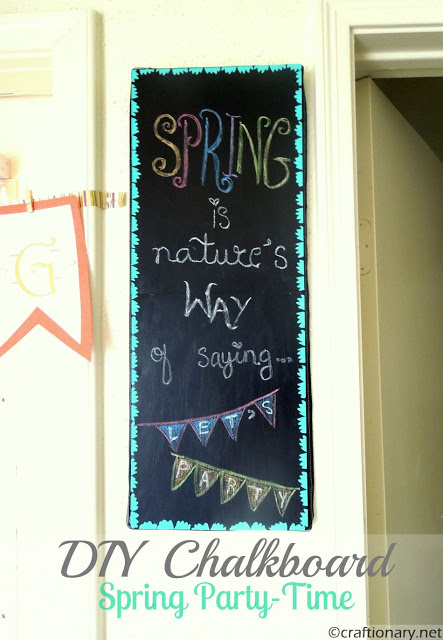 Foam Boards to DIY Chalkboard tutorial
Let's start the tutorial, shall we?
DIY Chalkboard supplies needed
 Foam Boards
Cardboard (cut according to the width and length you want)
Good strength glue, Elmer's Tacky Glue will do
Cardstock and scissors
Chalkboard paint and sponge brush
Ribbon or lace of your choice
Stencil and acrylic paint (I used Delta- Turquoise)
Very Strong Glue like E-6000 and ring hangers (to mount the board)
Make DIY Chalkboard
Cut the cardboard (I actually used the pampers box which was about to be thrown in the garbage) to the board's size you have in mind. I wanted it to be lean to fit in my intended space. Make sure your foam boards are the same size as well. Now glue two sheets of cardboard and foam boards together using tacky glue. While it dries cut strips of cardstock. Measured to the length and width of the board.  Now fold the strips using the bone for neatness. And glue it on the board using the tacky glue again.
You wouldn't believe yourself that it's foam board and not a wooden board when you are done.
Now after the above was done. And everything was going perfectly as planned. A disaster happened! That was sticking the cardstock of the board's size on the top and chalkboard paint on it.
Which actually made it all wavy because I didn't layer the glue evenly below the card stock.  It looked ugly.  I shared this just in case someone comes with that idea.  So they know it's not going to work.  I was not very happy knowing that it didn't work . But then it quickly hit me.  Wait a minute!
So, I then glued foam boards using my tacky glue on top.  And painted two good coats of chalkboard waiting between each to dry. I left it overnight to dry.
This is what I got in the morning.  So far so good.
Now for the creative part. I used the flower stencil and turquoise paint to make a border on my board. So, finally it matches my turquoise living room decor.
You can see my gallery wall reveal.
I thought that stenciling such a small design will be hard and untidy.
So, I traced the design all around.  And free hand painted it with a brush.
Finally, stick the ribbon around the sides.  Do not cut it at the edges.  Instead continue with one piece all around.
The sides look neat and decent.  These results make me happy.
Then I glued Ring Hanger using E-6000. I did not screw it in, the glue is tough enough to take care.
Foam boards crafts chalkboard
And here's the final result.
The chalkboard is such a great feature in my place. I love to write sayings and quotes on it.  It's fun and inspirational in a way too. And my son loves to doddle on it too.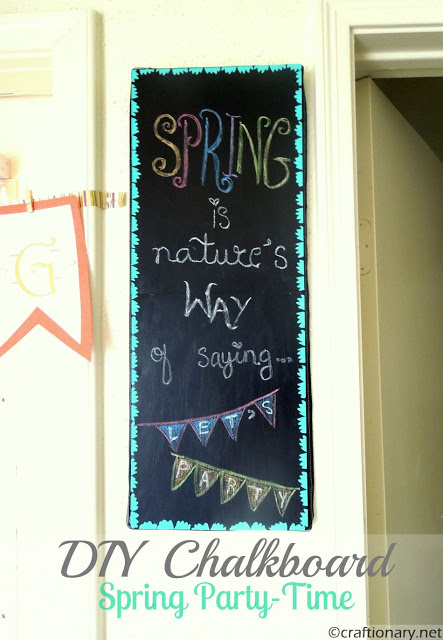 Just like I love this saying by "Robin Williams".
Which I decided to write on the board for my Spring Party.
Find the complete SPRING Party with Free Printables.
You will also like:
Looking for more great ideas?
Are you on pinterest?
You will also enjoy the Do It- Chalkboard and We love- Organizing Boards.
These are updated regularly whenever I find unique ideas.