This post may contain affiliate links. Please see our full Disclosure Policy for details.
LOTUS is an aquatic plant belonging to the water lily family. It has shield-like leaves and showy, solitary flowers usually projected above the water. It has red, white, pink and yellow flowers.
In Greek legend, lotus was believed to be a jujube or elm; meaning a fruit that induced the state of dreamy and contented forgetfulness in those who ate it. Today we are making nylon flower lotus.
Nylon flower lotus material
THINGS YOU NEED:
Ring sizes 7, 6, 5 and 4
Pink and rose-purple stocking net
Floral tape
Nylon thread
Stem wire
Wire
Plier
Yellow stamens small
Yellow thread
Stocking net lotus tutorial
GET CRAFTY:
Make 6 petals ring size (4), 6 petals ring size (5), 11 petals ring size (6) and 11 petals ring size (7). Follow the instructions for making petals and assembling the flower in the post Basic Nylon Flower.
Wind the thread around the size (6) ring and thread it in the middle; as shown below. Now make a hook at one end of the wire, hook in the thread and twist the wire. Then twist the wire around the wire stem firmly. Thread 8 double-sided yellow stamens to the stem wire.
Thread the petals. Starting from the smallest petals size (4), followed by the petals size (5), then the petals size (6) and finally the petals size (7) to complete the lotus. Wrap floral tape to hide the wires. It is easier to understand in the pictures below: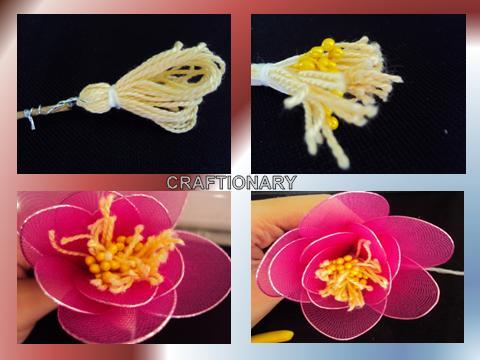 Fold the petals outwards to reveal the wideness and openness of the lotus.
Place it over the leaves and let it float over water in a bowl. Or try decorating it in stones or colorful glass stones.
What I made last week?
The post has been truncated for copyright safety. Thank you so much for understanding! "This post first appeared on Craftionary.net"