I love crochet flowers. But I can not crochet.
So, I came up with yarn rosettes. Which resemble crochet flowers a little.
To make yarn rosettes you only need yarn (or embroidery thread).
The thicker your yarn is the bigger flower you get from a small braid.
These are very easy to make. And are great for a variety of projects.
DIY Rosettes tutorial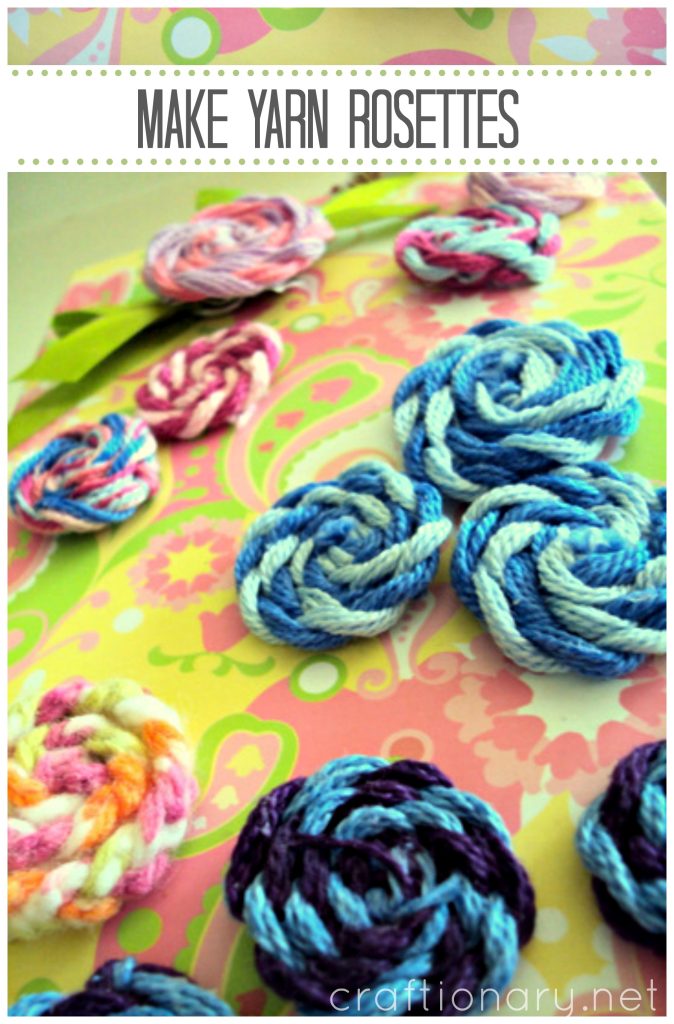 Here's a tutorial to help you make yarn rosettes.
MAKE IT:
Make a braid with the yarn (or embroidery thread). And roll it into a rosette. You will need to glue at the beginning and the end. You may need glue as you roll if you are making big rosettes. Mine are small for little cute projects.
You can make any form of braid. I made a 3 strings braid in the picture below.
Once done, dab some glue and place a piece of felt at the bottom of the rosette. This will secure the rosette in place.
Leave it to dry and your done.
Make yarn rosettes
Here's how the rosettes look. The purple one is made with thread. And the pink with yarn.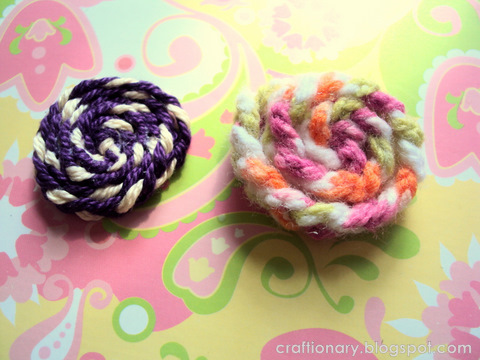 You can also make a twisted thread rosette.
Tie the threads at the beginning point. I used 6 threads per side to make thicker braids.
Now twist the two together, and tie at the other end.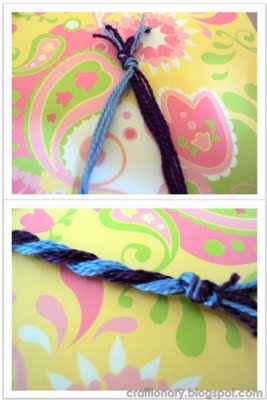 Roll the twisted braid into a rosette, and use glue and felt to finish.
Easy as a pie! You will have tons of pretty rosettes like these in an hour.
Have fun, mix and match different colors and make yarn rosettes.
You can use these to decorate many things.
Like a lamp, jewelry box, vase, wreath or wall art.
Yarn rosettes jewelry
Perfect for spring and summer parties.
or add a flower to a beaded bracelet.
How about a bunch of flowers on the strings?
Make cute necklace.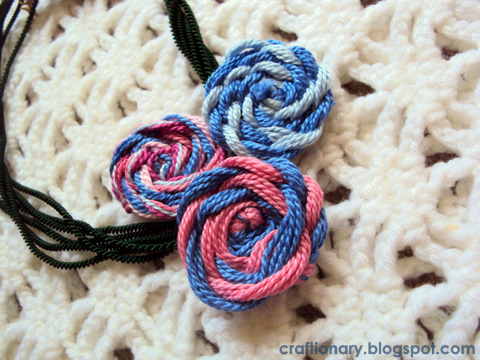 I also used these rosettes to decorate tin organizers.
You will also like:
DIY Bendable burlap flowers
20 Handmade Jewelry Gift Ideas
DIY Pinwheels wreath
Looking for more great ideas?
Check out tutorials in the category
FLOWERS
.
Are you on pinterest?
These are updated regularly whenever I find unique ideas.