This post may contain affiliate links. Please see our full Disclosure Policy for details.
Easy and simple DIY bedroom wall decor ideas that are stylish and modern for small bedrooms and accent wall for different home decor styles.
Comfort and relaxation are likely to be your top priorities when creating your bedroom, but style should not be ignored. Whether you have a small sleeping area or a huge master bedroom, you may replace your dull walls with decor and elegance.
Are you looking for some ideas to decorate the blank wall next to your windows or the vacant area over the bed? If yes, we have compiled a list of 60 fantastic bedroom wall decor ideas that will have you looking for a hammer and nails in no time.
Ideas to decorate a bedroom wall
The small accent wall can be decorated with many items that include wall art, minimalist paintings, boho scones, a contemporary family portrait gallery, LED string lights and mixed frames with stylish sculpture graphics or old prints in farmhouse style. You can make your plain bedroom wall attractive by painting it with vibrant colors, using patterned and imaginative wallpaper, or painting a wall mosaic.
Another way to make the small space wider is by using drapes and wall paneling. In order to showcase the collection, place items in groups of odd numbers on a wall shelf or in a bookcase. Whether you're a beginner or an expert, you can do all that on a budget with some creativity and basic DIY skills.
What can I put on my bedroom wall?
Hanging photos and wall paintings is the quickest solution for bedroom walls. Consider using landscapes art that is influenced by nature to create a tranquil bedroom. Alternatively, add drama with a graphic abstract piece. The art that speaks to your personality is what you should hang on your walls.
How to choose a bedroom wall decor?
When selecting bedroom wall art and decor focus on a color scheme and size of your space. Take a picture of the bedroom and think of the furniture pieces and how the room will look with matching and compliment accent pieces when you go shopping. For example, your bedroom may appear small, congested, or confined if you choose dark or vibrant artwork. Neutral and earth-like tones make the space look spacious and serene.
How to make a plain bedroom wall interesting?
There are so many ways to make your plain wall interesting. These ideas include a large scale-art, painted accent wall, installing the shelves, adding houseplants, installing a wallpaper, or hanging decorative accent pieces like mirrors and frames to create a gallery wall.
How to decorate my bedroom for cheap?
If you have a small budget you can decorate with repurposed things and thrift store items. You can make different decorative items with creativity and some DIY at home. Sometimes small changes like simply rearranging the items around the house can help you decorate your bedroom.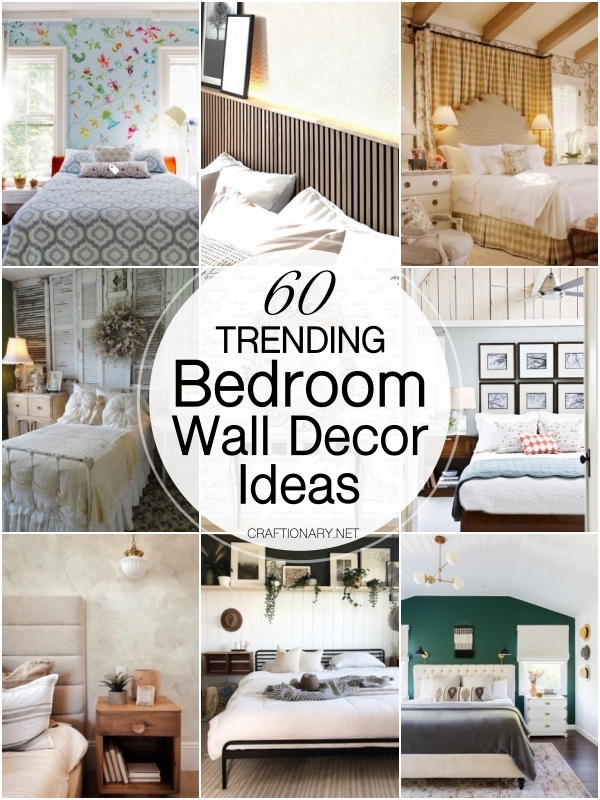 Stylish bedroom wall decor ideas
You can add a bit of personality to your room walls. There are plenty of stylish options to choose from!
Painted Canvas Wall art
Hang an extensive piece of art or a collection of more compact works that all share the same theme or color scheme. Paintings, prints, and pictures are just a few examples of the numerous mediums you can use.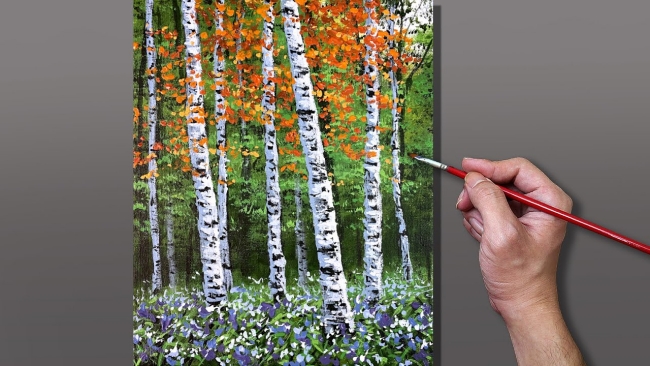 Source: Easy things to paint
Create a Gallery Wall
Assemble a gallery wall using a variety of works of art, pictures, and ornaments. In order to make things fit together, you can either go with a theme or color scheme or adopt an eclectic style.
Source: Etsy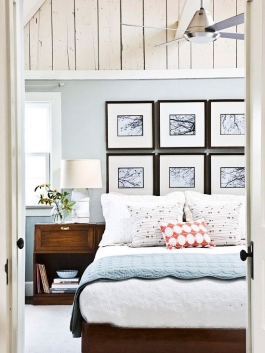 Wall Shelves
Set up wall shelves to display ornaments like candles, plants, and books. It is an excellent method to give the walls of your bedroom texture and visual interest. This space looks amazing with shiplap accent wall and wood side tables by calling all creators.
Shabby Chic Shutters Repurpose
Create a rustic and classy ambience by reusing shutters as bedroom wall decor.
Source: Pinterest
No matter what design you opt for but remember that your bedroom should reflect your preferences and individuality. So don't be anxious to be unique and enjoy yourself!
Master Bedroom Wall decor ideas
Spend money on your master bedroom and transform it into the ideal oasis after work or a hectic day if you want your house to emphasize peaceful surroundings and a soothing aesthetic. Find inspiring master bedroom designs below:
Create a Bedroom Feature Wall
Feature walls can be made with a variety of options from panels, collection of frames, mural and so much more. Consider creating a wooden accent wall with pots for freshness and beauty in your bedroom with houseplants.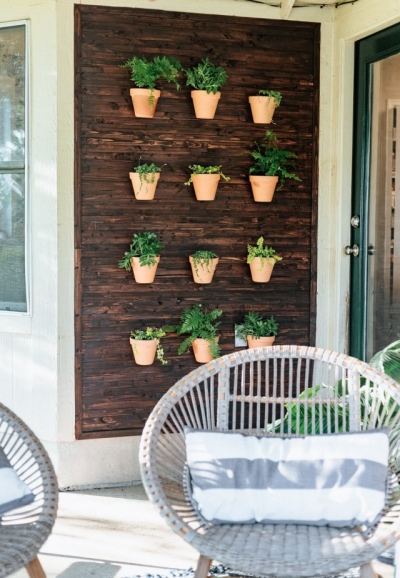 Source: Vertical plant walls
Use Bold Colors
Pick a color that will lift your spirits and inspire your mood. Play with textures and contrast. Find inspiration for master bedroom color schemes by designers at hgtv.
DIY Bedroom Wall Decor Ideas that never go out of fashion
You can try out various innovative and budget-friendly DIY ideas for bedroom wall decoration to add an exceptional and personal touch to your space. Here are some suggestions.
Hanging Flower Garland DIY
Flower Garland Available on Etsy. Photo by Decor thy Nest.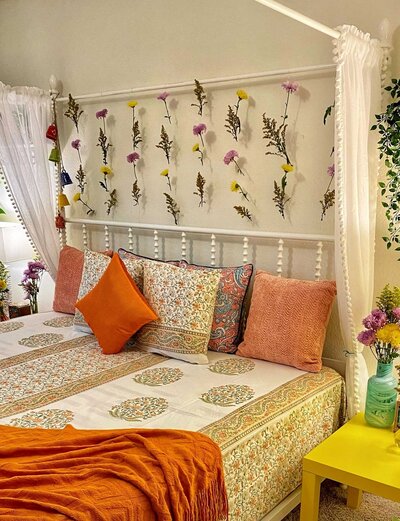 Half Wall Paint Design
For a dramatic effect, select contrasting paint colors (such as beige, hunter green, soft pink or blue) or choose subdued shades from the same color family to break a plain wall. Add a self for decor and stack frames.
Source: Pinterest Hang Woven Bowls
Source: Etsy
Panels and Paint Design
Source: Wagner
Cover the Wall with Wallpaper
Add a classy wallpaper of your choice! This handcrafted vinyl peel-and-stick wallpaper has a neutral canvas textured print in Venetian plaster tones. You can get this and others from Etsy.
Simple Bedroom Wall Decor Ideas
Wall Art with Floral stems and Embroidery Hoops
This art gives a simple yet classy look to your wall. If you want to go for something simple by Classy clutter.
Pallet Accent Wall
Source: Beginning in the Middle
Macrame Yarn Hanging
Add this elegant piece of Macrame Wall Hanging to your room wall.
Driftwood Wall Hanging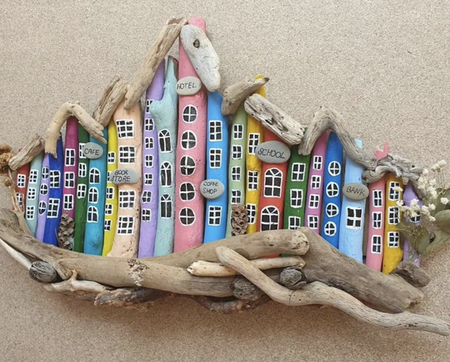 Source: wood craft ideas

Trendy Bedroom Wall Decor Ideas
Free Hand Paint your Wall
From simple lines and dots to stunning traditional hand paintings. A wall can change the entire vibe of a bedroom.
Source: houzz
French Country Bedroom Palette
Hang a curtain in soft colors or choose a pattern. A simple idea which can be easily replaced by changing the curtain only. This iconic country style is inspired by muted patterns of gingham checks and pale pastel hues.
Source : Tucker and Marks
Paint Chip Art
It is hard to find a perfect piece of artwork when you are on a tight budget. So you can make the best paint chip art for your wall. It takes some time, but it looks good.
Quote Wall Decal
You can stick your favorite quote wall decals. It creates a new look and changes the style of your entire room. You can get these Decals from Etsy.
Accent wall Stylish Bedroom Wall Decor Ideas
A room can be greatly improved by adding an accent wall. It can add a dash of drama or make a strong statement. Accent walls in bedrooms are cool since they offer the space character and let you show off your particular flair.
Wainscotting Accent Wall
This accent wall looks simple yet classy with wall crown molding using wood trimmings.
Source: Etsy
Blue Dimensional Accent Wall
You will love this fancy Dimensional Accent wall if you want to try something different and go out of the box. Get it from Etsy.
Black and White Stencil Paint Master Bedroom
Choose a stencil and simply tape it on the wall and then paint with the foam roller in your choice of color. It adds charm to your simple painted wall. You can find a variety of options from geometric to artistic like this trending french poem stencil wall.
Headboard Removable Sticker
You can decorate your Master bedroom with headboard removable sticker by simply smoothening it on the wall. It comes in a variety of options.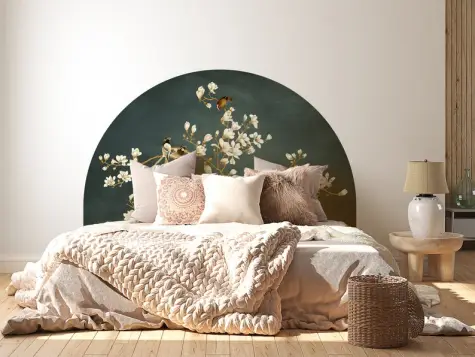 Small Bedroom Wall Decor Ideas
If you have a small bedroom or you are living in a small apartment so you can decorate your room in a way that you can save your space and utilize it correctly.
Create Shelves for saving space
Use shelves for storage and design them to compliment your style.
Source: Natalia Hamada
French Farm House Style Bedroom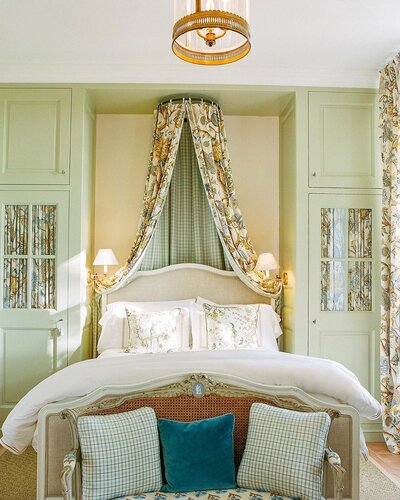 Source: Provence Poiriers
Tapestry
These Fabric wall hanging give a stylish and high-end look to your room.
Source: The spruce Crafts
Crate and Barrel Canvas Art
Source: Pinterest
DIY Bedroom Wall Decor Ideas
Texture Painting with gold leaf
Source: Canvas painting ideas

Leaf Resin Art For a rich vibe, create a sizable resin artwork to hang on the walls of your room, like this Leaf Resin Art with an urban jungle theme.
String Alphabetical Stencil Utilizing letter stencils, you can create a tone of intriguing and cool-looking string art pieces by Sisters What.
Paint Dipped Picture Frame
Maybe you'd like to try something different, like paint dipped picture frames. If you enjoy abstract and artistic designs, then this is a basic concept.
Mount your Photo on Scrap Wood Scrapes
Even though there are many different types and styles of photo frames to pick from, they can often be quite monotonous. You can display your favorite pictures on reclaimed wood picture frames if you'd prefer something analogous but different by Home Edits.
Geometric Shape with Popsicle sticks
To create three geometric hearts, you will need about 90 wood sticks. As you work on the project, you can paint each one a different color and interconnect them. Each heart is made with 30 popsicle sticks in 3 layers of 10. Use wood stain or acrylic paints to brush each craft stick using paintbrush or foam brush. Let them dry. Use hot glue to connect all the ice cream sticks together. The heart template can be made by you or found online.
Source: make and do crew
Chevron Wood Shims
Use wood glue to connect spray painted wood shims in chevron pattern to make interesting wall art for cheap with wood from home depot.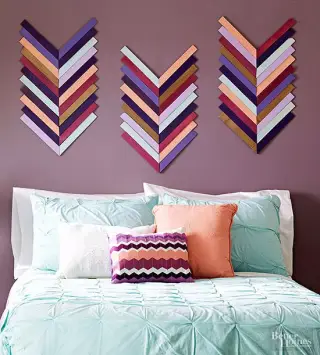 source: bhg
Creative Bedroom Wall Decor Ideas
Colorful Hanging String You may create vibrant string wall art using any leftover yarn from past projects. The result will depend on the kind of yarn you use, the colors, and any additional changes you decide to make along the route by the sweet escape.
Rustic Board Art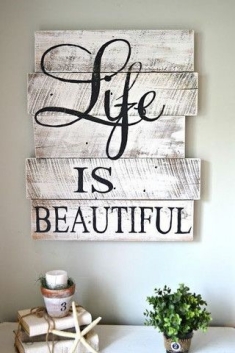 unknown source
Statement Abstract Painting
You can create a masterpiece by painting.

Source: Abstract art ideas
Circular Wreath
Wreaths can be utilized all throughout the year, not just in the winter. Whether hung on the wall or supported on the mantle, this hoop and dried flower wreath look lovely.
Source: Beautiful wreaths
Decorative Wall Mirror
Hang this trendy drop mirrors wall decor from Etsy.
Colorful Accent Mirror Set
Decorative small accent wall mirror set of 3 for room decor in Peruvian Ornate style with bronze leaf "Colonial Floral" from Etsy.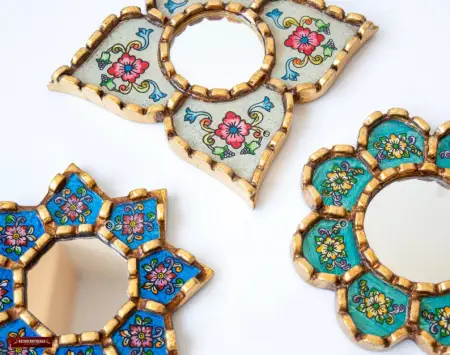 Easy Bedroom Wall Decor ideas
There are some tips that you can use to decorate your room easily.
Mountain Wall Art
Source: Etsy
Geometric wood Wall Art
Source: Etsy
Wooden Family Tree
Source: Etsy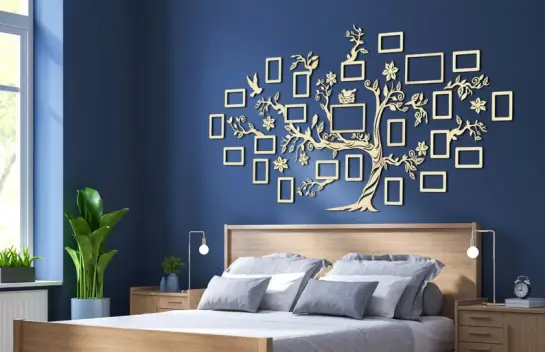 Bedroom Wall Decoration Ideas with Lights
Repurposed Lilac Bark with Vintage Bottles
Air plants on a branch with lights by Craftionary.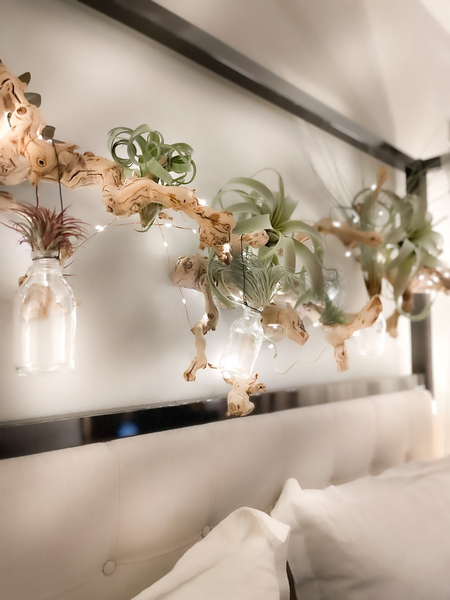 Neon Sign Led Lights
Source: Etsy
Accent Wall Lighting
Add led light strip to add warmth and romance.
Source: leydi
Play with Wall Lights
Diffusing lights placed on top of the bed or nightstands will give your bedroom a contemporary appearance. These days, there are varieties of gadgets available that let you experiment with color and set the mood you want by UnSplash.
Beautiful LED string lights for minimalist bedroom decoration with photos attached using clothespin.
source: Pinterest
Create magical vibes with string lights
Choose from shapes to waterfall string lights to create a lighted bedroom wall.
Vintage Decoration Ideas
Animal Wall Figurines
Source: Etsy
Tuscan Wall Panel

Decoupage decorative scrapbook paper on wood panels to create an impressive wall art gallery.
Vintage World Map Wall Art
Source: Amazon
You have Bedroom wall decor ideas now; it's time to decorate your room I hope it will help you make a decision about your happy space.
Author: Alveena Nazir