This post may contain affiliate links. Please see our full Disclosure Policy for details.
Thinking about filling up those plain and dull looking walls, table tops and ceilings with memories of family and friends using display pictures? Don't have the budget to buy those fancy frames or those antique show pieces? Or want something creative and unique that speaks cool and impressive?
These DIY photo display tutorials are just the way to brighten up the room with hanging photo display and have fun making it. These tutorials are simple, easy to do and clever. Save money by recycling old items or using dollar store supplies to innovate existing ones. These photo display ideas are best for photo frame, display frames, wall art and hanging displays using instagram photos, favorite collection of pictures, and so much more.
Creative Photo Display Ideas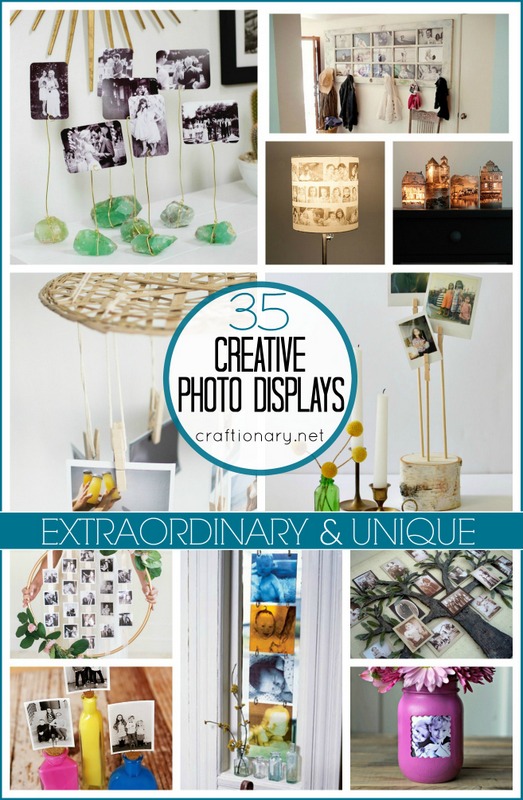 DO NOT COPY, EDIT, SAVE OR PASTE THIS IMAGE. COPYRIGHT OF CRAFTIONARY.NET
BEST PHOTO DISPLAY STANDS
PHOTO COASTERS
This DIY photo coaster will change your mood for good with that hot cup of coffee. The photo coaster tutorial uses mod podge gloss and sealant to transfer the picture onto the ceramic tiles.Replacing the ceramic tiles with a canvas or wood will also have the same effect.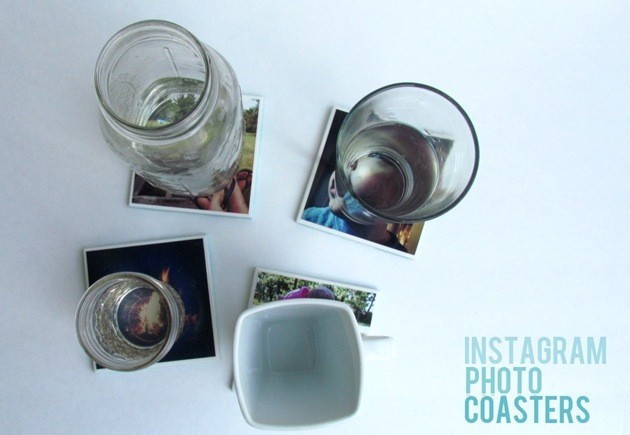 PHOTO DISPLAY FOR THE FIRE PLACE
This wooden stand tutorial is just the right way to recycle a broken wooden beam or a window rim. The display pictures or cards can easily be replaced by family photographs and the surface or your furniture is protected by the felted corners on the beam.
PHOTO BOTTLE STAND
Having to throw away those empty bottles is such a waste. Recycle it with this easy to make Painted bottle photo stand tutorial for your coffee table. All you need are bottles, acrylic paints, corks and your photographs to display pictures.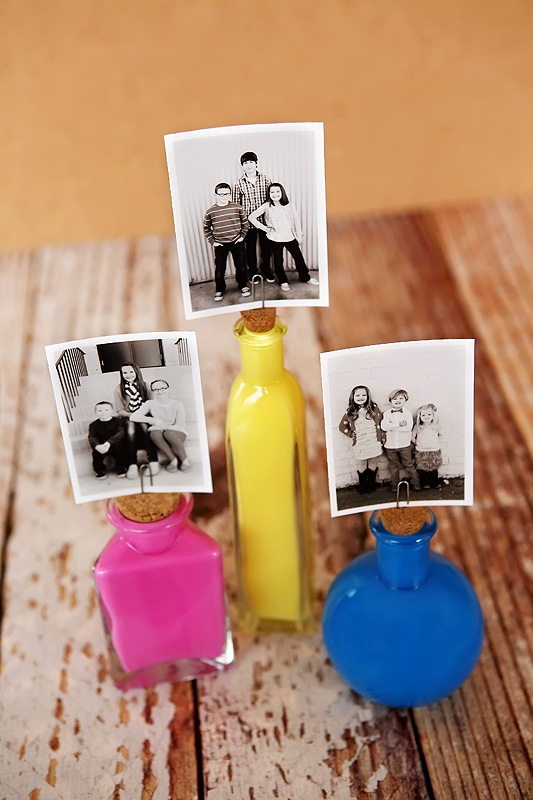 STONE PHOTO STAND
Being friendly to the environment is not a crime. Prove it by making this simple and elegant Photo stand with stones. Use inexpensive material like pebbles and wires to create center pieces worth having a second look.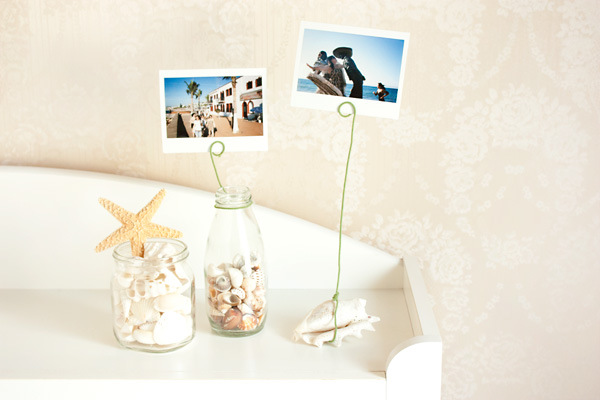 ROCK PHOTO DISPLAY STAND
Mineral rocks are not just any ordinary rocks. These mineral rocks emit positive energy and make a pretty awesome looking photo stand. With this DIY mineral rock stand learn how to use those rocks in your room with elegance.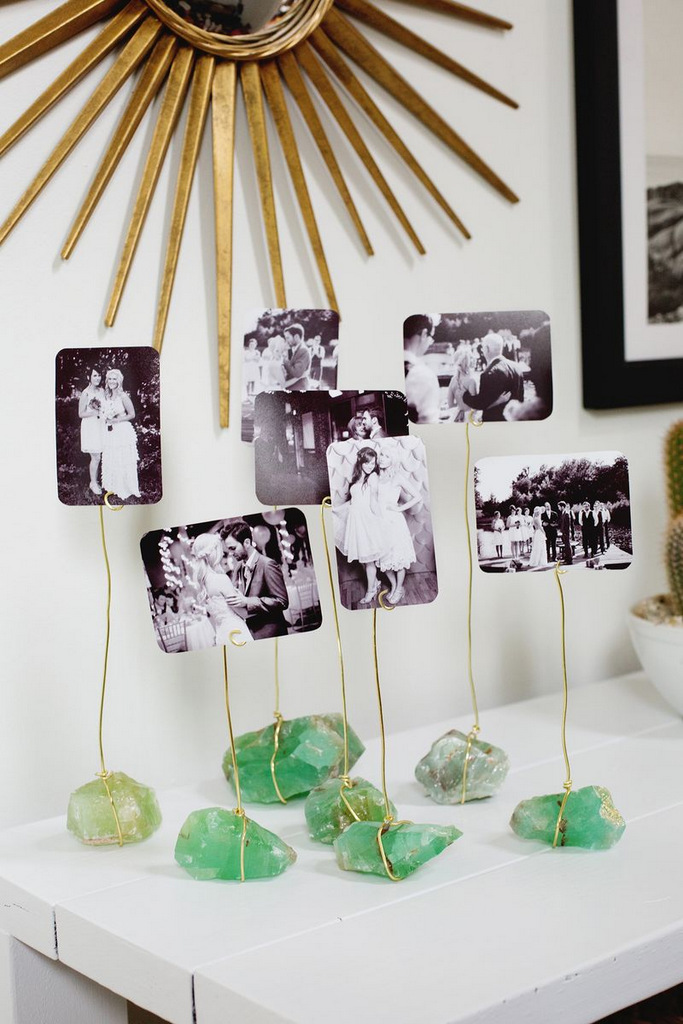 BIRCH PICTURE HOLDER FOR TABLE

Birch tree trunks are found in many different colors but in this Birch picture display pillar we have used white Birch pillar with dowel and clothespin. If you don't want it to be white you can use oil paint to paint it in your desired color.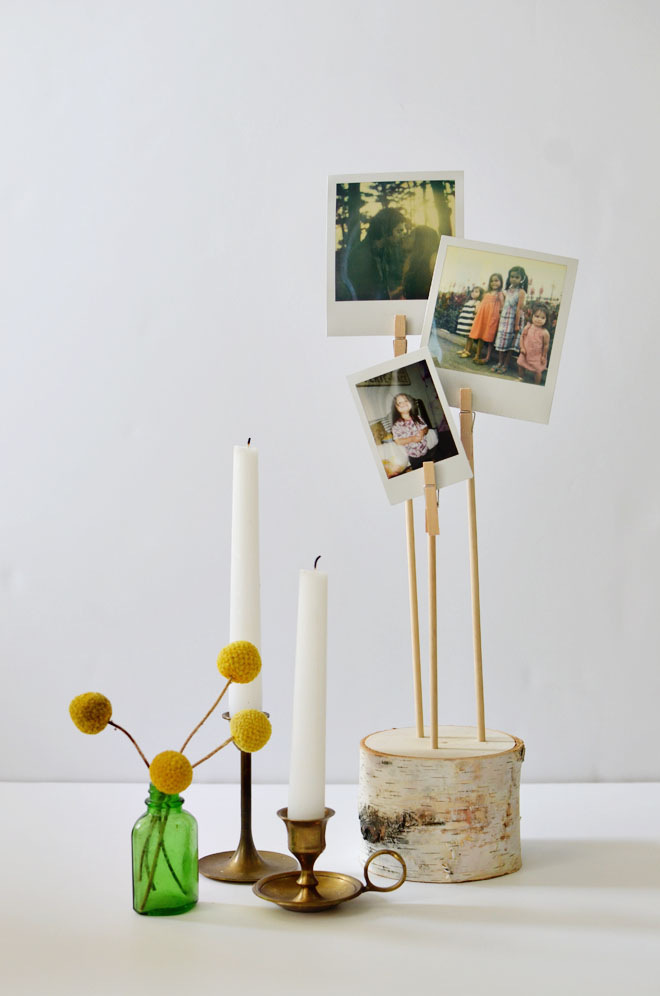 MASON JAR PHOTO VASE
Mason Jars can be recycled and reused in many different ways to display pictures. DIY flower vase shows the use of Radiant Orchid satin paint on a mason jar. To protect the area for the picture display the tutorial has used cutout vinyl or painter's tape.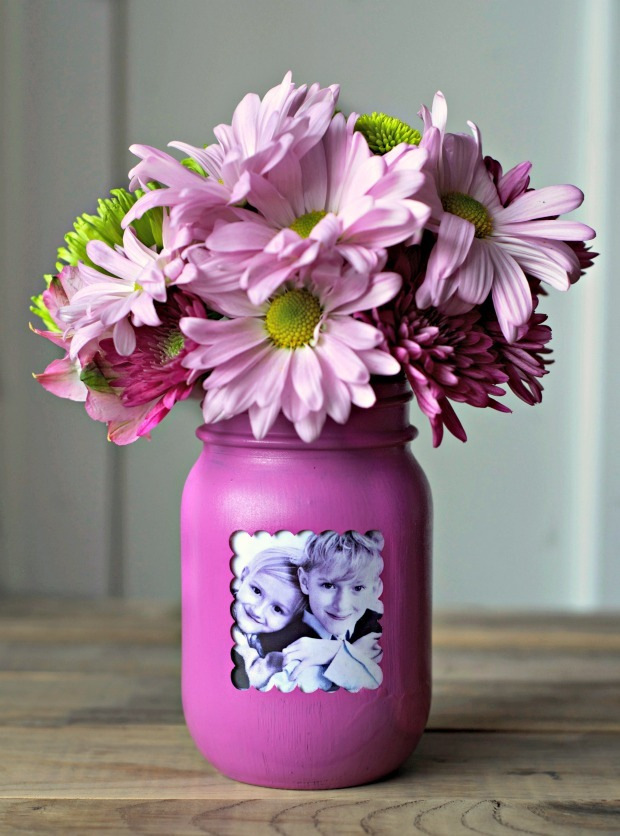 PICTURE STAND LAMP COLLAGE HOLDER

This DIY Photo lamp shows a unique way to display photos and pictures in your house other than those typical photo stands and wall collages. The tutorial is simple and requires only a Lamp with shade, a trace paper and a scotch tape.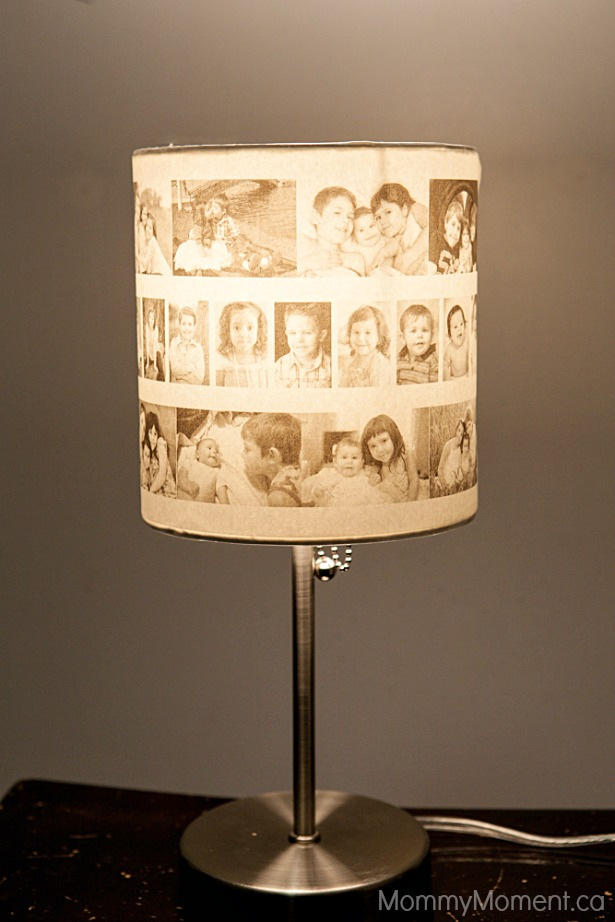 HANGING PICTURE NIGHT SHADE DISPLAY

Kids are usually scared at night. Instead of buying a night lamp, it's easy to make a customized night lamp with your kid by using this DIY Night Shade. You can modify the outlook of your night lamp by using your family photographs or your kids favorite characters. The tutorial uses Landscape pictures and battery operated tea lights. You can also use LED lights.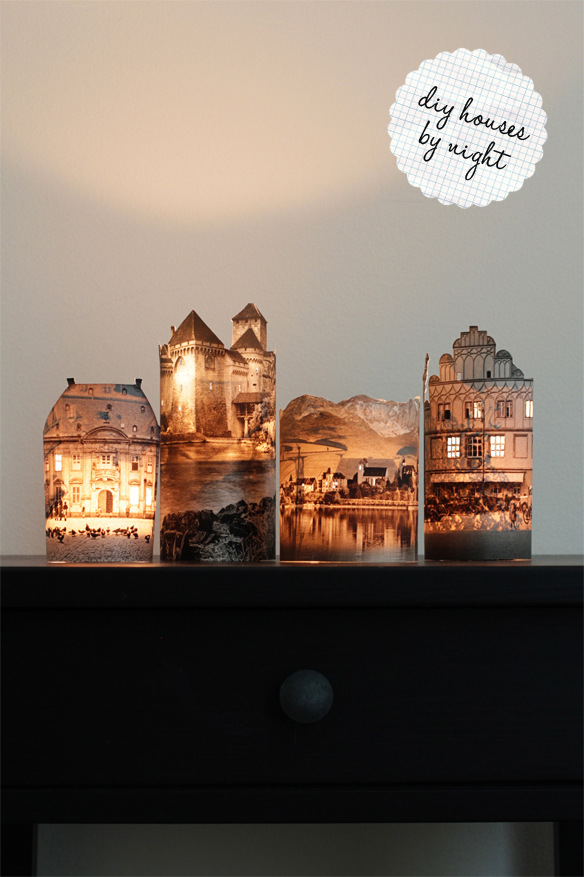 CUSTOMIZED CANDLE HOLDER PHOTO STAND

A candle holder as a gift to a loved one sounds so old school, but adding a memory to that holder will make just the special gift he/she wanted. Learn how to stick your picture on the candle holder with this easy to do Candle Holder tutorial to display pictures. The tutorial shows how to transfer black and white memory on a contact paper with the use of warm water.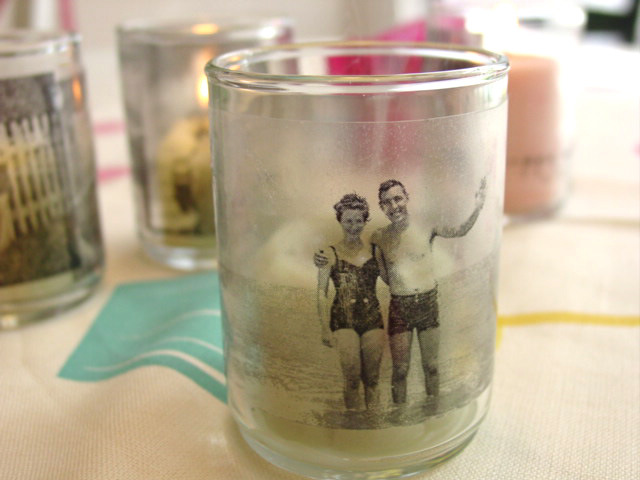 BLOCK PICTURE PUZZLE PICTURE DISPLAY

Kids love building blocks and adults love solving puzzles. With this DIY Picture puzzle blocks tutorial, kids and adults both can have fun solving puzzles and building blocks. It is a fun way to use blocks to create a puzzle and at the same time create a show piece for the table to display pictures.
 3 in 1  Photo display for travelers:
3D Photo shapes: A fun and interesting way to show case your traveling pictures by creating 3D shapes using chip board and your photographs. However, be careful measurements matter a lot in this tutorial.
Wire Rack Display: DIY wire rack display tutorial teaches you how to make the entire rack from scratch with the help of wired cloth hanger, jute twine and floral twine. You can use this rack to make your party entrance a little more extravagant.
Photo easel: Wanting to relive those traveling moments in the comfort of your home is easy. All you need are the photographs of places you visited, a cutter, glue and a foam board/poster board and you can make 3D images of these memories with this DIY photo easel tutorial.

PHOTO TISSUE BOX PICTURE STAND

Wiping off your tears with a tissue will work best with some good memories to help out, with this DIY photo tissue box photo stand. Using a wooden tissue box base recreate your moments of happiness.
FABRIC PHOTO BLOCKS

DIY fabric photo blocks shows you how to print on fabrics and how to make soft stuffed blocks?
DISPLAY PHOTO PILLOW PICTURE STAND
Make a personalized photo pillow using freezer paper and printer to print on fabric. Tutorial to print on fabric is simple and easy to follow.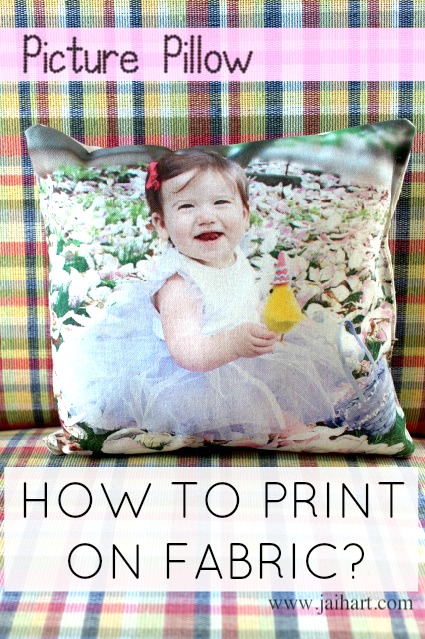 LADDER PHOTO DISPLAY EASEL

A ladder is not just used to climb high places. This DIY ladder photo display can be used to climb into the hearts of your loved ones as well with pictures display.

SHADOW BOX FAMILY TREE
Preserve your family lineage in a shadow box for generations to come with this DIY shadow box family tree. In this hanging photo display the shadow box is made from scratch with an old frame and wooden rims and board.
BEST WALL PICTURE DISPLAYS
HANGING DIY PHOTO WALL
Don't have tools and DIY materials on you. Big Deal! This DIY Photo Wall display requires nothing more than lots of photographs, glue and an empty wall. So get started making hanging photo display.
PAINTED PICTURE WALL COLLAGE
Do you want to send a message to that one person you care for. Turn a large frame into a board with chalkboard paint or simply paint a wall and enjoy creating fun picture displays and collages. You can also use software and print large architecture size pictures and frame them in black and white as portraits for the wall. Another fun idea is to display large canvas prints.
RECYCLED HANGING PHOTO DISPLAY
Recycling those toilet paper cardboard rolls or those foil paper base can be as easy as ABC with this DIY photo display. The tutorial has shaped the pictures in a circle which is different from a usual square or rectangle.
 CHALK BOARD HANGING PHOTO DISPLAY
Teaching Kids about family and their value in their lives can be made so much more fun with this DIY photo display. All that the kids need is paints, a chalkboard, washi tape and some photographs. This DIY shows how to create a chalkboard on a wall. This will make a fun school project.

HANGING PICTURE DISPLAY GRID OR TILES

The all time favorite heart shape on the corner of your wall with all your wonderful memories in one place. This DIY Heart photo display opens the possibilities. Make a grid or use mix tiles to make a shape on the wall to display pictures.
 FLORAL ACRYLIC PRINTS BACKDROP

Hula hoop and black and white pictures makes perfect backdrop or wall photo frame for wedding. This DIY Floral photo hoop uses ribbon to hang pictures and faux flowers to transform that toy into an elegant wall decor using spray paint on hoop.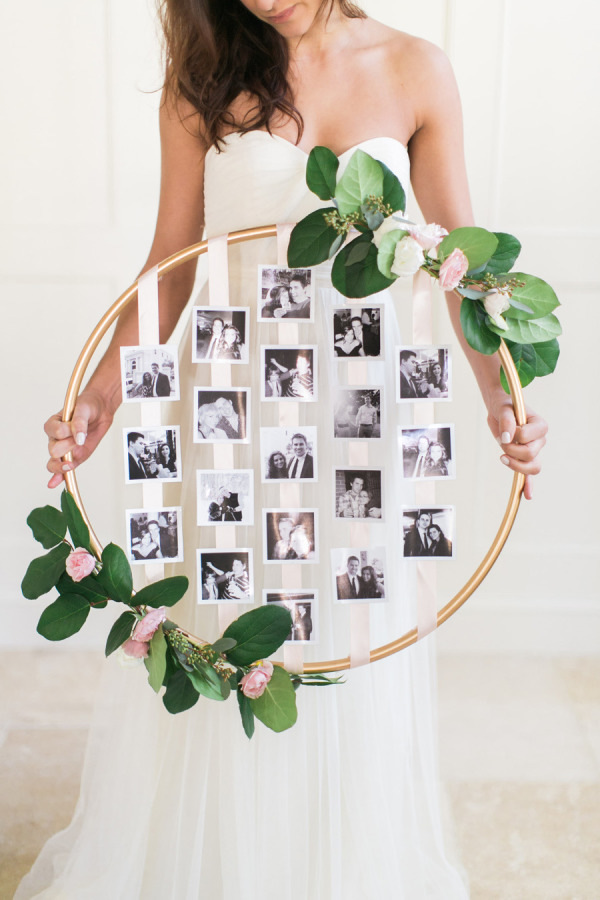 HANGING PHOTO WALL CLOCK DISPLAY

This DIY Photo Wall clock shows you just how to capture those moments in time. Transfer a picture on an MDF board and attach clock parts to it.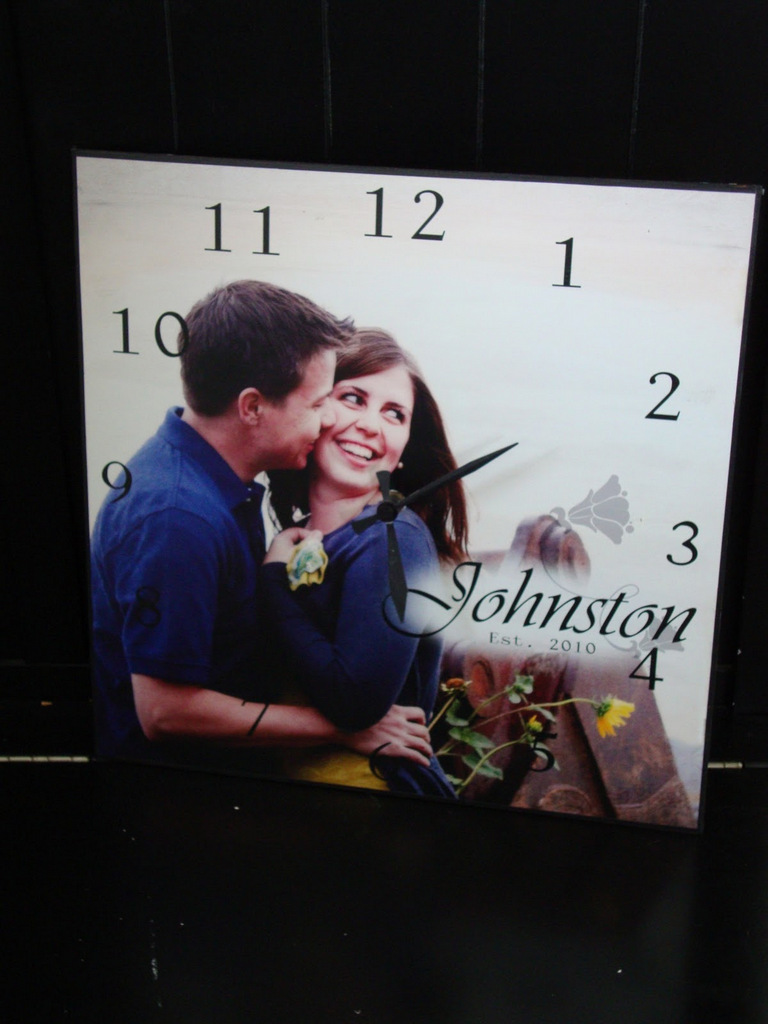 OLD DOOR HANGING PHOTO DISPLAY

Enhance the interior of the wall at your entrance by using an old door as picture display and frame coat rack. Use a tape to hang the pictures on the back of the door before hanging it on the wall.
ACRYLIC PICTURE HOLDER FRAME
Get acrylic frames from the shop or challenge yourself into making DIY Acrylic photo frame for cheaper using Faux Acrylic. This requires caution while using the tools.
BIG PORTRAIT PHOTO DISPLAY
That one huge portrait that makes those jaws drop in aww is just a few steps away in this DIY Giant picture portrait. Use engineer print from an office store like staples and foam board to print hanging photo display.

DISPLAY PICTURES IN ORNAMENTS

CUBE PICTURE DISPLAY

Enjoy solving Rubik's cube with more enthusiasm by sticking portraits or fun character pictures with the help of mod podge.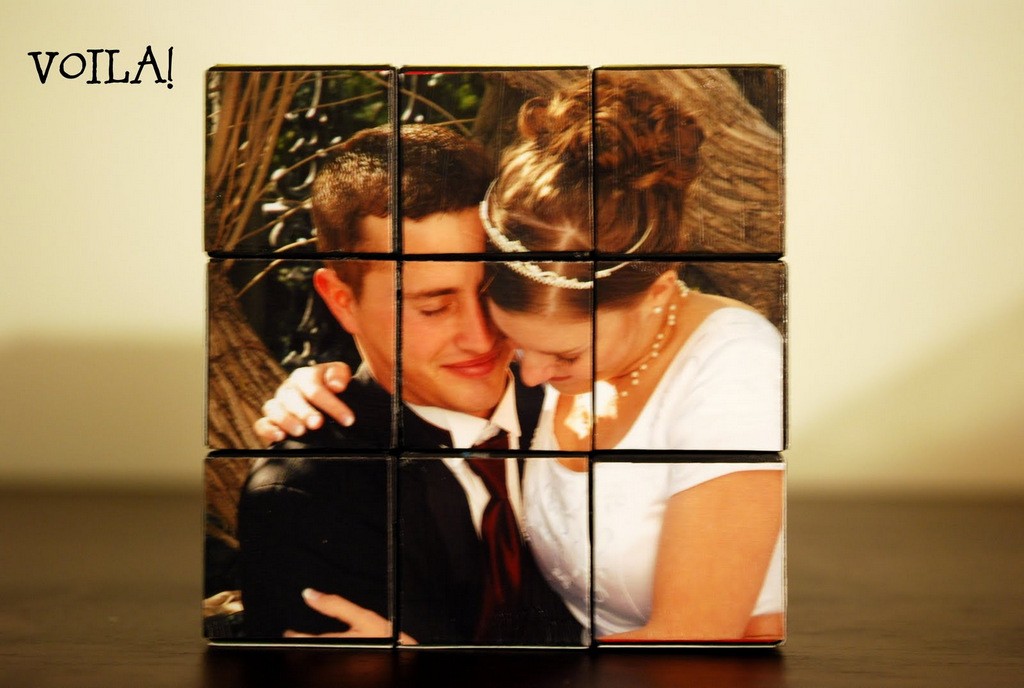 CHRISTMAS ORNAMENTS PHOTO DISPLAY
Christmas is almost around the corner and it's time to decorate the trees with ornaments. These ornaments are created by using chandelier crystals, mini photos and mod podge magic. You can also make pendants. These make beautiful Christmas gifts too.

PICTURE GLASS MAGNET DISPLAYS

Make these picture displays with glass magnets. It is easy for kids to make these themselves with just a little adult supervision.
RESIN PHOTO CHARMS
When you are done eating those Popsicle ice cream, save the jumbo Popsicle stick. You can reuse those sticks to create DIY personalized charms for yourself or your friends. This tutorial uses mod podge technique of transferring your mini pictures onto the Popsicle sticks and resin.

BAKED PICTURE DISPLAY JEWELRY
Baking is fun when it comes to cakes and cup cakes. With this DIY Photo jewelry tutorial let's enjoy baking our pictures on parchment paper and turning then into small jewelry pieces for our luxury.
BEST HANGING PHOTO DISPLAY
  HANGING PICTURE CHANDELIER DISPLAY

Hang a chandelier it can be anything from placemat to rattan holder. Use clothespin and burlap thread to hang pictures to display at home.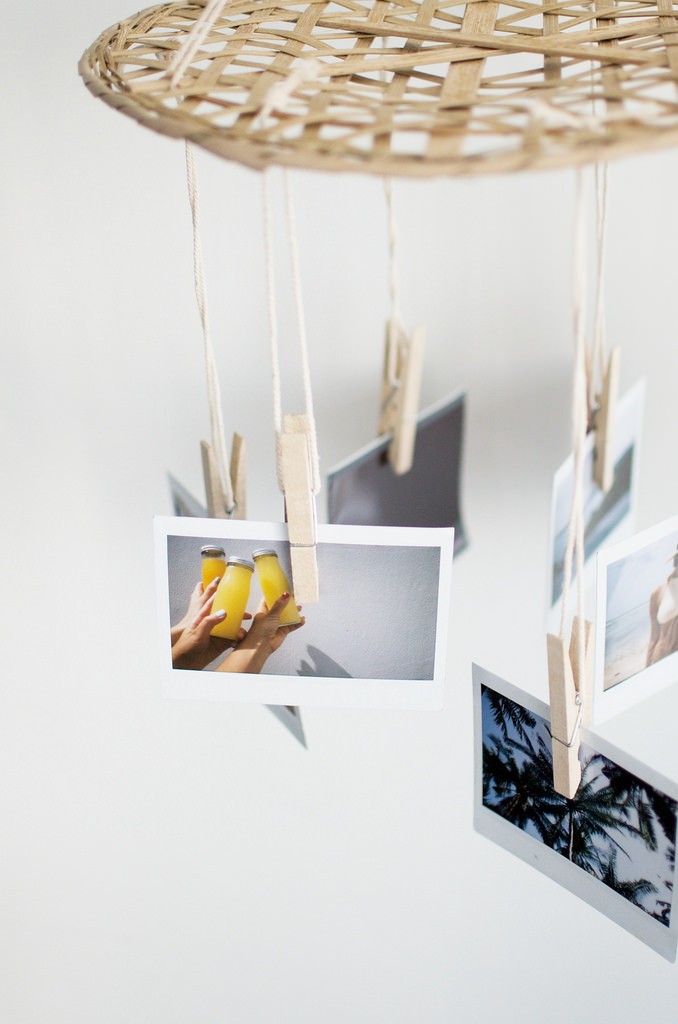 WINDOW VALANCE PHOTO DISPLAY
Have windows to spare for this extremely easy and practical window valance picture display. Just simply hang the pictures with paper clips strung to the rod.
SUN CATCHER DIY PICTURE DISPLAY
Acrylic Panels used in this DIY customized sun catcher are good to trap heat in the winters to keep you warm with hanging photo display.
I hope you liked these creative photo display ideas.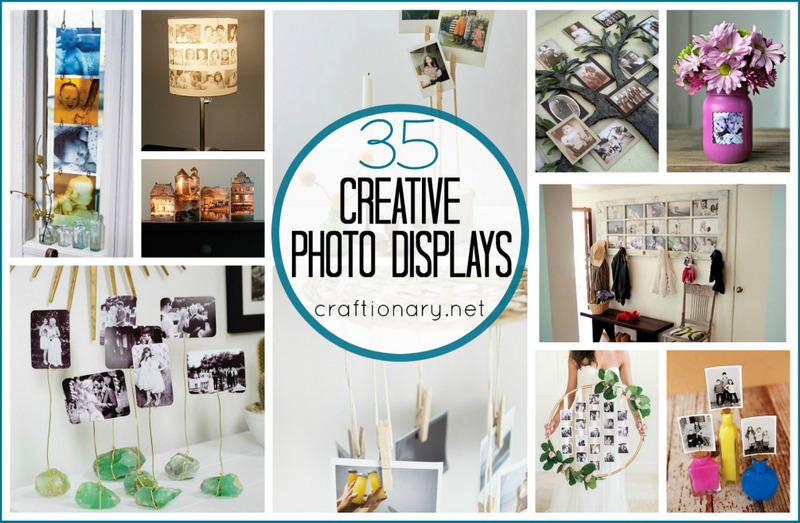 DO NOT COPY, EDIT, SAVE OR PASTE THIS IMAGE. COPYRIGHT OF CRAFTIONARY.NET
Please note some links were broken and have been removed. If you know the right source please leave it in the comment. Thank you!
You will also like:
Home improvement ideas
Clever ideas for home on a budget
DIY small home projects with big impact
Looking for more great ideas?
Check out tutorials in the category
DECORATE
.