This post may contain affiliate links. Please see our full Disclosure Policy for details.
You're not alone if you adore art yet struggle to come up with painting ideas. Sometimes, especially if you're a newbie, it helps to have inspirational work to follow. We've selected a number of simple painting projects and easy things to paint on canvas that you can finish in one afternoon.
Whether you want to paint for fun with your friends or you want to develop your talents, these painting tutorials will be beneficial. Discover the beginner's canvas painting ideas and take pleasure in the artistic process.
Gather some essential canvas boards, and paints of your choice (whether acrylic paints, gouache, watercolors or oil paints) at home. Make your own masterpiece with various color combinations and paintbrush strokes. These simple canvas painting ideas can be completed in a few simple steps. You can start with a sketch for outline and paint.
So don't be afraid to start out on small canvas before working on big canvas. Use black canvas to paint your next brilliant idea! No matter how basic or intricate it is!
Before starting, let's look at the basic painting supplies for your canvas painting!
What is Canvas painting?
A strong plain-woven cotton or hemp yarn fabric is called canvas. Paintings and crafts are made with it. On canvas, some of the most famous paintings ever created can be found.
Type of canvas used for painting
There are various kinds of canvas that are used for paintings. When you go to the market and look for canvas paintings, you will find canvas pads. You can get these thinner, less expensive canvas pads for your painting tasks. It's a good idea to select canvas pads made expressly for painting if you're going to be painting at home.
Another well-liked option for painting on canvas is canvas tiles. These tiles can serve as the foundation for your painting project. For your canvas tiles, you can either use linen canvas cloth or any other kind of canvas you choose.
Photographs or copies of paintings are frequently printed on canvas. Many different prints and paintings are available that use varied canvas surfaces. Ink, not paint, is printed straight onto your canvas surface for canvas prints.
Stretched canvas panels and unstretched canvas panels are the two different types of unpainted canvases you may get. A canvas that has already been stretched over a wooden frame is known as a stretched canvas. Unstretched canvas can be cut to the desired size at the time of purchase because it is not yet mounted on a wooden frame. Although stretched canvas panels have a set size, they are frequently simpler to deal with.
Watercolor Paints
Watercolors are characterized by transparent color pigment. They are water soluble and have a very delicate and light appearance.
Wooden easel case with all paints kit
Watercolor painting with with tabletop easel
Artist watercolor painting kit
Winsor & Newton Cotman Watercolor Studio Set Half Pans
Acrylic Paints
The pigment particles in an emulsion of acrylic polymers make up water-based acrylic paint. Any acrylic paint is made up mostly of three ingredients: pigment, binder, and vehicle.
They take 10–12 minutes for thin applications to dry, and more for heavy ones.
They contort
When wet, you can wash them with water.
And once dry, they're irreversible.
They adhere to nearly any surface and are available in a variety of formats and consistencies to suit your needs.
They employ a variety of styles and methods, including experimental applications and conventional painting approaches.
They have no emissions, have a minimal odor, and are not combustible.
You can use mediums to alter their character.
Basic Acrylic Painting Supplies
Here are basic painting supplies you need to start painting. I will share more details on beginners acrylic paintings on the blog soon. These can be used with oil and gouache too.
Winsor & Newton Acrylic Paints – Basic colors you need as a beginner at canvas painting include titanium white, quinacridone magenta, ultramarine blue, phthalo blue, titanium buff, cadmium orange, burnt amber, cadmium red, phthalo green, sap green, raw sienna, cadmium yellow, and yellow ocre.
Liquitex Basics Acrylic Paints
Paintbrushes – flat brushes for acrylics and round brushes for watercolor.
White chalk pencil – to draw on canvas
Gouache paints
Gouache is the most opaque looking water soluble paint that is used for painting on the canvas.
Oil paints
One of the most well-known and esteemed artistic mediums is oil painting. Oil paints were used to produce several of the most well-known paintings in history, including The Kiss and the Mona Lisa.
Paintings made with oil-based paints are known as oil paintings. Painting on a canvas with pigments that are bound by a drying oil media is known as oil painting.
Linseed oil, walnut oil, poppy seed oil, and safflower oil are the most popular types of oil used in oil paints. The characteristics of the color and the ultimate result of an artwork are influenced by the type of oil used to create the paint. Various oil paints may cause more yellowing or have an impact on drying time.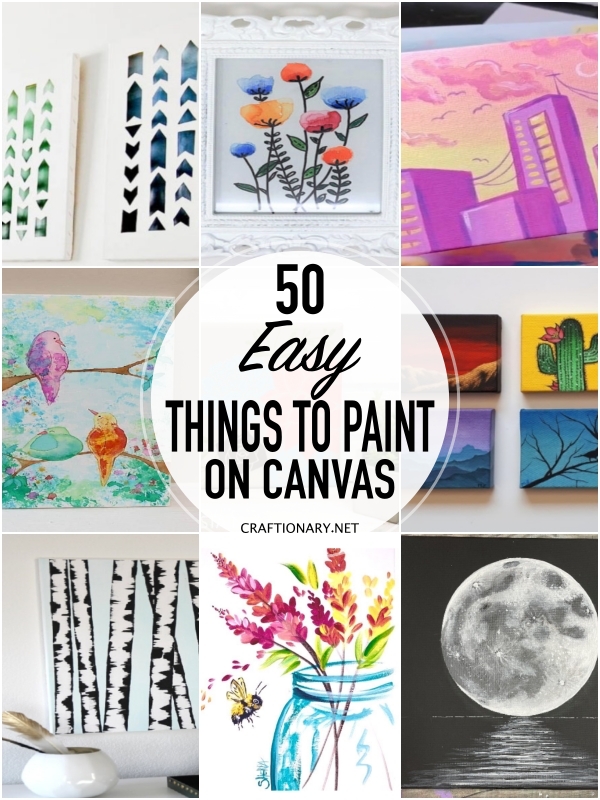 Let's paint with these easy painting ideas and get rid of boredom!
Easy things to paint for beginners
Moon:
Learn how to draw and paint a full moon for beginners using this DIY tutorial by Easy Peasy Art.
Cardinal:
When a beginner chooses his topic, one of the most popular bird options is the cardinal. Follow these steps at familyfocusblog.
Handprint tree:
No matter how many advanced or cutting-edge techniques we learn, I believe that handprint painting will always be a favorite with colored leaves by littleladoo.
Outdoor landscape:
It makes sense to paint landscapes on canvas. That is something that will always be in vogue. By tonyastaab.
Heart painting:
Everyone can complete the painting, and it's attractive enough to desire to hang it in your house from thecreativityexchange.
Floral stencil:
You only need some high-quality stencils to work with; you don't need to be a skilled painter via sustainmycrafthabit. Buy a stencil from here.

Pinwheel painting:
Sometimes using a lot of color is the greatest approach to begin painting. Great for white walls as well by eliseblaha.
Easy things to paint for kids
Beautiful tree with cotton buds:
This project is suitable for almost all age groups by Chloe Art.
Egg shell art:
Love the sound of the shells breaking as they smash across the canvas via Bethany Thiele.
Norther Lights Forest Silhouette Painting:
This specific painting can serve as a fantastic starting point by Ahmad Art.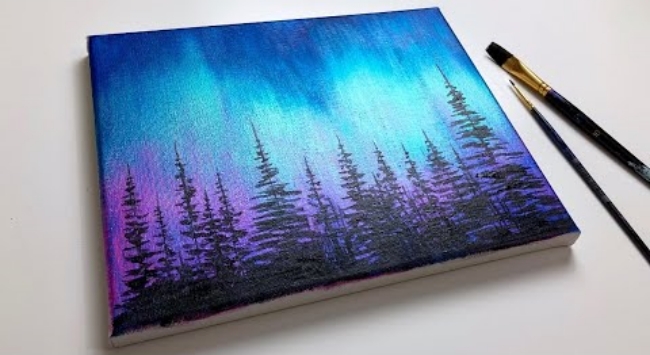 Scratch Painting Technique using Fork:
You may now take a fork. No, we won't be eating anytime soon. Grab a fork instead, and start painting this beautiful park instead of brush by Jay Lee Painting.
Cosmic Leaf Print Art:
Have you thought about painting something with leaves, like a wreath or flower? But, if you haven't, then it's time you did with Vinillna.
Easy things to paint step by step
Dandelion Wishes:
Dandelions on a canvas can be intimidating at first. The secret is to catch the dandelion seeds as they start to float away. Follow these easiest steps by Tracy Kiernan.
Whale:
Some easy steps by JK Paint to make waves and splashes with whale.
Power lines at Sunset:
Watch this tutorial by Wowart to paint this beautiful sunset using four dots of easy paint on canvas.
Starry night:
Create a stunning starry night on your canvas to capture the beauty of the night. Darken your painting, then add the ideal finishing touch of a romantic moon and a few tiny, glittering stars. A lovely remark painted on this painting would make it even more amazing. Maybe give calligraphy a shot as well! Video by arter.
DIY birch tree art:
With this step-by-step guide, creating your own lovely DIY Birch Tree Art is simple. No specialized artistic abilities or prior painting knowledge are needed! Tutorial by persialou.
Easy things to paint on different size canvas
Giant wall art:
Look at this enormous wall display by pillar box blue! It's not as difficult a chore as it initially appears, so don't panic. All you have to do is prepare in advance, purchase a sizable canvas and gouache.
Tiny paintings:
Is there a fan of these cute little paintings? Check out at reddit.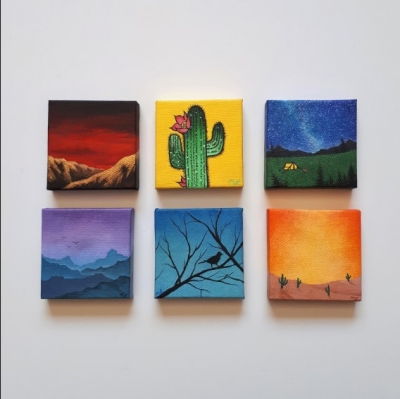 Easy things to paint on blank canvas
Shooting stars:
Of all celestial objects, shooting stars are my absolute favorite. You may smudge and blend the paint thanks to the chalk finish. To assist you adorn the tails, you can also use pastels. Step by step instructions at Art Lavender. Use this inspiration to paint the galaxy and planets.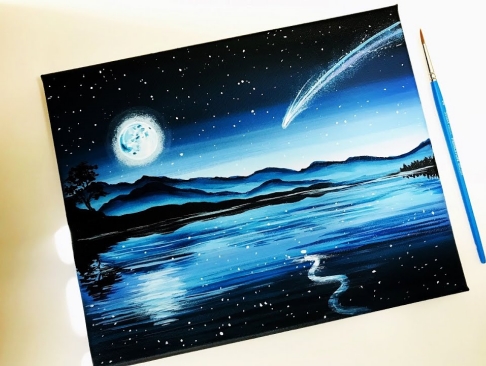 Lavender fields painting:
A simple painting with stems and petals in bright colors by Julia Kotenko Art.
DIY ombre canvas art:
An incredible project for a blank canvas by diypassion.
Cute and Simple things to paint on canvas
DIY stenciled art:
This collection of DIY stenciled wall art is cute and simple, so it would look great in a nursery or your children's room by vikalpah.
Abstract painting with thread outline

Are abstract paintings more appealing to you?
Try a sketched abstract painting using any paint medium and give it an outline using glue and thread.
Home:
A house or home with a slight 3D impression is another popular motif or theme for painters of all skill levels by juliemeasures. For O letter, you can have pom poms from here.
Impressionist:
Painting in the Impressionist style was undoubtedly an experimental process by theboondocksblog.
Glitter painting:
Glitterati comes to mind as soon as I see these trippy glitter paintings by artsbykarma.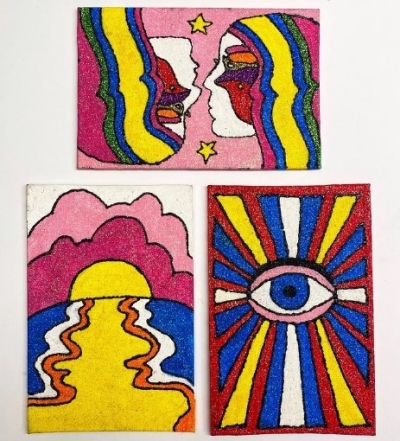 Birds on a branch:
Why not attempt to depict that mysterious quality on canvas? This can either be wrapped and given to a friend or loved one, or hung up in the home by craftsbyamanda.
Paint pouring:
Want to create some art in a free form? The best approach is to customize by pouring paint on the canvas by craftionary.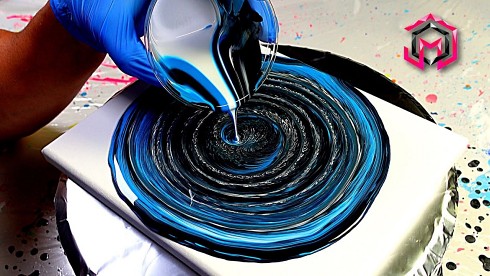 Easy and fun things to paint on canvas
Sponge pouncers: If you're wondering what sponge pouncers are, they are simply sponge brushes.
Remember: A greater surface area will help in mixing and dipping your paint when using sponge pouncers or even simple cotton swabs by artsycraftsymom.
Reverse stencils:
Are you curious about reversed stencils? Then look at this! B4andafters.
Rainbow:
Watch short tutorial at cats.creativity.
Seascape artwork
Easy beach painting inspiration by Aham Art.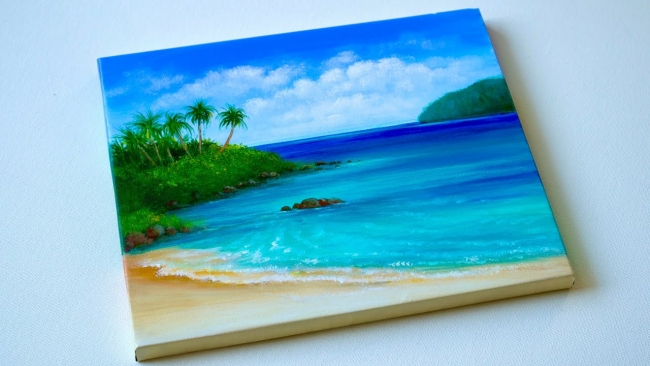 Sunflowers:
How pretty this painting of bright and sunny yellow flowers looks by Tuli.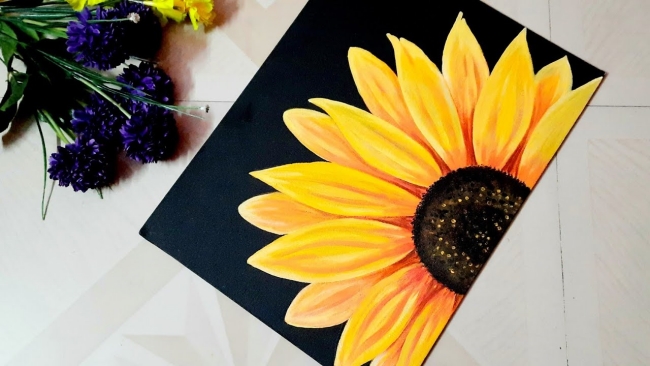 Pink Buildings:
Paint a cityscape with high rises or skyline pattern with vibrant background by heyshedraws.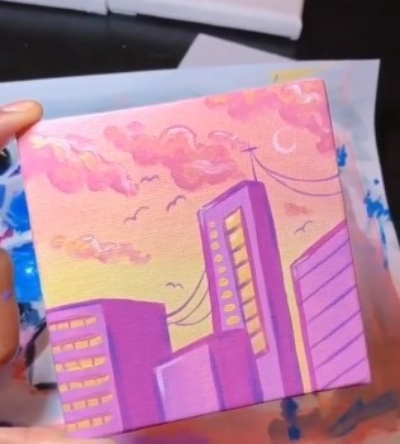 Simple paint scrap art:
Playing with paint never gets old, and this is an enjoyable project for parents who want to craft with their children or for grownups who want to create a quick piece of art. Make it now with curbly.
Simple flower jar:
Watch this tutorial by theartsherpa to paint.
Glue art:
You won't find a simpler canvas wall art project than this one. You only need some glue and your preferred color of paint. Deco Art.
Creative things to paint on canvas
Abstract Pattern:
It is distinctive, modern, and customized. Let's do it with rekindlemydwelling.
String Art Graffiti:
Graffiti and string art, but both on canvas… Do you see how awesome a partnership between the two could be? Have a look at jugglingactmama.

Paint chip art:
Why don't you think of blowing up a paint chip strip and creating a canvas that looks like paint swatches in various shades of a color? It's an innovative and creative concept for canvas wall art by bhg. Use white markers to write custom messages.
Aesthetic portrait painting:
This is definitely for the one who likes aesthetic views. You can make this gorgeous painting with this video from kanyaartandcraft.
Rainy Day:
Paint a rainy scenic painting of a cat enjoying the rainy day view from the comfort of a window at home by Joony Art.
She is fierce:
With the help of this She is Fierce canvas painting reference, demonstrate your painting abilities. By drawing the woman differently, using different colors, and whimsical background, you may personalize yours by society6.
Easy things to paint with acrylic paints
Desert sunset with black cactus:
It can be a lot of fun to paint silhouettes, and the desert and sunsets make excellent subjects. This painting's sunset is formed by mixing acrylic paints in the colors yellow, red, and blue. Using black paint, create a mountainous horizon with some cacti in the foreground and background by Ahmad Art.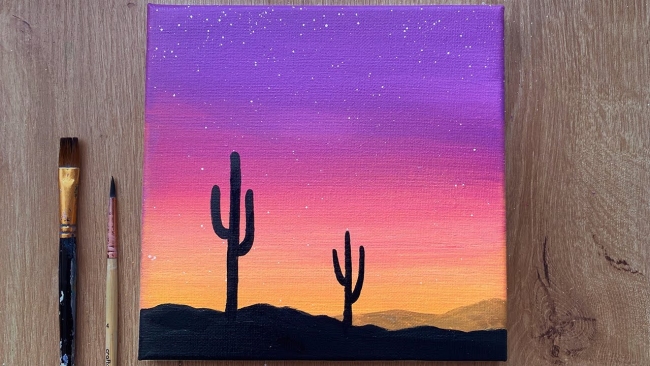 Garden Fence:
Discover how to paint climbing roses on fence using random brush strokes and simple acrylic paints from Angela Anderson.
Cherry Blossoms:
I can recall a period of time when split canvases were my obsession. It occurs when a single artwork has been produced gradually over a number of canvases. Paint this cheerful cherry blossoms tree on two canvas by MariArt Home.
Funny things to paint on canvas
Funny Bathroom sign:
Consider painting a funny wall art for your bathroom in an artistic way by drugstoredivas.
Easy things to paint with watercolor paints
For watercolor paintings you will need:
Bleeding Tissue Paper Painting
The art of tissue paper painting can appear to be highly original and creative with different textures by craftsbyamanda. Paint some birds on the branches or butterflies in the fields using bleeding paper. Start by drawing your design and then place cutouts on the design, wet it with water using a brush and let it dry. When you peel it off it gives water paint effect.
Watercolor resist art:
This basic rubber cement resist technique is a good way to create watercolor painting quickly and easily by Persia Lou. Learn more about epoxy resin crafts.
Watercolor flowers:
Create simple and beautiful watercolor flowers with drops of watercolor on the paper. Let it dry and outline with a black sharpie by burlap and blue.
I hope you discovered some simple painting concepts to try out next on your blank canvas. If you don't succeed on your first attempt, try not to lose your mind. Consider it a peaceful hobby and allow the sound of your paintbrush gliding across the canvas to calm you. Feel free to give your artwork any unique artistic touches or modifications you choose. Draw or color as you choose, just for fun! Enjoy the procedure and give your thoughts a break from the outside world.
Happy painting!
Canvas Painting Kits for Adults and Kids
Check out these variety of options to paint on canvas with some assistance with the convenience of all supplies packed in one box if you are not comfortable painting from scratch and don't want to gather a whole lot of supplies.
I had so much fun painting by numbers and there are beautiful options to choose like this paint by numbers for adults with complete supplies on amazon.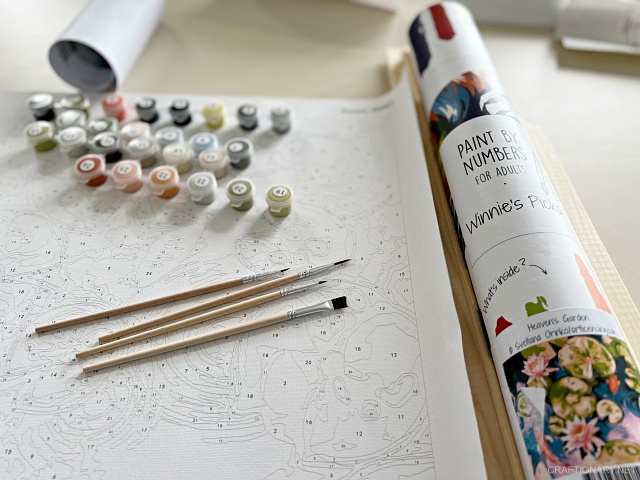 Complete Paint Set with Tabletop Easel
Ultimate Artist Paint Set with oil, watercolor and acrylics.
DIY Oil Painting Paintworks Paint by Numbers
Beach Landscape Acrylic Paint by Numbers
Seasons Diamond Painting for Beginners
Author: Nimra Yousuf