This post may contain affiliate links. Please see our full Disclosure Policy for details.
Wondering what to buy a teacher for Christmas? Find 50 teacher Christmas gifts that you can make at home and buy from Etsy. There are teacher gift free printable tags as well as ideas for gift cards.These gifts are what teachers would love to receive and use.
As the holidays approach, it's critical to remember those who have helped us throughout the year. Teachers significantly impact our lives and deserve to be recognized for their dedication. Christmas is an excellent time to express your appreciation for all they have done for you.
There are numerous wonderful gift ideas for teachers. You can give them a useful item, such as a beautiful mug or pen set. You could also go for something more unique, such as a gift basket of their favorite things. Make sure that whatever you decide comes from your heart. A thoughtful gift will be appreciated more than anything else by your teacher.
You will also like: 50 Thank You Gift Ideas to Appreciate Kind People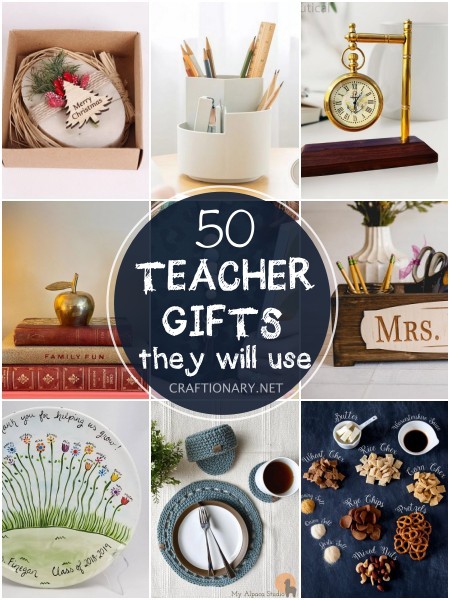 Antiquates of Giving Gifts to your Teacher
Because teachers do such a fantastic job, parents naturally want to give them a generous gift of their own as a thank you for all their hard work and generosity. Giving teachers gifts at the end of the school year is another way to teach children the value of gratitude and to say, "thank you." Keep reading for our comprehensive guide to gift-giving etiquette for teachers if you want to express your appreciation for a teacher's efforts throughout the school year.
Priority should be given to the teacher's interests. This is an important first step because it shows that you care and are aware of what is important to her. Choose a gift that will benefit the teacher in some way when shopping. You could, for example, buy her a set of garden clippers if she enjoys gardening. If she enjoys cooking, you could give her a set of kitchen utensils. It will be valued if it adds meaning to her life. Secondly, create a budget to determine what you can afford. You don't want to purchase something that will easily break.
Finally, make sure the gift is suitable for the teacher and the circumstance. You can find tons of quality gifts at some of my favorite stores:
Kitchen stuff plus
Barnes and noble and indigo
Sephora
Etsy
Baskits
Bed Bath and Beyond
Bath and body works
Lush cosmetics
Saje Natural Wellness
What is a Teacher's Christmas Gift?
A Christmas gift is one given to a child's or student's teacher. Most teachers adore Christmas, and many will go above and beyond to make the holiday special for their students. You can still buy a gift for your child's teacher this year, even if they don't appear to be celebrating.. There are many different types of gifts that a teacher will appreciate, whether you decide to buy one for your child's teacher or give one to a friend or relative who has children.
How much a student should spend on gift
It's always a good idea to put some thought into teacher gifts to ensure they're appropriate and enjoyable for the recipient. This could be a teaching tool, a personal item to enjoy at home, or a decorative item. Memorabilia gifts have a special place in the hearts of teachers, who, for the most part, have fond memories of their classroom experiences.
When selecting a gift for a teacher, it is best to keep the price low—between $25 and $50, depending on your comfort level. You could also plan a gift from the entire class, involving the families of each child, to raise the cost of the present and ensure that everyone feels included.
Gift Cards, Simple yet Effective
Gift cards are always a good choice if you're having trouble thinking of a teacher gift that you know they'll like. What could be simpler than printing a gift certificate or picking up a greeting card? Additionally, they're a fantastic way to make sure your recipient can shop for something they'll like and use.
Teachers are known to get up early, so gift cards to a coffee shop like Starbucks or Tim Hortons will be greatly appreciated. Similarly, you can choose a gift card to a nearby spa, massage or a manicure and pedicure to help them unwind. Finally, a gift certificate to a store that sells office supplies or books that can be used to purchase school supplies will go a long way toward ensuring that your child's teacher can continue to do what they love with the best tools available. Gift certificate can be of a garden center, or arts and crafts supplies for a creative teacher like Michaels, Hobby Lobby, Home Depot, Lowes and more. If you are unsure about the teacher's interests a gift card to a large store like Amazon or Walmart is always useful.
You will also like: Handmade Gift Ideas (Special Edition for Her)
Why not rush with so many gifts?
It makes sense to give a gift to your child's elementary school principal. It is not required to give gifts to each teacher once students are in middle or high school and have a maximum of seven. Ask your child to select the teacher or teachers she connects with or learns the most from and advise her against giving the gift in front of other (less talented) teachers.
Make sure that whatever you give them is appropriate for their interests and personality. Consider what makes them feel unique and special. If they've helped you in any way, give them a treasured gift to show how much you appreciate them. If you are unable to find anything that expresses these ideas, contact others who are familiar with your teacher and seek feedback.
Some Thoughtful Ideas According to teachers
Giving teachers something that suits their tastes is a fun way to show your appreciation for all their dedication and hard work. If your teacher is dedicated to a certain cause, think about making a gift in their name. This is an excellent way to show your appreciation while also helping a cause that is significant to them.
When choosing a gift for their teacher, let your child take part. They will be aware of the interests of their teacher, and by adding a personal drawing or note of appreciation to the gift, they can add a sentimental touch.
Here are some ideas to get you started:
Personalized water bottles or mugs:

Give teachers a mug or water bottle to use in the classroom because they are constantly in need of more coffee (or tea) to get through the day. You can get mugs and water bottles personalized with the teacher's name or initials or find ones with amusing sayings or images.

A gift certificate to a favorite restaurant or retailer:

When it comes to enjoying gift cards, teachers are no exception! If you are unsure what your teacher would like, a gift card to a well-known restaurant or retailer is always a good option.
A cheerful holiday product: There are many festive items that would make wonderful teacher gifts, especially with Christmas fast approaching. Consider seasonal candles, holiday-themed stationery, ornaments, and so on.

A book or mug containing motivational quotes:

A motivating, or inspiring item is sometimes the best gift you can give a teacher. A book about their industry or a mug with a motivational saying would be ideal for this.
A charitable donation in their honor: If your child's teacher is passionate about a particular cause, consider donating in their honor. This is a wonderful way to show your appreciation while also supporting a cause close to their hearts.
50 Teacher Christmas Gift Ideas
It can be expensive to buy teachers' Christmas Gifts and they are frequently forgotten as significant Christmas presents. While many of us have pleasant memories of our teachers, not everyone does. Therefore, we should go above and beyond to get a teacher a thoughtful gift if we want to brighten their day. Anything from a picture frame to a nice set of designer teacups can be given as this gift. Teachers adore receiving personalized gifts that capture their individuality. Many of us have purchased pricey gifts for teachers only to be at a loss for how to use them.
You will also like: DIY Stress Relief kits with printable
Edible Christmas Gifts for Teachers
Edible gifts remain at the top of the list of simple gifts cherished by all. You can give chocolates, cocoa mixtures, cookie mixtures, or crackers this Christmas. Simple fruits are the best option if you want to keep things as basic as possible in terms of flavor, health, and cost.
Christmas Chex Mix and more trail mix recipes.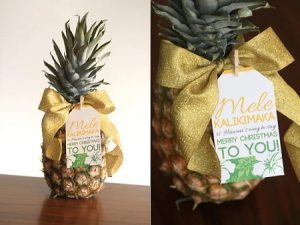 Chocolates snowman gift wrap (unknown source)
Hot cocoa ornaments (unknown source)
Salted Caramel in a mason jar and more gifts in a jar ideas
DIY Educator Christmas gifts
A handcrafted gift will demonstrate your genuine love and respect for your teacher. Given that they require effort and struggle, crafts are among the best and heartiest gifts. The fact that you made that gift all by yourself and did struggle shows your affection.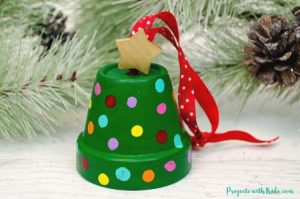 Christmas Clay Pots and more DIY Christmas Ornaments
ETSY Teacher Christmas Gifts
You will find genius teacher Christmas gift ideas on Etsy for all budgets.
Funny Quote Customized shirt
Sports Teacher Christmas Gifts
Be the first to show your appreciation for your sports teacher by giving these personalized whistles as a Christmas gift.
Crochet Teacher Christmas Gifts
The best gift for you teacher in the cold Christmas are crochet gifts. Either you can make coasters with them or use your coffee or tea wrap to keep them warm. Your teacher would undoubtedly adore them.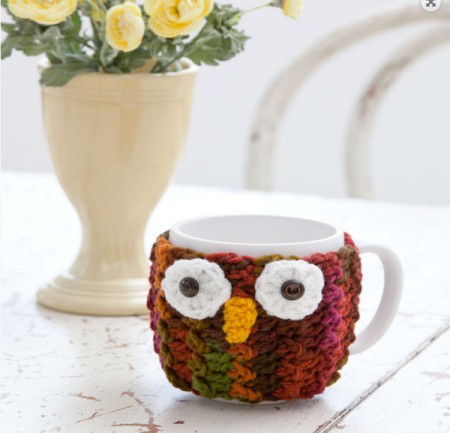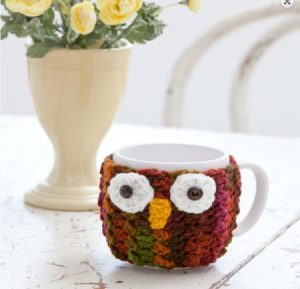 Wise Owl Cozy free pattern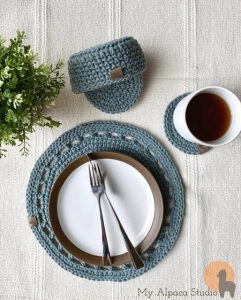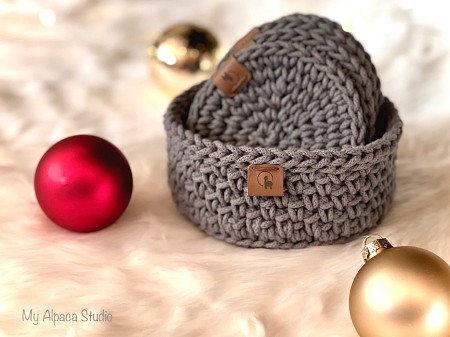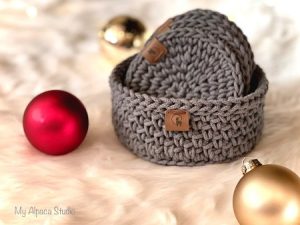 Crochet Coasters and Holder via Etsy
Christmas Gifts for Professors
A leather briefcase is a very classic Christmas gift for your professor. It would help them to handle their laptop and papers more properly, and above all, it shows your respect and affection for them.
Christmas Gifts for Principal
Beauty Teacher Christmas Gifts
You can express your love and respect for your teacher by giving them one of these simple homemade soaps, scrubs, or bath bombs.
Peppermint Bark Soap and more handmade soaps.
Holiday Bath Bomb Gift Set via Etsy
Christmas Soaps via Etsy
Preschool Teachers Christmas Gifts
Kindergarten Teachers Christmas Gifts
Christmas Hair Ties via Etsy.
Special Education Teacher Christmas Gift
Flowers make a simple gift that profoundly impacts the recipient. Besides that, if you give them to a special education teacher or mentor, they will feel grateful for the gesture.
Piece of my story keyring via Etsy and more thank you gift ideas to appreciate kind people.
School Teacher Christmas Gifts
You can choose or get Idea from these presents, that I have gathered from websites all over the internet, to give your teacher this Christmas.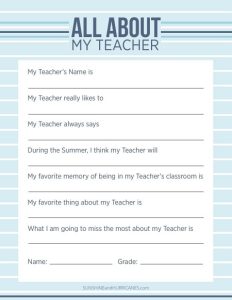 Teacher Appreciation Questionnaire
Rotating desktop organizer via Etsy
Totally Awesome Teacher Gift Printable Tag
Teacher desk organizer wood planter via Etsy
High School Teacher Gifts
Thanks for Being De-pen-dable Pen Gift (unknown source)
Different Christmas Teacher Gifts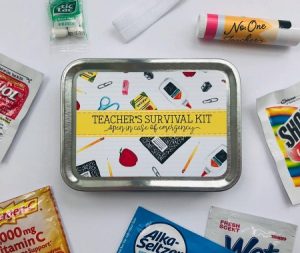 Teacher Survival Kit via Etsy
Personalized Name Christmas Bauble
Personalized Mugs make great coffee mugs
Christmas Bunting Garland Decorations
Finally, by giving these teachers Christmas Gifts, you value them because they have taken care of you since you were a child and still do. Teachers are the people with whom you spend half of your day and most of your life. Even though they may not fully understand you, they still care about you enough to offer help and support when you require it. All these justifications highlight how crucial it is to show your teacher gratitude. Students should respect teachers outside of the classroom because they are human beings who deserve respect.
They are not your parents, but they guide you in the same way that your parents do and have a huge impact on your life and memory. So, make this memory even more memorable by giving these lovely teacher Christmas gifts.
Author: Marriam Arshad