This post may contain affiliate links. Please see our full Disclosure Policy for details.
Baby food jar vases vases and candle holders made for indoor and outdoor garden spaces. There are lots of recycle projects out there. But of all the ideas I have found so far. These baby food jar vases are the cutest. You can also use them as candle holders.
The food jars are the best DIY idea for Spring time. And can also make beautiful handmade gift. Not only for Spring. But Mother's Day as well.
Take a look at these:
Baby food jar vases
These baby food jar vases can be used as candleholders as well. This is a fun decorative project for indoor and outdoor space. Planting self care or air plants in these baby food jars will be a low maintenance project. However, putting tea lights in it can be used as an illuminating masterpiece for starry nights.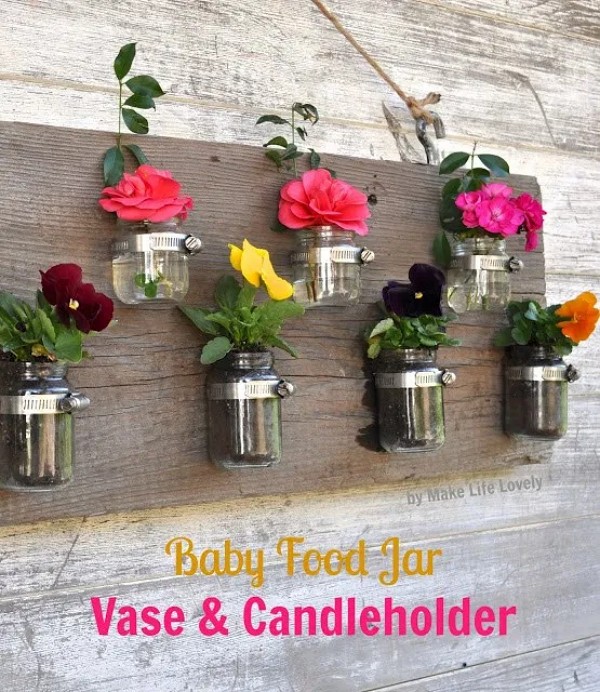 Baby food jar Vases
Supplies needed to make hanging decoration:
Wood plank
Baby food jars
Clamps
Screws
Drill
Hammer
Metal punch (or screwdriver)
2 hooks (to hang the wood)
Jute or twine (to hang the wood)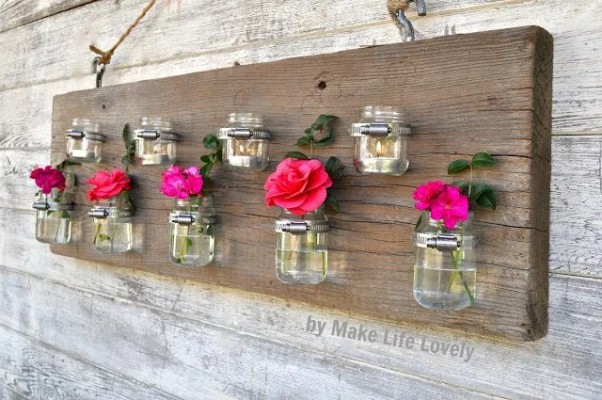 Baby food jar candleholders
Instructions to make the project:
Start by dusting the wood with a brush to remove dirt and dust.
With a hammer and a metal punch, punch a hole in the metal clamp on the opposite side of where the clamp tightens. Use the screwdriver as an alternative and place a piece of wood underneath to avoid damaging the surface.
Measure and mark where you want to screw the clamps on the wood.
Now with the help of the screwdriver secure the metal clamps in place.
Place the jars in each clamp and tighten to fit perfectly.
Drill holes on the top of the wood and screw hooks to hang the frame.
String a piece of twine or jute to hang it over the screw indoor or outdoor.
And you are ready to plant some flowers or light some tea lights?
 Make life lovely shared the complete tutorial to make DIY vases at craft-o-maniac.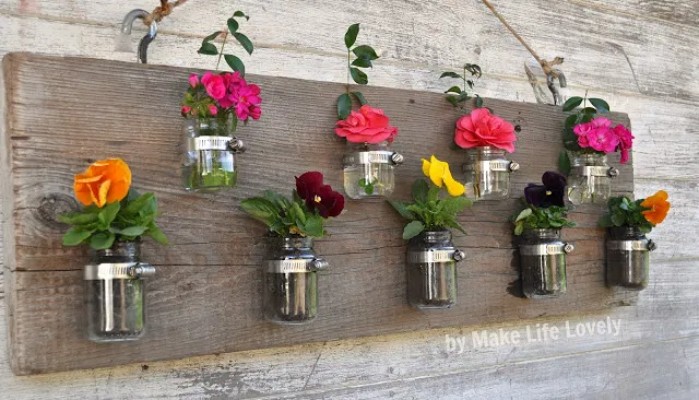 You will also like:
Food jar coin banks
25 Ways to make candles
Painted Spring Vase
Looking for more great ideas to Recycle?
Check out tutorials in the category
RECYCLE
.
Are you on pinterest?
These are updated regularly whenever I find unique ideas.