This post may contain affiliate links. Please see our full Disclosure Policy for details.
Making handprint ocean paper animals with construction paper is fun and super simple. Handprint arts and crafts project are creative and do not require a lot of supplies but only basic stationery.
Handprints can be made by painting hands to stamp the paper as well as trace hands and cut the paper out. Both ways result in creative artworks that kids can work on independently or a group of children can do with minimal assistance.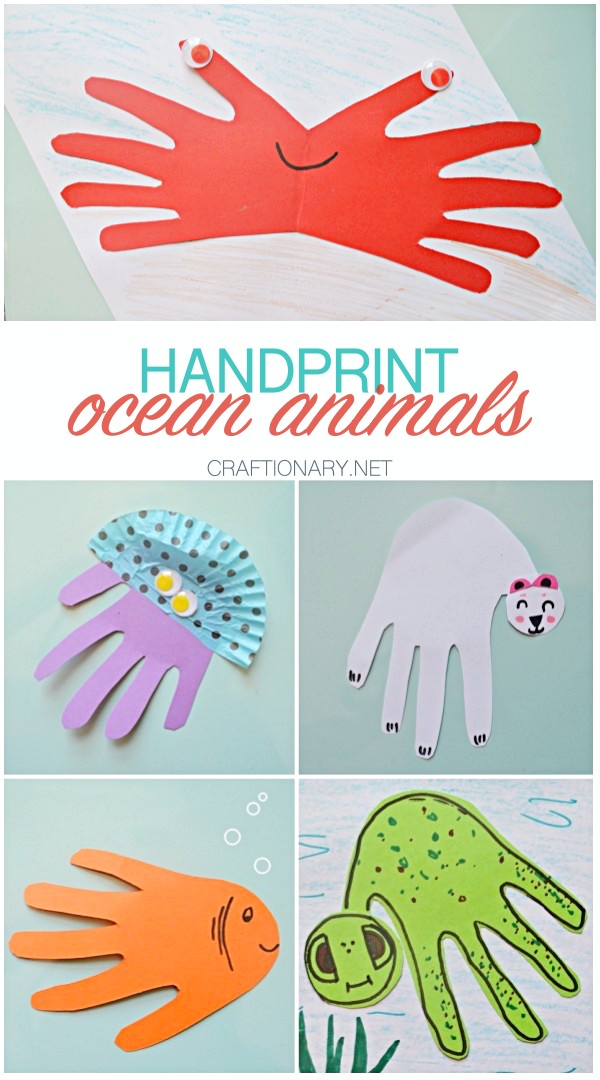 DO NOT COPY, EDIT, SAVE OR PASTE THIS IMAGE. COPYRIGHT OF CRAFTIONARY.NET
Video tutorial Paper Animals
Find the video instructions to make handprint ocean animals with construction paper. The craft video is easy for kids to follow and make paper animals.
If you like to watch simple and quick crafts follow our YouTube channel for ideas.
These adorable paper animals handprint just like 9 handprint bird crafts are ideas that our kids had fun working on over the weekend. When we were done they put all the animals together and decided to create a full ocean scene on the poster paper. That is one great science project for the young ones to try with handprint animals to practically learn the eco system.
5 Hand print ocean construction paper animals
This post covers making handprint ocean animals as follows:
Paper fish
Paper jellyfish
Construction paper crab
Paper polar bear
Construction paper turtle/ tortoise
You will find written tutorial with pictures to make paper ocean animals or sea animals.
RELATED POST: POPSICLE STICK ANIMALS
Supplies to make paper animals
To make these popular ocean animals you will need:
Construction paper
Scissors
Pencil
Googly eyes
Glue stick
Crayons and markers
HANDPRINT PAPER FISH
There is a lot of room for creativity in this project. Use assorted colors to make paper fishes and paste them together on an aquarium background or coral reef for example. You can also use circles to make scales on the fish body like this circle art.
INSTRUCTIONS TO MAKE PAPER FISH
Easy fish craft that kids can make with cut out of trace handprint on the paper. Use marker to add details like eyes and scales.
HANDPRINT PAPER JELLYFISH
To make the handprint jellyfish use cupcake liner and googly eyes on the handprint. Add jellyfish and fishes together on a paper to make a masterpiece.
INSTRUCTIONS TO MAKE PAPER JELLYFISH
Cut the cupcake liner into halves and use glue stick to paste the cupcake liner on traced handprint cutout. Add googly eyes on top of the cupcake liner to complete the look.
HANDPRINT PAPER CRAB
Cannot get easier than this super adorable crab. Stick handprint crab to your ocean project. The background of sand and sky can be made with a variety of mediums. Stick sand using glue stick to your paper or even glitter. Add small details like ocean waves using markers and crayons. Once done simply add your crab and you are done.
INSTRUCTIONS TO MAKE PAPER CRAB
Fold the red construction paper into halves and trace the handprint such that the folded flap meets the hand at the middle. Cut the trace and open the fold to make the crab. Use marker or googly eyes to complete the crab.
RELATED POST: POPSICLE STICKS POLAR BEAR
HANDPRINT PAPER POLAR BEAR
When kids talk about ocean animals they are most fascinated by whales, dolphins, seals, penguins and polar bears. Make them with handprint. Here's a super easy polar bear. Following the same tutorial using other colored papers the friendly Arctic animals can accompany the little polar bear on icy background with floating icebergs in the water.
Some fun ways to make this background:
1) Use cotton balls, salt or even white glitter to make ice and snow.
2) Torn blue paper layers like the torn paper art project are fun for these Arctic handprint ocean animals too.
3) Once done glue the polar bear and his friends on paper where they belong. Whales in water and penguins on the ice.
INSTRUCTIONS TO MAKE PAPER POLAR BEAR
Trace handprint on a white construction paper and use black and pink colored markers to add face and feet details of the polar bear.
RELATED POST: 70 CREATIVE SEA ANIMAL CRAFTS
HANDPRINT PAPER TURTLE/ TORTOISE
Cutest ocean animal that lives in the sea as well. Sea turtles are fun to craft and make good pets too. Make these to add along the handprint fish and jellyfish as part of the coral reef paper art project.
INSTRUCTIONS TO MAKE PAPER TURTLE/ TORTOISE
Trace and cutout the handprint from a light green construction paper. Use markers to add details to your turtle as shown in the picture. You can also use googly eyes. Use dark green construction paper to cutout squares to make turtle shell (optional). Here we have added spots to make the details which are easier for younger kids to imitate.
The great part is it allows kids to be creative with the scenery and is a good combination of craft using handprints and art to create a background.
You may also like:
Floating boat kids science experiment