This post may contain affiliate links. Please see our full Disclosure Policy for details.
It's always fun to find ways to craft using inexpensive supplies we can find around the house. Coffee filters are one of those items which can be used to create art projects. Coffee filter crafts are mostly popular to make flower and butterfly. However, when I started my search I found great ideas like wreath, twinkle lights, kids art and so much more.
I hope you will find these coffee filter craft ideas useful and try a few of them.
Coffee filter crafts
1. Dip dyed coffee filter flower
Instructables make these adorable flowers and used them into making a colorful wreath.
2. Coffee filter flower tutorial
Make big and beautiful flowers in any color via doodle craft blog
3. Easy and pretty flowers
Make easy and pretty coffee filter flowers DIY with this video by Throne and Thimble.
4. Coffee filter science craft activity
Little bins for little hands brings forward this simple science of coffee filter chromatography to teach kids about the solubility of various materials by making coffee filter flowers. Check it out!
5. Coffee filter flower
Make a big flower using hula hoop for bridal showers, weddings or parties with christina maria blog tutorial.
6. Flowers ideas and inspirations
Beautiful image collection of coffee filter flowers by all my ways andrea.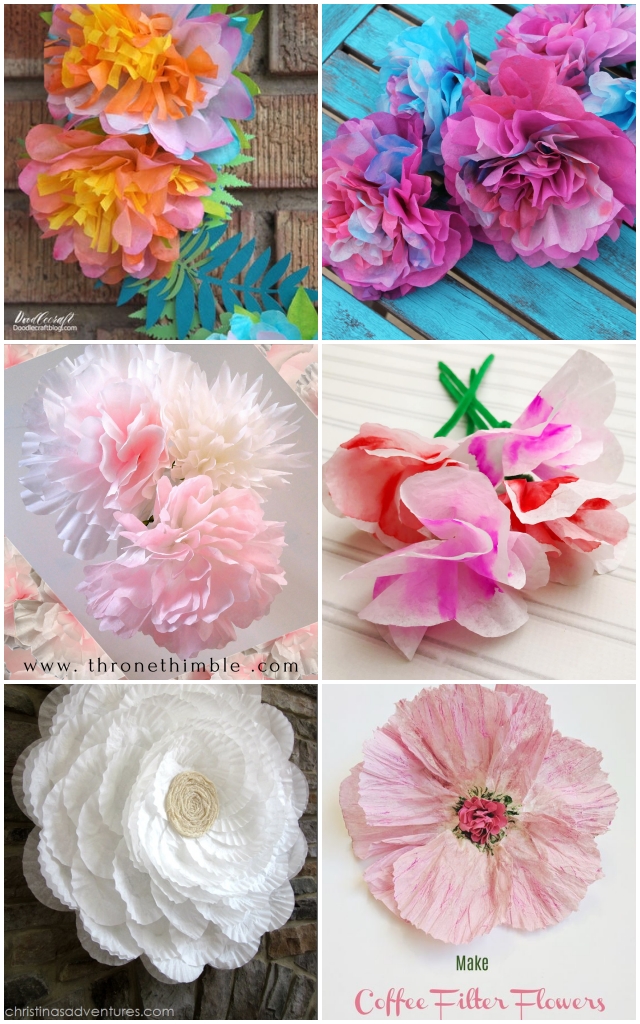 Coffee filter flowers
7. Vibrantly colored coffee filter flowers
I love these brightly colored flowers made by fun at home with kids
8. Coffee filter rose
A great video tutorial to make DIY roses by create with jenn. Image via pinterest.
9. Peony tutorial
Use coffee filter to make peony by pretty petals
10. Coffee filter Poppies
These adorable poppies are so realistic. Make them with reality daydream
11. Coffee filter petals for flower
Kinder craze talks about a cheap project that kids will love with different counts of flower petals as it starts to grow fuller.
12. Mini upcycled flowers
Make little buds and blooming flowers using coffee filter to teach kids about Spring arrival with this idea by Twitchetts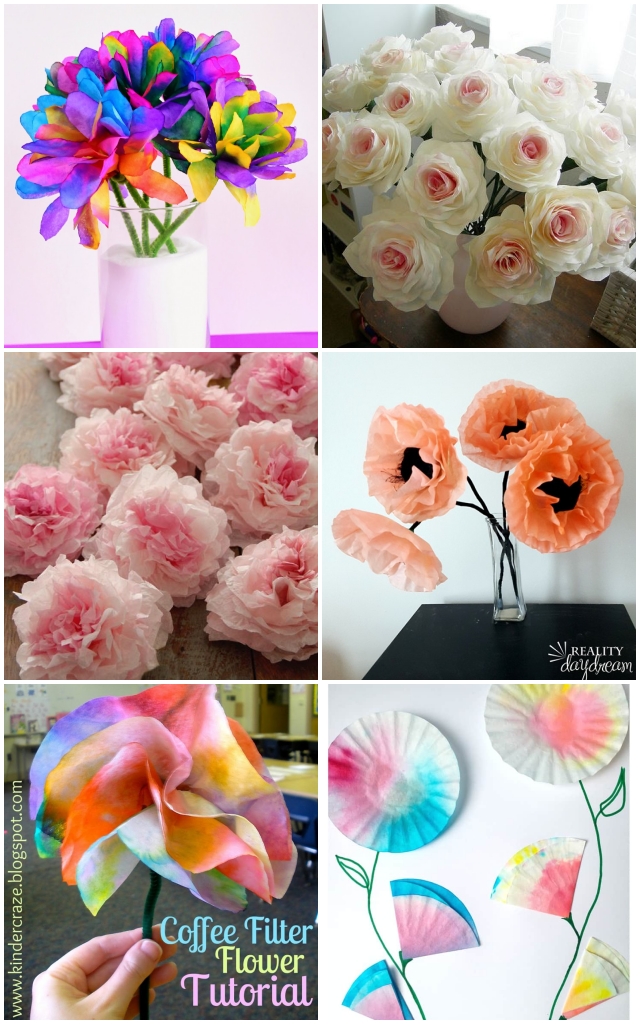 Coffee filter butterfly
13. Coffee filter butterflies
Go crazy with patterns with this idea via made to be momma
14. Flit away butterfly on tree
Polka dot butterfly by 01pallets
15. Spring butterfly craft
Kids will love watching the colors spread through the coffee filters and use them to make patterned wings for their butterfly by mas and pas
16. Butterfly craft
17. Butterfly coffee filter craft
via quietly creative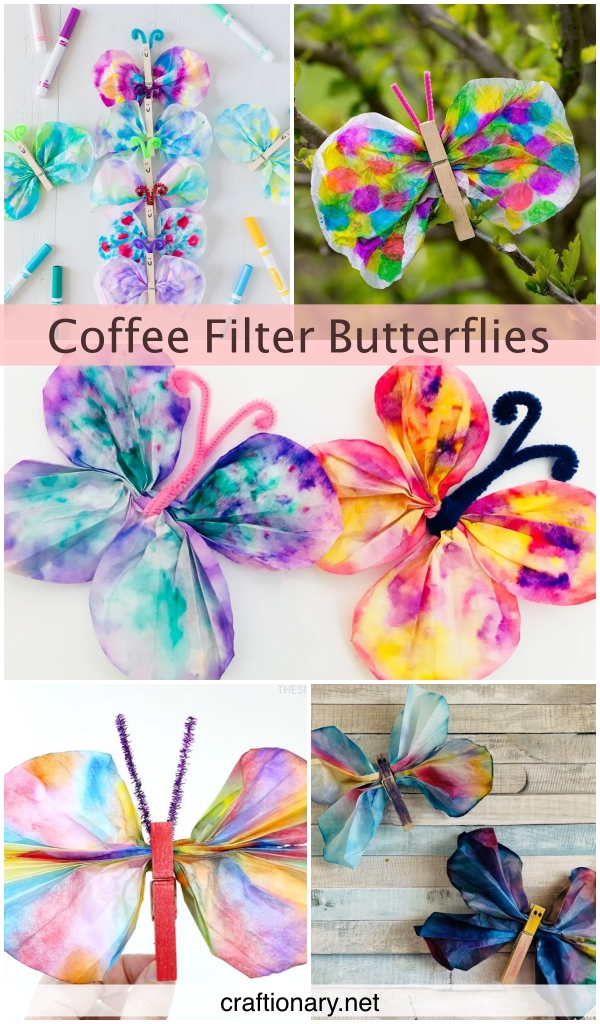 DIY coffee filter
18. Butterfly wall hanging
A butterfly hanging mobile made with painted coffee filters, beads and wood piece via make it your own
19. DIY Spring cabbage
Atta girl says brings forward the idea of making coffee filter spring cabbage for Easter decorating vignettes and also has a tutorial for it.
20. DIY coffee filter number
You can find large numbers for party decoration at Avanti Morocha
21. DIY tea bags
Cute heart-shaped coffee filter cutouts filled with rock sugar and dried fruits for a tea fusion. Use twine to sew around the shape and attach a label. Photo by: still no more
22. DIY Garland
Make coffee filter garlands using food dye by thirty one bits (source unavailable)
23. Make watercolor rainbow tassels
Make coffee filter tassels with kids and have fun decorating via the pinning mama
24. Coffee filter art
Beautiful fall art using leaves on the twig via Jill Dubieu. Unknown source, if you find it please comment so we can update.
25. Wreath tutorial
Make a coffee filter wreath as backdrop statement piece via celebration lane
26. DIY candle holder
An easy coffee filter candle holder that you can make in 10 minutes by skipping the watercolors via muslin and merot
27. How to dye coffee filter?
Learn how to easily dye coffee filters using food colors via the how to home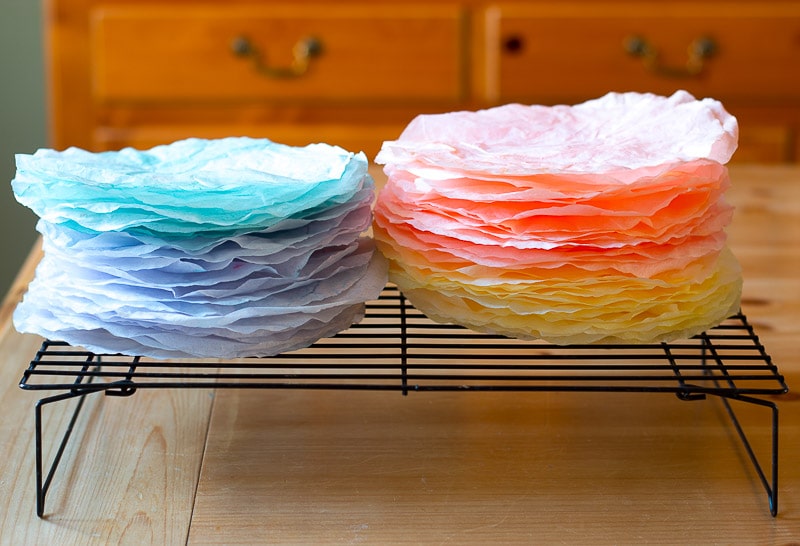 28. Rainbow marker coffee filter experiment
Check out as makes and takes experiments with rainbow markers to color this material.
Coffee filter art projects
29. Ballerina silhouette
One of the best idea to use coffee filter is to make decorative accents in crafts like this ballerina dress that can be customized with watercolor via the best ideas for kids
30. Bee craft
This clothespin and paper bee idea can be used to create coffee filter bee via non toy gifts
31. Ice cream cone craft
A fun and creative ice cream cone craft to make with kids via i heart crafty things
32. Coffee filter doll dress
found at 01pallets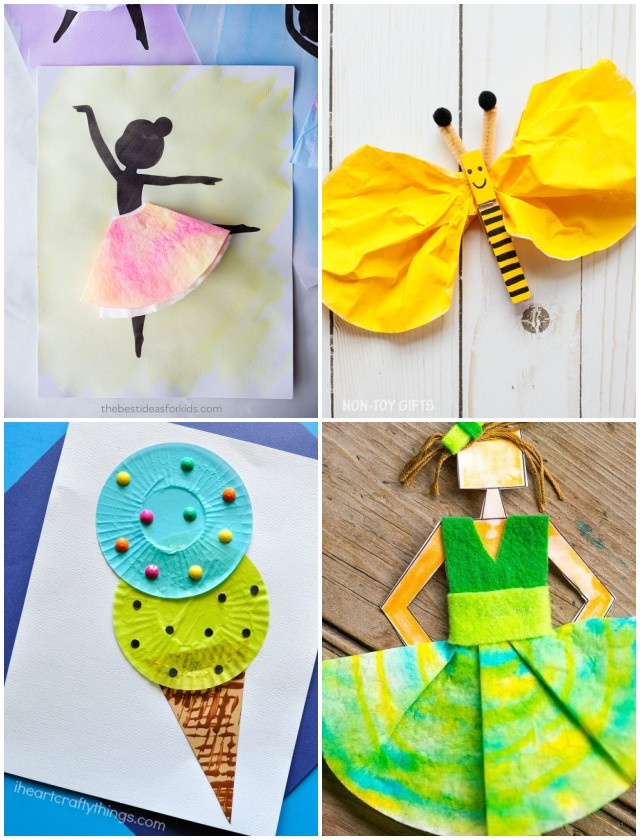 33. Tulip suncatchers
Coffee filter suncatcher via theres just one mommy
34. Hot air balloons
Colorful and fun hot air balloon craft for kids using coffee filters, watercolors and markers via makes and takes
35. Turkey Craft
A cute kids art using tie dye coffee filter via abc of literacy
36. Color bending coffee filter rainbow
Joyfully weary shows us how color bends in this rainbow craft
37. Coffee filter art
Busy kids happy mom teaches us about how teachers and kids make the various tie-dye effects on coffee filters for projects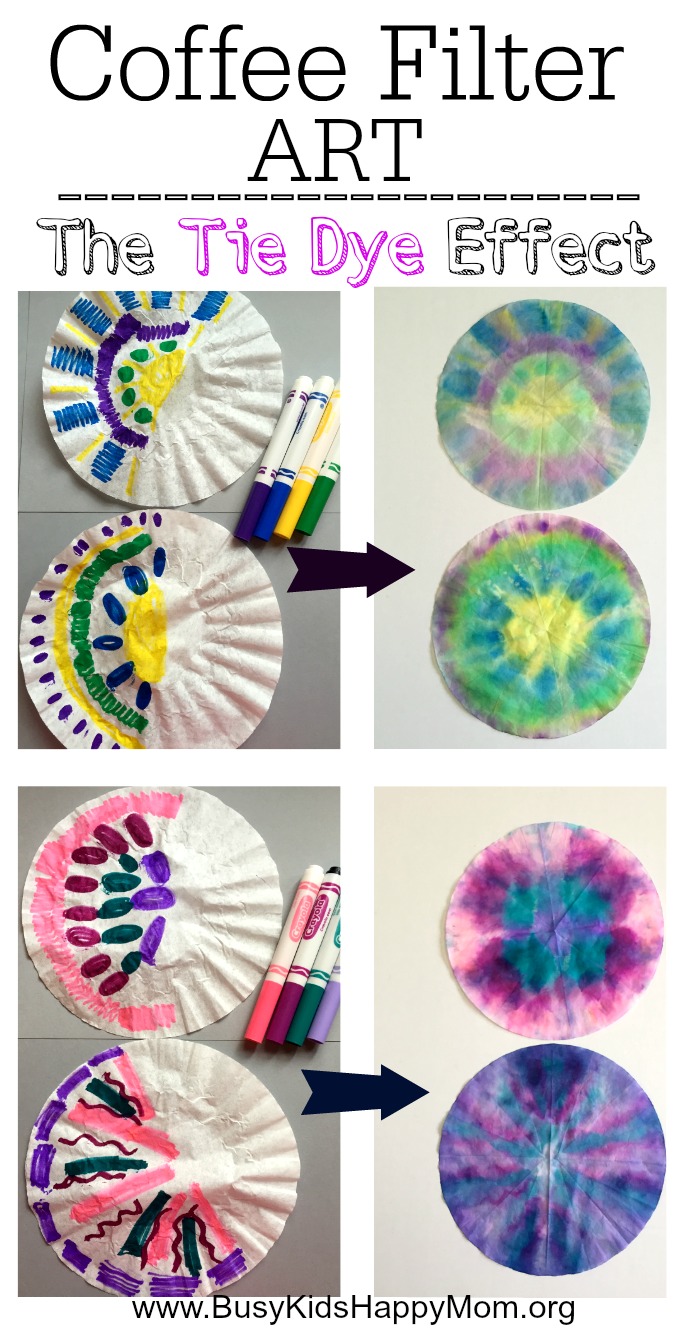 38. Psychedelic snowflake craft
Make coffee filter psychedelic snowflakes with this fun STEAM project idea by babble dabble do
I hope you enjoyed these ideas!
You will also like:
More crafts for kids