This post may contain affiliate links. Please see our full Disclosure Policy for details.
Teaching and learning with kids and their creativity is so rewarding. Make these creative sea animal crafts and activities with kids. Great ideas for imaginative preschoolers and children who love to make ocean creatures like fishes, octopus, sharks, water plants, crabs, lobsters, star fish, whale, turtles, coral reef and so much more.
Since the ocean stirs the heart, inspires the imagination and brings eternal joy to the soul. here are some fun loving activities for your kids to help them learn, make, and inspire in the best way with games and DIY craft ideas related to sea animals. Activities in this collection are applicable to all age groups from toddlers – kindergartners to 5th graders.
CREATIVE SEA ANIMAL CRAFTS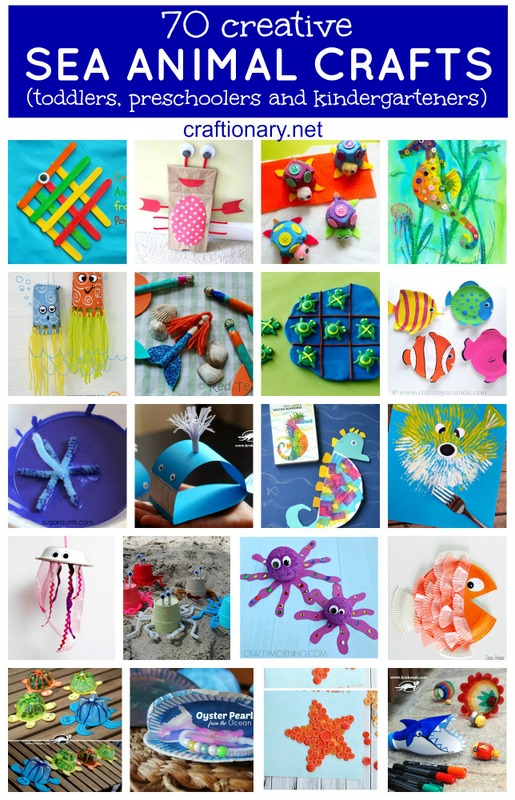 DO NOT COPY, EDIT, SAVE OR PASTE THIS IMAGE. COPYRIGHT OF CRAFTIONARY.NET
SEA ANIMAL CRAFTS – HABITAT
DIORAMA FOR SEA ANIMAL BARRIER REEF
Teach your kids how to make this fun card here. Let their imagination go wild in choosing animals and their positions. The idea is to use puffy paint to color the sea creatures and use digital stamps for the base.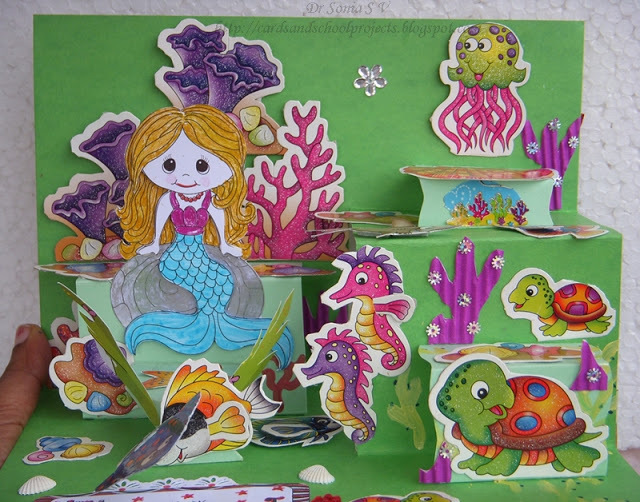 CORAL REEF OCEAN CREATURES
Kids love to explore underwater life at aquariums and museums, what they would love more than that is if they had their own aquarium to play with all day. Even if they are not yet ready to pet a living sea creature but they are definitely ready to make their very own aquarium, tutorial here.
The old school shoe box activity never gets old, and they even have printable for you to choose from.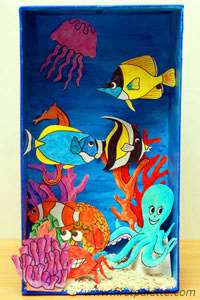 MINI MASON JAR AQUARIUM
Main equipment for this project include Mason Jar and lots of sea creature figurines, tutorial here.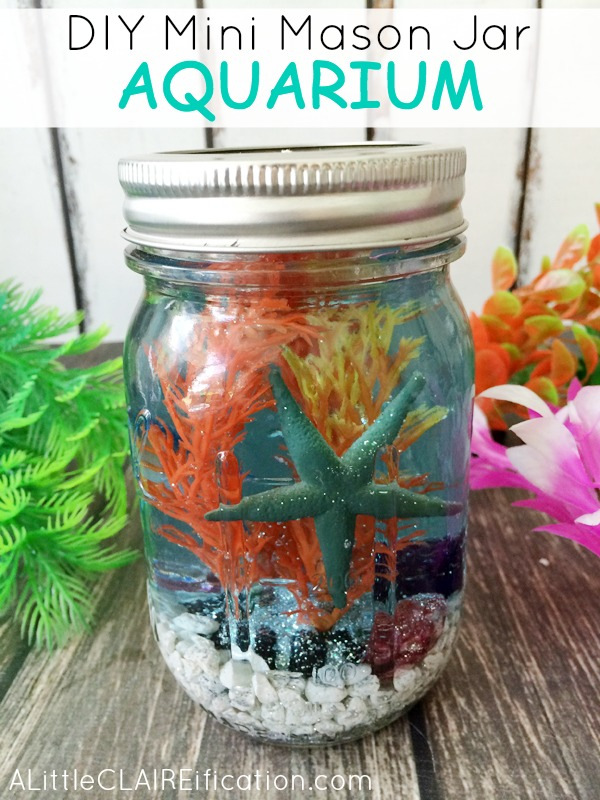 CARDBOARD CORAL REEF
found here.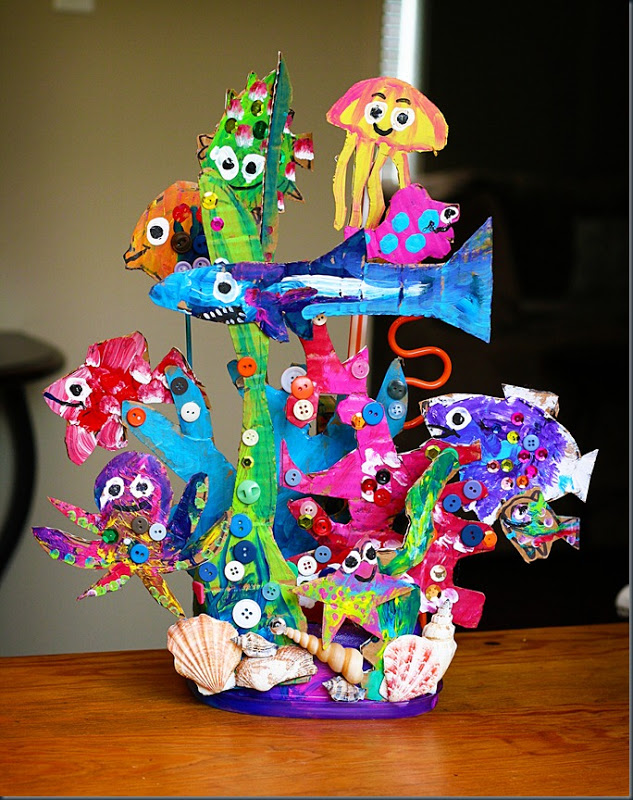 SEA ANIMAL CRAFTS – RECYCLE
SEA CREATURES OUT OF EGG CARTONS
This tutorial uses very basic craft materials like pipe cleaners, beads and obviously egg cartons to create master pieces, here.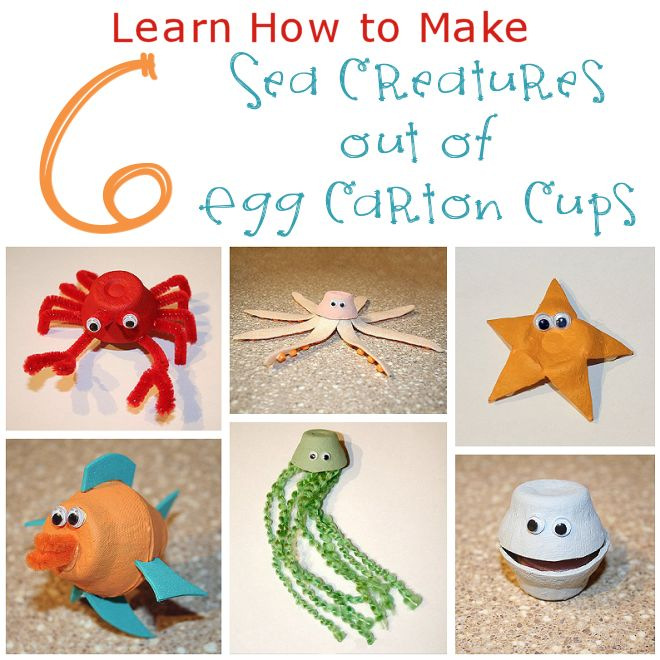 SEA ANIMAL CRAFTS – PROJECTS
SEA CREATURES MOBILE
Sew a fabric or felt mobile.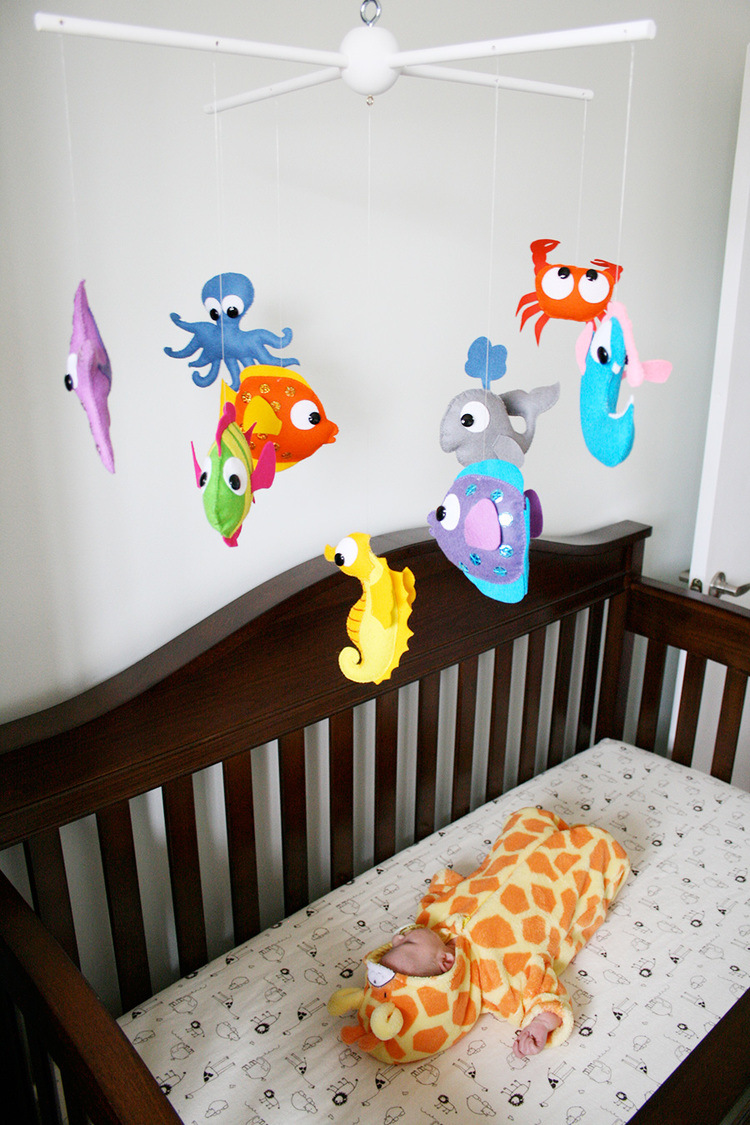 SEA CREATURE CRAYONS
Upcycle old and broken crayons into interesting water animal shapes using molds filled with crayons and melt them in the oven to reshape, tutorial here.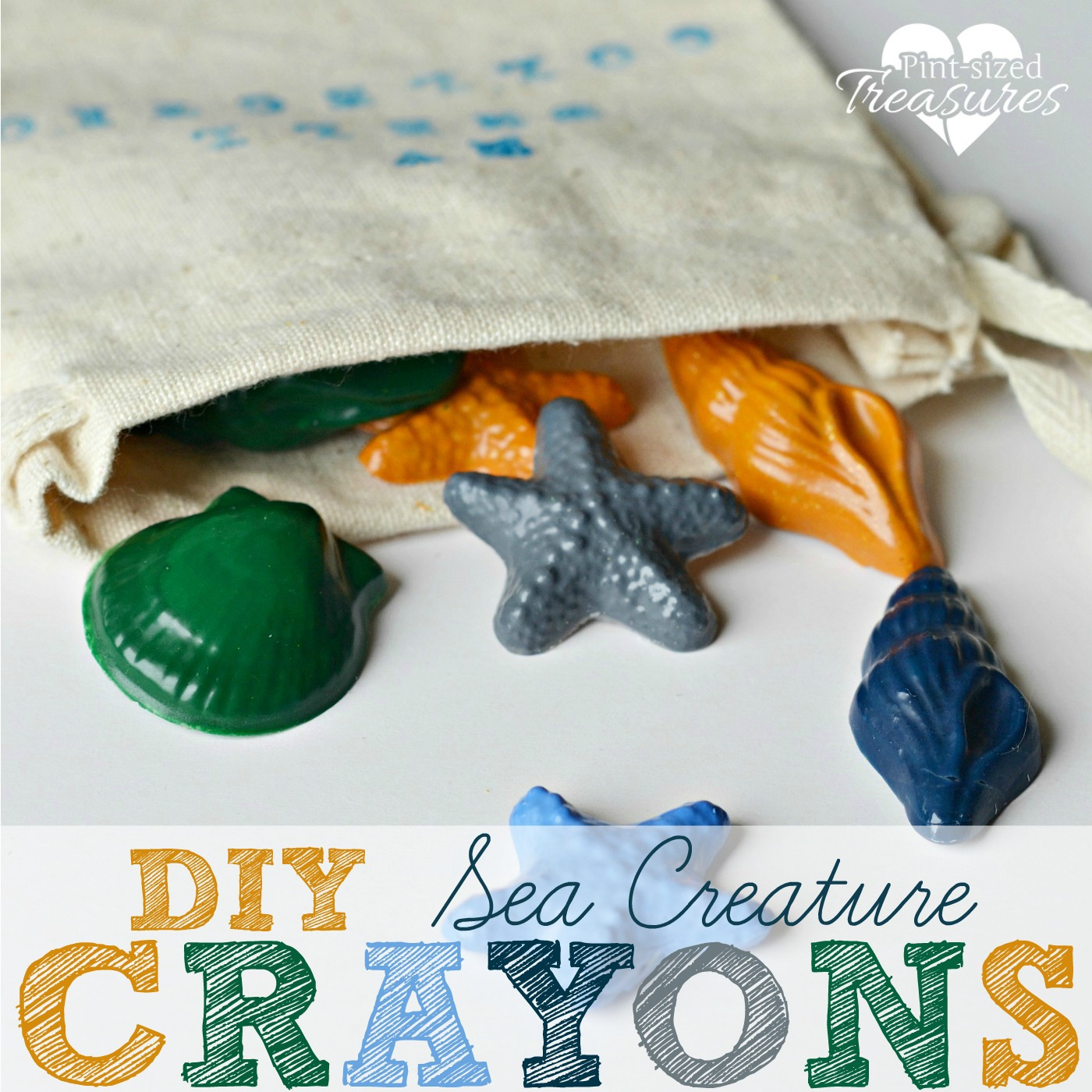 SEA CREATURES HANGING
Make this fun decorative hanging with beads, felt and yarn. Also great for teaching fine motor skills and sequencing.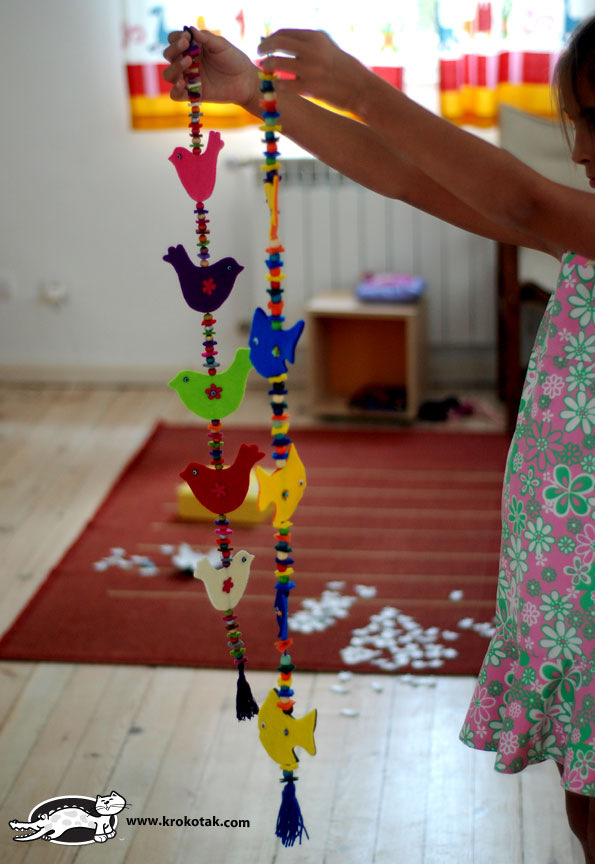 DIY SEA CREATURE KIDS SOAP
Homemade soaps with ocean animal squeaky toy, made using tutorial here. Also make great party favors.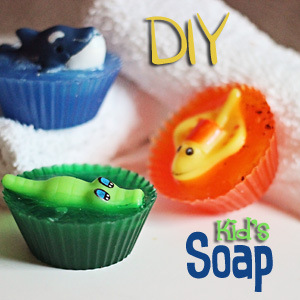 SEA ANIMAL CRAFTS – TURTLES
BOTTOMS UP SEA TURTLE
These are the cutest non living turtle I've ever encountered and the best part is they are way too easy to make. Make cutout turtle bodies with formic sheets also called foam and recycle plastic bottle bottoms for the turtle shell, finished with buttons and thread.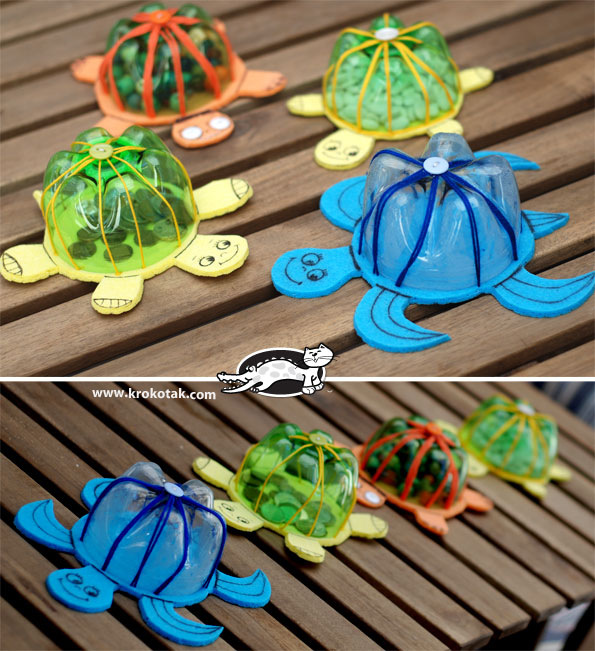 CLAY TURTLE TIC TAC TOE
A fun activity and game for 2 or 3 year old kids to make with clay, here.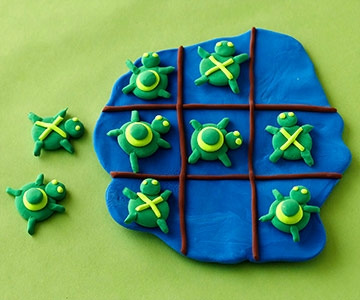 CLIMBING CRITTER TURTLE
Make and move the turtle activity here.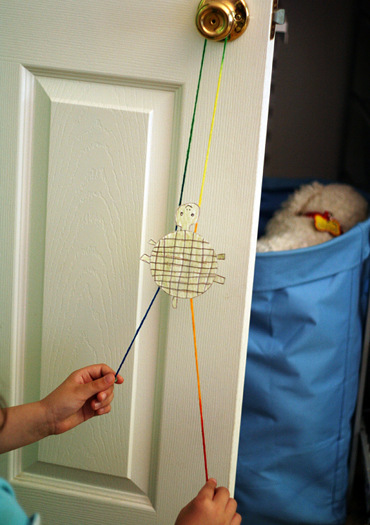 WALNUT TURTLES
Walnut shells, googly eyes and paper turtle bodies to make this cute craft here.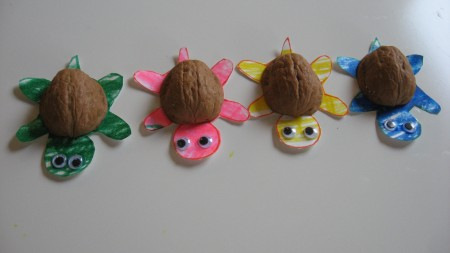 HOW TO MAKE A FELT SEA TURTLE
Felt cutouts glued together to make sea turtle/ tortoise in two different ways here.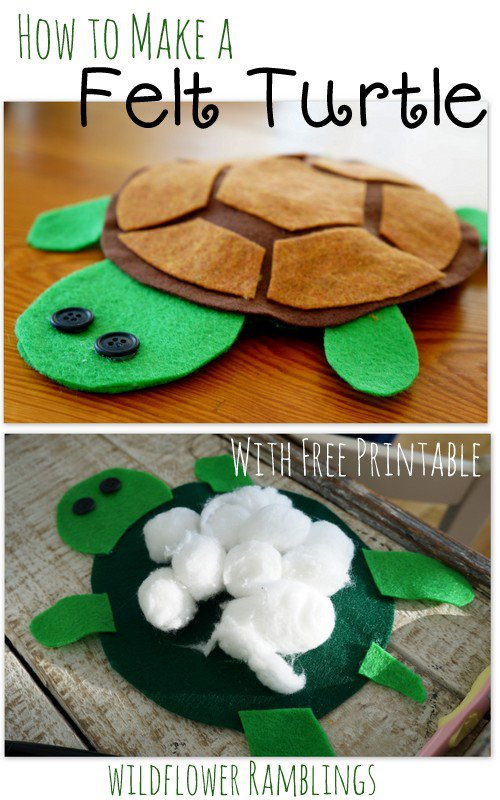 STUFFED FABRIC TURTLE FOR KIDS
Make a fluffy plush toy following the instructions here.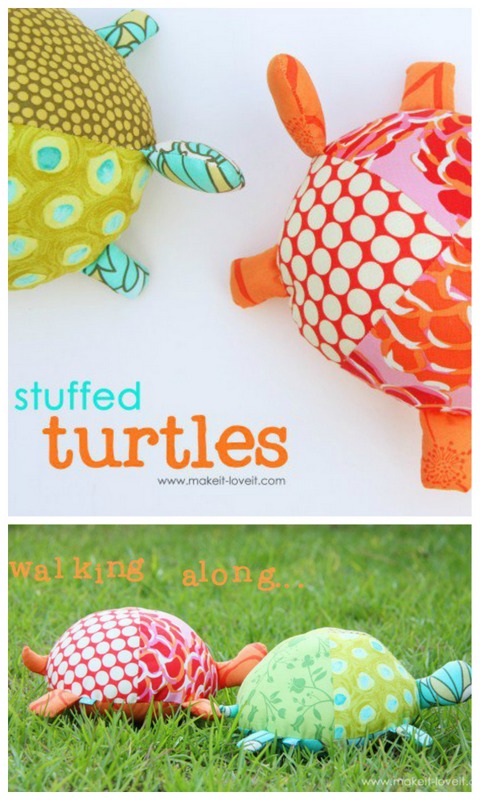 EGG CARTON TORTOISE
Make these cute sea animals using egg carton, pom poms and buttons. Found here.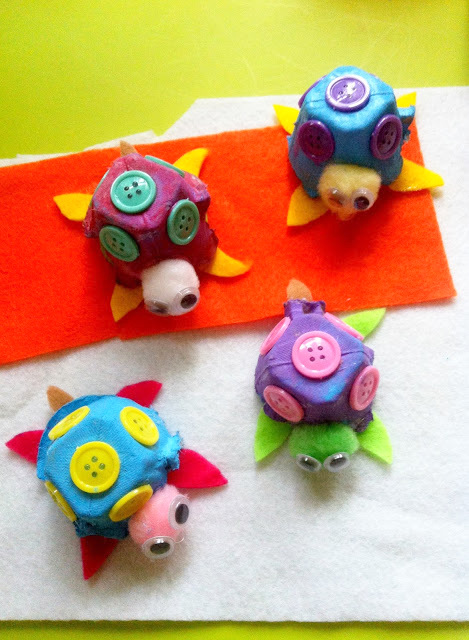 TURTLE KIDS CRAFT
Easy craft here.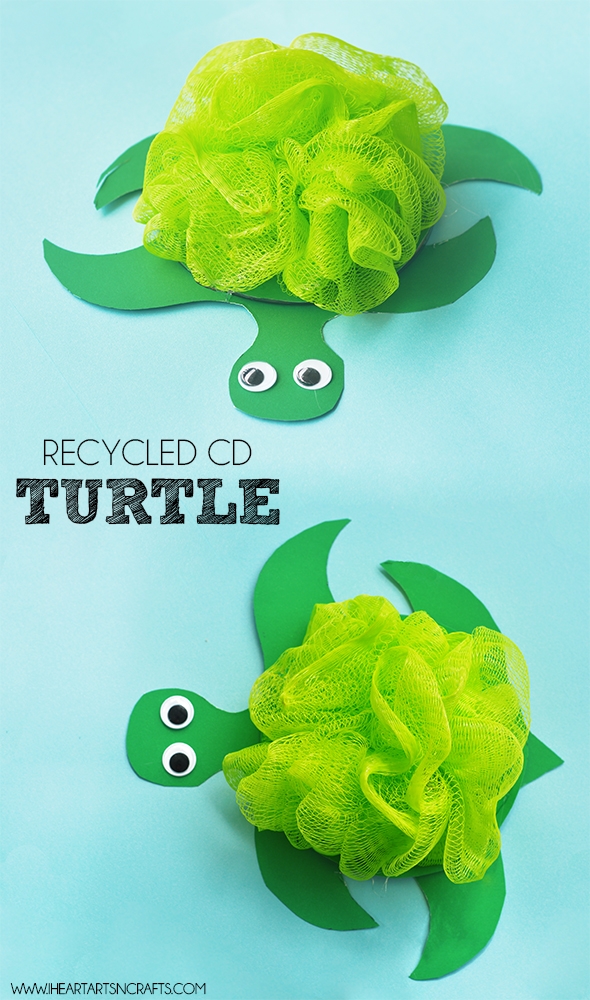 SEA ANIMAL CRAFTS – FISHES
PUFFER FISH USING FORK
Creative tutorial here.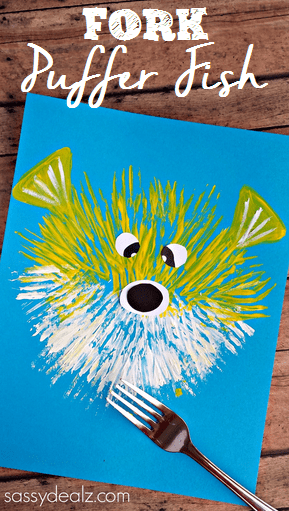 PAPER PLATE KIDS FISH CRAFT
tutorial here.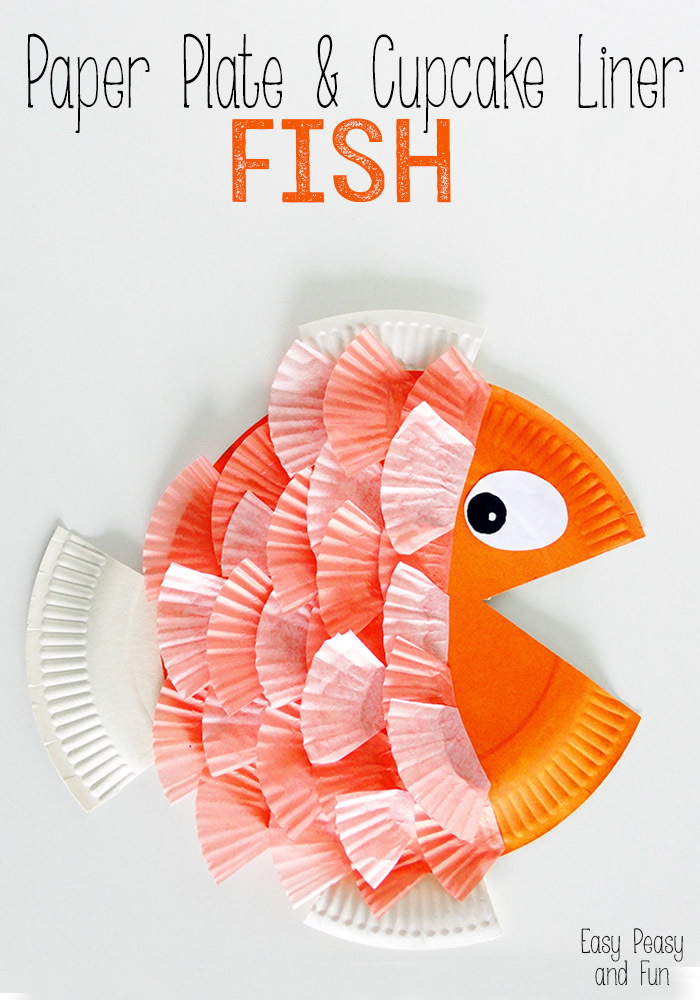 WOVEN PAPER FISH
Weave paper or ribbons together to create contrasting patterns for fish bodies with this kids craft.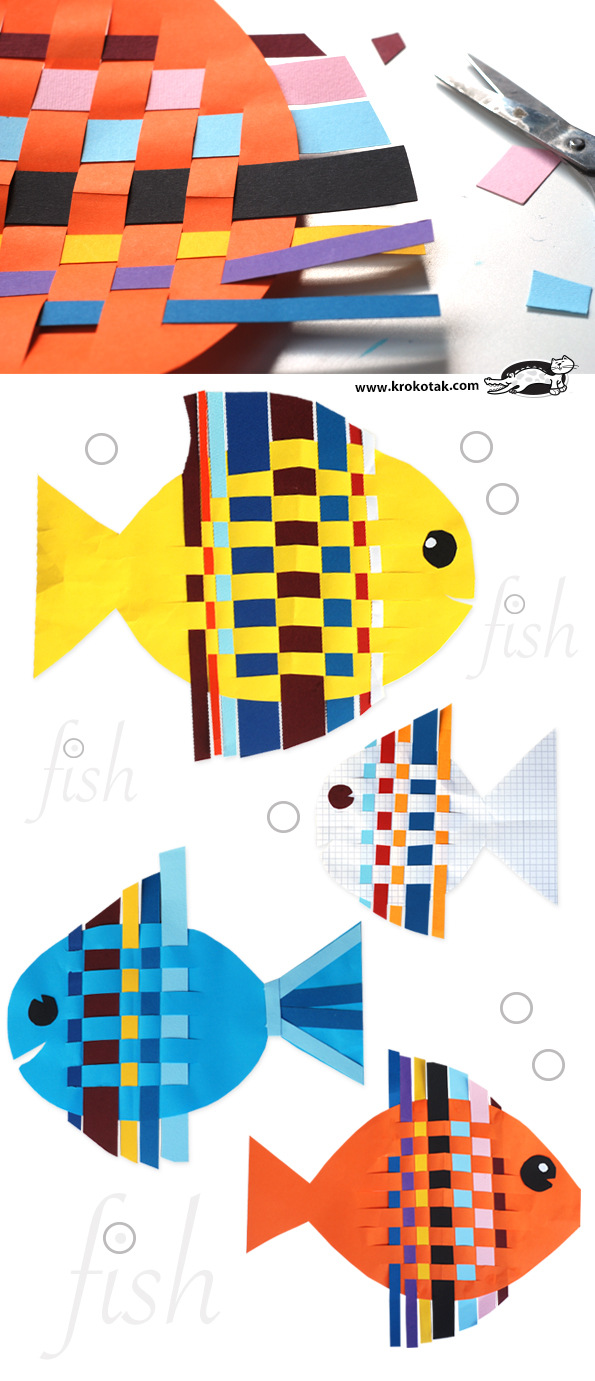 SEA ANIMAL CRAFTS – DISNEY
LITTLE MERMAID CRAFT
Help your little princess in creating her favorite fairy tale become a reality with these 3 in 1 free printables of DIY 3D Princess Ariel, 3D flounder and, 3D Ursula. No longer available on Disney website.


GOLD FISH KIDS CRAFT
An interactive story telling fish craft, the idea can be used to create various sea animals.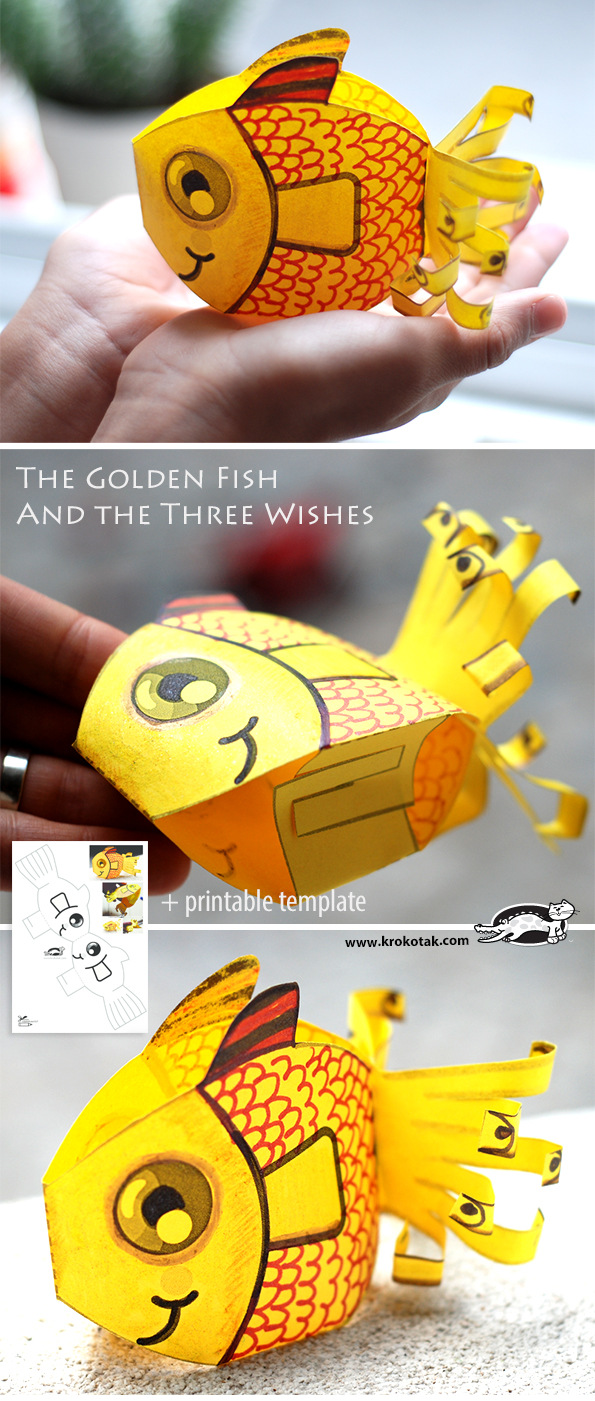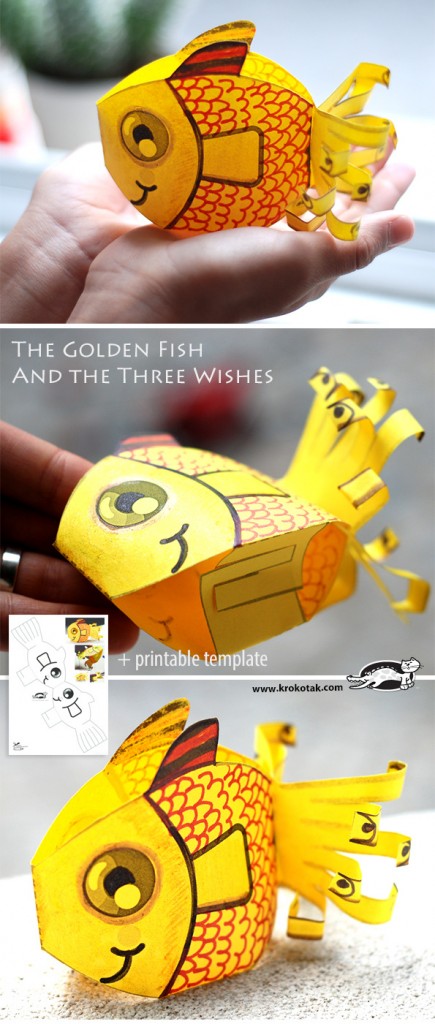 BOTTLE CAP FISH ART
Repurpose bottle caps to create an ocean scene, project here.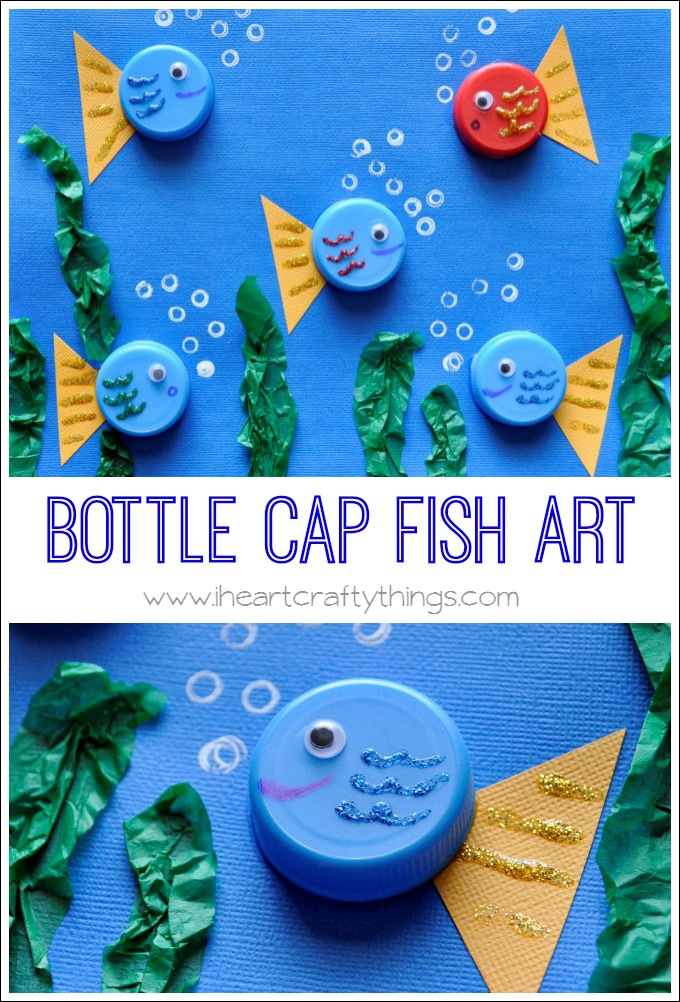 DIY BUTTON FISH
A tutorial to make fish with buttons by sewing on the felt to create a decorative frame. This idea is also good for creating button fish using glue, fabric, paper and so much more.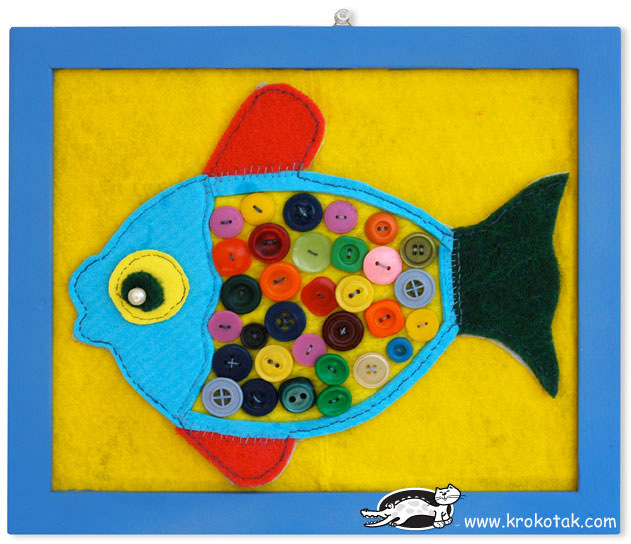 PAPER PLATE FISH CRAFT
Tutorial to make this sea animal craft.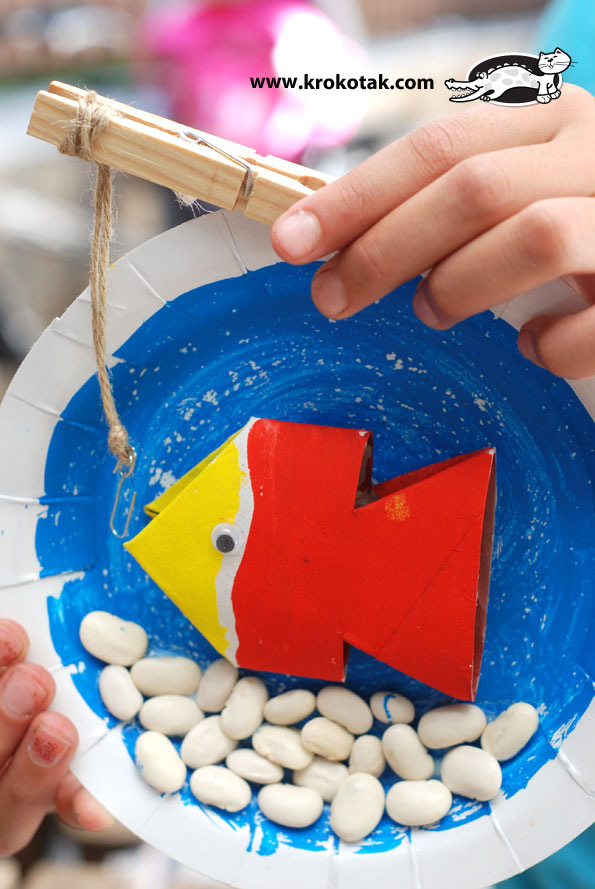 FOIL FISH UNDER THE SEA CRAFT
Tutorial here.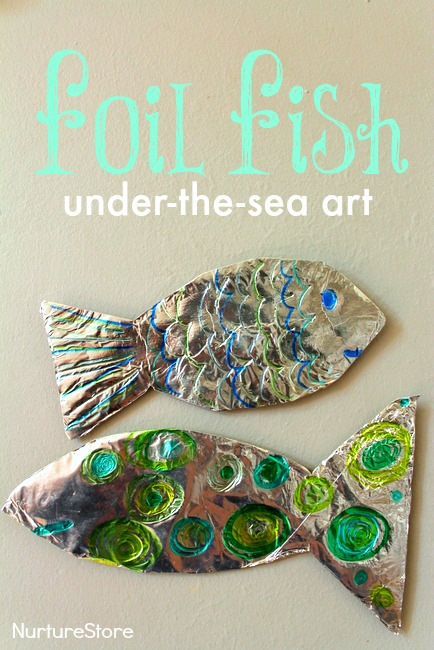 POPSICLE STICK FISH
Colorful angelfish created using craft sticks also called ice cream sticks and lolly sticks here.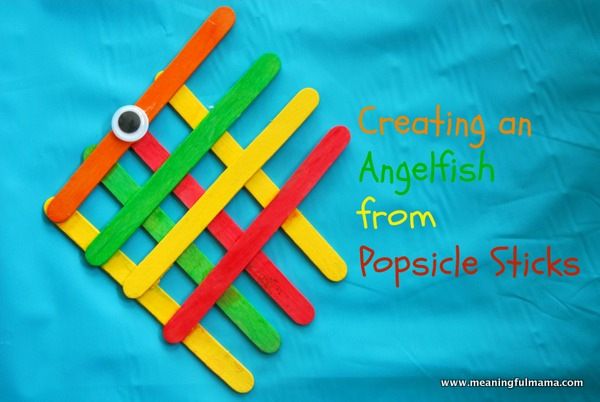 PAPER ORIGAMI FISHES
Tutorial here.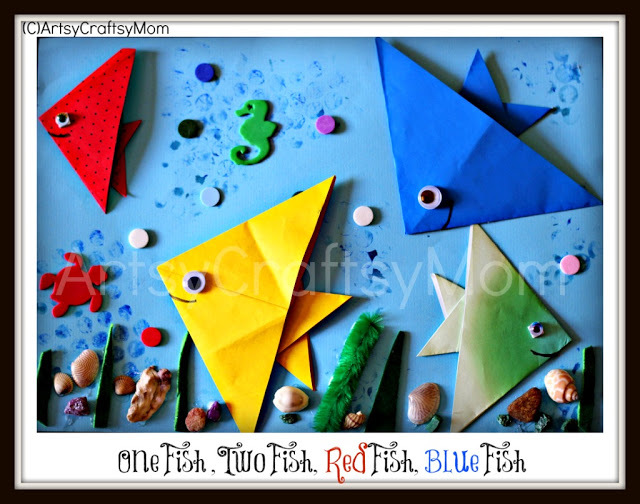 PAPER PLATE SEA ANIMALS
Fun to create and super fun to innovate with colors, project here.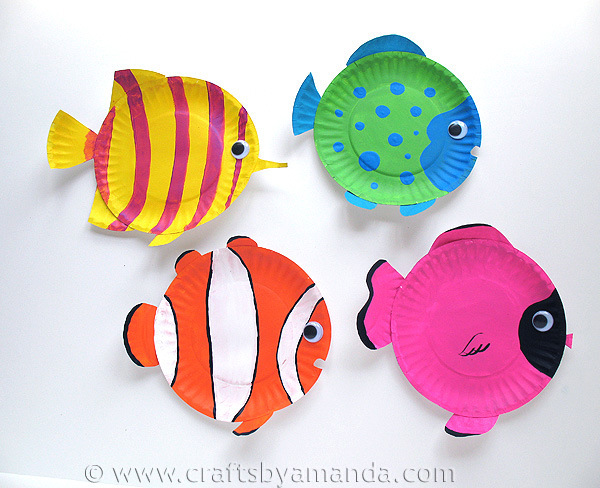 PUFFY PAINT FISH
Paint based activity that involves use of puffy paint using shaving cream and colored glue to create fish craft here.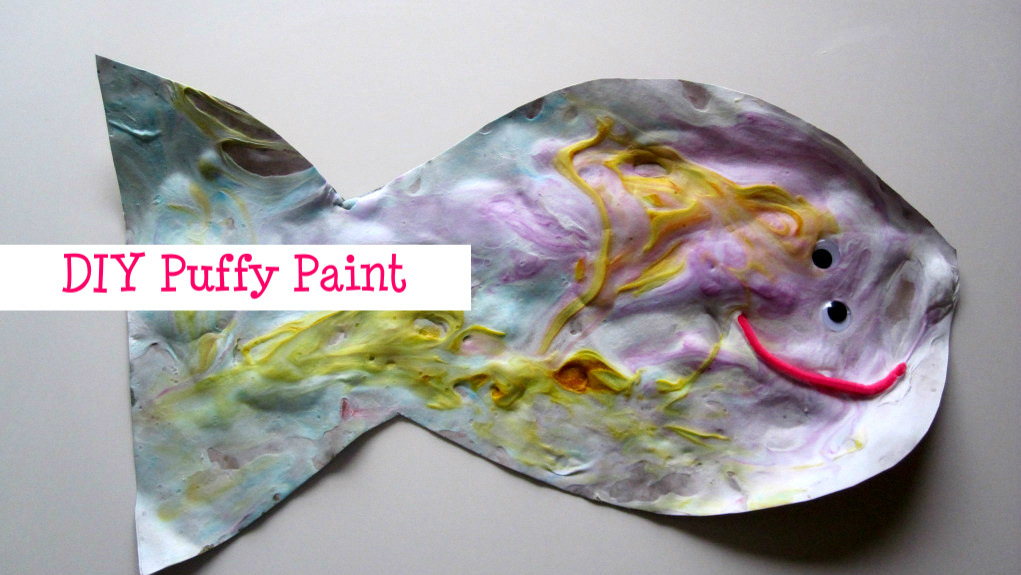 SEA FISH MAGNET GAME
Build and play fishing game with these felt fishes and fishing rods using the instructions here.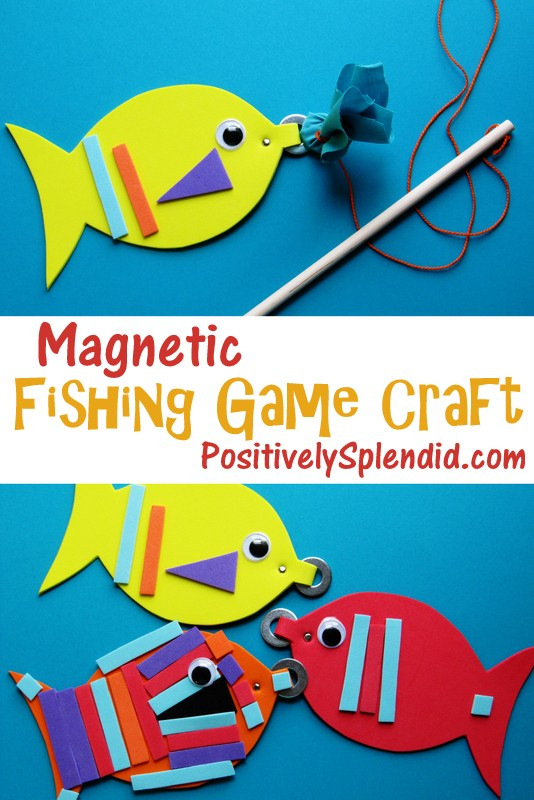 SEA SHELL FISH
Put your seashells collection from last visit to beach to good use into making these cute fish crafts found here.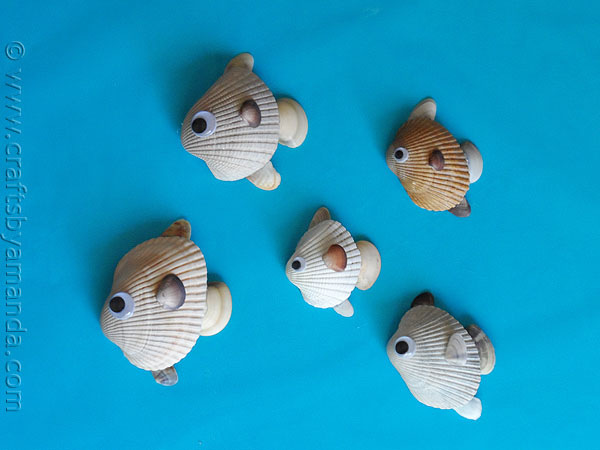 SEA ANIMAL CRAFTS – SHARKS
FEED THE SHARK GAME
Equally fun activity for toddlers and kindergartners that is learning based for teaching kids about alphabets found here.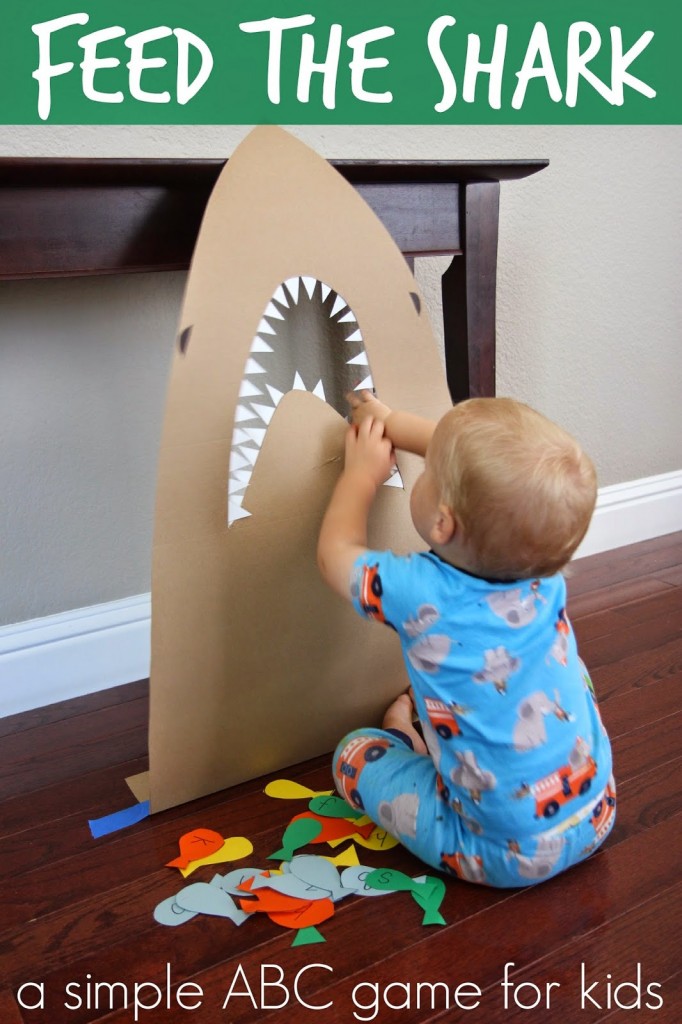 EMPTY PLASTIC BOTTLE SHARK CRAFT
Cut the water and paint with acrylic paints.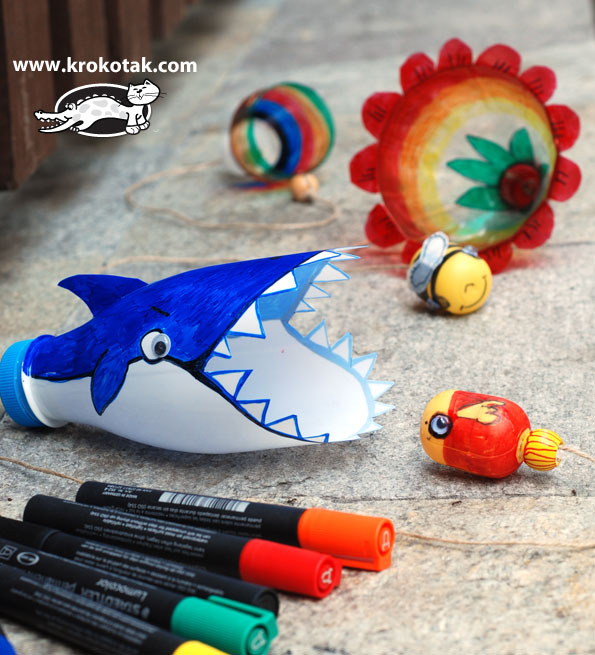 MAKE GOLF BALL SHARK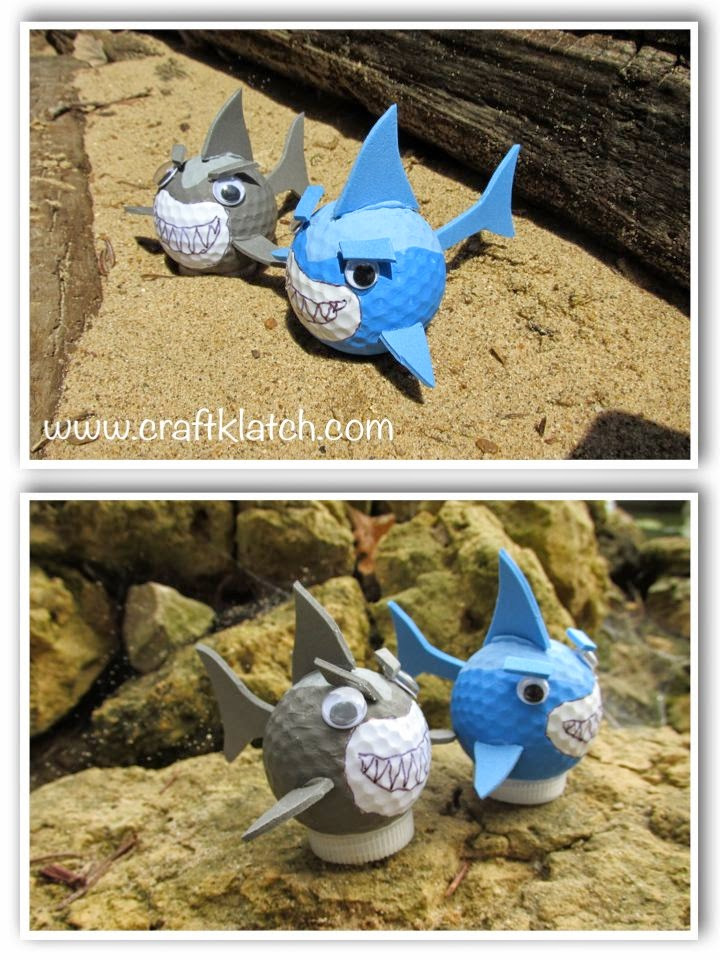 CRAFT STICK SHARK IDEA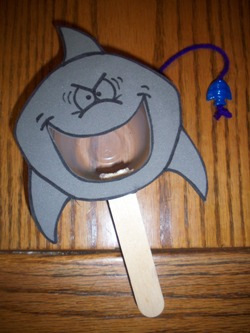 DIY SHARK HAT CRAFT
(unknown source)

SEA ANIMAL CRAFTS – WHALES
CUTE PAPER WHALE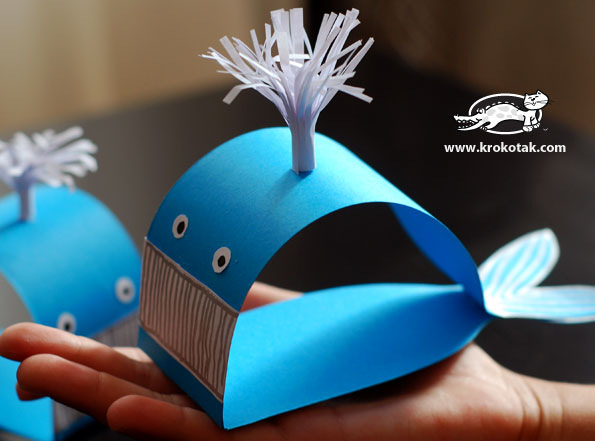 PAPER PLATE WHALE CRAFT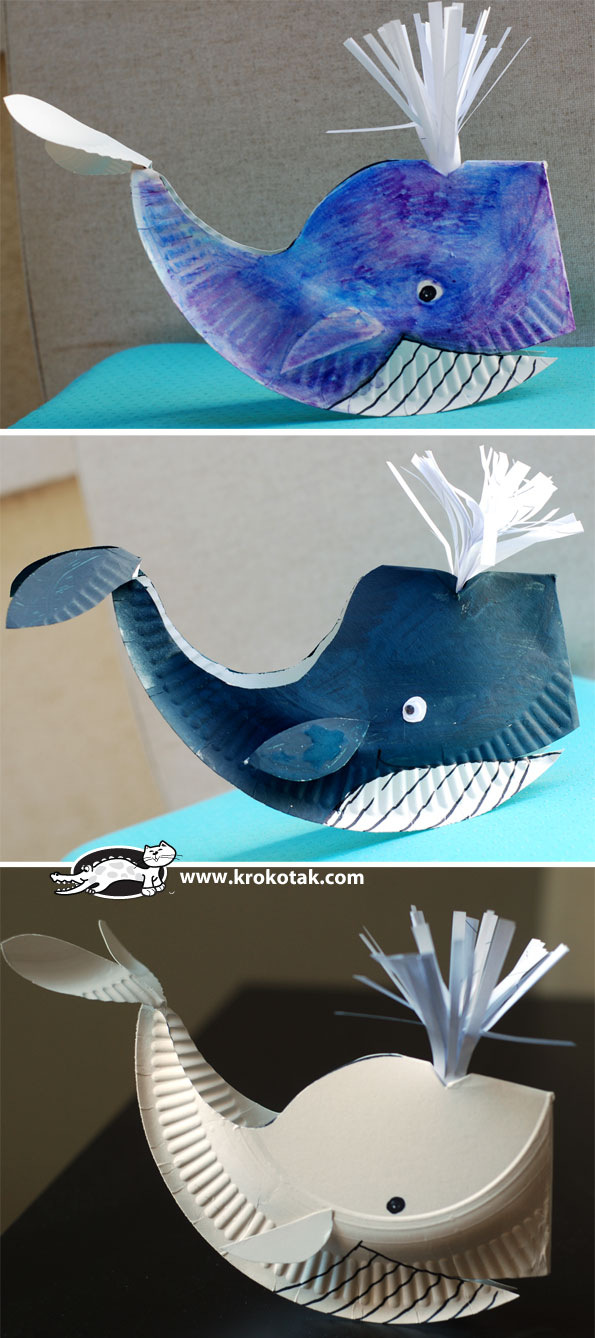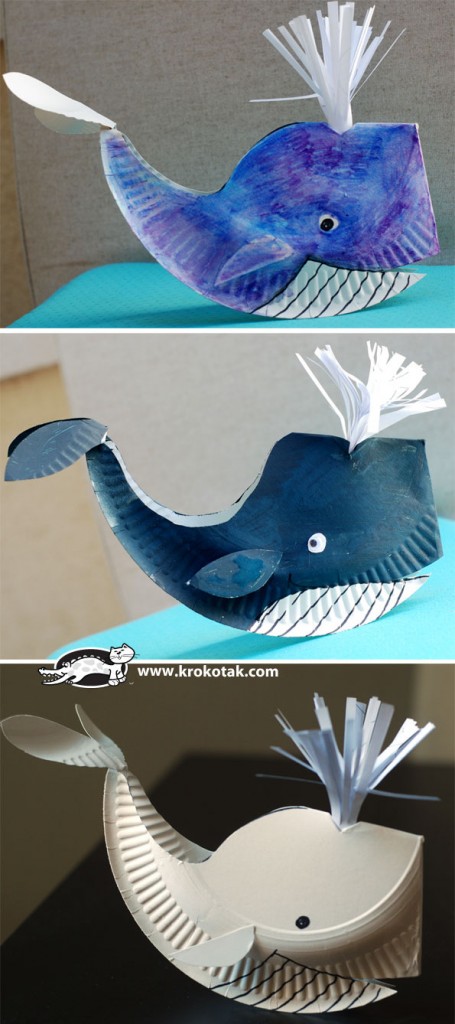 PAPER CUP WHALE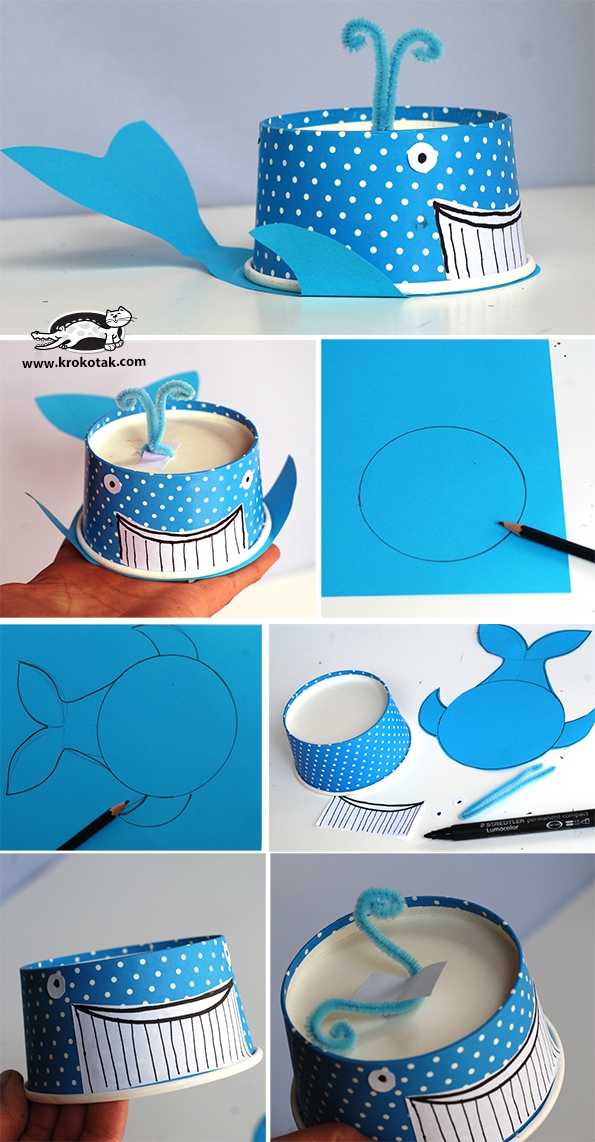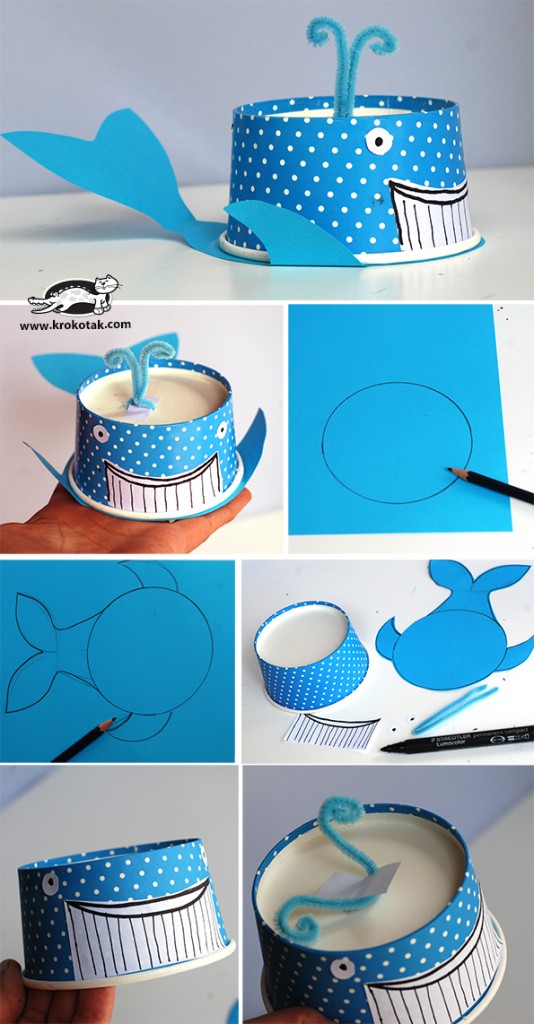 SEA ANIMAL CRAFTS – STAR FISH
BUBBLE WRAP STAR FISH
Create this bubble wrap pattern on paper and cutout the star to make this project here.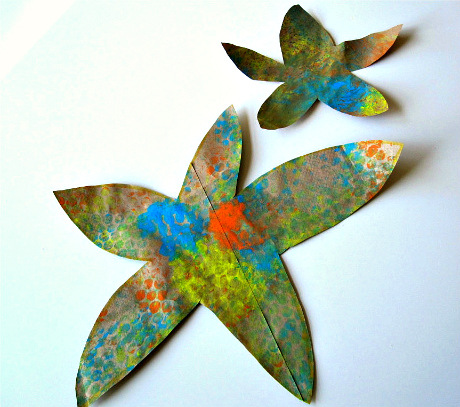 PAPER PLATE STAR FISH
An easy craft that can also be made with styro foam.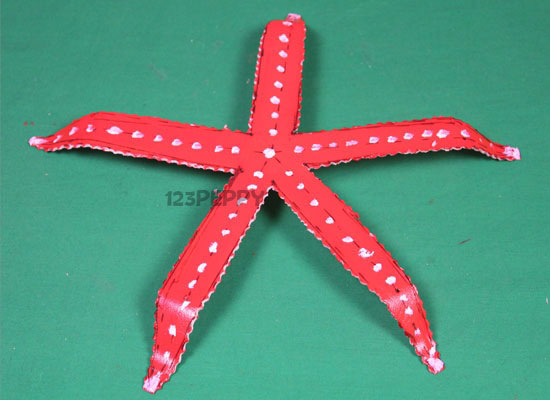 BUTTON STARFISH
Cute sea craft for kids made with buttons and glue gun, here.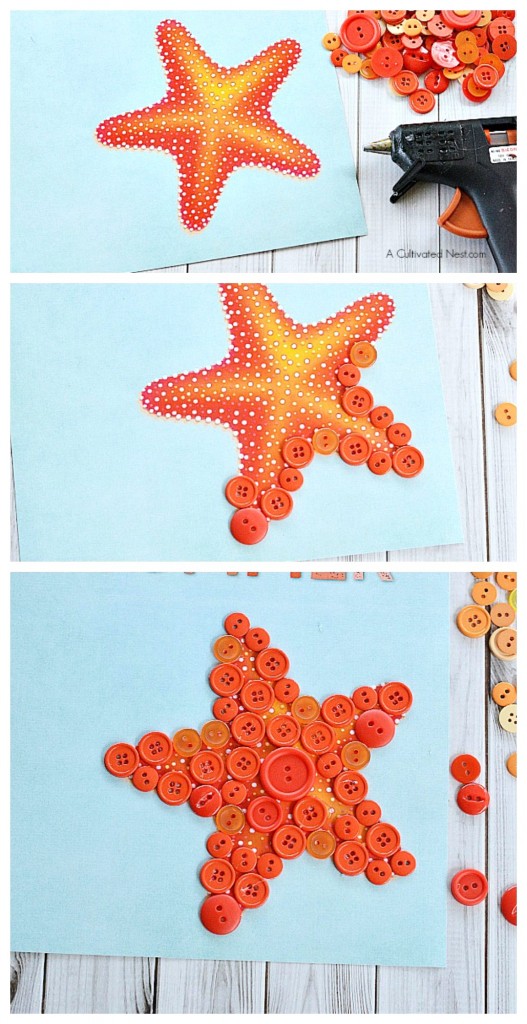 PIPE CLEANER STARFISH
Fun project that involves dipping and pressing pipe cleaner made stamps to create different shapes.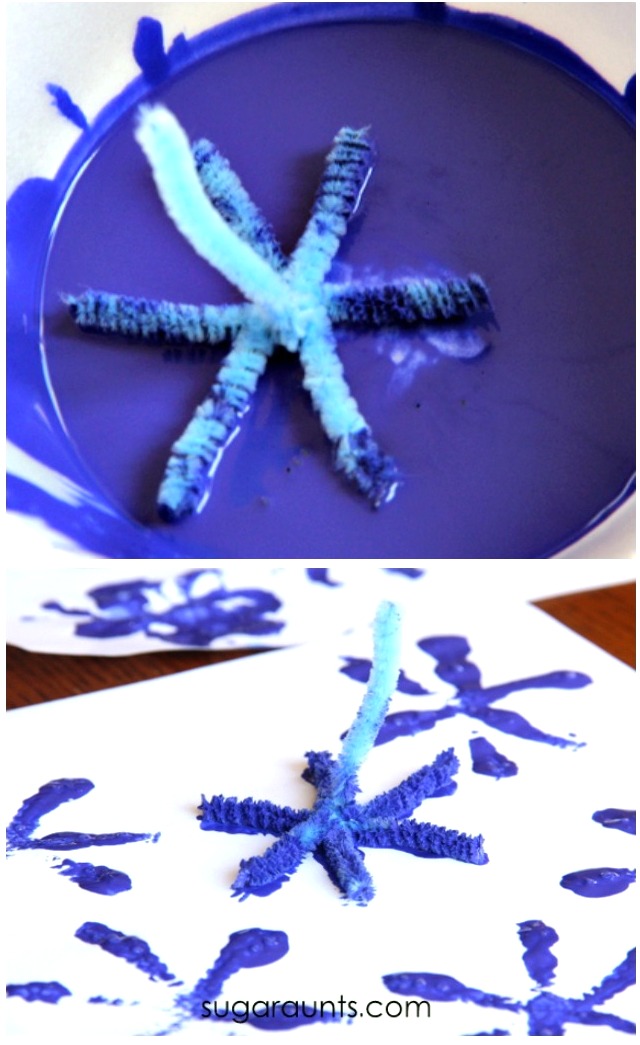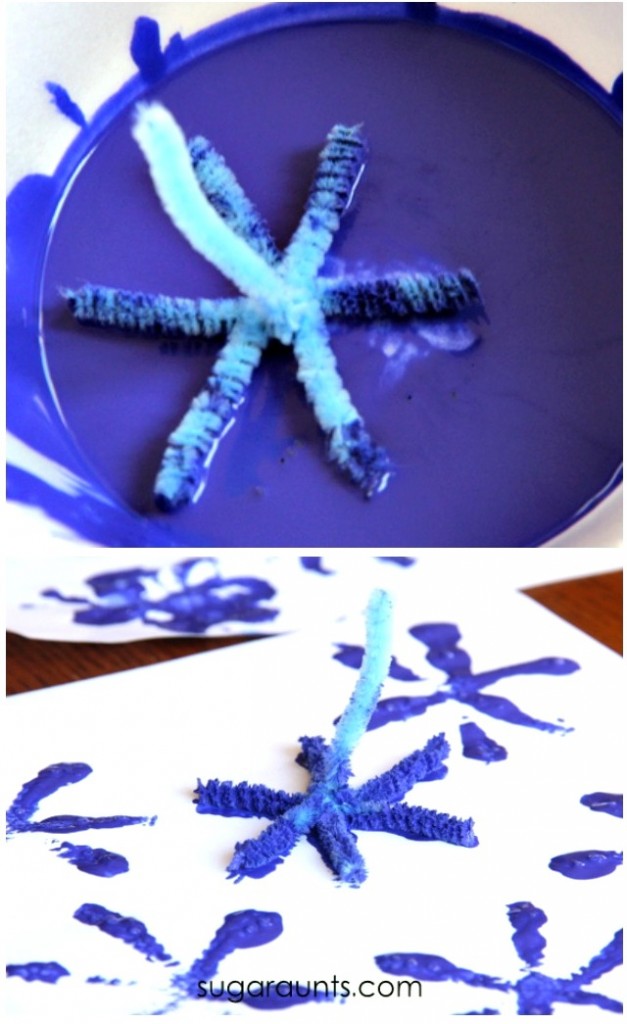 DIY SEA ANIMAL CRAFTS – OCTOPUS
CARDBOARD OCTOPUS
 Give few materials like cardboard, paint and markers to your kids with instructions from here.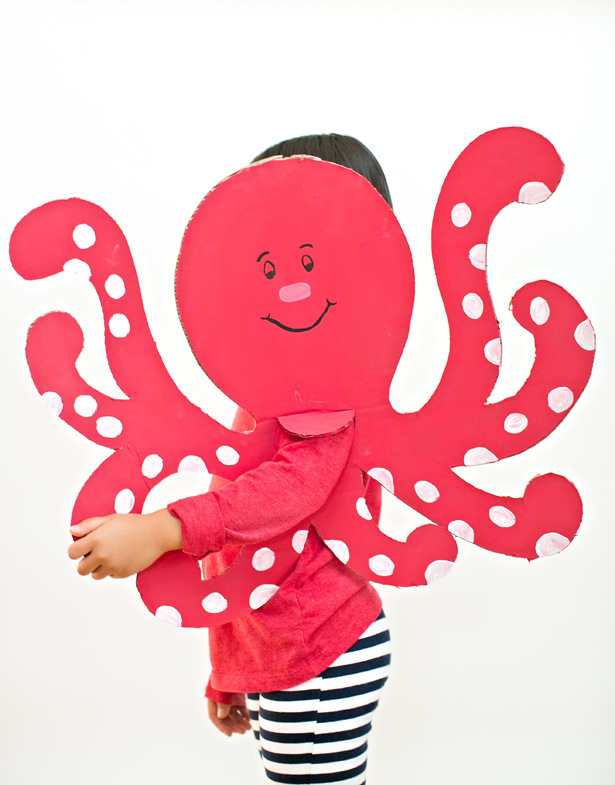 TOILET PAPER ROLL OCTOPUS
tutorial here.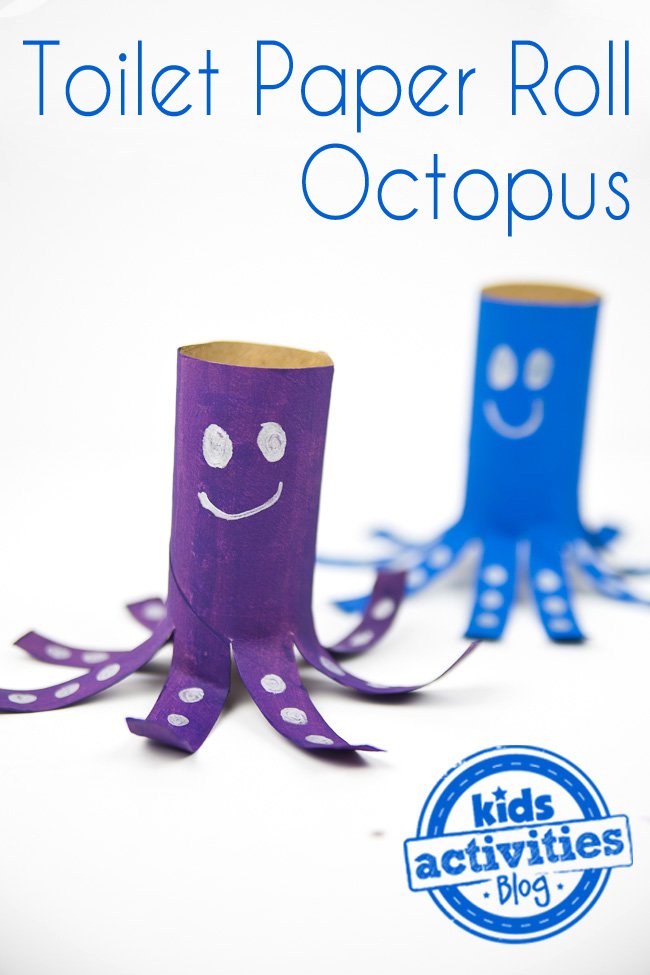 PAPER OCTOPUS
Craft sea animals with kids using crepe paper and colored papers like this octopus here.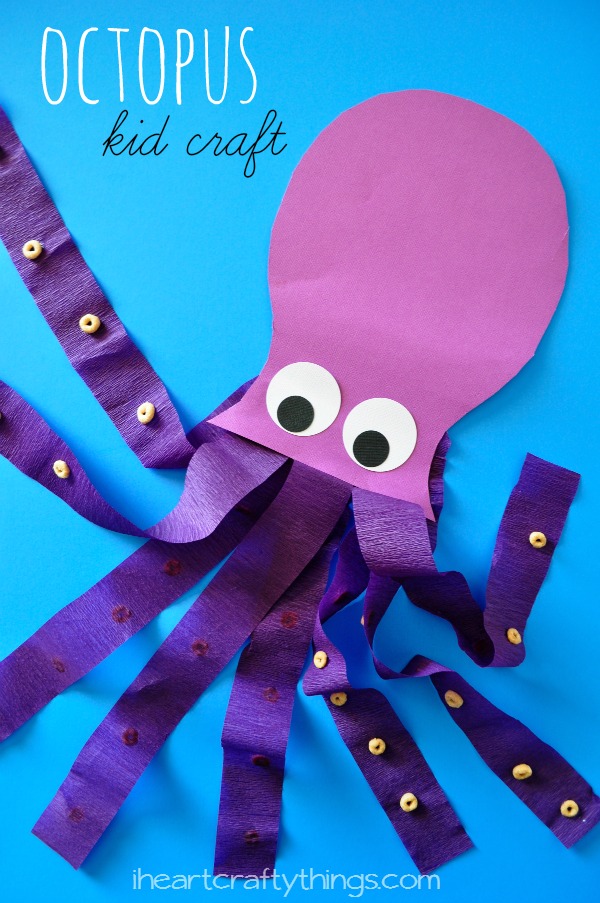 DIY OCTOPUS COSTUME
Find instructions here.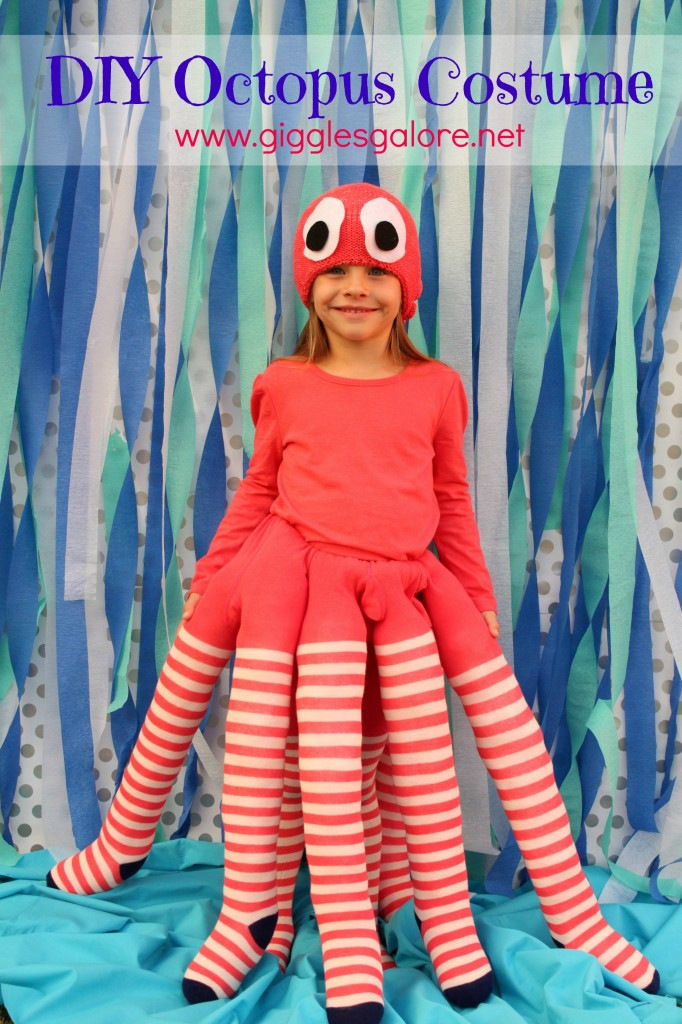 RECYCLE OCTOPUS CRAFT
Create an octopus shaped memory box by recycling empty chocolate and cookie tin and cardboard boxes, tutorial here.
MAKE A YARN OCTOPUS
tutorial no longer available.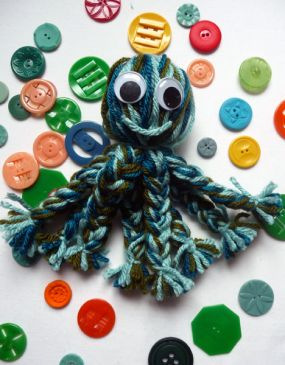 STYROFOAM OCTOPUS
Make a cute octopus sea animal craft with foam ball and paper, found here.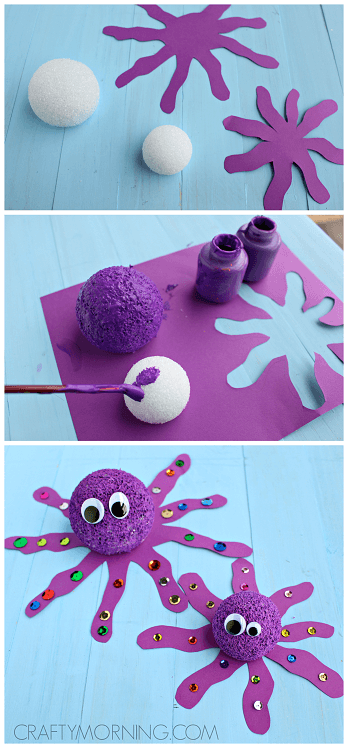 TOILET ROLL OCTOPUS CRAFT
Make this cute ocean creature with toilet paper roll and threads, found here.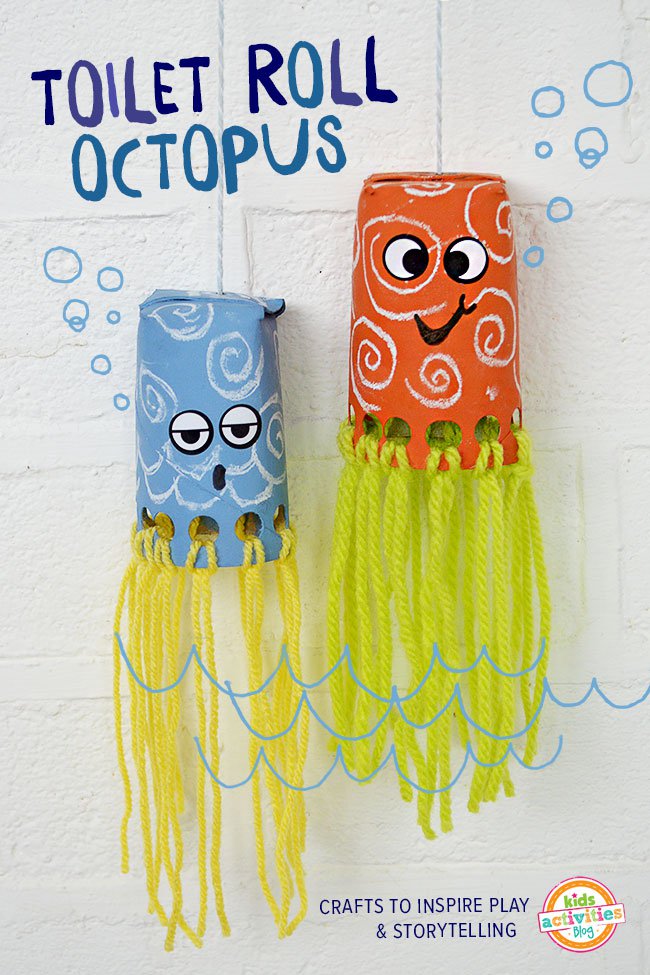 SEA ANIMAL CRAFTS – JELLYFISH
PIPE CLEANER JELLYFISH
Pipe cleaner and styrofoam balls cut in half makes perfect jellyfishes with googly eyes and some paint, project found here.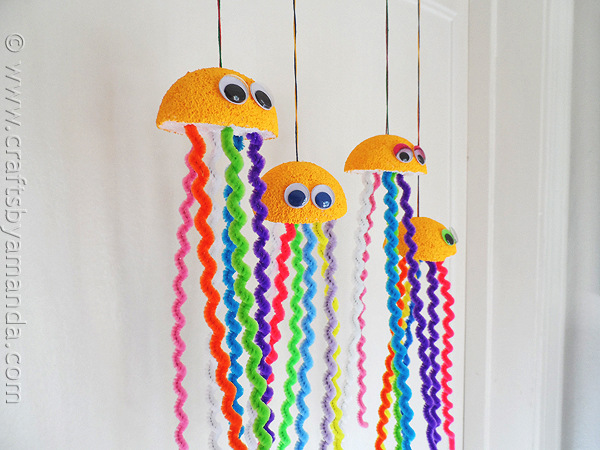 JELLYFISH MIXED MEDIA PAINTING
Tutorial here uses mediums like acrylic paint, pastel, chalk etc to create different effects on the paper.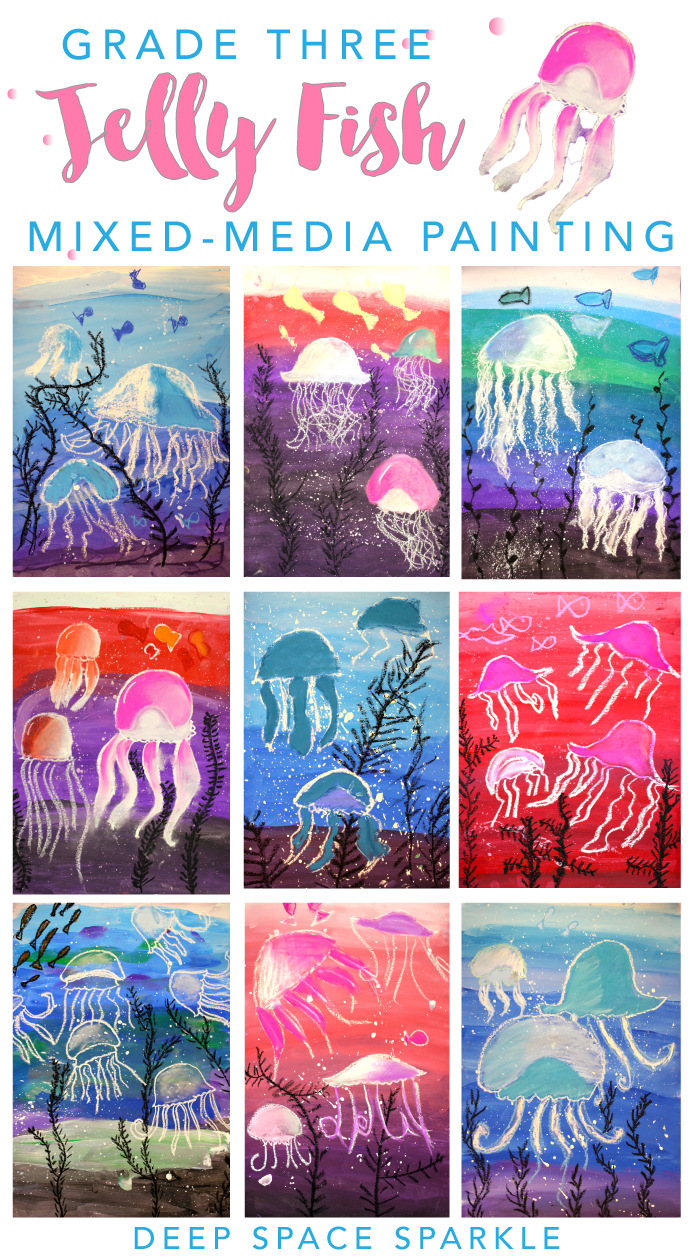 SUN CATCHER JELLYFISH KIDS CRAFT
tutorial here.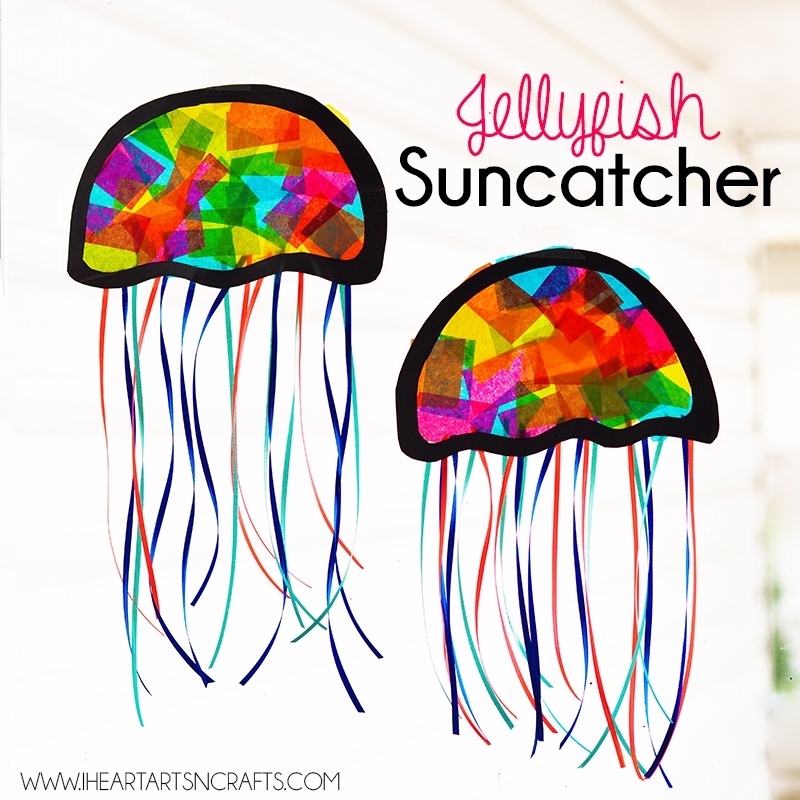 PAPER PLATE JELLY FISH
Ocean themed kids craft here.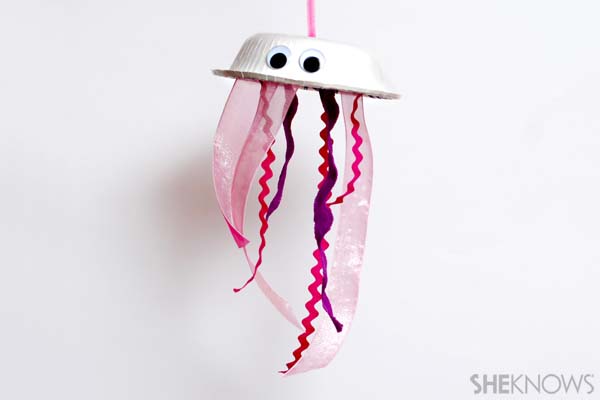 DIY SEA ANIMAL CRAFTS – SEABED
SEA URCHIN KIDS CRAFT
Sea Urchins are really fascinating sea creatures. They are actually carnivorous living animals which look like plants. Kids don't find them on beaches and sea shores, these hidden treasures live under the sea on the seabed, craft here.
DIY SEA ANEMONE CRAFT
Tutorial here.
PAPER PLATE OYSTER PEARLS
Pearl bracelet in an oyster made with paper plate from the ocean floor, tutorial here.
SEA ANIMAL CRAFTS – SEAHORSE
SEA HORSE PAINTING
Painted patterns that can be created using things like bubble wrap, egg carton and sponge etc here.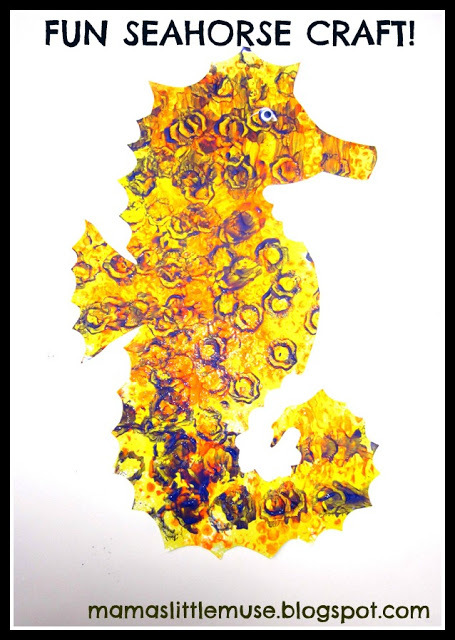 DIY SEASHELL SEAHORSE ART
This project is so neat, it can also be used as a home decor instructions here.
PAPER SEAHORSE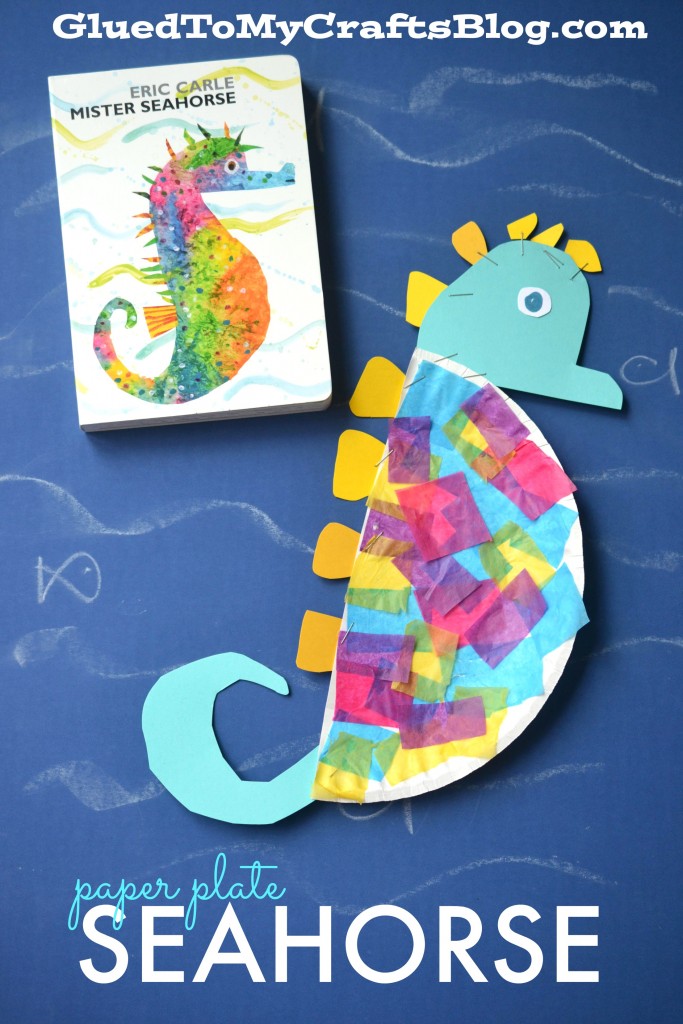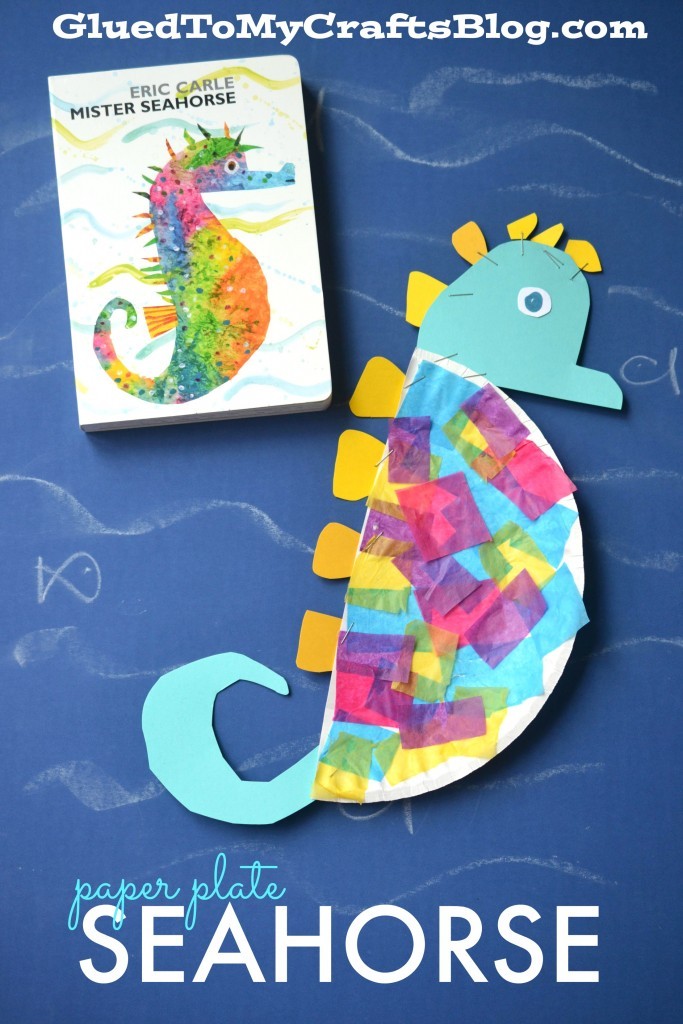 BUTTON SEAHORSE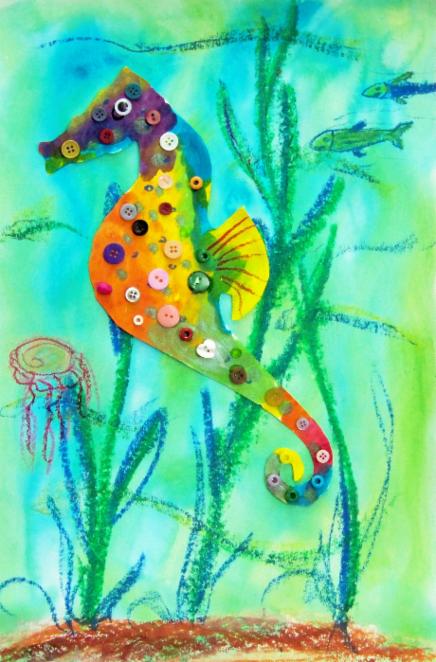 SEA ANIMAL CRAFTS – CRABS
STYROFOAM CUP CRABS
Pipe cleaners and disposable cups makes cute ocean crabs like THESE.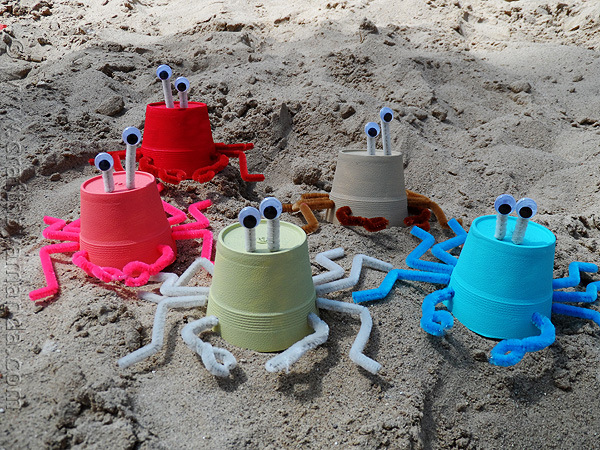 PAPER PLATE HERMIT CRAB
Tutorial to make this craft here.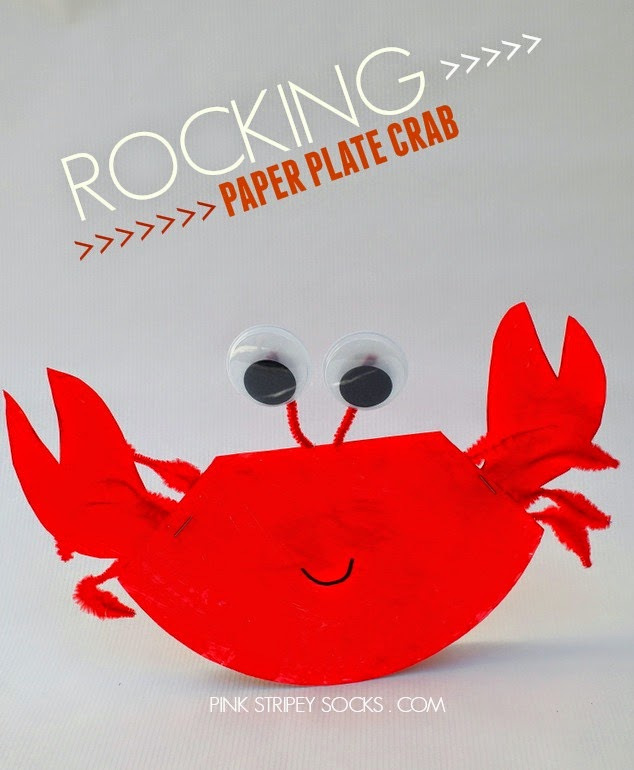 SEASHELL CRABS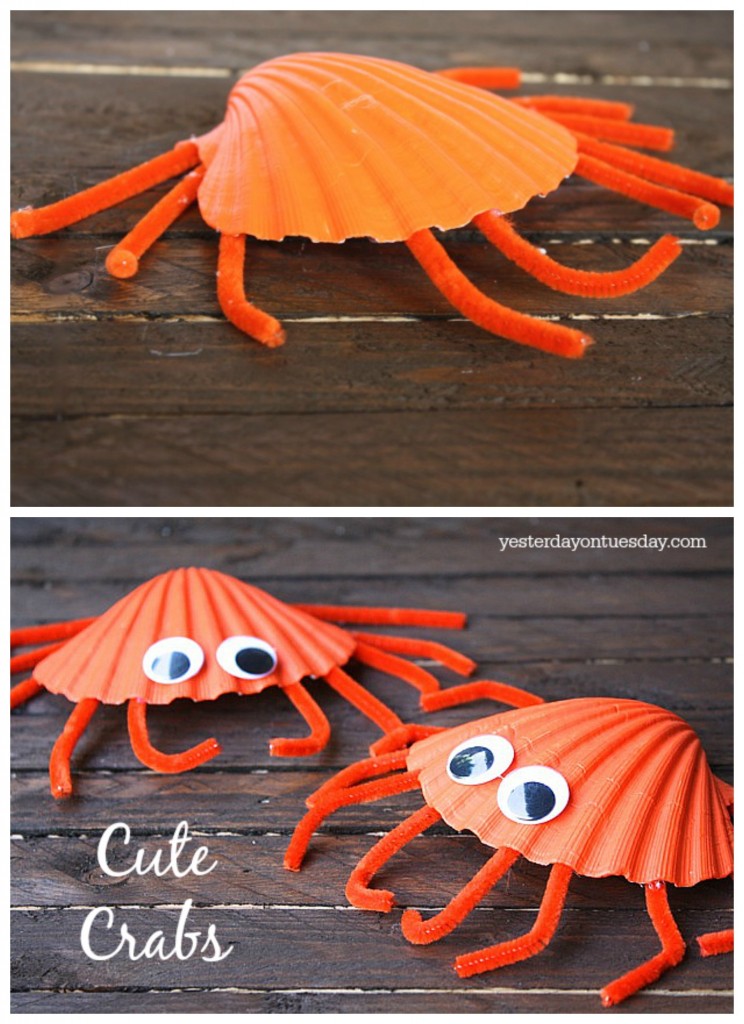 SEA ANIMAL CRAFTS – MERMAID
CLOTHES PEG MERMAIDS
Upcycle clothespin into mermaids using foam and paint, here.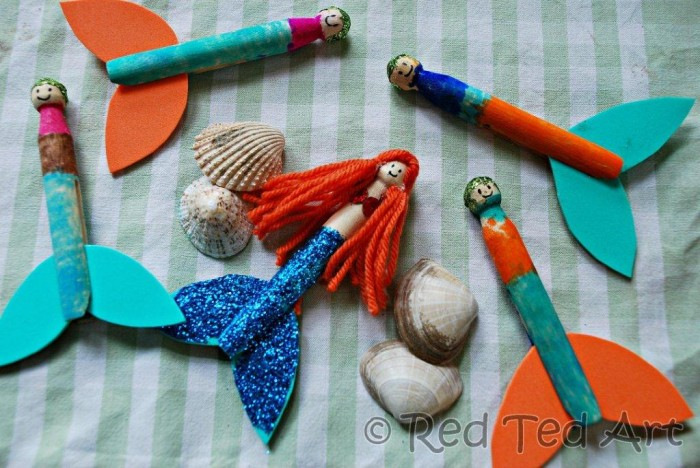 SEA ANIMAL CRAFTS – LOBSTER
LOBSTER PAPER BAG CRAFT
HAND PRINT LOBSTER CRAFT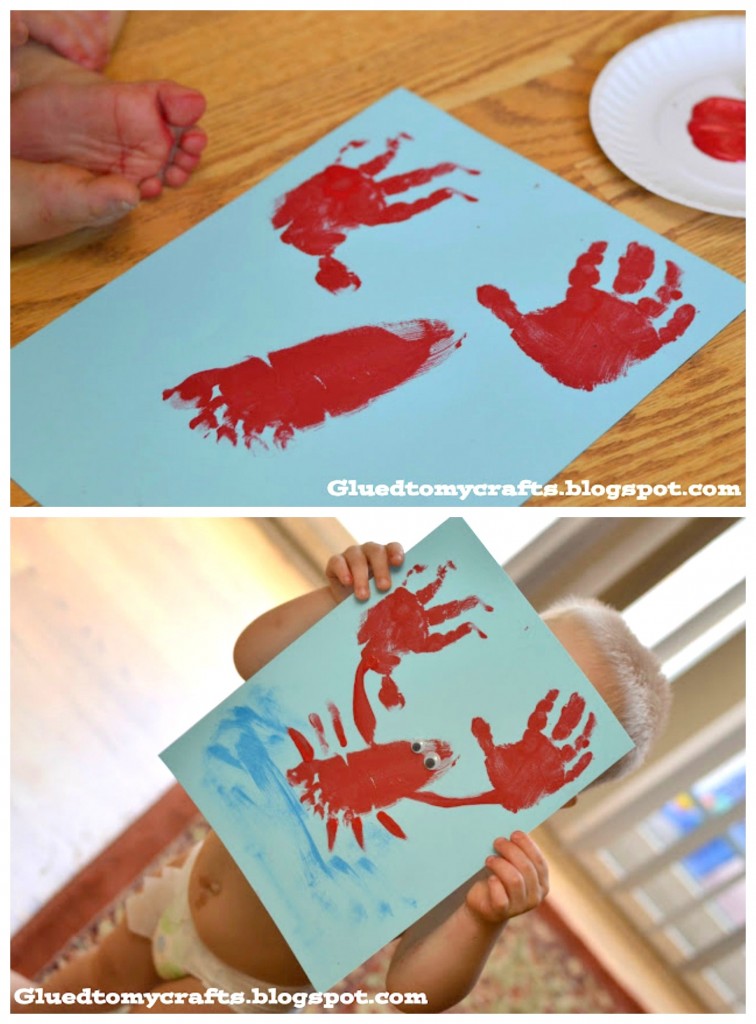 PAPER PLATE LOBSTER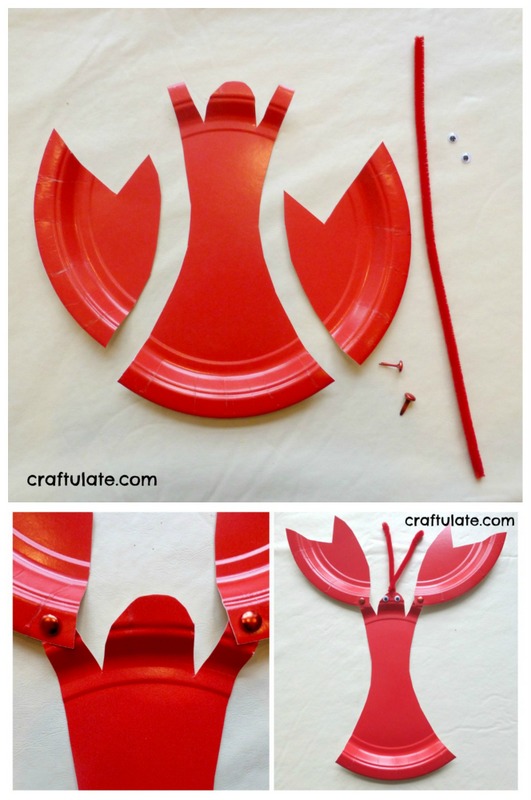 These are the best sea/ ocean animal projects to try with kids.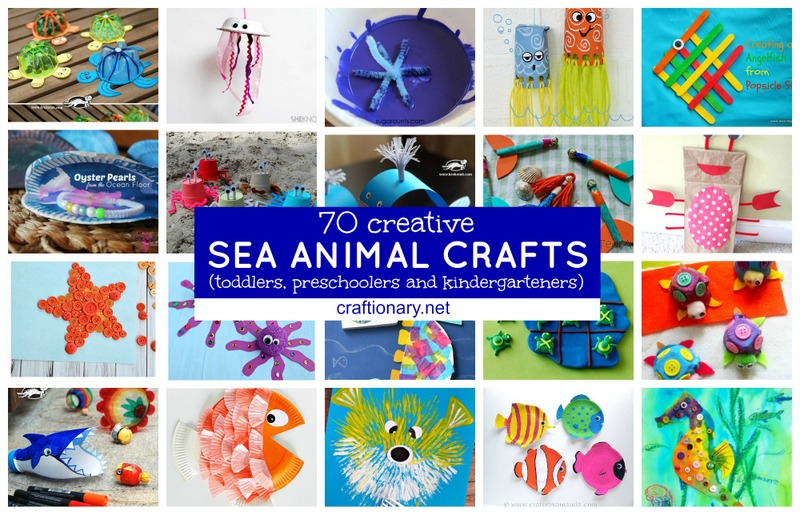 DO NOT COPY, EDIT, SAVE OR PASTE THIS IMAGE. COPYRIGHT OF CRAFTIONARY.NET
Some links were broken and have been removed. If you know the original source please leave a comment. Thank you!
You May Also Like: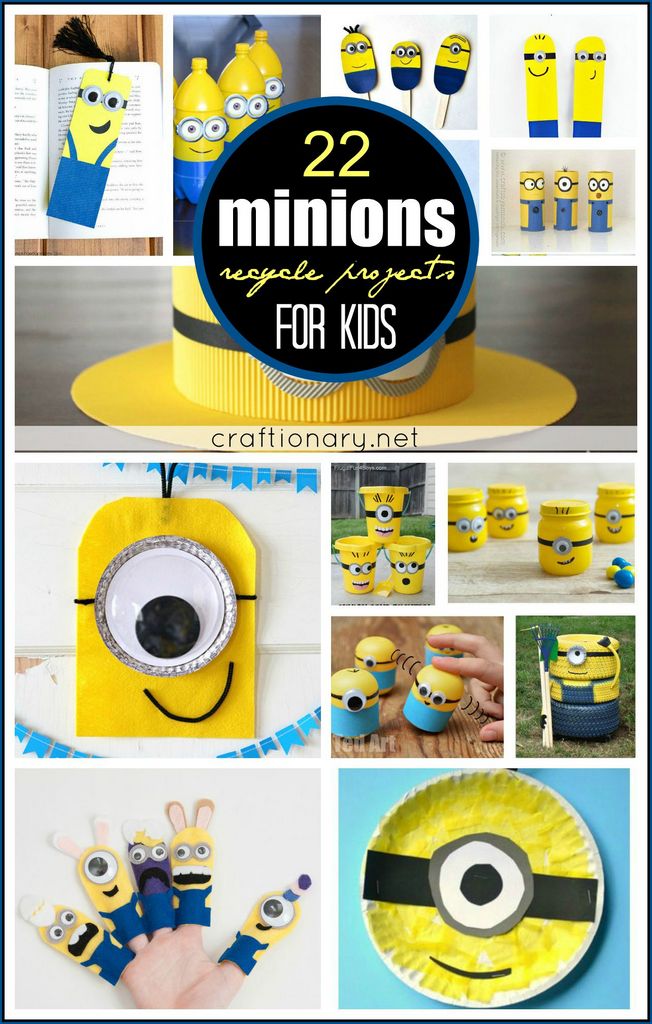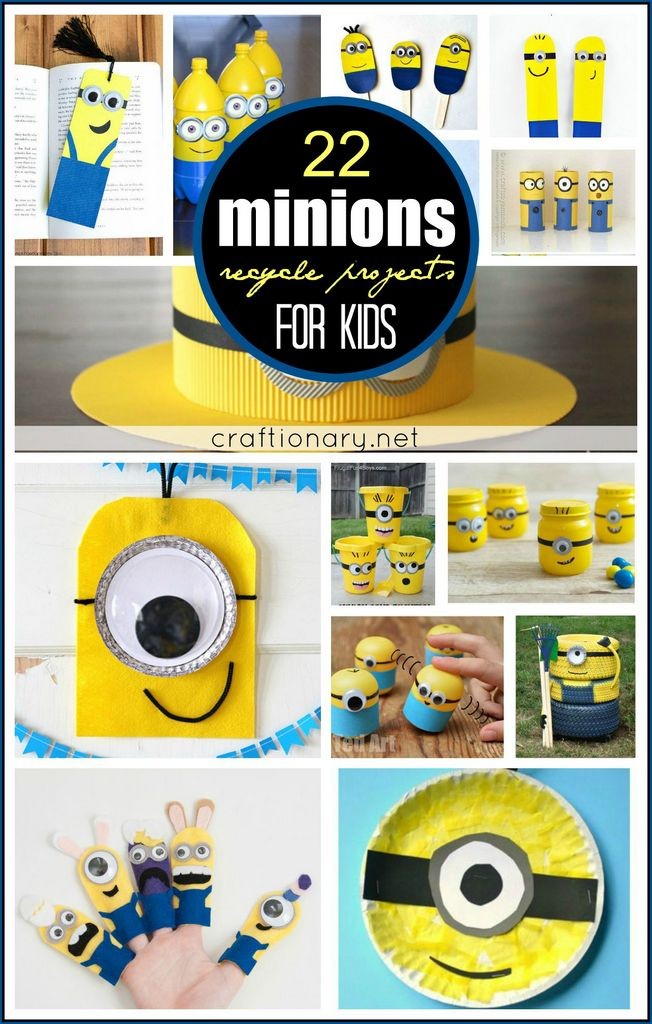 Minion recycle projects for kids HERE.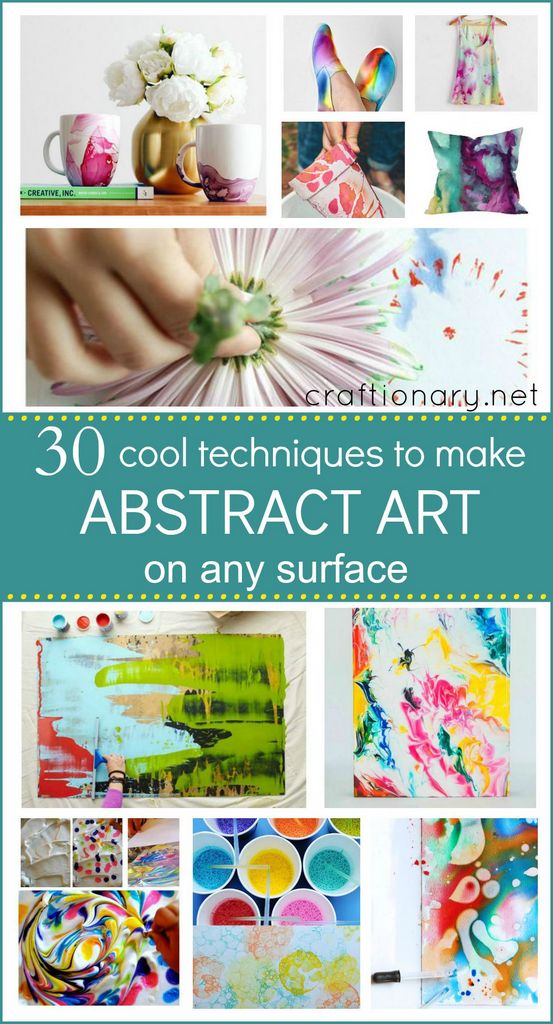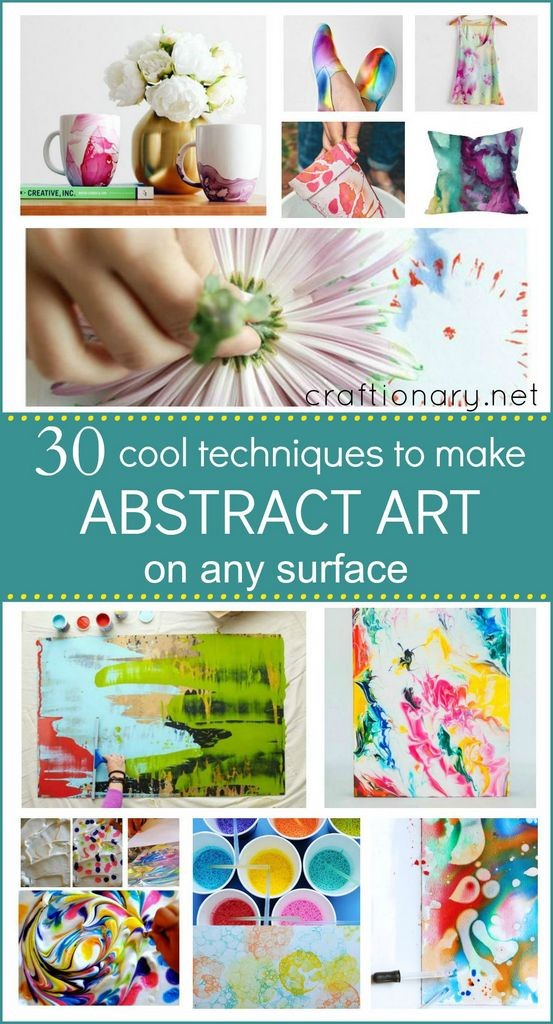 Creative ideas to make abstract art on any surface HERE.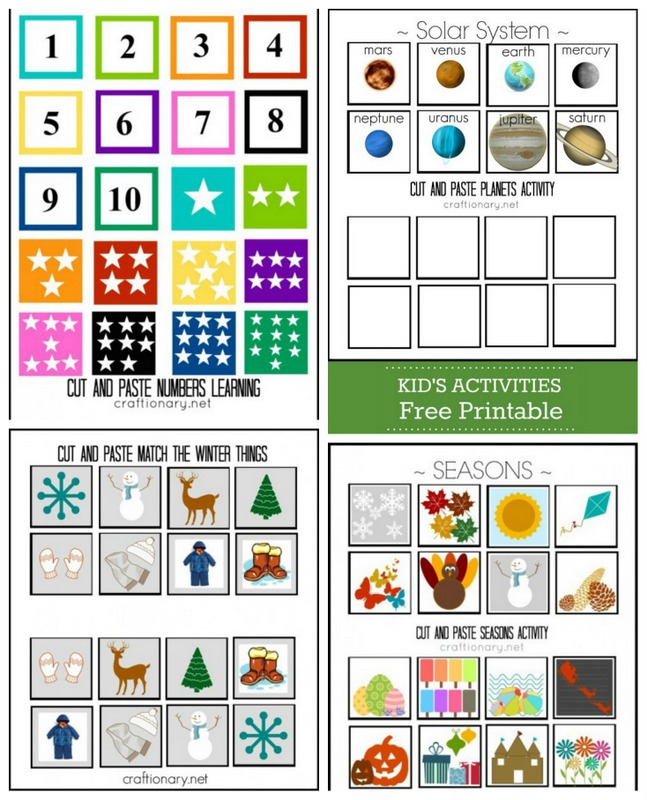 Activity based free printables for kids (preschoolers and kindergartners) HERE.
Are you on pinterest?
Updated regularly whenever I find unique ideas.