This post may contain affiliate links. Please see our full Disclosure Policy for details.
I am sharing how to recycling tin cans to be super useful around the home. Tin Cans are a very easy and inexpensive mean of organization. You can use tin cans to organize your office and craft supplies. And also as planters (flower pots).
Tin cans are so versatile, you can use them in many ways around the house. Think about organizing things by recycling tins in your closet or drawers. You can use felt for padding the insides of tin for such purposes.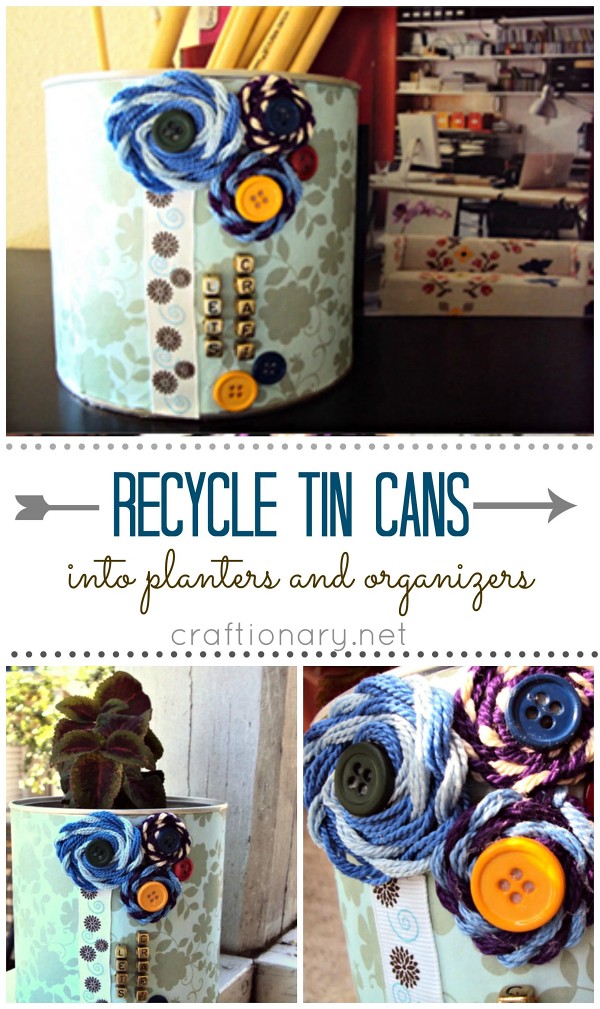 Recycling tin cans
There are many ways to decorate by recycle tin cans.
Use patterned paper, felt or fabric. And decoupage it on the cans.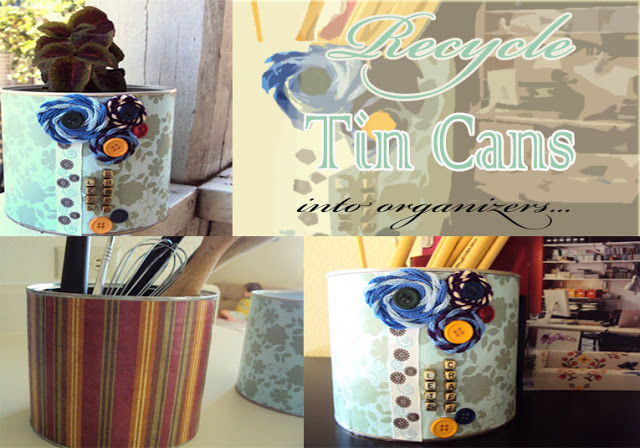 I utilized baby formula cans as planter and organizers.
It does not even need a tutorial. You can decorate it to your heart's desire and have fun.
Here's how I decorated mine:
Recycle tin cans
Decoupage paper
 Choose a paper of your choice.
I went with blue flowers for my crafts room.
And red stripes for kitchen.
Recycle tin cans
Mod podge tutorial
Remove paper from the tins. Roll the paper on the tin can and mark the length and width.
Cut the paper, make sure you leave some extra width. (you don't want to be less on it)
Use foam brush to coat the tin can with mod podge and carefully roll the paper on it.
Once it dries. Coat the paper with mod podge to seal it.
You can use glue to stick the paper to the tin cans also.
However, I would suggest to decoupage the paper on the cans.
As mod podge can be used for sticking and sealing too.
Recycled tin cans
Kitchen tin can organizer
This came in very handy for holding kitchen utensils.
I then decorated my crafts organizer with embellishments.
I used some golden letter beads, white ribbon, colorful buttons and yarn rosettes.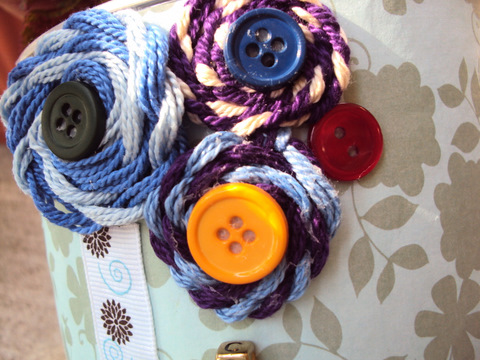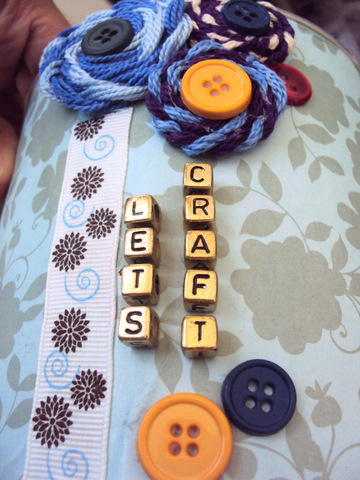 Glue the embellishments to the metal tin. Decorating cans is so much fun.
Use tin cans as planters and flower pots.
Recycle tin cans
Tin can planters
I also used one to organize my craft supplies.
Recycling tin cans
Crafts Tin can organizer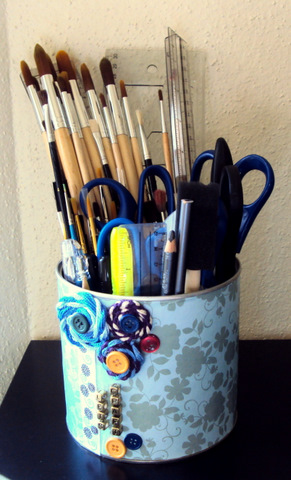 This Tin Can Organizer is so spacious, it can hold tons of things.
I also love this great tin can caddy.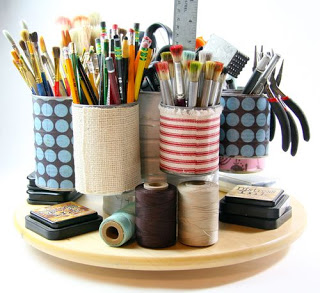 Drill small holes and use wire to hold the cans at various positions on the bigger can.
You can also use super glue to stick them on the bigger one.
Then what's interesting is using lazy suzan as the base.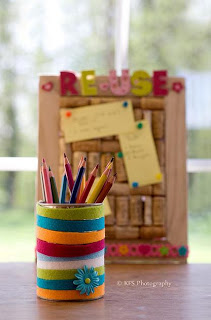 This one is also good for crafting with kids. Cut rings of felt and slide them on the can.
Or use strips to glue on the tin cans.
Make tin can wind chimes by painting the cans and passing rope through them to hang.
I love the paper strips hanging at the end.
Tin Can Windsocks

 You will also like:
Recycle baby food jars
25 Ways to make candles
35 DIY flower vases (creative tutorials)
Looking for more great ideas to Recycle?
Check out tutorials in the category
RECYCLE
.
Are you on pinterest?
These are updated regularly whenever I find unique ideas.