This post may contain affiliate links. Please see our full Disclosure Policy for details.
Find 37 easy and simple solutions to light up your backyard with these DIY backyard lighting ideas and product recommendations.
Installing outdoor lighting can make your DIY garden or outside space even more beautiful and useful. With the correct lighting, you can emphasize significant features, create a warm and welcoming ambiance, and utilize your outdoor living spaces far into the evening. DIY backyard or outdoor lighting ideas are a terrific way to save money while also adding a unique touch to your lighting scheme. There are several inventive and affordable lighting alternatives that you can quickly apply on your own, including string lights, lanterns, and solar-powered fixtures. Making the most of your outdoor living spaces is possible with DIY outdoor lighting, whether you're entertaining guests for a summer barbecue or simply unwinding beneath the stars.
You can choose from a wide variety of outdoor lighting options for your backyard or front yard area. Here are a few well-liked choices:
String Lights
Flood Lights
Solar Lights
Underwater Lights
Lanterns
Torch Lights
Chandeliers and lamps
DIY BACKYARD LIGHTING IDEAS
Solar Lantern Fairy Lights for Outdoor Lighting:
Solar lantern fairy lights are a beautiful and Eco-friendly option for outdoor lighting. They consist of small lanterns strung together on a long cord or wire, powered by a solar panel. They come in a variety of shapes, sizes, and colors.
Outdoor Rope Light: 
Rope lighting is simple to find at your local hardware store, but the one I purchased never appeared nearly this way. The result of properly lighting a walkway may be transformative. I adore this creative concept since it simplifies walking in the dark.
The most popular rope light for landscape lighting projects is white since the clear tubing blends in better with the surroundings when not in use. With the aid of this inexpensive outdoor lighting solution, you can highlight contours, edges, paths, decks, and patios.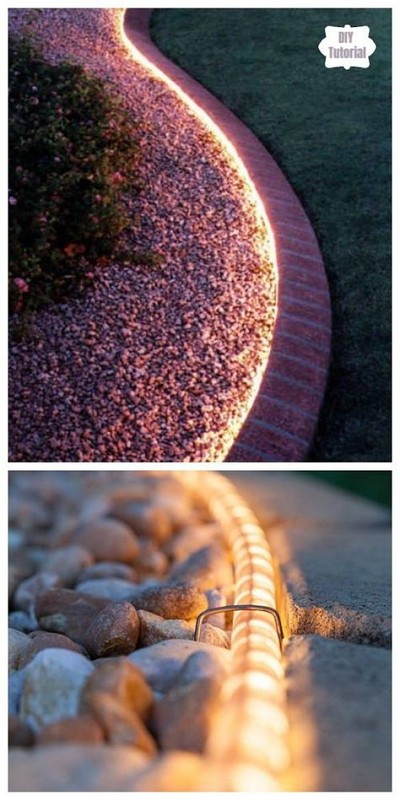 String Lights for Outdoor:
Hanging string lights outdoors is a popular and effective way to add ambiance and style. They come in a variety of styles and lengths and can be hung from trees, posts, or other structures. Amazon has a variety of string lights to suit any taste and budget, with easy-to-follow instructions and all the necessary hardware for installation. Hanging string lights from Amazon is a great option for creating a cozy and intimate atmosphere or adding festive flair to outdoor parties.
DIY Outdoor Floor Lamp and Planter Combo:
Do you want to use your outdoor space more frequently? You won't want to leave if you make an investment in its attractiveness. Never undervalue the impact of some attractive furniture, a lovely plant in a pot, and of course, the soft glow of a lovely lamp. The inexpensive fix for all of your backyard issues is this two-in-one outdoor floor lamp and planter set.
Paper Lanterns:
Hang a group of delicate paper lanterns together to give the impression that they are a permanent fixture and to create a lovely display above a dining table or seating area. The appearance will not only provide your outdoor space a focal point, but it will also produce a gentle light overhead that will essentially serve as an Instagram filter. Amazon has a variety of options for paper lanterns and you can buy easily from there.
Magical glowing orbs and spheres with LED and string lights: 
Use Magical glowing orbs with solar powered string lights for modern lighting and decor. You can also DIY spheres with wire and string lights or use grapevine orbs for a beautiful and enchanting way to illuminate any outdoor space. They come in a variety of sizes, shapes, and colors, and are energy-efficient and long-lasting, making them a cost-effective and Eco-friendly option for outdoor lighting.
Photo by theartofdoingstuff
SIMPLE BACKYARD LIGHTING IDEAS
In-Ground Outdoor Lighting:
To illuminate trees, plants, building walls, and structures, ground lights, also known as good lights or deck lights, are fixed in pavings like patios, decks, or gravel. For DIY enthusiasts, installing these solar lights couldn't be simpler!
In-ground lights are excellent for any landscaping design and a popular option in contemporary and minimalist styles.
Image Source: boscolighting
Tiki Torches Outdoor Lighting:
Path lights and tiki torches both have a post-mounted design that illuminates a vast area. They make a backyard gathering feel that much more enjoyable!
You may purchase conventional tiki torches or make your own tiki torch.
Mason Jar Hanging Lights:
Mason jar hanging lights are a common DIY lighting solution that may give your home decor a warm, rustic feel. Mason jars, LED string lights or candle, hanger, and hanging hook are all required.
Wall Sconces for Outdoor lighting:
Wall sconces are a particularly excellent option for outdoor lighting on feature walls since they combine lighting and decor in one lovely package. Many alternatives offer gentle background lighting, but if you'd like more light, check for cylinder lamps that cast both upward as well as downward beams of light.
Image Source: Delta Lights
Outdoor Chandelier Lights for the backyard:
Hanging a lighting fixture that is often used indoors just outdoors is the only way to properly convey the spirit of indoor/outdoor living. This eye-catching chandelier adds some rustic character to the backyard's covered outdoor living area, and it would look equally great over a table set outside for eating.
Photo by Hinkley
EASY BACKYARD LIGHTING IDEAS
Wood Chandelier on a tree branch:
A wood chandelier on a tree branch is a decorative lighting fixture made of wood and designed to be hung from a tree branch for outdoor events and gatherings. You can find such treasures for less at thrift stores.
Image Source: Pinterest
Backyard Pathway Lighting:
Keep in mind how crucial path lighting is. Use outside lights frequently along paths as a friendly welcome to guests and an efficient safety measure to help direct the way. Since solar lights don't need batteries and turn on at dusk, they are frequently chosen.
Backyard Fireplace Lighting:
DIY Fire pits are a great addition to deck lighting ideas, providing warmth and additional light. They should be built of metal or cast iron and have robust legs, and should not be placed near anything that can catch fire. You can use waterproof and shatterproof hanging string lights or fairy lights for this idea.
Twinkling Festoons above a Hammock:
If you arrange dimmable festoons around a covered patio or deck, you'll be tempted to stay there far into the night, especially if you've added plenty of plush furniture and stylish accents. If your overhead construction is sturdy enough, why not add a hammock as a fun addition?
Image Source: Julie Aldridge
Outline your Deck with Rope light: 
You can do several things using deck lights. The deck spindles can be lit or wrapped with lights. Although that becomes rather tricky, your deck area will be well-lit.
One of the ways we accomplished this was by adding rope lights that were fastened to the railing using cable clips beneath. It was really simple, but it produces excellent illumination on the bottom of your deck and is less in your face.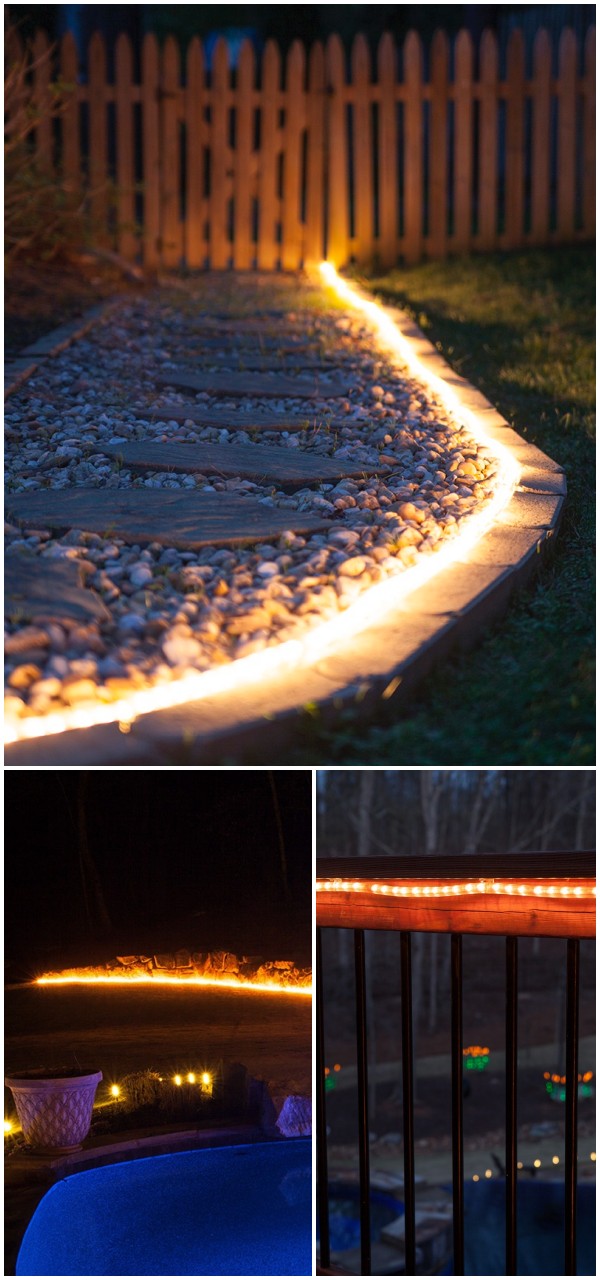 BACKYARD LIGHTING IDEAS  FOR FENCE
Privacy Fence with String lighting:
By suspending individual string lights or waterfall curtain twinkle lights, you may illuminate your privacy fence. This style works well whether the lights are hung vertically or horizontally and doesn't require symmetry or exact placement. Use lights with a dusk-to-dawn timer for a simple ambiance.
Image source: Pinterest
Fence Line border lighting:
Fence lights can be used to illuminate your backyard's perimeter. The privacy fence above and the flower bed below are illuminated by LED lights that are positioned at regular intervals along the fence. Use them to provide a visual indicator of the fence line and to subtly illuminate your landscaping.
Image Source: Nite FX Lighting
Fence Mounted Lights:
Use fence spotlights to illuminate your yard or pool area. The installation of lights on your fence gives downward-directed illumination as opposed to stake lighting, which illuminates the area from above. To create centered beams of light around your area, evenly place your lights.
Image Source: little miracles designs
Built-in Bench Fence lighting:
The designer installed cheap LED lights above the bench to create a consistent flow of light and two decorative lanterns to accentuate the wood fence.
INEXPENSIVE BACKYARD LIGHTING IDEAS
Backyard Security Lighting:
This is wonderful if you want to add some light to your backyard to see any late-night activity and deter potential intruders. It's less suitable for parties. Motion sensor Security lights are frequently solar-powered and can have motion-sensor features to detect passing movement. Many security lights come with a camera as well.
Image source: Pinterest
Wrapping Trees with Outdoor Lights:
Lighting up trees with Christmas lights, etc. This is a fun concept perfect for celebrations and holidays. This can, however, also add the right atmosphere for the brief summer nights.
BACKYARD LIGHTING IDEAS USING PLANTERS
Fairy lights around Trellis and Bush:
Regardless of your decision, try wrapping a string of attractive, weatherproof fairy lights around the building. The greatest climbing plants will come to life at night and the entire effect will only be enhanced.  Select a design that already has lights attached, if you are looking for a cheap option.
Image Source: Lights4fun
Glow in the dark planters:
Use glow in the dark paint to create the effect of the nighttime planters, or buy luminous flower pots from your neighborhood garden center.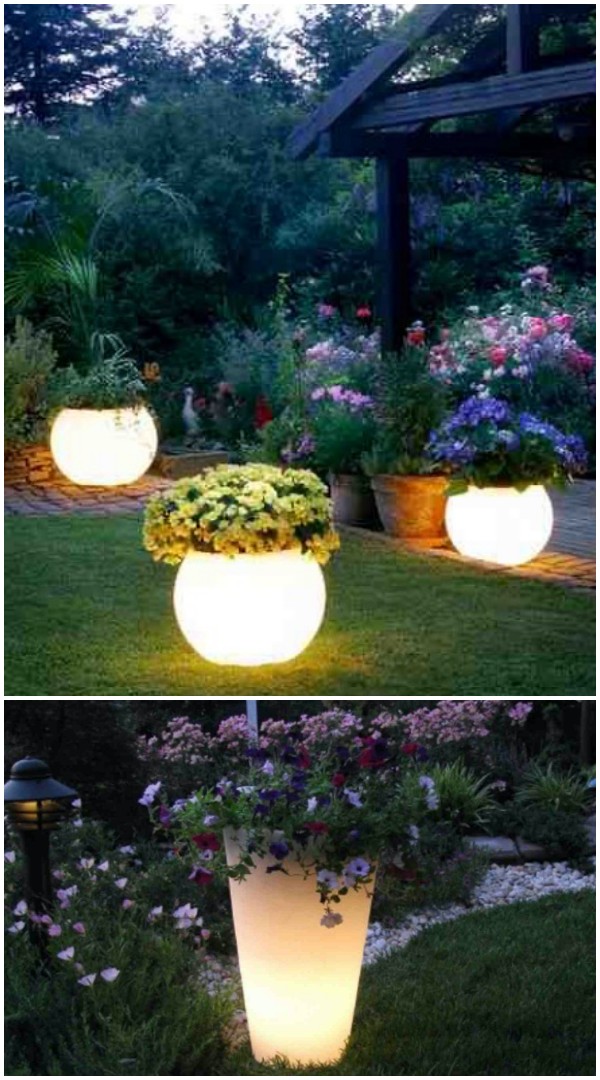 Lighting for Ornamental Grasses:
Ornamental grasses are a great choice for adding nighttime visual impact to gardens. Lighting bulbs can be hidden in a water feature or fixed or pivoting spotlights can be used even without a water feature.
Image source: Plant care today
Vertical Garden lighting:
LED Strip Lighting can also be advantageous for vertical gardens. In this illustration, lights project out from the garden's walls, illuminating the plants. Without becoming lost in the thick tropical foliage that covers every level of the garden.
Image Source: Growing with LEDs
Stake Lights in Flower Bed:
Stake lights are a great option for garden lighting in flower beds, providing subtle light and preventing passersby from accidentally stepping onto the flowers.
Image Source: Home Depot
Garden Warmth: 
The heat produced by the rope lights may also be used to make a heat mat for germination and seed growth. Here's a nice guide from the Vegetable Gardener on how to warm seedlings using rope lights.
CORDLESS BACKYARD LIGHTING IDEAS
Solar-powered bollard lights for the backyard:
Bollard lights are an on-trend choice for 2023, with small and simple designs and built-in solar panels to charge the battery and light up at night.
Umbrella Solar String Lights for Backyard:
Don't make the electrician's call! All you have to do to illuminate your outdoor eating area is attach solar cafe lights to the underside of a patio umbrella or get a solar patio umbrella with lights.
LED Candle Lighting for the backyard: 
Candles are affordable and easy to find and a versatile lighting choice for your yard. Tabletop candleholders or glass torches add class to an outdoor dining space. Choosing between real and LED candles is up to you.
Image Source: Timber Tech
Frame your Outdoor Dining Space: 
For evening outdoor dining, wrap a set of crystal string lights around an over-the-table pole to create a cozy atmosphere. Instantly improve your small backyard, and uplift your mood for something extraordinary.
Plug-in lights are a semi-permanent option, but battery-operated lights work just as well if you're decorating your patio for a special event or don't have quick access to a power source.
Image Source: Terrain
BIG BACKYARD LIGHTING IDEAS
Pool Lighting:
This pool lighting design adds a Hampton-like vibe to the pool lighting with spotlights, up-lighters, and spike floodlights in large open backyard. You can light up the trees bordering the pool with spotlights, while use up-lighters on the house to add a welcoming glow.
Pool Rope Lighting for Backyard: 
Use spotlights to illuminate swimming pools. This can occasionally be an issue because you have to install the lights at the same time as the pool. The lighting also looks very bright in certain places while being useless in others, which is another problem.
Place rope lighting strategically to be useful in this situation. They have a low voltage and you can add them before, during, or after construction. Additionally, it provides more illumination coverage than the pool's spotlights.
Backyard Water Garden Lighting:
Water gardens offer a soothing sound and the opportunity to grow aquatic plants. Lighting features can be used to create a special and creative spotlight, such as symmetrical lighting on either side of a center stepping stone, which harmonizes with other lighting features.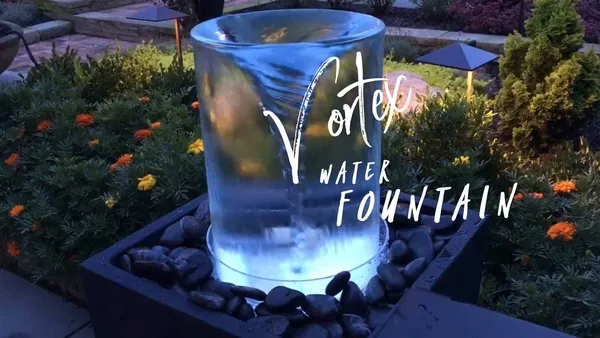 More Ideas: DIY Water Features
Vietnamese Silk Lanterns for Backyard

The most important thing for decorating a backyard with
silk lanterns
is to choose a theme, measure, and plan, select silk lanterns, install string lights, hang the lanterns, create support structures, and use tree branches, pergolas, gazebos, and shepherd's hooks to create a beautiful ambiance. Take safety precautions and protect the lanterns during inclement weather.
DIY Hula Hoop Chandelier
Are you looking to create a cozy atmosphere or to add some decorative flair to your backyard? This Hula hoop fairy chandelier is best to add elegance and charm to your backyard. Here's a fun and creative way to lighten up your backyard with this gorgeous chandelier by hometalk. You can make this handmade chandelier with hula hoop and fairy lights.
Hanging Ball Lights
Not only for large backyard lighting but these Solar LED Light look stunning for small lawns, patios, and even front yard landscape lights for waterproof garden decor with aesthetics. More fantastic ideas for front yard landscaping ideas.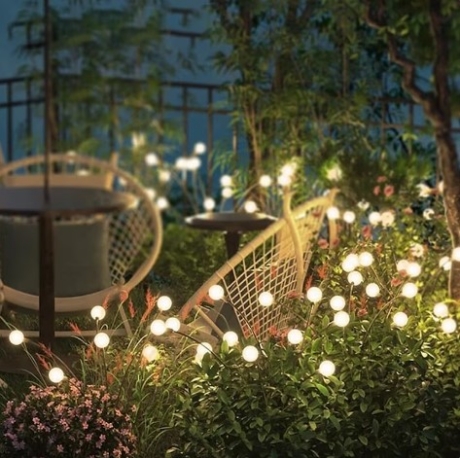 Author: Sarah Samad