This post may contain affiliate links. Please see our full Disclosure Policy for details.
Repurposed old suitcases have become popular in interior design and creative projects due to their unique aesthetics and durable craftsmanship. They add a touch of nostalgia and character to any space, from functional storage solutions to quirky furniture pieces. Whether you're a fan of vintage suitcase decor or looking for creative ways to upcycle, recycle and reuse, exploring the uses for old vintage suitcases can unleash a world of possibilities while breathing new life into these beloved relics from the past.
You can use old suitcases as storage cabinets in the kitchen or as suspended shelves. You can also transform them into original planters that can be used both indoors and outdoors. Its all up to you to come up with ideas that work for you and your home.
You will also like: 30 efficient uses for old picture frames
How to clean a vintage suitcase?
Clean a vintage suitcase carefully to preserve its unique characteristics and materials. Gather necessary cleaning supplies, dust surface, spot clean stains, wipe exterior, vacuum interior, deodorize interior, and dry. Handle the suitcase with care to avoid damaging delicate materials.
How to clean a vintage leather suitcase?
Gather supplies and test a small area. Wipe the surface with a dry cloth or soft brush, clean with a mild leather cleaner, rinse with distilled water, store in a cool, dry place, and consult a professional leather cleaner or restorer for guidance.
How to get rid of the odor in an old suitcase?
Old suitcases can develop unpleasant odors if stored in damp or musty conditions. To help eliminate odors, air it out, sprinkle baking soda, charcoal, or activated charcoal, and use coffee grounds. Vinegar, odor-neutralizing sprays, sunlight and fresh air, and fragrant sachets can help remove odors naturally. Clean the suitcase thoroughly before attempting to remove the odor.
Is there any value in old suitcases?
Old suitcases can be valuable due to their rarity, brand and designer, material and construction, and condition. Well-preserved suitcases with minimal wear, intact handles, functional locks, and clean interiors tend to have a higher value. It is important to consult an appraiser, vintage expert, or antique dealer for an accurate assessment of its value.
Where to buy vintage suitcases?
Buy a vintage suitcase from antique shops, flea markets, thrift stores, online marketplaces, estate, auctions, garages, or yard sales. Research the condition, authenticity, and pricing of the suitcase before purchasing it to ensure a fair deal. Visit antique shops, flea markets, thrift stores, online marketplaces, estate sales, auctions, garage sales, or yard sales.
Where to donate old suitcases?
The most important option for donating an old suitcase. These include Thrift Stores and Charitable Organizations, Homeless Shelters, Refugee Centers, Foster Care Agencies, Community Outreach Programs, Women's Shelters, Schools, and Youth Programs. It is important to contact these organizations beforehand to confirm their acceptance of suitcase donations and to inquire about any specific requirements or restrictions they may have.
How can I use my old luggage as a decoration?
Old luggage can be used as decor to add a touch of vintage charm and unique style. Creative ideas include a Vintage Stack, Display Shelf, Coffee Table, and Storage Ottoman. Stack two or more suitcases to create an eye-catching side table or bedside table. Repurpose an old suitcase into unique and visually appealing decor pieces. Clean the suitcase thoroughly and ensure it is structurally sound before using it for decor.
What can I do with an old Samsonite luggage?
Old Samsonite luggage can be repurposed for storage, donating it to a local charity or thrift store, selling it online, repurposed for DIY projects, up-cycling, and stored sentimental or valuable items. Assess the condition of the luggage before deciding on the best course of action and consider recycling it if it's damaged beyond repair or poses a safety risk.
How do you reuse a broken suitcase?
Reusing a broken suitcase can be a creative and practical way to give it a new purpose. Ideas include storage containers, decorative shelves, pet beds, coffee tables, plant holders, picnic baskets, craft organizers, and children's play sets. Use your creativity and adapt the ideas to suit your needs and the condition of the suitcase.
What can you do with an old vintage suitcase?
Old vintage suitcases can be repurposed in various creative and decorative ways. These include decorative storage, side tables, display shelves, vintage wedding props, pet beds, travel-inspired decor, DIY bar carts, and vintage photography props. Before repurposing, consider the condition of the suitcase and any necessary repairs or cleaning.
How do you make a vintage suitcase into a table?
The most important details are the materials needed to turn a vintage suitcase into a table. This process involves cleaning the suitcase, removing the interior, reinforcing the bottom, attaching a wooden board or sturdy base, painting, staining, or applying a clear coat, adding a glass or wooden tabletop, and personalizing it with decorative elements. Take safety precautions and consult with a professional if necessary.
How to paint a vintage suitcase?
Painting a vintage suitcase can be a fun and creative way to personalize and update its appearance. Materials needed include a vintage suitcase, sandpaper, primer, paint, paintbrushes, painter's tape, and a clear coat or varnish.
Preparation includes cleaning the suitcase, removing stickers or decals, sanding the entire surface, applying primer, and painting the suitcase with acrylic or spray paint. Optionally, decorative elements or designs can be added, and a clear coat or varnish can be applied to protect the paint. Test any paint or coatings on a small area of the suitcase first.
How to make a vintage suitcase?
The process of making a vintage suitcase requires expertise in leather and metalworking, materials and tools, cutting and shaping, and molding. Repurposing an existing suitcase or finding a vintage suitcase at antique shops or online marketplaces may be more practical.
Reinforcing the corners and edges, assembling the frame, adding compartments and pockets, attaching hardware, lining the interior, adding handles, straps, or decorative elements, and finishing touches.
Things to paint on an old suitcase:
Painted vintage suitcases can have their own unique aesthetics. You can paint vintage-looking flowers, typography, graphics, and even symbols that have significant travel value for you.
You will also like: 50 Easy things to paint on canvas
How to paint a vintage suitcase? Use outdoor acrylic paints. Paint the design hand-free using paintbrushes or try stencils. Add finishing touches with hand-painted accents, decorative trims, or accessories like travel stickers for a scrapbook feel. Seal the paint with a clear sealant or varnish. Be careful when painting an old suitcase, especially if it has significant value or historical importance.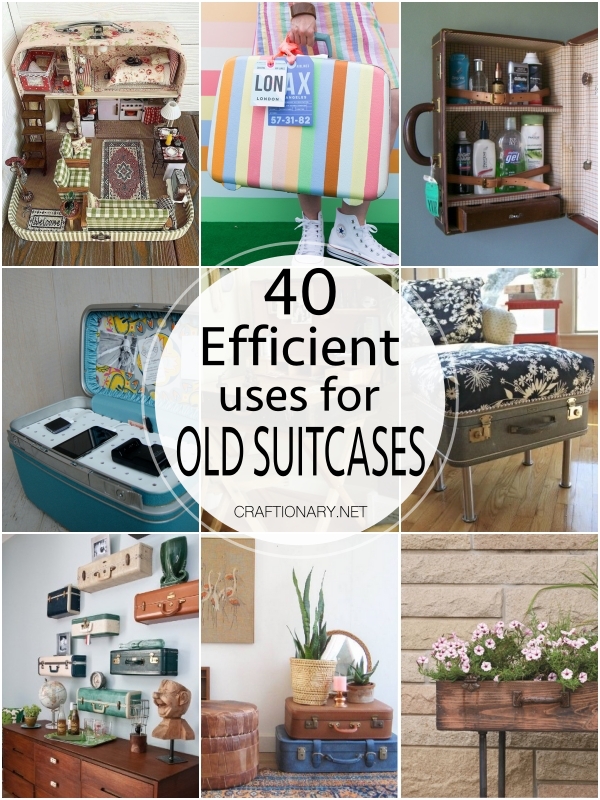 Efficient uses for Vintage Suitcases:
Vintage Suitcase Coffee Table:
You have a level surface and an excellent graphic appearance for a vintage suitcase table. Let's repurpose your old suitcase; just bring it out for a coffee table in the middle of your living room.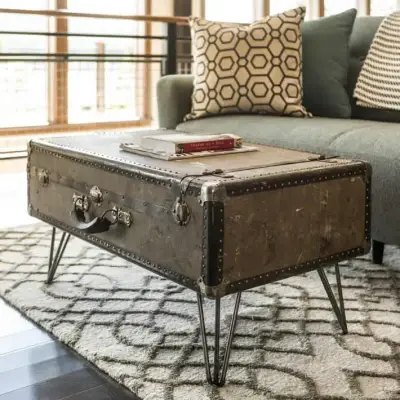 Creative Antique Suitcase Tray:
A tea tray is a stylish and unique piece that combines the charm of vintage suitcases with the functionality of a tea serving tray. It is a conversation starter and the perfect addition to any tea party in a tea room.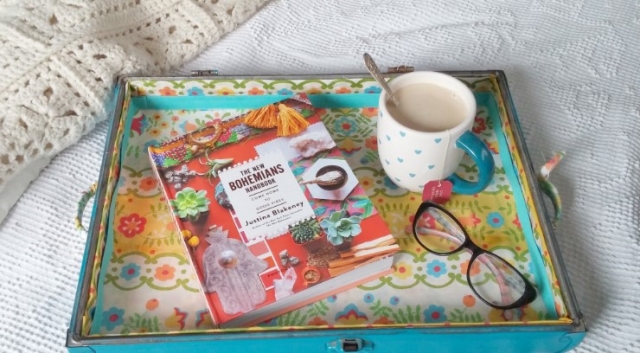 Whimsical Vintage Suitcases with travel stickers:
The visually attractive and historical suitcase with travel stickers serves as a reminder of the large and wonderful world still waiting to be discovered while also inspiring imagination and discourse.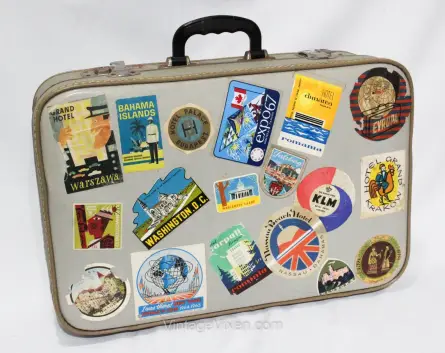 Vintage Suitcase Picnic Table:
The picnic table is a multipurpose piece of furniture with a classic look that makes it perfect for outdoor activities like picnics and camping vacations.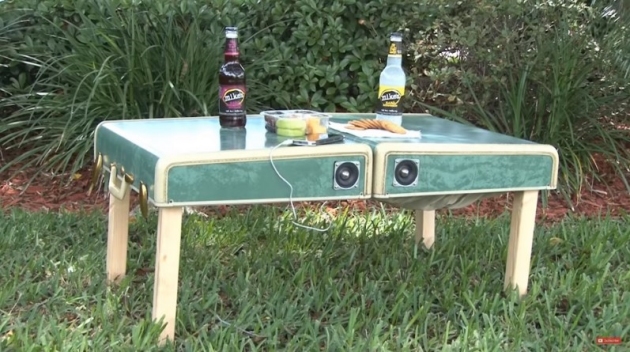 Vintage Suitcase Writing Desk:
This writing desk is a cute and useful item that blends the appeal of old suitcases with the practicality of a writing surface.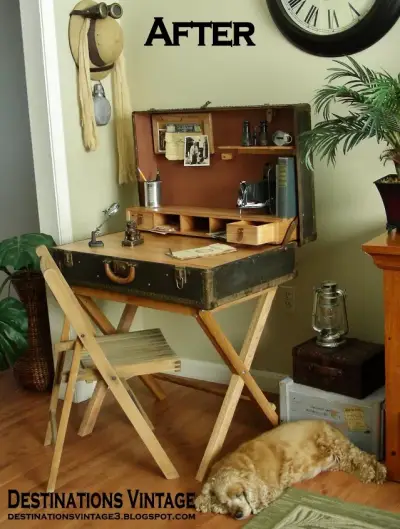 Vintage Suitcase mini makeup table:
An old suitcase mini makeup table is a charming and functional piece that combines nostalgia with convenience. It is designed with foldable legs and a hinged lid to reveal a mirror and storage compartments for cosmetics.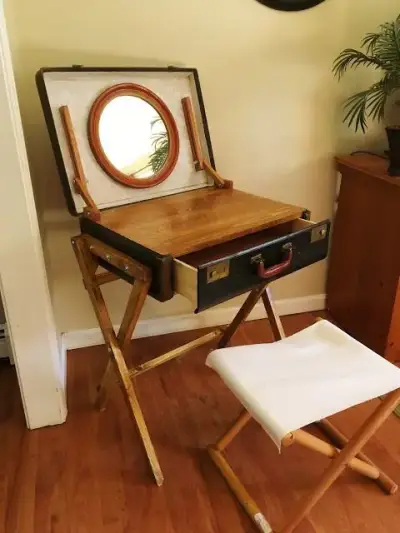 Vintage suitcase record player:
The most important details are the materials needed to create a DIY vintage record player: sturdy suitcase materials include a suitcase, record player components, speakers, amplifiers, power supplies, wiring, and tools.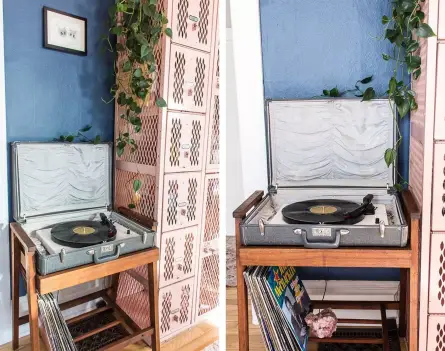 Pet Beds with an Old Suitcase:
With this old suitcase and mattress, make a pet bed. Make your favorite animal's old luggage into a cozy and fluffy bed.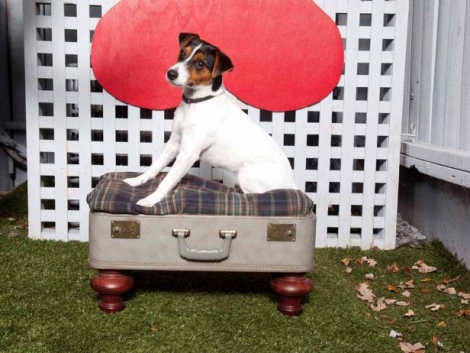 DECORATING WITH VINTAGE SUITCASES
Vintage Suitcase Card holder:
The suitcase card holder is a charming and nostalgic accessory inspired by classic travel luggage. It adds a touch of personality to any professional setting or travel-themed event with its weathered or distressed appearance.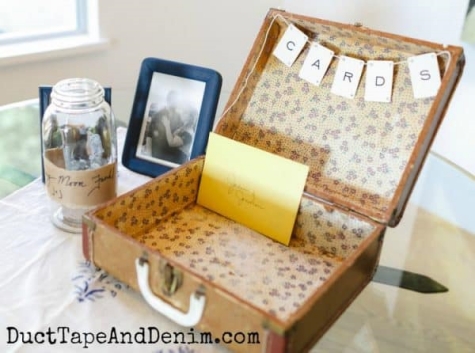 Vintage Suitcase Doll House:
The doll house is a DIY project that repurposes an old suitcase into a miniature dollhouse, providing hours of imaginative play for children and a unique decorative piece for collectors.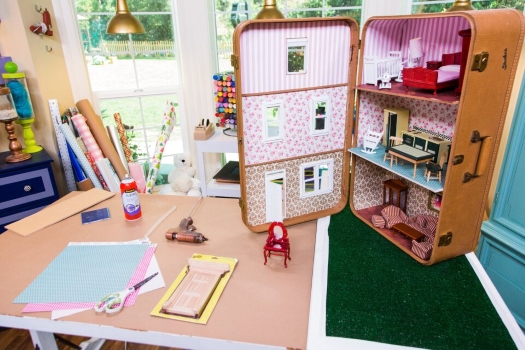 Miniature Dollhouse in vintage travel suitcase:
A Little World inside a Suitcase is an art project that transforms a suitcase into a miniature travel playhouse filled with enchanting and tiny structures, and intricate details.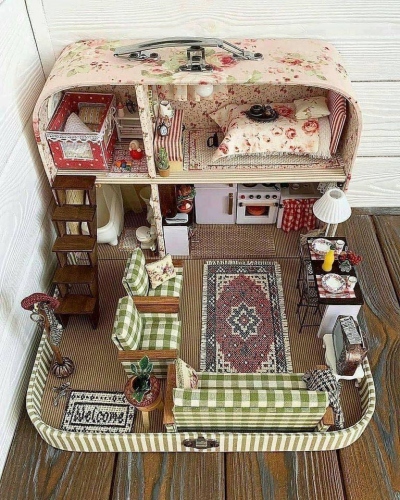 Vintage Suitcases as Side table:
This Side Table is a unique piece that combines functionality and nostalgia, with weathered exterior and retro hardware.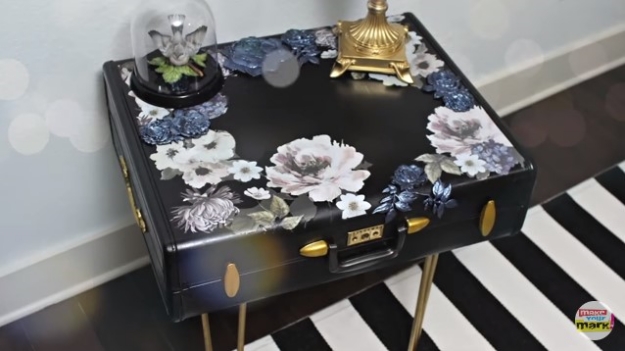 Vintage Suitcases as Tabletop Bar:
Repurpose an old suitcase into a table bar with a touch of nostalgia and personality to your home while creating a functional piece of furniture.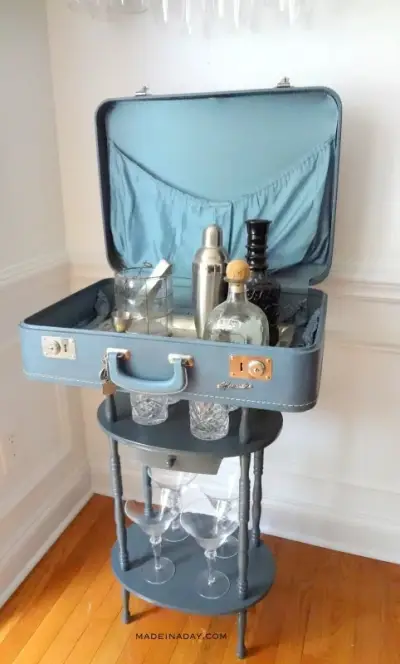 Create a Charging Station from Vintage Suitcases:
This DIY project allows you to modify a suitcase to serve as a charging station for multiple gadgets. It looks exquisite and has great functionality, making it easier to store and charge devices.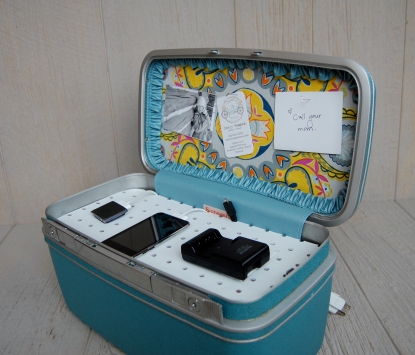 Cats Bunk Bed from Vintage Suitcases:
The cat bunk bed is a charming and innovative piece of furniture designed specifically for cats, featuring two levels for cats to relax or sleep in and lined with soft and plush bedding.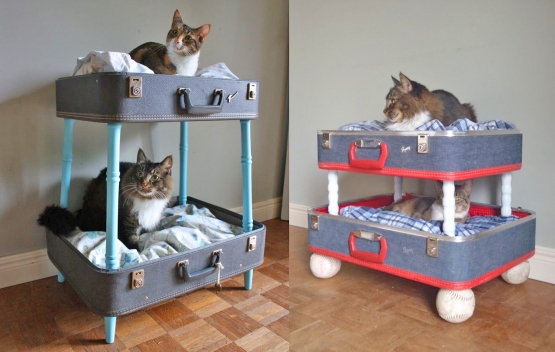 Vintage Suitcase Sewing Table:
The antique suitcase sewing table blends practicality with nostalgia, featuring compartments and drawers for accessories and sewing supplies.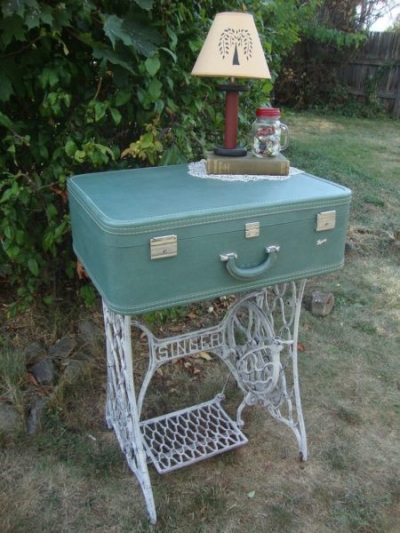 Old Suitcase favor box:
Antique Suitcase gift boxes evoke a sense of adventure and wanderlust and are ideal for holding small gifts, candy, or souvenirs for special events. They are a great option for elevating the glamour of an event.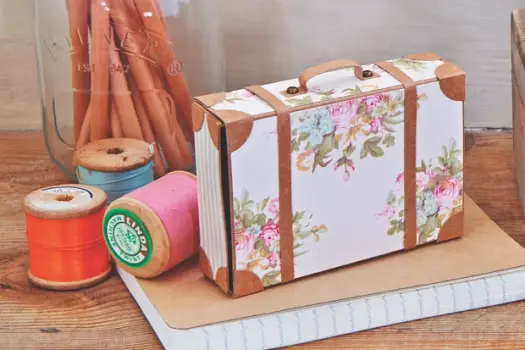 VINTAGE SUITCASE IDEAS FOR HOME DECOR
Vintage Suitcase Chair:
Your charming home would look nice and delightful with an antique suitcase chair. Use luggage that is big enough to fit this new equipment in your home for decorating with old suitcases.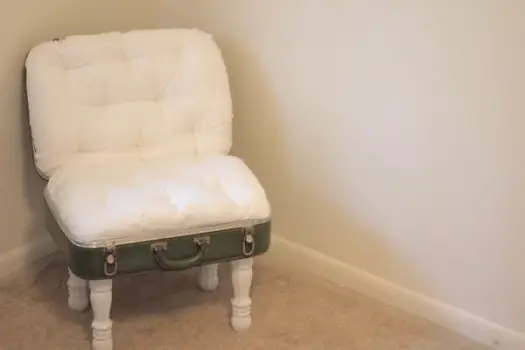 Plants on Old Suitcase:
Plants on antique suitcases add a touch of whimsy and greenery, but make sure to provide proper drainage and care for the plant to thrive.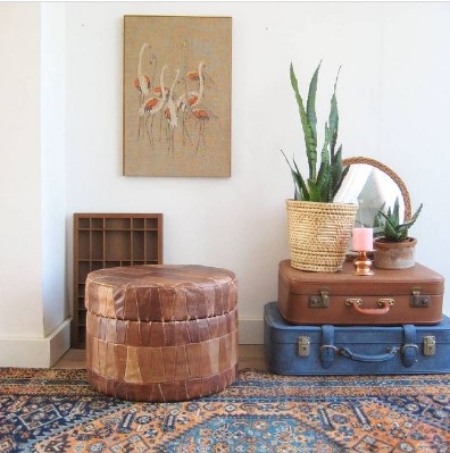 Old Suitcase Cupboard:
The old suitcase vanity is a captivating and functional piece that transforms a classic suitcase into a stylish and unique vanity station.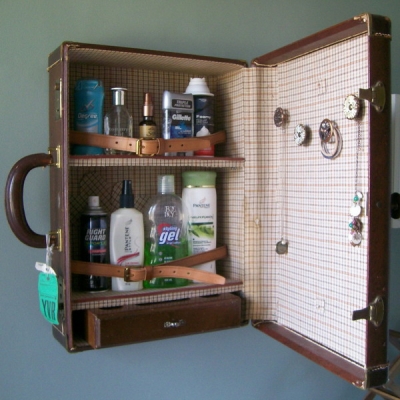 Image: Home edit
Suitcase turned into a Portable Table:
An old suitcase with wheels is a unique and stylish piece of furniture using a suitcase, table legs, wheels, and screws.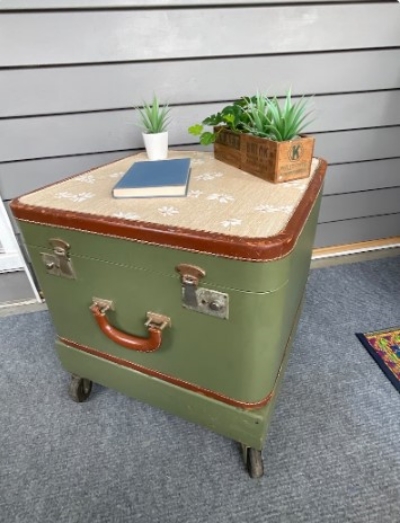 Painted Vintage Suitcase:
The painted old suitcases is a one-of-a-kind treasure that combines nostalgia with contemporary artistry, creating a fusion of vintage aesthetics.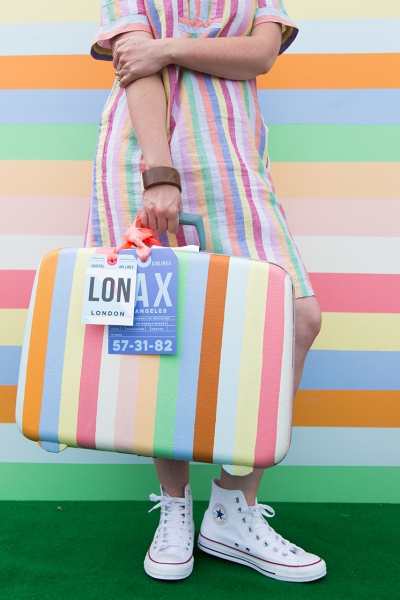 Vintage Suitcase Shelves:
Creating wall shelves is a creative way to repurpose old suitcases to add unique storage and display options to walls with materials such as wall brackets, screws, anchors, drills, screwdrivers, measuring tape, level, and paint.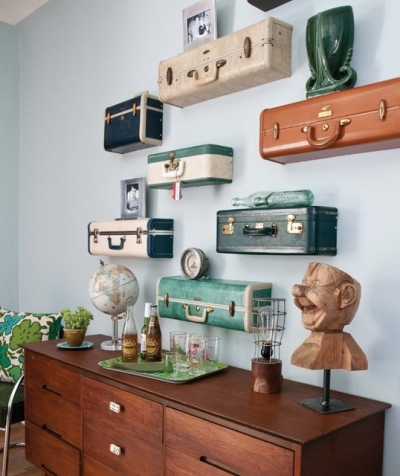 Photo: Apartment Therapy
Vintage Suitcase Planter:
The garden planter is a creative way to repurpose an antique suitcase into a charming garden display with waterproof material and drainage holes.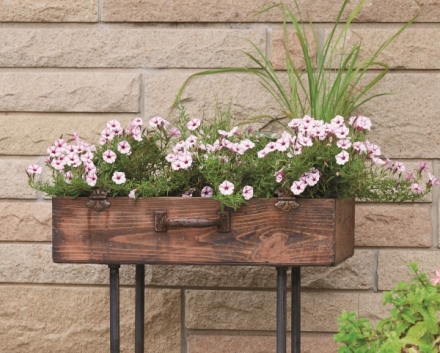 Medicine Cabinet From an Old Suitcase:
A distinctive and fashionable addition to your home's decor is this transformed medicine cabinet. An antique suitcase can be used as a medicine cabinet, but safety should be taken into account when using it.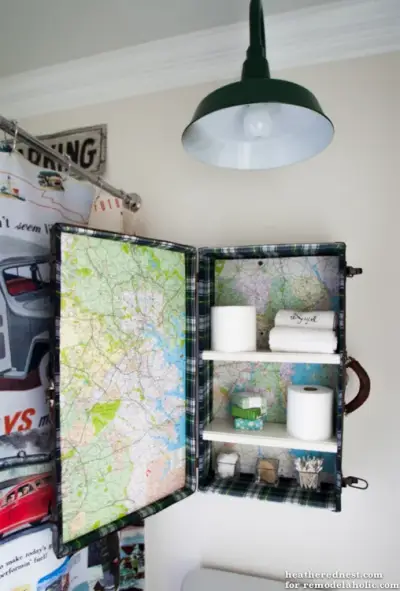 OLD VINTAGE SUITCASE WEDDING DECOR IDEAS
Vintage Suitcase Wedding Decor:
A suitcase can be a stunning wedding decor if you and your future spouse love to travel. You can use a vintage suitcase as an unexpected and original alternative to conventional wedding decor.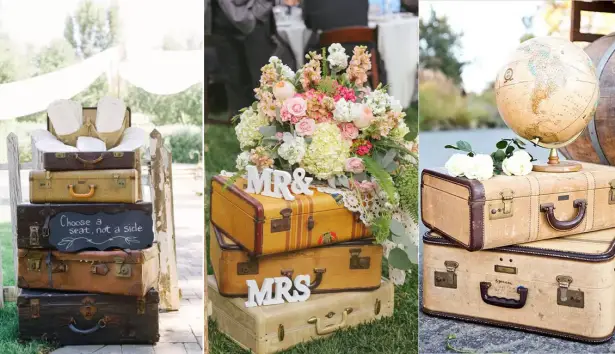 Dessert Table for Wedding:
The Suitcase Dessert Table for Wedding is a charming addition to your special day, featuring vintage suitcases with delectable desserts.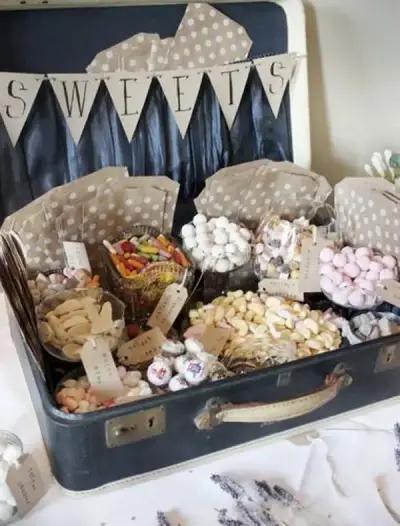 Unknown source
Cupcake Stand:
An old suitcase cupcake stand with cameras is a charming special decorative item that brings a hint of memory to any occasion or setting.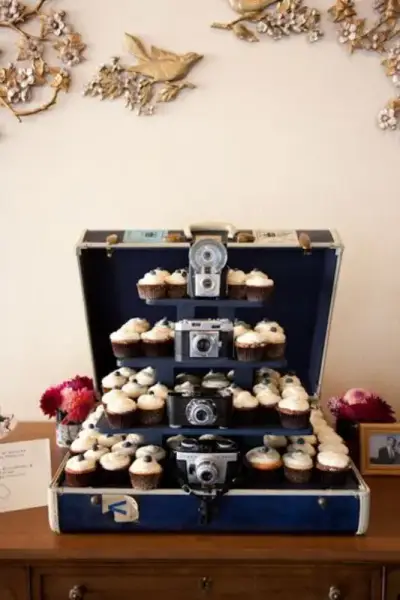 Unknown source
Vintage Suitcase Bookshelf:
For a nostalgic and literary touch to any space, reuse an old suitcase as a bookcase.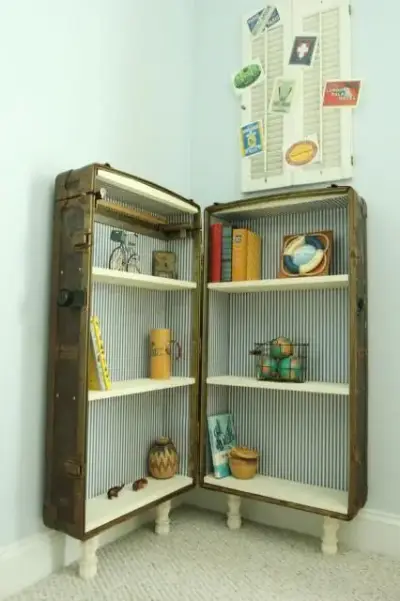 Unknown source
Old Suitcase Ottoman:

The old suitcase ottoman is a functional and adaptable piece of furniture that evokes nostalgia and history by fusing vintage design with modern functionality.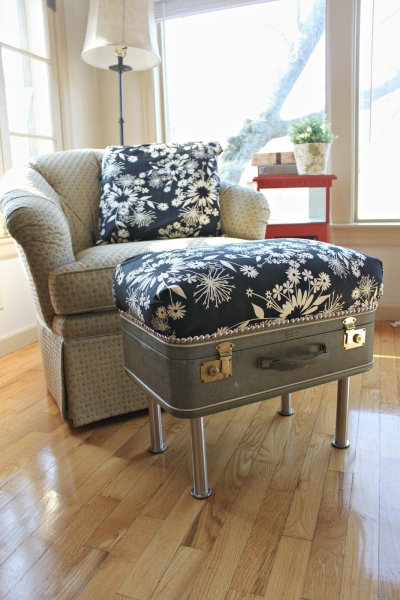 Antique Painted Suitcase Dresser:
Transform an old suitcase into a stylish and functional dresser by cleaning, lining the interior, installing shelves or dividers, and attaching drawers or baskets.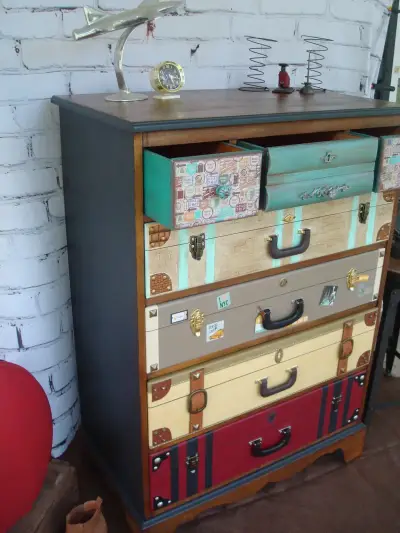 Old suitcase custom speakers:
Transform an old suitcase into a unique set of speakers by cleaning, removing contents, installing high-quality speakers, and connecting them to an audio system or Bluetooth.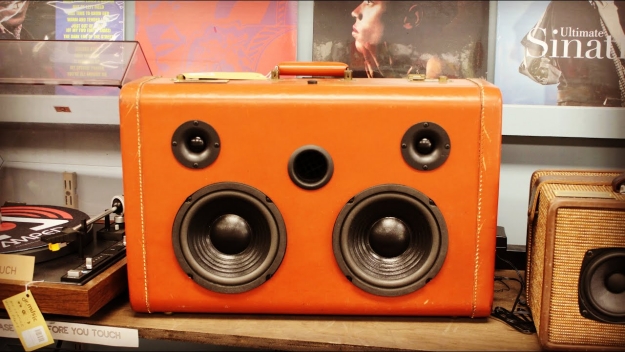 Vintage suitcase TV Stand decor:
The TV Stand decor is a unique and stylish way to add a touch of nostalgia to your home entertainment setup.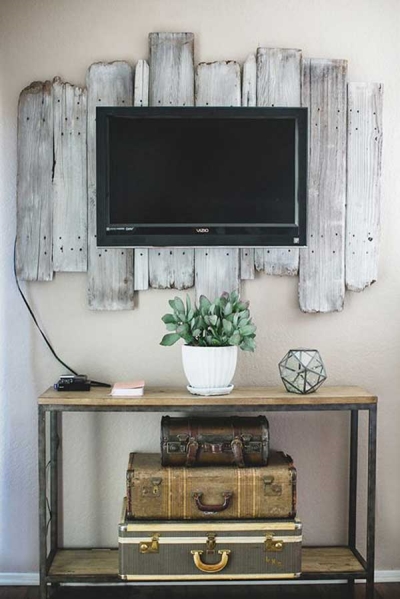 Photo: Design Sponge
Vintage Suitcase Console Table:
The console table is a suitcase-shaped furniture item that combines tradition with efficiency to display decor.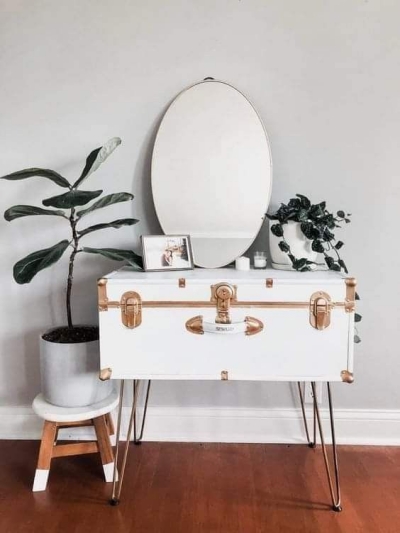 Photo: Shelterness
VINTAGE SUITCASE STORAGE IDEAS
Vintage Suitcase Turntable for books:
The Repurpose Turntable for books is a unique and imaginative piece that combines the charm of a classic suitcase with the functionality of a rotating bookshelf.
Use Old Suitcases For Storage:
The Vintage Storage Boxes adds charm and whimsy to a nursery or kid's room, offering plenty of storage space for diapers, wipes, clothing, toys, and other baby supplies.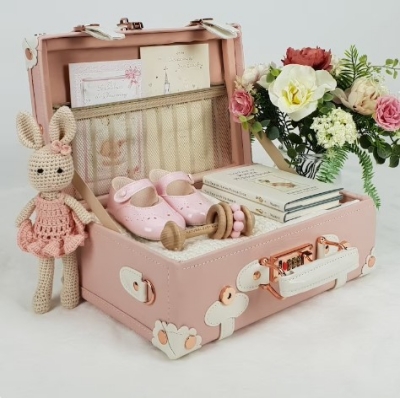 Old suitcase organizer

The old vintage suitcase is a charming and distinctive storage solution for cosmetics, jewelry and more. Featuring compartments, drawers, and dividers to organize in any space.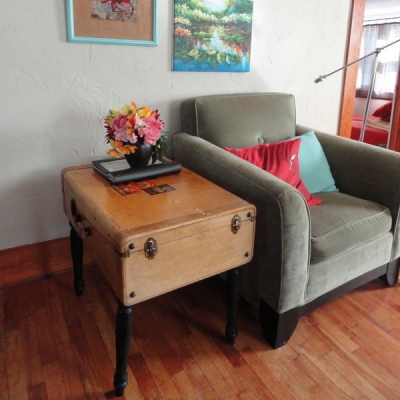 Vintage Suitcase Filled With Vintage Photos for Decor:
This suitcase filled with vintage photos creates a unique and immersive visual experience, perfect for adding character to living rooms, study areas, or themed events.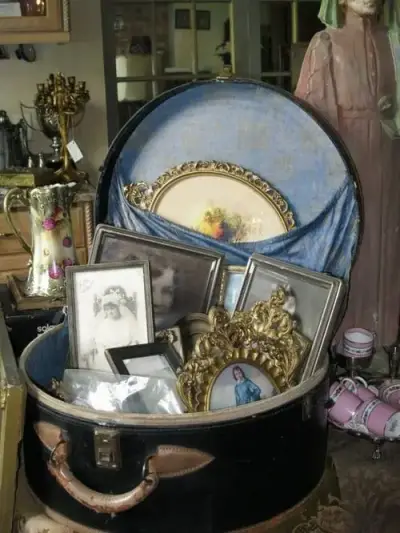 Unknown source
Old Suitcase Storage Bench for your Bedroom:
The old suitcase storage bench offers a comfortable lounging place and a chic storage alternative. It has vintage-patterned cloth or aged leather to add character and elegance.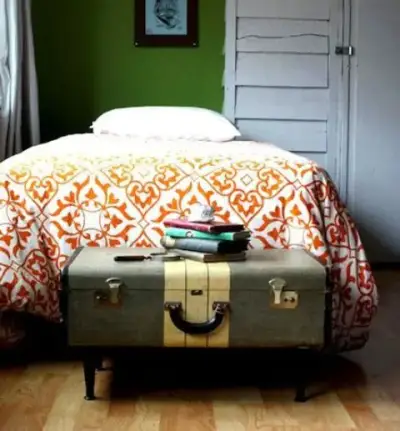 Unknown source
Vintage Suitcase Picnic Basket:
Find a suitable suitcase, clean and prepare it, plan the layout, create compartments, add insulation, pack picnic essentials, secure contents, decorate the exterior, test functionality, and enjoy a picnic in style.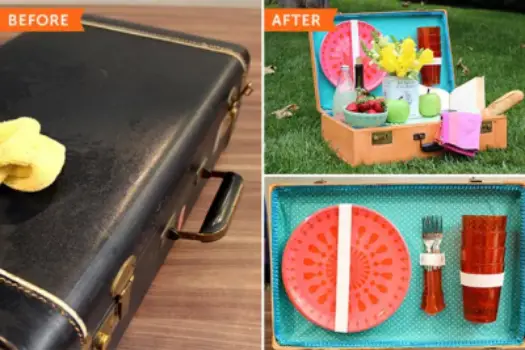 Old Suitcase Sewing Box:
Transform an old suitcase into a sewing box by cleaning and measuring its interior dimensions. Create a recycled sewing box with fabric or felt, and accessories for a stylish addition to your craft room.
Author: Sarah Samad