This post may contain affiliate links. Please see our full Disclosure Policy for details.
Procrastinating to clean your bathroom can lead to tougher tasks. Everyday bathroom cleaning tips are here to help! Today, I am sharing 25 best bathroom cleaning tips and tricks, that can make your bathroom sparkle clean in no time and less effort. You will also find some hard and impossible-looking spots left with no evidence with chemical-free solutions.
You will find simple everyday easy bathroom cleaning tips. Sharing best ways to clean shower, bathtub, faucets, and drainage. You will also find hacks to remove rust, stains, black mold and stinky smell from old bathrooms, grout residues and tile buildups without much effort. Followed by ideas to refresh and keep the bathroom smelling new everyday.
Bathroom cleaning tips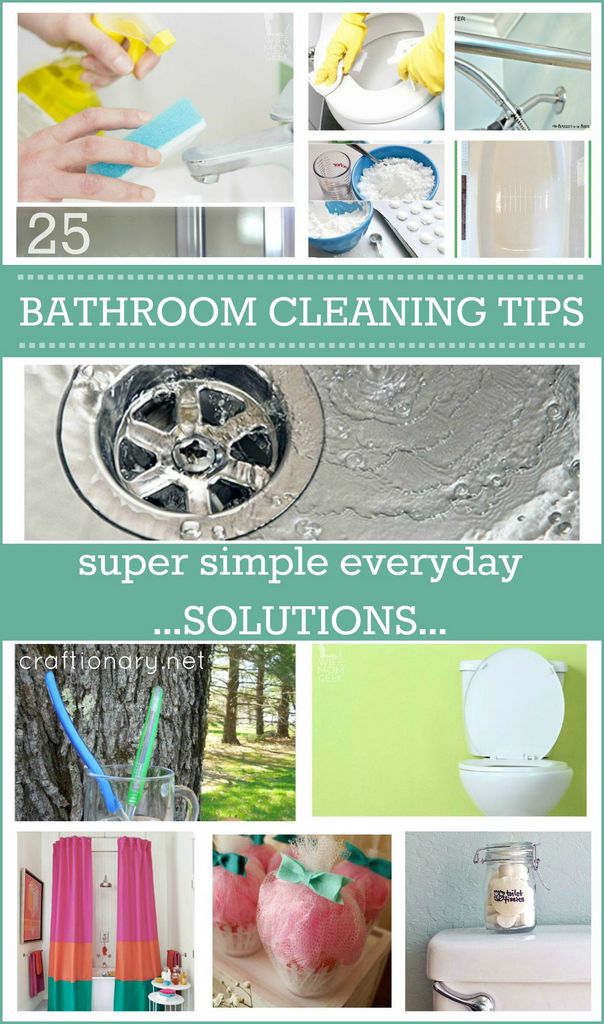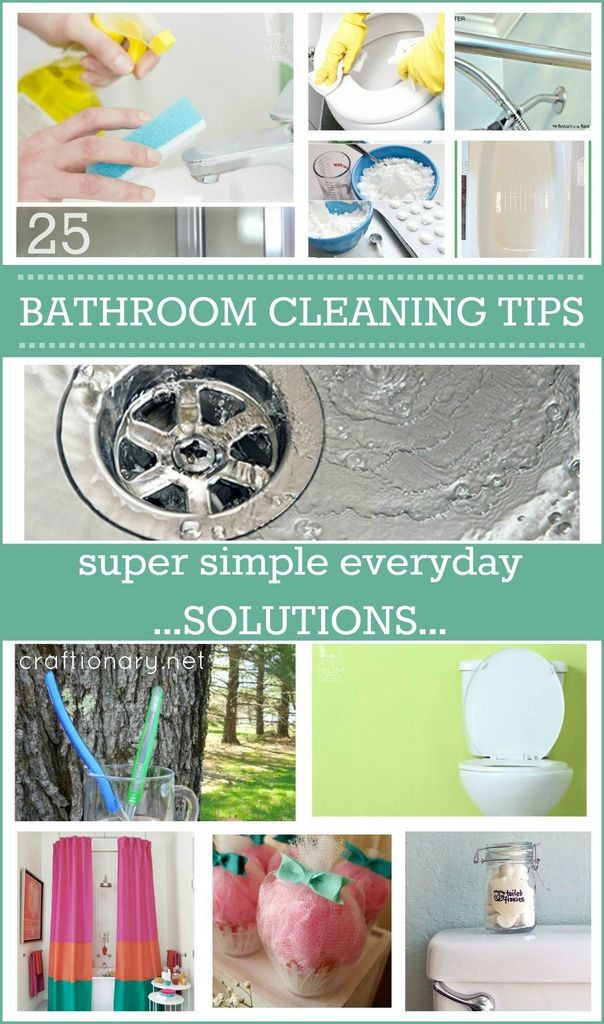 Everyday bathroom cleaning solutions
Keep your bathroom clean in 5 minutes a day
Good tricks to keep your bathroom clean in just 5 minutes a day. Save yourself the scour and scrub to remove soap scum from the showers, soap marks on faucets and sink, hardened toothpaste splatters on the mirror, and dust collected around toilet and common spots. Don't wait till it needs to be cleaned instead make these small routines your habit.
Choose an all-purpose cleaner instead of having a different cleaner for surfaces, mirrors and floors. This saves you the time and effort of grabbing a different cleaner as you move from one chore to another. You can substitute an all-purpose cleaner with a diluted distilled vinegar solution in a spray bottle as well.
Clean and wipe down the shower area after your shower instead of waiting for it to build soap scum on the tiles. Just use a washcloth or disposable wipes to wipe off all surfaces after your shower. It takes just a few minutes and saves you time and effort. Use squeegee after your shower for the door and hard water stains for crystal clear clean. Work from top to bottom with these bathtub cleaning tips.
Keep handy items in every bathroom like disposable wipes and squeegee for quick everyday clean. I also like to use scrubbing bubbles shower cleaner on the tiles and floor when going for a shower, simply spray and drain before you take your shower. These organization ideas for daily bathroom essentials are so spot on!
Keep your loofah clean
Clean your loofah regularly by soaking it in a diluted bleach solution for 5 minutes and then rinse thoroughly. Store it in a ventilated place to ensure it dries completely after every use. You should also make a habit to clean your sponges and bath/shower accessories after every use.
Keep handy a shower and tub cleaning wand
Here's the best way to clean a bathtub. We use this wand to clean our dishes, now it's time to use it in our bathrooms. Use this shower and tub cleaning wand, when you shower. The dish soap and vinegar works just fine for this task. Keep your bath tub clean with this easy trick. Use a suction cup or command strip to hang the wand on the tiles for handy bathtub cleaning tips.
Toilet cleaning, most efficient way to clean the bathroom
Most efficient way to clean the bathroom and keep it fresh daily is to use toilet tablets, gel or pods. You can also DIY homemade toilet bomb fizzes. Use a mold or teaspoon to make small tablets and let it dry on a parchment paper overnight before storing in a jar. These tablets use baking soda, citric acid, hydrogen peroxide, drops of essential oil, and vinegar. Stash in a cute container on your commode and just drop in a small fizzy when needed. The below quantity makes about 30 small fizzes.
1 cup baking soda
1/4 cup citric acid
1 tbsp hydrogen peroxide
15 to 20 drops of essential oil
1/2 tsp vinegar
How to get rid of stubborn bathroom rings
Dryer sheets remove the rings on the toilet with a gentle swipe and leaves behind a fresh scent. It also helps to polish the faucet and chrome for a sparkle clean. You can also use dryer sheets to:
Remove sticky dust from furniture, blinds, and baseboards.
Clean cook tops and greasy cupboards.
Swipe off dirt and dead bugs from the car.
It also helps to remove paint from the paintbrushes. Simply put a dryer sheet in the warm water when you soak paintbrushes.
Wipe pet hair off furniture and clothes.
It also helps to keep thread from tangling if you run it off thread before sewing.
Naturally clean your toothbrush
Clean your toothbrush naturally with distilled white vinegar or mouthwash to keep it bacteria-free. If your toothbrush is stored on the sink it requires cleaning especially because bacteria from the toilet can be flying in the air and landing on surfaces. Ensuring the toilet lid is closed after use can help or simply store your toothbrush in the room or closet.
Best way to clean your shower
Prevent water spots on shower doors with Rain-X glass treatment and squeegee. This prevents beading of water for several months. Once, you notice water beading repeat cleaning and application process. You can also use a homemade glass cleaner with vinegar and dishwashing liquid detergent in a spray bottle as a substitute.
Remove hard water stains from your toilet
Easiest way to remove hard water stains from your toilet using pumice stone and some elbow grease. That's about it all!
Remove soap scum from shower doors
Remove soap scum from shower doors with bounce dryer sheets or Mr. Clean magic eraser.
Make your own bathroom air freshener?
A life saver all natural Poo poo spray that convinces you to have one. Spray this miracle worker before you poo. The spray traps the stink in the toilet water. The ingredients used are 2 tsp vegetable glycerin, 2 tsp rubbing alcohol, and 45 drops of essential oil (or 15 drops of three different scented essential oils) in 1 cup of water.
Hard to clean bathroom areas made easy
Deep clean shower head and faucet
Shower heads and faucets build-up dirt and bacteria overtime and if don't pay attention it looks gross overtime. This three Step faucet head deep clean uses vinegar, baking soda and dish soap. Add 2tbsp of baking soda and drops of liquid dishwashing detergent in a ziploc bag and fill it with vinegar such that the shower head/ faucet is submerged in the solution and tie it with rubberband. Let it soak for 30 minutes to an hour then give it a good scrub with toothbrush. Rinse with water and you're done.
How to clean calcium off faucets?
Remove calcium buildup in your faucet with this simple bathroom cleaning tip. All you need is equal parts of CLR (Calcium Lime Rust) and water in a plastic bag. Soak the faucet in the mixture by securing the bag on the faucet with a rubber band. Let it stay soaked for a few hours. Remove the residue with a dampen Magic Eraser and you are done.
Simple remedies for clogged drains
An all natural way to unclog sink (drain without chemicals). Here are some simple tips and tricks:
Baking soda and vinegar: Put 1/2 of cup baking soda down the drain followed by 1/2 cup of white vinegar. Let mixture stay for a few minutes. Slowly pour a pot of boiling water down the drain allowing the clog to wash away.
Borax: Put 1/2 cup of borax and run 2 cups of boiling water over it. Rinse by running water throw the drain after 15 minutes.
Dish soap: Pour 1 cup of dawn dishwashing detergent into a clogged toilet and leave it for 15 minutes. Then rush a bucket of water over it from waist height to clear out the toilet.
Alka Seltzer: Drop 4 tablets of Alka Seltzer followed by one cup of white vinegar. Let it stay for 15 minutes. Drain it with a pot of boiling water. This also works as a deodorizer.
A handy plumber's trick: Pour a bucket full of hot water down the toilet to unclog in no time. The heat from water melts the fats and makes it flushable.
Remove rust stains from the toilet
Remove stubborn rust stains from chrome bathroom fittings using foam brush and acid magic. Wear gloves, safety glasses and take precautions when using acid. Add 3 parts of water to 1 part of acid magic and apply using brush, foam pad or sprayer. The stain will dissolve. Rinse with clear water. Acid magic is much safer to use than muriatic acid.
How to clean a bathroom faster and better?
Here's a few more bathroom cleaning tips for your consideration:
Use bleach to remove tough stains: Soak a towel with 1 cup of bleach overnight and repeat till the stain completely fades away from marble, cultured marble or plastic laminate. For quartz countertop use glass cleaner or rubbing alcohol for shiny clear surface.
How to clean bathroom fan? Blast off dust with canned air by turning on the fan. Keep it away from children.
Clean grout with a bleach pen. Leave bleach on the tile wall's grout for few minutes and then rinse off. For hard stains repeat till the stain fades off.
Less scrubbing tough grime remedy: Use a dampen magic eraser sponge to remove built-up soap scum on shower walls, ground-in dirt on the floor tile, and dried toothpaste on vanity top.
Protect showers from mineral build-up: Avoid beading of water by coating shower doors with an auto-glass treatment like Aquapel or Rain-X.
Vacuum first than scrub for cleaning easily.
Tips to clean grout in the bathroom
Remove grout from the tiles naturally with bleach and baking soda.
Get rid of moldy grout in the bathroom
An easy way to remove grout from the bathtub's sides is by using cotton coil and bleach. Soak the cotton coil in bleach and leave it on the grout overnight. Remove the coil and brush it away with an old toothbrush or magic eraser.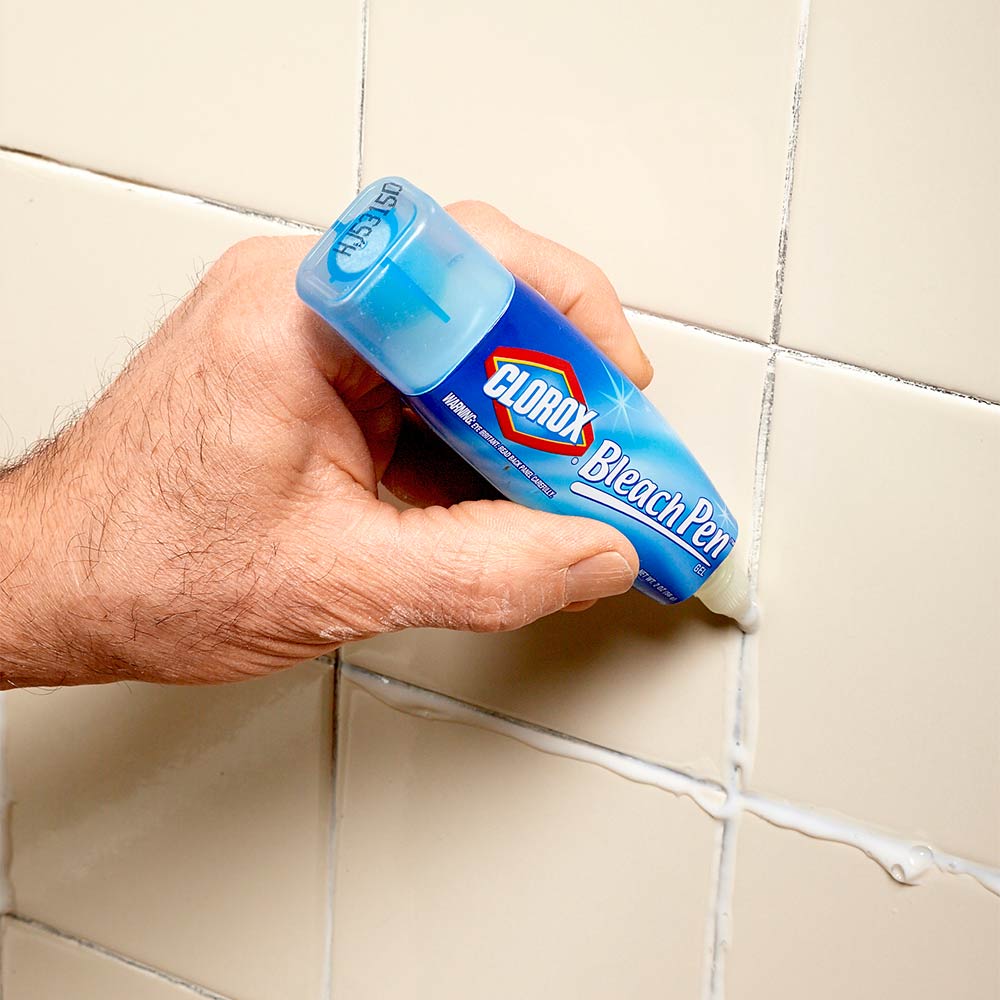 Alternatively, you can use bleach pen to clean grout between the tiles.
How to clean your plastic shower curtain and mat?
Why waste time scrubbing the pink scum from the shower curtains! Remove your shower curtains and mats. Put them in with some laundry detergent and 1 cup of baking soda in your washing machine with some towels on gentle cycle. You have brand new vinyl and fabric shower curtains to hang in the bathroom. Let them air dry in the bathroom with exhaust fan on.
Cleaning Kohler tub base
Clean the base of the kohler tub so that it looks brand new with the brand's recommended products. Kohler says no to magic eraser, comet, bar keepers friend, and vinegar for cleaning its porcelain enamel cast iron.
Deep cleaning drain in the bathroom
Clean the bathtub drain. Unscrew your plug and remove hair buildup using a plier. Use baking soda and vinegar to deep clean the drain so that it flows freely again.
Use lemon to bring back the shine on your faucets. The citric acid helps to clean off. Rinse with water.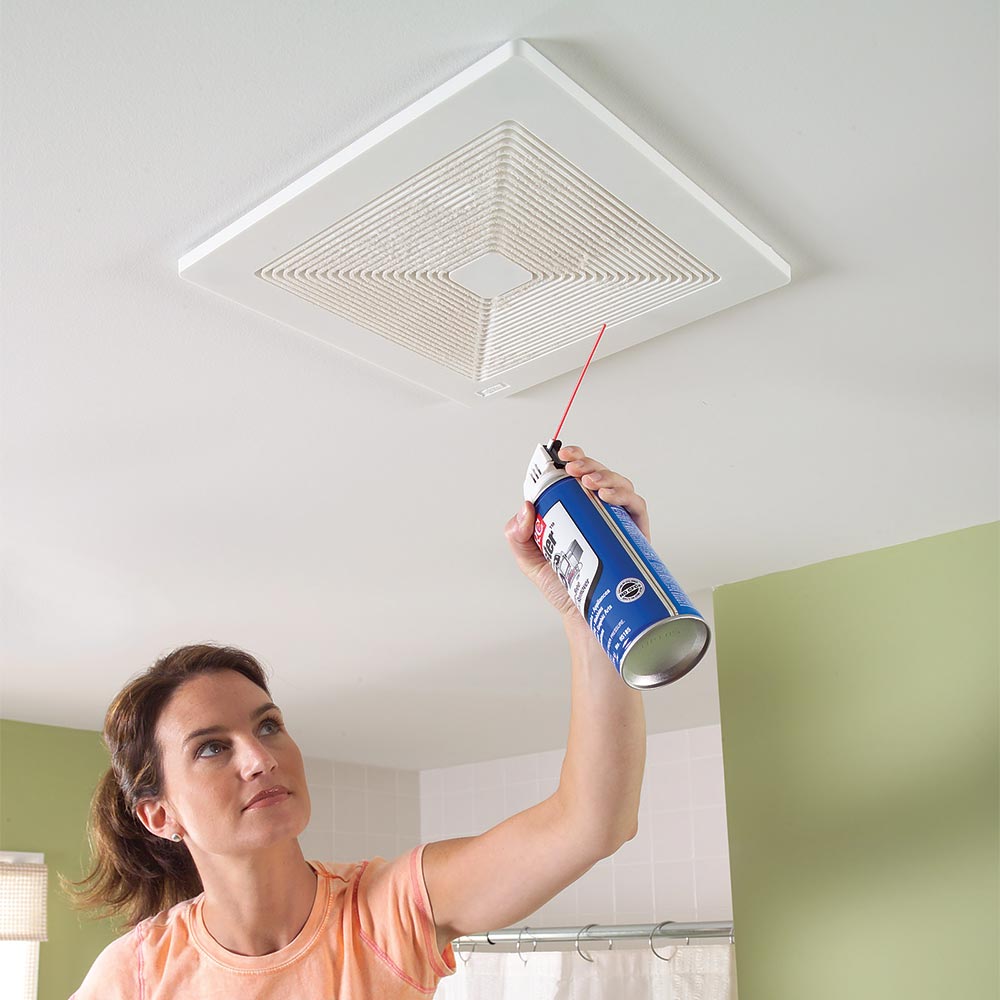 Clean the bathroom exhaust fan with canned air while the fan blows.
Bathroom cleaning black mold
What is toxic black mold?
S. chartarum (S. atra) and S. chlorohalonata are known as black mold or toxic black mold. It is frequently associated with poor air quality. It is caused by:
indoor moisture
flooding
leaky roofs
building maintenance
indoor plumbing
Mold removal hacks
Mold can cause mild to severe health issues and must be treated readily. You can use various chemical free items to remove the black mold including:
bleach
ammonia
lemons
vinegar
baking soda
Make a mixture, spray it on the affected area and let it sit. Wash with water and dry afterwards.
Bathroom mold prevention
Make sure there is no moisture buildup in the bathroom.
Regularly inspect your bathroom tile grout for mold.
Wipe the first signs of mold with material mentioned.
Consult a professional if unsure on what to do.
via tilebar.com
Update: A reader suggested not to use bleach and ammonia together. It can cause a reaction more worse than the mold itself. Thank you Karla!
How to clean rust in the bathroom?
Secrets to cleaning rust off the chrome light fixture and bathroom rod. Remove the rust with Bar Keepers Friend and protect the metal with Minwax Finishing Wax Paste after you clean it. These two products are also great to clean soap scum and repel water on the faucets and shower head.
You can also use Bar Keeper's Friend to remove dark water stains from wood.
I hope these bathroom cleaning tips and tricks prove useful in your home.
You will also like: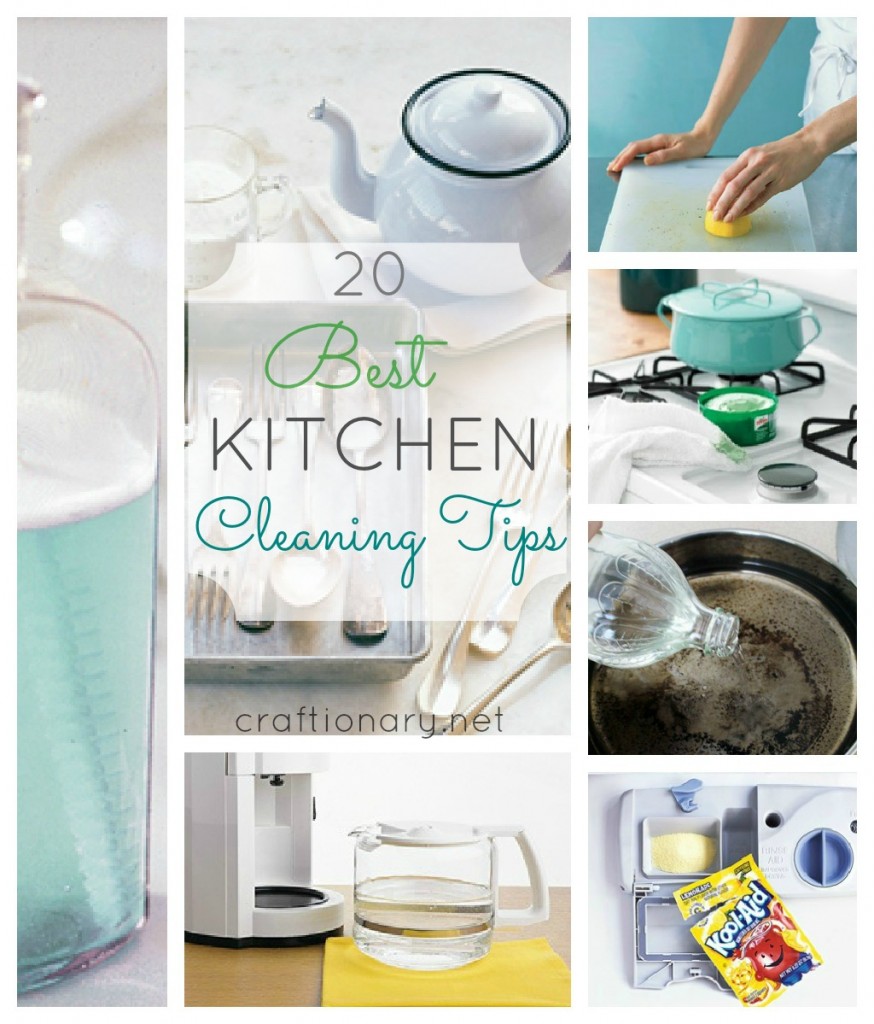 20 Kitchen Cleaning Tips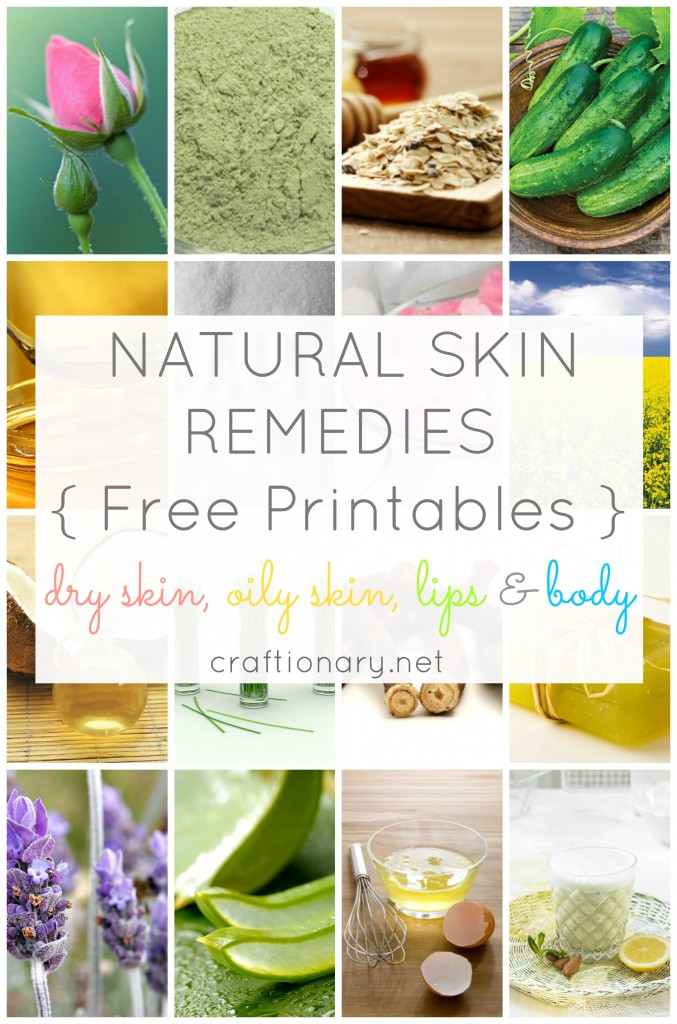 Tried and true natural skin remedies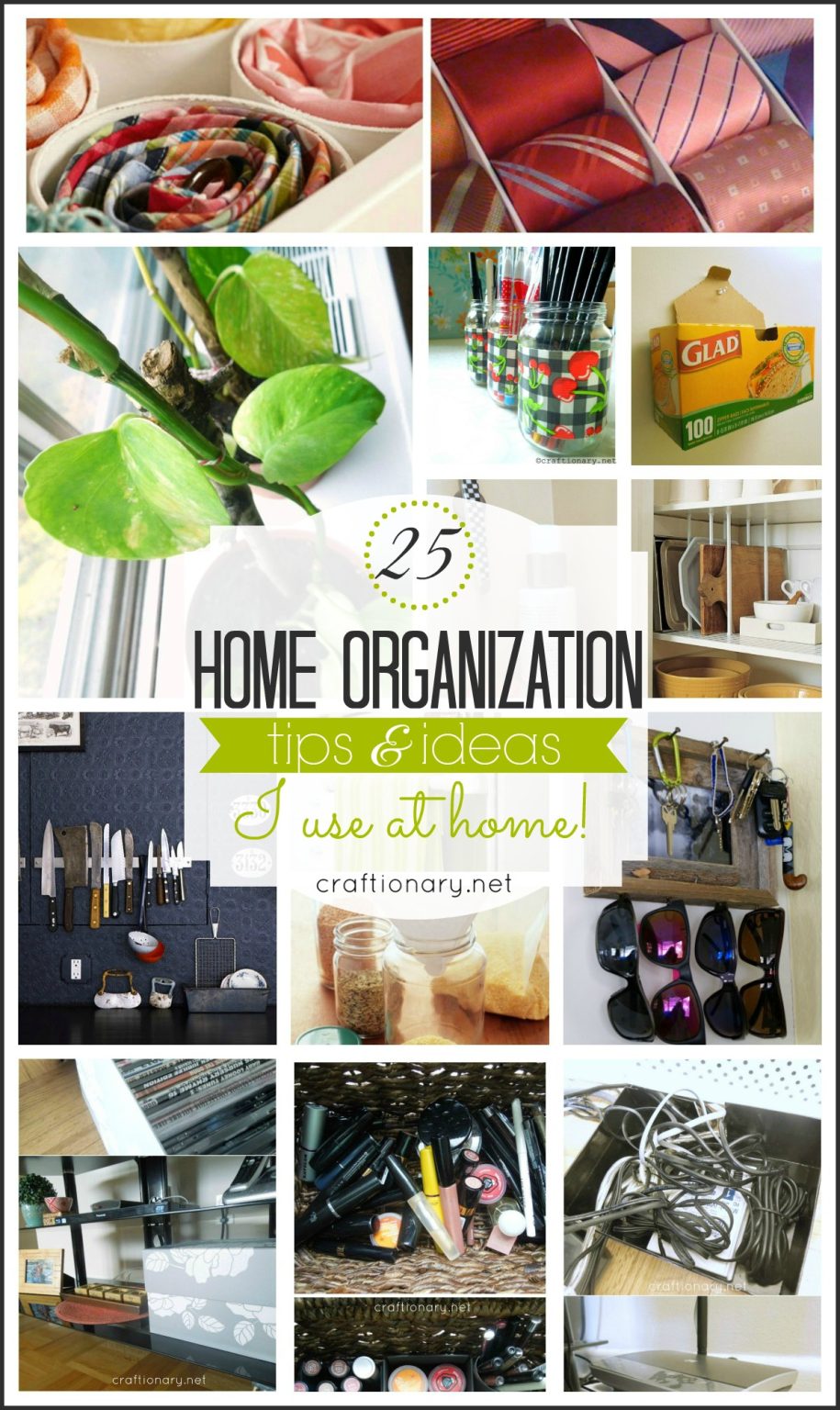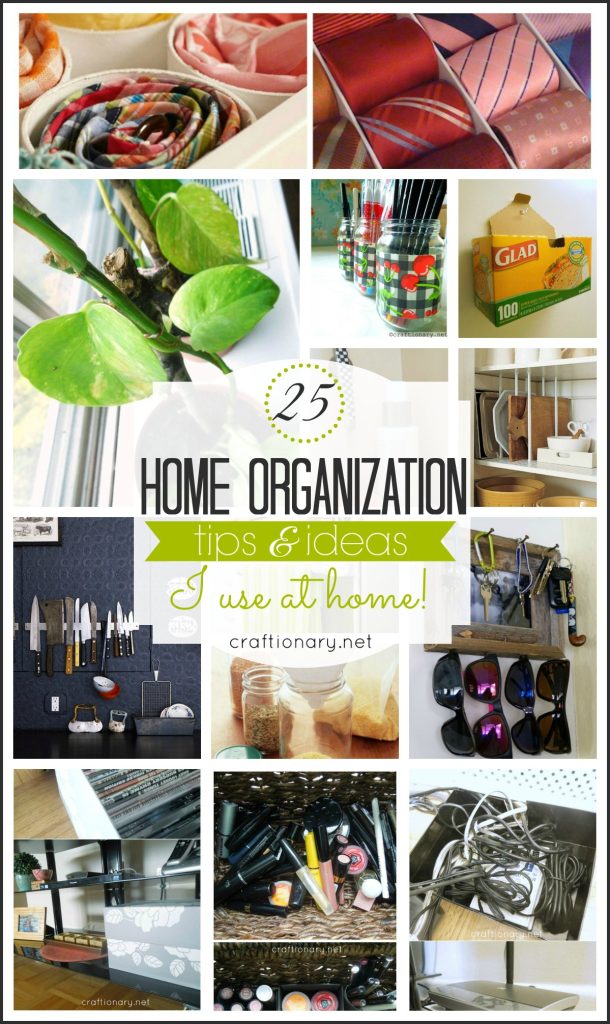 Home organization tips and tricks I use at home!
Looking for more great ideas?
Check out tutorials in the category
TIPS
.
Are you on pinterest?