This post may contain affiliate links. Please see our full Disclosure Policy for details.
How to make easy world map in 10 minutes for less than $10. You will need a vinyl sheet, paper and frame to finish this project. I am so happy to share my first ever vinyl project. I have been so scared of trying one forever. But today I can say it's super easy.
It was such a neat project which I made in only 10 minutes. Making a world map wall art with vinyl stickers. You can put these wall art decals on any smooth surface. And these are a cost effective way of decorating and modernizing our homes.
Icon wall stickers have tons of decorative vinyl wall stickers at a great price. They are very cooperative and work with you to make it easier to choose one you are sure to love. They have all the information you need about applying vinyl stickers on any surface. And there is also an instruction video that makes it a piece of cake for beginners to use vinyl stickers.
Find more ways to use world map at home with 17 Creative DIY Map tutorials.
Make easy world map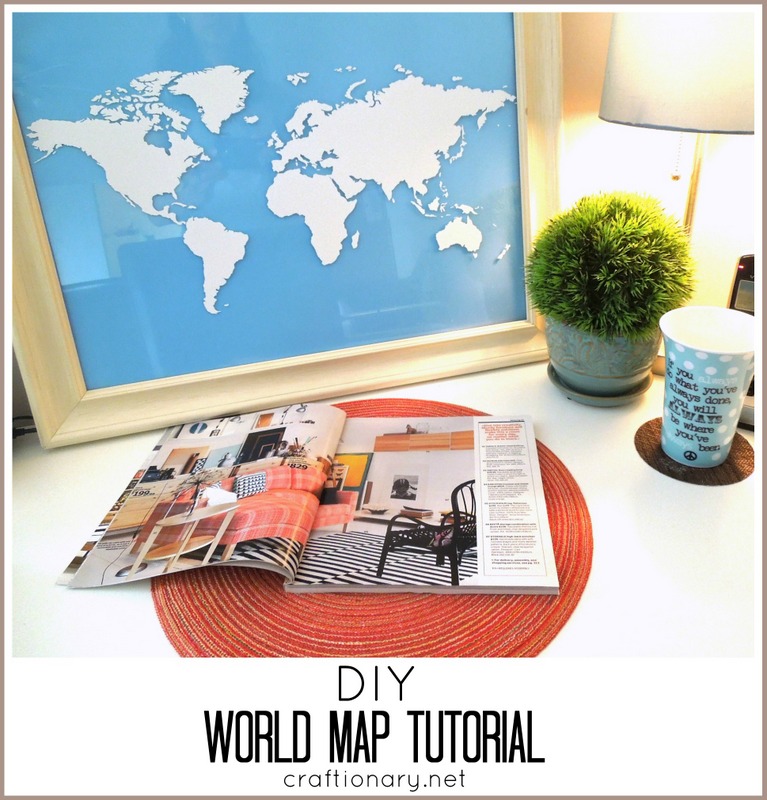 I am going to share my tutorial on how I made my world map for just $6.
But before I get to the step by step tutorial. Let me share two cute possibilities with this world map.
1. You can use it as a kid's educational project:
Just by sticking the vinyl inside of the glass and framing it. You can create a world map on which you can write with sharpie and just wipe off. Here's a dry erase frame tutorial.
2. Use it to tag places you have visited:
By using small rhinestones or colorful sharpies you can tag and cherish the places you have traveled to.
Easy World Map tutorial
Here's what I did: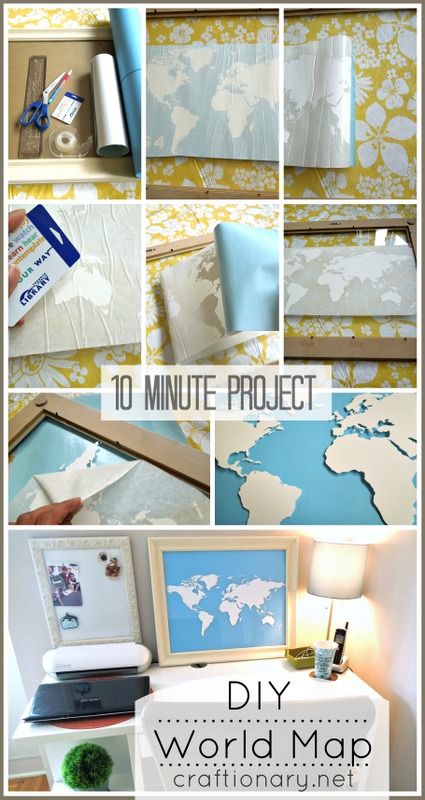 World Map for only $6
You will need:
A wooden frame (I bought mine from a thrift store for $5)

Drawing paper ($1 Dollar store)

Vinyl sticker (from Icon wall stickers)

Library card or squeegee

Ruler, pencil, scissors and tape.
Vinyl Image Transfer on Glass:
1. Place the sticker on the glass with transparent application layer facing you.
2. Use masking tape to stick and unroll the vinyl in place.
3. Apply a strip of tape across the decal to create an anchor point. Horizontally or vertically depending on the decal.
You can also use a spirit level to make sure your decal is aligned properly.
4. Now remove the tape from the corners.
5. Begin to carefully peel the application layer from the backing layer, ensuring the decal is stuck to the application layer. Keep peeling until you reach the anchor point. Cut the backing at the anchor point.
6. Carefully using your library card (which is very important for this project) flatten the decal on the surface. Make sure you remove all the bubbles. Work in a particular pattern. Working from the anchor point's center going outwards and moving slightly as you go along.
7. Once your one side is done. Now remove the rest of the backing paper and continue flattening the vinyl sticker till you are done.
8. Once you have perfectly squeezed all the air bubbles out and you are satisfied. Carefully peel the application layer to reveal your decal. Make sure the decal adheres properly as you go.
There you have your wall art ready to be framed and nailed.
I love how I can change the background of the world map to match my decor anytime.
I hope you enjoyed reading about this project.
Find more ways to use world map at home with 17 Creative DIY Map tutorials.
You May Also Like:

Check out our category WALL ART.
Are you on pinterest?
You may also enjoy the Craftionary themed and DIY Techniques Boards.
Updated regularly whenever I find unique ideas.