This post may contain affiliate links. Please see our full Disclosure Policy for details.
Pour Painting Art is always fun and acrylic pour painting ideas will guide you to start. Acrylic paint is used in paint pouring techniques because it dries fast and is mesmerizing. This technique was discovered accidentally by Mexican Painter David Alfaro Siqueiros in the 1930s.
Even if you don't know how to paint, you can create stunning art using this approach. You may create multiple art designs by making a few little adjustments. I've gathered for you many pouring techniques for acrylic paint aka fluid art.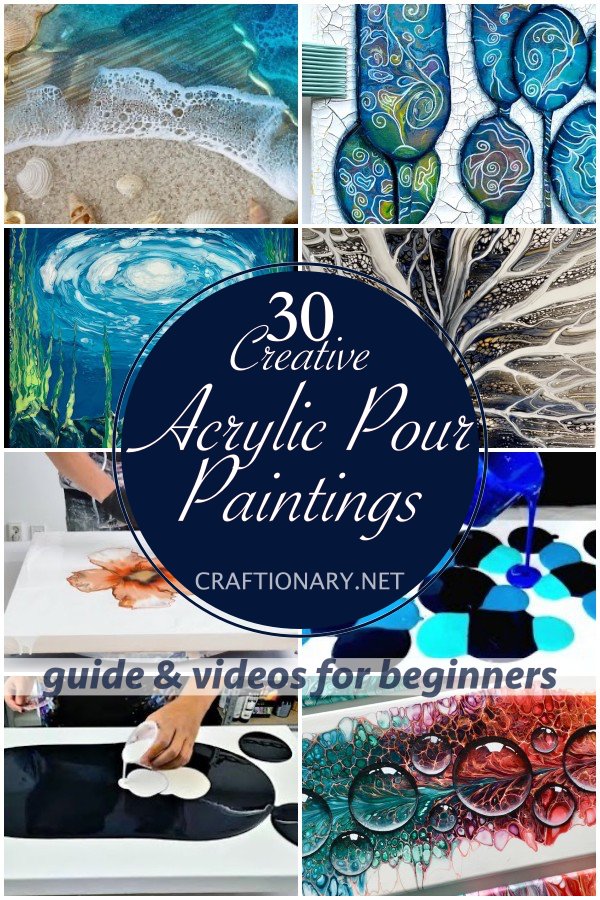 Creative Acrylic Pour Painting Ideas
Acrylic Abstract painting is a quick-drying paint fabricated from pigment suspended in acrylic polymer emulsion and plasticizers, silicone oils, deformers, stabilizers, or metallic soaps. They are water-based paints but become water-resistant when dry.
I will teach you how to perform paint pours, pouring tips and techniques, acrylic painting ideas without a brush, and what kinds of paints are employed in various approaches. For you, I have compiled some acrylic paint crafts with videos. You possess the talent to create stunning wall art.
In the Acrylic fluid pouring technique, you must use acrylic paints in fluid form. It is a form of Fluid art.
The fluid is poured on a canvas. By tilting the canvas, you can make cool acrylic paint designs. You can create marble designs from this technique as well.
Acrylic Pour Art Material
We need to know the material needs for paint spilling before choosing the pour painting ideas to try.
1. Canvas surface for pouring
You can use wooden surfaces; artists mostly use sealed wooden panels (Ampersand Geoboard Panels) as they are not saggy.
Ceramic tiles could also be used.
Stretched panels.
Or any object on which you want to pour paint.
2. Gesso
It is used to prime the surface before you start to paint.
White Gesso: used mostly as a white base in many projects.
Black Gesso
Colorful Gesso
Gesso Clear: you can use it on a translucent surface.
3. Acrylic Paint Set
Liquid or Soft body acrylic paints are used widely for fluid art.
Craft Liquid Acrylic paints: Mostly used by beginners, provided in bottles.
Artist Quality Professional Acrylic Paints: Widely used by artists due to their high pigment concentrations, the intensity of colors and lesser color shift.
Colors: In acrylic paint flowing, fewer colors likely used but it is on artist's choice.
4. Lubricant or Silicon oil
Lubricant is used to separate the paints.
100% drops of silicon oil is used mostly.
Used to get the cell effect.
It does not affect the color combination or turn rancid.
5. Medium
Use make the paints thin so they can flow easily on the canvas.
It helps to blend the colors but also keep them separate. Just like Marble effect.
It helps to prevent from cracking the paint when it dries.
6. Polycyclic Paint Finish or Varnish
It is used to protect your paint as a finish and gives glossy effect.
7. Other Materials
Kitchen Torch: To pop the bubbles. Little cell effects could be given by popping these bubbles.
Rubber gloves or disposable gloves
Lazy Susan: Used to rotate the canvas smoothly.
Plastic cups: Available in different measures.
Straws: Helps splatter the paint
Plastic Squeeze bottles
Plastic drop cloths or sheets
Knives
Spatulas
Apron
Paper towels
Hair dryer/Blower: used to make different art designs.
Funnels
Balloons
Trays
Acrylic Pour Paint Types
Most Fluid
Also known as "inks." They are usually used for dipping due to their similar texture to pen inks. As your color becomes more intense, add dimension to it.
High Flow Acrylics
Slightly thicker than the ink but almost the same texture and intensity of color as acrylic ink gives.
Fluid Acrylics
It has a thicker consistency than the High flow. To thin the texture, add water or medium. You may also paint it with a brush. It is for acrylic pouring techniques due to their consistency.
Distress Paint
This smooth texture of paint is slightly thinner than the Fluid one but does not move around if you drop a dot. We could paint it directly with the brush.
Soft Body
Thicker than the Distress paint and does not flow easily. It has a nice smooth texture.
Delusion paints
Almost like "Soft body paint" but slightly thicker than the soft body.
BASICS
A lot thicker than the delusion paints and soft body paints.
Heavy Body
Because it is so thick, one can use it to conceal the lighter texture colors. It dries rapidly, holds its shape, and does not flow unless a medium is applied. Texture methods employ this term.
Pour Painting Ideas and Techniques
There are different types of paints pouring ideas and techniques, using them you can make completely unique and cool paint designs.
Dirty Pour
Pour your paints into a cup and pour them onto the canvas for this approach. It is a simple but effective strategy.
Dutch Pour
This technique manipulates the flow of acrylic fluid paint by using air. You may build ribbon-like borders or a lovely flower. For best results, utilize your breath or direct it using straws or a hair/blow dryer. A beautiful dutch flower acrylic pour painting idea is shared in the list.
Open Cup Pour
The open cup pour method requires the usage of a cup that is open from both sides or things have open ends. Because the plastic cups are light, the paint flows readily from the edges. You must pour paint from the above and create designs accordingly. Easy open cup pour tutorial can be found in the acrylic pour painting ideas below.
Flip Cup Pour
In flip cup technique, you must put the liquid acrylic paints in a cup in layers and immediately flip the cup onto the canvas so that the paint does not mix before pouring. Tilt with your hands or spin the canvas on the Lazy Susan. Make designs accordingly. Mostly thick paint is used in easy acrylic pour painting for beginners
Marble Pour
Fill your cup with the selected acrylic paints. Flip it on the canvas and slide it around the cup to create your preferred painting, tilting it till you obtain a marble appearance. While using this technique, you must move the cup on the canvas and twist it around. You can also achieve the marble impression by using the dirty pour technique.
Puddle Pour
In this technique, you pour your paint in puddles on the canvas, and make layers until there is enough acrylic paint on the canvas to get the desired art. You can use tools to shape the puddles and make interesting designs.
Swipe
In this technique, after pouring your paints on your canvas, you have to swipe the paint using some tool from the middle of the poured paint and make designs. Acrylic pour swipe technique
Tree Ring
Pour the acrylic paints in circle-like rings and leave them alone until the rings are visible. Your hands would be crucial in creating the perfect rings.
String pull pouring
Pour the Acrylic paint on the canvas in layers or the desired design pattern and put a string (you can use different bead strings) in the Acrylic paint. Then slightly pull the string or strings and make a pattern. Your unique design is ready. That is all about what design you want. Like you can make a beautiful flower painting with this simple technique. String pulling with acrylics.
Dip Pouring
Canvas is dipped into mixed paint that has been put onto a plastic surface in the acrylic dipping process. This procedure is also advised when using paint that has a shelf life of one or more batches. Tutorial: Acrylic pouring dip technique tutorial.
Colander pours
As from the name, we could make a kaleidoscope effect through the Colander pour. The video tutorial will help you  Colander pour tutorial.
Acrylic Pour Painting Ideas Frequently Asked Questions (FAQ)
What type of Acrylic Paints are used for pouring techniques?
FLUID ACRYLICS is ideal since their texture is preferred in pouring techniques. Due to their thin and runny viscosity are intended to flow smoothly across the canvas without affecting the color intensity.
What is the best Polycrylic or Varnish?
Polycrylic paint dries quickly and requires additional coats. Polycrylic paint is water-based. Meanwhile, because the varnish is an oil-based material, it takes longer to cure but preserves the artwork better than Polycrylic paints. As a result, varnish appears to be the best option.
Is water a good substitute for a medium?
No, when water is used instead of the pouring medium, cracks may emerge as the paint dries, which would be undesirable. Water might be used in small amounts sometimes, but for optimum results, always use medium or silicon oil. Also, because water is practically insoluble in acrylic paints, you must vigorously swirl the paint when using water as a medium. That is why acrylic paints are thin/dilute using a medium.
What is the basic ratio for Acrylic Paint to pouring medium?
For Acrylic paints pouring, mostly we use Fluid Acrylics or Soft Body Acrylics. The fundamental proportion is one part paint to three parts medium.
Can we use resin instead of acrylic paints?
Yes. Because the resin is a highly viscous material. It hardens like plastic when dry and creates a more gleaming appearance. Acrylic paints also make good dye substitute for epoxy resins.
Which Companies sell the best paints?
Liquitex
Artez
Blick
Amsterdam
Artist's Loft
AL Flow
AL Ready Mix
Golden
Sargent
SAX
Utrecht
Craft
Note: Above companies are ranked by an artist Left brained artist. Your choice may vary.
30 Projects for Acrylic Pour Painting Ideas
As promised, I have accumulated 30 Projects of acrylic pour art ideas with different paint colors.
Acrylic pouring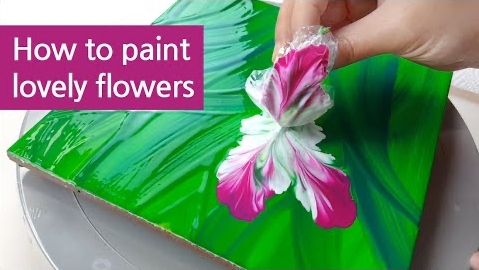 Lovely Flowers Sealing wrap acrylic pouring by designer gemma 77.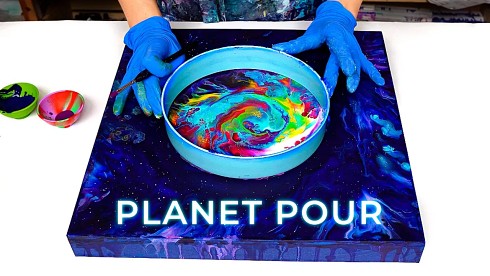 2. Mystic Planet Pour Abstract fluid art by Olga Soby.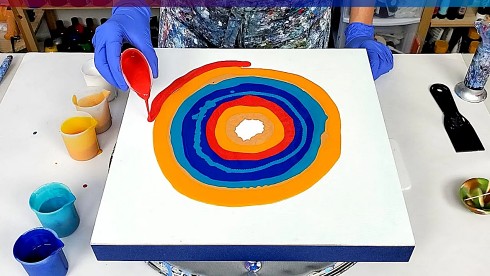 3. Acrylic Pouring Cells Mandala acrylic pour.
4. Acrylic pour painting MANILA idea Huge and dramatic fluid art by Sara Taylor.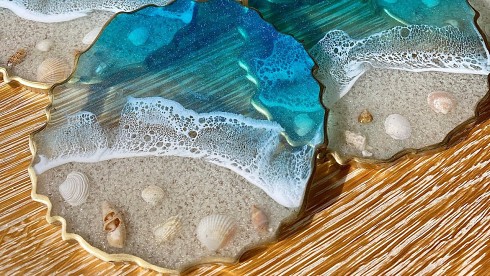 5. Low viscosity resins How to get cells in resin beach coasters? by summer girl designs.
Find 36 Stunning epoxy resin projects diy that look expensive.
Fluid painting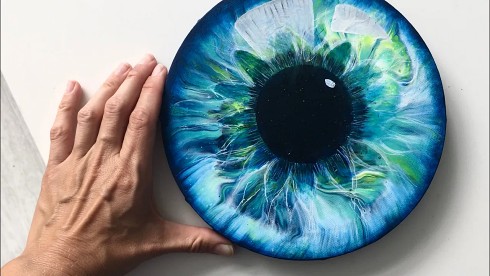 6. Eye acrylic pour painting by Mii Paintings.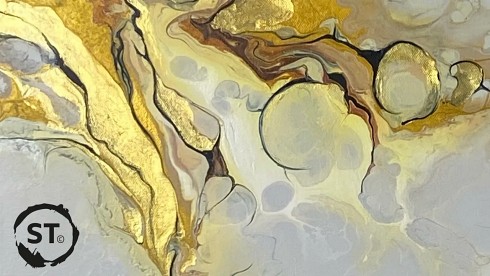 7. Pearls and pigment fluid art with golden fluid acrylics.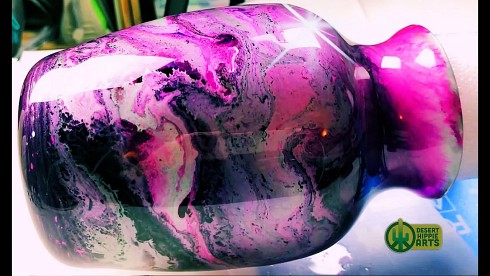 8. Easy acrylic paint pouring ideas on glass vase painting with alcohol ink by Erica.
String pull paint pouring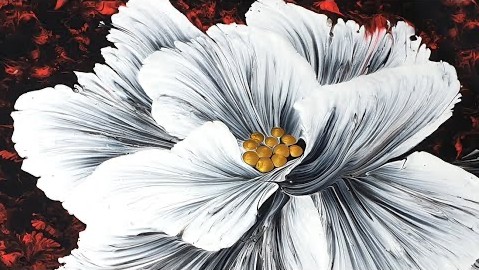 9. Elegant String pull flower.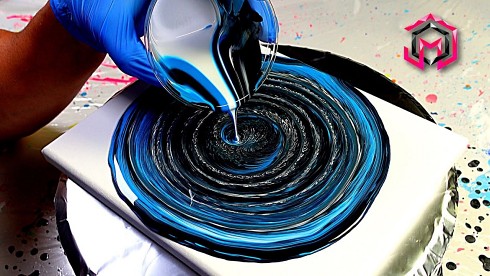 10. Acrylic pour painting using simple colors. The best acrylic pour by J Mo Painting.
Acrylic Pour Fluid Art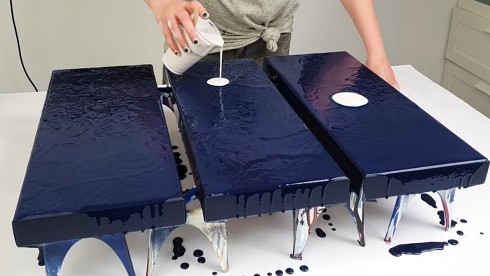 11. Northern Light Painting with metallic and pearls acrylic pour by Rinske Douna.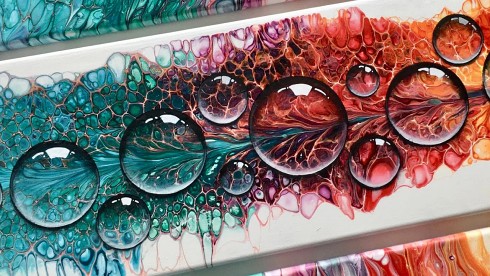 12. 3D Rainbow droplet acrylic pour painting idea.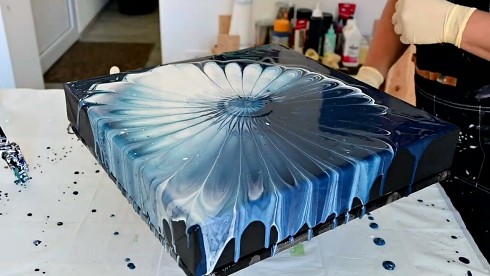 13. Magical strainer split cup pour paint art by Fiona Art.
Swipe pour painting ideas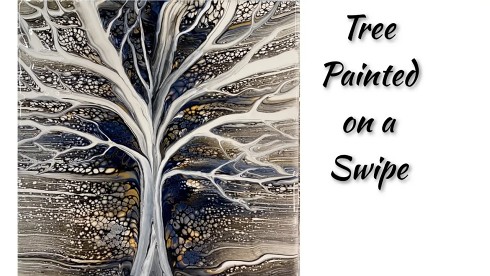 14. TREE painted on a swipe technique acrylic pour by Carole's Art Room.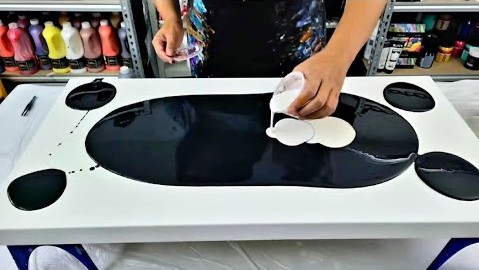 15. MERMAID Swipe with pearlescent paints paint pouring idea by Molly's Artistry.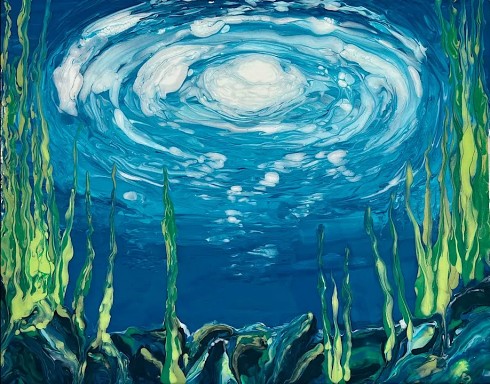 16. Sea cave fluid art impressionism ocean and waves by Gina DeLuca.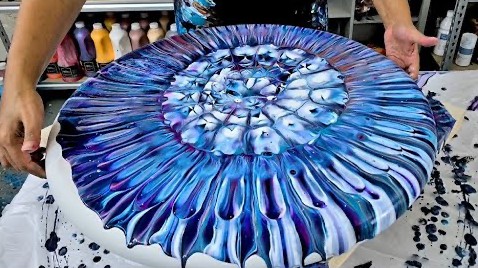 17. Kaleidoscope effect with thick acrylics pour painting.
Dutch pour painting
18. Orange Dutch bloom pour painting.
Liquid puddles pour painting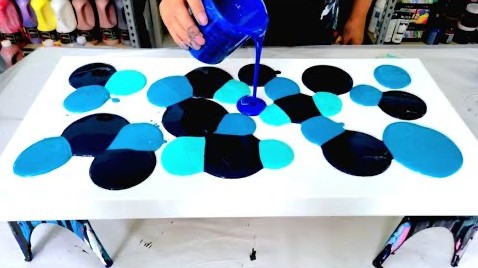 19. Liquid puddles of gorgeous colors acrylic pouring swipes.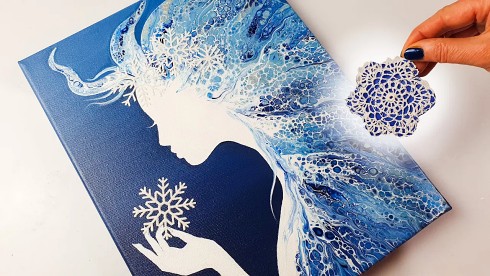 20. Acrylic pour paint detailed tutorial with spectacular swiping by AB Creative.
Paint pouring jewelry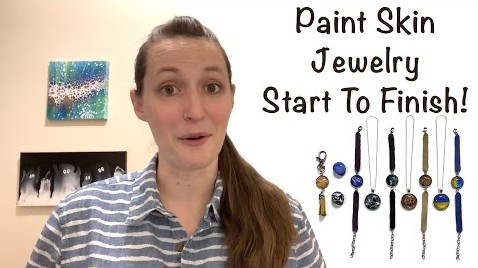 21. Make jewelry with paint skins by Anna Blount Art. Acrylic pouring jewelry with glass cabochons.
22. Painting with kitchen sieve and fluid acrylics painting by Tiktus color art. You can also use funnel pour.
Straight pour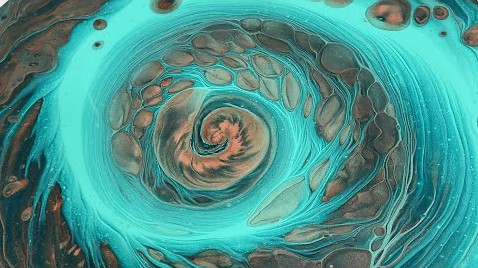 23. Fibonacci Straight flowing on round canvas boulder cells fluid acrylic paint flowing.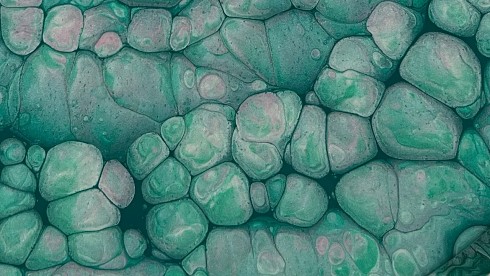 24. Opal Rose Straight Pour on round canvas Opal rose straight pour.
Swirl acrylic pour painting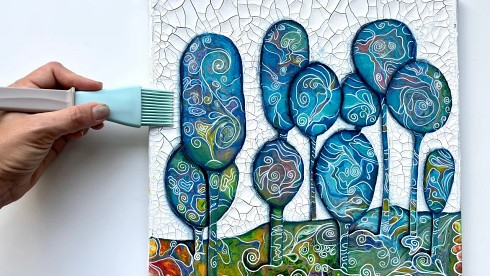 25. Special tool swirl acrylic pour painting ideas step-by-step tutorial.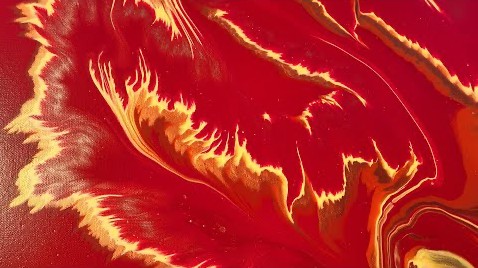 26. Hearts on Fire Split cup with negative space by Mina Villegas Art.
Acrylic pour flower art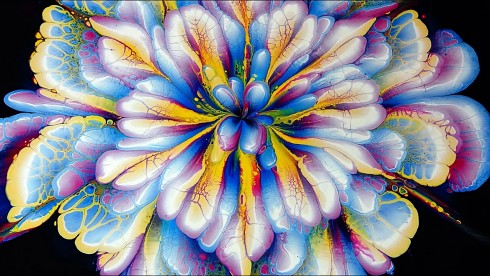 27. Mystic Flower acrylic pour with 3 colors only.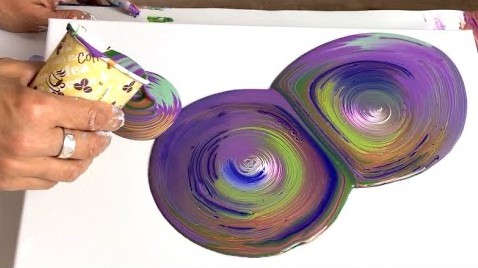 28. Triple ring acrylic pour fluid art by Rainbow acrylics by Claire.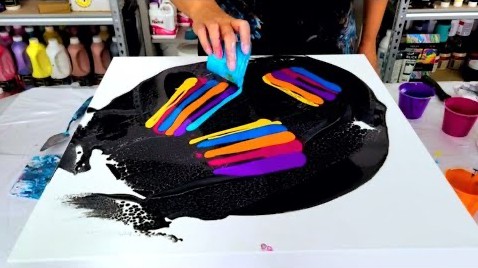 29. Beautiful Lacing acrylic pour swipe technique.
To create completely original and cool acrylic pour painting ideas, you may blend several cool techniques with other great approaches. The only thing needed is your commitment to putting your concept on canvas.
The only true source of beauty is your imagination, which these colors only enhance. Now that you have your fluid acrylic paints, try out your creative side.
Author: Marriam Arshad