This post may contain affiliate links. Please see our full Disclosure Policy for details.
A smart kitchen is a foundation for smart cooking. Keep your staple ingredients close at hand, and make sure everything else is organized and simple to locate. You must therefore have clever solutions for preserving those herbs and spices. Even if your kitchen has small space, it is still doable.
"Cooking is arguably an art form and spices, and herbs are the paints in your palette – easy accessibility is a must!" by Ruban Selvanayagam.
Find 30 different spice rack ideas for your kitchen and pantry. These ideas will help arrange spice bottles and spice jars in the cabinets, drawers and on the walls. You will find easy instructions to build and save money as well as spice racks you can buy with the ease of click. These creative ways add to kitchen decor and functionality.
How are spices arranged?
When it comes to storing spices, people typically utilize a spice rack. In what do you store spices? Well, you may arrange and keep different spice jars in it.
To put it mildly, organizing spices in a kitchen may be challenging. You probably don't have a lot of counters or cabinet space, but you still need to have quick access to your spices.
Pick the ideal location for the spice rack organizer. Dark, cool locations where you can keep them for a longer amount of time will work best. Professional cooks often choose to store them in cabinet spice rack because they shouldn't be exposed to heat or direct sunlight.
Choosing a spice rack for your pantry door is a great idea, but if you're short on room, wall-mounted spice rack are still an option.
Why are spice racks used by people?
Because it is frequently the most effective way to arrange spices. Simply divide the spices into several jars and arrange them in the spice rack. We're going to share some of the top spice rack concepts in this article.
How to choose a spice organizer?
Narrowing down the top spice racks is difficult. Before choosing a spice rack, you need to decide on a few factors.
Here are a few crucial points:
Whether the spice rack will be kept on top of the kitchen counter or within a cupboard.
How much spices you intend to have on hand will depend on whether you use them in your cooking or are more of a stockpiler.
You wouldn't want a wooden spice rack if your kitchen's accessories are made of metal, for example.
Do you intend to use the spices in the spice rack frequently?
Does this appear at every meal or just when you are experimenting in the kitchen?
Types of spice rack:
The most frequent kinds of spice racks are listed below:
wall mounted shelving with storage
swivel spice racks that are set up on a countertop or in a cabinet
Drawer based storage racks as opposed to shelving
Magnet spice racks kept on the refrigerator
Sliding spice racks with a track system that emerge from your pantry
Different tier spice levels are present on extension racks.
A Solution for Your Kitchen Storage
One important piece of advice is to discard any spices or herbs that may have expired before labelling and organizing. As a general rule, you should check the expiration dates on your spices once a year. The fresher they are, the stronger the fragrance, if you can't read the label.
SPICE RACK IDEAS
You'll enjoy these 30 great spice rack ideas and spice storage ideas included in this article if you're seeking a new method to arrange the spices in your kitchen.
Cabinet spice rack ideas
Wall spice rack: Save your valuable counter space. Build a wall mounted spice rack using this free idea to keep your seasonings handy and easy to use while preparing meals. Obtain materials like wood, hinges, screws, washers, glue, shelf pins, knobs, and magnetic catches. (sawsonskates)
Wooden spice rack: Such a cute hanging spice rack allows you to store all your herbs and seasonings in one open shelf location rather than having to go from cabinet to cabinet. Grab the tutorial now to get going. (housefulofhandmade)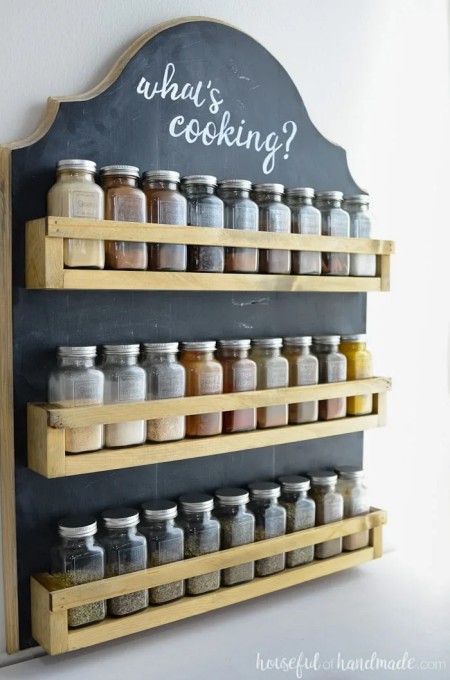 Drawer spice rack ideas
Spinning spice rack: Are you looking for a rotatable spice rack that you can use in your kitchen, on the dining room table, or while travelling? This guide will show you how to organize mason jar spice containers on a movable spice rack. (untrainedhousewife)
Under mount Spice Cabinet: Your spice supply will always be within reach thanks to this undermount rack, which also makes cooking a comfort with glass jars at your convenience. (beneathmyheart)
Test tubes spice rack: Here is a unique spice rack for your countertop that is fashioned to resemble a laboratory setting. It comes with a stainless steel base to contain everything and has nine test tubes for spices, and four Erlenmeyer flasks. (amazon)
Spinning spice rack: Most households consider a spinning spice rack to be a necessity due to its simple design and small space needs with convenience. Learn how to build a circling spice rack customized to your spice jars dimensions and save money. You can also mount racks on a wooden lazy susan from IKEA. (theownerbuildernetwork)
DIY countertop spice racks: These will give your countertop the appearance of a stunning work of art. While you are cooking something, it will be nearby. Keep track of the seasoning bottles with ease without installing anything. Build it up by adhering to the instructions to make scrap wood rack. (anikasdiylife)
Concrete spice racks: The construction of this concrete rack will stop you from overbuying if you frequently purchase spices that you already have but can't find! It will be a sturdy rack that lasts for many years. To get started, gather tools like cardboard, a tyre tube, duct tape, a cutter, a compass, and sharp scissors. (instructables)
Drawer spice rack: Your spices will be safe and out of the kids' reach and sight if you store them in this spice drawer organizer. Compared to purchasing a spice rack from the store, it will be less expensive. Build your own rack with tools like a drop sheet, a power saw, screws, varnish, and seasoned pine. (bhg)
Two-tier drawer spice rack: Finding a practical method to keep your spices accessible and free from humidity and dust? If you follow these instructions to make spice drawer, you can complete the design process within a day while saving money and time. (familyhandyman)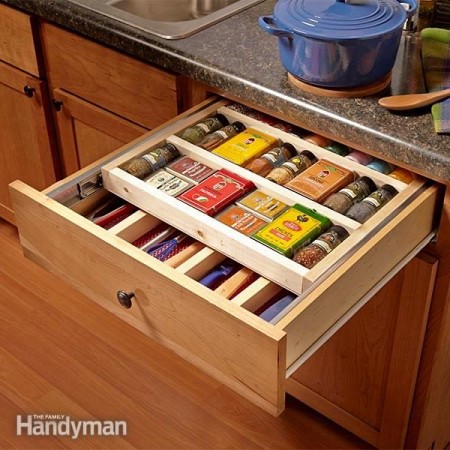 Wall mounted spice rack ideas
Pantry door spice rack: The space-saving pantry door spice rack is ideal for your confined kitchen. It will be a useful as mounting rack it in the pantry. Stock your spices as it will let you know which seasoning you are running low on so you can order more in time. Make light weight plywood boxes and hang on the door with hanging clips for your glass and plastic containers alike. (robbygurlscreations)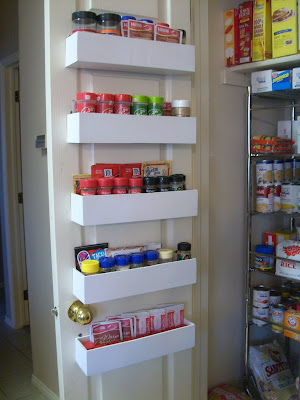 Rustic spice rack: Why would you keep your preferred spice jars in a locked cabinet? Build one of these simple rustic spice rack designs to display your spices on the wall. Your kitchen will undoubtedly gain personality and beauty with this IKEA hack. Additionally, they will be a huge assistance when preparing meals and utilize empty wall space. (theinspiredhive)
Magnetic cabinet spice rack: Consider large corner cabinets and confined spaces like fridge sides! You may use these as your new magnetic spice holder. Only a few materials may be used to create such distinctive kitchen corners: magnets, glue, and mason jars. (aforagershome)
Wine barrel wood spice rack: Improve the look of your kitchen with creative spices rack! This charming addition is perfect for lakeside cottage or vacation home near seashore. Make your rack as durable as a piece of metal. These racks have a barrel-like form and are constructed from metal, glass, and aluminum mending plates. (hallmarkchannel)
Spice shelves: You will adore this crown molding spice cabinet, which have been designed to inspire and rock. Fit a wood spice cabinet in the wall to make it look custom-made. (manditremayne)
Slide out double spice rack: This 4.25-inch-wide pull out spice organizer is their thinner model. Two typically sized spice jars will fit side by side in it. It should also fit into most kitchen cabinets because its depth is a little over 10.25 inches. (amazon,Walmart)
Mini hanging jars: Use wall hooks to hang spice jars on your kitchen wall. Wrap the jar mouth or pinch holes in the jar lid to pass wire for hanging with this simplest idea. (dreamgreenDIY)
Upcycle crate rack: Mount and repurpose a Coca-Cola container (or soda crate) vertically on the wall to create a wide spice rack for large spice jars storage in pantry. The design of your kitchen will be incredibly original and innovative. (ninered)
Acrylic spice rack organizer: If you enjoy simplicity and want your kitchen to seem tidy and uncomplicated, this wall mounted spice rack is perfect for you. It is durable without appearing bulky or powerful and is made of acrylic. The bottles and jars of spices have the appearance of floating. This rack won't tarnish and will remain spotless for a long time. (amazon)
Homemade spice rack ideas
Cardboard spice rack: Get the kids involved in this craft project to make handy spice rack for your kitchen, camp or cottage using dollar store supplies. (instructables)
Built-in IKEA spice rack ideas: This corner spice rack appears to have been placed there on purpose, doesn't it? The best thing about this design is that it can be made in whatever way you like and is quite easy to put together. On Amazon, you can purchase some of their products.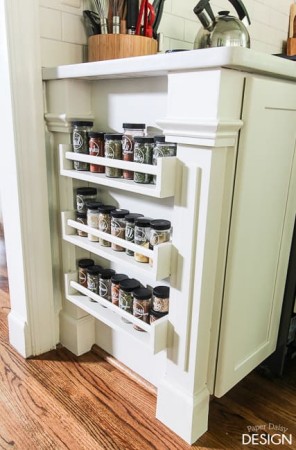 Industrial spice rack: Metal pipes are a simple way to embrace the current industrial trend, which is all the vogues! Use heavy duty galvanized pipes to make a frame for holding wooden racks. This spice storage is great for holding weight. You may change this to fit your shelves and spices and you'll love the way it looks. (tatertotsandjello)
Repurpose spice organizer: Check out this space-saving and practical application for baby food jars as spice storage solution! This is also a fantastic space saver because it makes use of an unused location and frees up some cabinet space. (momsandcrafters)
Insert spice rack: The four shelf spice rack attachment is made specifically for small kitchens with bottle storage. Along with being compatible with dividers and other accessories, it may also fit within drawers. The rack fits on narrow shelves that are slightly slant towards the center and hold spice jars of various sizes.(Wayfair)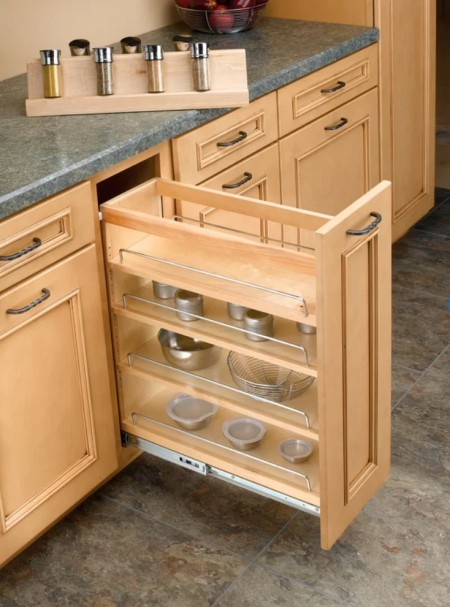 DIY Floating spice rack: This design creates a simple spice jars organizer out of a series of floating shelves. The list of materials includes timber boards cut into strips, wall plugs and danish oil. (littlehouseonthecorner)
Pallet spice rack: This tutorial demonstrates how to turn a basic wooden pallet into a spice rack. It has a stunningly rustic appearance that would be ideal in a farmhouse or shabby chic kitchen. All the necessary tools are listed including a cut list for the wood. (makeitloveit)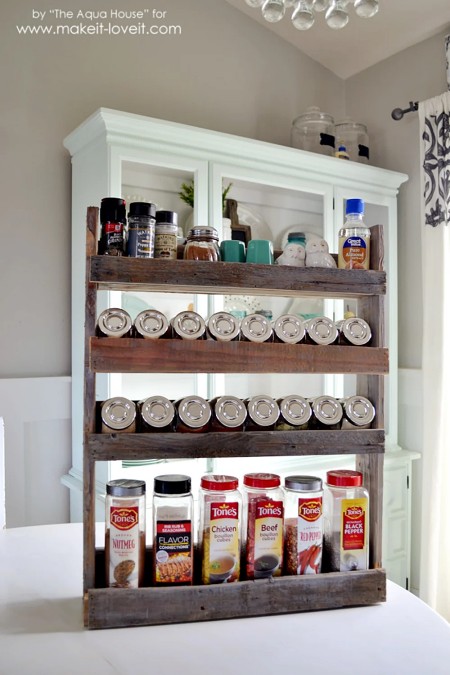 Nespresso hack spice rack: Nespresso pods are long, thin boxes. To make a tiered spice rack, British vlogger Warren used them effectively in this project. Use a group of pod boxes and some Sellotape to make these. Nothing could be simpler, really. Even Warren acknowledges that it's not the most attractive spice rack available, but that doesn't really matter when it's in your cabinet. Use this idea to utilize empty boxes and containers at home to make tier racks inside the cabinets. (Warrennash)
Dollar store spice rack: This clever design demonstrates how to make sturdy, easy-to-clean spice rack out of wire cooking racks. The instructions are quite clear, and the guide walks you through each step. When mounted within a cabinet door, the final racks look fantastic. And the cost to create them is quite low. (thestonybrookouse)
Countertop spice rack ideas
3 Tier expandable cabinet spice rack: Whether on purpose or not, your spice collection will continue to expand. It's a good idea to have a spice rack that can hold more of your spices when needed with protection railing. This extending rack can accommodate 36 spice jars. It arranges the parts into several levels, each of which is 3 inches deep. (amazon)

Adjustable kitchen spice rack: Organize your spices in this spice stack rack that stores 24 spice bottles. Use this organizer to store your spices in a pantry or kitchen cabinet. It comes with three adjustable dividers that fits spices in drop-down drawers. Made with high-quality plastic and has non-slip feet. Six sizes are available for this choice, including ones for 18 and 30 spice jars.Beneficial review: When you fully pull out the drawers, they bend down so you can see everything inside clearly. The drawers open effortlessly. The spices are contained, which is better than our old rack where they were exposed to splattered food and became dirty. (amazon)
Spice stand holder: The DecoBros Spice Rack will undoubtedly get attention. Made on a slightly smaller scale but nevertheless features all the elegance, refinement, and practicality of a wire rack. High-quality stainless steel construction, which has a stunning chrome finish. There are 18 spice jars and 48 spice labels. The rack has three shelves with room for six spices jars on each. (On Amazon)
Leather travel spice bag: Enjoy cooking? Enjoy Traveling? Ever wish you could bring all those spices and herbs to prepare your delectable home meals while on a backpacking trip, camping or outdoors? Invest in this decent glass spice kit that is ideal as a bushcraft bag. (Etsy)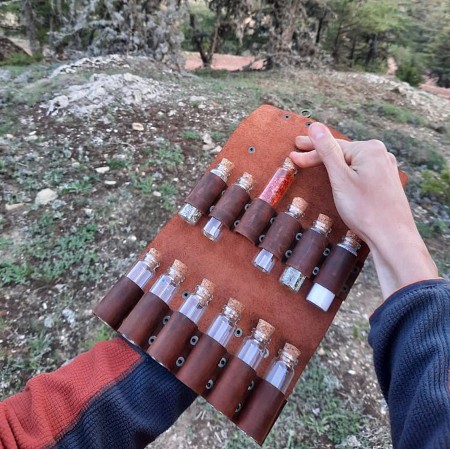 RV Spice jar rack set: Store and organize cooking spices in an auto measure carousel that double stacks and installs underneath the cabinet. You can use the provided 55 spice labels to label the 12 spice canisters for simple assortment. Each canister carries 4.5 oz of spices, and with each click, it accurately measures 1/4 tsp. You also have the choice of shaking or pouring your spices out of the canister. Witness this essential tools ability to save space. (Wayfair)

Finally, there are many different spice rack options. Consider how you'll organize them. You can arrange them alphabetically or based on how frequently you use them. It is not necessary to keep everything in a single spice rack organizer. Store various spices in a variety of areas on usage. They are all diverse in their designs and feature sets.
They are many choices to meet the needs of homeowners. Therefore, picking one shouldn't be a problem as long as you have some ideas in mind. You should also be aware of and consider the arrangement of your kitchen.
Please note none of the links are for compensation purposes.
Author: Nimra Yousuf
You will also like:
Kitchen cleaning products that are good for environment