This post may contain affiliate links. Please see our full Disclosure Policy for details.
My favorite DIY fall decorations are the ones that make the home cozy. Whenever I search for ideas I find tons of ideas using pumpkins, acorns, scarecrow, dried leaves and branches. Even wheat and corn husk have been around for years now. DIY fall decor for me is about uniqueness and so last year I decorated with potpourri and coffee tealight votives. This year I bring to you a chance of beauty!
On our drive back home from the lakefront cottage in late August, I saw these beautiful cattail plant on the roadside on the banks of lake. It reminded me of my childhood when my mom once picked cattails (aka bulrush) from the side of the road for DIY fall decor. I quickly knew that to cherish those wonderful memories I have to put these Fall plants in my vase at home.
There is something about simple and easy Fall decor ideas that speaks far more than decorating with pumpkins which is so common these days. How about we bring outdoor DIY fall decor home with cattail plant or other Fall plants and use them as centerpiece and flower arrangement? The best part is they are so easy to dry and use for months. All you have to do is let them air dry after a coat of spray. We will talk more about dried flower arrangements below. You will also be interested in what to do with dried flowers? and the 3 methods I shared for drying cut flowers.
Bring outdoor DIY fall decor home
This project is self-explanatory. An easy and cheap Fall decor idea that doesn't really need much effort but just cut, arrange and adore. You will need shears to cut cattails, a spray to preserve them and a beautiful vase for Autumn table centerpiece decoration. They make beautiful Fall vase fillers along with the feathery friends of theirs you will find along the roadside too. Both can use the same treatment for preserving for floral decor.
Find a short reel on instagram for this project.
Tall vase decor ideas
Decorating with tall vases like traditional carved brass vase can be tricky sometimes. You cannot add water to it as it will ruin it. Even though they look exceptional great as stand alone piece of art. These cattails were just perfect for it.
Dried flower arrangements make a great combination with houseplants. In this picture, I have placed a Chinese Money Tree in a decorative gold vase. The gold vase has double protection from water. I placed the drainage holes planter in a ceramic pot which in turn is arranged in the metal vase for aesthetics. Add coasters and light a scented candle to turn any home into a cozy retreat. Learn about nine awesome things to make a cozy home that go with any decor style.
Cattail plants
Mums, Asters and Daisies make beautiful Autumn flowers for your home decor in Fall. You can make them pop out in your flower arrangement by adding cattail plant. If you preserve cattails they will last for more than a year in your autumn flower arrangements. They are ideal for large arrangements due to their height and make a welcoming addition with other dried flowers and grasses.
Cattail plants commonly grow in moist areas on the roadside. They are usually found in ditches. If grown in public areas no special permission is required for cutting them down. Cattails arranged with dried wildflowers bring interest and beauty all year round.
How to cut cattails for DIY Fall decor?
I didn't plan on bringing them home so I didn't have any special equipment for harvesting them. I found it very simple to just hold and twist till you here the tick sound and then push it towards yourself to cut it. Leave the stem and leaves attached for a natural look. At least 12 inches of stem will give you enough room to arrange them in small or tall vase decor ideas.
However, if you already planned to harvest cattails, I recommend that you wear your rain boots as it grows in wetlands. You can use a pair of gardening shears or scissors to cut them. Pick well formed velvety cattails and not the soft ones. You also have to pay close attention to skipping the ones that have split open or are already losing seeds.
What is the best time to cut cattails?
The best time to gather cattail plants is from late summer to early Fall when they have grown fully. Cattails are ready when its head has turned brown.
Before you make your Fall flower arrangements utilizing cattails as DIY fall decor you have to spray them to ensure the outer layer doesn't burst. If left without spraying they can burst open into seeds and create a mess. This also reduces their longevity.
How to preserve cattail plant?
Air dry your cattails after a coat of spray. Make sure to spray and coat cattails in a well ventilated, open space in a vase or disposable bottle such that they receive air from all sides. Place a cardboard box or newspapers underneath to protect the surface from fumes of spray landing below. Let it air dry after spraying for a day and then transfer them into your decorative vase and display. You can use stones to add weight to light vases as cattails heads are heavy and won't stand.
I personally, arranged my cattails in the vase such that their heads don't touch anything and sprayed them. I then moved them in and left them on my table to air dry.
What can I use to preserve cattails?
You can use a variety of sprays to coat and prevent bursting of cattails. I used one coat of hairspray and one coat of adhesive spray because that's what I had handy at home. An interval of 30 minutes between the two coats and 24 hours drying is all that it needs. Make sure to cover all the surface of brown 'tails' evenly. You don't have to spray the stem and the leaves. and A few suggestions are:
Matte clear spray
Aerosol Hairspray (I used beach waves hairspray by Loreal)
Adhesive spray (I used Elmers Craft Bond)
Matte Lacquer
Some people leave them in garage for three to four days allowing them to dry between three coats of matte clear spray before bringing them indoors. The ones my mom had lasted for more than a year without any puffy seed explosions. I will update as the months pass on the results of this spray combination I used for preserving cattails.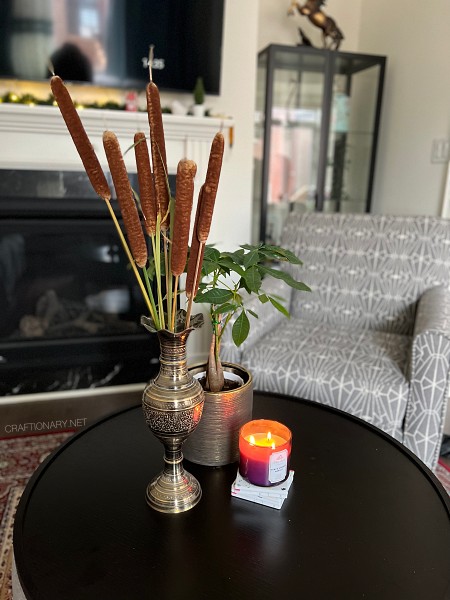 How to prolong dried flowers life?
In bright light the brown color of cattails will fade away therefore display cattails in indirect sunlight or shaded areas. In a controlled environment dried plants last longer as the humidity and dry air levels are in balance. Keep the away from air vents and dry areas.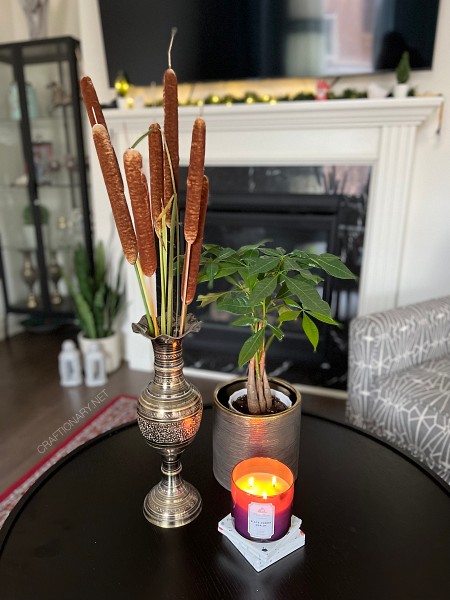 DIY Fall decor in my living room
Even though I have not included my DIY Fall decor tour, I would like to bring your attention to a few simple things that add value to your Fall decorations. These include faux greenery wired with twinkle lights on the mantel. A lighted fireplace with a bunch of Ikea lanterns along side snake plant from Costco. Use a combination of elements like crystal jars, metallic accent pieces and subtle decoration pieces in my Ikea cabinets with doors to unify this room. My preference for door cabinets is because it keeps the dust at bay and maintains a beautiful arrangement in a kids-friendly environment.
I hope you enjoyed this idea. I would love to hear your opinion about it. Till next time!