This post may contain affiliate links. Please see our full Disclosure Policy for details.
The month of Ramadan in all essence is mainly focused on prayers. I personally believe that this world is so beautiful and therefore, like our Creator we should also celebrate by making our surroundings pleasing, colorful, and charming. The concept of easy DIY ideas for Ramadan decoration is to make an effort to connect home decor with joy this month brings. This is also important for our kids as they feel and sense what they see around them.
Decorating your table in the living room or hanging a hand painted Ramadan sign at the entrance are small and simple Ramadan decor ideas. When my kids were young I designed simple Ramadan printables to teach them about the importance of fasting, and iftar/suhoor timings in Ramadan. This year is my first attempt to decorate my coffee table.
Instead of placing a sign stating "Ramadan Kareem" or making a Ramadan wreath which is not traditional to our customs, I wanted to be involved in decorating with a centerpiece that is relative to the theme.
Ramadan table decor ideas
Therefore, hear me out on my Ramadan centerpiece decor ideas.
1. During the day we fast and at night we pray. This resembles a scene where in the night sky flowers are blooming as the moon and stars shine. Incorporated with a basswood moon sign I cut with xTool M1.
2. We look up to the sky and seek light which is indeed the brass swan looking up to the moon.
3. On the ground our homes have lights till midnight as we stay awake which I created using recyclable glass jar buildings with tealights.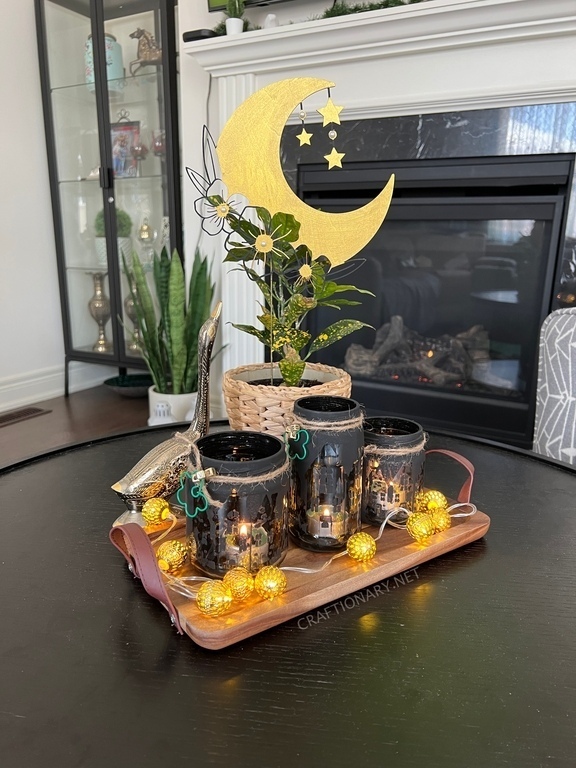 Ramadan wall decor idea
4. At the entrance instead of adding a wreath on the door, I wanted to stick to the theme. Therefore, the sky with ocean acrylic painting which I painted a while ago was perfect for the idea. The greatness you feel in the wonders of what lies above (sky) and around (water). I cutout a wood sign for Ramazan with xTool M1 and used glue dots to stick it on the canvas.
The decorative accents are the naturally dried hydrangeas from my Spring garden in 2022. These are air dried in 2023 with simple hanging technique. I have shared details about this method and nine more methods for dried and pressed flowers for your convenience.
You can replace the Ramadan sign with Eid sign for a quick Eid decoration for your home front door.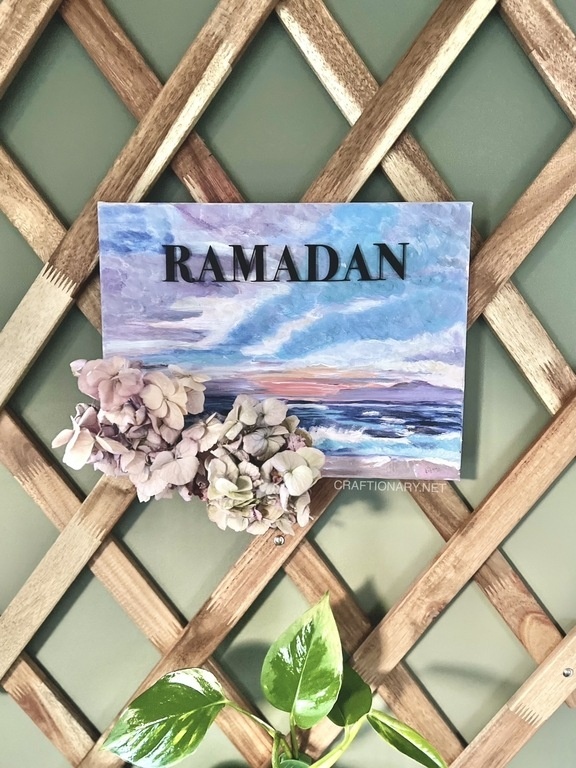 DIY Ramadan Lantern Craft
Recycle old jam, salsa and coffee jars and bottles to create a mason jar cityscape or lighted village scene in starry sky night. This project is so simple and perfect for one-time use without a large investment in lanterns. This idea is also fun to make Ramadan lantern craft with kids.
First use adhesive sticker remover to clean the residue off of my glass jars. Washed the jars and left them to dry.
Then download the SVG house file and use xTool M1 to cutout vinyl stencil in three different sizes based on the height of each jar.
Next stick the self-adhesive vinyl sheet on the glass jar and with a foam brush and acrylic paint dab the outside of the jars and the bottom. Apply a second coat after 15 minutes to cover empty spots. Here's a short video of the process.
I left it to dry for 30 minutes. Then I cut some burlap twine and gold beads to decorate the jar's rim.
In a wooden tray I placed the jars and arranged golden globe string lights.
Add scented tealight candles into the jars and lit them at iftar for aesthetics.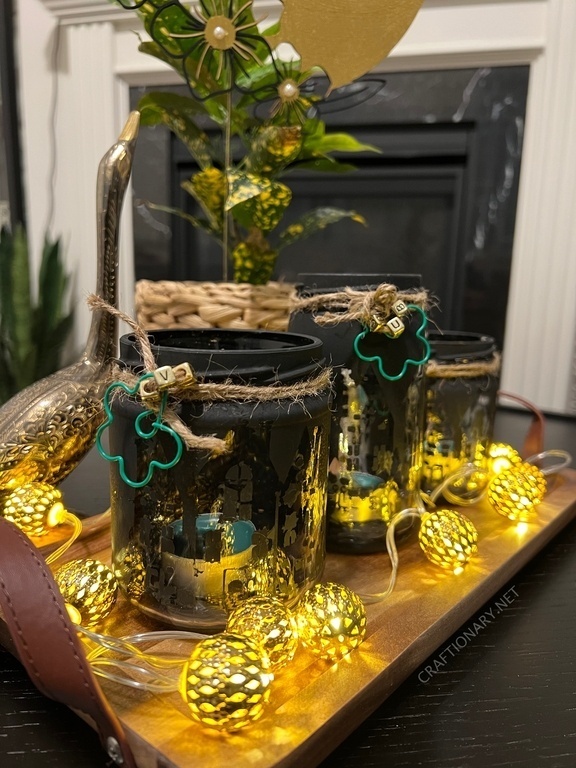 Alternatively: You can also print and cutout houses on a paper to create your own custom stencil or manually draw the buildings with a sharpie and paint outside.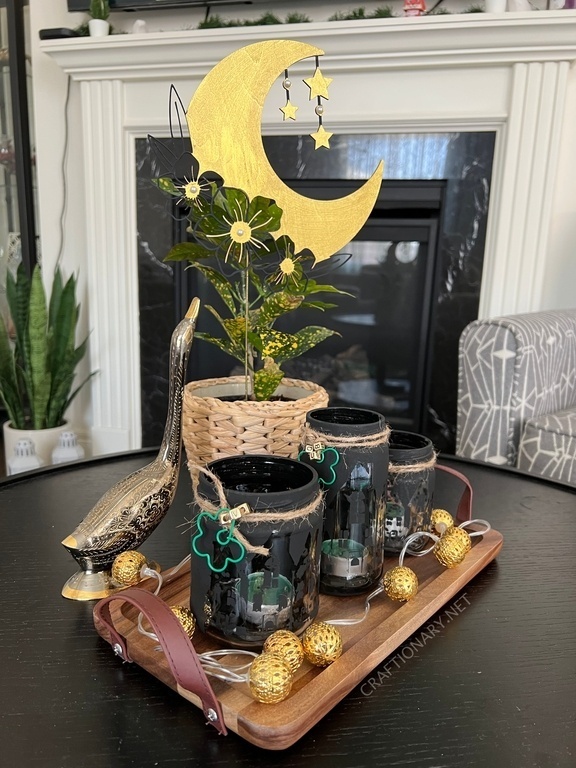 Ramadan moon banner
The Ramadan crescent moon banner is a super easy project.
Download the SVG floral moon and use xTool M1 to cutout on 3mm basswood plywood sheet.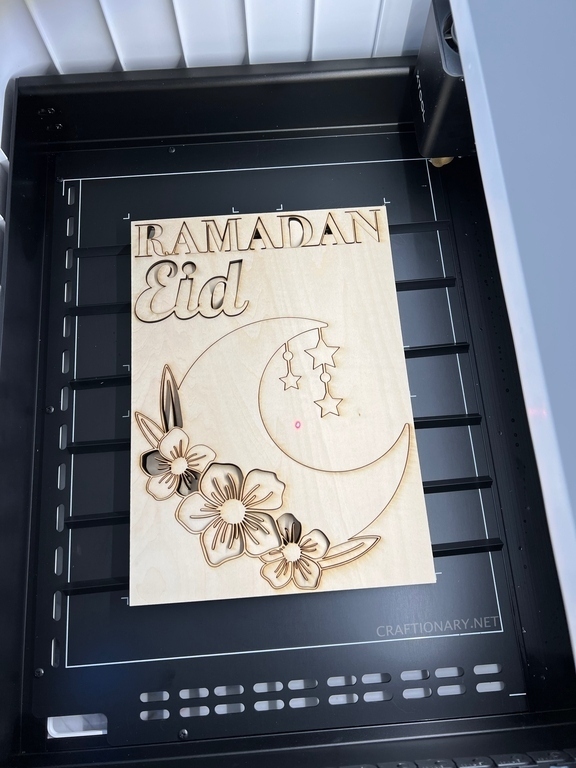 Use acrylic paint to paint the stars and moon in antique gold metallic paint and the flowers and strings in black. This gives the illusion of decorative moon and stars with nothing around if you pay close attention. This is mainly because black absorbs all the light and is almost transparent to the eyes.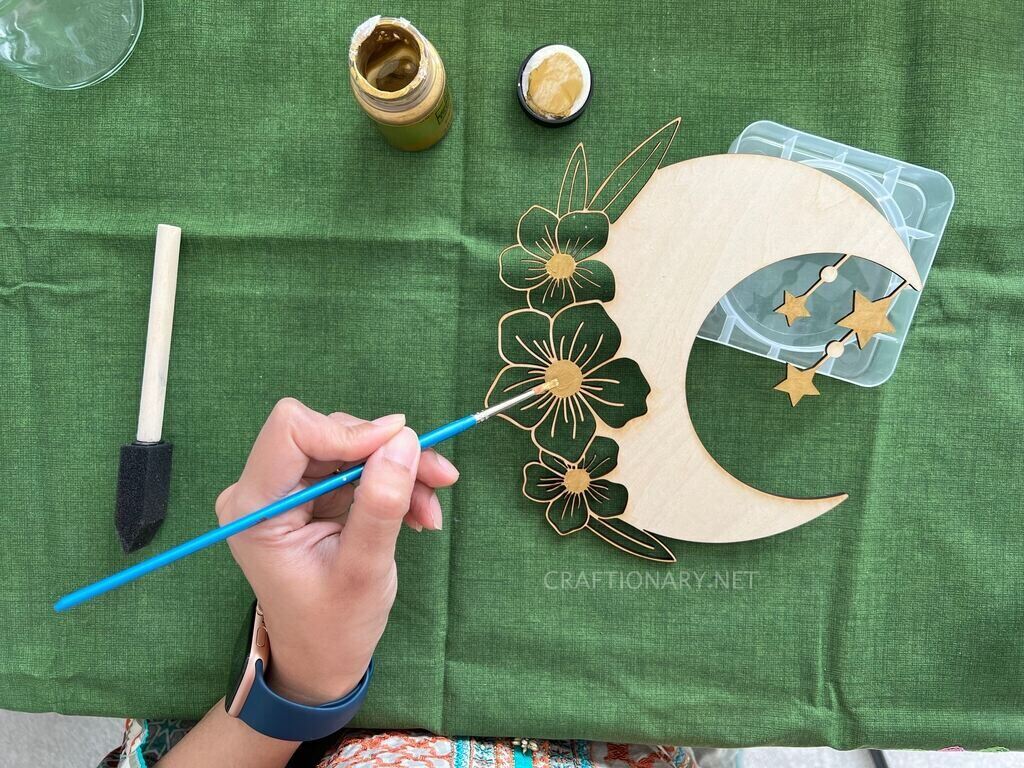 Stick a dowel or floral stick with clear dry wood glue to create a sign. Insert it into a planter or vase.
Alternatively: Print and trace the design. You can use a deep cut blade to cut out a thin sheet of basswood or plywood.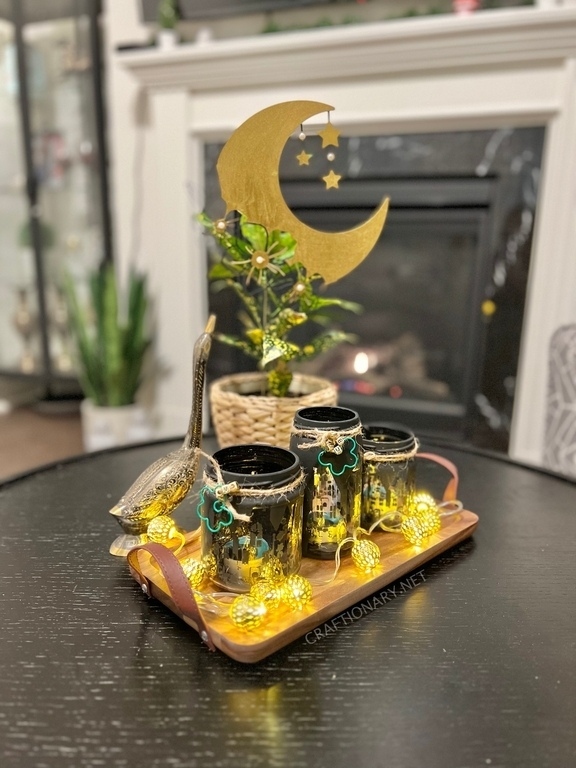 Ramadan decor ideas for your house
Decorating for Ramadan shouldn't be an overwhelming process. Especially, if you buy a lot of things in excitement you have to realize that storage can be an issue. Being human we don't really reuse or like same things every year as we keep evolving. Therefore, it is best to repurpose and focus on decorating a common area in your home.
Where to put Ramadan decorations at home?
There are a variety of spaces you can focus on:
Living room coffee table
Fireplace mantel
Dining table centerpiece
Suhoor and Iftar table decoration
Entryway wall decor
Kitchen Island or countertops
Entrance door hanging decoration
Garland or banner on the stairway
Tabletop frame art
Ceilings and even floors
Glass doors and windows
Reading nook in living space
Decorate bookshelves and cabinets
How to decorate for Ramadan at home?
There is no limit to creativity and hence decorating for Ramadan. Once you have made a choice for the area in the house. Next task is to choose a topic. The topic is what you should focus on to DIY handmade crafts or buy products to bring things in harmony.
Choose a color theme: It can be a single color like blue, or a combination like black and white or even metallic accents like silver, gold or amber for instance.
Choose a subject that is related to Ramadan. For example, if you think about nature you can decorate with houseplants, flowers or any form of greenery for a urban jungle decor. Think about oceans you can incorporate seashells, corals and other sea related accents or a farmhouse style decor.
Some DIY ideas to decorate for Ramadan
Here are a few more budget friendly ideas for you:
Gallery wall with Arabic scripts in a set of frames.
Moon and stars for long dark nights.
Scented candles and vases as centerpiece.
Ramadan wreath at the entrance glass door.
Outdoor Ramadan decor with door hanger.
Decorate with balloons with these ideas.
Famous mosques vintage prints to decorate the wall with DIY Mosque frames.
Nature to incorporate plants and flowers in decor.
Oceans to decorate with seashells and corals.
Old world to decorate with vintage accents to remind you how historical is Earth.
Soft and soothing for a philosophical touch with DIY tulle or silk fabrics and pastel colors.
Rustic and grounded with Earth-like tones and farmhouse style decor.
You can also use daily use essentials like bukhoor, beads, and lamps for Moroccan theme.
Use traditional fanoos lanterns to decorate
Turkish lamps and ornaments
LED star garland or waterfall lights
Moroccan string lights
How to Buy or Make Paper Ramadan Decorations?
You can find a variety of Ramadan Kareem paper decorations on Amazon, Party City, Shein and even Walmart. There are also a wide variety of options on Etsy that you can buy or even download and print at home. These include Ramadan room decor, string decorations, welcome mats, posters, and party supplies.
A printable banner with greenery garlands for stairs.
Ramadan Kareem flags and posters from Party City.
Set party theme table cloth, table runner, and table mats for iftar gatherings.
Stick reusable Ramadan decals on the walls.
Use Ramadan banners, confetti, and buntings with dishes and silverware for food table decor.
A variety of Ramadan paper lanterns in different shapes and colors.
I can go on with ideas but these are shared just to give you a jist of how you can decorate apart from just placing a sign board stating "Ramadan Mubarak". These ideas will also look sophisticated and subtle. They are easy to incorporate using things at home and you don't have to create or buy a collection of things used once a year or more sadly once a lifetime to eventually end up in thrift store.
You will also like: