This post may contain affiliate links. Please see our full Disclosure Policy for details.
DIY Ghosts Tutorials. Do you like scary Halloween decorations or cute? You can make DIY ghost decorations for porch and home decor for Halloween.
Ghosts are so easy and fun to create. You can simply create them with the least number of supplies. Halloween ideas are so many but I wanted to share some tutorials for a ghostly Halloween setup today. A last minute DIY ghost costume is as simple as white clothes covered with old bed sheet and fabric cutouts.
DIY Ghost Decorations
Let's have a look at these Halloween crafts.
You can also find more fun ideas to theme decorate for Haloween with DIY witch halloween crafts, Halloween cupcakes, Pumpkin carving ideas and Halloween wreaths.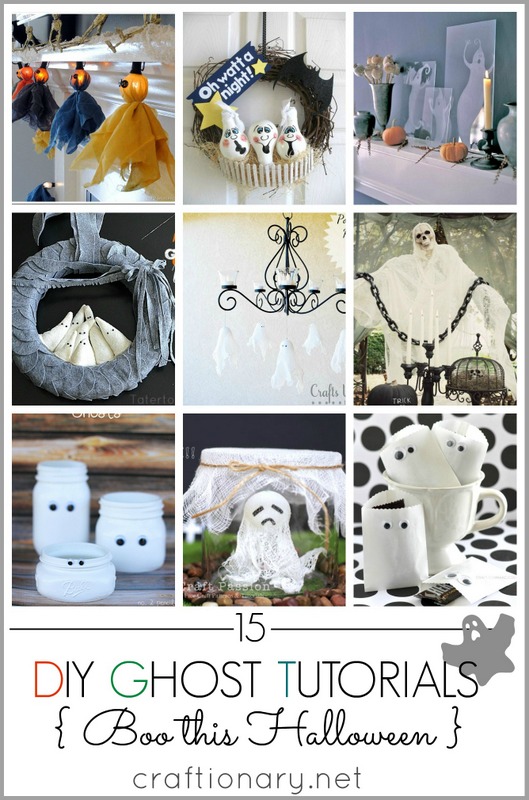 Handmade Halloween Crafts
Trapped ghost decoration
glass jar + ping pong ball + cheese cloth + sharpie
Halloween ghost porch
Make ghost luminaries with upside down tomato cage + head form or Styrofoam ball + old sheet + string lights + black fabric for eyes
Paper ghost treat bags
paper treat packs + googly eyes
Mason Jar Ghosts
white spray paint + mason jars + google eyes
DIY Ghost Costume
Ghost headband with ribbons.
DIY Ghost Feet
Ghost wall art with wooden board + acrylic paint in black and white + ribbon to hang
Ghost treat boxes
sharpie markers in black or black paper cutouts.
Halloween ghost topiary
Styrofoam balls +wooden dowel rod + cheesecloth
Stencil Ghost Pillow
Stenciled pillow of ghosts, bats, witches, spiders. Ghost stencil + fabric paint + plain pillow.
DIY Ghost stuff toy
polyester filling + white fleece + sewing machine.
DIY hanging ghosts
Hang on a chandelier or front porch for Halloween porch decor. String or fish wire + Styrofoam ball + googly eyes + cheese cloth
Scary Halloween ghost decorations
Make a DIY Ghost for yard with chicken wire + skull + cheesecloth + plastic black chain
Halloween ghost wreath
Make a ghosts wreath with felt + styrofoam wreath foam + scallops felt + Black beads
Halloween ghost glass art
Make frosted ghosts on glass for decorating Halloween mantel.
DIY Ghost Garland
RIT dyed lighted fabric ghosts garland on the mantel.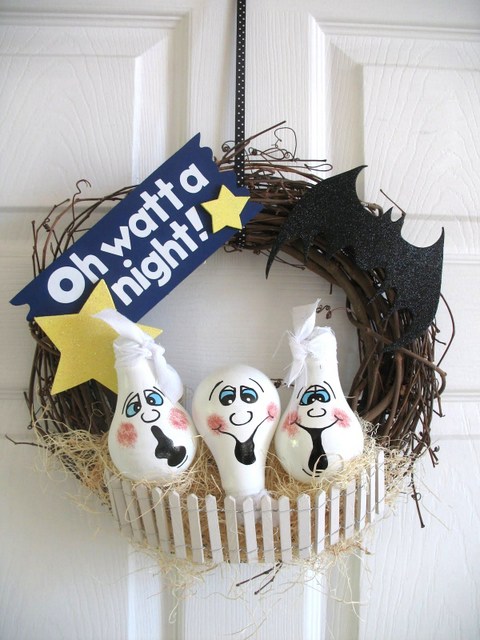 Homemade DIY Ghosts Crafts
Halloween wreath made with painted ghosts on old bulbs.
cotton + cardstock + googly eyes + twig or pipe cleaner
Yarn ghost garland
Yarn string + pom pom balls + yarn tassels
You May Also Like: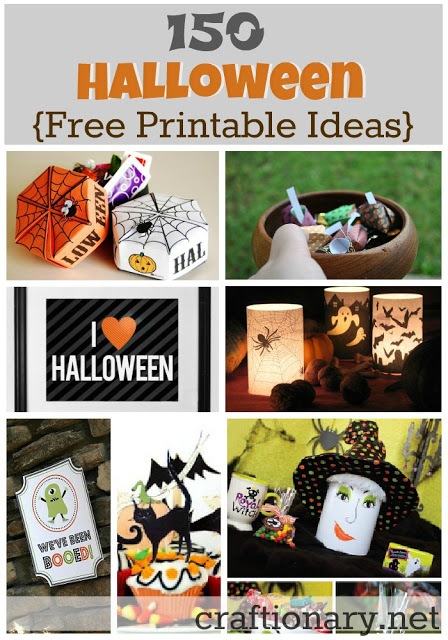 Best pumpkin painting designs and ideas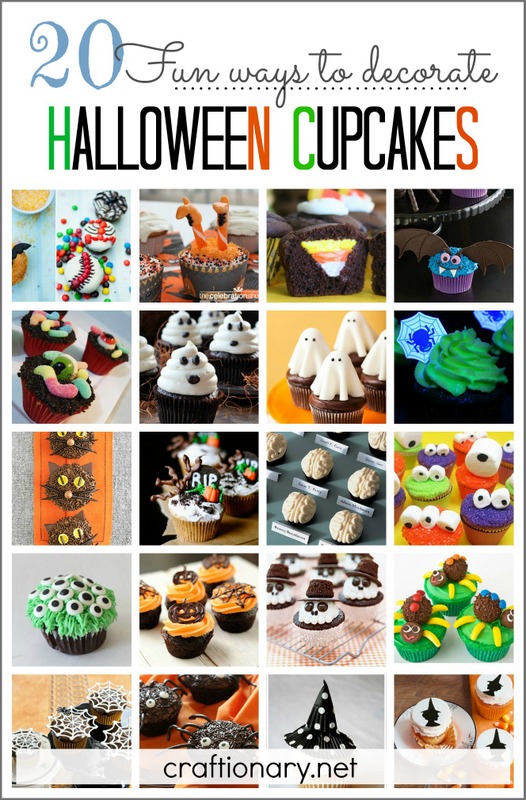 Check out our category Halloween Projects.
Are you on pinterest?
You may also enjoy the Fall ideas and Halloween ideas Boards.
Updated regularly whenever I find unique ideas.