This post may contain affiliate links. Please see our full Disclosure Policy for details.
So, last weekend we made a silly ghosts garland. It's a fun Halloween project for crafting with kids. The googly eyes and pulling cotton apart are two fun activities that involve the kid's excitement. A very simple and easy kids craft that will only require things you already have around the house. And a good time with kids.
Silly Ghosts Garland
Being from South Asia, I never celebrated Halloween. Over there we don't have the concept of celebrating this Holiday.
After being in Canada for 6 years, this is our second time celebrating it. Honestly, all because it's my little boy's favorite holiday. Last year I made an easy ghost costume for him but then he ended up wanting to be a spiderman at the last moment. And this year he asked for some Halloween decorations in the room. Which I tried to fulfill at the most except for a carved Jack-O-lantern, which I dropped off the list because of my talented crawling baby boy. We ended up making pom pom spiders and a FREE Halloween printable wall art. And I bought some fake pumpkins which we ended up painting to look like Jack-O-lanterns.
He just loves having all these exciting things in his bedroom corner. And this year he again wants to be a spiderman. 🙂
Now I'll get started with the tutorial:
Crafting with kids
You will need:
Gift tags (I found these at Target)
Cotton balls
Googly eyes
Glue
Pipe cleaner
Have your kids pull apart cotton while you drizzle some mod podge or white glue on the gift tags.
Press cotton onto the gift tags. Making sure the entire area is covered.
Now fix the googly eyes over the tags. We used glue dots because they are less messy.
You can also use the same glue you used for sticking cotton onto the tags.
Let them dry. Hang onto a pipe cleaner. And you're done!
It was my son's idea to put random googly eyes on them. They look silly this way!
And that's how we came up with this silly ghosts garland.
Hope you like this idea. And will give it a try with your young crafters.
You May Also Like:
DIY Pom Pom Spiders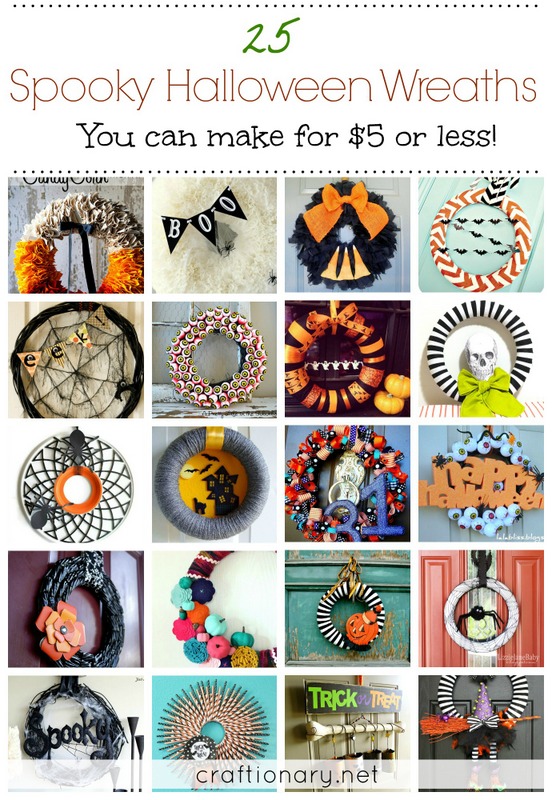 Halloween Spooky Wreaths
Creative Halloween Garlands
Are you on pinterest?
Updated regularly whenever I find unique ideas.