This post may contain affiliate links. Please see our full Disclosure Policy for details.
I am so happy to introduce a new line of Mod Podge.  Plaid's Mod melts and mod molds.
An easy and creative way to create embellishments, in any color you want in less than 10 minutes.
The mod melts come in sea glass and milk glass.
And you only need a glue gun to melt and pour them into the molds.
There are 3 really fun and cute shapes these molds are available in.
And these will be exclusively available at Michaels in May.
Embellished Handbag
The one I received had cute button and frame shapes.
You can decorate tons of cute things with them.
Like bookmarks, frames, pots, jewelry and even use them to wrap gifts, creatively.
Just load the mod melts into your glue gun. And squeeze it out in the molds.
Use high temperature glue gun.  And also make sure the glue has melted well, before you pour it in the molds.
Since, the glue dries quickly in the molds, the more flowing it is the better it sets in the molds.
Also keep a toothpick handy for moving the glue into tiny details of the molds.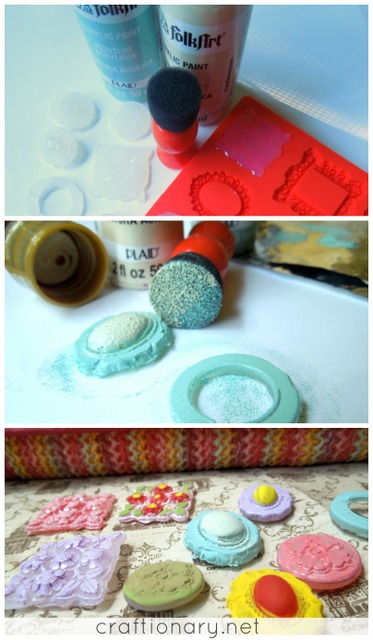 Once your embellishments are set.  Take them out of the molds.
And you are ready to paint them.
Use a sponge or brush to paint them.
Or you can even glue them onto your project, and spray paint.
I painted them in several different colors.
These will also make cute buttons.
I used it as my handbag button.
I love how my embellished handbag looks!
Cute and smart.
I am totally in love with mod melts.  Not only are they easy and quick to create.
But they can be painted to match any project and they look beautiful.
I am thinking glitter paint and decoupaging paper on them for more fun effects.
For more information about Mod Melts, follow Plaid Crafts:
Facebook | Twitter | Pinterest | Blog
Disclosure: This is a sponsored post by Plaid Crafts.  All opinions are 100% mine.
Check out other Mod Melt Projects: