This post may contain affiliate links. Please see our full Disclosure Policy for details.
I had so much fun finding these easy Halloween cupcakes ideas to decorate. I was looking for some cute monsters to decorate my son's cupcakes for lunch. These are super cool ideas for not so professional bakers like myself. Scary Halloween cupcake ideas that are easy include cupcakes with witches, ghosts, spiders, bats and even scientist brains.
These creative Halloween cupcake ideas are simple and made with chocolate that we all love so much! There are scary and spooky Halloween cupcake ideas as well. You will find cupcakes made with oreos and even Halloween cupcake ideas for toddlers. These are also great for picking up store cupcakes and decorate Halloween cupcake ideas.
Halloween cupcakes ideas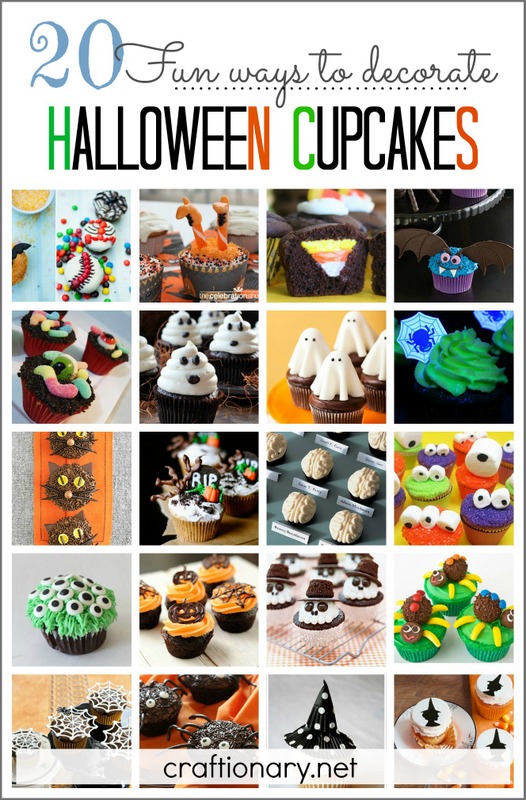 Fun ways to decorate Halloween cupcake ideas.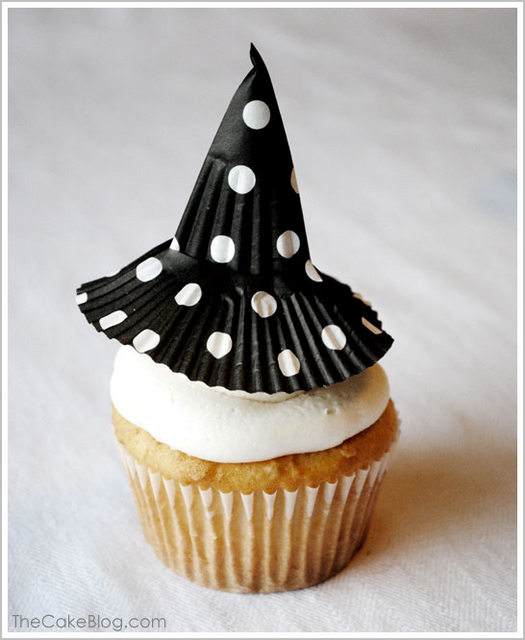 1. Witch hat cupcakes
A very creative way to make witch cupcakes with cupcake liner.
2. Witch silhouette cupcake
Simple and quick witch stenciled on your favorite cupcake recipe.
3. Spooky spider cupcakes
Add some sprinkles and licorice or chocolate legs, here comes the spider!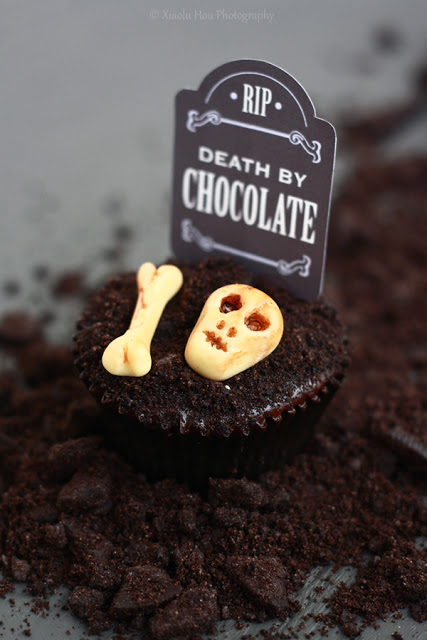 4. Spooky graveyard cupcakes
"Death by the chocolate" Scary Graveyard chocolate cupcakes.
5. Spider web chocolate cupcakes
Very cute and easy spider webs made with piping bags. Frozen and placed on top of the cupcakes. Itsy bitsy spider web cupcakes.
6. Chocolate spider cupcakes
Some creativity that interests kids to participate using runts bananas, m&ms and chocolate balls!
7. Skeleton cupcakes
Yummy little skeletons, ready to be served with jelly beans, black licorice strands, M&M's, mini chocolate cupcakes and wafers.
8. Pumpkin Halloween Cupcakes
Melted chocolate and orange icing.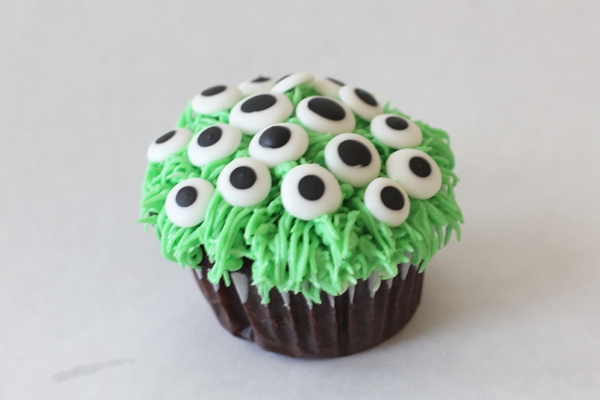 9. Monster eyeball cupcakes
A tutorial to make eyeballs to create different monsters. Make monster eyeballs with chocolate.

10. Halloween Monster Cupcakes
These are so cute, marshmallow cupcakes!
11. Brain cupcakes
I love the labels at the front the most. Brain cupcakes recipe with buttercream icing.

12. Spooky graveyard Halloween cupcakes ideas
13. Black cat cupcakes
Sprinkles, black licorice strands and chocolate.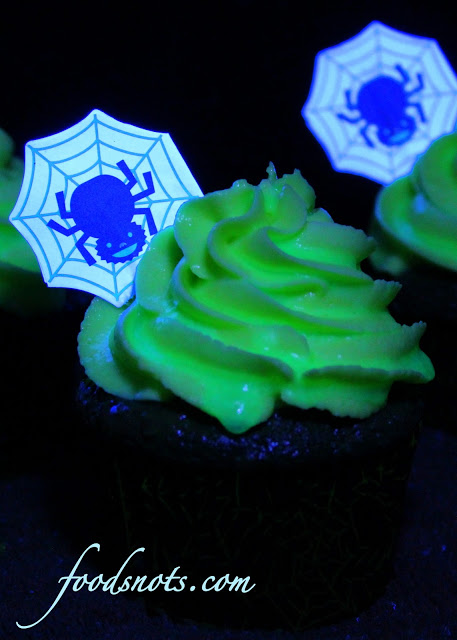 14. Glowing cupcakes
Make ghoulishly glowing cupcakes. Recipes include white and green glows in the dark as ingredient.
15. Ghost cupcakes
Make these adorable ghost cupcakes with fondant.
16. Halloween ghosts cupcakes ideas
Some yummy creamy icing and a piping bag. Yes please!
17. DIY spooky worms cupcakes
Spooky eyeballs and jelly worms on dirt.
18. Insect Halloween Cupcakes
I am loving this cupcake experiment. Photo recipe of how to decorate cupcakes with candies.
19. Crashing witch cupcakes
This cracks me up. Fun idea with orange candy cane, sprinkles, starburst for shoes, and icing. Crashing witch cupcakes.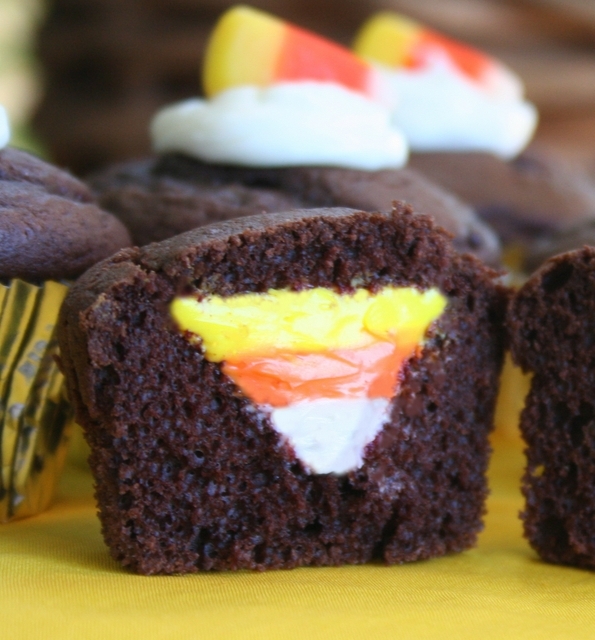 20. Candy corn cupcakes
Make candy corn cupcakes with filling in the cupcake's center.
21. Scary bat Cupcakes
Spooky bat wings made with chocolate sauce. Love this Scary bat Cupcakes idea!
You May Also Like: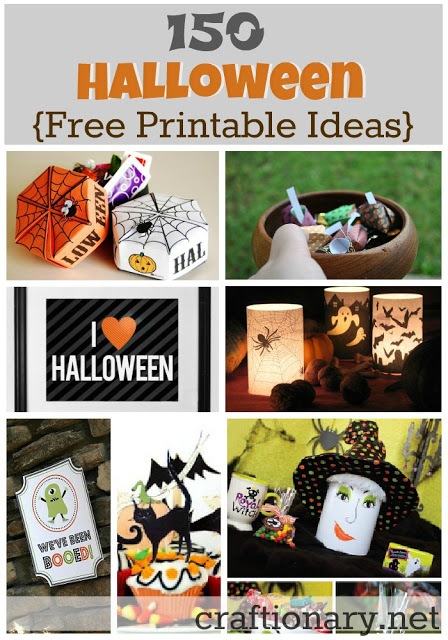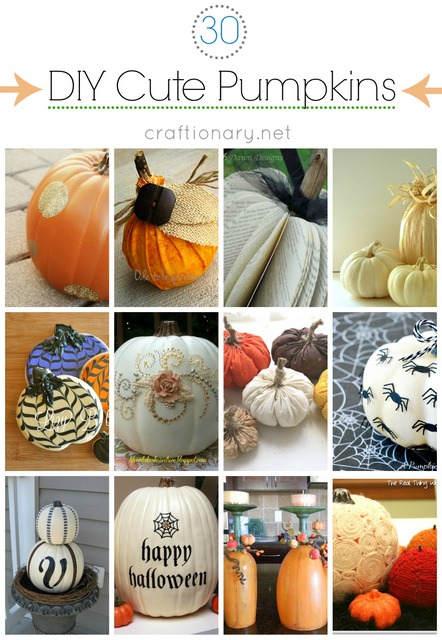 Check out our category Halloween Projects.
Are you on pinterest?
You may also enjoy the Fall ideas and Halloween ideas Boards.
Updated regularly whenever I find unique ideas.