This post may contain affiliate links. Please see our full Disclosure Policy for details.
Doors are not just mere entrances to a building but project various details about the socio-cultural preference of the dwellers. Doors in the past were meant to last forever due to fine quality materials, excellent craftsmanship, and uniqueness. If you are going through house renovation or have some vintage doors in your warehouse, then it's time to repurpose and reuse those old doors into functional and aesthetically pleasing masterpieces with these efficient uses.
What can you make from the old door?
Buying new doors can be expensive. In addition, it is impractical and unsustainable to let your old door go wasted. You can craft genuine products to jazz up your living spaces using the right tools, supplies, and imagination. Several items, such as racks, serving tables, coffee tables, bookshelves, fences, hall trees, shelves, porch swings, mirrors, corner shelves, racks for hanging planters, decorative gateways, wall hangings, ladders, table tops, headboards, etc. can be crafted to add a rustic and vintage touch to your houses.
What can I do with unwanted internal doors?
There are tons of creative ways through which you can hide and refurbish unwanted internal doors. This article lists 40 simple, cost-effective ideas for making long-lasting, valuable products. It is essential to ensure the product's safety, i.e., there should be no sharp edges, nails, or screws protruding from the surface before refurbishing old doors.
How do you convert old interior doors?
Restoring old doors helps to create functional and practical living spaces by saving space and adding more character to a room. There are several easy and practical ways to convert your old rustic interior doors into contemporary new articles, such as
Adding a fresh coat of paint after smoothing out the texture. Adding primer can also help improve the surface of an old door.
Molding flat wooden doors with wood glue and nails to revamp a plain old door.
Change the door's hardware and install the latest vibrant details on the door.
Apply wallpaper to create a pleasing section of your house.
Portray your inner craftsman by adding accents using stencils.
What to do with my old doors?
An unused, unwanted door can find a new purpose through practical and cost-effective DIY ideas. Several valuable products, such as repurposed interior doors, shelves, storage racks, creative displays, and dividers, can be crafted easily using vintage doors. These articles are a great addition to your house but hold a commercial value and can be sold in the market.
Old doors for sale to buy?
If you are a DIY enthusiast who deliberately wants to experiment with reusing old doors, you can purchase old, rustic, and vintage doors from eBay, Etsy, and Amazon. You can also check your local community groups on social media, local salvage stores, and garage sales to access vintage doors at affordable rates.
Where can I sell my old doors?
Aged doors are in trend and are valued for their distinctive features, handwork, and fine wood quality. They can be sold directly on eBay, Facebook Marketplace, and Amazon.
How do you reuse old glass doors?
Old glass doors make perfect table tops, garden arches, and creative gateways for your backyards. Check out these fabulous ideas to satisfy your creative urge.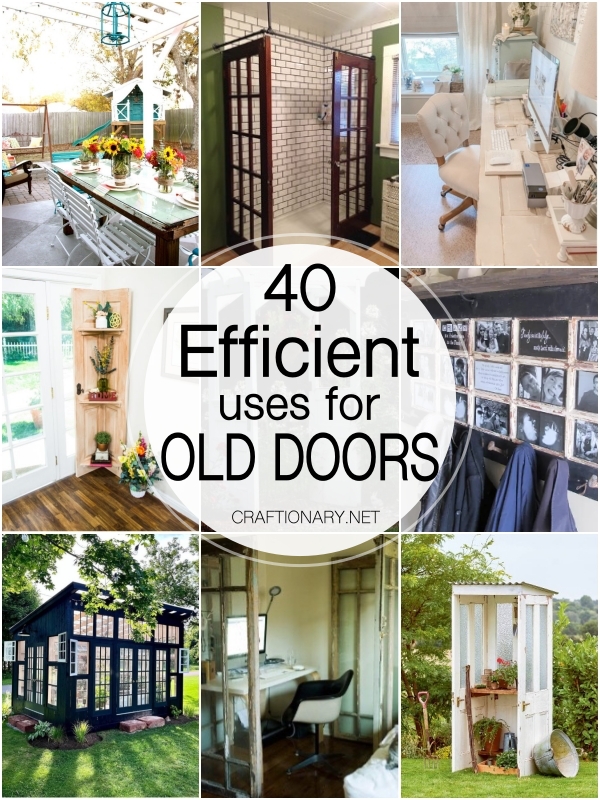 THINGS TO DO WITH OLD DOORS
Restoring old doors into upcycle projects and repurposing them in the home and garden is not only fun and creative but efficient and useful use of old doors. Let's see some wonderful ideas:
Upcycled old door Arbor:
You can create the perfect gateway to heaven on Earth by upcycling an old door and building a majestic arbor for your garden.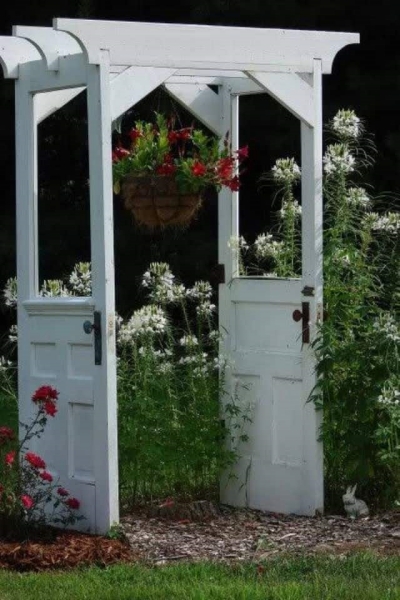 Houzz
Hall Tree made with old door:
Craft this simple rustic Hall tree using this unconventional idea by The Modern Vintage Life. This handy design is painted in neutral colors and will last in your hallway for a long time.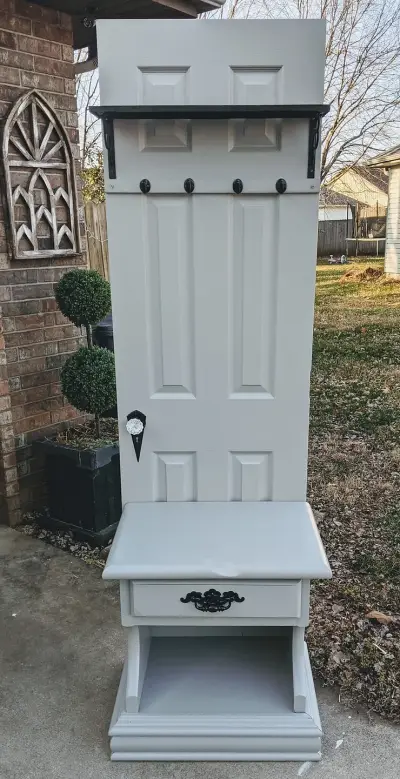 Budget-friendly coat hanger:
Are you looking for a minimalist idea to transform your hallway? Here is a simple, affordable tutorial for a multipurpose coat hanger by Lori Johansen.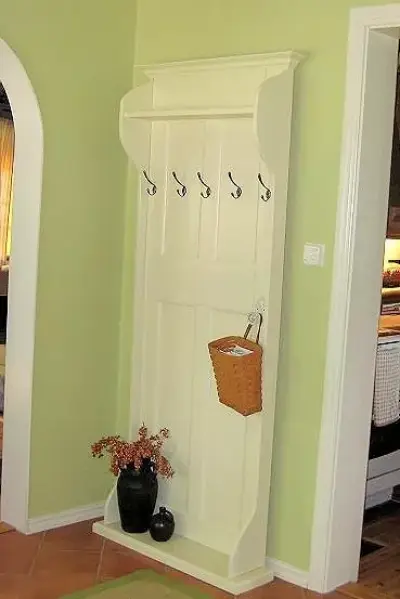 Making headboard using antique door
Want to craft a headboard for your bedroom without spending a penny? Check out this fantastic DIY idea by Beauty for Ashes using old door for bedroom revamping.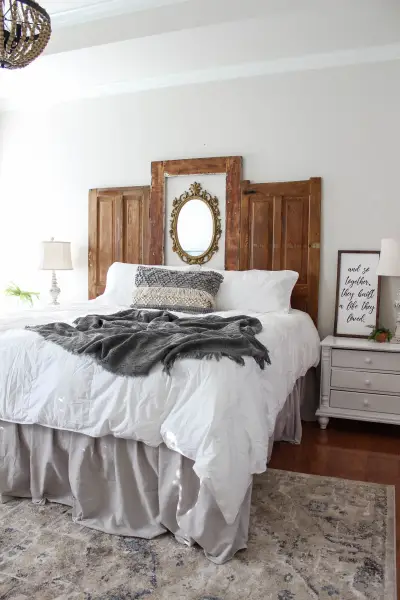 Custom Built-in shelves in an existing doorway
Using Old doors for decorating inside is easier than it seems. Here is a creative tutorial by Grace in My Space that will help you to close an unwanted doorway in your house by building custom built-in shelves!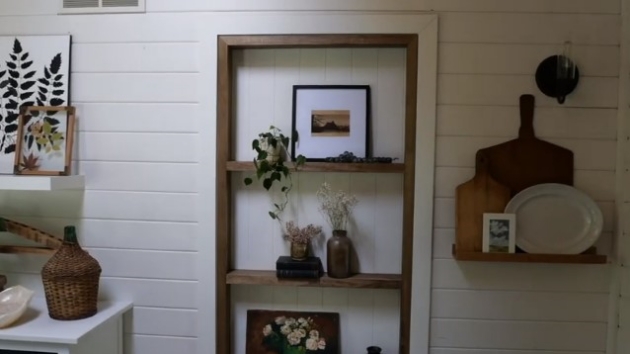 DIY door organizer
If you want to add a color pop to your kitchen without making any permanent changes, this tutorial is best for you! Follow this simple idea by Creating Awesome Fun Things to renovate your kitchen on a budget!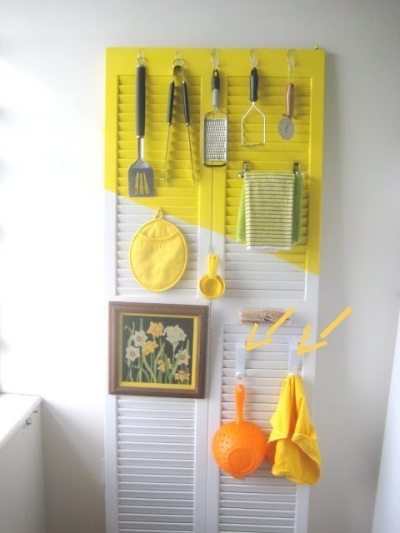 Corner Shelf from old door
Here is your chance to decorate that dull, empty corner using an old door to make a statement Corner shelf. Follow this tutorial by Hallmark for complete guidelines.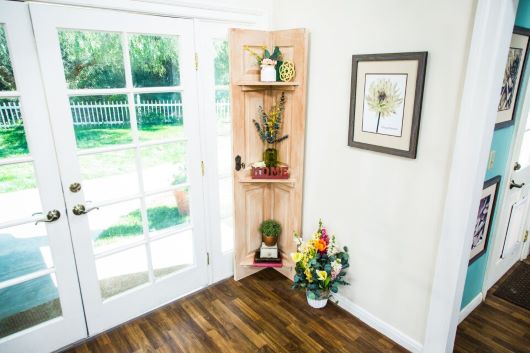 Dining table made from the old door
Making a dining table by repurposing an old door is an excellent idea as it is already in proper proportion and size for use as a table. Check out this rustic idea by The Handmade Home for a step-by-step tutorial for making a table for your outdoor space.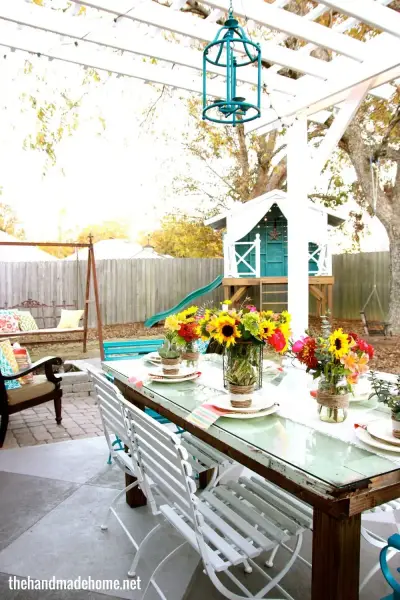 DIY Dining table for indoor space
If you want to explore contemporary trends for crafting tables for indoor spaces by reusing aged doors, follow this fantastic DIY by Double Arrow Designs to craft a perfect dining table with fine detailing.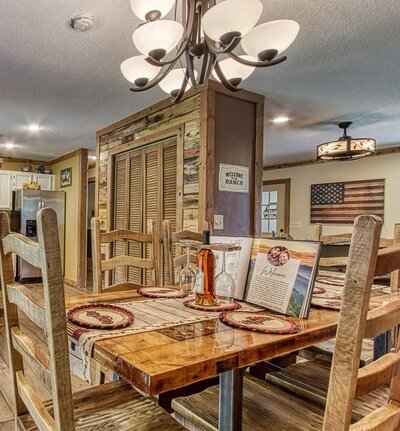 Making rustic storage chest from old door
This creative DIY by A Modern Maker is a pure master piece. The wood from an old door is repurposed wood from old doors.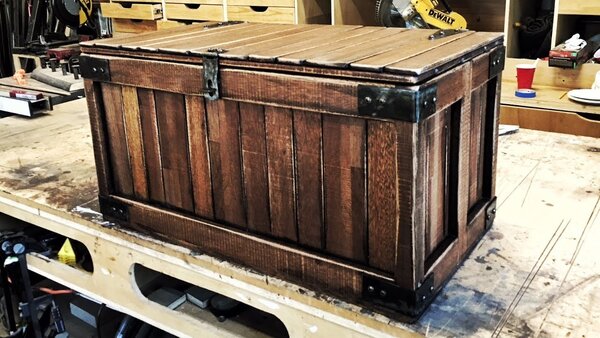 DIY art table using old cabinet doors
If you are still looking for ideas to repurpose your old cabinet doors, try this creative DIY by U- Create Crafts for making art tables for your children.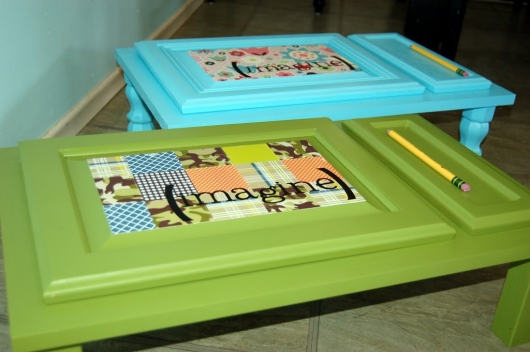 DIY old door desk
Old door furniture always stays in style. There are endless possibilities for creating practical projects for home and office use. Check out this fantastic DIY by Live Oak Nest for creating a multifunctional working desk for your home office by repurposing an old door.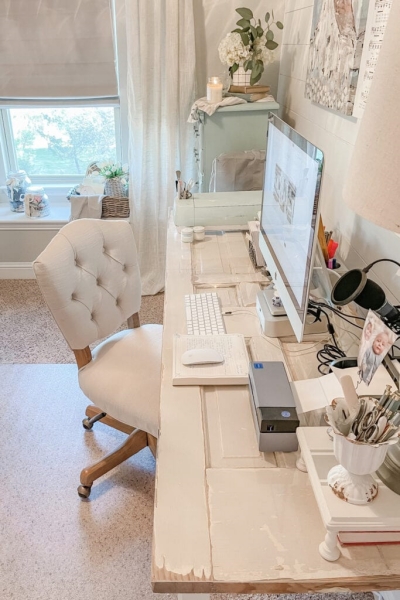 Greenhouse made with old door
Greenhouses made by repurposing old doors tend to last longer and require minimum space. They can be curated in small garden spaces or balconies for growing herbs and small ornamental plants. Check out this DIY by Empress of Dirt that uses three doors, a scaffold board, and a tin for making a greenhouse utilizing vintage doors.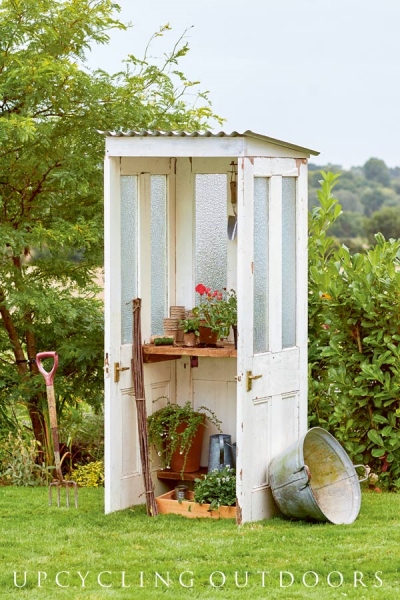 DIY windowed wall using an old door with glass panel

If you don't want to sacrifice your glass panel old doors, you can revamp your hallway by using this exquisite DIY by This Old House to add rustic charm. This practical design is suitable for defining borders of already existing kitchens, living areas, dining rooms, and hallways while preserving the sense of openness of these areas (with windows).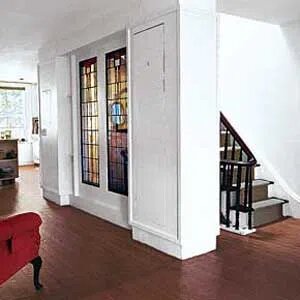 Custom storage cabinet using old doors
This creative DIY by Marian Parsons, HGTV provides complete guide of transforming old and unused doors in to custom storage cabinets. This method is eco friendly and ensures maximum upcycling of leftover articles.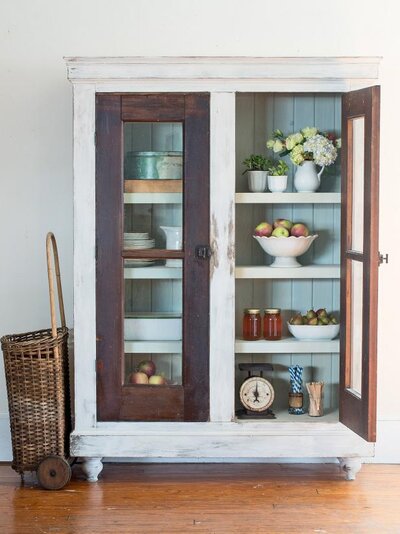 Photo collage door
Decorating is the most challenging part of home renovation; however, you can incorporate your style into your home decor by crafting this unique and versatile DIY Photo Collage Door by following this tutorial by Jasmin from Gypsy Barn.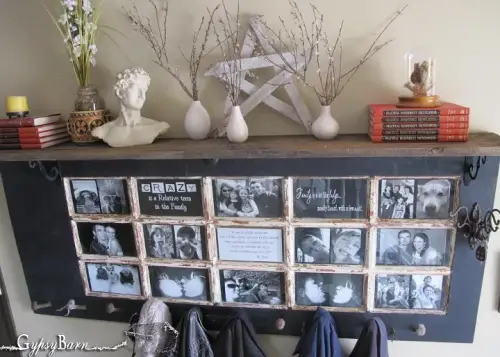 French Bathroom doors
Refurbish your ordinary-looking bathroom bath into an extraordinary one by adding repurposed French doors to your bathrooms.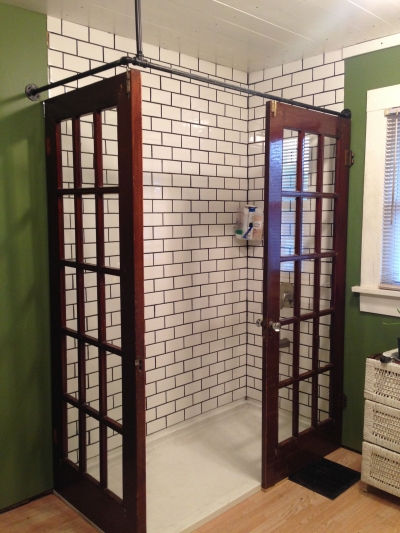 Pinterest
DIY old door Bathroom organizer
Check out this incredible DIY old-door bathroom organizer inspiration for creating a multipurpose bathroom shelf.
Pinterest
Patio with old doors
Try this unique four-doors patio by Brenda Townzen to elevate the open spaces of your house. This design is ideal for gardens with or without nooks.
Bookshelf made from aged doors
The most impressive feature of old door is their durability. These doors can create a robust, durable, long-lasting bookshelf that can help declutter your reading section and provide adequate storage space for an attractive display. Check out this helpful tutorial by Ron Hazelton for step-by-step instructions.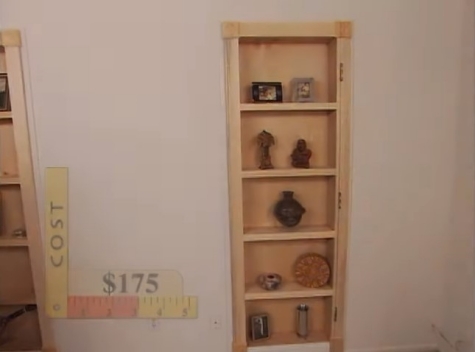 Mirror Barn Door
Want to rescue your old French doors? Try this trendy tutorial by Our How to Home for repurposing old French doors for making Mirror barn doors.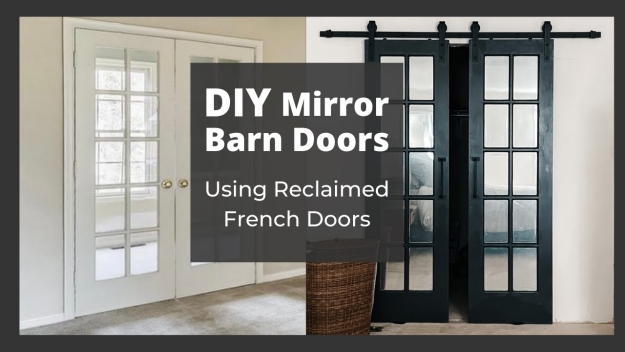 DIY Vintage coffee table
Crafting old door furniture is the most sustainable and eco-friendly method of disposing of old doors. This creative solution helps protect the environment by saving tons of resources. Check out this great DIY Vintage coffee table tutorial by My Repurposed Life for reusing old doors.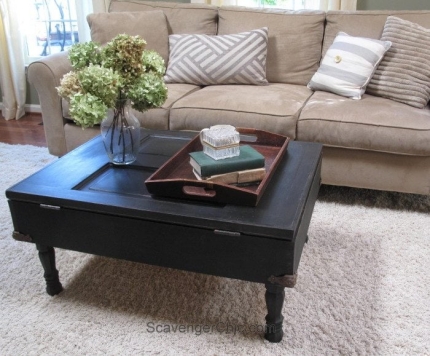 Rustic ideas for old doors
This is an ideal fit for your rustic home. This rustic article has been crafted with a reclaimed old door and can serve as a statement piece of your house.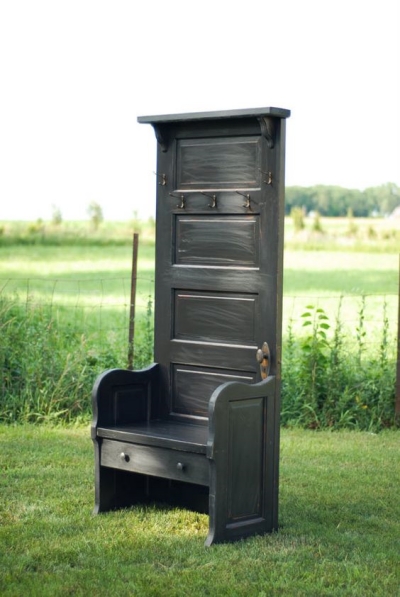 Pinterest
Reclaimed door room Divider
The most compelling DIY idea for old door with glass is to use them as room dividers. This can help you assemble your home office.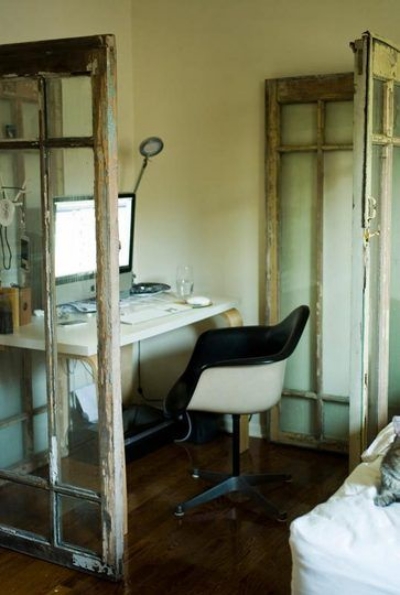 Pinterest
Salvaged Garden Door
This unique idea features the reuse of many items to create an aesthetically pleasing display for your garden. This fantastic idea of decorating with old doors outside and garden spaces by Home Talk will help you display your personality most creatively.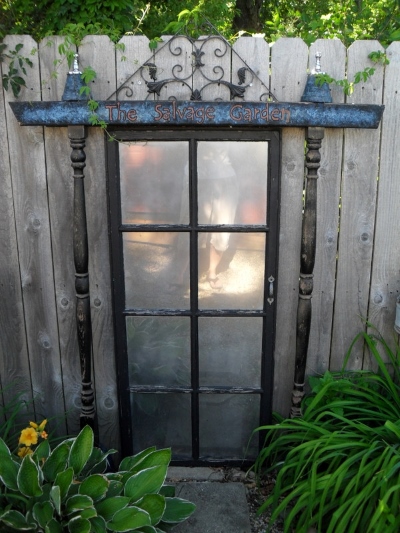 Potting bench made from old doors
Follow this artistic tutorial by Birdhouse Garden to create a practical potting bench for your garden by repurposing antique door. This pleasing design will help you to organize your gardening tools while elevating the look of the space.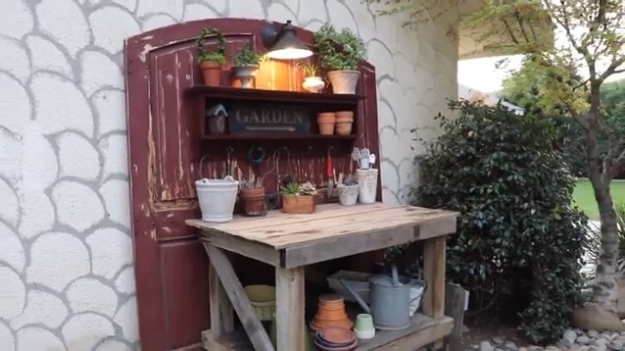 Vegetable boxes from old doors
Use this eco-friendly idea to repurpose sliding doors to make vegetable boxes and fences by Vinchero Karpintero for elevating the overall look of your home's exterior. This practical solution is also helpful for growing herbs and vegetables and is an ideal fit to satisfy your munch for organic gardening.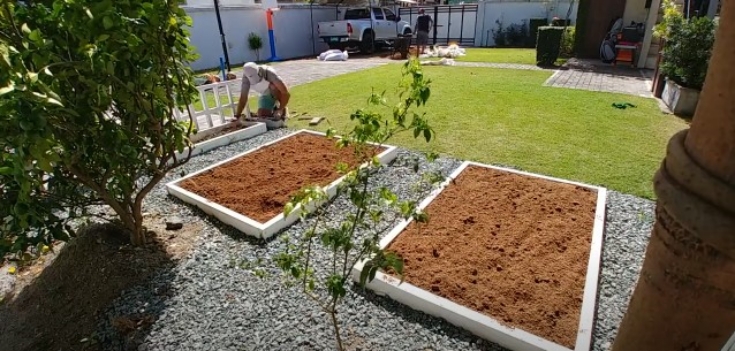 Screen door divider
If you have more than one type of old door, you can join them to create an attractive, functional screen door room divider. This way, you can create a beautiful display and a divider fit for any available space.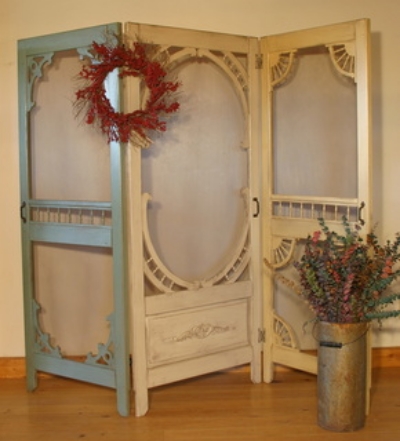 unknown source
Wall mounted folding table using old door
If you do not have enough space to make a separate table, try repurposing an old door as a wall-mounted table by Phillis Balfa . It's simple, convenient, eco-friendly, and cost-effective.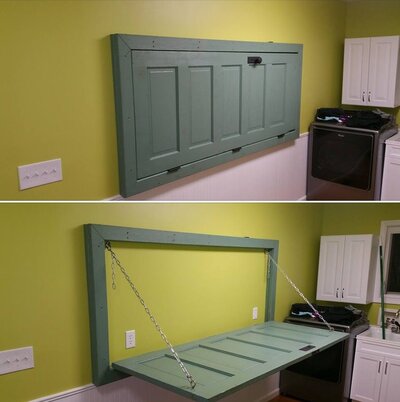 Painting Old doors
Another fun way to transform your ordinary-looking house is to paint your surplus old doors with bright colors. These rustic doors can be used for multiple purposes and are ideal for adding fun and energy to your home decor.  Check out the complete tutorial at Jami Ray Vintage.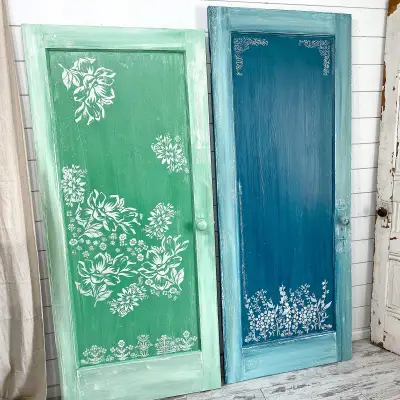 Drawer made from old cabinet door
You can make cabinets from old kitchen doors. Repurposing old cabinet doors has always been challenging. Check out this fantastic tutorial by Pure Living for Life to turn any ordinary cabinet door into a functional drawer.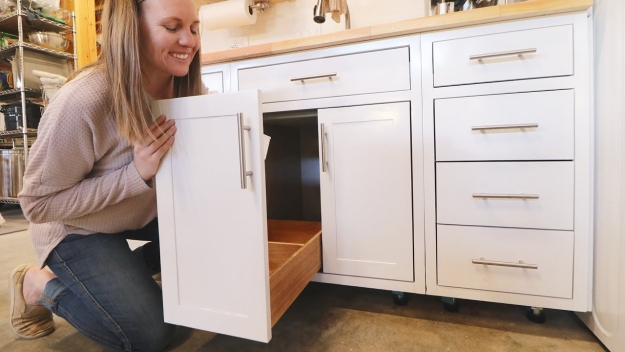 DIY Greenhouse with French doors
Creating garden shed from old door has always been challenging. The creative duo from the Cottage and Blossom noticed old rusted French doors and windows in their neighborhood and decided to repurpose them into a Greenhouse.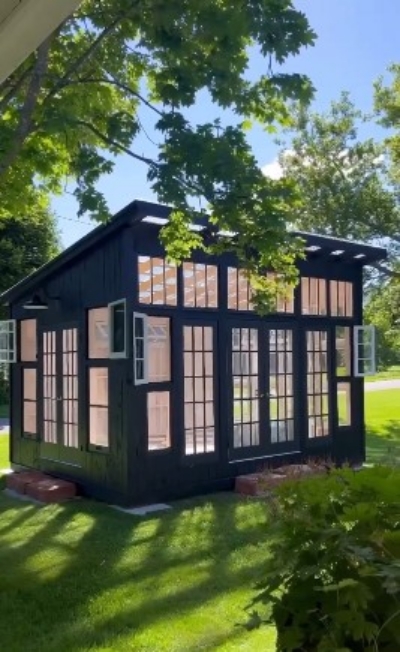 Bench made with old door
Another creative way to add a color pop to your room is by transforming an old door into a cozy bench by Deana Hubbard.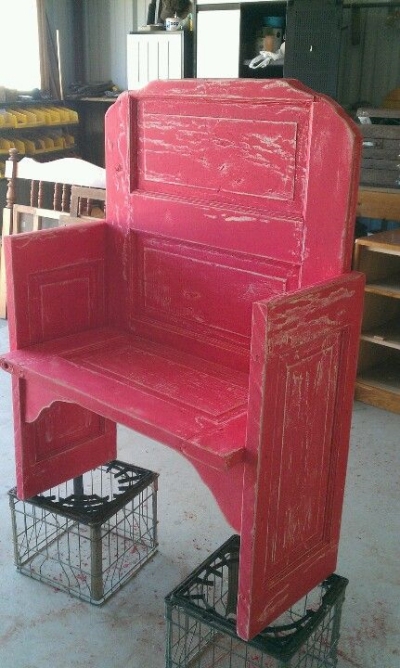 Bed made from old door
There is no limit to a creative mind. Here is a fantastic DIY by Julie Robinson for transforming an old unused door into a beautiful bed with a headboard.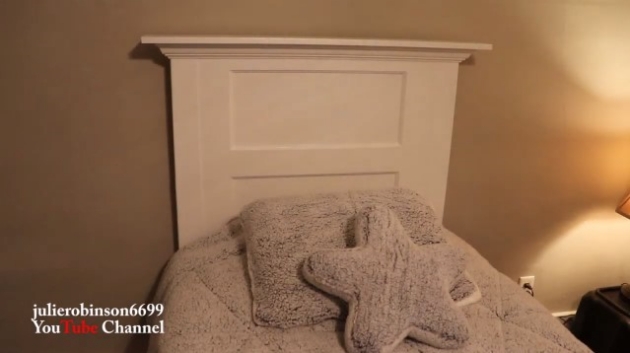 Shed made with old doors
Green Shortz DIY has listed a simple technique to transform a shed using salvaged doors.
Old door Chalkboard photo display
Chalkboards are ideal tools to boost productivity in children. They can be used inside and outside the house to create fabulous displays for photos,  kitchens, memos, To-do lists, and reusable calendars. Here is a creative inspiration by pinterest repurposing an old door.
Repurposed garden door
Use an old door to create a rustic entrance for your garden by using this fantastic guide by Copper Leaf Treasures. This design features a flower box to spruce up the look and feel of your garden.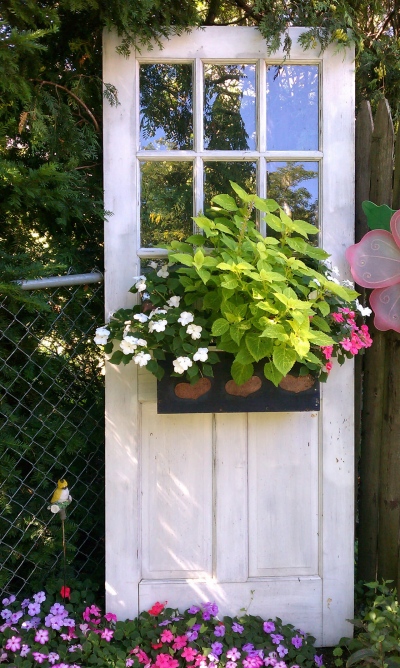 Display shelf made from old door
DIY Vintage door shelf is another example of using an old door to create a magical rustic display for your home. Check out the complete tutorial by Bulb to Blossom.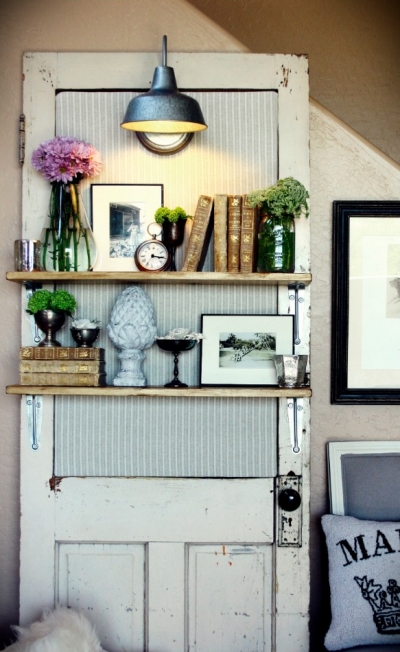 Porch swing with old door
Porch swings are perfect for enjoying the sunset, reading a book, or taking a nap while enjoying the outside beauty. You can also add a cost-effective DIY Porch swing to your house.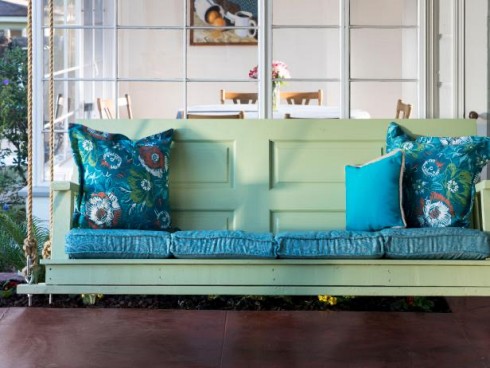 Sliding barn door from old door
Want to renovate your house with contemporary sliding door but cannot do so due to budget restrictions? Here is your guide to transforming old door into sliding barn door by House to Home DIY.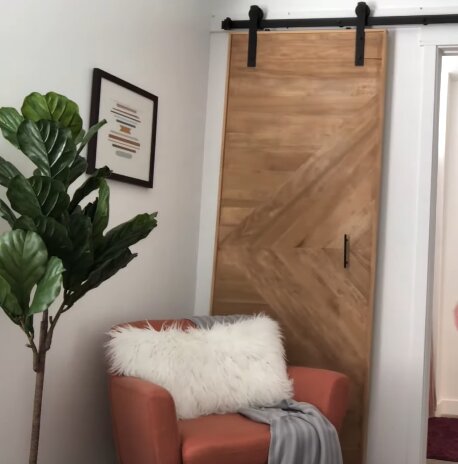 Author: Nageen Sohail