This post may contain affiliate links. Please see our full Disclosure Policy for details.
Wall art for living room thread painting DIY tutorial. Make acrylic paintings with thread and glue to create sculptured and textured effect. This project by far is my favorite. I hope you love it as much as I adore it. Abstract art has always resonated with my creativity.
How to make accent walls attractive?
You can use this wall art idea to create accent wall, focal wall or even a featured wall gallery. This thread painting technique can be incorporated in any wall art style whether modern, vintage, classic, contemporary, minimalist or traditional. Even the more trendy themes like boho decor and farmhouse cottage accents can include this style of painting to bring mix media wall art feel in your DIY project.
Where to hang wall art on wall space?
I made these painting as wall art for living room, however, the idea can easily be used to make wall art for any space. Some of the wall corners include:
Accent wall in dining room
Statement wall in living room
Large piece of wall art on feature wall
Statement piece of artwork in guest bedroom
Large walls art pieces to create a gallery
Creating room feel on narrow wall with symmetry
Use bright colors to decorate entry way with visual interest
Wall decor with neutral and modern color palette and shades
Display as large wall art on fireplace mantel with sculptures
Use in contrast to wallpaper in small space and bathroom
Bring pop of color in hallway
Arrange on floating shelves
Place on a side table by the sofa or fireplace
Design a collage with portrait and artwork
What medium can I use to create wall art for living room?
This wall art can be created on any medium on which acrylic paints can be used. Since, thread can easily be glued on to various surfaces the options may include:
sketch paper
cardstock
canvas
chart paper
large-scale art paper
wall art print paper
Wall art for living room DIY project
I got the inspiration for my wall art from this wall art at Bed, Bath and Beyond.
I used designs from parts of this frame to sketch my individual abstract art design on an A4 size paper. This resulted in four wall art patterns in abstract art. The words live, love and laugh bring good feelings, so I also incorporated them in the frames.
Material needed to make thread paintings
The following supplies are needed to make wall art for living room:
Set of wall frames
Acrylic paints
Thread (can be embroidery thread, yarn, wool, silk thread, cotton or acrylic thread)
Glue (glue stick or clear dry white glue)
Paint brushes
Pencil (for drawing)
How to make wall art for living room?
The following step-by-step instructions will give the best results:
Step 1: Cut and size the chart paper according to your frame. Draw or trace your design on it using a tracing paper.
Step 2: The design I created for my project contains the following three elements of art
Step 3: Use glue stick to affix the thread on the drawing outline. This part requires precision and patience.
Wall art tips:
As you glue the thread, press and move the thread on the lines to smooth out the lines

Cut and glue the thread for best results
Step 4: Once all the drawing is glued with thread you are ready to paint. I used acrylic paints to paint.
Here's a close-up of the colorful and vibrant wall art thread painting.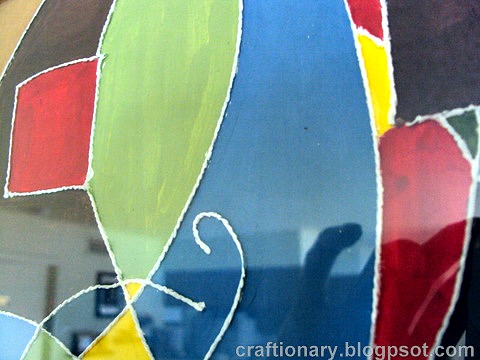 Read about using thread to create texture art at how to make thread paintings with pictures and details.
Here's a look at each frame individually
DIY Textured Art Sculpting Artwork
Live, Love, Laugh
Enjoy making your own version of DIY wall art with acrylic paints and thread. Don't forget to share with me.
Photos of DIY wall art for living room
You will also like:
Gallery wall reveal
Painted magnetic photo display
Painting tips with acrylic paint
Looking for more great ideas?
Check out tutorials in the category WALL ART.
Are you on pinterest?
These are updated regularly whenever I find unique ideas.