This post may contain affiliate links. Please see our full Disclosure Policy for details.
Make a stencil painted magnetic board, a decorative home project. Easy foam board magnetic paint tutorial with how to instructions and step by step images. I am so excited to finally share my most bragged about project. The painted magnetic board.
You know how it feels when you imagine a project. And it turns out that good too. I felt great when I completed this stenciled magnetic board. I coated foam board with magnetic paint. Painted it white and then stenciled the surface. The painted magnetic board can be styled in many ways. You can use it as a photo display or decorative accent.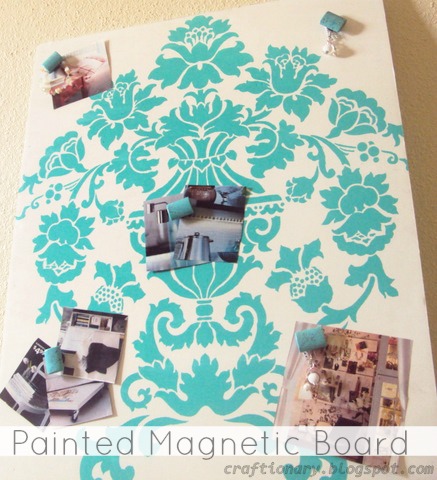 I like to call it my magnetic photo frame.  As I am in L.O.V.E with it, especially every morning when it takes me into regular glimpses of wonderful memories. When I look at all those cute old pictures. What's more interesting is the fact that I can keep changing the pictures and have fun doing so.
I am also very excited and honored to review one of many beautiful Royal Design Studio stencils. I tell you, it was so hard to choose from all the stencil variety they have! Each and every stencil has it's own charm. And a whole lot of imagination is accelerated when you look at them. I was pretty confused about choosing between large hollywood squares and the encantada damask stencils. But I finally ended up choosing the second one.
 I found the stencil rolled and very well packed in the box.
Material for Painted Magnetic Board
For making this project, you will need:
Stencil
Acrylic paint- Turquoise (I used delta paint)
Turquoise beads (I bought mine from Michaels- Bead Gallery collection)
Aqua colored ribbon
Foam board
White spray paint
Magnetic paint and magnetic disks
Mod Podge and some strong glue
Step by step instructions to make magnetic board
Paint the foam board with nice two to three coats of Magnetic paint. Use roller to paint. The coats determine the strength of the magnetic field. You will need to check the strength you require, before moving to the next step. Let it dry and then spray it with two-three coats of white paint. When finished arrange the stencil on the board.
UPDATE: The magnetic field was temporarily developed but failed to work after few days, I then ended up using two magnets to hang the photos.
One at the front and one at the back.
OR
An easier method will be to use two magnetic disks. One at the front to hold the pictures and one at the back to create magnetic field. It works! I tried it out and it's also a budget friendly trick.
How to stencil paint on any surface?
Use the stencil adhesive spray as per directions. And stick the stencil to the foam board. Then using a sponge brush, paint the stencil. It is best to dab the excess of paint off the brush. This prevents the paint from bleeding out. Start by painting the edges first and then continue to the center. Dab the paint over the stencil.  Don't drag the brush and keep the brush straight while dabbing and not tilted in one direction.
Note: I highly recommend using stencil adhesive spray. My first stencil project (the without version) was a disaster.
The paint had spread out and it was ugly.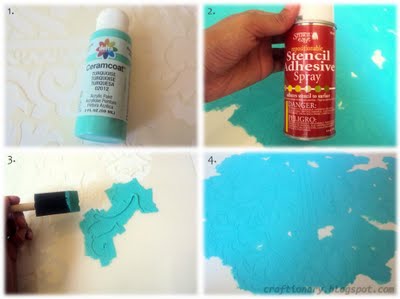 The final result is a Beauty.

One thing I like about acrylic paints is that they dry quickly. Just as I was done painting the stencil, it was time to peel it off.
When removing the stencil make sure you go very slowly and carefully. Follow the instructions to clean the stencil. It is better to clean it as early as possible. As the paint is not completely dry and it is easier to remove.
I cleaned my stencil in the bath tub.
I like to decoupage the painted layer using mod podge. As, it seals and protects it well.
I found these turquoise jewelry beads from the Bead Gallery collection at Michaels. And it was instant love.
Finally use some strong glue to stick the magnetic disks on the back of the beads.

Ta-Dah!
The Magnetic photo display board is complete.

Stick the ribbon on the sides to give it a more complete look.
I am pretty confused about framing the board.
Do you think I should frame it or not?
And if so, which color would you suggest I should go for!
The red, black, white or blue? Please, help me sort this out. Thanks so much!!
It was a great fun project.
Another most popular way to make Magnetic Board is with:
Metal Sheets

Add a sheet of metal into a frame and voila! Magnetic board is ready. You can also cover it will fabric or burlap. Looks decorative and complete. If you have old baking trays they are also good to use.
 You will also like:
20 Decorative pillow tutorials
Best DIY Magnetic boards tutorials
Looking for more great ideas?
Check out tutorials in the category Organize.
Are you on pinterest?
You will also enjoy the We love Organizing and DIY Projects Boards.
These are updated regularly whenever I find unique ideas.