This post may contain affiliate links. Please see our full Disclosure Policy for details.
How to stencil furniture?
Find the best stencil furniture makeovers that look expensive on the blog today. These creative stencil furniture pieces will give you ideas to make a beautiful DIY project. You will find tips to easily spray paint a stencil art using vinyl or plastic. Techniques like distressing and chalk paint to make a statement stencil design.
While some ideas use quick and impactful fixes, there are others that are more detail-orientated. But they all have one thing in common that is find a cheap piece of furniture and create a stencil furniture masterpiece.
Painting a furniture piece requires the basic steps. Wash dirt off your furniture piece, strip the layer (if required), sand it with sandpaper, brush off the dust and paint it. Once the paint dries use stencil of your choice to paint designs and patterns. You can also use paint brush to draw hand painted art if you like.
These fabulous furniture makeovers may make you stencil your furniture. You may also like to brainstorm some ideas to decide what color to paint your furniture?
Let's get started with these tutorials: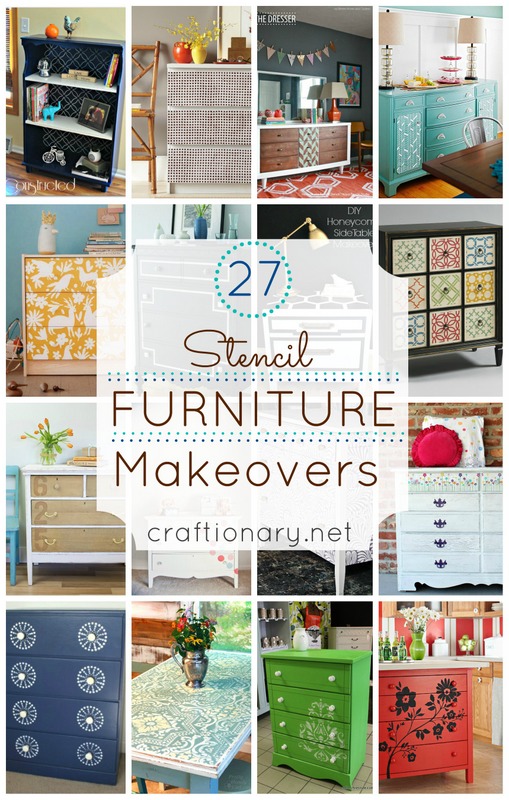 How to stencil paint on wood furniture?
In order to stencil paint on wood furniture you first apply the stencil on your wood.
Position the stencil in place where you want the art, letters or design on the wood. You can use mod podge to keep it in place or use painter's tape on the sides.
Use a dry brush to paint. Dab the excess of when stenciling the pattern for best results. This allows for less chance of paint bleeding out of the stencil.
Paint the design and remove the stencil while the paint is wet. This will prevent stripping of paint and give you more neat results.
Seal or apply top coat to protect the art. Minwax polycrylic or furniture wax are all good choices. Consider a wax brush for application.
27 DIY Stencil Furniture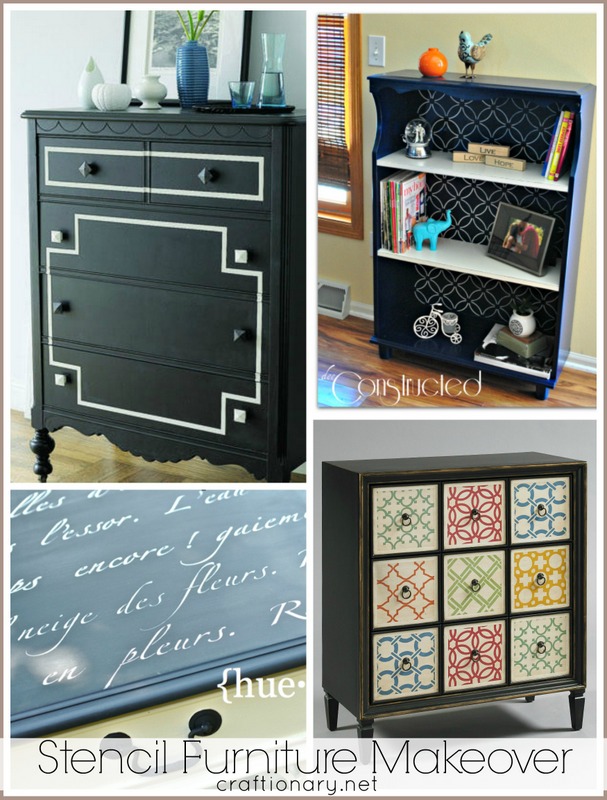 1. Black dresser makeover: A Craigslist dresser turned beauty with painter's tape and paint.
2.  DIY stencil bookcase: Stencil the backing of a bookshelf to add details to the piece.
3. Stenciled desk with chalk paint. I love the lettering stencil used to bring interest.
4. Artistic furniture makeover with different stenciled patterns on each drawer via wayfair.
ALSO A GREAT READ: How to make a cozy home? (9 best tips for any decor style)
Classic Stencil Furniture ideas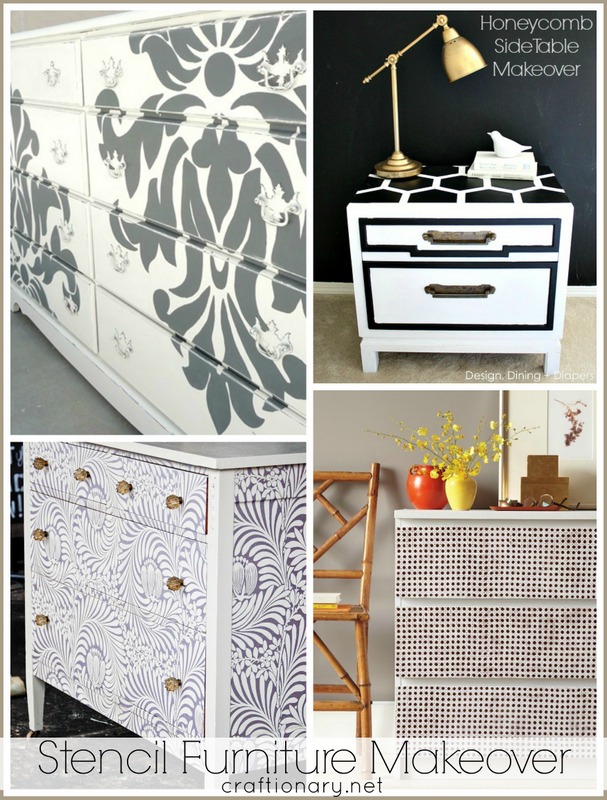 5. Damask stencil dresser in grey and white.
6. DIY honeycomb classic black and white table using painter's tape.
7. Grey furniture makeover with floral pattern.
8. DIY caning furniture: Spray paint over a cane to make pattern on a dresser via martha stewart.
Stencil furniture for nature lovers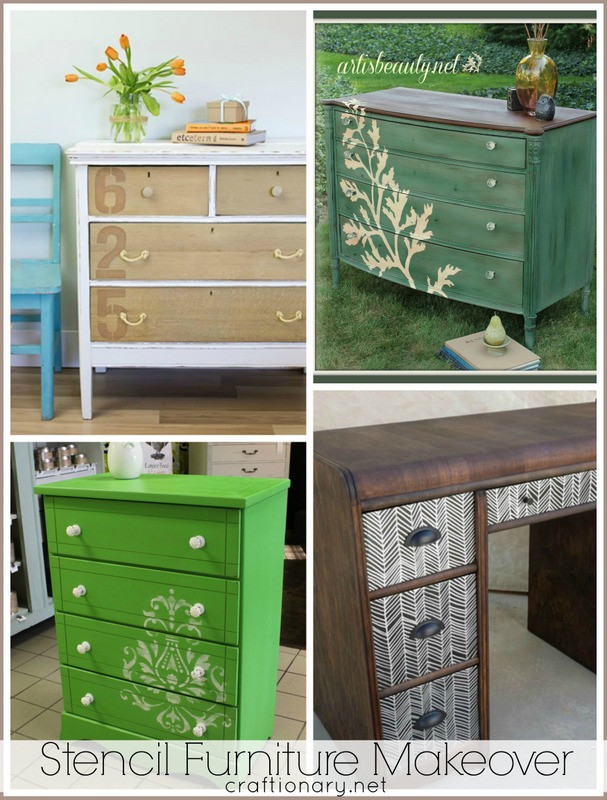 9. Stencil number furniture, great for keeping things organized and easy to access by everyone. Paint the furniture piece white and distress the paint. Next use lead pencil to transfer the stencil numbers to the wood drawers and paint it. Finally add rope drawer pulls to complete the look.
10. Fern stencil dresser with hand painted details. A roadside rescue solid mahogany dresser gets new life with paint, stained table top and fern stencil. Use varnish or stain to embrace the real color of wood.
11. Green stencil dresser: Turn a brown furniture piece into colorful and cheerful green. Replace old hardware with new furniture hardware and stencil to add details.
12. Metallic herringbone table using white paint pen. Draw a pattern on the drawers using a pen or marker to bring it to life.
ALSO A GREAT READ: 35 Vertical plant walls and gardens with design instructions
Stencil furniture ideas for girls
13. Cute furniture makeover for nursery girl's bedroom in pink via bhg.
14. Stencil polkadots dresser using needle point hoops.
15. Stencil armoire in beautiful and vibrant pink.
16. Dressed up dresser, fun pattern for kids room in yellow. Add animals and floral design stencil for an interesting vibe in family space.
ALSO A GREAT READ: 30 ways to make Abstract Art projects
Colorful stencil projects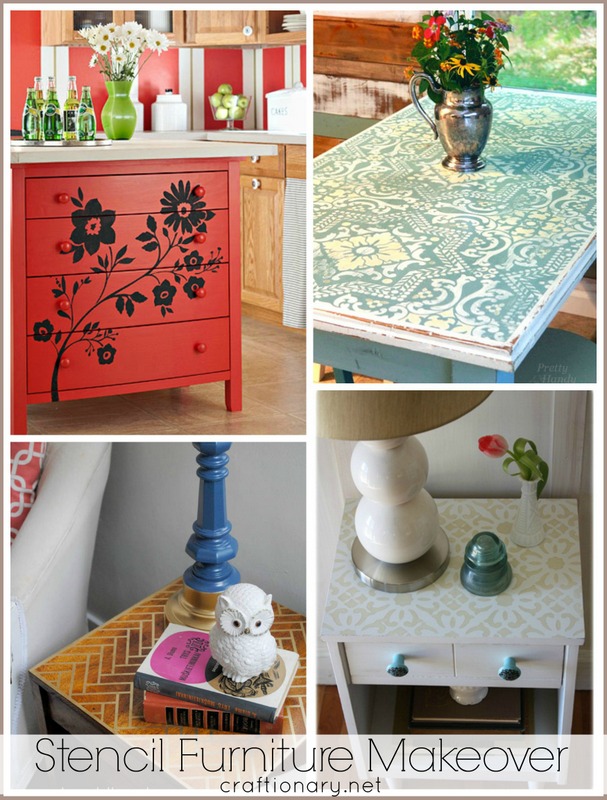 17. Red stencil furniture, a bright kitchen island makeover via bhg.
18. Chalk paint stencil table: Turn a dumpster table into gem with chalk paint, stencil and distressing.
19. DIY stencil side table using vinyl and spray paint. It can't get easier than this! Cut your choice of pattern like this herringbone pattern on vinyl using cricut or cutting machine. Lay it on your surface and spray paint it.
20. Stencil nightstand makeover with flowers and white paint.
DON'T MISS OUT: Styling bookshelves and bookcases the way you like it
Stenciling furniture for boys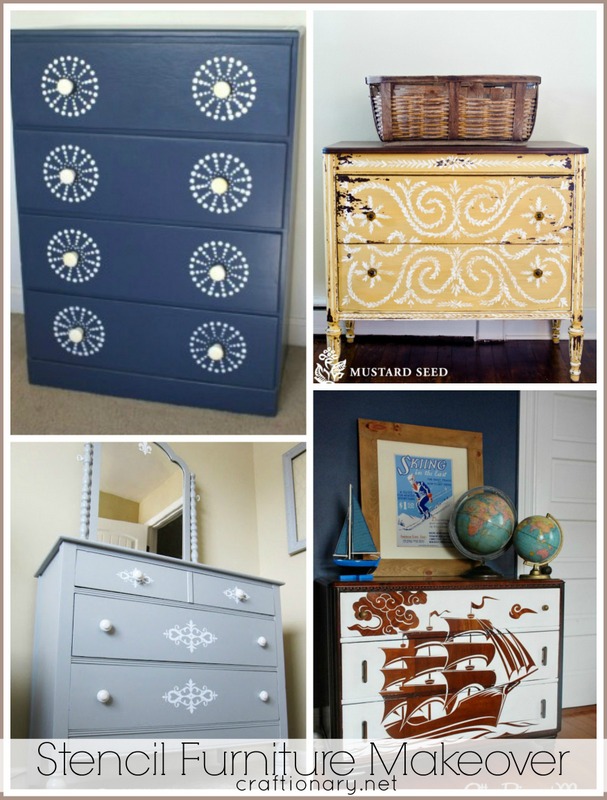 21. Stenciled dresser in blue with round stencil around the drawer knobs.
22. Yellow furniture makeover: What's not to love about this distressed yellow dresser with white stencil art.
23. Embellishing furniture with vinyl: The grey dresser was stenciled using vinyl stencil cutouts from silhouette. This makes it easier to change the look later.
24. Reverse stencil dresser with vinyl and paint via flor.
YOU WILL LOVE: Modern kids bedroom organization ideas look like decor
Inspiring stenciled and painted furniture
Save money with DIY decorating and furniture stencils. Bring pattern in your home with most stylish and affordable ways.
25. DIY stencil dresser with stenciled pattern at the center.
26. Turquoise stencil dresser with herringbone pattern, drawn using white paint pen.
27. Stencil flowers distressed furniture with silhouette cut vinyl and paint brushes.
ARE YOU INSPIRED: 34 DIY PHOTO DISPLAY FOR HOME DECOR
FAQs
What materials and supplies are needed to stencil furniture?
You will need the following tools and supplies:
Stencil made of plastic, vinyl or craft stencils.
Applicators like brush, sponge, roller or dabber to paint.
Adhesives like painters tape, spray adhesive, masking tape or mod podge to keep stencil from bleeding.
Paint like acrylic, chalk paint, latex paint, spray paint or stencil creme.
Paint tray to hold paint or to create custom paint colors.
Paper towel or rags to dab excess of paint before stenciling.
Furniture wax to seal or topcoat for protection.
Where to buy stencil for painting furniture?
My favorite place by far is royal design studio. However, you can find stencils for art projects in tons of places. To name a few Home Depot, Michaels, Hobby Lobby, Canadian tire, Walmart and Lowes. Cutting Edge Stencils and Amazon are great choices too.
What things I can use as stencil?
Apart from using stencils you can get creative with things around the house. Like cane (wicker or rattan), net, lace piece, doilies, stamps, wall stencils or small stencils.
What paint to use for stenciling furniture?
Use good quality acrylic or latex paint to stencil furniture for best results. Craft acrylics are good to use on furniture as well.
What is stencil brush?
Stencil brushes are round and chubby with bristles that are trimmed to form blunt end. The stencil brush is designed to apply paint on furniture through stencil such that the color doesn't bleed under the template.
Can I make my own stencil?
You can make your own stencil without using any gadgets or material.
Find a pattern or make one that your like using photoshop or canva. There are many other apps that can allow you to create patterns for free as well.
Print the pattern on paper.
Now align it with Mylar sheet or transparency which is a transparent plastic sheet.
Trace and cut out your traced stencil pattern with blade. Make sure to use a cutting board to protect your surface underneath.
Your stencil is ready to use.
How to hand paint designs on furniture?
Just like you would hand paint on a paper, you can draw or sketch your pattern on the wood. You may copy your inspiration using carbon paper or printable cutout as well. Use a small artist's brush and acrylic paint to paint your design. Don't worry about perfection. Let it dry and seal it for longevity.
How to seal painted furniture?
Not all paints required a topcoat or sealer. For example, when you use chalk paint or latex paint you may protect the finish with a sealer or topcoat like furniture wax.
I would love to know which one is your favorite?
My favorite is the turquoise dresser with herringbone pattern.
You will also like: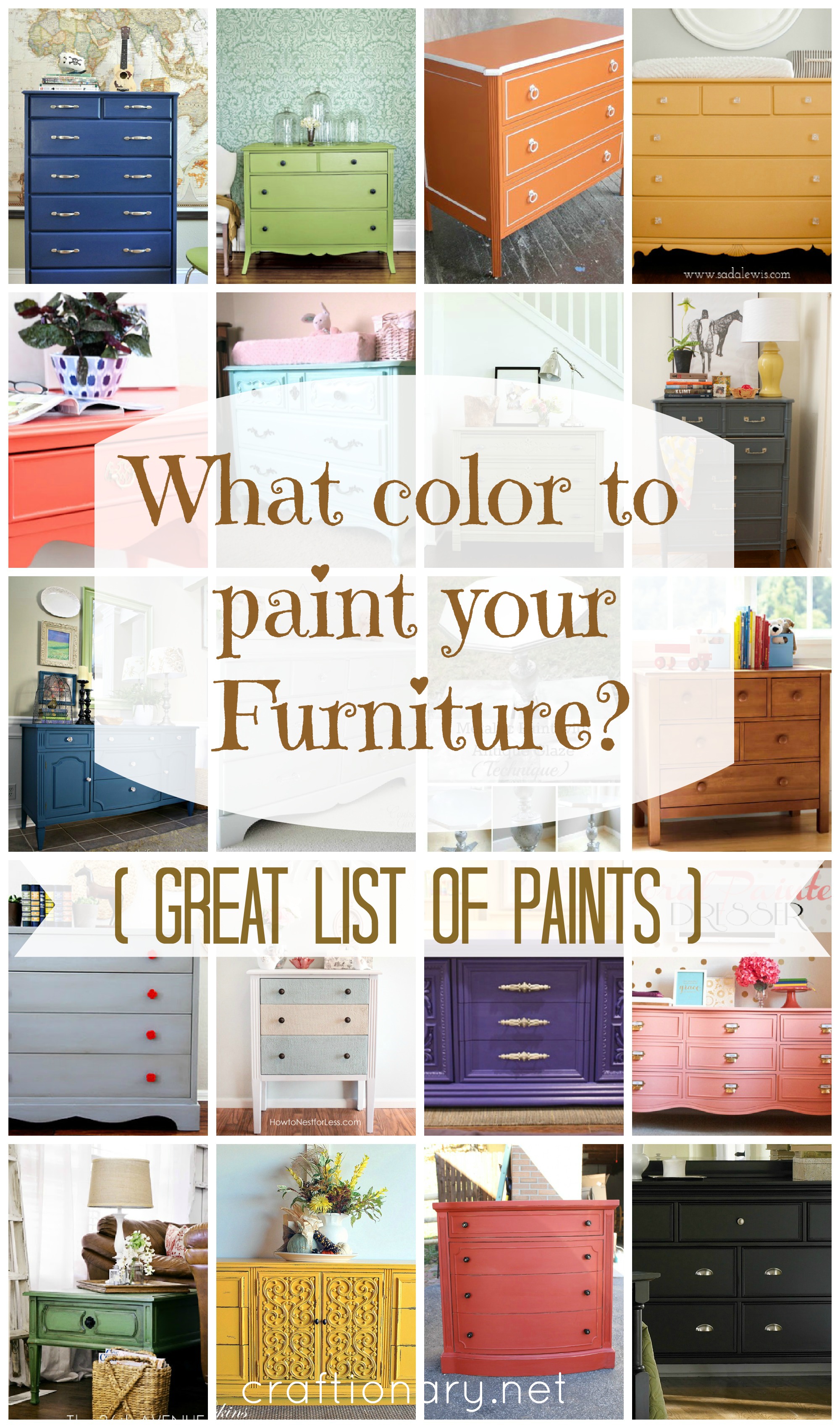 What color to paint your furniture?
25 Painted Furniture Makeovers
30 Craft Tips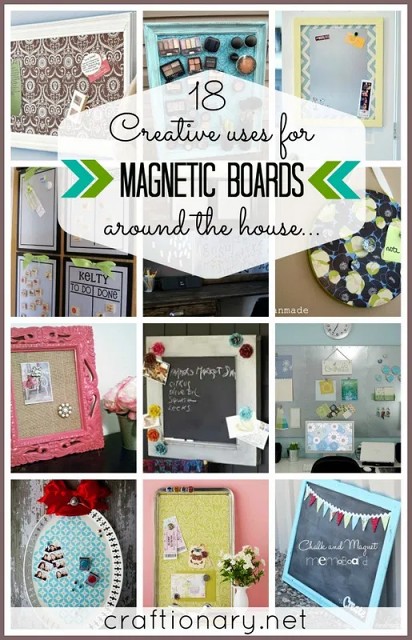 Creative uses for Magnetic Boards
Looking for more great ideas?
Check out tutorials in the category DIY.
Are you on pinterest?
These are updated regularly whenever I find unique ideas.