This post may contain affiliate links. Please see our full Disclosure Policy for details.
What is a scarecrow? As the name suggests its been used by the farmers to deter the crows, insects, and other birds from the fields, vegetables and crops in rural areas for decades. Scarecrows don't harm the birds but they frighten them away to make the crops safe from the hungry folks and insects. It is a human shape mannequin made from old recycled materials.
In most of the rural towns and villages, people celebrate the scarecrow festival in which they organize scarecrow competitions. People and children participate in it with their crafted scarecrows and enjoy the festivities of another year of crops. Nowadays it doesn't only symbolize to rural and farmers but also used in Halloween celebrations, garden decorations, Fall festivals, and kid's crafts. In this article we learn how to make a basic scarecrow? What materials are to be used? And what are the alternative ideas to create scarecrows?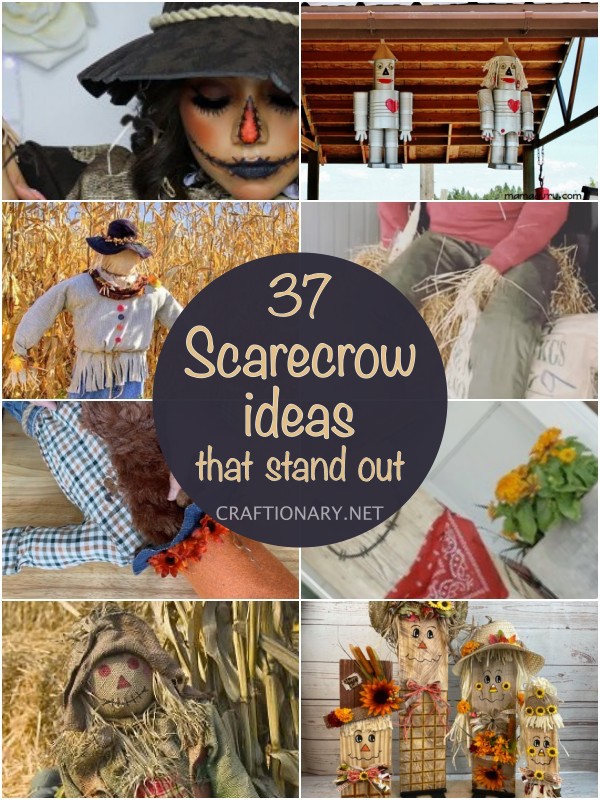 These can be made in any size, shape and characters for any theme. To make any scarecrow, you have to be clear about your end result and choose materials accordingly.
How to Make a Scarecrow?
There are some general tips for constructing scarecrows:
Don't use the paper to create outdoor scarecrows but you can use it for kids craft activities of scare crow.
Try to reuse old stuff to make scarecrow such as old clothes, old garden accessories like twine, veggie protection plastic bags, broom handles, and dried grass from recent mowing. Safe all these items or find other treasures at a thrift store, garage sale or charity shop.
Don't use the things or ornaments in scarecrow that could harm the wildlife. Because the purpose of it is to keep away the birds but not to harm them. Sharp objects or plastic fillings should be avoided.
After making the scare crow; the first thing you have to decide is where it should be placed. It should be kept near the vegetable patch and plants. The placement of the scarecrow needs to be changed because the birds get used to it. If it is placed in one position for a long time your efforts would be all in vain.
Traditional Scarecrow for Crops and Garden
How to make your own scarecrow to scare birds?
Classic design uses straws to stuff old clothing and attached to solid post for support. First we learn how to make a scarecrow that is going to be used from many years to keep the birds away. It's so simple and easy to make with crop materials. Generally the basic scarecrow is divided into four parts head, top half, bottom half and accessories:
Set up the scarecrow frame with two wooden poles of different sizes one should be smaller and second one should be longer. You can use cable ties, thin wire, duct tape, zip ties and garden twine to attach different parts of your scarecrow to one another and to the post.
Cloth or burlap sacks stuffed with leaves or straw are usually used for scarecrow head. A carved pumpkin or painted pumpkin head can make a great substitute but will require weight support. Old basketball or soccer ball and plant pots are useful too.
Worn out hat or old colander can make a nice scarecrow hat. Conversely you can make scarecrow hair using twine or make a scarecrow wig.
Create the top half with the help of a worn out shirt. Fill it with plastic bags, dry grass, straw, twigs, shredded paper, old winter clothing, and fleece.
Create bottom half with the help of old pants or PJ's. Fill it with similar stuffing as used to make upper body.
Lastly add some accessories like patchwork fabric pieces, scarf and buttons to decorate it. Gloves for hands or burlap fingers with straws.
You can learn step by step how to make traditional scarecrow.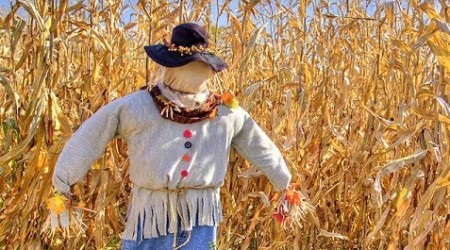 If you don't like the traditional scarecrows for your garden then there are many more ideas to make scarecrow rather than the one mentioned above.
Realistic looking scarecrow ideas
1. Make a scarecrow girl:
Do you want to deter the birds from your garden but don't want a basic and old fashioned idea? Then this girl scarecrow idea is best for your garden. For this idea you only need some old ladies clothes.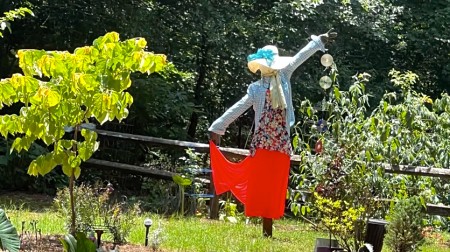 2. Giant Scarecrow with PVC Pipe:
This Giant Scarecrow make a statement in your front yard. This Halloween delight your friends and trick o treat guests with fun. You can make it with PVC pipes and pumpkin head step by step video tutorial.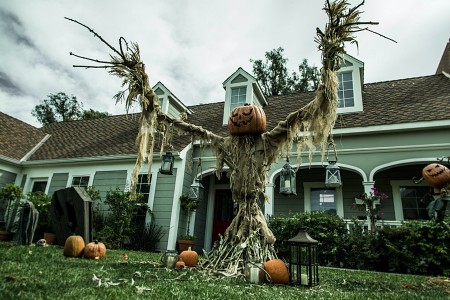 3. Wizard of Oz Scarecrow:
A simple and cute idea that requires two wooden sticks, shirt, pant, sack piece for face and a hat. Your kind hearten Wizard of Oz Scarecrow is ready.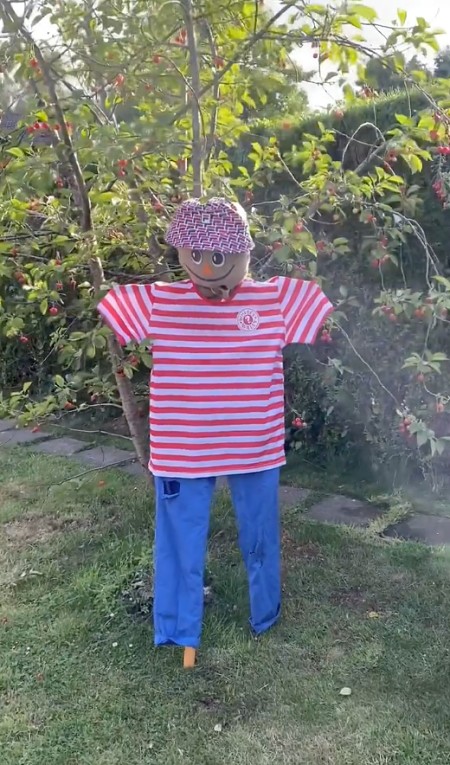 4. Jack Sparrow Scarecrow:
This pirates of the Caribbean scarecrow idea is so awesome and best for the annual scarecrows contest in your town. You can make jack sparrow scarecrow without frame with the usage of plastic bag, head form, makeup, head wig and some accessories.

5. Sitting Hay Man Scarecrow:
You can make this adorable sitting scarecrow with hay and carved pumpkin. It's so easy to make using things in the nature.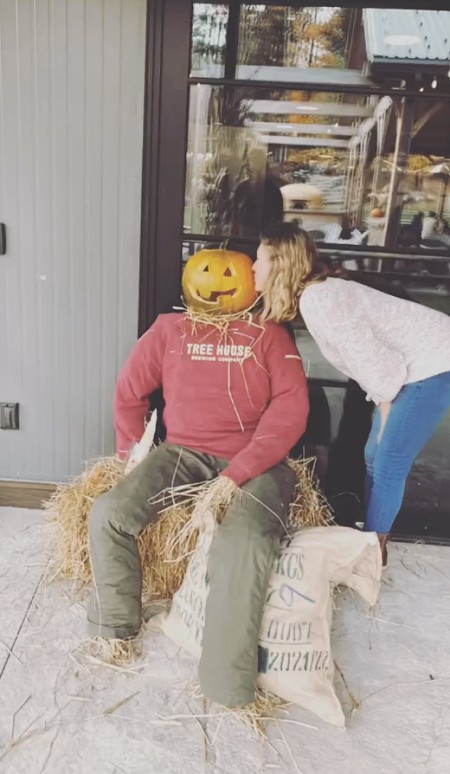 6. Scarecrow Makeup:
Do you want to dress up as a scarecrow for your Halloween? Then here's how to do your face paint or Scarecrow makeup.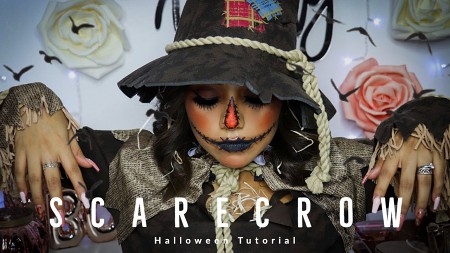 7. Tinman Scarecrow:
You can make this tin man scarecrow with recycled old tin cans. A funnel for hat, bottle cap eyes, mop hair and feet made with sardine cans. Use screws, wires and braces to assemble it.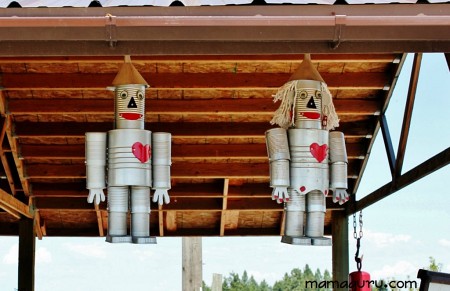 Fall Scarecrow Crafts
Scarecrows are not only to scare the birds and to protect your garden and crops because of their primary function. But it also symbolizes with fun and creativity. They also have decorative values and enhance your decoration for Halloween and autumn or fall festive events.
8. Fall Scarecrow Gnome:
You can make this cute hanging fall scarecrow gnome for you porch decor with the help of pool noodle and toddler onesie and pant. Use a stuffed teddy bear to make gnome beard. Find more ideas to gnome home decor.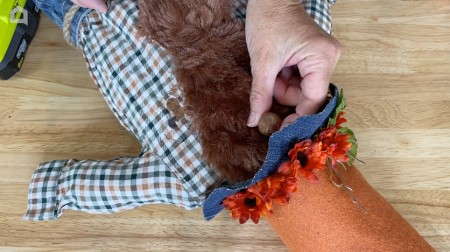 9. Flower pot scarecrow decoration:
Learn how to make flower pot scarecrow for your fall decorations by using clay and flower pots. You can be positioned it in many different ways. You can also use it as gift.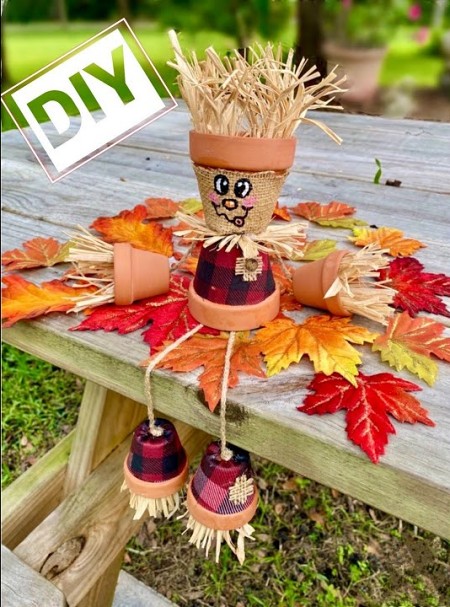 10. Front Porch Scarecrow Planter:
Use stacked pots to make this adorable decoration for your Fall front porch. It gives an applause look to your doorway, porch, entrance or homestead. You can easily make these darling scarecrow planter with plastic pots or terra cotta pots, old clothes and some thrift store items.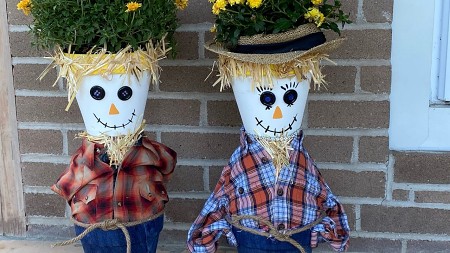 11. DIY Plunger Scarecrow:
Use plunger, old clothes and some thrift items to make this simple and easy Plunger scarecrow. You can use it for indoor and outdoor Autumn decor.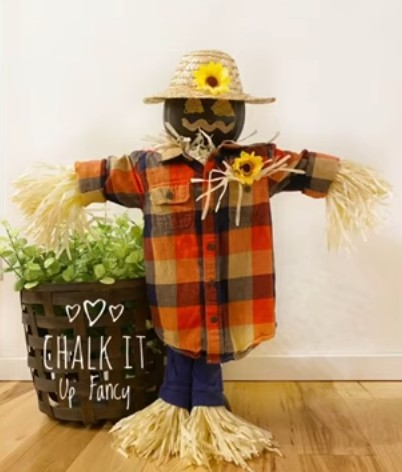 12. Scarecrow Wreath:
Make fall wreath with the help of pizza pan and some clothespins. Hang this easy scarecrow wreath at your door to welcome Halloween.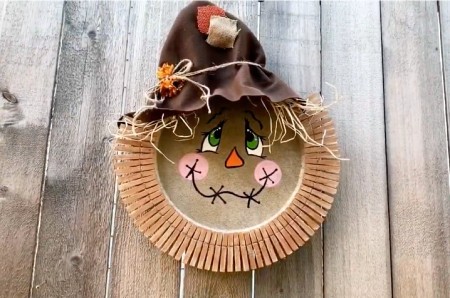 Halloween scarecrow ideas
13. DIY Scarecrow Costume:
Make this adorable no sew costume with your existing clothes with some temporary amendments. This scarecrow costume is so easy and fit for your Halloween or fall festivals and also for your kid's school events.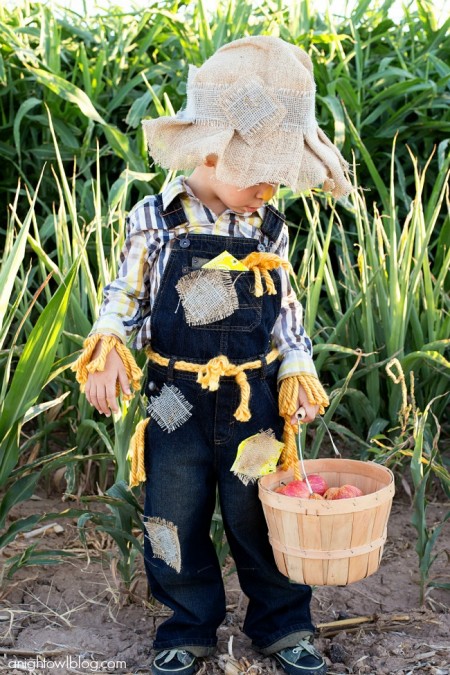 14. DIY Reversible Scarecrow:
You can welcome the Halloween and winter season with this idea at a same time. You can make this DIY reversible scarecrow decor idea with simple wooden pallets or board, printed scarf and some paint. It's perfect for your porch decoration.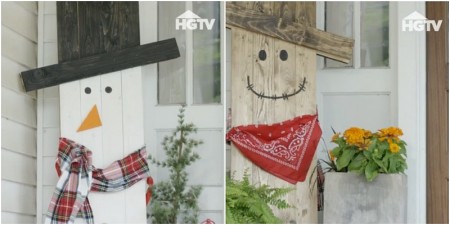 15. DIY Fall Garden Scarecrow:
Garden Gnomes bring luck and fortune. Add fun in your Halloween and winter fall decor with this cute scarecrow.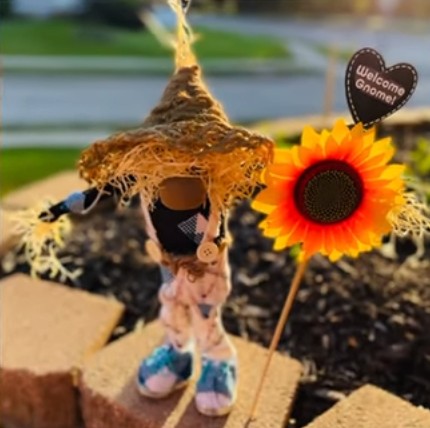 16. Make Scary Scarecrow Mask:
Scare your neighbors and friends with this horrible scarecrow mask. This DIY scarecrow mask is so scary but easy to make with potato sack, twine and wire. Wash and dry the sack before wearing it on your face.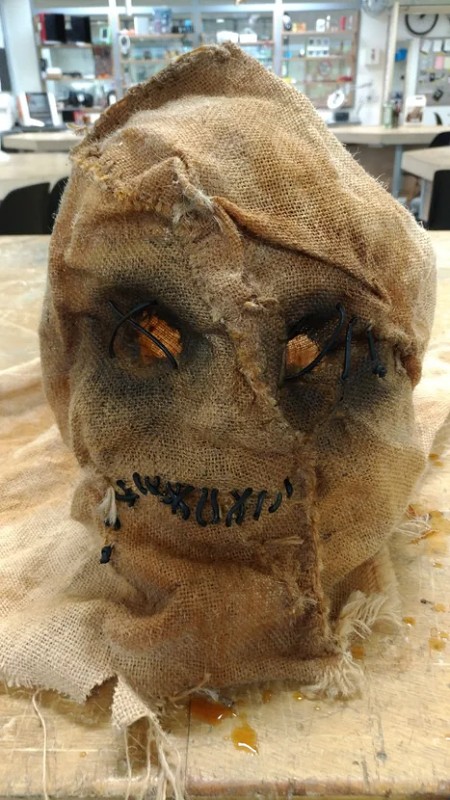 17. DIY Flexible Sitting Scarecrow:
In this idea you will learn how to make a scarecrow movable without any frame like wood or PVC pipes. To make the body part you can use your old clothes like pants, trouser and shirts. Pinup these clothes together and fill them up with shopping bags or newspapers. For face part you can use any light color old pillow or burlap and paint the eyes, nose and lips over it. It's so simple and do you know the best part of it? You can pose it in any position or place it anywhere because this scarecrow has no frame. You can make it sitting over chair in your porch or at your backyard or place it indoor peeking through the windows outside. Here is the source to make this flexible scarecrow.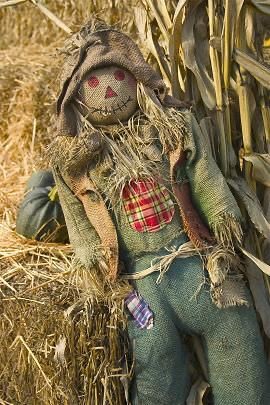 18. DIY Scarecrow Doll:
Some people believe that voodoo doll gives them a spirit guard ability to protect the attuned allies when they work in a crew. You don't need to buy it from the market because you can make it by yourself at home if you have basic sewing skills. This idea is most commonly used in Halloween or Fall winter festive decors. It's so simple and easy to make a scarecrow doll and for some the thought of black magic is creepy. Put it on a broom and you have a flying witch scarecrow.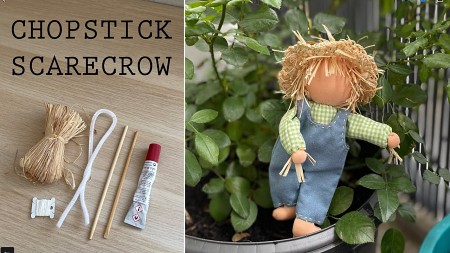 19. DIY Pumpkin Head Scarecrow:
These pumpkin scarecrows are so cute Fall home decor. Paint a pumpkin and glue a hat on top.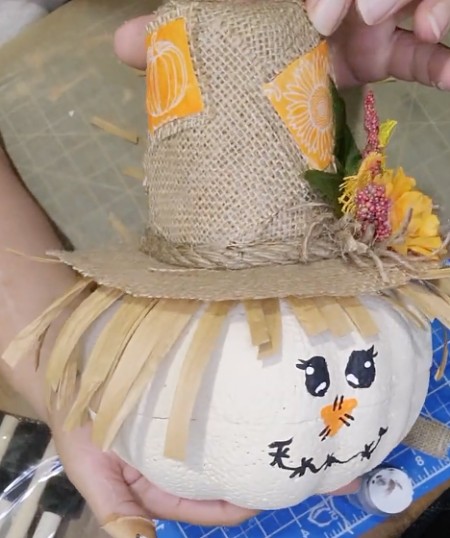 20. Farmhouse Scarecrow Family:
Make farmhouse scarecrow family with scrap wood boards, some paints, clothes, straws and some artificial flowers. This adorable family makes everyone so delighted and adds the Fall colors to your porch and entrance.
21. Fall Rustic Scarecrow Hat:
It's a budget friendly decorative scarecrow hat to use as a wreath or as a hat for your Halloween scarecrow costume.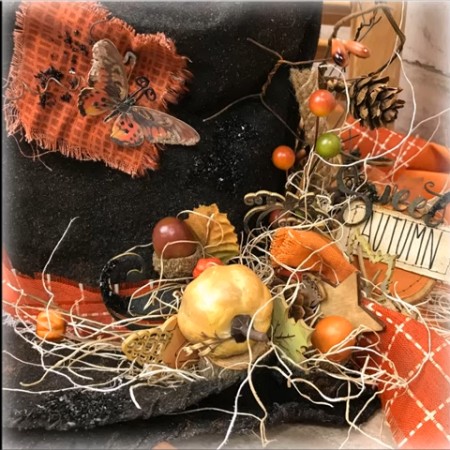 22. Flower Pot scarecrow:
Here's how to make a scarecrow without straw. This idea is quite different from the basic or traditional scarecrows. This fun loving flower pot scarecrow is made from plastic flower pots, PVC pipe, boots, utility gloves, hat, and para-chord. You can make it by drilling holes at the center of the pot and tie these pots together with para chord. Make it sit in any position or hang it to stand.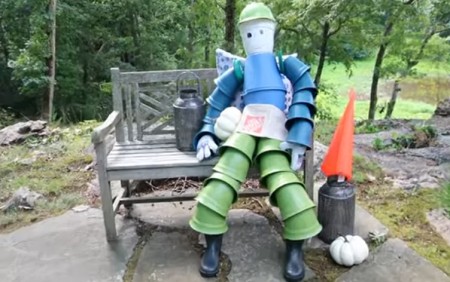 23. Small Scarecrow with hay:
Mostly the large one need the frame of wood or pipes for support but the mini ones can easily be made by hay and can hold their shape. Use doll clothes and hay to make hay scarecrow. You can also use small pumpkins as head.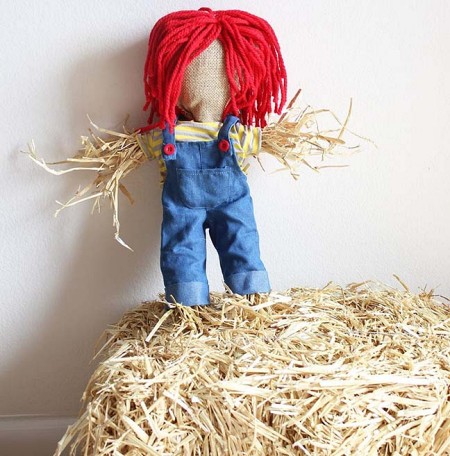 24. Recycle Glass Bottle Scarecrow:
Reuse a wine bottle or glass bottle. Paint the bottle and attach a burlap piece with twine to make a hat. Draw and color the face features with markers or add some accessories with ribbon. Thus your Glass bottle scarecrow is ready. You can use it as a decor, table centerpiece, or a thanksgiving gift.
25. Cutting Board Scarecrow Craft:
To make cutting board scarecrow you will need a cutting board and paint. Add some accessories like scarf and flower to add features.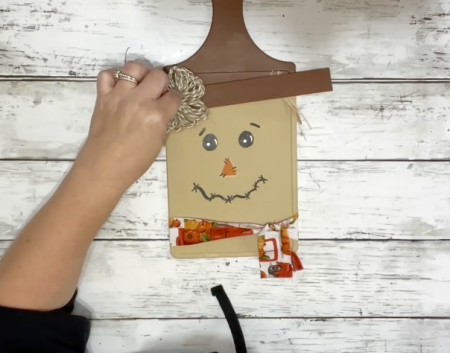 26. Candy Bowl Scarecrow:
It's best for your Halloween trick and treats to keep the candies in it. You can learn to make this easy and adorable candy bowl scarecrow by using two upside down clay pots.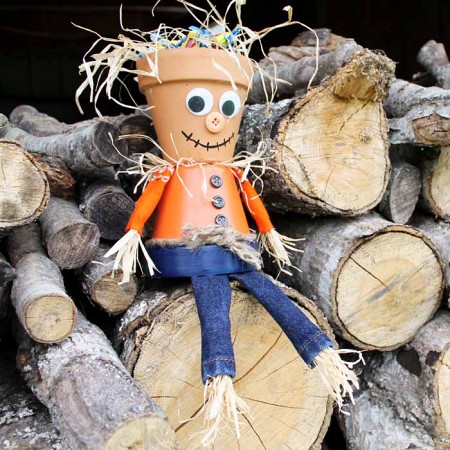 Kids Scarecrow Ideas
Not only adults but kids also love to make arts and crafts. Here you can learn simple and quirky scarecrow crafts for kids. These are great to celebrate harvest season, school activities, decorate classrooms, and for Fall storytelling.
27. Paper Bag Scarecrow:
Make paper bag scarecrow with construction paper hat and buttons as eyes. Add straws to make hair.
28. Scarecrow Goodies Bag:
Easy scarecrow treat bags made with burlap sacks for Halloween trick or treat, schools thanksgiving parties and neighbors.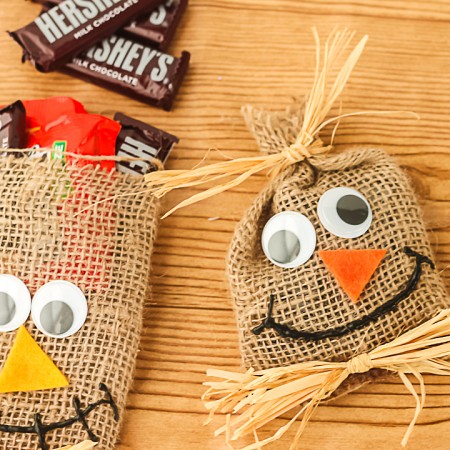 29. Toilet Paper Roll Scarecrow Puppet:
Preschool children will love to make this scarecrow puppet with the help of toilet paper rolls, cupcake liner, craft stick and colored paper at art school.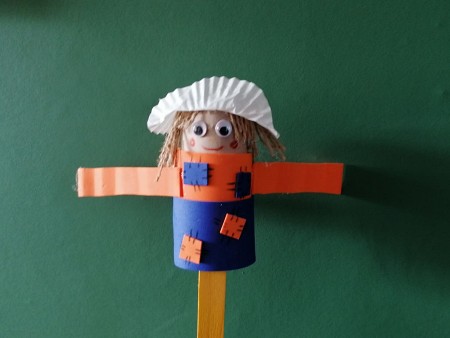 30. Wooden Spoon Scarecrow:
Wooden spoon scarecrow craft idea is best for your kids school activities. You can make this craft with the wooden spoons, burlap ribbon, twine, paint and glue. You can also use these as a prop for story telling to your little pumpkins.
31. Construction Paper Scarecrow Craft:
This fun loving scarecrow craft is totally for the kids. For this craft you can use the printable templates or cut the shapes by yourself. Kids love to make it because it comes out of simple cutting paper shapes and clothespin. They can decorate their scarecrow as they want and these can stand as well.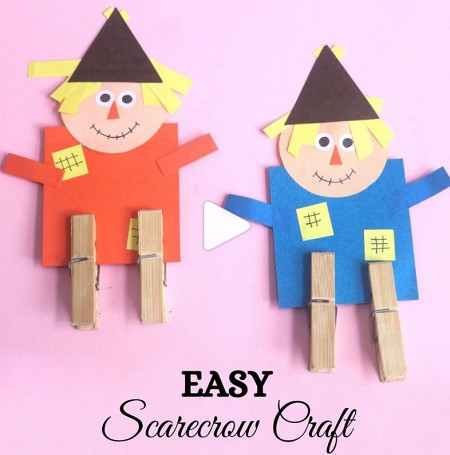 32. DIY Cinnamon Stick Scarecrow:
DIY scarecrow with Styrofoam ball, cinnamon stick and burlap fabric.
33. Autumn Scarecrow Craft:
Make autumn scarecrow from fabric squares, pipe cleaners, popsicle sticks, chenille stems, and burlap. You can also use this craft as decor for your home and garden.
34. DIY Styrofoam Scarecrow Decoration:
This cute styrofoam scarecrow craft can be used as a prop for storytelling, school activity and as a table centerpiece for your Halloween and fall season celebrations. For this craft you require Styrofoam, sponge foam, glitters, pliers, paints and ribbon. You can learn to make scarecrows step by step in this tutorial.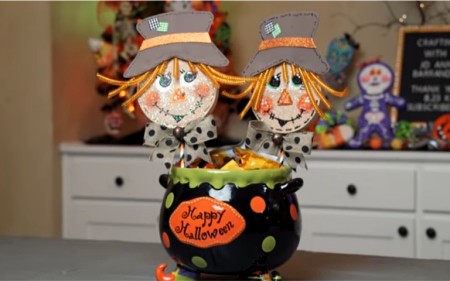 35. Dingle Dangle Scarecrow Puppet:
Imaginary play puppets for kids who love to dream. Kids will love to play and create this double sided puppet. One side is awake and the other side is sleeping. For this scarecrow puppet craft you need wooden spoon, some wool and fabric.
36. DIY Popsicle Sticks Scarecrow:
Popsicle scarecrow is all time favorite of kids, teachers and parents. It's simple, mess free and you can make it with common materials. Find more ideas to make popsicle stick crafts.
How can we make easy scarecrow?
You can make the basic scarecrows by stuffing an old pillow case, an old shirt and old pair of pants or tights, or a potato sack with old plastic bags, shredded papers, or straws and then decorating the outside with a face. You can easily make a face by drawing or sewing the facial features, or you may attach objects that resemble facial features. Attach them with wire to the stand or frame.
What can be used for a scarecrow head?
Scarecrow's head can be made from any of these things like burlap, a potato sack, an old pillow, or a flower pot by simply drawing or sewing the facial features on these items or pasting the objects that resemble eyes, nose and a mouth.
 What can be used to stuff a scarecrow?
You can use the different things for stuffing but straws are considered more traditional and popular stuffing. You can also use old plastic bags, clothes, dry leaves, shredded papers, and old rags.
How do you make a adult scarecrow costume?
You don't need to be an expert in sewing. Just pasting some sack or burlap cloth patches here and there over your dress (jeans, shirt, or skirt). Make a pigtail braid. Wear a slouchy hat and some boots. Your last-minute costume is ready.
How does a scarecrow head can be attached?
Secure the head in place with a pair of twine suspenders, taking the twine through the belt loops, to secure the trousers to the 'shoulders' of the scarecrow frame. Then attach the head by pushing it onto the stack. Add the burlap hat or a helmet as you like.
What kind of hat does a scarecrow normally wear?
Traditionally the scarecrows wore floppy burlap hat whether it's a costume, garden or Halloween decoration.
What kind of clothes can be used for the scarecrows?
Usually, scarecrows wear a pair of denim, a rusty shirt, a straw hat, long old boots, and a scarf. These clothes just provide the place to fill them with stuffing, so you can customize them in any way you would like.
How pants can be put on a scarecrow?
The Bottom half is normally covered with pants. Slide the pants up vertically and tuck the shirt into the pant and tie everything with the belt also add a nail on the backside of the pants to make sure that it wouldn't slide down.
How do we make a scarecrow head out of tights?
We can make a head out of tight by simply cutting one leg off from the pair of tights and then filling it with some straws. Push the straw firmly to the end to make it into a head shape. Then tie the end of the tights with some string to stop the straw from falling out. Also, tie off the bottom of the legs of the trousers and stuff them with straw.
Author: Amber Saad
You will also like:
Make your first creative mandala art design
Make Fabric Styrofoam Pumpkins Crafts