This post may contain affiliate links. Please see our full Disclosure Policy for details.
I have been wanting to make some cute pinwheels for a while now. So I came up with this wreath made with felt pinwheels. Basically I decorated an embroidery hoop for this fun project.
Here's what I came up with: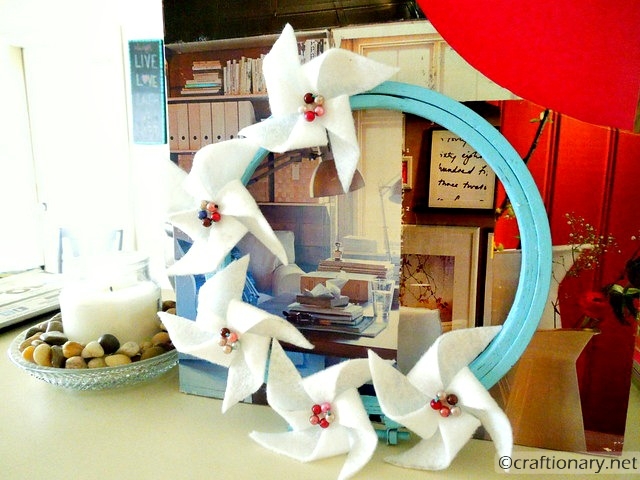 DIY tutorial links:
 chalkboard from foam boards and Ikea file organizer from the above picture.
Easy Wall Decor
Make Felt Pinwheels wreath
It's cute and summery. A project that can easily fit in any room. Whether it's a kid's bedroom or a living room. Playroom or crafts room.
Make It:
To make the pinwheels from felt. Cut squares (I cut 2.5 inches squares). Now cut across the corners meeting at the center point. Make sure you leave some gap at the center. Try not to draw any lines because they are hard to remove from felt. Using your fingers bring the corners of the square at the center. And stitch beads or any embellishments you like. I have used the leftover beads from the stripes canvas art.
And in just a few minutes you will have tons of pinwheels.
I spray paint the embroidery hoop blue. Now glue the felt pinwheels (I used tacky glue) on to the embroidery hoop. Sorry for the bad images below. Not every image is promising.
Now let's get back to the sunshine. Shall we?
It's so simple and cute.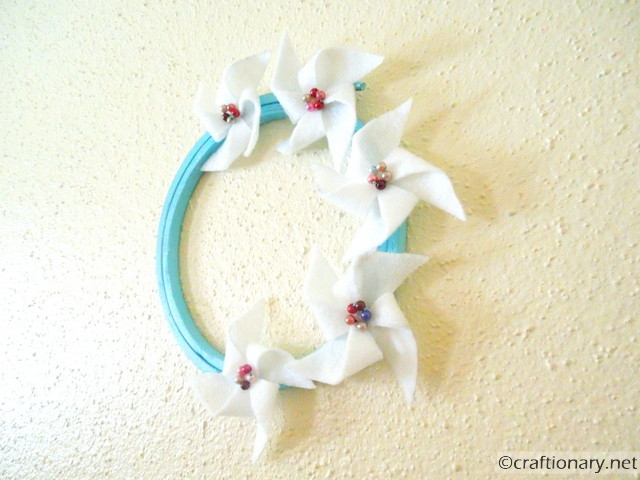 Here's a little sneak peek of the wall gallery.
FELT TIP:
Just in case your felt gets stained. You can remove light stains from felt using vinegar and cotton bud. But darker marks like mine means make new ones. Yes, I did make the pinwheels all over again without marking any lines.
I hope you enjoyed this tutorial.
I am very happy to finally share my Gallery wall.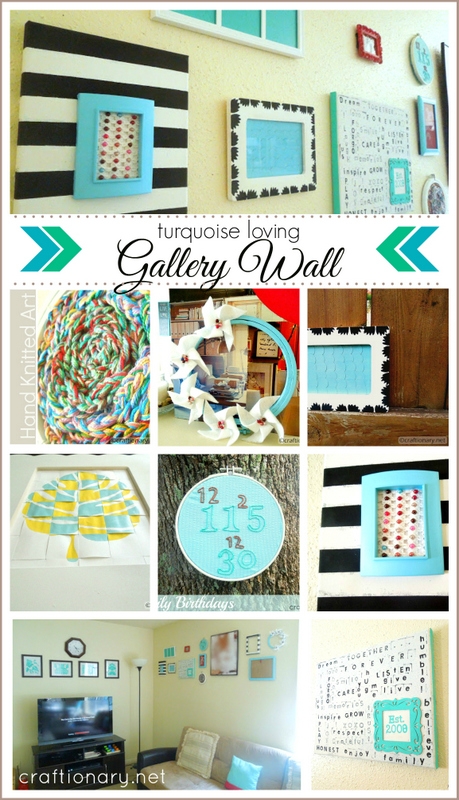 To see all the projects of this series.
Looking for Wall Decorating ideas?
Check out tutorials in the category Wall Art.
Are you on pinterest?
You will also enjoy the DIY wall art and Home Gallery Wall Boards.
These are updated regularly whenever I find unique ideas.